There was a time when the winning position in a game used to be decided by the death of the opponent. Eventually, the games began a decrease in terms of cruelty and started to be used much as recreational entertainment. Starting from the social sports of medieval times where games were often struck by tragic deaths of participants, there are many ancient records that claim participants' deaths during an ongoing event of any sport. Here we present ou the list of unfortunate athletes who died on the field.
Athletes Who Died On The Field | Tragic Deaths In Sports
Arrachion of Phigalia was suffocated at the 564 BC Olympic Games during the pankration, and Iccus of Epidaurus was accidentally killed at the 492 BC Olympic Games during a boxing event. There are also records that claim that Pheidippides of Athens had died of exhaustion in 490 BC during the marathon running event.
In modern days, all the events of any major sports have their own set of medical staff and emergency medical assistance to minimize the risk and to ensure the care of any scenario after a fatal accident. But still, accidents and deaths can come in any form at any time, so here is the list of athletes who died on the field.
You can also read – Cricketers who died during matches
10. Ray Chapman
American baseball player Ray Chapman played as a shortstop for Cleveland Indians throughout his entire career. He is the only Major League Baseball player to face death from an injury during gameplay.
Chapman holds the single-season record with 67 in 1917 and also placed sixth on the sacrifice hit all-time list. Chapman was hit by a pitch in the head thrown by Carl Mays of Yankees pitcher.
This tragic accident happened in a game against the New York Yankees at the Polo Grounds on August 16, 1920. Chapman died in a New York City hospital 12 hours later the accident happened at about 4:30 A.M.
Chapman was inducted into the Cleveland Indians Hall of Fame in 2006. And now, his death deserves mention among the athletes who died on the field.
9. Antonio Puerta
Spanish footballer Antonio Puerta played in Spain International Football team, Spain U21, Spain U23, and also played solely for the Sevilla football club as a left midfielder and an attacking left-back.
Puerta led his team Sevilla to achieve five major titles during his career with the club. He faced a series of cardiac arrests during a La Liga game against Getafe on 25 August 2007 and died on 28 August 2007 affected by arrhythmogenic right ventricular dysplasia.
Puerta collapsed in the penalty area due to a cardiac arrest at home ground Sánchez Pizjuán against Getafe CF after only 35 minutes of the game.
As a tribute, all 22 participants had the name 'PUERTA' printed on the back of their jersey in Sevilla vs A.C. Milan on 31 August 2007.
8. Duk Koo Kim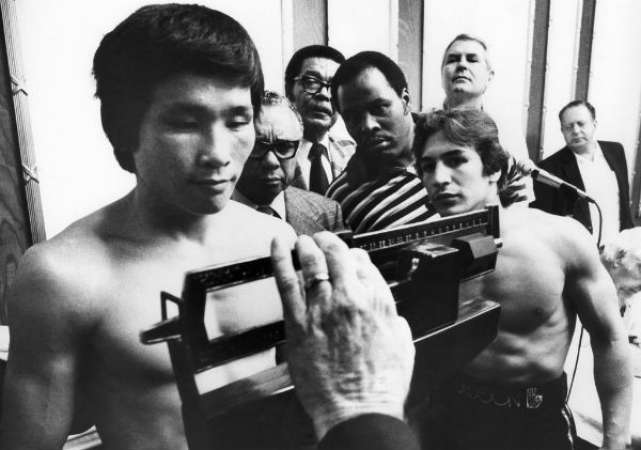 South Korean boxer Duk Koo Kim won 17 fights out of 20 fights that he ever participated in, out of which 8 wins came by knock-outs with his traditional Southpaw stance.
He died during a world championship boxing match against Ray Mancini on November 13, 1982. Referee Richard Green stopped the fight after Kim went flying into the ropes because of simultaneous hard right-hand punches by Mancini.
And Mancini became the winner by TKO nineteen seconds into the 14th round. He was rushed to the hospital where he was found to have "a subdural hematoma consisting of 100cc of blood in his skull."
Koo Kim died four days after the fight with Mancini on November 17. This death surely serves its mention among the athletes who died in the field.
7. Frank Hayes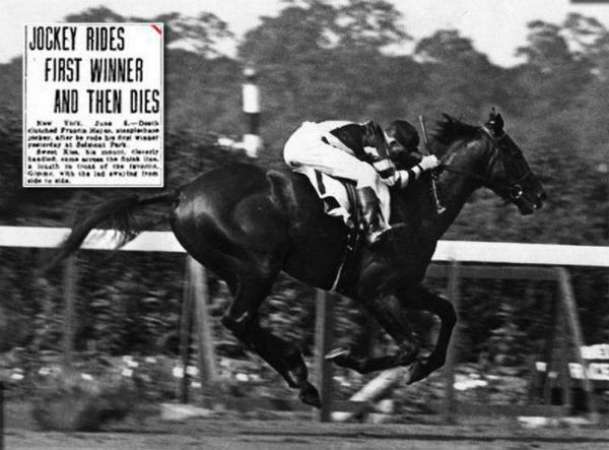 American jockey and longtime stableman Frank Hayes was a champion horse trainer during the first two decades of the 20th century. He suffered a fatal heart attack at Belmont Park in New York State, the USA in the midst of a steeplechase on June 4, 1923.
His heartbeat stopped while riding a 20-1 outsider horse called Sweet Kiss, owned by Miss A.M. Frayling. His body remained in the saddle throughout the race, but it was proved that he had apparently died somewhere in the middle of the race.
The horse Sweet Kiss crossed the finish line in the lead with Hayes technically still atop her back which made Hayes the first and the only jockey known to have won a race after death.
The horse Sweet Kiss was nicknamed "Sweet Kiss of Death" for the rest of her active life. And, this tragic death now deserves mention among the athletes who died on the field.
6. Chuck Hughes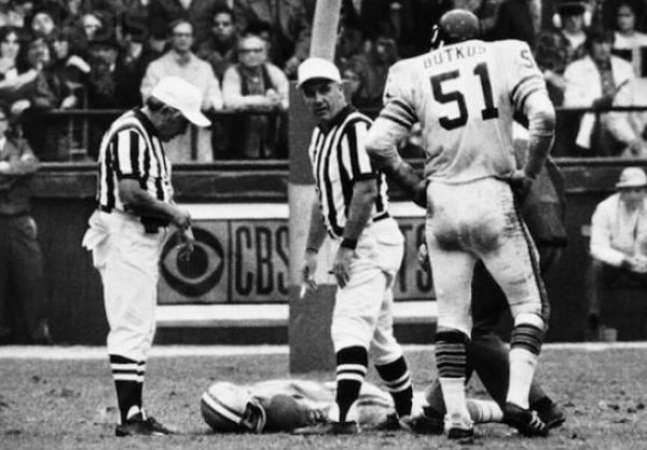 American football wide receiver Chuck Hughes played for Philadelphia Eagles from 1967 to 1969. He then played for Detroit Lions from 1970 to 1971 in the National Football League.
Hughes is the only NFL player to die on the field during a game to date. He was drafted in the fourth round in the 1967 NFL Draft by the Philadelphia Eagles.
Hughes suffered a fatal heart attack during the final minutes of a match while playing for the Detroit Lions against the Chicago Bears at Tiger Stadium in Detroit on October 24, 1971.
He collapsed on the Chicago Bears' 15-yard line while jogging back to the huddle. To honor his contribution towards the achievements of the club in the NBA, Detroit Lions retired his number 85.
5. Reggie Lewis
American professional basketball player Reggie Lewis played as a Small forward for the Boston Celtics in the NBA from 1987 to 1993. He was drafted in the first round at 22nd overall in the 1987 NBA Draft by the Boston Celtics.
Lewis was named America East Conference Player of the Year three times and became the NBA All-Star in 1992.
After he achieved the 20.8 average points per game in each of his last two seasons with the Celtics, he suffered sudden cardiac death on the basketball court on 27th July 1993 at an off-season practice at Brandeis University in Waltham, Massachusetts.
After the tragic death of Lewis, his Number 35 jersey was retired by the Boston Celtics and also by the Northeastern. And now, this death deserves mention among the athletes who died on the field.
4. Bill Masterton
Canadian–American professional ice hockey center Bill Masterton is the only player to die as a direct result of injuries during a game in NHL history.
He played for the Minnesota North Stars in the National Hockey League in the 1967–68 season. He faced a severe internal brain injury on the game against the Oakland Seals at the Met Center. Bill died during the first period of Minnesota on January 13, 1968.
The impact of the collision with Larry Cahan and Ron Harris caused Masterton to bleed from his nose, ears, and mouth.
He received emergency medical treatment in the dressing room. And then, rushed to Fairview-Southdale Hospital but died without ever regaining consciousness. He died on January 15, some 30 hours after his tragic sports accident.
3. Marc Vivien Foe
Cameroonian international footballer Marc Vivien Foe played 64 international matches as a midfielder for the Cameroon national football team.
He also played for famous clubs such as West Ham United, Olympique Lyonnais, and also at Manchester City on loan. Vivien scored 8 goals during international appearances and scored 24 goals in his 201 club match appearances.
This football superstar died at the 2003 FIFA Confederations Cup where Cameroon faced Colombia in the semi-final at the Stade de Gerland in Lyon, France on 26 June 2003.
Marc collapsed in the center circle and died during the 72nd minute of the game due to hypertrophic cardiomyopathy. As a tribute, Manchester City retired his number 23 shirt and Lyon also retired his number 17 jersey. His death now deserves mention among the athletes who died on the field.
2. Dale Earnhardt
American race car driver and team owner Dale Earnhardt is considered one of the highest-paid NASCAR drivers of all time. He was nicknamed "The Intimidator" for his aggressive driving style.
He won the NASCAR Sprint Cup Series 76 times and was placed in Top10 428 times. Dale also won the NASCAR Nationwide Series 21 times and was placed in Top10, 75 times.
Earnhardt was involved in a tragic last-lap crash while driving in the 2001 Daytona 500 at Daytona International Speedway. He died on 18th February 2001 because of a basilar skull fracture.
After his tragic accident where his legendary saga stops, he was inducted into the International Motorsports Hall of Fame in 2006 and also inducted in the NASCAR Hall of Fame in 2010.
1. Ayrton Senna
Brazilian racing driver Ayrton Senna is considered one of the greatest drivers in the history of F1. He is the third most successful race car driver of all time in terms of race wins. Senna had 41 wins, 80 podiums, and 3 championship titles under his belt.
He holds a record of six titles at the Monaco Grand Prix. Senna was also acclaimed for his wet weather performances at the 1984 Monaco Grand Prix and 1985 Portuguese Grand Prix. He then gave his best performance at the 1993 European Grand Prix.
Senna died during his final race at the San Marino Grand Prix. That was organized between Thursday, 28 April, and Sunday, 1 May 1994.
It was hosted at the Autodromo Enzo e Dino Ferrari circuit in Imola, Italy. He met with a tragic accident on lap 7 where he ran in a straight line off the track. Senna hit the concrete wall at 233 kilometers per hour.
Final Words
There were also sad events where fans of sports were shocked by tragic accidents or disasters which took player life. A first-round draft pick of the Minnesota Vikings, Korey Stringer, died due to a heat stroke during training camp on August 1, 2001. One of the most charismatic ball handlers in NBA history Pistol Pete Maravich collapsed and died of heart failure at the age of 40 in a pickup game on 5th January 1988.
Athletes Who Died On The Field | Infographics
More to add up in the list of athletes who died on the field. Feel free to comment below.
FAQs Regarding Athletes Who Died On The Field
Q. Has any athlete died on the field?
Charles Frederick Hughes played wide receiver for the National Football League from 1967 to 1971. It is, to date, the only time an NFL player has died on the field.
Q. How many NFL players died on the field?
On that fateful Sunday, the Lions hosted the Chicago Bears. In his one reception for 32 yards, Hughes, a 5-foot-11, 173-pound wide receiver, caught one pass. Yahoo.com reports that most people don't realize Chuck Hughes actually had two heart attacks before he died on the field during an NFL game.
Q. Which famous footballer died recently?
Giuseppe Perrino, 29, died on the field while playing a memorial match for his brother. In Italy, the sporting world is still in mourning after Giuseppe suffered a cardiac arrest while playing in Poggiomarino on June 1.
Q. How many boxers have died in the ring?
Approximately 500 boxers have died in the ring or as a result of boxing since the Marquess of Queensberry Rules were introduced in 1884. 22 boxers died in 1953 alone. Those are huge numbers, when it comes to just a year.
Last Updated On: February 2023