Are you into games of croquet? Now you all can spend this summer's afternoons with the best croquet sets available in the market. There should be a healthy activity in the middle of life hustles providing an escape from your worries and anxieties. That's why we got a list of exceptional croquet sets for you.
So, pack your tensions and head to your backyards with one of our top-ranked croquet sets. These game sets are carved out with perfection and offer such fun that you'd never want to miss out on them. Moreover, these sets can be easily taken everywhere with the cleverest design.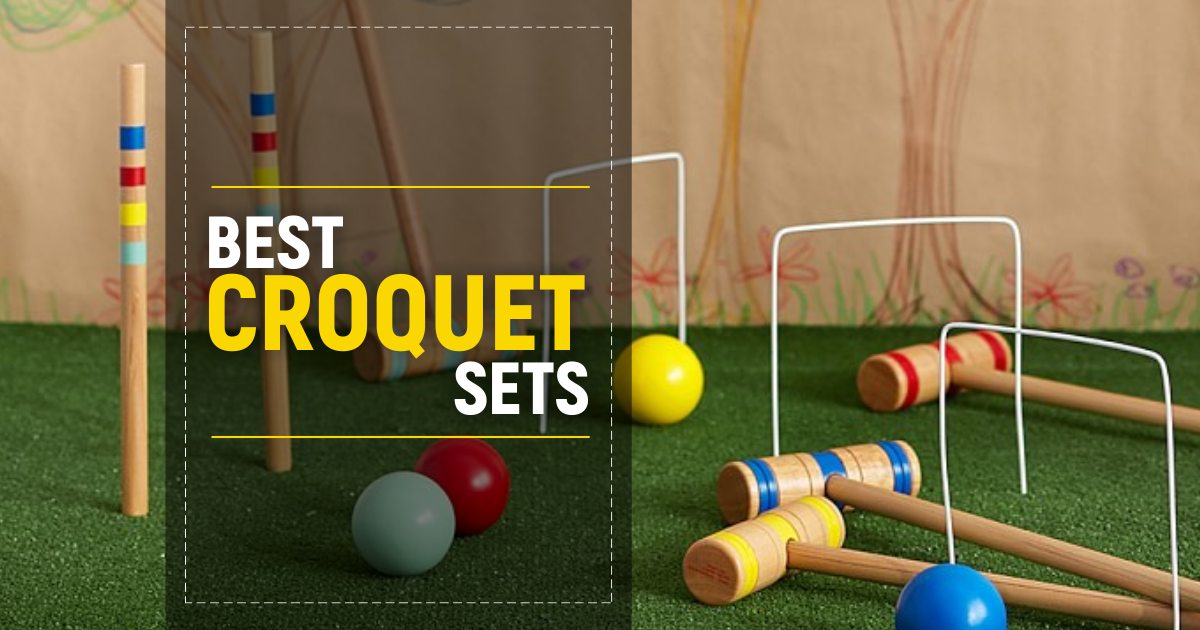 While there are many customers always keen to blend entertainment with a healthy activity, now they don't have to worry as these game sets are going to provide breathtaking fun with healthy physical activity. You're surely going to laugh out loud when coming together with your people.
Best Croquet Sets | Editorial Pick
EDITOR
CHOICE
★★★★★
Juegoal Croquet Set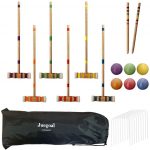 Easy Handling
Premium Hardwood
Weather Resilient
TOP
RATED
★★★★★
GoSports Croquet Set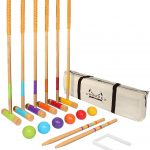 Suited For Everyone
Finest Material
Full-Size Handles
BEST
SELLING
★★★★★
Deluxe Croquet Set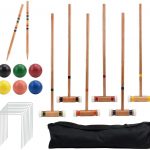 Hardwood Covers
Rubber Caps
Reasonable Price Tag
Best Croquet Sets To Try This Year | Reviews
So, there's every reason to consider these classic gaming sets for your next gaming afternoon. You can either spend some time with some great cornhole boards. Or, you can spend some quality time with your family with these croquet. And we have assembled the top-rated croquet sets on our list so, let's jump right in.
BEST OVERALL
Juegoal Six Player Croquet Set
★★★★★
Excellent Gripping Material
Easy Assembly
Features:
Handling of your mallets made easier with the fine gripping materials
Quality that you can trust with the mallets made out of supreme quality hardwood
Easy assembling with no real complications
Your game balls are made weather resilient so that you can play without boundaries
Players are going to compete by standing against opponents around wickets and hitting the final shot
If you're looking for the best outdoor gaming experience, then you've come to the right place. Juegoal has offered some exciting features with this one of the best croquet sets. Strike the finishing stake with the most high-quality materials used in the construction for a lasting experience.
Specification:
Dimensions: 26.81 × 6.69 × 3.11 inches
Weight: 7.6 lbs.
Materials Used In Mallets: Hardwood
Player's Support: Up to 6 players
Mallet's Length: 28 inches
Color: yellow, red, blue, purple, orange, & green
Trusted Quality For A Trusted Game: Juegoal has been providing quality game sets for some time now. While this game set is no exception. With a heavy-duty design that can face the roughness and toughness of the weather. You're gaming in your backyards just got more exciting with this game set that all love.
Players strive to survive till the last. So, get along with your families and strike the last stake to win the race.
Easy Installation: Hardwood mallet and hardwood handle offer an easy installation. You just have to have to screw the handle into the mallet, and it only takes few seconds as it comes with an easy setup that saves your time.
Furthermore, it comes with an extra drawing bag that is for balls and metals. You can store all these metals and balls in the bag without dissembling and carry the bag wherever you want conveniently.
What You're Getting? The package includes all the items you need for a fair match. It includes 6 hardwood handles, 6 mallets along with caps, 2 finishing stakes, 6 molded balls, 9 steel vinyl coated wickets, and a large drawstring bag.
Pros
Enhanced gripping for better handling
It helps to bring the family together
A fun activity with a healthy influence
Perfect for family parties and picnics
The price tag is moderate
Our Take: Taste the conventional-style lawn game that promotes a healthy influence on the body, making it a sublime purchase. Further, this croquet set is portable as the package contains a large drawing bag to carry all the balls and metals easily.
BEST-RATED
GoSports Six Player Croquet Set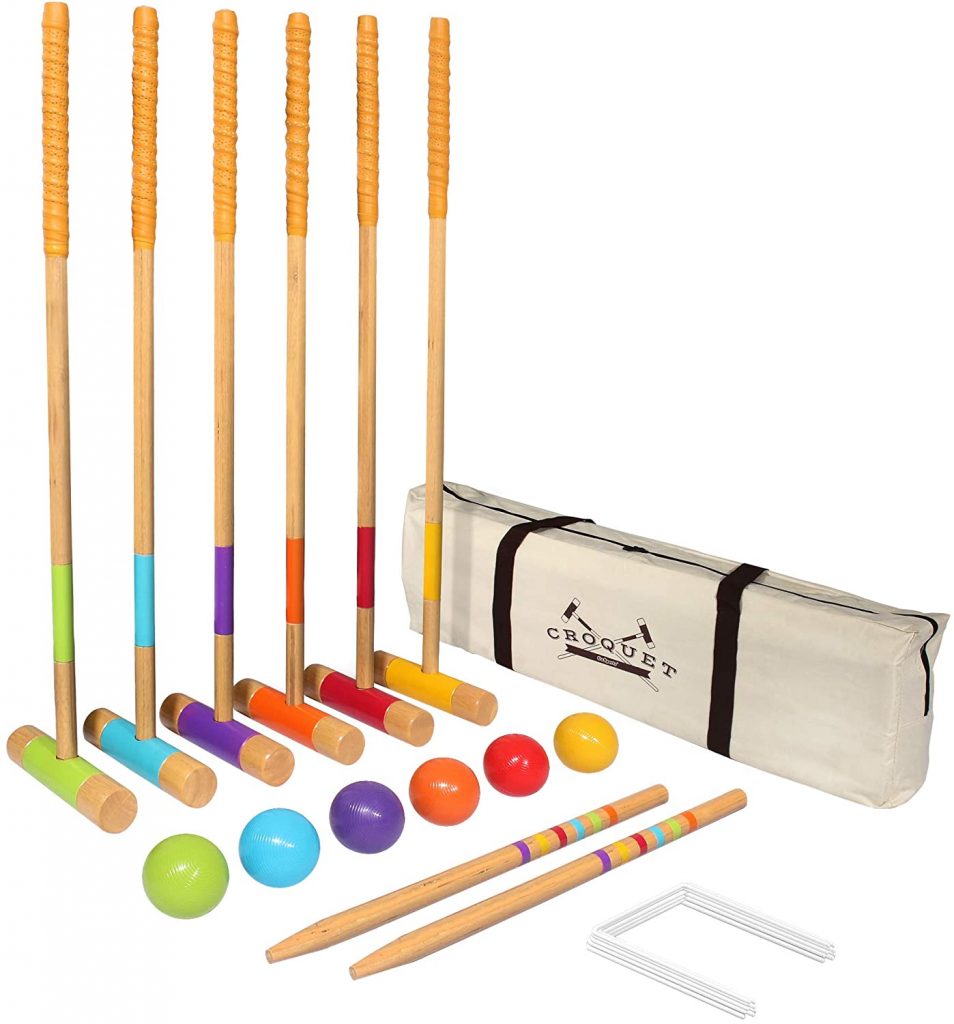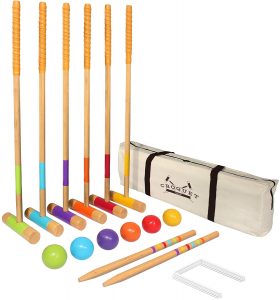 ★★★★★
Complete Family Fun
Unmatched Portability
Features:
There's no age limit when it comes to this game
You're getting signature mallets made out of the finest materials available
Full size handles so that even the professionals can enjoy this classic game
It comes with a convenient carrying case for better portability
Experience the all-time favorite classical game that is enjoyed in the open. Making sure that you get something positive in return, the game has been loved as it promotes healthy activity. Players compete to take the lead with roars of laughter promising joyful experiences.
Furthermore, the handy storage bag comes with a package to store the balls and mallets. You can easily carry the bag with you.
Specifications:
Dimensions: 35.5 × 10.5 × 4.5 inches
Weight: 12 lbs.
Materials Used: High-quality wood
Player's Support: 5 to 6 players
Mallet's Length: 35 inches
Color: yellow, red, orange, purple, sky blue, & green
Guarantees Fun For All: The game is made to make sure that its worth is accessible to all. You're getting a flexible design that is even compatible with the higher-end players to enjoy. Who fancied a causal game out in the lawn to beat the stress?
This game is surely making this point a gem of an opportunity for almost everyone as you're looking at an improved functionality that is easy to operate. There's no tough assembling here while you get a tough carrying case for taking your game to the desired spot.
Prime Case Packing Prime Accessories: Your package will include 6 color mallets, 6 balls, 9 wickets, 2 end posts, and quick game guides.
Pros
Full-sized mallet (35 inches) perfect for professional games
Enhanced durability
Premium bag for carrying your game set anywhere
It brings the fun experience
Low price
Cons
Balls mold easily
Average quality mallet's heads
Our Take: Supreme quality mallets to strike your last stake along with enhanced portability make this game set a great choice. It is ideal for family gatherings and parties to spend the time well.
POPULAR CHOICE
Six-Player Deluxe Croquet Set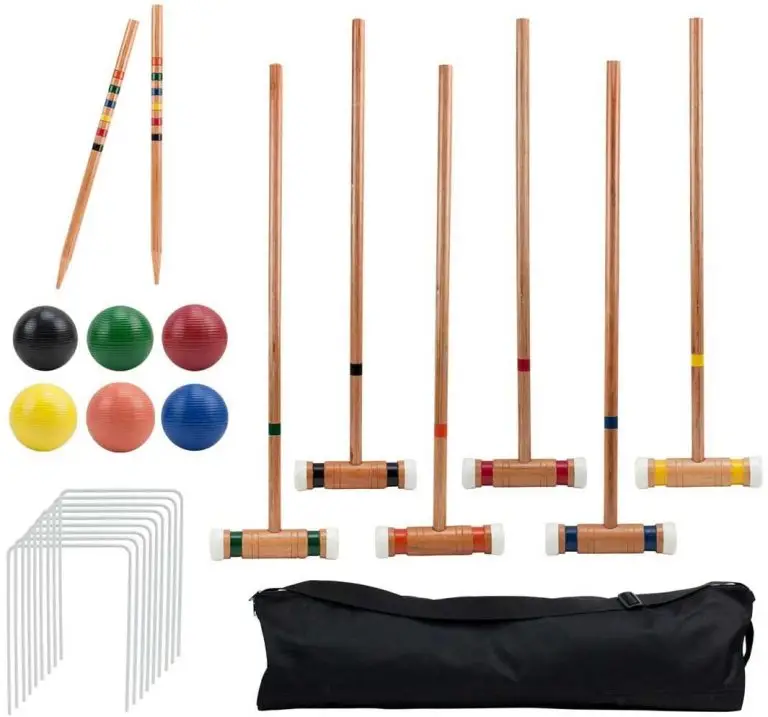 ★★★★★
Vintage Hardwood Mallets
Reasonable Price Tag
Features:
Vintage mallets made out of hardwood covered with rubber caps
It comes with 6 vintage mallets with unique colors matching colored balls
All high-quality game components are made to stay with you no matter what
The price tag is reasonable
Are you looking to try out some classic-style family games? Then here comes this one of the best croquet sets to end your chase. There's everything to love about this game, from premium quality construction to the rough and tough nature of the gaming components.
Specifications:
Dimensions: 32 ×8.00 × 4.00 inches
Weight: 11.02 lbs.
Materials: Pure wooden mallets
Color: black, yellow, red, blue, green, & orange
Mallet's Length: 32inches
Revived From The History: History has witnessed this intimate game delivering joys and laughter over the years. It was introduced in the 1800s, and it is carried to today with consumer's love and admiration for this game. You need a reason to get along with your loved one, and that's what this game is all about.
The crown sporting goods store has taken all the beautiful elements from this game's rich history. And delivered it with a modern punch deserving and applaud.
Carrying Case: Blac carrying case is included with the package that makes it portable so you can enjoy your family gatherings and doubles the fun. The carrying strap easily fits on your shoulder and has a comfortable grip.
All The Accessories You Need: Players will get all the expected accessories for a wonderful game experience. Your package contains 6 wooden mallets, 6 colored balls, 9 wickets, 2 stakes, and a high-end carrying case.
Pros
The game set has an updated design
Improved leverage
Carry the game in style with included classic carrying case
Mallets have unique colors given to them
It supports up to 6 players who are perfect for family fun
Cons
Flimsy bag zipper
Balls don't weigh much
Our Take: Taking on the most history riches game with the premium design and sturdy nature makes it a stellar deal. It is a suitable set for picnics, camping trips, family gatherings as it has 6 players compatibility.
DELUXE SET
ROPODA Six-Player Deluxe Croquet Set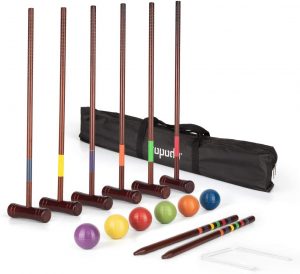 ★★★★★
Truly Fancy Design
Complete Accessories
Features:
A simple game that can be enjoyed by people of all ages in a fancy fashion
Includes all the important accessories in sublime quality
You're looking at premium hardwood finishing that offers a brave durability
The game is easy to set up with no real complex assembling
It has an upgraded new style
Get ready for a challenging yet fun-packed gaming set suitable for everyone. You're in a race to survive till you strike the finishing stake to take the lead. The game is inspired by history and morphed into a uniquely modern form factor to drool your senses over. Further, the bag makes it easy to store and portable.
Specifications:
Dimensions: 30.8 × 5.8 × 4.6 inches
Materials Used: Groundwood
Weight: 7.75 pounds
Colors: blue, orange, green, purple, yellow, & red
Player's Support: 2 to 6 players
Handle Diameter: 30 inches
Ball Diameter: 2.8 inches
Treat Your Leisure With The Demanding Fun: There's nothing really to dislike about this classic game set. Fun and giggles are all you're getting for its price. Just take out your game accessories and start the massive recreational show. It's best enjoyed in the outside spots, and that's one of the best things about this game set.
All The Detailed Accessories: Players are getting all the accessories they can expect for a proper match. Accessories include 6 handles, 6 premium mallets, two end posts, 9 durable steel wickets, and a tough carrying bag.
Pros
Durable and weather resilient steel wickets
Carry your game to places with a sturdy bag
It brings unique colors to the game with dedicated colored mallets and balls
Sublime construction for everlasting performance
Cons
Complains about smaller sized balls
Our Take: Terrific quality croquet set for a perennial outdoor experience, making it a safe purchase. A game of upgraded new style croquet set you can get at a reasonable price.
UNIQUE DESIGN
ApudArmis Six Player Croquet Set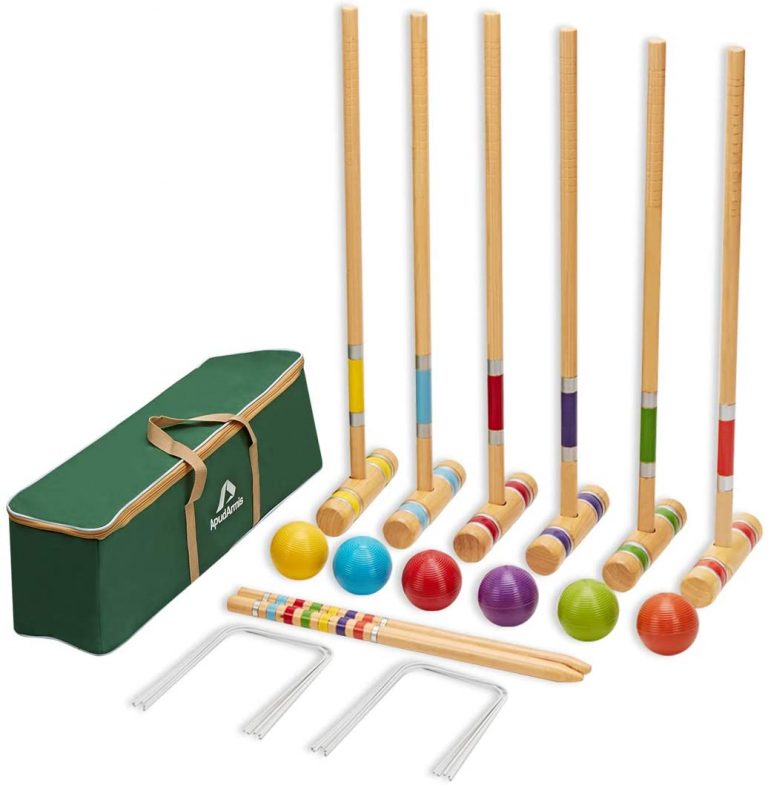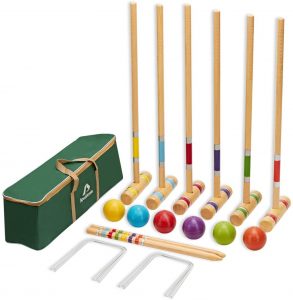 ★★★★
Purposeful Design
Premium Game Accessories
Features:
Purposeful design that is going to fit perfectly with the bag included in the package
The game is convenient to set up with no real effort required
It comes with all the premium and detailed game ingredients for a fine match
The company offers a warranty of 1 year for the customer's satisfaction
Treat your summers with an easy play an exciting outdoor game that promises quality entertainment for everyone. The game set is popular for social gatherings and game nights for long, fun flights. Quality is improved with a touch of sophisticated design, and it got a satisfactory warranty.
Specifications:
Dimensions: 26.1 × 16.2 × 7.5 inches
Weight: 4.58 kilograms
Mallet's Length: 28 inches
Materials Used: Pure wooden construction
Player's Compatibility: Supports up to 2 to 6 players
Color: yellow, blue, red, purple, green, & orange
Take The Fun Everywhere: This game set is made to stay in a manageable form factor. Players can easily buckle up the accessories and put them into the carrying bag included in the deal. It makes it a perfect deal to carry around. Moreover, players can set this game up for picnics and parties in a fancy way.
Therefore, it helps to improve your social connections when you share the shots with others. Besides having some great sports board games, you should also have these sets to get complete family fun.
Fill Your Bag With All The Required Accessories: You're going to fill your bag with the accessories including 6 color-riches mallets, 6 signature croquet balls, 2 finishing stakes, 9 steel wickets, and an extra-large bag.
Pros
Large storage bag included in the package
Take your game to picnics, parties, and social gatherings
Positive impacts on health
Sturdy construction for a reliable experience
Premium rubberwood for better grip
Cons
Lack grooves to connect with handles
Balls rattle when struck with the mallet
Our Take: Stay active and healthy with this best outdoor game set that comes in premium design, which makes it a solid option.
WOODEN DESIGN
Wooden Outdoor Deluxe Croquet Set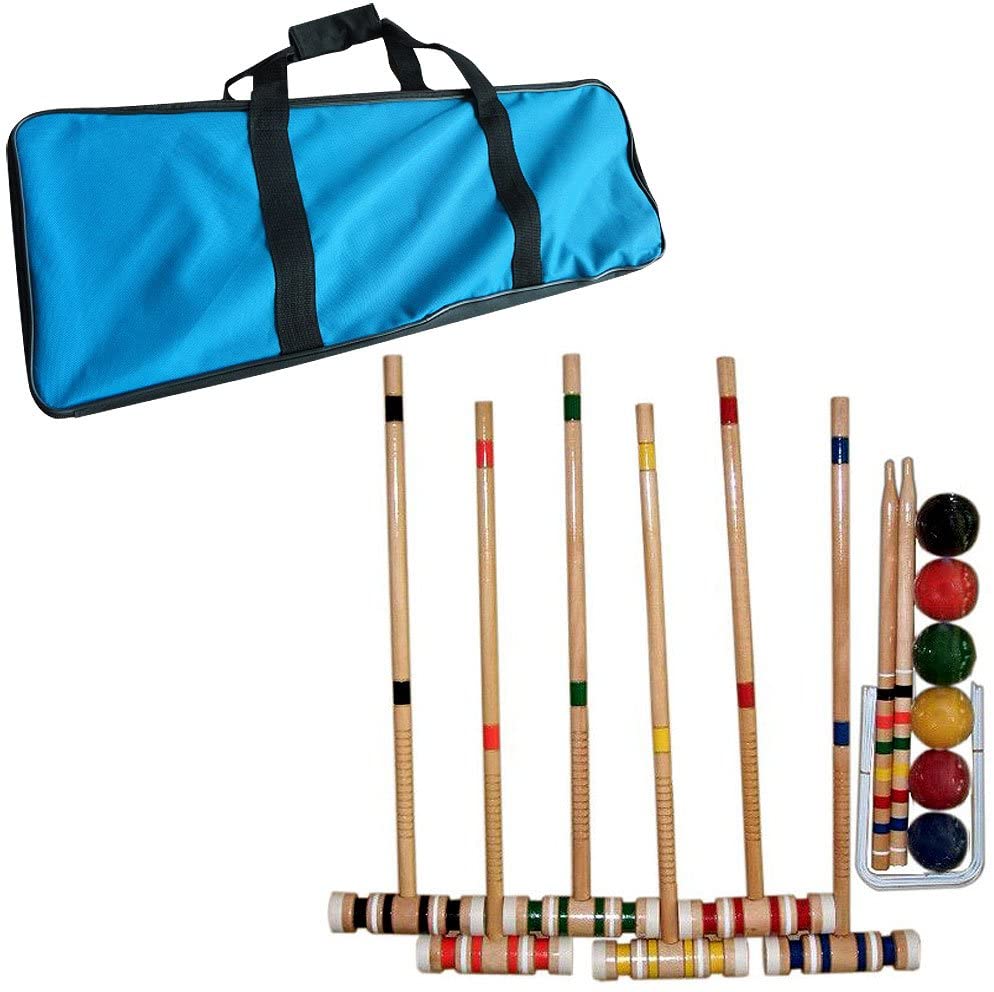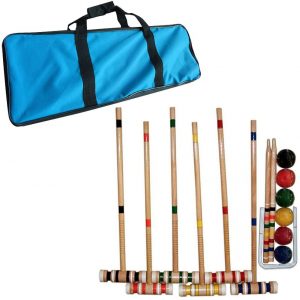 ★★★★
Mind & Body Coordination
Unmatched Durability
Features:
Improve your body and mind coordination with this classic style croquet game set
Be ready to receive all the amazing accessories that are going to improve your overall game feel
Everyone from your family can enjoy this game as it is made to fit with people of all ages
Durability isn't costing your design language with this signature deluxe sports set
Multi-colored balls matching with your mallets offer a personalized feel
Cherish a quality game reviving nostalgia in this one of the best croquet sets for beginners. Can you knock off the opposition with your striking abilities? Whether you win or lose, this game promises hours of peals of laughter.
Therefore, pack your tensions and enroll for an unforgettable, fun ride with your loved ones. Moreover, it is lightweight and offers a comfortable grip.
Specifications:
Dimensions: 26 × 8.5 × 3 inches
Weight: 1 pound
Player's Support: 6 players
Mallet's Length: 26 inches
Materials Used: Solid wood
Color: black, orange, green, yellow, red, & blue
Everyone's Favorite Classic: Peeping back into this game's blooming history, we found a lot of positive things about this play. This was the first game to be played by both genders, making it one of the oldest family treats. Everyone can improve their social connections through this unique history riches game.
Things You'll Find In The Package: Here are the things you'll find in the game's package: 6 wooden mallets, 6 croquet balls, wire wickets, 2 wooden stakes, and a carrying case.
Pros
Adults and children can play this game
Lightweight built promotes better portability
It comes with a very affordable price tag
Cons
Fragile mallet's handle
Average quality balls
Our Take: Enjoy the never-ending fun of this old classic that is perfect for beginners and everyone else, makes it a solid option. It is the best game for a newbie, and this mallet has a lightweight and offers a comfortable and firm grip.
HIGHEST SELLING
Baden Deluxe Series Croquet Set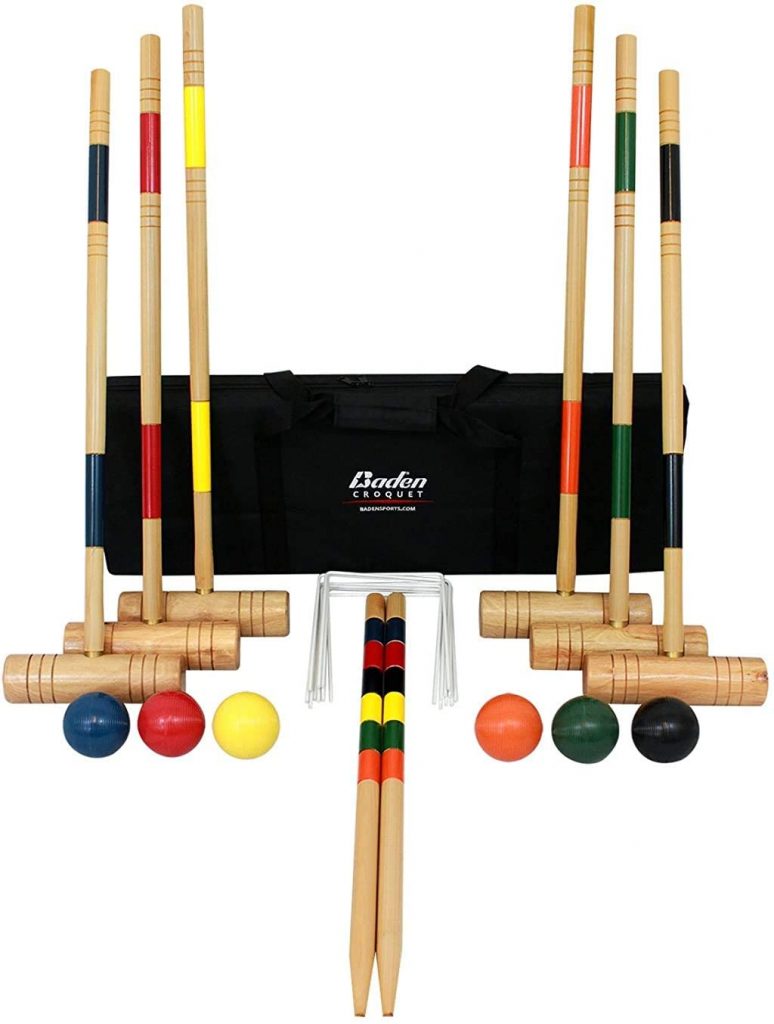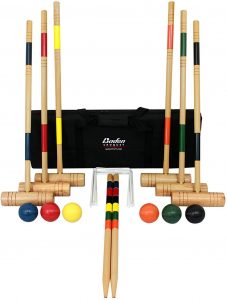 ★★★★
Wood-Metal Construction
Many Color Variations
Features:
The Mattel has been featured with a metal connection that will make it easy to assemble
Color variation has been taken place in the croquet ball selection to choose from
The carrying bag has also been added to the gaming set for storing the equipment
Enjoy the family gatherings with the ever-living and classical gaming setup; Baden brings the Deluxe series croquet set. The quality of construction has been handled by professionals, especially relating to the color selection scenario. And yes, you'll love the strong griping impact as compared with the usual ones.
Specifications:
Dimensions: 28 × 10 × 3.5 inches
Weight: 13.55 pounds
Mallet's Length: 29 inches
Materials Used: composite, wood
Player's Compatibility: Supports up to 2 to 6 players
Color: black, green, orange, yellow, red, & blue
Age Range: Youth & Adult
Select The Mallet With A Colored Ball: A 29 inches length mallet structured with stout quality wooden construction will be your game partner at the family gatherings. Alongside, the croquet balls are featured with color variants to match with the mallets. And the mallets come with metal connections that will be ready to go in just a few seconds.
Easy Setup: The mallet heads are removable that makes a setup simple and easy. The detachable heads make the conventional game smooth and breeze.
What's In The Package: These are the following items you're going to get in the game set: 6 mallets with wooden structure, 9 wickets made of steel, 6 poly-resin balls in color variants, a nylon bag for storage, and 2 end post made of hardwood.
Pros
The storage bag has a zipper to cover the accessories
Mallets are constructed with sturdy wood
Easy to assemble gaming set with no hardware
A worthy price tags
Cons
The mallet body contains cracks
Our Take: Complete gaming set with a colorful collection of croquet balls to collaborate with the mallets, a must selection for you.
FAQ Regarding Best Croquet Sets
Q. What type of material has been used in the mallet body construction?
The craftsmanship of these high-quality mallets has been materialized with sturdy and top-notch wooden essence. And the head side of the mallets is evenly balanced with a stable design to maintain a smooth striking with the ball.
Q. How many people can join together to play the croquet game?
Around 5 to 6 people can easily gather classical gaming experiences and all the required gaming equipment. Moreover, 2 players can also have a challenging mode together with the mentioned gaming rules in the instructions.
Q. What are the color variations of the croquet balls in the game set?
The 6 balls, along with the mallets, come with high-quality surfaced color variants, which you can match with the mallets as well. The players will also get a storage bag together with the package in some of the enlisted products.
Q. How much does a croquet set cost?
The price of the croquet set ranges from $30 up to $400. The average set that supports 2 to 6 players are ranges from $75 and $150. Further, the price depends on the material, size, and number of balls.
Q. What is the best croquet set for beginners?
On our list, the best set for the beginner is Croquet Set- Wooden Outdoor Deluxe Sports Set.
Best Croquet Sets | Quick Comparison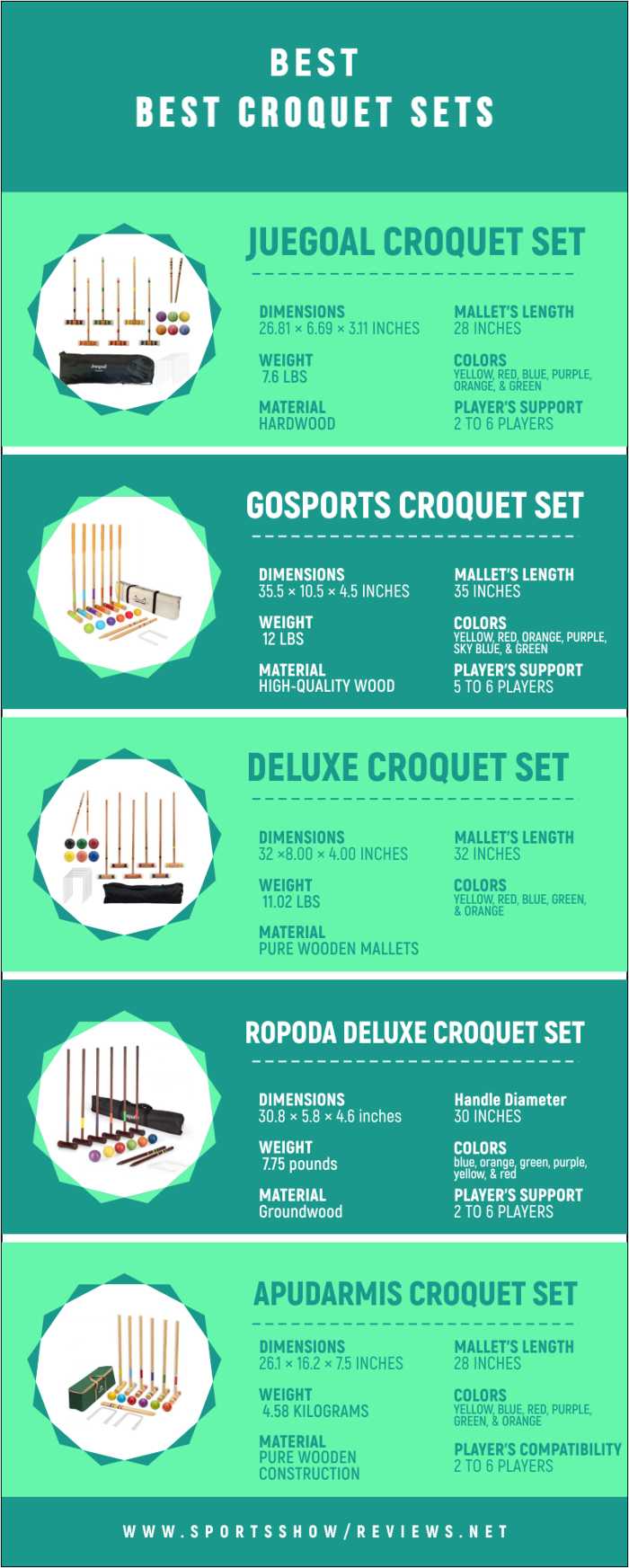 Our Recommendation:
Our 1st recommendation is Six-Player Deluxe Croquet Set with Wooden Mallets as the best croquet set. 32 inches mallet length constructed with high-quality wooden material and 6 color shades of balls will be your game partner. Further, the price tag is moderate.
Furthermore, our 2nd recommendation is Croquet Set- Wooden Outdoor Deluxe Sports Set as the best lightweight croquet set and easy to carry. 2 wickets and a carrying case are also included in the package with a stunning design mallet body.
Conclusion
We can conclude that these are the best croquet sets and the most trending classical games to kill boredom. All of the required accessories are included in the game set package. Alongside, the mallets are designed with high-quality wood and composite constructions to maintain durability.
Also, the color selection of croquet balls will add an entertaining impact to the game. You'll also get multiplayer flexibility of 2 to 6 players to have a fun time at the family and friends gathering. We hope our detailed review helps you in finding the most suitable croquet set for your family to double the joy.