Are you frustrated with the quality of balls that come along the foosball tables? This is no longer a problem as the best foosball balls on our list will justify your foosball game. These replacement balls are built to offer the best maneuverability along with lasting durability.
These replacement balls come in the form of a package offering plenty of balls for a healthy backup. But there is an important point to remember when purchasing any ball set for your foosball table.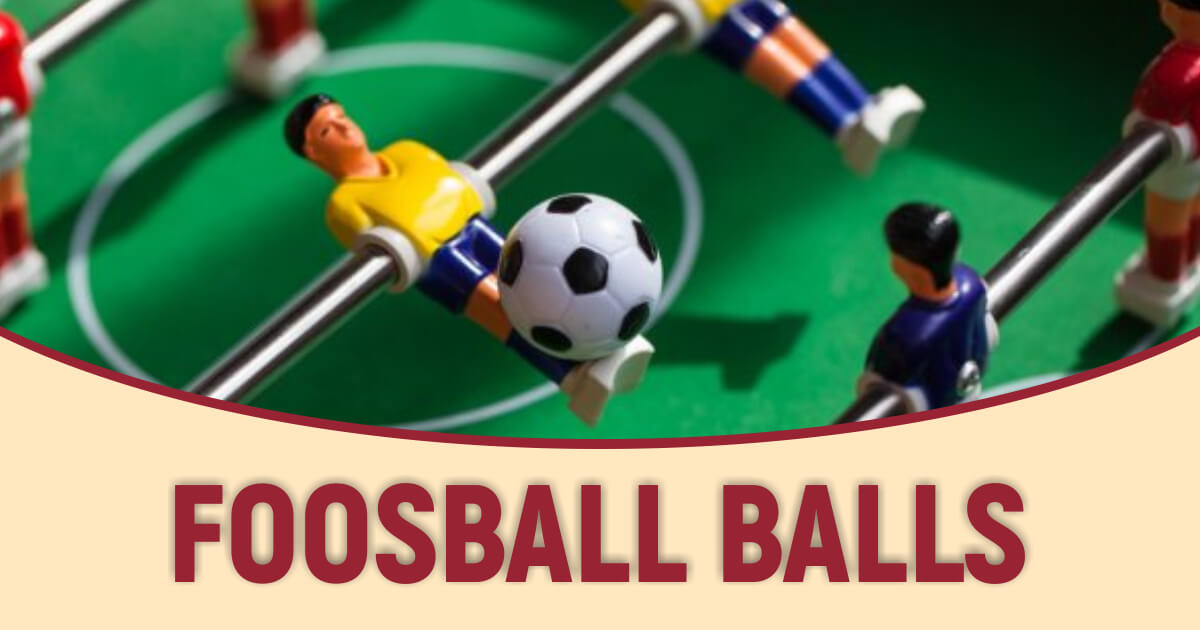 Furthermore, you'll need to confirm the size of the ball concerning the foosball table you're using. This helps you avoid compatibility troubles, so this point should be remembered.
Best Foosball Balls | Editorial Pick
EDITOR
CHOICE
★★★★★
Colonel Pickles Novelties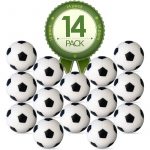 Premium Balls
High-End Plastic
Better Aiming
TOP
RATED
★★★★★
Qtimal Foosballs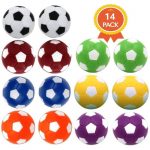 7 Unique Colors
ABS Construction
Traditional Design
BEST
SELLING
★★★★★
Table Soccer Foosballs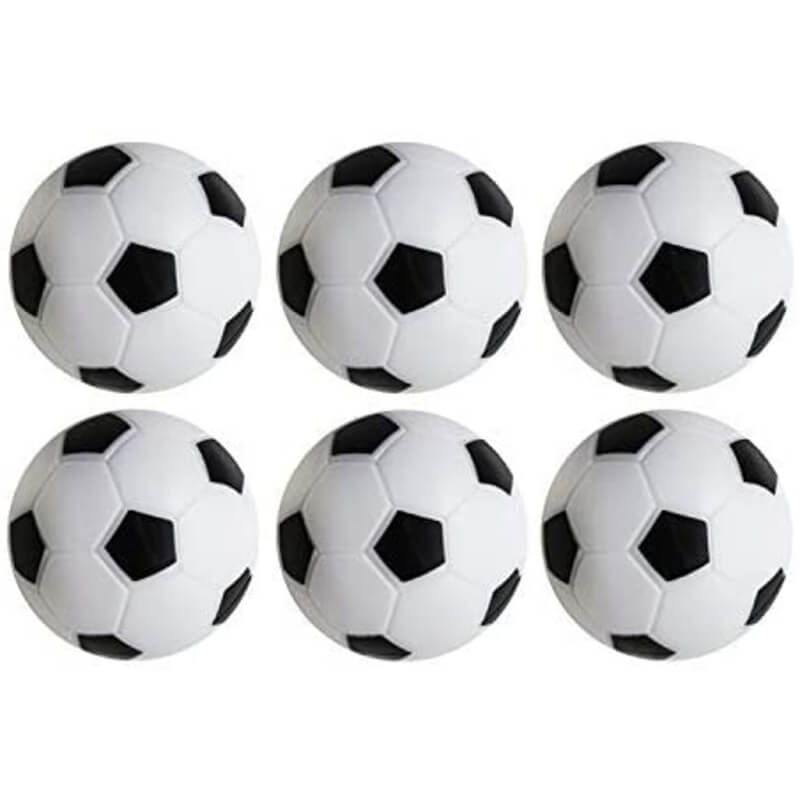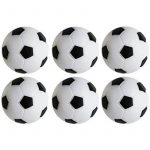 Sturdy Plastic
36MM Diameter
24 Grams Weight
Best Foosball Balls | Full Ranking
We have already reviewed some of the best multi-game tables to buy this year, where you can comfortably play foosball alongside ping pong and others. But, you do need to have some high-quality foosball balls too, to have an unmatched experience.
BEST OVERALL
Colonel Pickles Novelties Foosball Balls Set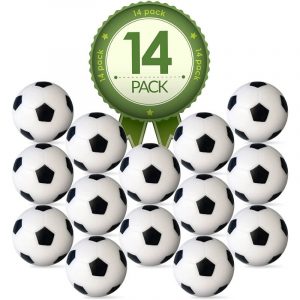 ★★★★★
14 Premium Balls
36mm Diameter
Features:
The package contains 14 premium balls for a non-stop foosball action
Premium balls are made out of high-end plastic that promotes high standards of durability
Balls measure 36 mm in diameter that is compatible with the most standard foosball tables
Purposeful construction provides better-aiming capacity and better control overall
Play better with the Colonel Pickles Novelties 14 foosball balls set.  These balls are made from high-quality plastic for the balls to move on the surface freely.
The purposeful built provides enhanced aiming for improved scoring capacity. Just club it with some high-quality foosball tables to get the real fun with your friends.
Specification:
Diameter: 36 mm
Color: white
Material: plastic
Of Balls: 14
Substantial Backup: The package includes 14 high-end balls that offer exceptional backup for long-term usage. You can have 3 or 4 matches going on at the same time and still have enough balls in the back. Therefore, this package offers a perfect foosball replacement balls value for everyone.
Standard Compatibility: Each ball is crafted with perfection, and it measures 36 mm (standard size), making it compatible with most foosball tables. It is made to offer a perfect balance on the surface where players aim for the right target. These balls offer the best movement across all types of surfaces.
High-Quality Standards: All balls are made out of fine-quality plastic materials that promote lasting performance. They are made to endure all kinds of game impacts. Therefore, you can trust these balls for continuous usage without a second thought.
Better Control: Each ball is made to offer a high value of maneuverability so it can flow freely without any friction. They are made to overcome all sorts of resistance on the surface, so they provide good control. Moreover, you get a perfect aiming functionality with these balls so that you won't miss any goal.
Pros
Plenty of backup with 14 balls in the package
Suitable for most standard size foosball tables
Enhanced durability with quality plastic construction
The price tag is low
It comes with a 100% moneyback guarantee
Cons
Black ink wears out after some time
Complains about extra lightweight
Our Take: Standard size 36 mm quality balls with reliable plastic built offer a treat for foosball lovers. Further, it is very light in weight and offers a good bounce.
BEST-RATED
Qtimal Foosballs Replacement Balls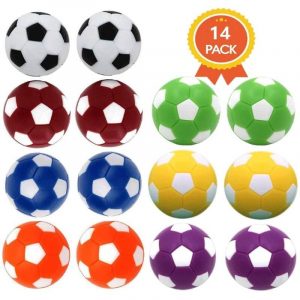 ★★★★★
Supreme ABS
Superior Construction
Features:
These standard size 36 mm balls are made out of supreme quality ABS
Pack of 14 balls has 7 incredible colors with the traditional soccer ball pattern for the best game
Superior construction offering sublime printing surface for lasting color impression
Brighten your foosball game with the Qtimal Store replacement balls with the 7 catchy colors. These high-quality replacement balls are made out of quality ABS for increased maneuverability.
Moreover, the balls have a conventional soccer ball pattern for an excellent experience.
Specifications:
Diameter: 36 mm
Weight: 24 g
Color: Wine, Green, Black, Orange, Blue, Yellow, & Purple
Material: ABS
No. Of Balls: 14
Supreme ABS Plastic Built: These replacement balls are constructed with high-quality ABS plastic materials. The ABS plastic built is responsible for the high standards of durability. Therefore, your favorite foosball replacement balls won't wear out any time soon.
A Punch Of Colors: Get started with the most colorful foosball experience with this ball set that contains 7 colors. Each ball has a superior printing surface offering high resistance against all harsh impacts. So players will no longer have to worry about their colorful ball colors fading off.
Traditional Soccer Design: The engraved soccer design on these foosball replacement balls gives you incredible control in the game. Players can expect perfect control with the most appropriately weighted balls. Furthermore, these balls are the best preference for soccer lovers.
Get More Creative: Besides just a foosball game, these balls can also be a part of your fun creative activities in schools. You can easily pair these versatile balls with your creative toy projects. So you can achieve more fun possibilities with these balls than just a foosball game.
Pros
Lasting performance thanks to the brilliant ABS plastic built
It comes with 7 superior graphic printed colors
Can be a perfect gift for all the soccer fan because of its engraved soccer design
Great value for the money
Cons
Complains about the ball's oversized nature
Don't roll properly
Our Take: 7 unique colors with engraved soccer designs make these balls the best choice for all. Further, it got the standard size and made with durable material.
POPULAR CHOICE
Table Soccer Foosballs Replacements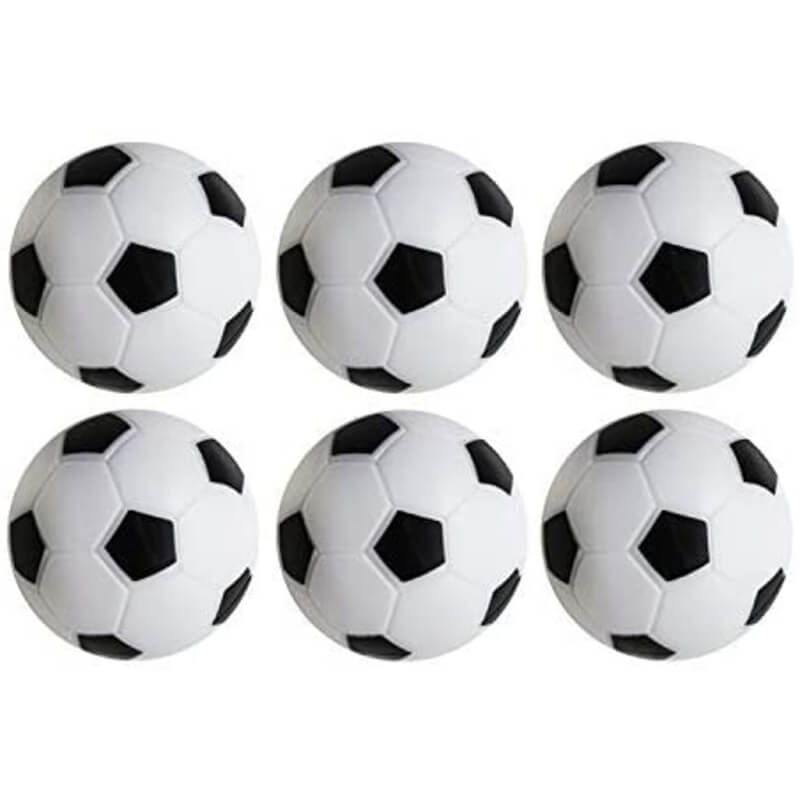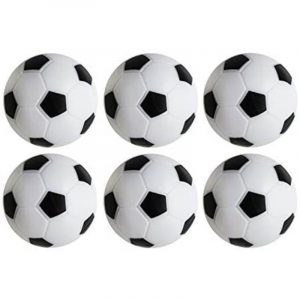 ★★★★★
Sturdy Plastic
Even Weight
Features:
Sturdy plastic manufacturing has been done here with a remarkably balanced surface
36 mm diameter has been measured of each ball with a firm covering surface
The weight is 24 gram with an even distribution on the whole body construction
The professionally made fin quality balls compatible with all types of gaming scenarios. You'll get a smooth difference on the playing surface along with a controlling impact as well.
The balls come with standard measuring that surely suits the environment of your foosball tables.
Specifications:
Diameter: 36 mm
Weight: 24 g
Color: white
Material: plastic
No. Of Balls: 6
Mini Size Balls: You'll get a unique structure exterior with 36mm measured diameter of each ball given in the ball of 6 pieces. Alongside, the balls are compatible to play with kids and professionals at the same time because of the versatility factor.
Exterior Design: The balls come with an engraved soccer design pattern with the collaboration of black and white color impact— that looks fun in playing foosball with a soccer vibe. Plus, the whole body surface is clear with no scratches.
Plastic Construction: High-quality plastic has been materialized in the structure and construction of these foosball balls set. The 24 grams weight distribution is enough for each play to sustain the balanced position during the strikes.
Pros
The sturdy plastic body design
Engraved soccer-style pattern
Affordable price
Very lightweight
Cons
Size issues
Few customers reported missing balls in the package
Our Take: Plastic-made pack of 6 balls with engraved soccer design and 36 mm diameter to enjoy foosball at your home.
TRADITIONAL
OuMuaMua 9Pcs Foosball Table Balls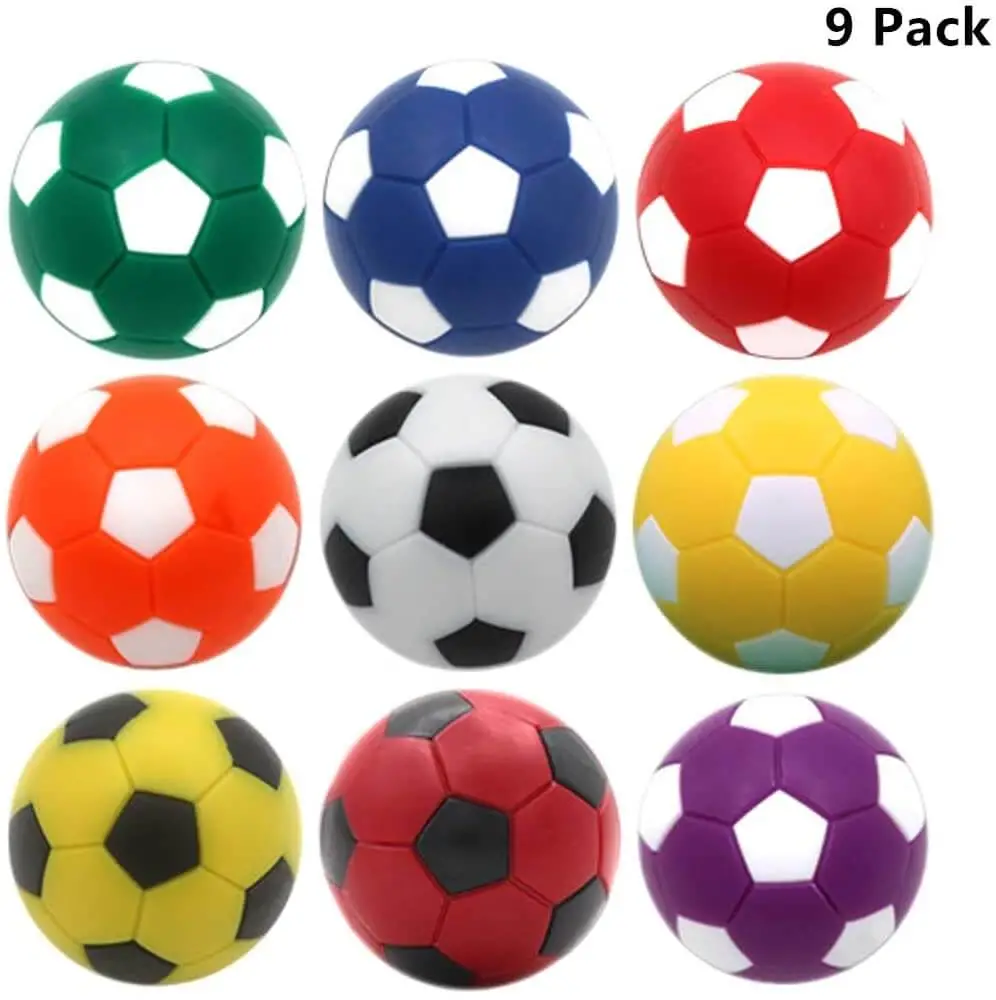 ★★★★★
ABS Construction
Signature Pattern
Features:
These balls are made from tough and resilient ABS construction for improved performance and life
It comes with the signature soccer pattern making them a treat for all the soccer fans
Set of 9 balls pack 9 unique color options for adding shades to your foosball table game
Add vibrancy to your incredible foosball game with these high-performing foosball replacement balls. Each ball weighs perfectly and measures 1.42 inches in diameter for most standard-size foosball tables.
Players can rely on these balls constructed with impressive ABS plastic materials.
Specifications:
Diameter: 1.42 inches
Weight: 0.85 ounces
Color: green, blue, red, orange, dark red, yellow, & purple
Material: ABS plastic
No. Of Balls: 9
Resilient Built: Incredible ABS construction offers a certain quality commitment. Many consumers get triggered by the fragile nature of many flimsy replacement balls but no more. These balls can go through all types of tough situations for an everlasting experience.
Clever Design: Many extra lightweight balls fly off the surface during the game but not with these balls. Each ball measures 1.42 inches in size and weighs 0.85 oz. These balls are given a little heavyweight so that they don't fly off the surface during a match. Thus, players can be sure about the trouble-free matches.
All Shades Of The Game: You'll experience 9 vibrant color patterns with these balls set. These colors include: yellow/white, white/black, purple/white, red/white, dark red/black, yellow/black, blue/white, green/white, orange/white. These interesting color patterns add utmost energy to your dull foosball table.
Quality Excellence: OuMuaMua store has been providing high-quality products over the years, and this product is no exception. They have always targeting customer's preferences by providing high-quality standards. Their products are durable and provide lasting performance.
Pros
Balls have a high value of resistance due to ABS plastic built
It comes with 9 captivating color patterns
Signature soccer design adds class to the game
Balls won't fly off with little heavyweight, given
Cons
Complains about the ball's large size
Our Take: Sublime ABS built with the 9 interesting ball color patterns make these balls a sublime choice. Further, the ABS plastic material is used in construction that gives durability.
HEAVY-DUTY
Anapoliz Foosball Balls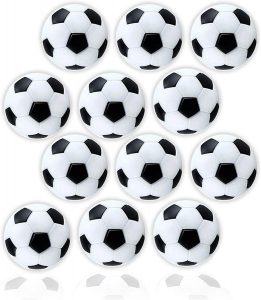 ★★★★
12-Ball Package
Better Construction
Features:
Your incredible balls measure the standard size (36 mm) and are given a perfect weight
The package includes 12 balls making a substantial backup for all types of foosball tournaments
Quality control and brilliant construction offers excellent control during the playtimes
Balls can also be used in creative projects thanks to the signature soccer design
Get your hands on the classic foosball replacement balls with the regulation size (36 mm). The set includes 12 balls that are enough to have a substantial backup for your foosball tournaments.
These balls are given a soccer ball design that can also participate in school projects and creative activities.
Specifications:
Diameter: 36 mm
Color: white & black
Material: plastic
No. Of Balls: 12
Perfect Form Factor: Each ball is processed to achieve a standard 36mm size and weight. Its weight lies in the middle, so it's perfectly sized for great maneuverability. Moreover, the regulation size goes perfectly well with all foosball tables of standard sizes.
More Backup: Are you always running out of balls during important foosball matches? Well, this foosball set having 12 balls is going to be the best possible solution. You can start different matches and still won't run out of balls in the storage.
Great Quality Control: Anapoliz Store has ensured great quality control when it comes to these replacement balls. You'll seek a great value of control in the game for leads. Moreover, you can have better aim functionality due to its purpose-built design.
Other Applications: Your balls can also participate in creative campaigns. These replacement balls are also great for Pinatas, favor boxes and carnival games. So you can spare a few balls for the foosball table and use the rest the way you want.
Pros
Offers better quality control
It can be used in DIY projects
More backup with 12 balls in the package
The price tag is friendly
Cons
Bigger than the standard size
Our Take: 12 replacement balls for more backup and the best quality control to perfect the weight make up a top purchase.
PROFESSIONAL
Coopay 12 Pieces 32mm Foosball Balls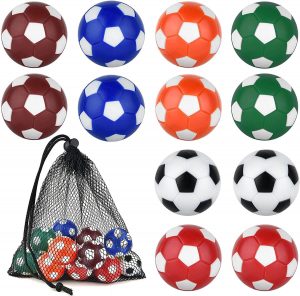 ★★★★
6 Colors
Full Accessories
Features:
The balls offer faster action thanks to the promising plastic construction
It comes with the standard 32 mm size and 17 grams weight, while players can order with the exact required size
12 balls with the multicolor pentagon pattern offering a lively foosball game
Bring your foosball game to another level with these 12 foosball balls that are designed environment-friendly. These balls come with a 1.25 inches diameter, but buyers can confirm the size of the ball they require for their table.
 Furthermore, your balls have a classic pattern with a range of unique color choices.
Specifications:
Diameter: 32 mm
Weight: 17 g
Color: orange, green, blue, white, red, & dark red
Multicolor Pentagon Pattern: Everyone with love the multicolor pentagon pattern balls for your foosball table. The package contains 12 balls containing 6 colors. So every two balls hold the same color, adding more excitement to the game.
The classic real football design will take you to the real soccer game simulation. Therefore, each game you play becomes a beacon of excitement with all the incredible colors on this foosball replacement ball set.
Get More Flexible: Now players won't have to worry about the size compatibility of their tables. Coopay Store allows its buyers to choose the exact size for themselves before the buying process. This put an end to the confusion regarding the size variations of the balls with table holes.
Environmental-Friendly Construction: These replacement balls are made out of the best quality plastic for better performance. Moreover, the balls are built without using harmful chemicals, making them suitable for all kinds of environments.
Pros
No chemicals discharge when discarded (Environmental-friendly)
Players can choose the exact size of the ball to match with their tables
The game blooms with the multicolor pentagon pattern
Quality plastic built offers swift ball action on the playfield
Cons
A bit pricey as compared to others
Less in diameter than standard balls
Our Take: Multicolor pentagon pattern with the environmental-friendly built to give you a safe purchase overall.
GLIDTECH
Fat Cat Foosball Balls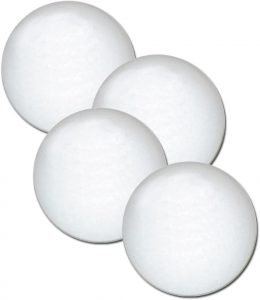 ★★★★
LiteCore Technology
Supports Rapid Moves
Features:
These balls hold enhanced shells that can endure all sorts of game impacts for lasting performing ability
Control the game with the standard 36 mm balls promoting incredible grip on the playfield
Balls contain the generous surface area, keeping friction away and promoting fluent action
Developed to produce an impressive 35mm hollow Litercore Technology for rapid movement
Experience a sublime foosball game with these balls holding 35 mm hollow Litecore technology for maximum speed. These balls offer an impressive surface boost, with the surface devoted to removing friction and promote speed.
Players can get the best grip on their game with these phenomenal replacement balls.
Specifications:
Diameter: 36 mm
Color: white
No. Of Balls: 4
Enhanced Game Control: This professional ball's surface area has been expanded, offering quality grip and control. The regulation size ball measure 36mm, making it well-suited to all the regulation size foosball tables in the market.
Enhanced Shell: Many cheap balls don't stand against the harsh impacts of the foosball game, therefore, making players disappointed. But these balls are not like the other balls you find.
Its enhanced outer shell provides a maximum level of protection against all types of impacts. Fat Cat professional foosball replacement balls accompany you for long-term performance.
No More Friction: Players seek a genius design where the ball's surface is made larger than the usual balls. The surface is kept smooth so that it can flow easily on the surface without friction complaints. Its Glidtech boost feature reduces the amount of friction on the surface for a quality flow.
35mm Hollow Litcore: These balls are built to offer the 35mm hollow Litecore Technology for enhanced ball speed. Your balls can flow with more speed so that players can take the quick lead over their counterparts.
Pros
Enhanced speed with 35mm hollow Litcore functionality
A stronger outer shell offers lasting performance
Less friction with Glidtech boost
Very low price
Cons
Not perfectly spherical
Complains about the ball balance
Our Take: Glidtech boost and 36 mm hollow Litecore feature boost your foosball game with an elegant touch.
FAQ Regarding Best Foosball Balls
Q. What are the best foosball balls?
The best foosball balls, according to our research and reviews, are Coopay 12 Pieces 32mm Foosball Balls and Fat Cat Foosball/Soccer Game Table Soccer Balls.
Q. Can you use ping pong balls for foosball?
Yes, you can play your foosball ball game with ping-pong balls as well as dog treats. But remember these both are known as substitutes. In addition, if you want to have the best gameplay, then you might use the right balls for allowing you to have the best experience in terms of gameplay.
Q. Is it illegal to spin in foosball?
Yes, spinning your foosball is considered an illegal affair during the gameplay. Therefore one should always keep in mind that this is a fundamental rule which is applied to any foosball game. The spinning of your foosball will take away the elements of your skills during the gameplay.
Q. What can I use instead of foosball?
You can use Golf balls instead of your foosballs as they are created with the concept of being played outdoors. These golf balls are rugged and sturdy in their compositions when compared to foosballs. Furthermore, this feature allows you to have the best experience during the gameplay.
Best Foosball Balls | Quick Comparison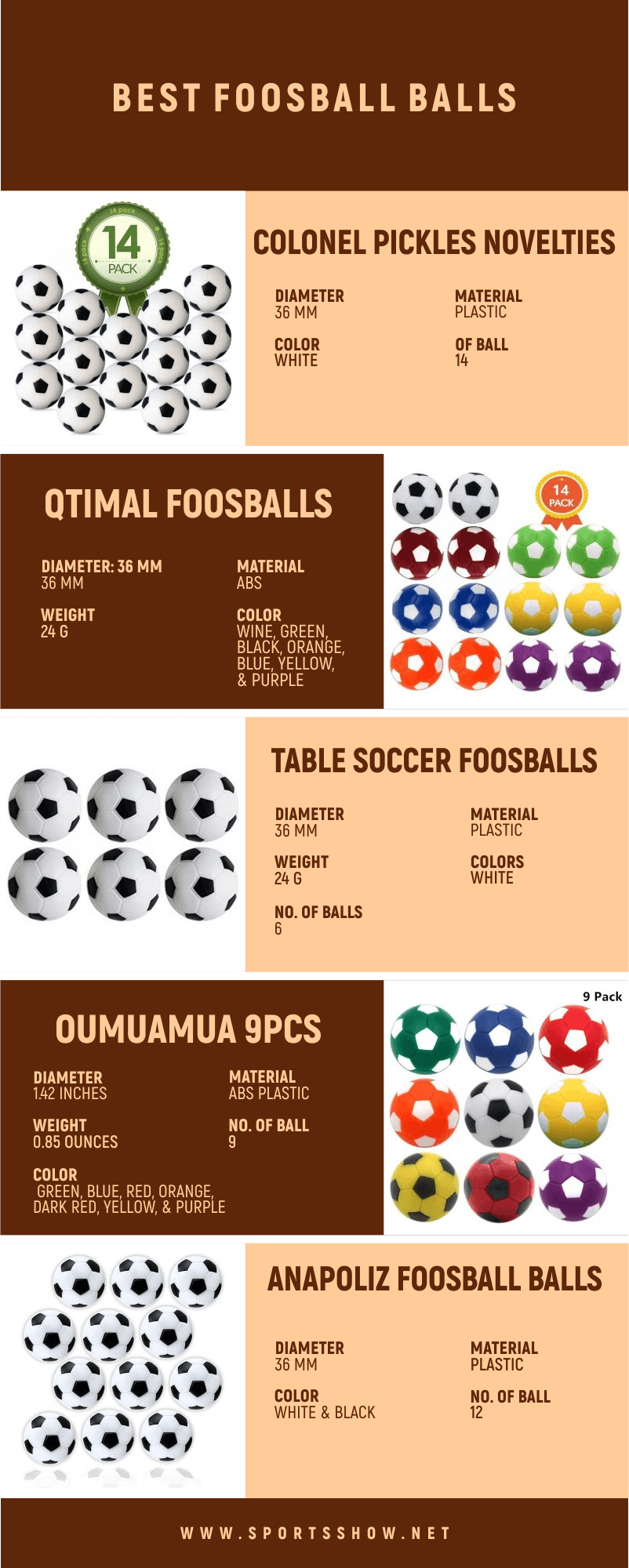 Our Recommendation:
Our 1st recommendation is the Coopay 12 Pieces 32mm Foosball Balls as one of the best and durable made foosball gaming balls. A pack of 12 pieces in the ball package along with high-quality plastic construction and 32 mm diameter for professional gameplay.
Additionally, our 2nd recommendation is the Fat Cat Foosball Balls as the best foosball design balls. The solid white exterior structure is having a 36 mm diameter and Litcore Tech hollow design structure as well.
Conclusion
Here are the set of best foosball balls featuring a professional body construction with standard measurements for you. The players will get a smooth sliding impact of balls while striking on the foosball fields. Plus, the exterior is also balanced with the advanced structured designs on the whole surface.
Withal, the diameter of each given ball in the package is tested before delivering to the customers. The buyer also gets color availability factors in the ball set to make the foosball game more fun. Some of the balls are also made of sturdy plastic and proper weight distribution impacts.