It might be nowhere near the power and prestige of European clubs, but it surely is the hotbed of talent and has acted as a constant source of talent for the elite clubs of the world. Here, we count down the best South American football clubs.
Brazilian side São Paulo Futebol Clube, aka Sao Paulo FC, is surely the best Latin American football club of all time. This club has achieved 22 domestic league titles as of 2023. Besides, this club has achieved 6 Brasileirão titles and 3 Copa Libertadores titles. Argentine side Club Atlético Independiente and Columbian side Atlético Nacional also deserve their mentions among the best South American football clubs.
South America is the home of artistic football, where you can see a lot of ball juggling and amazing dribbling skills. So now, let's take a deep dive into the South American football scenario to know more.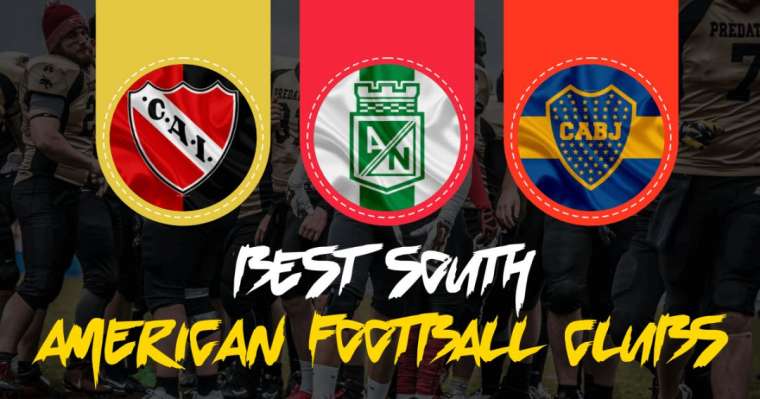 Best South American Football Clubs | 2023 Updates
For the average viewers, it's the competition that appeals to them and not the quality of football played as such. South America might be the place where some of the most competitive football is played.
10. Santos FC
At number 10 in the best South American football clubs, we have Santos from Brazil. One of the most successful and historic clubs in Brazil, Santos has won the domestic titles 8 times, Copa Libertadores three times, and Copa de Brasil once.
Not only that, but it has produced some of the greatest football players ever, like Pele, Robinho, and Neymar. Though Neymar has left for Barcelona, there is still enough young talent to make it among the best teams in Brazil.
Read More: How To Shoot A Soccer Ball? (With Accuracy & Precision)
9. Corinthians
At number 9 in the best South American football clubs, we have Corinthians from Brazil. Corinthians now also holds its place as the biggest club in Brazil. And they surely have the silverware in their cabinet to prove so.
This club has seven Brasileirao titles, the Libertadores titles, and the FIFA World Club Cup (by defeating Chelsea). Many famous players have donned this club's colors, including Tevez, Ronaldo, Mascherano, and Socrates.
8. River Plate
At number 8 in the top 10 best South American football clubs, we have River Plate from Argentina. In terms of titles won, River Plate is the most successful club in Latin America, with 37 league titles and 4 Libertadores, but they have had no big success in the last decade.
River Plate is now like a fallen giant who has provided many good players to Europe, like Ortega, Saviola, Crespo, etc., but it was di Stefano who started his career here but went on to become a household name worldwide.
7. Boca Juniors
At number 7 in the best South American football clubs, we have Boca Juniors from Argentina. The arch-rivals of River, Boca Juniors' impressive title tally might pale in comparison to Rivers with 35 league titles, but it is at the continent stage where they have shone with six Libertadores.
The International Federation of Football History and Statistics names them the best South American club of the 21st century. Over the years, players to have come from here include Burdisso, Tevez, Palacio, and also the great Maradona.
You May Like: What Is Striker In Soccer? (Forward Positions – Explained!)
6. Penarol
At number 6 in the best South American football clubs, we have Penarol from Uruguay. With 51 league titles and 5 Copa Libertadores, Penarol has been a dominant force in Uruguayan football.
Despite their great history, Penarol is yet to bag a title at the continent level since 1987 (finished runner-up to Santos in 2011), so they are in a slump at the moment.
The most famous player to be linked with Penarol is inarguably Ghiggia, who scored the winning goal against Brazil in the 1950 World Cup and knocked them out.
5. Colo-Colo
At number 5 in the top 10 best South American football clubs, we have Colo-Colo from Chile. 33 league titles, 16 cups, and one Libertadores triumph are all testaments to Colo-Colo's illustrious history, and it is one of the best clubs in Chile.
Instrumental in cultivating a lot of local talent for the national side, Colo-Colo is a club to be reckoned with, which plays Chile's style of fast and attacking football.
4. Club Olimpia
At number 4 in the top 10 best South American football clubs, we have Club Olimpia from Paraguay. Like other teams on the list, Olimpia also has a glorious past. It has amassed 46 league titles and three Libertadores.
In 1979, the club reached its zenith of success when it completed the quadruple League title, Libertadores, Copa Interamerica, and Intercontinental Cup.
Its most famous export is Roque Santa Cruz, a captain of the national squad and the highest scorer for the Paraguayan team.
3. Atletico Nacional
At number 3 in the top 10 best South American football clubs, we have Atletico Nacional from Colombia. A recent surge in their performances has seen them win seven league titles in the last decade.
And it transformed the club into one of the major powers of Latin football. The club is fondly remembered as the origin of the legendary goalkeeper Rene Higuita, famous for his sweeping style and dribbling in spite of being a goalkeeper.
2. Independiente
At number 2 in the top 10 best South American football clubs, we have Atlético Independiente from Argentina. It is one of the most historic clubs in Argentina that has won 16 Primera titles and 9 National Cups.
They also achieved 7 Copa Libertadores (a record number of times and the only club to win it four times in a row).
Independiente won three Copa Interamericana, two Supercopa Sudamericana, two Intercontinental Cup, and one Recopa Sudamericana. Its silverware alone makes it the most important club in Argentina.
But in recent times, it has declined to the extent of relegation but has again bounced back under Hugo Moyano. And now, it is starting to look as menacing as in its golden days.
Further Read: What Is CDM In Soccer? (Central Defensive Midfielder – Explained!)
1. Sao Paulo
At number 1 in the top 10 best South American football clubs, we have Sao Paulo from Brazil. Sao Paolo FC is the absolute powerhouse when it comes to Latin football.
It also holds its place among the 5 Brazilian clubs that never faced relegation. It has 22 league titles, six Brasileirao, three Copa Libertadores, and one Copa Sudamericana.
They also achieved one Supercopa Libertadores, one FIFA World Club Cup, two intercontinental cups, and one Copa CONMEBOL.
This club won one Copa Masters CONMEBOL and two Recopa Sudamericana. Apart from such a collection of silverware, it is also the second most financially valuable team in Brazil.
Best South American Football Clubs – Infographics
Our Popular Blog: Why Do Soccer Players Flop So Much? (Explained!)
FAQs Regarding Best South American Soccer Clubs
Q. Which team has the most success in South America?
Boca Juniors and Atlético Independiente are Argentina's two most successful teams in CONMEBOL competitions, winning 18 trophies each. Independence holds the record for most Copa Libertadores trophies (seven), followed by So Paulo and River Plate with 12 each.
Q. Does South American football exist?
A large part of South America's association football is overseen and administered by the South American Football Confederation (CONMEBOL). There are different league systems in each CONMEBOL member association. Throughout the top-level leagues, there is an ongoing competition to determine the country's club champion.
Q. Which club is the biggest in South America?
The Flamengo club is the biggest in South America. Flamengo from Rio de Janeiro, Brazil, had 44 million fans as of mid-2023, making it the most popular soccer club in South America. Following it was the Brazilian SC Corinthians Paulista, with 39 million fans.
Last Updated On: March 2023