Legendary retired Pakistani player Jahangir Khan is widely considered the greatest squash player the world has ever seen. He achieved the prestigious Squash World Open a record six times and the British Open a record ten times in his career. His fellow Pakistani player Jansher Khan and former Scottish player Peter Nicol also deserve their mentions among the greatest squash players of all time.
Squash was derived from the game of racquets from England and was invented by the Harrow School in 1830. And since then, several greatest squash players have dominated this sport. It was first played on the outdoor court, and when the school authority faced difficulties while playing it outdoors, they built the outside walls and made it an indoor game.
Eventually, it started to spread out in other schools and later spread throughout the world. According to the World Squash Federation, there are 49,908 squash courts in the world, and England has the greatest number at nearly 8,500.
Best Squash Players of All Time – 2023 Exclusive Updates
188 countries and territories have at least one court, while major countries have more than 1,000. Squash is recognized by the International Olympic Committee and is soon to be incorporated into future Olympic programs. Forbes voted squash as the No. 1 healthy sport to play in 2003. Sports Show Team has Compiled a List of the top 10 best squash players.
10. Ramy Ashour – S

quash Best Player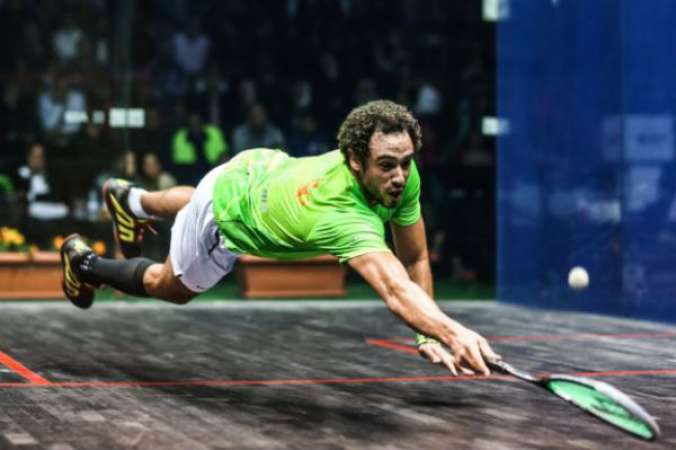 Professional Egyptian squash player Ramy Ashour is the youngest player to reach the No. 1 position at the age of 22 in the squash world since the 1980s. He is widely considered the best squash player in recent times.
He won the Men's World Junior Squash Championship in 2004 at the age of 16. Ashour became the only player in squash history to win the World Junior Championships for the second time in 2006. He won his first professional title at the Canadian Squash Classic in 2007.
Ramy won two World Open titles in 2008 and 2012 and won the silver in 2009. He also won the British Open in 2013 and the Hong Kong Open two times in 2010 and 2012.
Ramy achieved the Qatar Classics in 2007 and the US Open in 2012. Besides singles, he also won World Team Championships twice, in 2009 and 2011.
9. Jonah Barrington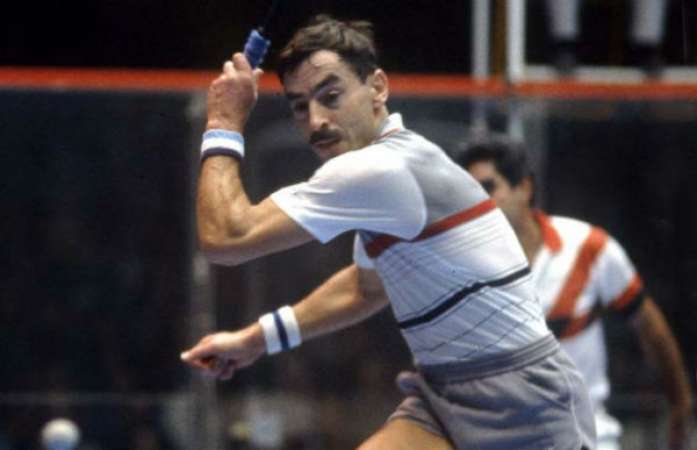 Retired English-born Irish squash player, Jonah Barrington, made his name as one of the Best squash players of all time. The world considered the British Open as the world championship of squash during that era.
The Squash association was yet to establish the World Championship at that time. He won the British Open title 6 times, from 1967 to 1973. And while doing it, he became the most successful British squash player ever.
He was defeated in the first set with 0-9 in one of his most notable games with legendary Geoff Hunt. But then, he made an amazing comeback from the second set and won the match with 9–7, 10–8, 6–9, and 9–7.
Besides squash, he also wrote Murder in the Squash Court: the only way to win with Angela Patmore.
8. Hashim Khan
Legendary squash player from Pakistan, Hashim Khan, is widely regarded as the best squash player of the pre-modern era and also as one of the best athletes in sports history.
He started his squash journey as an unpaid ball boy at a club for British army officers in Peshawar, Pakistan. Hashim won his first championship in the All-of-India squash championship in 1944 in Bombay (now Mumbai), India.
He then continued to win the title for the next two years. He won the first Pakistani squash championship after being appointed as a squash professional at the Pakistan Air Force in 1949.
Hashim won the British Open Squash Championships a total of seven times, including consecutive titles from 1951 to 1956 and again in 1958. He died on 18 August 2014 at the age of 100.
7. F. D. Amr Bey
Former Egyptian squash player F. D. Amr Bey is widely considered the first truly dominant squash player in the history of sports and also the best squash creation of Egypt. He started his squash journey as a ball boy at Gezira Sporting Club in Egypt.
His first win in the British Open men's title came as he defeated Don Butcher in 1933. Butcher won the title the previous two years. He won the British Open men's title six consecutive times from 1933 to 1938.
Amr also has a place in the Guinness Book of World Records for winning the British Amateur Championship 6 times from 1931 to 1937.
He was honored as the pioneer leader in the "golden age of sports in Egypt" and nicknamed the "Human Streak of Lightning." Bey received the World Squash Awards' Lifetime Achievement Award in 2009. He died in 1972.
6. Chris Dittmar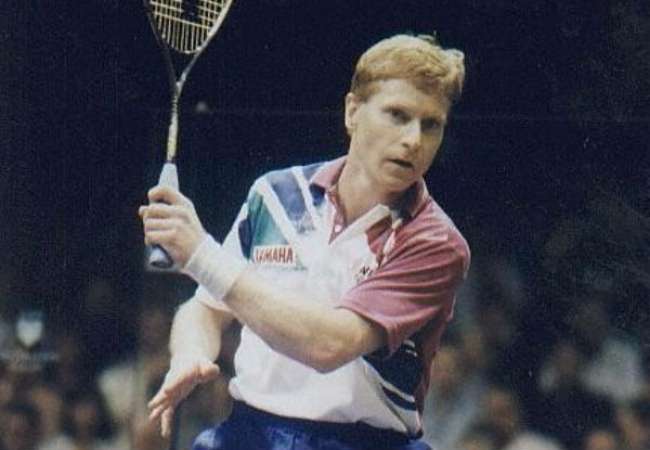 Retired Australian squash player Chris Dittmar is widely considered the best player never to have won any of squash's two biggest titles. He won the British Open Junior Championship in 1981 but never won a singles title as a pro.
Many sports critics stated that he was perhaps unlucky to play squash during the same era as two great Pakistani players, the legendary Jahangir Khan and Jansher Khan.
Chris managed to beat one of the two Khans in many semi-final rounds but was defeated by the other in the finals. He participated in the World Open finals five times from 1983 to 1992 and won two silvers at the British Open in 1985 and 1993.
Besides his singles career, he also captained the Australian national squash team and won the World Team Squash Championships in 1989.
5. Jonathan Power
Retired Canadian squash player Jonathan Power is widely considered one of the best shotmakers in the history of squash. He is acclaimed for his wide variety of deception shots and drop shots.
Jonathan is the first North American squash player to reach the World No. 1 ranking in squash. He won 36 PSA tournaments and participated in 58 finals during his career.
He won the World Open in 1998, the British Open in 1999, the PSA Masters three times from 2001 to 2005, the Super Series Finals two times from 2003 to 2005, the Tournament of Champions four times from 1996 to 2002, and also won the Gold Medal in men's singles at the 2002 Commonwealth Games.
After his retirement in 2006, he is currently running the Power Squash Academy in Toronto, Canada.
4. Geoff Hunt
Retired Australian squash player Geoff Hunt is widely regarded as one of the best squash players in the history of squash during the golden era. He won the Australian Junior Championship in 1963 and turned professional while winning the Australian Amateur Men's Championship in 1965.
He became the inaugural World Open title champion in 1976 and continued to achieve the reward on the first four occasions it was held from 1976 to 1980.
Geoff also won the British Open eight times from 1969 to 1981 and won the International Amateur Individual Championship three times from 1967 to 1971.
He has been inducted into the World Squash Federation Hall of Fame and also the Sport Australia Hall of Fame. Besides squash, he served as the Head Coach at the Australian Institute of Sport from 1985 to 2003.
3. Peter Nicol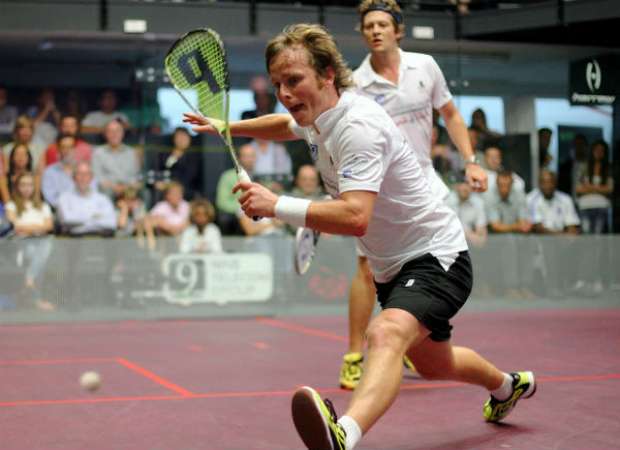 Former Scottish squash player Peter Nicol represented Scotland and England in international squash during his career and is widely considered one of the most outstanding international squash players of all time.
He became the first player from England to hold the World No. 1 ranking in 1998. Peter won a World Open title, two British Open titles, and four Gold Medals in Commonwealth Games during his career.
He also won Super Series Finals titles three consecutive times, two PSA Masters titles, two British National Championship titles, and three Tournament of Champions titles.
He won 52 titles and participated in 69 Tour finals before his retirement. Peter was ranked the World No. 1 squash player for a total of 60 months during his career, which included a consecutive 24-month streak from 2002 to 2003.
2. Jansher Khan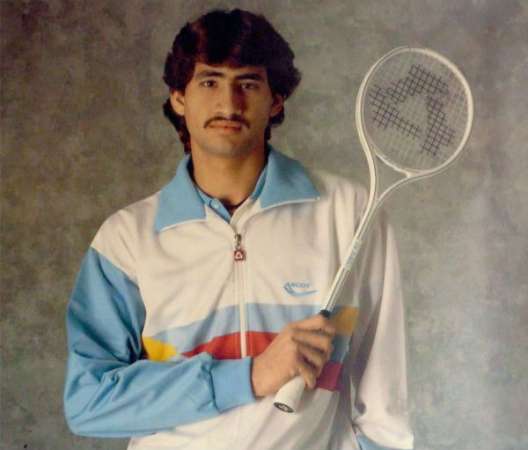 Retired Pakistani squash player Jansher Khan was widely regarded as a hard competitor of squash legend Jahangir Khan even during his top form and was also considered one of the best players in the history of squash.
Jansher won the World Junior Squash Championship title at the age of 17 in 1986. Jansher achieved his first win over Jahangir with straight games in the semi-finals of the Hong Kong Open in September 1987.
He then continued to beat Jahangir in their next eight encounters consecutively. He won the World Open a record 8 times and the British Open 6 times during his amazing career.
Jansher was ranked the World No. 1 in squash for over 10 years and won a total of 99 professional titles before he retired in 2002.
1. Jahangir Khan – B

est Squash Player Ever
Retired Pakistani squash player Jahangir Khan is widely regarded as the best squash player in history. He was unbeaten in competitive play when he was in his top form. And he won 555 matches consecutively from 1981 to 1986.
He is the Guinness World Records holder for this 555-winning legacy as the longest winning streak by any athlete in any top-level professional sport.
Jahangir won the World Amateur Championships at the age of 15. He then became the World Open Champion at the age of 17, becoming the youngest champion ever in squash history.
He won the British Open a record ten times and the World Open six times during his career. Besides squash, he also became the President of the World Squash Federation from 2002 to 2008. Then he was re-appointed as the Emeritus President in 2012.
Conclusion
Squash is one of the most popular sports in the world right now. And there are different variations of squash played all across the world. The U.S. hardball singles and doubles are played with a harder ball and on different size courts.
A doubles version of squash played with the standard ball on a wider court, and tennis-like features are called squash tennis. The American cousin, racquetball, which is played on a relatively small court and low-bouncing balls, is also very popular.
Greatest Squash Players | Infographics
So, what are your thoughts on the top 10 best squash players? Let our SportsBrowser team know your honest opinion in the comment box below.
FAQs Regarding Best Squash Players
Q. Why do squash players touch the wall?
Squash players use touch as one of their sensory cues. For example, many players have been wiping their hands on the walls. This is because they use it to remind themselves they are on a squash court, in the present, and to block out all the things that have come before or are happening around them.
Q. How far do squash players run in a match?
In a professional squash match, a player runs an average of 2.5 kilometers. Most amateurs run 1.5 kilometers during a match. Professional players may cover 4 kilometers during a match. Pro squash players will often run as much as 10km a day in training.
Q. How do Points work in squash?
The point-a-rally rules of squash mean that whenever you win a rally, you gain a point (unlike volleyball, for example, where you have to serve to gain a point). The game used to be played to 9 points, and you could only win a point with your service, but at this point, all points are scored in PAR.
Q. Is playing squash good for tennis?
In terms of fitness, footwork, explosiveness, and general racket awareness, squash is excellent, but technique-wise you shouldn't let it influence your tennis. On the other hand, if someone decides to take up another racquet sport in place of tennis, it may impact their tennis game.
Last Updated On: January 2023