Sports are an integral part of our lives and with the sporting needs, rush in the necessities of sports accessories or apparel. There are numerous brands of sports gear in the market but only some of them are the best of them all. In this following list, we take you through the kings, rulers as well as the emperor of the sports gear market. What makes them the richest? Well, their quality, for sure is a very big factor among all the others. Marketing, consistency with their products, and innovating on a regular basis with their gears are what make them stand out from the crowd. Here we bring you the top 10 richest sports brands in the world right now.
Richest Sports Brands In The World Right Now | 2022 Updates
Some common names such as Nike and Adidas are very popular among not only just the public but also among the most important athletes due to their durability and amazing performance. In this following list, you will journey through similar Sports Apparel Companies.
10. Kappa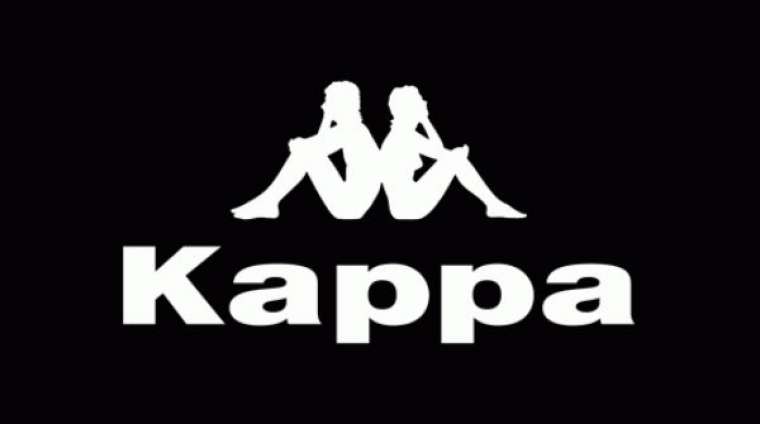 At number 10 of the top 10 richest sports brands in the world right now, we have Kappa. Kappa is an Italian sportswear brand founded in 1967 in Turin which is in Italy.
This company is wildly famous in Asian countries as well as in other parts of the world. The revenue status is 111 million euros which gives this company a place on this list.
There are similar companies like this, but none are better than kappa. It truly is one of the biggest sports accessories companies.
9. Lotto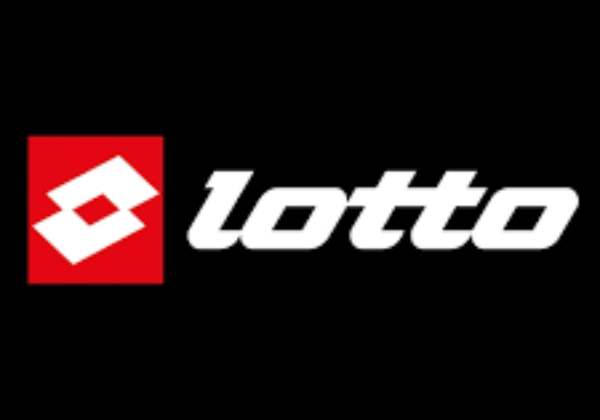 At number 9 in the list of the top 10 richest sports brands in the world, we have Lotto. Lotto Sport Italia is an Italian sportswear manufacturer.
Lotto doesn't only produce sports garments but it is also known for making a good name in the footwear industry. Its products are now distributed in more than 60 countries.
Established in 1973, this one is among the best and the richest sports accessories-making companies to date.  Lotto has improved a lot in the clothing line of sportswear.
8. Columbia Sportswear
At number 8 of the top 10 richest sports brands in the world right now, we have Columbia. It is a United States-based company and was founded in 1938, which was 81 years ago.
Currently, Gert Boyle is the chairman of this amazing sportswear company. Columbia has a revenue of over 2.1 billion US dollars. This is why it deserves a place on this list.
7. ASICS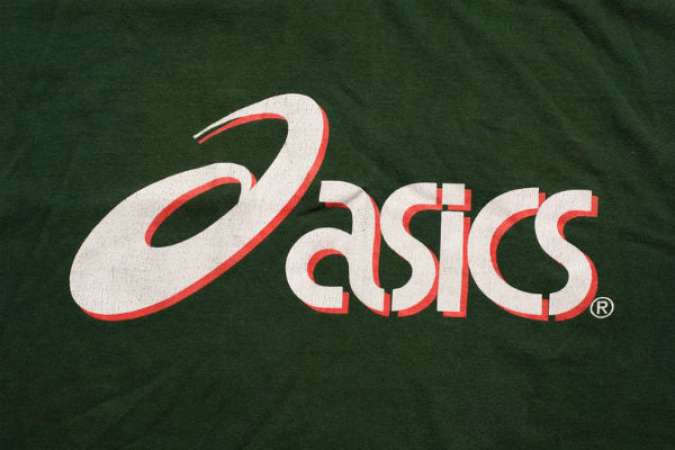 At number 7 of the top 10 richest sports brands in the world right now, we have here ASICS. It is a Japanese sports accessories company. Asics is known to produce footwear and sports equipment designed for a wide range of sports.
Kihachiro Onitsuka found this company in 1949 which was 70 years ago. The headquarters are in Japan but they have consumers worldwide. It is one of the richest sports companies on this day.
The reason why this company is one of the best-selling sports merchandise companies in the whole world is that not only do they provide a variant and vibrant range of sports apparel but they also have been consistent with their brand and have improved their quality a lot since the beginning.
6. Fila
At number 6 of the top 10 richest sports brands in the world right now, Fila is an Italian-South Korean sports apparel company. It became a fully Korean company in 2007 and is operating in South Korea since then even though it was founded in Italy.
The company produces sports apparel for not only adults but especially for kids and women too.
This has to be one of the oldest sports apparel companies with a history of being founded 108 years ago. To this date, it is one of the great sports brands.
5. Puma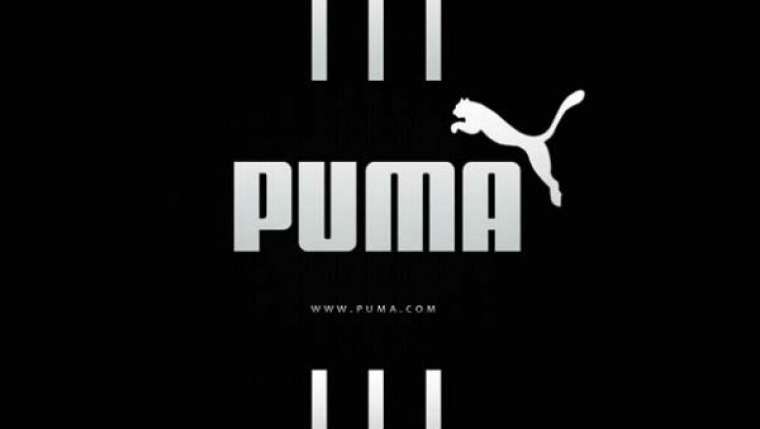 At number 5 of the top 10 richest sports brands in the world right now, we have puma. It is a German Footwear company primarily but it also produces other sports accessories such as travel bags, clothes, shades, etc.
This company was founded by Rudolf Dassler 71 years ago. It has a global consumer record. This company has more than 11,000 employees worldwide.
4. Under Armour
This one of the top 10 richest sports brands in the world right now is a comparatively new one and is just 23 years old. Founded by Kevin Plank, Under Armour is truly one of the biggest selling sports apparel companies.
The official headquarters are located in Baltimore. Initially, it was only limited to clothing but in 2006, Under Armour also started producing footwear for its customers.
Their footwear became an instant hit and the rest is history. Today, it is one of the best sporting goods sellers in the whole world.
3. Reebok
At number 3 of the top 10 richest sports brands in the world right now, we have Reebok. Many people don't know it but it is actually a subsidiary of the company ADIDAS.
It was founded in 1958 and since then it has grown such largely that it has its own name in the hall of fame now. It might have a company like Adidas for a parent but it is not so ordinary itself either.
Reebok produces the most variant sports apparel in the world. It also has its own soap and line of deodorant. Not only sports apparel but they also produce sports clothing as well as amazing sports shoes. Much like Adidas, it has a global fan following of millions too.
2. Adidas
At number 2 on the list of the top 10 richest sports brands in the world right now, we have the second richest and popular sports accessories company, Adidas.
This company really upped its game since 2014 and has more than 19.5 billion dollars worth of yearly sales. This is often mistaken for an American company but it is actually a German company that is renowned in the whole world.
Adidas has been the official sponsor for the FIFA world cup for the last thirty years and that has gotta say something about this company's income. This is why Adidas deserves second place.
1. Nike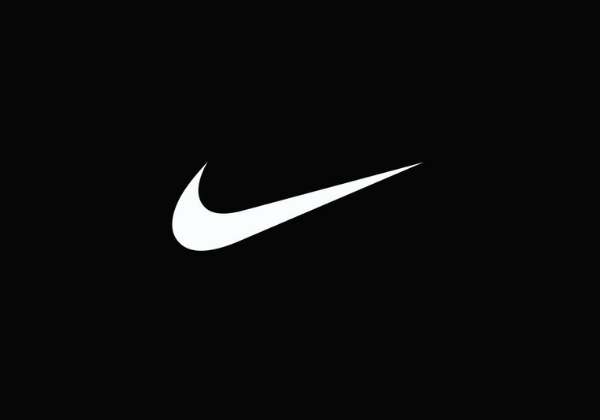 With more than 27 million dollars worth of yearly sales, this company stands at the peak of the top 10 richest sports brands in the world right now. Nike began as an American sports gear company that grew with gradual time and has evidently improved a lot since then.
It is so successful on top of that it produces gears for every kind of sport there is. Starting from golf, soccer tennis to the NBA, they have the perfect solution for the need of every sport.
With a market capitalization of more than 65.8 billion dollars, Nike deserves to be on the top of this list. It is truly rich, and not just financially but in terms of fans too. Besides, it now holds its place as the best sports accessory company.
Conclusion
A sport is a necessity for those who seek adventure or crave personal fitness. For that, they require correct gears. These were the Top 10 Richest Sports Apparel Companies. We are sure you have heard as well as used most of these brand items. If you haven't, give them a try. We hope you liked our list of the top 10 richest sports brands in the world right now. If you did, leave a comment below and let us know.
Richest Sports Brands | Infographics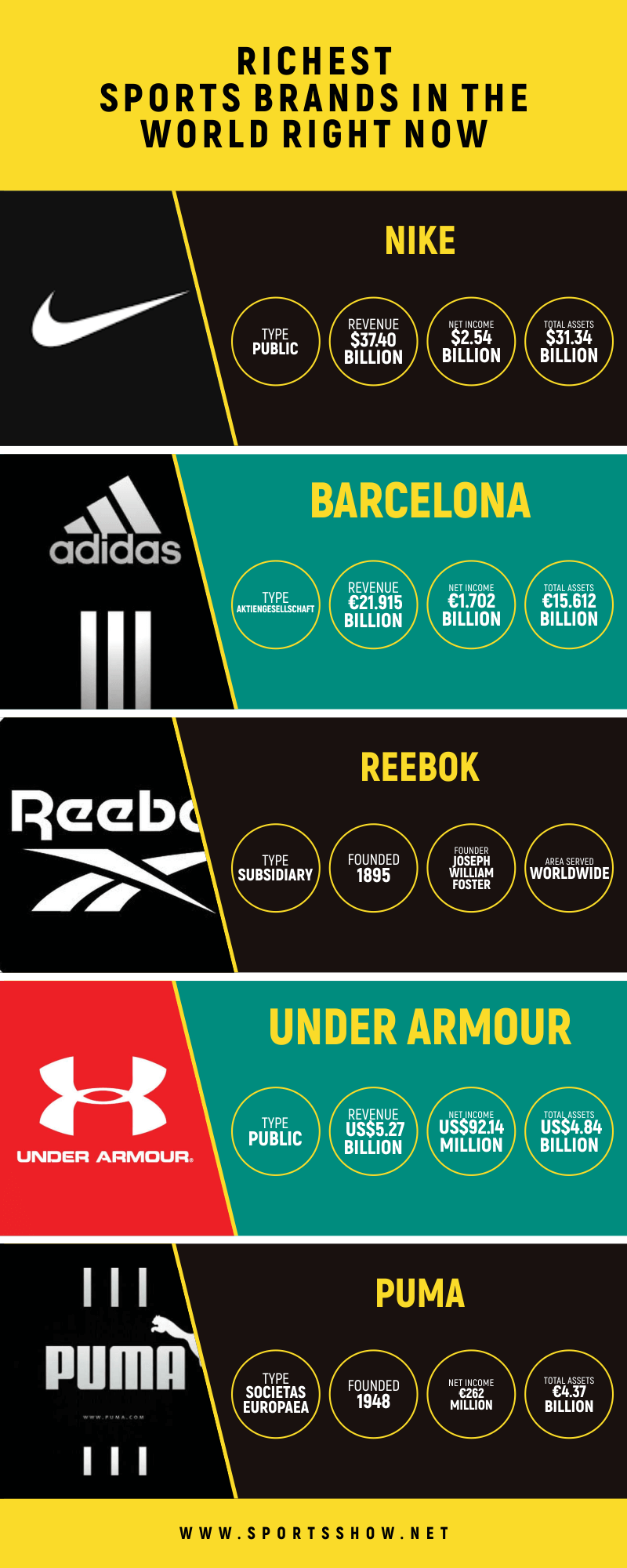 FAQs Regarding Richest Sports Brands
Q. Which is the No 1 sports brand in the world?
A leader in sports goods manufacturing, distribution, and marketing, Nike is among the world's largest. Nike employs more than 70,000 people around the world and makes sports shoes, apparel, sports equipment, and much more. With a global footprint, it has always been one of the top sports brands.
Q. Who is richer, Nike or Adidas?
Adidas and Puma combined have less global revenue than Nike. Despite its size, Adidas is Europe's largest sportswear manufacturer and just behind Nike's, with nearly 20 billion euros in annual revenue and a brand value of approximately 16.5 billion dollars.
Q. Is Nike better or Adidas?
In terms of revenue, Nike has a bigger business overall and is the market leader when it comes to sports brands, with their footwear revenue reaching $24.2 billion in 2018, compared to Adidas' footwear revenue, which reached $15 billion in 2018.
Q. What is Nike 2022 worth?
Nike's brand value decreased from $40.91 billion U.S. dollars in 2020 to approximately $30.44 billion U.S. dollars in 2022. However, Nike remains one of the top brands in 2022, and it seems to be.
Last Updated On: May 2022