Sometimes, attackers, too, can take great advantage of their long legs, if they are gifted with a good height. Let's take a look at some of the tallest soccer players of all time.
If we look at the list of the best football players of all time, we will see that one of the legends is particularly known for his height. Obviously, with a lower center of gravity and better control, players of average heights find it easier to be creative.
But, height can be a great advantage, especially for players in the central defense. It's an obvious requirement for goalkeepers, of course.
Tallest Soccer Players In The World | All-Time Ranking
We are going to include all the footballers/soccer players who had to have played some sort of professional football during their careers. This would be fitting to answer the eternal question: Who Is The Tallest Soccer Player In The World? So just scroll down to get your answers.
10. Øyvind Hoås – (Height: 2.03 m – 6 ft 8 in)
Yet another lanky footballer from Norway, but unlike the former ones, he has made a name for himself in the soccer world. Oyvind Hoas currently played as a striker for Kristiansund since his joining in 2015.
He started his football journey while playing for Molde FK, and then he transferred to Fredrikstad two years later. He earned acknowledgments for his brief career with Honefoss (Norwegian first division team).
Besides his club appearances, Hoas also played for the under-21 international squad of Norway. With a height of 6ft and 8 inches, he is one of the tallest soccer players in the world.
9. Even Iversen – (Height: 2.03 m – 6 ft 8 in )
Norwegian defender Even Iversen never played outside of Norway throughout his professional career. He started his footballing journey while playing for Oslo East and Flakstad IL during his childhood days.
He plays for the Norwegian club Hasle-Løren Idrettslag since his joining in 2013. The only pinnacle of his professional soccer career came when he played for the Norwegian League Champions Bode/Glimt in 2006-2007.
With an unmatched height of 6.8 feet, Iverson is the 9th tallest footballer in football history.
8. Kjell Petter Opheim – (Height: 2.03 m – 6 ft 8 in)
Norwegian footballer Kjell Petter Opheim has earned compliments for his performance with Norway's club Stryn Football (3rd tier Norwegian league squad). As a goalkeeper standing 6.8 feet tall, he is the 10th tallest soccer player in the world.
Besides Stryn, he also played for several other big clubs such as 2-time Norwegian Premier League winners Lyn Football and the 1983 Norwegian Cup winners Moss FK.
He also participated in several competitive matches for the Manglerud Star club. Despite having good seasons in the Norwegian lower league, Opheim never really made a mark for himself in the world of football.
7. Costel Pantilimon – (Height: 2.03 m – 6 ft 8 in)
Romanian footballer Costel Fane Pantilimon currently plays as a goalkeeper for the Turkish club Denizlispor. He earned praises for his performance with Manchester City during his time in the club between 2011 and 2014.
While playing for City, he became the tallest soccer player in Premier League. After leaving the sky blues, he then played for Sunderland. At the height of 6'8″ (203 cm), he is currently the tallest soccer player in EFL.
He is known for his fine conduct and performance. Besides his club career, Pantilimon also played for the Romanian national team since 2008. He is currently the 7th tallest footballer in the world.
6. Lacina Traore – (Height: 2.03 m – 6 ft 8 in)
Ivorian footballer Lacina Traoré currently plays for the Turkish club Bandırmaspor. Traoré came into notice when Monaco bought him in 2014. But he is mostly known for his stint with Everton on loan from AS Monaco.
He played as a striker for Premier League side Everton and became the tallest soccer player in EPL. Traoré is nicknamed the "Gentle Giant" and "The Big Tree" due to his 6 feet 8-inch frame.
He does not just rely on his height but also on his pace and power. Traoré also played for Sporting Gijón and made his debut in La Liga against Alavés on 5th February 2017. He is among the tallest soccer players still active in the international circuit and was the tallest soccer player in La Liga.
5. Tor Hogne Aarøy – (Height: 2.04 m – 6 ft 8 1/2 in)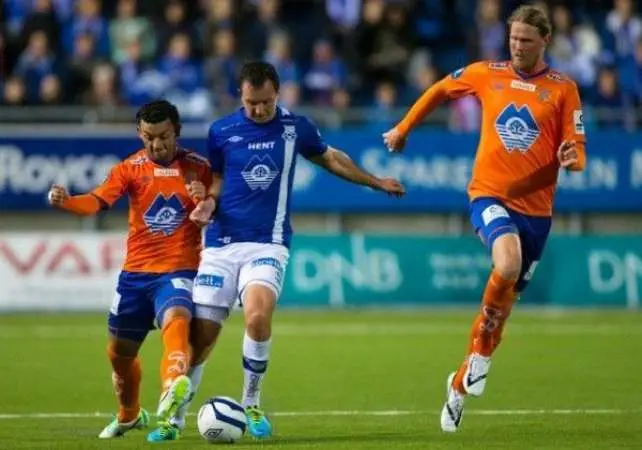 Norwegian football forward Tor Hogne Aaroy scored several impressive goals for Norwegian Premier League club Aalesunds FK. His stint with Japanese club JEF United Chiba also got praises from football pundits.
Standing at 2.04 meters (6 ft 8 1/2 in), Tor Hogne Aaroy is the world's 5th tallest soccer player.
Aarøy earned his call-up for the Norwegian national team on 27th January 2009, as a part of then-caretaker coach Egil Olsen's first squad. But sadly, he opted to withdraw from the national squad to stay at home awaiting the birth of his second kid.
4. Yang Changpeng – (Height: 2.05 m – 6 ft 8 1/2 in)
The next one on the list of tallest soccer players, Yang, is a Chinese striker and is well known due to his stint in Bolton Wanderers in 2006. Upon his arrival, he was dubbed as "Chinese Peter Crouch" when he was at a one-month trial in England.
But as he failed to make an impression, he moved back to his country. He then played for several Chinese clubs such as Chengdu Blades, Shenzhen Fengpeng, Meizhou Kejia, and Yinchuan Helanshan.
He is currently playing for Henan Jianye of the Chinese Super League. The 6 feet and 8.1/2 inches tall Chinese soccer star is the 4th tallest footballer in the world. He is also among the tallest soccer players now who still participate in the game actively.
3. Vanja Iveša – (Height: 2.05 m – 6 ft 9 in)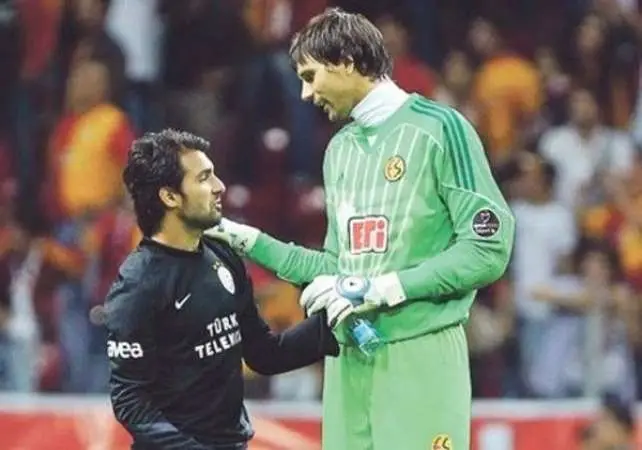 Croatian goalkeeper Vanja Ivesa currently plays for NK Opatija. He became the oldest player ever to participate in the Croatian First Football League on 17th February 2018. Besides, he also played for Elazığspor, the first division club in Turkey.
After making his debut with NK Istra in 1995, Ivesa played for multiple clubs in and out of Croatia such as Australian league team Sydney United FC, Croatian Football Club NK Zminj, Turkish Club Eskişehirspor, and his native club NK Istra.
He is the 3rd tallest soccer player on earth. Interestingly, he is also the tallest soccer player on FIFA 21.
2. Paul Millar – (Height: 2.08 m – 6 ft 10 in)
Millar is a British striker who last played for the Scottish side Deveronvale. He is mostly acknowledged for his performance for Elgin City FC between 2010 and 2014. Elgin City FC staff had to heighten the entrance because of his 6'10" feet height.
He then played for Formartine United during the season 2014-15. Besides being a footballer, he is also a full-time fireman who works at the RAF Kinloss base at Moray in the Highland areas of Scotland.
Kirkcaldy YM recently inducted him into their hall of fame at the annual award ceremony. He is in the 2nd position among the tallest soccer players of all time and one of the tallest soccer players in Europe.
1. Kristof van Hout – (Height: 2.08 m – 6 ft 10 in)
The 31-year-old goalkeeper is officially the tallest goalkeeper and tallest soccer player in the world, measuring up to a monstrous 6ft 10 inches. He began his career in the Netherlands at Willem II, the former club of Jaap Stam before he moved to the PSV squad.
Later, he also played for the Belgium side K.V. Kortrijk. He then moved to Standard Liege on a three-year contract on 6 August 2009. He also played as a goalie for the Indian Super League club Delhi Dynamos FC in season 2014-15.
Kristof is currently a squad member of the Belgian Pro League club Westerlo since 2015. This lanky goalkeeper doesn't even have to jump to catch the incoming corners because of his 6'10" height.
Final Words
Which one is your favorite in this list of tallest soccer players in 2022, let us know in the comments section below.
Tallest Soccer Players – 2022 Infographics
FAQs Regarding Tallest Soccer Players
Q. Is soccer good for tall people?
Soccer players are usually considered to have an advantage if they are tall. They are better able to reach the ball on the offensive and defensive sides of the field.
Q. Who is the longest footballer in the world?
A whopping 6ft 10 inches tall, Kristof van Hout is the tallest goalkeeper and tallest soccer player in the world. Before joining PSV, he played for Willem II, a former club of Jaap Stam.
Q. Is Peter Crouch the tallest soccer player?
Indeed, Peter Crouch is the tallest soccer player in the world. Known as one of the tallest players in football history, Peter Crouch is unbelievably good on the ball for someone of his size.
Q. Does running make you taller?
Unfortunately, it's not true that running will make you taller. Once you have finished growing as an adult, your skeleton cannot get taller, whether you run or not. You may appear taller when you run, however, because running improves your posture.
Last Updated On: June 2022