Greatest American cyclist Lance Armstrong is the most infamous player who took performance-enhancing drugs during his heydays. In the Oprah Winfrey show, he admitted to taking PEDs and submitted 24 announced reports. Legendary bodybuilder and Hollywood actor Arnold Schwarzenegger and iconic Baseball player Alex Rodriguez also deserve their mentions among the greatest athletes who used steroids.
Players work hard to get to the position where they are well-loved. They have a strict regimen of workouts, regular training and practice sessions, a strict diet, and a routine lifestyle. This is to hone their skills and to maintain the shape and strength of the body. Players do all that they can to give the best performances so that they can make contributions to the history of sports. And here are the greatest athletes who used steroids during their playing careers.
Greatest Athletes Who Used Steroids
However, it so happens at times that when the regular steps do not work, or when the players want to reach the position that no one else has or no one else ever will, they take a shortcut. That's when they end up doing illegal things, using steroids, performance-enhancing drugs, etc. Let us take a look at the top 10 greatest athletes who used steroids.
10. Jason Giambi
Jason Gilbert Giambi is an American professional baseball first baseman and designated hitter. He is a free agent. Since the beginning of his Major League Baseball career in 1995, he has been a part of the Oakland Athletics, New York Yankees, Colorado Rockies, and Cleveland Indians. He has received several accolades, including becoming the American League MVP in 2000 while with the Athletics, being a five-time All-Star leading the American League four times, etc.
He admitted to using steroids during the off-seasons of 2001-2003, besides injecting human growth hormone in 2003. Before the 2005 season, he made a public but unspecific apology. The lawyer who had illegally leaked the testimony pleaded guilty and was sentenced to 2 and a half years in prison. Giambi now holds the tenth place in our list of the top 10 greatest athletes who used steroids.
9. Mark McGwire
Former American professional baseball player Mark David McGwire or Big Mac, currently serves as hitting coach for the Los Angeles Dodgers. He played in Major League Baseball as a first baseman for the Oakland Athletics and the St. Louis Cardinals between 1986 and 2001.
In 1998, Associated Press writer Steve Wilstein wrote an article in which McGwire confessed to taking an over-the-counter muscle enhancement product called androstenedione which had been banned by the World Anti-Doping Agency, the NFL, and the IOC. McGwire, with Canseco, was among 11 baseball players and executives subpoenaed to testify at a congressional hearing on steroids in 2005.
And in 2010, he admitted to using PED during a large portion of his career. Mark now holds the ninth place in our list of the top 10 greatest athletes who used steroids.
8. Floyd Landis – F

amous Steroid User
Retired American professional road racing cyclist Floyd Landis achieved the top place in the 2006 Tour de France. But, the authorities later stripped him of his achievement when he came positive for performance-enhancing drugs.
He first joined the Mercury Cycling Team and became a professional in 1999. He then started to get attention for his special skills in climbing, time-trialing and descending. Landis joined the US Postal Service team in 2002 and later moved to the Phonak Hearing Systems team in 2005.
The Phonak Cycling Team, on July 27, 2006, after Landis completed stage 17 of the 2006 Tour de France, announced that Landis tested positive for an unusually high ratio of the testosterone hormone to the epitestosterone hormone. He now holds his place among the top 10 greatest athletes who used steroids.
7. Barry Bonds
Former American baseball left fielder Barry Lamar Bonds, or just Barry Bonds spent 22 seasons with the Pittsburgh Pirates and San Francisco Giants in Major League Baseball.
He is considered one of the greatest baseball players of all time, as he was also included in the All-Star 14 times and achieved the NL MVP awards seven times. Greg Anderson, his personal trainer, was charged with supplying anabolic steroids to athletes in 2003. Barry's reputation was also affected by this scenario, and he became one of the key figures in the Bay Area Laboratory Co-operative or the BALCO scandal.
Bonds, during the investigation, said that he used a clear substance and cream given to him by Anderson, who said to Bonds that those were flaxseed oil and a topical arthritic cream. He surely deserves his place among the top 10 greatest athletes who used steroids.
6. Jose Canseco
Cuban-American former Major League Baseball outfielder José Canseco Capas, Jr., famously known as just José Canseco, is also regarded as one of the most talented designated hitters of all time. He created a huge sensation in the media when he admitted to using performance-enhancing drugs during his playing career. Canseco published a book called "Juiced: Wild Times, Rampant Roids, Smash Hits & How Baseball Got Big" in 2005, in which he admitted using performance-enhancing drugs.
He also mentioned his former teammates Mark McGwire, Rafael Palmeiro, Jason Giambi, Iván Rodríguez, and Juan González as steroid users, as he also claimed to have personally injected the steroids. Canseco was also once arrested for bringing a fertility drug across the U.S.-Mexican border. Jose surely deserves his mention among the top 10 greatest athletes who used steroids.
5. Ben Johnson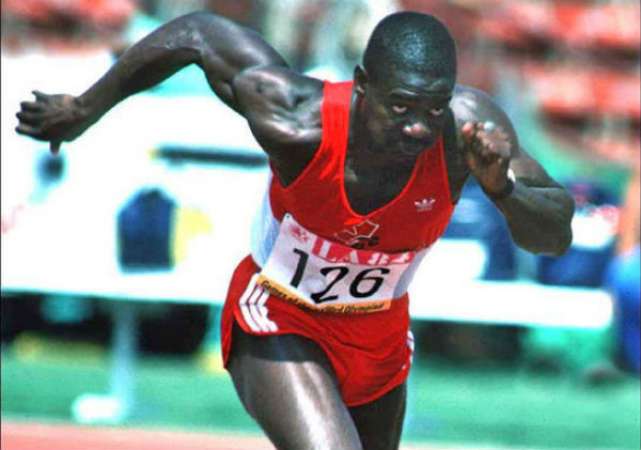 Canadian former sprinter Benjamin Sinclair "Ben" Johnson, famously known as Ben Johnson, achieved an Olympic gold medal and two Olympic bronze medals in his active track and field career. He set the world record twice consecutively in the 1987 World Championships in Athletics and the 1988 Summer Olympics. Johnson later lost his Olympic title and both records as he tested positive for performance-enhancing drugs.
Park Jong-sei of the Olympic Doping Control Center found stanozolol in Johnson's blood and urine samples. IAAF stripped off his record as he admitted to using steroids when he ran his 1987 world record. Johnson later claimed that his Lewis' Santa Monica Track Club teammate André A. Jackson may have mixed the stanozolol in one of the beers Johnson drank before the urine test. He surely holds his place among the top 10 greatest athletes who used steroids.
4. Marion Jones
Former world champion track and field athlete Marion Jones-Thompson famously known as Marion Lois Jones or just Marion Jones also put her mark as a professional basketball player for Tulsa Shock in the WNBA. In the 2000 Summer Olympics in Sydney, Australia, Marion achieved three gold medals. But later, she was stripped of the titles as she was detected using performance-enhancing steroids. But, the world still remembers her as one of the most famous athletes linked to the BALCO scandal.
Besides her, BALCO also reported Jones' ex-husband shot putter C.J. Hunter and the father of Jones' first child Tim Montgomery as a PED user. The drug result results from the USA Track and Field Championships in Indianapolis reported that "A sample of Marion Jones' urine tested positive for Erythropoietin, a banned performance-enhancer" on June 23, 2006. He surely deserves his place among the top 10 greatest athletes who used steroids.
3. Alex Rodriguez
American professional baseball third baseman and shortstop Alexander Emmanuel "Alex" Rodriguez, nicknamed "A-Rod," currently plays for the New York Yankees of Major League Baseball. He also spent his playing career with the Seattle Mariners and the Texas Rangers. He achieved the Most Valuable Player Award in American League three times and also is a 14-time All-Star. Alex also won the Gold Glove Awards twice and Silver Slugger Awards a record ten times.
He became one of the main suspects in the list of 104 players who were seized during the BALCO investigation. They were charged because of the federal raid on the Comprehensive Drug Testing facility in 2004. Alex, in an interview with ESPN, once said that he felt "an enormous amount of pressure to perform" and later admitted to using PED from 2001 to 2003. He now holds his place among the top 10 greatest athletes who used steroids.
2. Arnold Schwarzenegger
Austrian-born American actor Arnold Alois Schwarzenegger is also famous as an actor, producer, activist, businessman, investor, writer, philanthropist, and politician, besides his active career as a former professional bodybuilder. Arnold served as the 38th Governor of California for two spells, from 2003 to 2011. He once admitted to using performance-enhancing anabolic steroids when they were not illegal to use. He wrote, "…steroids were helpful to me in maintaining muscle size while on a strict diet in preparation for a contest.
I did not use them for muscle growth, but rather for muscle maintenance when cutting up," in 1977. He went drastic and sued German doctor Willi Heepe who claimed that he would die early because of steroid use. Arnold won the lawsuit and earned $12,000 as damages. Arnold surely deserves the second place in our list of the top 10 greatest athletes who used steroids.
1. Lance Armstrong
Former American professional road racing cyclist Lance Edward Armstrong is widely regarded as one of the greatest cyclists of all time and has won the Tour de France a record seven consecutive times from 1999 to 2005. The United States Anti-Doping Agency published a detailed report regarding Armstrong. In 2012, the Union Cycliste Internationale banned him from competitive cycling for the rest of his life for doping offenses. Armstrong now holds the top place among the top 10 greatest athletes who used steroids.
Armstrong denied all the doping allegations until January 2013. But in January 2013, he admitted to using performance-enhancing drugs in a television interview conducted by Oprah Winfrey. He was then asked to testify completely about his doping by UCI's new president, Brian Cookson, in September 2013. The legendary cyclist also claims to have submitted 24 unannounced drug tests by several anti-doping authorities.
Conclusion
Thus, many of the players have just been proven guilty of using steroids to enhance their performances, despite having denied the truth for a long time, while many of the athletes ended up confessing the truth. They not only lost their reputation but also their titles for their wrong decisions.
Greatest Athletes Who Used Steroids – Infographics
And we hope that you liked our list of the top 10 greatest athletes who used steroids.
FAQs Regarding Athletes Who Used Steroids
Q. Which famous bodybuilder used steroids?
Arnold Schwarzenegger is a former professional bodybuilder. He admitted that in order to get more strength and maintain muscle size, he used steroids. He also confessed that, at that time, these were not illegal; that's why he used steroids for a good purpose.
Q. Which American football player used steroids?
An American football player, former Oakland Raiders player Bill Romanowski admitted that he used steroids for two years in 2001. He also confessed that he was using it for muscle building and to get more strength.
Q. Which NFL star has died from steroids?
A famous football player Lyle Alzado died at 43 years of age because of anabolic steroids. Like other athletes, he also used it to increase muscle size and become a more powerful player. But he faced many health problems and died early.
Q. Have any professional athletes died from steroids?
Yes, in New York, muscle-building anabolic steroids killed six athletes in 2021. It may also cause liver cancer, but athletes will even don't know until they fall ill. That's why steroid abuse has gained national attention from the latest drug scandals.
Last Updated On: December 2022