The infamous Port Said Stadium riot on 1st February 2012 in Egypt is surely the deadliest riot the sports world has ever seen. This incident took the lives of 74 people, while 500 people were heavily injured. The Vancouver Stanley Cup riot on 15th June 2011 in Canada and the Montreal Stanley Cup riot in 1993 also deserve their mentions among the most insane sports riots of all time.
Sports have been an integral part of our daily life since the beginning of human society. And throughout history, the world of sports has witnessed a number of shameful sports riots. Here we bring you the most insane sports riots in history.
Most Insane Sports Riots In History – 2023 Updates
Losing is often difficult to swallow. When someone is not personally involved in the process, it's difficult to accept that her/his team lost after putting so much hope on them. But it often happens that a city's team plays for a championship and wins or loses; even fans riot shortly after the final game ends.
10. Nika Riots (532 AD)
At number 10 of the 10 most insane sports riots in history is the Nika riots. This is the oldest recorded sports riot. When Emperor Justinian I ruled over ancient Rome, there lacked a proper outlet for the grievances of citizens.
So, during certain competitive sporting events, things often get very tense. The Nika riot started taking shape during chariot racing in Constantinople. That day people began shouting political demands during the race.
On January 13, 532, an angry mob came to the Hippodrome of Constantinople to attend another racing event. Things escalated fast. Initially, Justinian wanted to flee, but soon he managed to get the mob under control. Altogether 30,000 people were killed, buildings were burned and destroyed, and all of these happened over the course of a week.
9. Richard Riot (1955)
At number 9 of the 10 most insane sports riots in history is the Richard riots. Maurice Richard was a handsome ice hockey player. He played for the Montreal Canadians of the National Hockey League.
During the 1954–55 NHL season, he hit a linesman and got suspended. This caused people to lose their minds who felt the punishment was too harsh and the duration was too long.
On March 17, 1955, the Canadians' first game after Richard's suspension was set at the Montreal Forum. Richard's presence at the game struck a raw nerve, and then a riot broke out. Tension eased only after Richard pleaded and assured the rioters of his return. An estimated $100,000 of property damage was recorded.
8. Estadio Nacional disaster (1964)
At number 8 of the 10 most insane sports riots in history is the Estadio Nacional disaster. Also known as the Lima football riot, it occurred during a game between Peru and Argentina.
It was a very significant qualifying round for the Tokyo Olympics football tournament. It also attracted around 53,000 people. Argentine was leading, and six minutes before the whistle, Peru was denied an equalizing goal. This set off fans of Peru into committing a violent riot. They are the most violent sports fans.
Infuriated fans invaded the pitch and began vandalizing things. The police had to use tear gas, and people began to panic. Everyone rushed towards the gate, and a number of people got crushed in the stairwells down to the street level. Officially 328 people were killed in the riot.
7. South Africa rugby union tour of Australia (1971)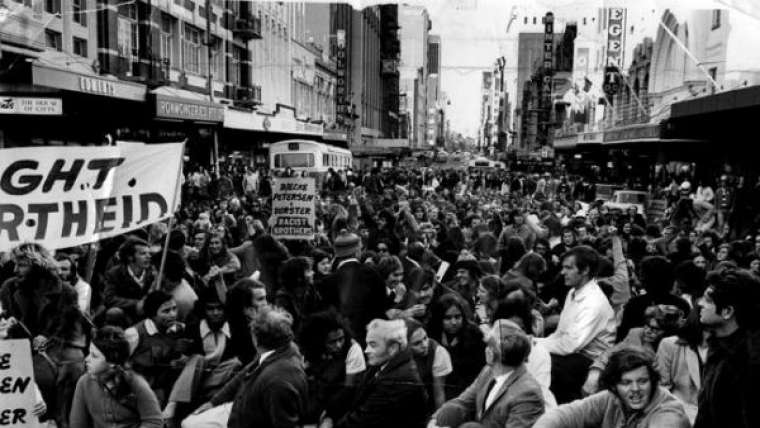 When the Springboks, South Africa's national rugby union team, went to Australia on a six-week rugby union tour, it triggered a mass anti-apartheid protest throughout the country. One of the biggest riots ever.
The first games were disrupted by many young protesters. And by the time the third match was set to take place, 5,000 protesters had gathered in the streets of Melbourne.
They were mostly university students. Before the match began, rioters attempted to see down the goalpost. 650 policemen, some on horseback armed with batons, arrived on the scene. Later a month-long state of emergency was declared in Queensland. Around 700 people were arrested.
6. Disco Demolition Night (1979)
At number 6 of the 10 most insane sports riots in history is the Disco Demolition Night. The riot took place during a baseball promotion event. After the popular baseball film Saturday Night Fever (1977), dance-oriented disco music was very popular in the US.
It was planned that around the climax of the event, a crate filled with disco records would be blown up on the field. And 20,000 spectators were expected that night, but instead, around 50,000 people turned up. This is one of the worst American sports riots.
After the records were blown off, fans invaded the field, and hooliganism followed. Police had to come in and disperse the rioters. Many believe that Disco Demolition Night helped the decline of disco in the US in late 1979.
5. Aggieville Riots (1984 and 1986) –

American Football Riots
Regarded as one of the earliest collegiate sports-related riots in the US, Aggieville was the site of two riots. On October 13, 1984, Kansas State defeated KU 24-7 in a football match.
An estimated 6,000 to 8,000 people gathered for celebrations of their victory. But as night fell, a riot broke out. In the end, 10 people were injured, and 24 were arrested.
Two years later, on October 18, 1986, Kansas State once again defeated KU 24-7, and once again, it triggered a mass celebration that was followed by violent riots. The riot resulted in great property damage and 8 arrests. it seems like sports riots in America are common after victory.
4. 19 May incident (1985)
At number 4 of the 10 most insane sports riots in history is the 19 May incident. On 19th May 1985, China competed against Hong Kong in a FIFA World Cup qualification match in Workers Stadium.
In one of the most notable and controversial matches ever played, Hong Kong won the match by 2–1. It was an unusually intense match. And after it ended, dissatisfied Mainland Chinese football fans then spilled into the streets and began hooliganism.
It is still regarded as 'the first football hooliganism ever in the People's Republic of China's history. It was also China's first chance at qualifying for their first FIFA World Cup. The People's Armed Police came to the location to restore peace. They then arrested 127 people.
3. Montreal Stanley Cup riot (1993)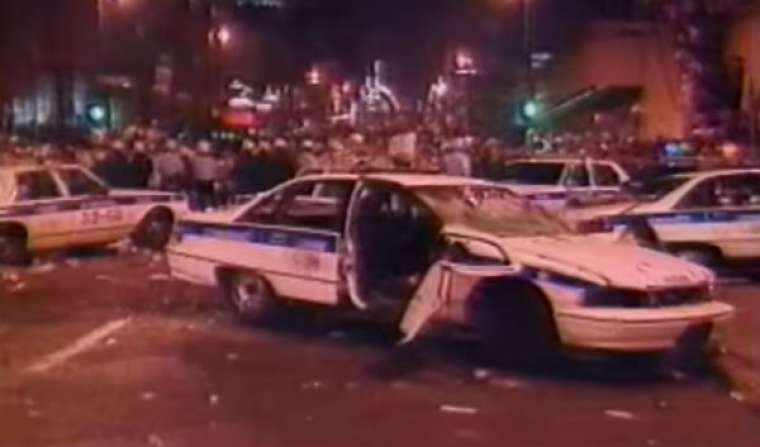 In 1993, in the Stanley Cup Finals between Los Angeles Kings and the Montreal Canadiens, the latter won. This then triggered fury among the Kings' fans, who came down to the streets and began vandalism.
Besides, they started destroying properties while the Canadiens were celebrating inside the Montreal Forum. The rioters broke windows, looted stores, and set fire to cars and buildings.
Authorities dispatched 980 officers to get things under control, and they made over a hundred arrests. 168 people were injured. Altogether around $2.5 million worth of property was damaged, including 47 police cars, 8 of which were completely destroyed.
2. Vancouver Stanley Cup riot (2011)
At number 2 of the 10 most insane sports riots in history is the Vancouver Stanley Cup riot. On June 15, 2011, at the Stanley Cup Finals between Boston Bruins and the Vancouver Canucks, the former won.
The Boston fans' riot then began to take shape as the game came to a close. Besides, they began throwing bottles at the viewing screen and turned cars upside down. According to some witnesses, a group of people was chanting, "let's go riot," before even the game ended.
Things were broken, cars were set on fire, stores were looted, and at least four people were stabbed. Around 140 people were injured, and one of them was very critical. Police arrested 101 people. In 2015, authorities framed a total of 887 charges against 301 people.
1. Port Said Stadium riot (2012)
On 1st February 2012, there was an Egyptian Premier League football match between El Masry and Al Ahly. The match concluded with El Masry becoming victorious.
To celebrate, thousands of El Masry fans invaded the stadium stands and pitch. They also began attacking the El Ahly fans with weapons like swords, knives, stones, fireworks, etc.
Around 74 people died in the riots, and more than 500 got injured. Besides, authorities charged 73 people for the riots. And 11 of them were sentenced to death. In the aftermath, the Egyptian government then decided to shut down the domestic league for the next two years. For soccer fans, it is painful to hear about the worst soccer game riots.
Conclusion
So, these were the top 10 craziest sports riots in the history of sports. Keep visiting our website, SportsShow. And feel free to share your thoughts in the comments down below.
Most Insane Sports Riots – Infographics
FAQs Regarding Most Insane Sports Riots
Q. Do you know which sports have caused the most riots?
Soccer (football) is one of the most well-known triggers for riots; however, other sports, such as ice hockey and motorcycle racing, have led to riots. The fans of football are loyal, and that is why whenever their favorite team wins, they want to celebrate.
Q. What makes sports fans riot after a victory?
Behavioral experts attribute violent behavior to a heady mixture of factors, including identification with a team, mob behavior, and psychological and physiological reactions to winning or losing.
Q. When do soccer fans start riots?
There is a craze for football matches, which is the reason why they start riots. A football fan's expressions of anger and violence may reflect strong emotional ties to his team, which may contribute to his sense of identity.
Q. What is the source of athletes' deviant Overconformity?
Athletes would do almost anything to stay involved in sports because it is so exciting and exhilarating. Sporting events that exceed normative limits are exciting and create strong social bonds between athletes.
Last Updated On: February 2023