Many star players in cricket have shown the world that they are the best in their field. Some are well-known for their batting and bowling. However, some gained massive popularity due to their fielding skills. But there are many few from the beginning who surprise the cricket fans with their exceptional captaincy careers. So, here we will rank the most successful cricket captains till the 2023 cricket season.
Retired Indian skipper MS Dhoni is undoubtedly the most successful captain the cricketing world has ever seen. Under his captaincy, India won the prestigious ICC World Cup. Besides, he recorded 15 overseas test wins for his nation. Legendary Australian cricketer Ricky Ponting and Kiwi star cricketer Stephen Fleming also deserve their mentions on this list.
We have seen a lot of ups and downs in the post-pandemic cricket scenario between 2020 and 2023. But these legends have got their permanent places in the heart of cricket fans.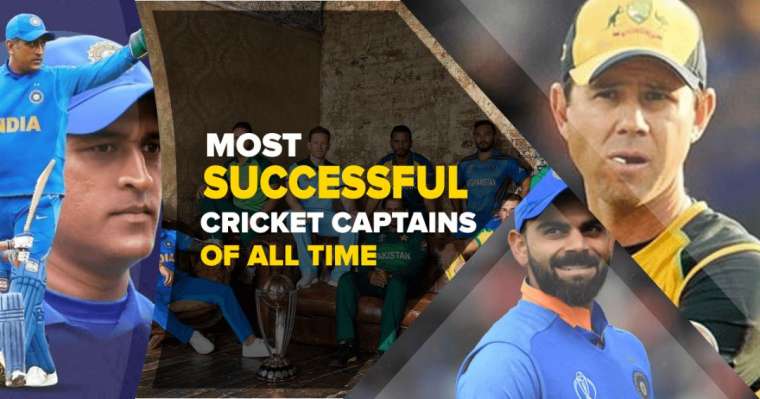 Most Successful Cricket Captains | All-Time List
We have recently published our current ranking of greatest batsmen in cricket history. Besides, we have also updated the 2023 ranking of the greatest fast bowlers and also the greatest spinners in cricket history.
But this saga will be really incomplete without mentioning the most successful cricket captains of all time. And here they are!
10. Hansie Cronje | Most Successful South African Captain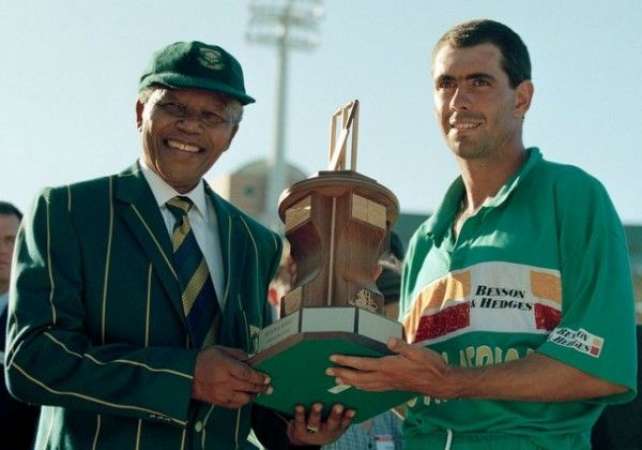 Position: Right-Handed Batsman / Right-Arm Medium Pace Bowler
Career: 1992 To 2000
Test Debut: 18th April 1992 vs. West Indies
ODI Debut: 26th February 1992 vs. Australia
In the 1990s, Cronje served as captain of the South African national cricket team. Despite being banned from cricket for life for the notorious match-fixing scandal in 2004, he has been voted the 11th greatest South African.
Unfortunately, an airplane crash killed him in 2002. As captain, Cronje led South Africa to 53 Test victories and 138 One Day International triumphs. In his 1992 ICC Cricket World Cup debut, Cronje exhibited all the qualities a captain should be looking for.
While the results of his first appearance at the 1992 World Cup were modest, it was always evident that he possessed talent. During their South Africa tour, the Indian team was able to witness his all-around skill.
After taking 5/32 in an ODI, he scored a career-high 135 at Port Elizabeth. Cronje took on responsibilities at an early age as a result of a good upbringing and mental fitness.
The young skipper of Orange Free State led his team to stunning success in local competitions at a very early age. Hansie couldn't be present throughout the demonstration, but he was an inspired captain. Cronje toured Australia with Kepler Wessels as vice-captain in 1994-95.
In those days, he was 24, the youngest member of the team. Despite Wessels' injury, Cronje led the Australian team to a stunning win despite defending 119 points.
Cronje was the full-time skipper of Australia at Adelaide, where they defeated the opposition by a hefty margin. The summer of 1994 was challenging for Cronje due to seams and swings in England. But the seeds had been sown for Cronje to become the full-time skipper in 1994-95.
You May Like: Is PSL Bigger Than IPL In 2023? (Detailed Comparison + Stats)
9. Sourav Ganguly | Successful Captain & Cricket Administrator
Position: Left-Handed Batsman / Right-Arm Medium Pace Bowler
Career: 1990 To 2012
Test Debut: 20th June 1996 vs. England
ODI Debut: 11th January 1992 vs. West Indies
His famous nickname is Dada (meaning elder brother), and he was one of the greatest left-handed batsmen in cricket history.
Many regard him as one of the most successful cricket captains in Indian cricket of all time. He has experienced it all during his career.
In addition to the highest and lowest points in life, he has also shared some of the worst. However, his greatest accomplishment was that Ganguly treated everything with the respect and aplomb that a true champion should.
Among all Test captains overseas, Sourav Ganguly had the most success. Captaining the Indian team for 28 matches, 11 of which the team won, he led them to victories.
Currently, Virat Kohli holds the record after he broke it in August 2019. With cricketers who have played One Day Internationals, he is the only one to win four consecutive men of the match awards.
8. Virat Kohli | Best Captain In Current Scenario
Position: Right-Handed Batsman
Career: 2008 To Now
Test Debut: 20th June 2011 vs. West Indies
ODI Debut: 18th August 2008 vs. Sri Lanka
The Indian cricketer made his senior national team debut against Sri Lanka in 2008. As a result, King Kohli became a regular member of the squad and qualified for the 2011 ICC World Cup. And after a long gap, he recently scored his 46th ODI century and 28th Test century in 2023.
His first Test match took place the same year. Following his appointment as vice-captain of the ODI Indian cricket team, he was named Test captain after Dhoni retired from Tests in 2014.
Virat Kohli also took over as ODI captain after MS Dhoni stepped down in 2017. He scored 558 runs in 6 ODIs in South Africa in 2018, surpassing all previous bilateral series records.
With numerous awards and records to his name, combined with consistently excellent performances, he has undoubtedly put Virat Kohli in the league of one of the most successful cricket captains, especially in limited-overs cricket.
On that occasion, Kohli achieved the 10,000 ODI runs milestone as the fastest player. Aside from the 11,000 ODI runs record, Kohli also broke the record for scoring 20,000 runs in international cricket in the 2019 World Cup.
Indian captain Virat Kohli became the first captain to win an ODI series in South Africa after a 5-1 victory in the series against South Africa.
ICC also named Kohli as an inductee of the World Test XI and ODI XI from 2018 to 2023. Besides his immense talent, he is also the highest-paid cricketer in the world right now.
7. Mohammad Azharuddin | Controversial Cricket Captain
Position: Right-Handed Batsman / Right-Arm Medium Pace Bowler
Career: 1984 To 2000
Test Debut: 31st December 1984 vs. England
ODI Debut: 20th January 1985 vs. England
His match-fixing scandal made him infamous. The right-handed batsman was born on 8 February 1963. The individuals who recall him for his aggressive hitting style and wrist stroke play in the middle remember him as an aggressive hitter.
156 catches in international cricket show that he was equally valuable in the field as he was in the batting department. Azharuddin's fame began to grow during the second half of the 1980s.
The pace of Azharuddin's runs soon began to accelerate after he made his debut. A fast-fire 121 came out of his bat against the powerful bowling attack at Lord's against England.
Despite India's poor batting lineup, Azhar stood his ground. A champion emerged from India's defeat that day. In Kris Srikkanth's absence, he was handed the captain's cap due to his consistent performance and confident demeanor.
Although many called him one of the most overrated cricketers of his time, he proved his talent in many cases.
After Krishnamachari Srikkanth stepped down, Azharuddin took over as captain. The Indian cricket team has won 47 ODIs and 14 Tests under his leadership.
Our Popular Post: Is Big Bash bigger Than IPL? Detailed Comparison & Stats In 2023
6. Arjuna Ranatunga | Most Successful Sri Lankan Captain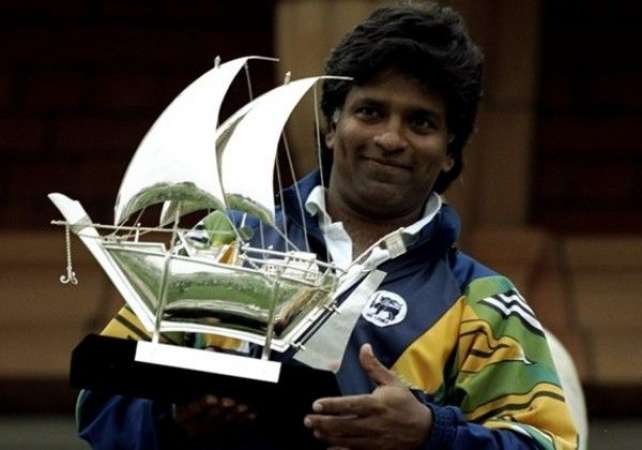 Position: Left-Handed Batsman / Right-Arm Medium Pace Bowler
Career: 1982 To 2001
Test Debut: 17th February 1982 vs. England
ODI Debut: 14th February 1982 vs. England
In his first Test against England, Arjuna Ranatunga made Ravi Shastri suffer after appearing at Ananda College and scoring the first fifty in Sri Lanka's Test history.
In 1989 Arjuna assumed the Sri Lanka team's captaincy and held it until a dispute between the board and himself briefly interrupted him. He now holds the record for most test matches as a captain of the Sri Lankan team.
He had already played in 82 of the nation's 87 tests and captained them in 14 of their victories by the time he led his team to victory against England in August 1998.
In three years, they also became the world's premier one-day cricket team. Winning the World Cup and six other multilateral events made him one of the most successful cricket captains in Sri Lanka's history.
It's easy to see Ranatunga's hand at work in every win the side has had lately. He was selected as one of Wisden's Cricketers of the year because of his batting, culminating in 4,595 runs during the Oval Test. Using more players from outside Colombo was his goal.
Jayasuriya had been a middling all-rounder for his team, and he was willing to try him out as an opening batsman to see if he could handle the pressure.
When Ranatunga led the Sri Lankans to their first world cup victory in 1996, his career reached an obvious high point.
5. Allan Border | Most Successful Australian Captain
Position: Left-Handed Batsman / Slow Left Arm Orthodox Bowler
Career: 1978 To 1994
Test Debut: 29th December 1978 vs. England
ODI Debut: 13th January 1979 vs. England
One of the greatest Australian batsmen, Allan Border, is still dubbed for his cricketing legacy. Achieving the most consecutive test series wins as the captain made his debut against England in 1978. It was bittersweet for Border to score his first century in Tests.
When Australia faced Pakistan in 1979, it needed 382 runs to end the match. In reaching 305/3, Australia got its first century from Border.
Pakistan's collapse contributed to their 71-run victory over Australia when Sarfraz Nawaz took seven wickets for one run in a burst to help them win by 71 runs.
However, Border became only the third player on record to go beyond 150 in every innings against Pakistan at Lahore at the turn of the century. The captaincy of Border was given in the most difficult of situations.
During a Test against New Zealand in Christchurch in 1993, he became the highest run-getter in Test matches, surpassing Sunil Gavaskar's 10,122 runs.
Against England in the 1993 Ashes, he smashed a double century at Leeds. The only regret Border has is that he failed to conquer the West Indies during his captaincy.
However, Border is still known as one of the most successful cricket captains of all time. And as a fun fact, he is also among the most famous cricketers with mustaches and a handsome look.
4. Graeme Smith | Greatest South African Captain
Position: Left-Handed Batsman / Right Arm Off Break Bowler
Career: 2002 To 2014
Test Debut: 8th March 2002 vs. Australia
ODI Debut: 30th March 2002 vs. Australia
Former South African cricket captain Graeme Smith played for South Africa for many years. However, only after 8 tests he became the captain of the national cricket team.
Besides being one of the most successful cricket captains, the left-handed batsman had a reputation for coming out blazing from the start. Besides, he served in most ODI matches as captain.
Graeme's South Africa Test debut came against Australia in Cape Town in 2003 after he had made his name at the junior level. The number three batter, playing in the second inning, scored 68 runs.
The highlight of his career came in his third test match against Bangladesh, where he opened the innings with Herschelle Gibbs.
The England captain scored 200 runs and 151 runs against Pakistan at home. As part of the 2003 tour of England, he participated in two innings victories at Lord's with scores of 277 and 259 at Edgbaston.
In his games at one of the best cricket stadiums, Lord's, he broke the foreign record for the highest score. As captain, Smith is the only player in the world to have seen 100 tests.
He guided his team to victory on 53 occasions, more than any other. Two different times, he led his squad to win the Test series in Australia (2008-09 and 2012-13).
As a result of South Africa's victory over England, Andrew Strauss retired from Test cricket. In 149 ODIs as captain of South Africa, Smith won 92 matches.
3. Stephen Fleming | Best Kiwi Cricket Captain
Position: Left-Handed Batsman / Right-Arm Medium Pace Bowler
Career: 1994 To 2008
Test Debut: 19th March 1994 vs. India
ODI Debut: 25th March 1994 vs. India
Stephen Paul Fleming played cricket in all three formats for New Zealand and captained the team. Throughout New Zealand's Test history, he has been one of the most successful cricket captains.
Originally from Christchurch, Fleming was one of the best top-order batsmen on the team. In his early career, Stephen Fleming attracted considerable attention.
His first match itself was a success. The player is recognized for his exceptional shots and is known for his flicks off the pads and his straight drives, cover drives, and cuts.
His slip-catching skills are excellent, and the fields are close to home in an intelligent manner. A New Zealand teammate of his was unbeaten at 134 runs during the 2003 Cricket World Cup, which aided the team's victory over hosts South Africa.
In Tests and One Day Internationals, Fleming remains New Zealand's leading run-scorer. In 2000, New Zealand won the ICC Knockout Trophy under his captaincy. Therefore, his captaincy is his most admired attribute.
2. Ricky Ponting | Greatest Australian Cricket Captain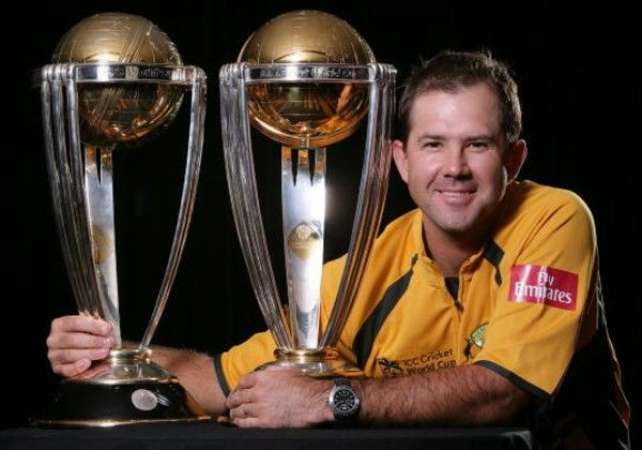 Position: Right-Handed Batsman
Career: 1995 To 2012
Test Debut: 8th December 1995 vs. Sri Lanka
ODI Debut: 15th February 1995 vs. South Africa
Known as one of the greatest batsmen in the game and among the best fielders in cricket history, Ricky Ponting served as captain of the Australian cricket team for many years.
Australian cricket's top run-scorer in ODIs and tests led his team to two World Cup victories. As well as winning more than 100 Tests, he's the only player to do so.
Punter, as his teammates know him, was born on 19 December 1974 in Tasmania. When he was 17, he played his first match for Tasmania.
Pull shots are played most effectively by this player. However, nearly all of Ponting's textbook shots were flawless. World records have been set by the twin centuries he scored in the 100th Test match.
In addition to 12,000 Test runs, Ricky Ponting has also scored 10,000+ ODI runs. Tests and ODIs, his most common century placement, are third, but if the formats are combined, second.
As captain, Ponting has played most one-day internationals. Both formats of the game have combined to give him 165 and 213 victories as captain, respectively.
Cricket Tips: How To Bowl Faster In Cricket? (+Improvement Tips In 2023)
1. MS Dhoni | Greatest Captain Of All Time
Position: Right-Handed Batsman / Wicketkeeper
Career: 2004 To 2019
Test Debut: 2nd December 2005 vs. Sri Lanka
ODI Debut: 23rd December 2004 vs. Bangladesh
One of the most successful Indian captains, Dhoni, achieved the feat of winning as captain. Often batting in the middle order, Dhoni plays as a wicketkeeper-batsman.
He is not only dubbed as the best finisher in the cricket world but also as one of the greatest wicketkeepers of all time.
Among the few cricketers who have more than 10,000 runs in ODIs, Dhoni is one of them. Dhoni becomes one of the most successful cricket captains and one of the most hard-hitting batsmen at the same time.
In his leadership, India won the ICC No.1 spot, the first-ever rankings of Test cricket teams in 2009. With 27 Test victories, he is also the most successful Indian Test captain.
He also holds a record for most overseas test defeats by an Indian captain – 15—also the first Indian wicketkeeper to complete 4,000 test runs.
He ended his ODI career the same way he began it, with a 2019 World Cup Semifinal run against New Zealand. Dhoni now only plays and captains the IPL side Chennai Super Kings.
Even though MS Dhoni was expected to stage a comeback after the IPL in 2020, COVID-19 caused MS Dhoni to play his last international match without any farewell due to unforeseeable circumstances.
Honorable Mentions
11. Imran Khan | Greatest Pakistani Captain
Position: Right-Handed Batsman / Right-Arm Fast Bowler
Career: 1971 To 1992
Test Debut: 3rd June 1971 vs. England
ODI Debut: 31st August 1974 vs. England
The former prime minister of Pakistan, Imran Khan Niazi, is a former first-class cricketer and captain of the Pakistan cricket team.
A Pakistani all-rounder between 1971 and 1992, he played in various positions for the national team. According to many, he is the second-greatest all-rounder in cricket history, next to Garry Sobers.
Hence, the International Cricket Council inducted him into their Cricket Hall of Fame in 2010. He took 62 wickets at an average of 13.29 in nine tests he played during the 1982 season.
With at least 50 Test wickets in a season, this is the lowest bowling average in test history. In his 75th test, he caught 300 Test wickets, scored 3,000 Test runs, and achieved the all-rounder's triple.
In second place behind Ian Botham, who was the first to reach the milestone three matches earlier. Khan took over from Javed Miandad as captain at the age of 30.
The team he captained won 14 of the 48 tests, while it lost eight. During the 139 ODI matches Khan commanded, he won 77 of them and lost 57.
A stress fracture in his Shin prevented him from playing for more than two years, and he took 40 wickets in the 1982 home series against India at an average of 13.95.
In 1992, he helped Pakistan win the Cricket World Cup at the age of 39 and made a significant contribution mainly with the bat rather than with the ball. Khan's overall achievements make him one of the most successful cricket captains in cricket history.
12. Mahela Jayawardene | Greatest Sri Lankan Captain
Position: Right-Handed Batsman / Right-Arm Medium Pace Bowler
Career: 1995 To 2017
Test Debut: 2nd August 1997 vs. India
ODI Debut: 24th January 1998 vs. Zimbabwe
Known chiefly for his captaincy skills, Mahela Jayawardene is one of the best-known names in international cricket. The effortless nature of his batting made him a treasure for Sri Lankan cricket.
On 27 May 1977, the Colombo-born Jayawardene led his team to victory with understanding as a captain and with talent as a batsman. His capabilities made him one of the most successful cricket captains of all time.
He was appointed captain of both the Test and ODI teams in 2006, and he set a record for the highest individual score by a Sri Lankan cricketer when he scored 374 against South Africa.
The 2007 ICC Cricket World Cup saw Sri Lanka reach the finals under his captaincy. The Sri Lankan skipper, however, surrendered his position in 2009 following an ODI against India.
Against England in 2012, he made his 21st Test century as captain with a score of 180. In ODIs, Mahela was the second-most capped player behind Sachin Tendulkar.
Jayawardene played 448 one-day internationals, scoring 12,650 runs with a batting average of 33.37. In addition, Mahela scored 19 centuries and 77 ODI fifties. His stats are impressive. At the top of the ODI rankings, Jayawardene scored 144.
During his 149 innings of test cricket, Jayawardene scored 11,814 runs with a batting average of 49.84. Mahela, meanwhile, scored 34 hundreds and 50 half-centuries, with the highest score of 374.
Mahela averaged 49.68 in 237 first-class games with 51 centuries, 277 fifties, and an overall batting average of 17.00.
Read More: How To Play A Hook Shot In Cricket? (Techniques + Improvement Guide)
Final Words
We hope you liked the list of our most successful cricket captains of all time. Feel free to tell us in the comment about the article because we appreciate the feedback. And don't miss our 2023 infographics.
Most Successful Cricket Captains | All-Time Ranking | Infographics
FAQs
Q. Who is the most successful cricket captain in the world?
According to many experts, Steve Waugh is arguably the most excellent captain of the modern era. The world record winning percentage for a Test captain is 71.92. He won 41 tests out of 57 matches captained by Australia. However, MS Dhoni delivered the most balanced performance.
Q. Who is the No 1 captain in cricket?
Many sportswriters consider MS Dhoni to be called No 1 because of his remarkable performance.
Q. Who is the most successful captain in IPL?
It is Rohit Sharma from Mumbai Indians who have won the most IPL titles, five in total.
Q. Who is the most popular captain?
There are many popular captains that still have their places in the heart of cricket fans. Some of them are Steve Waugh, Clive Lloyd, Ricky Ponting, Graeme Smith, MS Dhoni, and, obviously, Viral Kohli.
Last Updated On: March 2023