Are you having a hard time carrying your ping pong training every day? Well, the extraordinary ping pong robots on our list will help in your training pursuits. These advanced ping pong training machines will fill the vacancy of a keen player in your training hours.
Furthermore, the robots are super convenient to use and assemble. Players can expect to polish their ping pong capability with redefined spinning adjustment features. And these machines have varying ball-keeping capacities and an abundance of features. But let's discuss a few points to complete the buying process.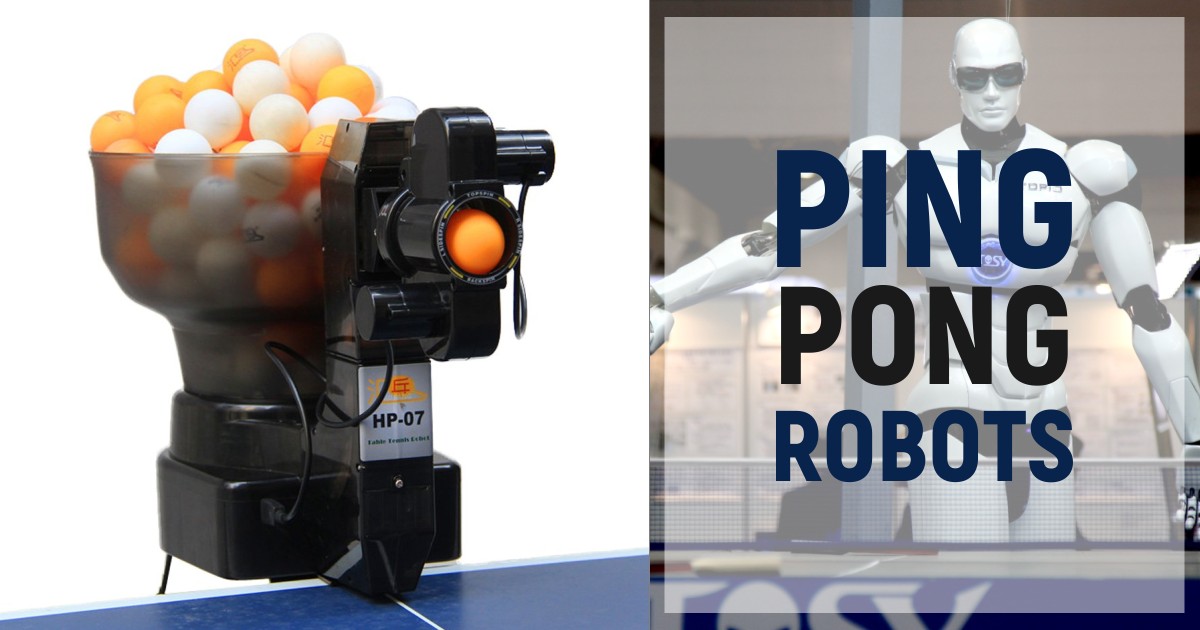 A buyer should demonstrate his nature and level of ping pong training. Many machines excel on professional grounds and they are costly. In the meantime, the materials and construction of the product must be considered as well. Buying more durable machines will suffice your investment in all possible ways.
Best Ping Pong Robots | Editorial Pick
EDITOR
CHOICE
★★★★★
iPong Training Robot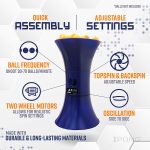 Up To 100 Balls
Wireless Working
Lightweight
TOP
RATED
★★★★★
ZXMOTO Machine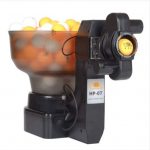 Frequency Mix-Up
Angle Adjust
Easy Assembly
BEST
SELLING
★★★★★
ZXMOTO Robot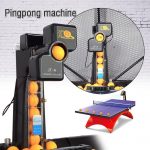 Rotatory Head
Spin Adjustment
Better Spin
Best Ping Pong Robots | Full Ranking
Even if you have some high-quality table tennis paddles and some best ping pong balls, you still need a lot more skill to really shine on this sport. And to do that, you need a lot of practice that these robots can assure.
BEST OVERALL
iPong Table Tennis Training Robot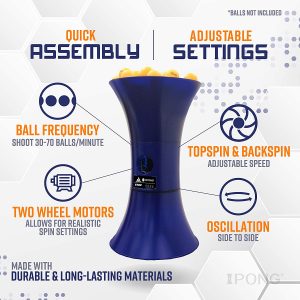 ★★★★★
Wireless Control
Better Frequency
Features:
A wirelessly working ping pong training robot with a digital panel for ease of controls
This training robot can hold up to 100 balls, while 40 mm iPong balls come in recommendation
Balls shooting frequency is adjustable from 30 to 70 balls per minute depending upon the player's level
Your intelligent trainer is super lightweight and made out of robust materials elevating its durability
Try a reliable ping pong training robot with swift assembling and adjustable controls. Its exceptional ability to customize the speed of the throw makes it one of the best ping pong robots.
Moreover, it is made durable with tough materials, so it remains functional for long-term usage.
Specification:
Dimensions: 12 x 12 x 10 inches
Weight: 3.08 lbs.
Available Colors: black, blue, & white
Material: metal
Power: 110 V
Applicable Ball Size: 40 mm
Wireless Functionality: Train without wires and connecting dilemmas with this ping pong robot. All features can be easily accessed through a wireless remote. While the in-built digital display makes everything easy and convenient.
Train More: The machine can hold more than 100 balls at a time with changeable throw frequency. Players can always adjust the shooting range to their game level. It offers adjustment of shooting balls from 30 to 70 balls per minute. Therefore, players can set the controller's wireless command to their best-fit shooting pace.
Innovation That Lasts: iPong has provided its buyers with a balance of technology and quality. The machine itself is lightweight and portable with a very sturdy construction. So this machine performs best in all domains without a doubt.
Accuracy At Its Best: This magical robot has updated software that makes sure all the throws are accurate. Moreover, consistency plays a major part in your enhanced training sessions. While 40 mm balls are recommended to use with this training robot.
Pros
The machine is easily managed through a wireless remote
Shooting frequency can be changed for different nature of training
Durable construction long life of the machine
Compatible with all standard size tables
The price tag is moderate
Cons
Complains about loaded balls getting jammed
Issues with the quality of LED display
Our Take: An advanced wireless ping pong trainer with adjustable shooting frequency features makes up for a fine purchase as it holds 100 balls.
BEST-RATED
ZXMOTO Ping Pong Robot Machine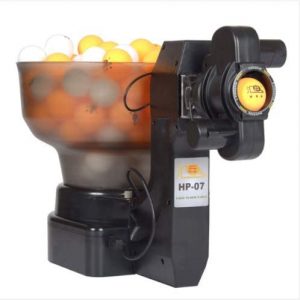 ★★★★★
Frequency Adjustment
Up to 110 Balls
Features:
Players can freely adjust the position of this training machine with frequency mix-up
The rotating head is movable along with the ball's back angle adjustment
Your machine can take up to 110 balls and can offer 36 kinds of spin balls
Best used with 40 mm diameter balls with adjustable ball positioning function
Easily installed with an auto rotatory base for fair training sessions
Your ping pong training gets more professional with this all-new robot machine with 36 kinds of ball spinning.
Players can conveniently try all sorts of spins and combinations for pro-style training. Further, the machine can fit up to 110 balls, so your training time gets a fair elevation.
Specifications:
Package Dimensions: 15.51 x 14.8 x 14.09 inches
Color: black
Power: 100 V – 240 V
Applicable Ball Size: 40 mm
Adjustable Training: The position of the machine can be changed without hassle. This gives more dimensions to the players to try in their training sessions. Furthermore, players can pick an angle from where they'll train. Therefore, people with height disparity can enjoy this functionality of getting the right angle for their training.
Ball Capacity And The Controller: It offers a total ball loading capacity of 110, and the balls should come in a standard 40 mm size. The controller of this automatic machine is designed to reach its controls with comfort. Players can go about all speed and spin adjustment options right from this magical controller.
Get Started Right Away: You won't be finding yourselves messing with the assembling tools before the training. This machine doesn't require any assiduous assembling through odd types of equipment. Players can easily set this thing up because of its friendly and portable design.
Signature Spins: Give yourselves a tough time during the training session with its 36 unique spin balls. This feature has allowed many players to master all spin counters efficiently.
Pros
Load more balls with 110 holding capacity
Adjust the dimensions with the changeable rotating head
Master more spins with 36 unique spin balls
No assembling required
It comes with a warranty of a year
Cons
No instruction manuals included
The shooting speed plummets halfway through
Our Take: Master 36 types of spin balls with adjustable training positioning to become elite in the ping pong game. Moreover, it has an automatic rotating base.
POPULAR CHOICE
ZXMOTO Table Tennis Robot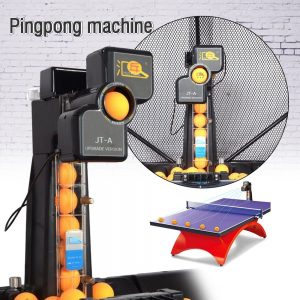 ★★★★★
Flexible Rotary Head
Handy Controller
Features:
The positioning of rotating balls can be changed with a flexible rotating head
Focusing on adjustable spin controls with 9 types of spin balls for a personalized experience
It comes with a handy controller having clear controller buttons for enhanced operations
The players for a better action fully authorize ball jumping capability
Players can now train with an automatic ping pong robot machine with 9 spinning ball modes. The adjustable ball's frequency and spinning control feature make it one of the top-ranked ping pong robots.
You can always adjust the ball spinning and the frequency that suits your training taste.
Specifications:
Dimensions: 31.5 x 15.7 x 16.1 inches
Weight: 19.6 lbs.
Color: black
Power: 50 W
Voltage: 100 V – 240 V
Applicable Ball Size: 40 mm, 40+ general
Flexible To Train: You can change the method of a ball jump with this machine. While players are free to adjust the angle of the rotating head for a flexible experience. Therefore, all players varying in their training and game methods can rely on this phenomenal training machine all the time.
Personalized Experience: The machine gives a speed variation option where players can set the amount of speed they prefer. Furtherly, the shooting balls come in different spin, making it more practical for the players. All spin adjustments can be made from the panel for a loaded experience.
Next-Level Controller: It features a suited controller having clear operating buttons. You can scrutinize all controls of this machine within the palm of your hands.
Adjust The Frequency: Players now have the luxury to control the spinning nature of the ball coming out of this machine. There are 9 spin balls offering players to imply a specific spin for their varying training nature. In the meantime, players can master all sorts of deceiving spins for a sublime game.
Pros
The adjustable rotating head offers the desired training angle
Become more practical with 9 ball spins that are changeable
Handy controller for ease of controls access
Reasonable price tag
Cons
Complains about unstable oscillations
The plastic tray doesn't fit completely
Our Take: 9 ball spins with adjustable spinning frequency accessed through a handy controller gives you a bright option.
UNIQUE
CHAOFAN 36 Spins Ping Pong Ball Machine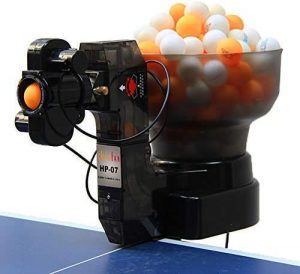 ★★★★★
Topspin Knob
Better Oscillation
Features:
Topspin knob is also there for you whenever you want to change the spinning level
15° range of oscillation has been given in this ball machine with an adjustment level
There are 2 types of servers featured here by the CHAOFAN, including directly and indirectly
A large storage capacity for balls along with an oscillation level adjustment flexibility ping pong ball machine has been offered by the CHAOFAN.
Both the professionals and beginners can enjoy the game session with a wide range of angle leveling features. Plus, the lightweight body is portable for you.
Specifications:
Weight: 4 kg
Oscillation Frequency: 0 – 5 level can be adjusted
Oscillation Range: 15°
Power: 36 W
Voltage: 100 V – 240 V
Applicable Ball Size: regular
Multiple Positioning Robot: 7 rotations can be manually adjusted here on the robot head to acquire the left/right spin position. Plus, you can turn off the machine before adjusting the arc position along with the top spin and backspin factors.
Oscillation Levels & Large Capacity: 5 available levels can be adjusted in the oscillation range along with 6 spin points flexibility as well. Moreover, the fixed dropping feature will let you adjust the server-side according to your desire. And then you can lose the knobs to maintain the levels.
Well Defined Engineering: Here you'll get a ball storage tube compatible with up to 100 – 110 balls along with power and the main engine for the machine. Additionally, a robot head, measuring tool, fixed frame, and an instruction guide will be there in the package. 4 adjustment knobs are also structured on the control box.
Pros
2 wheels driver system for maintaining the given options
Backspin option is also available with adjustable levels
Control box with 4 knobs level flexibility for the players
It offers easy setup
The price is friendly
Cons
The balls miss angles in oscillation after few months
The motor can burn after excessive usage
Our Take: A versatile and multi-angle arc adjustment level machine along with a 15° oscillation range.  Moreover, it is equipped with 4 knobs to control.
HEAVY-DUTY
Table Tennis Robot Ping Pong Ball Machine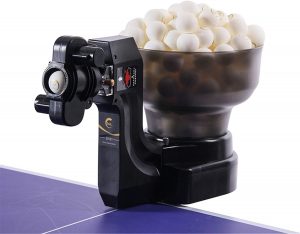 ★★★★
Controlled Spin
Analog Controls
Features:
Players can apply their desired ball spin with added responsive controller
Achieve the height of all spins as it offers all 9 spins that vary in frequencies and speed
Offers analog controls for tracking balls speed and frequency in the sessions
It comes with 100 training balls while the machine cooperates with standard 40 mm size balls
Build a sublime game with this intelligent ping pong robot. It offers analog controls for speed and frequency adjustments in a clever form factor.
Players can easily focus on their desired training dimensions and the shooting pace with this machine. Furthermore, the adjustments can be made swiftly with a convenient controller.
Specifications:
Ball Speed: 4 – 40 m/s
Ball Out Frequency: 40 – 70 per minute
Material: plastic
Power: 36 W
Voltage: 100 V – 240 V
Applicable Ball Size: 40+
Spin: Non-Spin, Topspin, Underspin, Left and Right Spin
Desirable Ball Spin: Get your training to the next level with the 9 kinds of ball spins offered by this incredible robot. It offers backspin, topspin, left-spin, right-spin, mixed spin with 9 types of spinning balls that differ in pace and frequency. This lets players understand the balls spin in a comprehensive way for a better game.
Simply Access The Controls: This controller has given rotary buttons for the feature ingress. You can set the frequency as well as the speed of the throwing balls. This has given players an entirely new interactive and easy way to engage with this machine's features. So players can simply apply their wanted spin and hit the training session with style.
What's In The Package? You're getting the robot, controller, ball roller, power supply, and user manual. Fortunately, players won't have to buy training balls separately, as 100 random color balls are already included in the package.
Analog Controls: Authorize the ball speed, oscillations, and ball position adjustments through analog controls. So players can get highly personal experience of training ping pong.
Pros
You're getting all the accessories in the package
The controller offers unique and easy access to the ball spin
Analog control lets you have a personalized training
Easy to install
Cons
Complains about oscillations stopped working after a week
Our Take: A versatile ping pong robot that offers different and desirable ball spin. Further, all required accessories with the analog controls for the desired training session are a deal to steal.
PROFESSIONAL
Practice Partner Table Tennis Robot
★★★★
Simple Control
Adjustable Frequency
Features:
The simplest controls access made possible with a control box for better product comprehension
Fix the frequency limit from 1 to 9, offering 25 to 80 balls per minute
It is lightweight, making it easy enough to transfer to your desired place
Practicing ping pong is fun with the ball stabilizing and top spinning functionality out of the box. This robot contains a ball hopper that can take up to 200 balls.
The feeding unit is built to give stability to the balls being held by the ball hopper. Players can have their desired frequency range thanks to this ping pong robot.
Specifications:
Dimensions: 19 x 12 x 15 inches
Weight: 12 lbs.
Color: off white
Material: plastic
Volts: 110 – 220 V
Applicable Ball Size: 40 mm, 40+ general
Holding Capacity: 200 balls
A True Companion: This robot lets you adjust every aspect of the ping pong game. Players can train gradually, increasing their ball frequencies (2 to 80) balls per minute. Besides, players can set oscillations and adjust the dimensions of this versatile training robot.
Control With Ease: You're getting a complete control box that is designed to offer simple and easy control to the players. It lets you set the speed setting from 1 to 9. Moreover, you can apply topspin, backspin, or sidespin balls from your fists.
Ball Feeding Unit: This machine stabilizes and directs the balls in the right direction. The unit is made out of high-quality alloy and resilient rubber for a completely stable profile. So, all your balls go in the right direction with this ball feeding unit.
Easy To Assemble And Carry: Leave it to the training time as this doesn't require complicated assembling. Just set the robot and its components, and you're ready to train. Further, this machine weighs 15 pounds, making it easy to move around without having to do much.
Pros
Easy features access with control box
Offers 1 to 9 speed frequencies for a precise training experience
Lightweight design helps with mobility
Ball feeding unit offers stability and accuracy to the throws
It holds 200 balls
Cons
Issues with spin adjustment
Manual isn't included
Our Take: Ball feeding unit and speed frequency ranging from 1 to 9 managed by the controlled box give you a sublime purchase. Further, it is lightweight, which makes it portable.
DURABLE
Suz Table Tennis Robot with Net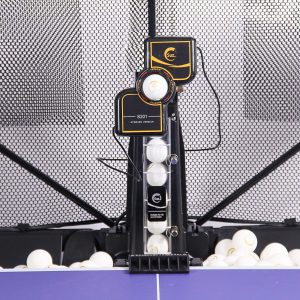 ★★★★
Recycling Net
Adjustable Elevation
Features:
It comes with over 200 training balls and a ball recycling net collection system
Automatic ball collector collects and reloads the balls back into the machine
You can adjust the jump of balls and the elevation of the head robot
A new control box gives more options while the robot offers 9 types of spins
Expand your training vision with the Suz table tennis robot having clever automatic training functionality. Accessing all important functions through a dedicated wired remote makes this one of the best ping pong robots.
Shine your game with all incredible 9 ball spins. Analog controls come into play for more personalized training.
Specifications:
Dimensions: 34.1 x 16.1 x 16 inches
Material: plastic
Power: 50 W
Voltage: 100 V – 240 V
Ball Out Frequency: 35 – 80/minutes
Applicable Ball Size: 40 mm+ general
Ball Speed: 4 – 40 m/s
Solo Training Made Easy: This machine is offering an automatic ball collector that sustains the thrown balls. It's a wide-open net where this collector collects the balls, making it suitable to load them back. This feature makes solo training easier as players won't have to collect the thrown balls by themselves.
No More Dirt On The Balls: It's now way simpler to clean the dirty balls with the ball groove. The balls often get dirt during the training session, so it's no longer a problem. Just remove the cover to clean the balls.
Control Box: An all-new control box makes its way into the functional access to this ping pong ball machine. There are pronounced buttons provided so that the players can easily navigate the exact button for the function they are looking for. The control box offers one-button spin types to be implied to the setting when the machine starts.
Maximum Adjustment: The jump ball's elevations are freely adjusted, while the same goes for the robot head. Therefore, the players can adjust the dimensions to their comfortable training zones.
Pros
Flexible robot head adjusts to the desired dimensions
Easy ball cleaning with a ball groove
Automatic ball collector takes thrown balls back safely
Cons
Ambiguous assembling of the product
High price
Our Take: The automatic ball collector and the ball groove offer training convenience for all the solo ping pong players.
FAQ Regarding Best Ping Pong Robots
Q. Are table tennis robots worth it?
Yes, table tennis robots are worth every dime you spend on them. These robots are the next big thing replacing practicing partners. However, there is no alternative when it comes to practicing partners for table tennis. Further, the practice with table tennis robots improves the stroking mechanism.
Q. Can a robot play table tennis?
Yes, table tennis robots are capable of performing some of the ping pong moves. The Kuka's robot is the fastest robot on earth is capable of playing some shots.
Q. How do table tennis robots work?
A table tennis robot is a machine that works on the mechanism. It is capable of firing the table tennis balls from one end to another end of the table tennis table. This whole process is done in a controlled environment and in a controlled manner.
Q. What is the best ping pong robot?
The best ping pong robots, according to our reviews, are Practice Partner Table Tennis Robot and ZXMOTO Ping Pong Robot Machine.
Best Ping Pong Robots | Quick Comparison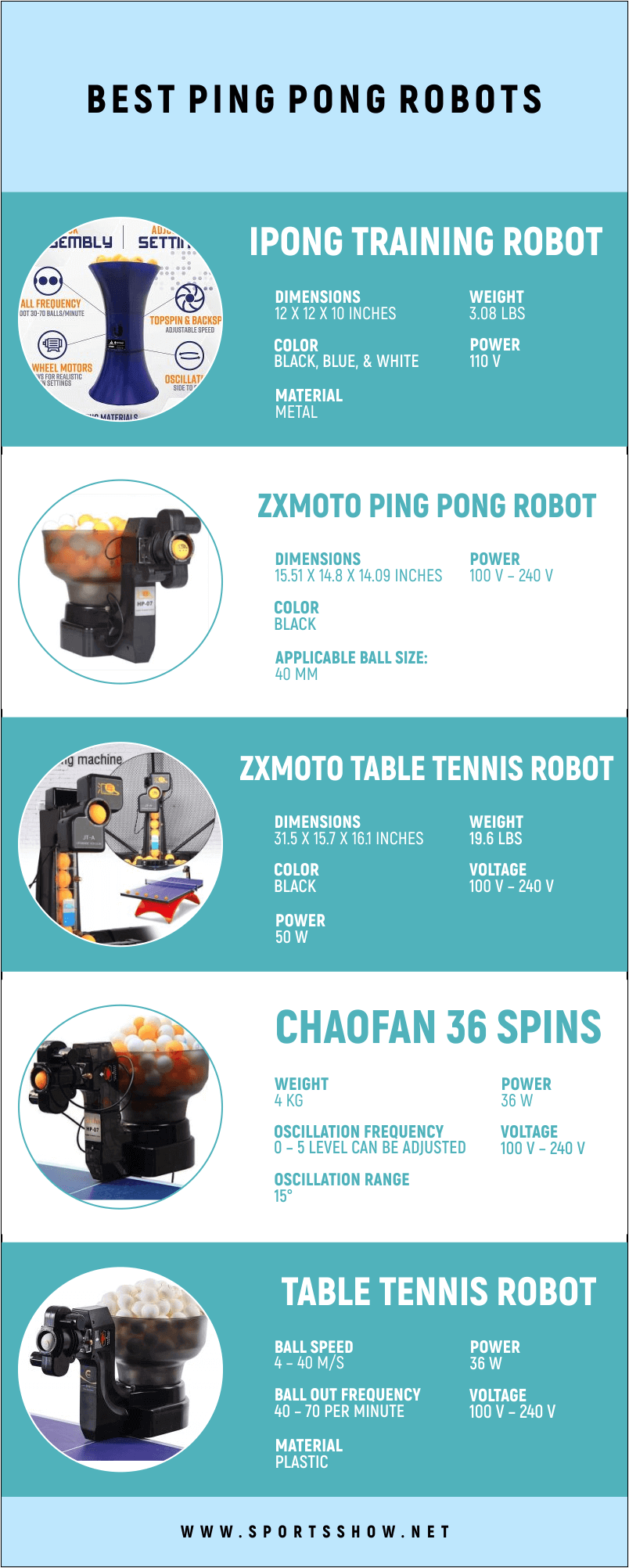 Our Recommendation:
Our 1st recommendation is the Practice Partner Table Tennis Robot as the best ping pong robot. The spinning factor of the ball can be easily controlled here on the control box, along with a quick assembling feature.
Moreover, our 2nd recommendation is ZXMOTO Ping Pong Robot Machine as the best-advanced ping pong robot. 36 angles on the head can be adjusted here with a 110 ball storage capacity for you to play.
Conclusion
Hence, we can say here are the most advanced versions of ping pong robots comprising multiple features for you. The machine system is quite understandable even for beginners, and you'll get tons of angle adjustment levels. Alongside, the oscillation range of all the robots can be maintained accordingly.
Besides, the storage capacity for placing the balls has also been extended, so you don't have to leave the table frequently. The players can also control the spinning factor of the balls, including top and backspin ratings.