If you're looking to justify your game on a shuffleboard table with the right amount of balance, then stay with us! It is very crucial to conduct a fair balance in the game throughout. Besides, sometimes it's hard to achieve without appropriate Shuffleboard pucks sets.
Most of the Shuffleboard tables arrive with the average quality pucks, and they matter a lot in the playfield. Natural gliding pucks have their naturally synchronized movement throughout the playfield area. Therefore, a Shuffleboard game is not but disappointment without the fair quality pucks sets to play with.
Many consumers have suffered from this particular problem, and they have suffered enough. As in today's topic, we'll go through a bunch of premium puck sets offering by some of the best puck sets manufacturers.
These options are targeting consumer's basic dilemmas toward the puck sets they mostly receive with the Shuffleboard tables in the package.
Best Shuffleboard Pucks Sets For Unmatched Performance
Lastly, premium built material and everlasting durability are something that you'll take from the option given below. So without delaying any further, let's dive right into the article.
BEST OVERALL
Shuffleboard Dark Cherry Pucks by Hathaway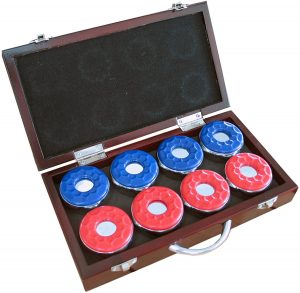 ★★★★★
Product dimensions are 19.63 ×31 × 2.13 inches
The product weighs about 5 pounds
Features:
Premium dark cherry finish
It comes with a sturdy case
Multi-colored pucks
Sloped edges for easy grip
Hathaway is offering a premium quality pucks set that comes with a wooden storage case option. Secured and safe storage box that is carved from pure wood housing easily gripped Shuffleboard pucks sets to rely on.
Product's Highlights: Your Shuffleboard table's playfield is mainly scrutinized by the pucks set that come with the table. It has been observed that the pre-added pucks lack quality and control over your game.
But with these incredible puck sets, you'll be in control throughout your play span. Moreover, the pucks have sloped edges that blend in a smooth, stable form which is incredibly easy to hold and balance.
Pros
Easy-grip with uniquely designed pucks
Affordable price
It comes with a stylish design
Pucks having a dimpled design with 2 color options (4 red and 4 blue)
Secure storage made easy by wooden case
Our Take: Dark cherry pucks by Hathaway are hard to beat. These smart pucks acquire most of the amazing functionalities for smooth gameplay. From convenient design to the elegant appearance just perfect for a fair game!
SMOOTH FINISH
Shuffleboard 2-1/8" Pucks By TORPSPORTS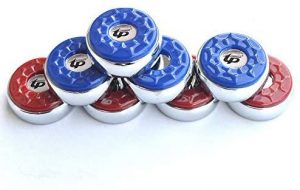 ★★★★★
Product dimensions are 1.00 × 1.00 × 1.00 inches
It weighs about 1 pound
Features:
Pucks built out of chrome-plated steel
Pucks topped with ABS caps for relentless glides
Tilted edges for better grip
Shuffleboard Pucks set finished with a modish touch and supreme build quality. TorpSports have done a great job of delivering promising quality Shuffleboard pucks with ABS topped cans for a perennial experience. The puck's quality will make you fall in love with the playfield's experience.
Product's Highlights: You're dealing with a heavy material here whose durability is rightly eternal. Who said that beauty will always come at a cost? It does, but that's not what you all get from here. Because TorpSports premium Shuffleboard pucks are highly durable with the beautiful design kept in mastery and elegance, the moment you'll hold these beauties with fair weight to them, you'll be in love.
Also, you're in control of the game with the balanced shots made possible by the clever design statement.
Pros
Durable built materials are used in manufacturing
Pucks give Dual-tone thanks to the red and blue color combo
Pocket-friendly price
Extra balanced game through beveled edges
Cons
Some customers reported chrome coat peeled off
Our Take: Exceptionally durable design with elegant features makes up for a delightful option.
DURABLE
Billiard Evolution Shuffleboard Pucks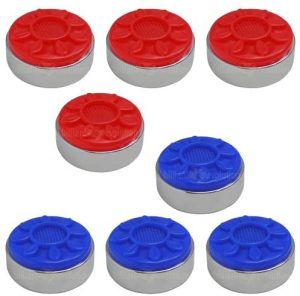 ★★★★★
Product dimensions are 6.70 × 4.30 × 4.30 inches
The product weighs 6.24 pounds
Features:
Bright colors for the catchy appearance
Lightweight and durable
Design inspiration from the classic times
Glides perfectly on the playfield
Easy to hold (Good grip)
New evolutions keep delighting us, just like these pucks set from Billiard Evolution. The pucks set offers a great durable design with traditional elements revived from the very past. Thus, these pucks come up as a light to brighten your Shuffleboard match.
Product's Highlights: Billiard Evolution has revised the old classical era of Shuffleboard table accessories in this unique pucks set. It's difficult to find the right blend of classical structure and modern construction in the puck sets.
Finally, this is not the case anymore. With these amazing puck sets, you'll be amazed at the quality and the durability at the same time. Therefore, attractive duality in colors and the uniqueness of this puck set demands a deeper consideration.
Pros
Classic vibe with a fair modern touch
Rolls smoothly on the playfield
Attractive price tag
Cons
Slightly smaller than the standard size
Our Take: A phenomenal craft that comes with a classical design makes for a must-buy option.
TRULY AMERICAN
Shuffleboard Pucks By American Store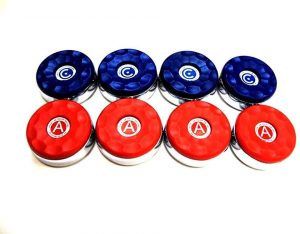 ★★★★★
Product dimensions are 8.6 × 3 ×8 inches
The product weighs 6 pounds
Features:
Attractive glossy crafted from high-end metal
High-quality pucks set
Two-tone color with shining surface
Mainly suitable for Shuffleboards with 14′ or longer
Timeless design
These luxurious shuffleboard pucks sets by an American store is a true art. Timeless design amalgamates in a glossy metal built with fascinating colors. Also, this pucks set is most suitable for larger Shuffleboard options (14′ or longer).
Product's Highlights: Catchy and flawless design is what you'll get from this puck set from an American store. You're mainly paying for the voguish and modish features of this puck set. Thus, it takes Shuffleboard table accessories design to the next level.
The glossy attire resulted from pure craftsmanship is another way to fathom the art. Moreover, it slides smoothly like a hair strand from the butter. Overall, track your gameplay to another level of perfection.
Pros
Voguish design tone
Timeless glossy finish with a dual-color touch
It comes with replaceable plastic screws
Our Take: If you want to amalgamate luxury and functionality into your Shuffleboard table, then this puck set is a bright choice.
EASY TO CARRY
Shuffleboard Boat Desk Pucks By IdealEnjoy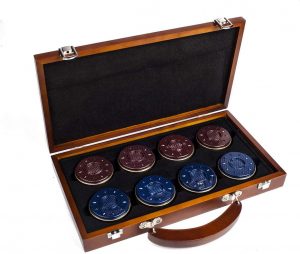 ★★★★
Product dimensions are 12.56 ×43 × 3.39 inches
The product weighs 6.98 pounds
Features:
Incredibly premium feel in an accessible option
It comes with ABS caps
Steel is finished with bronze coating
It comes with a fancy wooden case for safe storage
IdeaEnjoy is offering the best quality pucks sets in a great option. Now you can ornate your Shuffleboard with the best quality puck that slides with incredible balance and stability.
Product's Highlights: Durability and functionality stuffed inside a great case that can be seen as decor too. Puck's storage was never this splendid and safe at the same time. With adequate efforts to ensure its balanced flight on the play craft of Shuffleboard seem to work wonders.
Pucks are on the song once they glide through scores, and surely they will top your game without excuses.
Pros
It comes with a safe storage wooden case
It can ornate and adds to your room décor
Extremely compelling price option
Pucks have extremely well-maintained flights on play craft
Best value for money
Our Take: Modish bronze finish and super stylish case storage vouch for its worth!
LONG LASTING
Shuffleboard 8 Piece Pucks Set By JH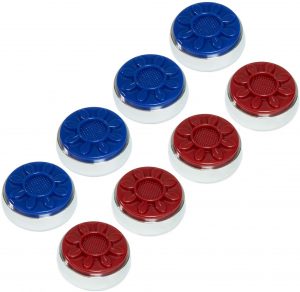 ★★★★
Product dimensions are 5.16 ×12 × 3.34 inches
The Product weighs 5.87 pounds
Features:
Easy handling (Grip)
Chrome finish
High-quality materials add to its everlasting impression
Incorporate tabletop discs for easy slide and shine
Stainless steel durability
Shine your Shuffleboard table with these unique pucks set from JH. Now you can enhance your shot's precision with these pucks. Conventional container design packed with high accuracy to lock your score.
Product's Highlights: If accuracy is your ultimate goal on the Shuffleboard table match, then this is a promising start to it. These pucks sets come with easily adjustable tabletop discs. Thus, further targets accuracy and reliability on the playfield. The sumptuous design gives an impression when you add it to the scorecard.
The smoothly bending edges are carved to perfection for an easy handling experience overall. You love every shot you play with an everlasting rolling substance fighting off the rough and tough surface too.
Pros
Chrome/bronze plated Shuffleboard discs added
A winner with the high-end build quality
The super affordable price tag is another no miss
Keeps your record aligned with interchangeable top cover
Our Take: Keeping all the luxury of good pucks set with an appropriate price option makes it our personal favorite.
MULTICOLORED
4 Shuffleboard Pucks Set By Ziegleworld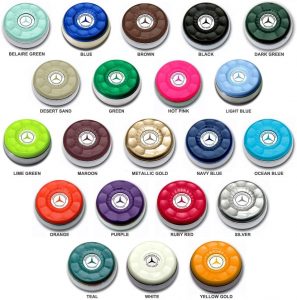 ★★★★
Product regular dimensions are 2 5/16 inches
21 colors to choose from
Features:
Available in a wide range of color options
Available in large and medium-size ranges
Attractive build to steal the gaze
Clever design to control the spin
It comes with a guide booklet directing game rules
Shuffleboard pucks set from ziegleworld outpour range of color options to pick from. They are impressively built with great precision and fine material, which makes them a pure color divine.
Product's Highlights: Build your game's thunder with a range of color options to stand out from the crowd. Moreover, the pucks are made with brilliance to resist tough circumstances and still be everlasting.
Besides, easy handling will direct your pucks to the right door, perhaps score one more goal? Surely you can now.
Pros
A diverse range of color options
You receive a guide in the package
Modern craftsmanship to empower your score capability
Our Take: If you appreciate vibrancy in this Shuffleboard table game along with the quality, then this pucks set is for you.
AFFORDABLE
Shuffleboard Pro Pucks Set By GS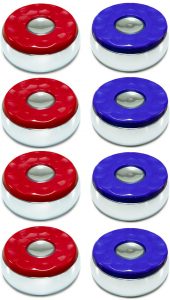 ★★★★
4 color variations to select
The diameter of 2-5/16″ or 58mm
Features:
Chrome-plated construction with a fine ending
Legitimate weight material to sustain the smoothness
Variants of color collection to select
Level and even size design for rolling
Modified centered caps with plastic structure
Pro collection of shuffleboard pucks from GS has come with a classy style and accurate design. Well, the appealing color range for selection is now a trend for buyers.
Product's Highlights: Check your skills and go for the shot! You'll love the exterior of these pucks, along with a smoothy edge. The sided margins are bezel along with a magnificent design.
The upside-centered caps are evenly adjusted to prolong the balancing on the playfield. What's more? You can even choose color sets according to your taste to mark the ground.
Pros
Manageable controlling surface
Glossy sides with even design
The very affordable price tag
Steel materialized surface
Cons
Color selection can be improved
Our Take: Looking for a well-designed and smooth-rolling set of exuberated pucks? Then this is a must-pick for you to play over your shuffleboard.
HIGHLY POLISHED
Shuffleboard Pucks Matte Torpsports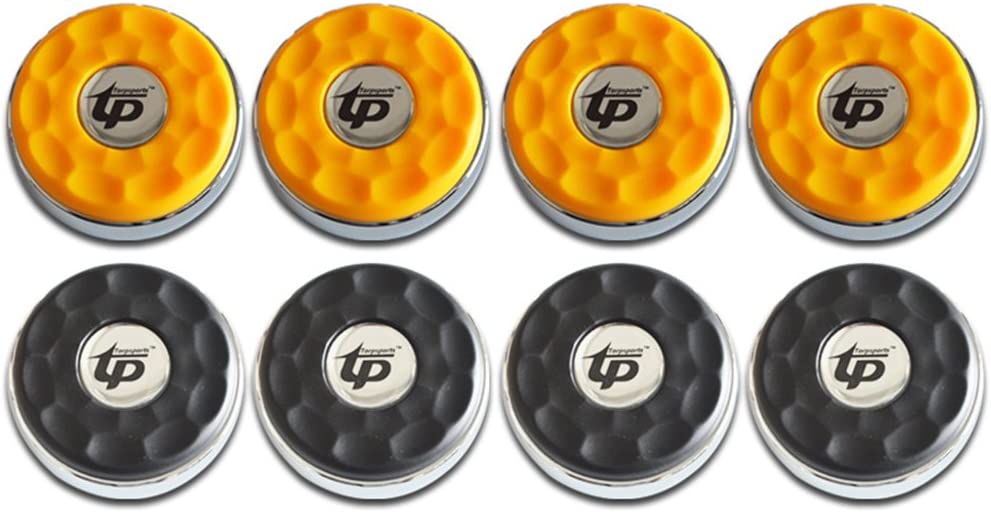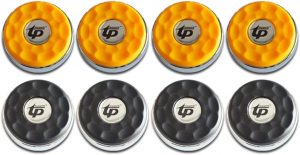 ★★★★
These pucks set has dimensions of 1.00 × 00 × 1.00 in inches
The weight of this product is around 1 pound
Features:
Evenly centered caps with abs structure
4 matt black pucks with 4 fancy yellow pucks set
Easily removable caps design
Chrome-plated materialized body
Controllable grip position
This is something innovative from the Torpsports, a premium design collection along with a matt surface. The exterior is well polished and surely controllable positioned of the cap to sustain the smooth-rolling.
Product's Highlights: The design is smooth to prolong the rolling over the shuffleboard relentlessly. Simultaneously, the borders are evenly shaped to hold the grip during a shot.
Well, it's a sure-goal determination with these pucks. Why not? Certainly, it's all together with a glossy exterior and rolling surface.
Pros
Attractive matte black and orange color set
Smooth sliding pucks
A simple removable cap lid
Worth buying these pucks set
Cons
Some customers report sliding issue
Our Take: An attractive pair of color selections with a glossy surface. Easy to open cap lid with chrome-plated construction.
FAQ Regarding Best Shuffleboard Pucks Sets
Q. Which could be the best shuffleboard pucks sets?
These enlisted pucks sets are the top-rated and best selection. Although here are our best and top 03 shuffleboard pucks set
Shuffleboard Dark Cherry Pucks by Hathaway
Shuffleboard 2-1/8" Pucks by TORPSPORTS
Billiard Evolution Shuffleboard Pucks
Q. Can I select different colors of the pair?
Of course, these pucks sets come with different attractive color collections to choose from. All of the colors are evenly polished on the exterior and give a glossy look along with strong edges as well. You can choose different color pairs from the given options.
Q. What is the approximate weight of these pucks?
Well, these pucks are made accordingly to maintain a smooth slide on the playfield of the shuffleboard. The average weight is around 1 pound of a puck with a centered cap to sustain the rolling.
Q. Why there's a cap on the top center of a puck?
The caps are structured to impact a smooth slide of a puck during the shot. Some pucks have easily removable caps to check the exterior. Besides, the design of these pucks is chrome-plated, which gives a shiny look.
Our Recommendation:
Our 1st recommendation is Shuffleboard Pucks by American Store as the best shuffleboard pucks sets. It has a classy design with the luxurious touch of a glossy finishing exterior. In addition, our 2nd recommendation is the Shuffleboard Pucks Matte Torpsports with stunning matte black and orange color combination. Moreover, these pucks' design is chrome-plated along with a smooth surface to sustain the relentless sliding on the playfield.
Conclusion
In the end, we can hopefully conclude that these are our top and best-selected shuffleboard pucks sets. Luckily, these pucks set come in well-designed and durable construction with high-end material. The manufacturers have structured them exceptionally unique from the usual puck sets that come with the shuffleboard tables. The fine polishing of color and glossy exterior will surely pay the price for your game. In fact, it's something more than fine!
Moreover, the chrome-plated design is apparently a luxurious touch of attire as well. The edges are evenly designed to prevent any hurdles during the pucks' sliding. Even you can select many appealing and shiny colors of sets available with the collection. Withal, the weight is evenly constructed to sustain a level rolling over the shuffleboard. So you can't miss the shot!