Filipino world champion Manny Pacquiao is one of the top boxers of today. He is all over the world for his excellent fighting skills and for reaching a tremendous height of success. But he is more than just a boxer. We are up with amazing facts about Manny Pacquiao, which will surely blow your mind away.
Amazing Facts About Manny Pacquiao
He is a multi-faceted talent who has done well in several other sports. He has also tried his hand in several other fields, like music and even serving in the army. Let us take a look at the life and career of Manny Pacquiao and learn 10 amazing facts about Manny Pacquiao.
More than just a Boxer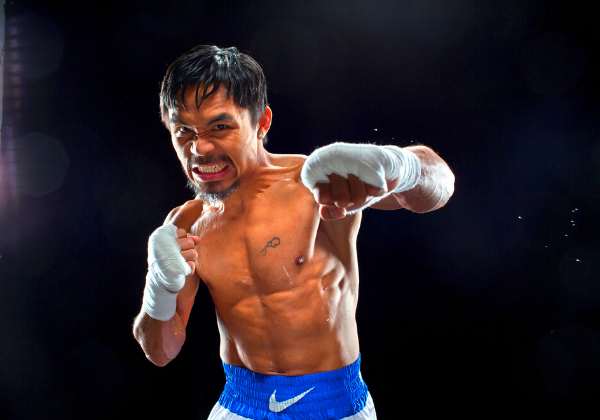 Filipino world champion professional boxer Emmanuel Dapidran Pacquiao, famously known to the world as "Manny Pacquiao," is involved in acting, singing, and basketball besides his boxing career and is also a member of the Philippine House of Representatives. He achieved ten world titles and is the first and only eight-division world champion.
Pacquiao achieved the lineal championship titles in four different weight categories. Forbes named him the world's 6th Highest Paid Athlete in 2009. And he got that place for total earnings of nearly $40 million. Interestingly, that income equals the income of NBA superstar LeBron James during that year.
In 2010, he earned 10th place on the Forbes highest-paid athletes list. He made $42 million that year. Besides, ESPN Magazine also named him as one of the two top-earning athletes in 2010.
His Amazing Accolades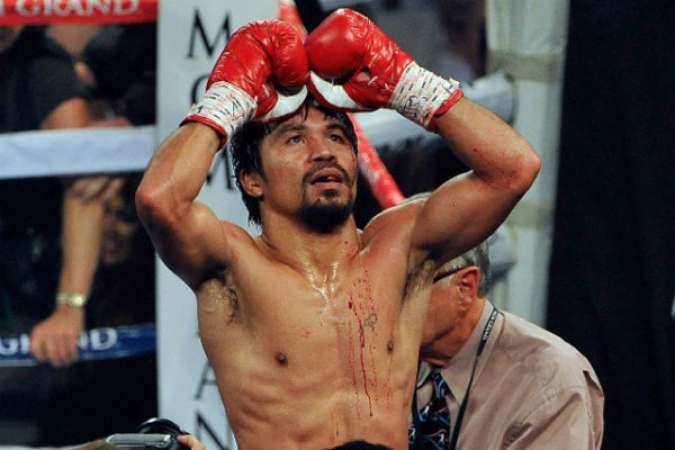 Pacquiao currently holds the number three rank on The Ring pound-for-pound list and is also the current WBO welterweight champion. Three main boxing organizations, the World Boxing Council, the Boxing Writers Association of America, and the World Boxing Organization, have named him "Fighter of the Decade" for the 2000s decade.
Manny Pacquiao won the "Fighter of the Year" award from The Ring and BWAA thrice in 2006, 2008, and 2009. He also achieved the ESPY Award for being the Best Fighter twice in 2009 and 2011.
Several reputed media organizations named him the best pound-for-pound boxer in the world. He has earned praise from media houses such as The Ring, Sports Illustrated, ESPN, Yahoo! Sports, About.com, and BoxRec.
Personal Insight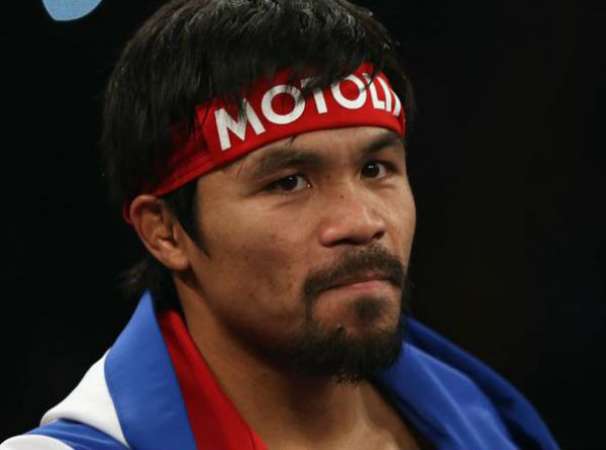 Manny Pacquiao was born in Kibawe, Bukidnon, Philippines, on 17th December 1978. He is the fourth among his six siblings, two siblings from the first husband of his mother and four siblings from his parents.
His parents, Dionesia Dapidran-Pacquiao and Rosalio Pacquiao were separated when Pacquiao was in the sixth grade of junior school. After the separation, Pacquiao's father started living with another woman.
Raised in the Roman Catholic faith, Pacquiao currently practices Evangelical Protestantism. Manny Pacquiao married Maria Geraldine Jamora, nicknamed "Jinkee," on May 10, 2000, and the couple together has five children. The Pacquiao family currently resides in General Santos City, South Cotabato, Philippines.
Pacquiao – An Army personnel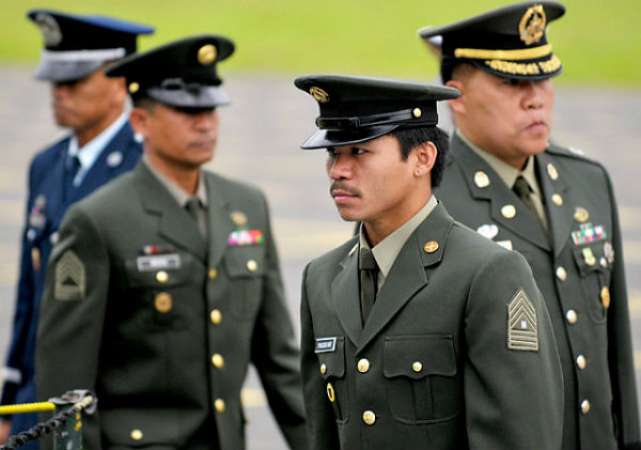 Manny Pacquiao first joined the Philippines Army's reserve force as a Sergeant Officer on April 27, 2006. He was then promoted to the post of Technical Sergeant on 1st December of the same year.
Pacquiao eventually became a Master Sergeant, which is the highest rank for enlisted personnel in the Philippines, on October 7, 2007. He, after two years of service as the Master Sergeant, then received the special rank of Senior Master Sergeant on May 4, 2009.
Pacquiao also held the position of Command Sergeant Major of the 15th Ready Reserve Division. And, he held that besides his post of Senior Master Sergeant. Manny Pacquiao now serves his duty as a military reservist in the Reserve Force of the Philippine Army with the rank of Lieutenant Colonel.
His Acting Career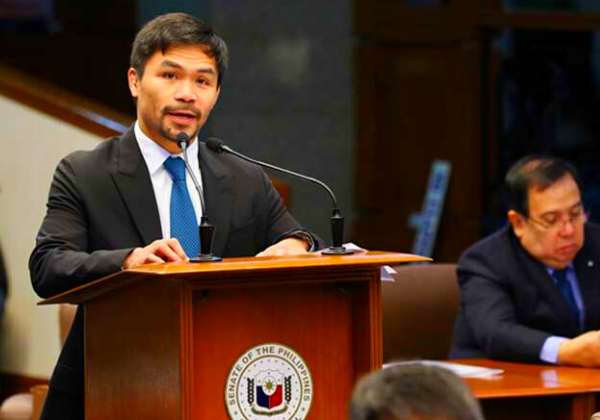 Manny Pacquiao has been featured in a superhero-comedy film called "Wapakman." The film was released on December 25, 2009, and entered the Metro Manila Film Festival 2009. He then signed as an actor with GMA Network in September 2007. He filmed his first episode of the network infotainment show Pinoy Records on December 17, 2007.
It was also rumored in 2012 that the legendary Hollywood actor Sylvester Stallone was on talking terms with Pacquiao for co-starring in one of Stallone's future films, which are still in the planning stages.
According to the 18th May 2012 report, he started shooting his first Hollywood film after his 9th June fight against Tim Bradley. The Hollywood film is rumored to feature several fighters and martial artists, including Lyoto Machida, Anderson Silva, and Hector Echavarria.
Political career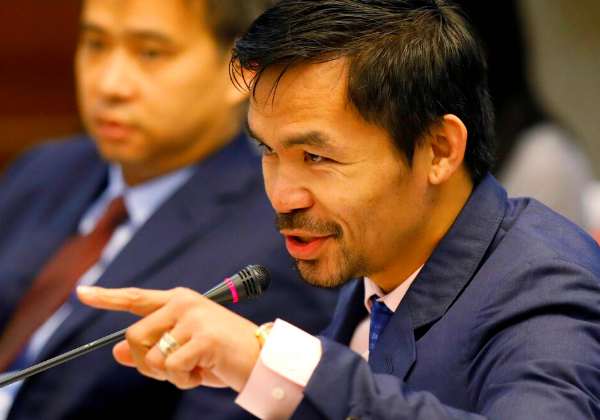 Manny Pacquiao first announced his intention to run for a seat in the Philippine House of Representatives on February 12, 2007. He declared he would represent the 1st District of South Cotabato province at the May 2007 legislative election in the Philippines.
Pacquiao had his affiliation with the government of President Gloria Macapagal-Arroyo as the candidate of the Liberal Party faction in the Philippines. He then became the officially proclaimed congressman of the lone district of Sarangani on May 13, 2010.
And he got it after his marvelous win over the Chiongbian clan that had been in power for more than thirty years in the province. He gathered 120,052 votes in the election against the 60,899 votes of Roy Chiongbian. He then moved to the Partido Demokratiko Pilipino-Lakas ng Bayan in 2012, which is led by Vice-President Jejomar Binay.
Basketball career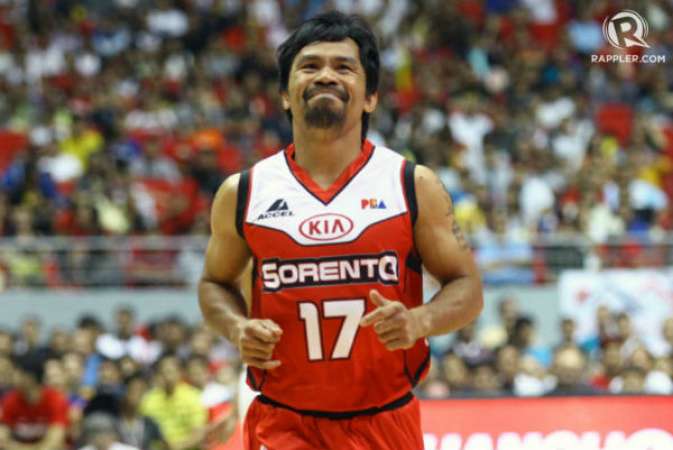 Manny Pacquiao became an honorary member of the Boston Celtics. He also received a replica of a green and white Celtics jersey by the Boston Celtics authority bearing his name and number 1. Pacquiao announced his intentions to join the Philippine Basketball Association on April 17, 2014, as the playing coach of the Kia Motors Basketball team.
He then submitted his application for the rookie draft on 9th July 2014. But, he requested the authority to "respect" his request to be not drafted until the turn of the Kia Motors Basketball team.
Kia basketball team then finally drafted him as the 11th overall pick in the first round of the 2014 PBA draft. And this accomplishment has made him the oldest rookie draft in the history of the  Philippine Basketball Association.
Influence On Pop culture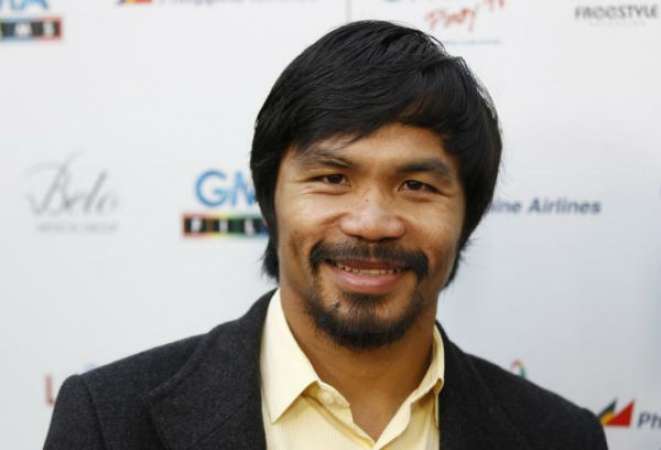 A film called "Pacquiao: The Movie" was released on 21st June 2006, which was based solely upon Manny Pacquiao's life. The movie featured Filipino actor Jericho Rosales as Manny Pacquiao. Besides, Joel Lamangan directed that movie.
The movie grossed around $99,322 at the box office. Pacquiao was also featured in several video games of boxing, which include "Fight Night Round 2", "Fight Night Round 3", "Fight Night Round 4", and "Fight Night Champion."
He is also the first and only Olympic non-participant from the Philippines who served as the flag-bearer at the Beijing National Stadium during the opening ceremonies on 8th August in the 2008 Summer Olympics. Manny Pacquiao also became the first Filipino athlete and the only boxer to feature on a postage stamp.
Tax evasion case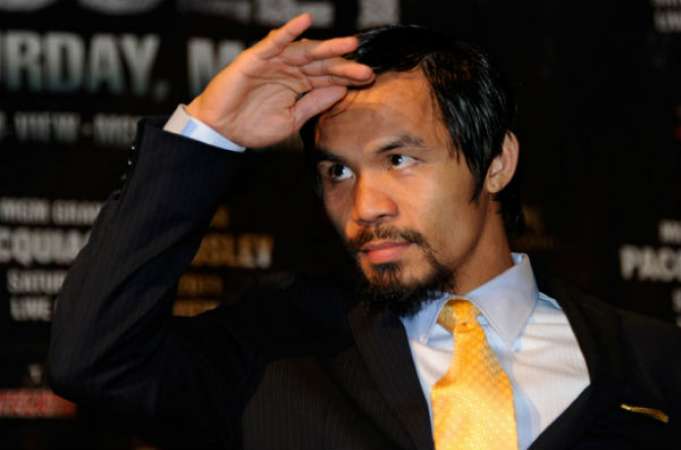 The Philippine Bureau of Internal Revenue froze all of Pacquiao's Philippine bank accounts a few days after his victory against Brandon Rios on 26th November 2013.
The Philippine Bureau later stated the reason for the freeze as he failed to pay ₱2.2 billion in taxes for the income that he made in his bouts between 2008 and 2009 in the United States. The very next day, the Philippine Bureau of Internal Revenue also issued an order to freeze all of his Philippine properties.
Manny Pacquiao arranged a press meeting to counter the BIR. He showed documents that proved the payment of income tax for the non-resident alien by his promoter to the BIR's US counterpart. Pacquiao also showed a letter from Bob Arum to back up his own evidence.
An Accomplished Singer
Manny Pacquiao released his first album called "Laban Nating Lahat Ito" under Star Records in 2006. That album featured hit songs such as "Para Sa'Yo Ang Laban Na 'To," "Pagsubok Lamang Yan," and "Champion Sa Kantahan."
He released his second album called "Pac-Man Punch" under MCA Records in 2007. That album features songs such as "Pac-Man Punch (R U Ready?)" and "Pac-Man Punch (Knockout Remix)" and also showcased Willie Wilcox and Nemesis Yankee beside him.
Pacquiao released two more singles after that, "Lahing Pinoy" under GMA Records in 2009 and "Remake of Dan Hill's Sometimes When We Touch" in 2011. Besides his own singing talent, Pitbull also mentioned Pacquiao in his own song "Get It Started."
Conclusion
Feel free to share more amazing facts about Manny Pacquiao in the comments section below.
Manny Pacquiao Stats – Infographics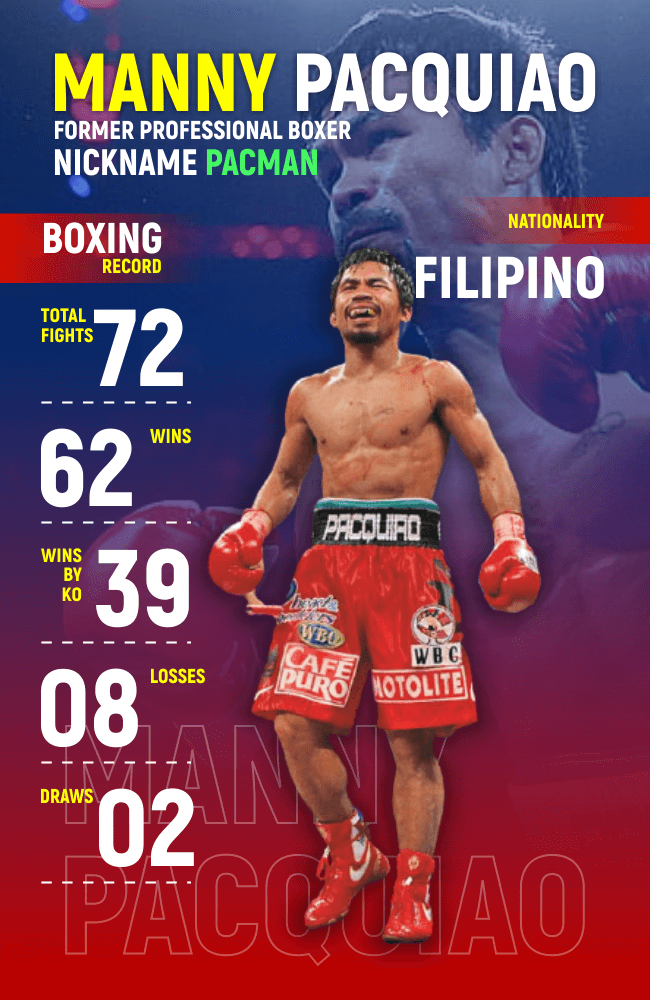 FAQs Regarding Manny Pacquiao
Q. What makes Manny Pacquiao interesting?
Filipino professional boxer, media personality, and politician Manny Pacquiao won more boxing titles than any other boxer in history. In the Philippines, he became a senator and reached the pinnacle of his sport after rising from abject poverty.
Q. What is the best fact about Manny Pacquiao?
He was raised in a shack by a single-parent family and is one of six siblings. At age 10, he gave up his education. His full name is Emmanuel Dapidran Pacquiao, and he is also known as "Pacman" in boxing and "Pambansang Kamao" in the Philippines. The only way to flourish is to work hard.
Q. Why is Manny called Pacman?
Manny Pacquiao's name and surname are the first three letters of Pac-Man. As a result, Pac refers to Pacquiao, and Man refers to Manny, making it 'Pac-Man'.  In addition to a successful boxing career, Pacquiao is a Senator in his home country.
Q. Can you explain why Manny Pacquiao breathes so fast?
Further fatigue is caused when it gets drained even faster. There is a big reason why Pacquiao is strong in the later rounds. His breathing patterns are something he has mastered.
Last Updated On: December 2023