The best cornhole boards can lighten up your events, parties, and tailgates. These game boards are made for exceptional fun and enjoyment in gatherings. You can always set them anywhere you desire without hassle due to the excellent and movable design.
You will love the design and craftsmanship of these game boards with the added attractive game components. Moreover, these boards, along with the accessories, are made out of top-notch materials for an ever-lasting experience.
Such board games are most fitting for outside activities like on the lawn or in an open place. But after some time, many consumers started using these boards indoors, and it went equally amazing.
Now, we have more updates on the design and portability of these game boards. Therefore, you'll get the best experience wherever you put them into action. Besides, players can also arrange tournaments.
Best Cornhole Boards For Party Fun
Cornhole boards have excellent functionality for entertaining every kind of fun seeker. Lastly, there are a bunch of offerings based on size disparities and price options. We have already listed the best cooperative board games. And now, we have created a list of the best cornhole boards available in the market right now. So, let's get started.
BEST OVERALL
Classic Cornhole Set by GoSports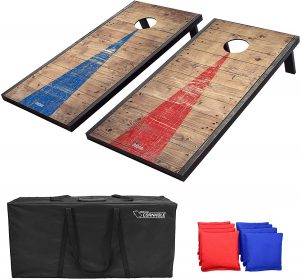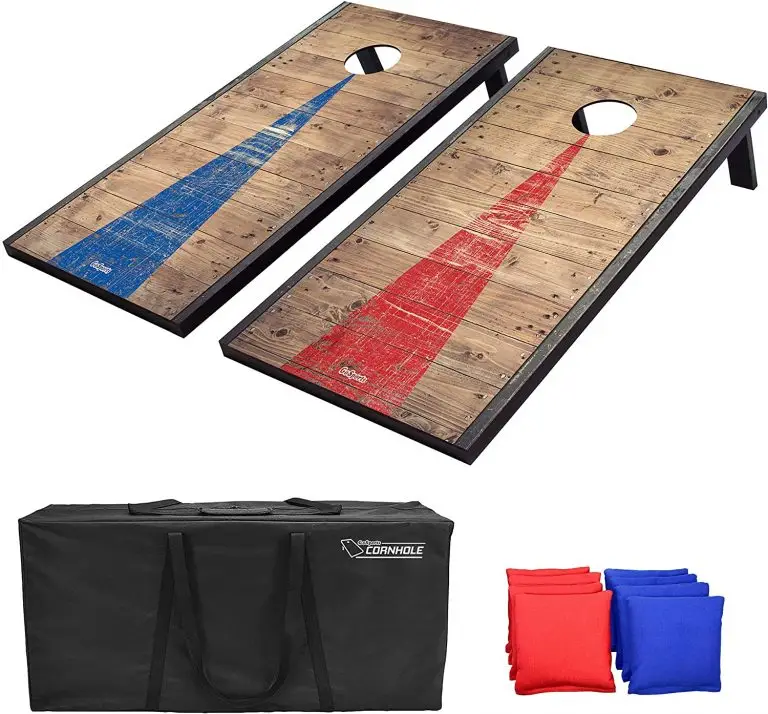 ★★★★★
The product dimensions are 12 × 24 × 48 inches
The product weighs around 18.6 Kgs
Features:
A beautifully crafted board is made to give a vintage vibe
The frame feels as if a solid plank is bordered by the steel frame
GoSports built is perfect for both indoor and outdoor play
It comes with 8 durable bean bags that are premium in nature
Now your game board is UV and water-resistant
Your classic cornhole set inspired by the vintage design is one of the best cornhole boards you can find. Now you can have fun anywhere, and with the added premium added features, it's a deal to steal.
The Vintage Yet Modern Feel: You're going to admire the excellent design features coming with your Cornhole set. The clever board frame is something to gaze and stay with classical elements inspired by a vintage design. Also, the wooden plank is framed in a sturdy steel finish to add to its durability. All the comes with the UV and Water-resistant coating. So, you don't have to worry about getting this beauty outside for a longer period.
Premium Bean Bags to Lighten up the Show: GoSports has always lightened up your gatherings and parties in a classy manner. Besides the design, you're going to find the modish accessories along with extra resilience to the extreme weather conditions. The premium bean bags are a delight to throw on the game board. So, what are you waiting for?
Pros
Durable finish with a beautiful steel frame
You'll feel elated with the vintage design structure
Perfect for indoor and outdoor fun
Premium accessories included in the package
Cons
The board is slightly heavy
Our Take: It is a beautiful design that is made possible with many premium features, just perfect for any type of social gathering.
UNMATCHED FUN
Premium Quality Cornhole Set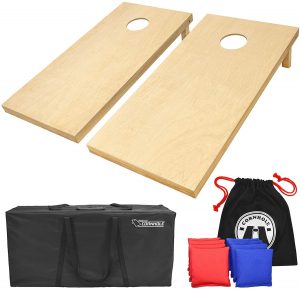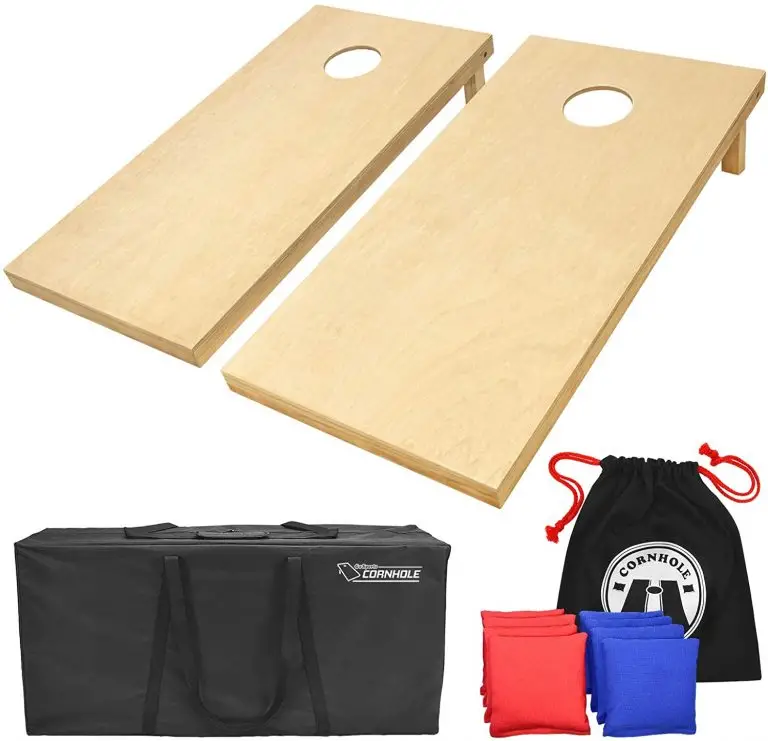 ★★★★★
The product dimensions are 35 × 23 × 6 inches
The product weighs about 20.71 kilograms
Features:
100% wooden construction that looks amazing
The game board can be customized
You can now cover your cornhole boards with dedicated covers
Your board is secured with an ever-lasting durable case
Multi-colored bean adds to the beauty of game components
Your premium cornhole is a next-level luxury with a customizable design. It is made out of premium authentic wood making it one of the best cornhole boards to buy. So, what are you waiting for?
Premium Design that Lasts: GoSports has been delivering designs bundled with features over the years. And this game board is no exception. You're getting a phenomenal design that is made out of 100% pure wood that looks expensive. The frame is carved from pine wood that has an ever-lasting impression. Furtherly, pure materials promote pure durability, and with added features, the deal looks bright.
Play For Hours: Carved with perfection and delivered with confidence. The game board is perfect for parties and bright events. Smooth surface welcomes your bean bags on its generously smooth surface, which brightens your shots. You can challenge your friends and beat the boredom in this next-level cornhole board game.
Pros
The product has premium built with sharp features
Pure pinewood promotes durability
The generous wide surface makes up for better shots
Premium accessories come included in the package
The board has a cover as well
Our Take: The true craftsmanship that is inundated with premium accessories, that makes it a great choice.
TRULY AMERICAN
American Cornhole Board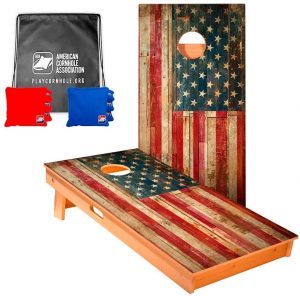 ★★★★★
The product dimensions are 55 × 30 × 11 inches
The product weighs 25.86 Kilograms
Features:
American flag design to impress the patriots
The best quality material in the town
Design is made up to the American board regulations
Your board is handcrafted with attention to the tiny details
Get one of the best cornhole boards from the most premium manufacturer. ACA has nailed the design department by putting up the American flag right on the board. So, let's see some of its amazing features below.
Design that Stands out: ACA has built one of the finest quality boards in a fancy American flag theme. Proud Americans are going to stand and admire this excellent piece of craft. The game board is delicately placed on a Baltic birch that makes a lasting promise of sturdiness. Moreover, the board's edges are finely beveled and leveled so that you can carry them easily.
A board that is assembled in America: Your American cornhole board is assembled in America with care to official regulations. The set of the board is a handcrafted mastery. Furthermore, the detailed accessories are a joy to watch. The high-quality bean bags can endure tough hits. Besides, there's a case to carry these bean bags, which adds to a protective feature.
Pros
Commendable design that speaks for itself
The accessories are well built and are highly sturdy
Accessories cover included in the package
Full-Size board that has sloped edges for easy carry
Customizable design
Quality satisfaction guarantee
Our Take: A top-notch design with a sturdy finish and quality satisfaction guarantee makes it a safe purchase.
COMPACT DESIGN
Foldable Cornhole Board by GoSports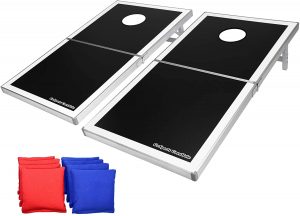 ★★★★★
The product dimensions are 26 × 25 × 8 inches
The product weighs 30.9 pounds
Features:
A graceful yet sturdy construction that makes it robust
A tournament size board yet lightweight
This board is an amalgamation of class and strength
Your cornhole is now super portable with a unique foldable design
The board comes loaded with detailed components
A tournament size cornhole board that is convenient to carry to places. Its stellar functionalities along with elegant design make it one of the best cornhole boards today.
Elegance that Seeks Strength: Your elegantly designed cornhole is the next level of craft admiration. It's built to serve many purposes. Firstly, the tournament size board is not too heavy but way more elegant than you can expect. The foldable design makes it easy to carry wherever you plan to go. While this eye-catching design won't cost durability here. As the tough aluminum steel frame accompanies your playing surface.
Never Ending Fun: The tournament size board is a sure option for larger gatherings. This cornhole board size is just perfect for longer playing spans. Your bean bag's shots are on point with an exceptionally synchronized game's mechanism. So get along with your friends and enjoy the never-ending joy of cornhole board.
Pros
Full-size board fits for large tournaments
Highly Strengthened with promising aluminum frame
Foldable design makes it easy to carry
High-quality accessories
A great value for money
Our Take: A generous board that has a sophisticated design with a foldable function makes it a good deal.
AFFORDABLE
Flexible Cornhole Board by Himal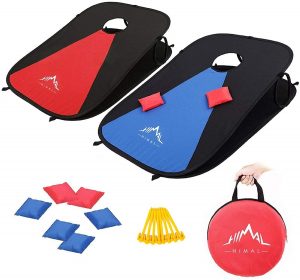 ★★★★
The product dimensions are 14.61 × 13.86 × 4.45 inches
The product weighs 2.06 kilograms
Features:
The handy design makes it perfect for traveling and outgoing fun
Lightweight design that can be foldable too
Your game board has a modish design touch
It comes with poly fabric bean bags and a carrying case to add protection
If you're looking to enjoy cornhole game in a small and portable offering, then this one is for. Exceptionally fancy and compact design makes it one of the best cornhole boards.
Compact Form Factor: Himal has modified the conventional cornhole in a smaller size design. The design makes it comfortable to carry to places with added lightweight. The modish design looks and feels great in operation. Easy to assemble functionality makes it a quick deal to shot your first bean bag.
Let's Play it Together: The terrific construction with tear-resistant fabric is one step forward towards the durability factor—all that in a handy design that can be a great fit to carry anywhere. Moreover, Himal has presented a balanced form factor in a great-looking lightweight finish. Are you looking to play again? Well, no problem, as with this flexible cornhole, you can set up the game in minutes, and that's without hassle.
Pros
The lightweight form factor makes it easy to hold
Modish Design made out of durable materials
Perfect for travelers
Balanced board for perfect gameplay
Affordable price tag
Cons
Some may not prefer the small design
Our Take: A foldable design that has a voguish feel at an affordable price gives all the worth for your bucks.
KID'S CHOICE
Portable Cornhole Board in Junior Size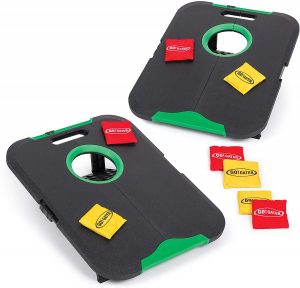 ★★★★
The dimensions of this cornhole board game package are 24.75 × 11 × 5 in inches
This board game package weighs around 3.7 kgs
Features:
Compact shape boards with lightweight design
2 types of bean bags are included in the package with two colors
Firm plastic material to reduce the weight of the body
Containments are structured on the boards for holding the bean bags
Specially designed for all ages with simple and fun gaming rules
A unique design and preferably structured for all types of ages. Eastpoint sports has featured this as one of the best cornhole boards to get the same stunning gaming vibes as compared with the trending ones.
Place it anywhere: Yes, no matters you're outside, or at your home, this cornhole board game is structured precisely designed for portability. A handle is there on the top to carry it anywhere along with your regular trips and picnics. Plus, the overall weight is concise and evenly constructed with a sleek design.
What's more? There are 2 pairs of bean bags, including 8 of each yellow and red color for teaming game scenario. The bag sizes are evenly adjusted around 16 oz of each with a secure covering. Moreover, the board construction is materialized with a water-proof structure and is mainly designed for both indoor and outdoor gaming with a general portable shape. Enjoy it with your friends and family wherever you want.
Pros
It comes in black and green color combination board
Lightweight board design
Easily placeable with a compact shape
The evenly structured surface of the board
Very affordable and worthy price
Cons
Some people report folding issue
Our Take: A compact and sleek design with average size cornhole board. Carry it along anywhere your want as it is very light in weight.
TRULY MULTIPURPOSE
Multi-Purpose Cornhole Game board by GoSports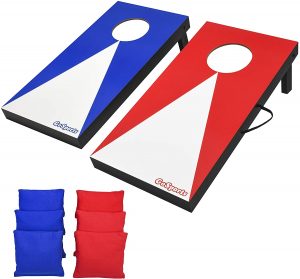 ★★★★
GoSports game package has dimensions of 24 12 8 in inches
This cornhole board game package weighs 4.92 kgs
Features:
The water-proof structure of gaming boards with secure boundaries
Classic shape design with a firm surface
A comparatively larger platform of the board with even balancing
Attachment for bean bags are structured inside the board
Compact shape with the lightweight board for easy placement
GoSports presents a stunning designed combination of cornhole board with an easy portability structure. Now don't get bored sitting around; set up these boards on your lawn, and have fun with the family.
Unique design: The tall shape surface of this cornhole board game is considerably structured for both indoor and outdoor usage. Moreover, the material is highly protected even it will resist UV radiations and water as well.
Game package: There are 6 bags of two colors, including blue and red, for teaming matches of cornhole. Plus, the game package comprised 2 evenly structured cornhole tables with a compact design. There're rulers included in the board game for maintaining balance.
Pros
Velcro patching of the board for hilding bags
The compact and sleek design of the tables
For indoor and outdoor
Very catchy price tag
Cons
Few people complained about the table sizing
Our Take: If you're looking for a compact and average size cornhole table to have a teaming game with your friends or family. Then this is for you.
FAQ Regarding Best Cornhole Boards
Q. Which could be the Best Cornhole boards?
All of the mentioned cornhole tables in the list are top-selected and best with given features. Whereas these 03 could be the best among the list:
American Cornhole Board
Classic Cornhole Set by GoSports
American Cornhole Board
Q. Is there any age limit to play these cornhole board games?
Luckily no, these games are particularly designed for all types of people of different ages to kill their boredom. Moreover, you can even buy these cornhole games for giving as a gift as well.
Q. Are these games lightweight and portable?
Of course, the manufacturers have designed the tables of these cornhole boards with precise lightweight and top-quality material. Most of these enlisted games are portable with lightweight structures along with water-proof compatibility.
Best Cornhole Boards | Quick Comparison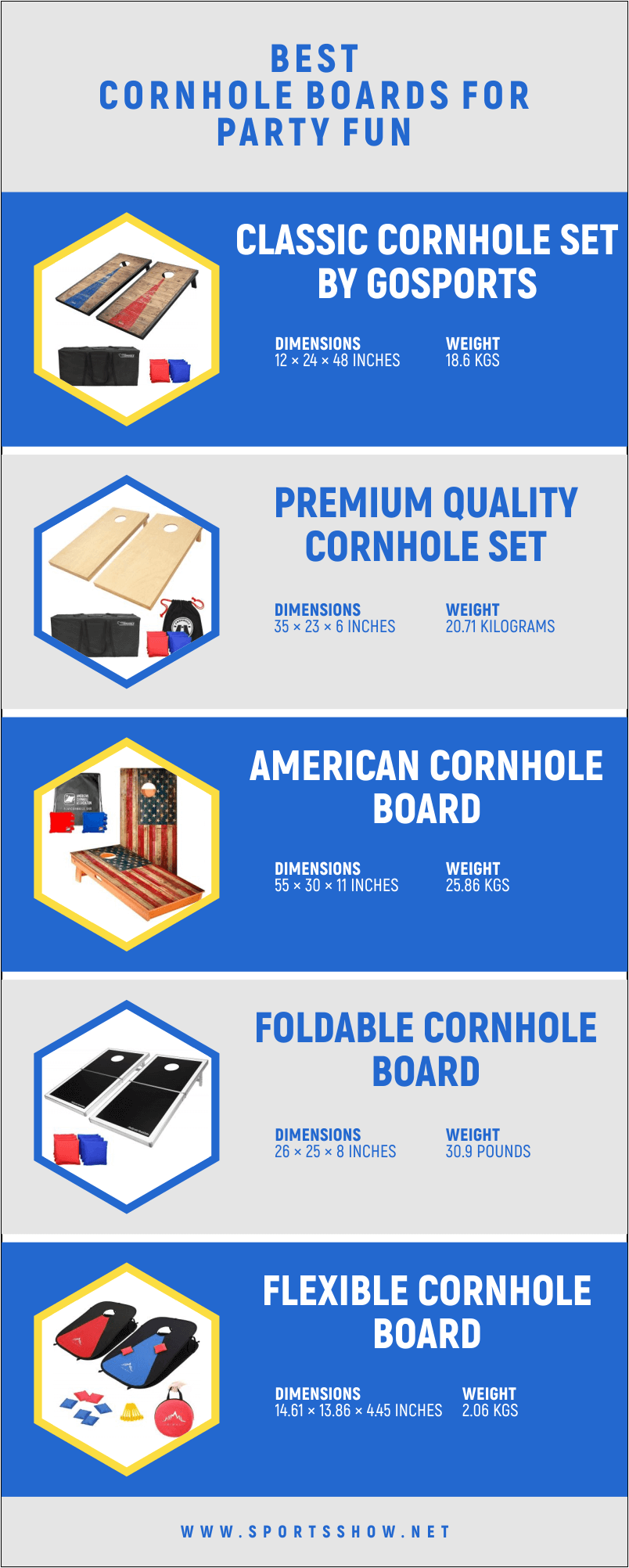 Our Recommendation:
Our 1st recommendation is the American Cornhole Board as the Best cornhole Board game on the list. This board game has an American flag structure on the table surface along with a high-quality design materialized. Moreover, our 2nd recommendation is the Multi-Purpose Cornhole Game board by GoSports with a water-proof table material. The surface design has a classical impact together with a lightweight and compact shape for easy portability.
Conclusion
So now we can confidently conclude that these are the top-rated and best cornhole board games for a fun-loving gaming experience. These games are evenly structured with top-notch material to maintain the balancing surface of the cornhole tables. Moreover, the game package includes 2 sets of bean bags with color variants to play the game with an opponent.
Even you can take and set these games anywhere, including indoor and outdoor, with easy portability of the structure. The overall structure is compact and sleek with secure boundaries. So select your favorite cornhole board game to enjoy the family time gaming experience at your home and with your friends.