Are you a fan of traditional Cribbage boards that last for hours of fun? Then we will give you a fair chance to look into the best Cribbage boards available in the market right now. This classic board game is kept unchanged from its time of release back in the 17th century.
Actual classic board game's admirers will cherish the secure fashion of these Cribbage boards. Therefore, these game boards provide a unique game experience that packs classic elements inside.
The game's foundation is set on a wooden surface and can generally be played by more than two players. Furthermore, these Cribbage board games contain many of their ingredients, such as pegs and a deck of standard cards used in the game operation.
You may have already liked our best mystery board games. These exciting board games are portable and easy to carry and don't take much of your space. All these incredible features are packed inside these game boards.
7 Best Cribbage Boards For Family Fun In 2021
The classical pleasure of these board games is coupled with today's standards too. So, you are never neglected or left behind the time standards. We have chosen the best of these Cribbage board games and made a list which is given below.
BEST OVERALL
Classic 3 Track Cribbage Board by Brybelly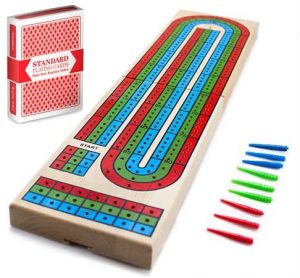 ★★★★★
The product dimensions are 7.25 ×5 × 3 .5 inches
The product is lightweight and weighs 12.8 Ounces (0.8 pounds)
Features:
The traditional game board in an easy to operate package
The wooden frame makes it hard to miss the conventional feel of Cribbage
The construction is super catchy
The board game is simply perfect for enjoying with family
This Brybelly's classical offering is one of the best Cribbage boards for beginners. This brain game is conventional but with an interesting mix of simplicity to keep your game experience Hassle-free. Furthermore, the Cribbage board is a great fit for beginners to understand with an easy guide comes in the package.
Same old feel: The classical vibe of the Cribbage board is packed with sophistication in this impressive board game by Brybelly. The smooth wooden surface gives the same traditional feeling as this board game was played centuries ago. The materials used in the construction blend to the edges and gives a streamlined design and pleasure, which is great to feel.
Easy to Understand: The cleve techniques used in its manufacturing are mainly stressing on "Easy to understand for everyone." Thus, the board comes with a simple and yet elegant design that is extremely easy to comprehend for everyone. Moreover, the board has a storage option to secure your pegs and accessories on the go.
Pros
Extremely lightweight design to ensure portability
Sturdy materials are used in the product's construction
The product has a safe storage option to contain its accessories
Simple game operations make it easy to understand even for the noobs
This board game is a great deal for its price
Our Take: The conventional design blends with the simplicity of today's innovation to make it a great value for your money.
VIBRANT COLORS
Color-Coded Cribbage Board Game by Bicycle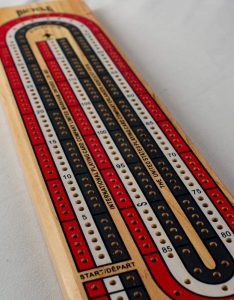 ★★★★★
The product dimensions are 15 × 4 × 1 in inches
The product is super lightweight that weighs 14.08 Ounces
Features:
A special design with 3 tracks to start from
Class gets color duality now with an inviting exterior
The Cribbage board comes packed with all accessories to perfect the gameplay
Color themes pegs to steal your gaze
Blend of standard design with promising board frame to support substantial structure
Perfect your game with the new and best Cribbage boards by Bicycle. This game board reflects its history in countless ways. From its matchless shape to the fun-packed strategy tactics you learn as you yearn to play more.
Design & Material: The new color-infused Cribbage board's design is inspired by its rich history that continues. The design speaks for itself with its sharp edges and perfectly divided 3 tracks. The frame is made out of wood that looks and feels great in hand. And with the lightweight form factor, it's easy to carry anywhere you go.
Main Highlights: The delightful form factor comes with abundant features for you to enjoy. The package contains the deck of your standard playing cards along with multi-colored plastic pegs to brighten your game up.
Pros
The unique Cribbage board gift for your intimates
The lightweight form factor makes it convenient to carry around
Your game vibrancy escalates with catchy board and peg colors
Extremely easy to understand, perfect for teenagers and kids as well
The product is very affordable
Cons
The game Description could be made simpler
Our Take: A simple and neat design with excellent portability makes it a great option for you.
WOODEN APPEAL
Wood Cribbage 3 Track Board by Juegoal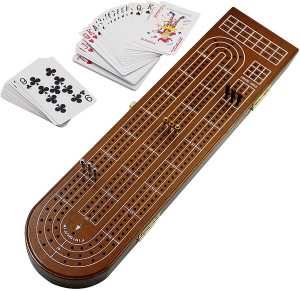 ★★★★★
The product dimensions are 14.8 × 1.2 × 3.9 inches
The product weighs 1.85 pounds
Features:
Splendid design
Pure wooden construction makes it like a piece of décor
Extra smooth board with extra details for quality assurance
It comes with a storage section for keeping in the accessories
The vibrancy of this traditional card game is returning with these best Cribbage Boards ever. Your turns decide your standing in the game. This Wood Cribbage by Juegoal is turning the tables with premium design and valuable functionalities.
Premium design and finish: Holding this flushed and light Cribbage feels like a pleasure. That is achieved with pure expertise and details to the craft done with pure wood construction. The design isn't left without perfecting its functionalities. As the game board has a space option to let the premium accessories fit inside without a hassle.
New Features: The cribbage board is equipped with a metallic latch to secure the pegs during gameplay. Moreover, the game board comes with premium quality sturdy metallic pegs that keep the luxury alive. Lastly, the user guide lets you acquire the basics in case you aren't aware.
Pros
The extra premium material used in the construction of this signature Cribbage board
The product comes with a user guide
Metalic latch to keep the pegs at a place
Our Take: If luxury is all you want in a signature design with all the features, then this Cribbage board is the one for you.
LARGE SIZE
Classics "29" Cribbage Board Game by Mainstreet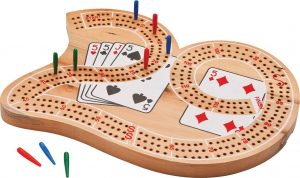 ★★★★★
The product dimensions are 9 × 7 × 1 inches
The product is extremely light and weighs 3.99 Ounces
Features:
The game board is finished with 3 slot tracks with the lively color amalgamation
The game board is given an 'S' design which looks eye-catching
The wooden construction is complemented with raw Varnish to enlighten its natural beauty
It comes with multi-colored pegs that are of the same high quality as this board is
The Classic Cribbage board by Mainstreet is surely your next fun companion. These best Cribbage boards in Uk are made out of fine quality materials so that the board will last for manifold seasons.
Design and Materials: This very Cribbage board is adorned with the pleasure of wood and 'S' design which is one of its kind. The unique design blends in the sharp structure and 3 slots design that is accompanied by a dedicated storage box. The storage box is made larger and stronger to secure pegs and card decks.
Main Highlights: The product is superiorly built with durable quality wood. Furthermore, the board is super lightweight, which is perfect for carrying for longer journeys.  The multi-colored pegs are easy to fit in the storage case that comes pre-installed on the game board.
Pros
Attractive design with everlasting wood construction
The package contains 9 pegs with vibrant colors
The game board is super affordable
Cons
Holes could be made a bit larger
Our Take: Sturdy wooden built and loads of features give a pure value for money.
ULTRA DURABLE
Solid Wood Cabinet Cribbage by WE Games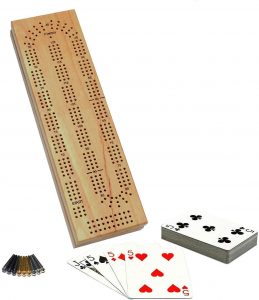 ★★★★
The product dimensions are 3.5 ×5 × 12 inches
The product is super lightweight and weighs 1.4 pounds
Features:
The Solid wood cabinet board contains the best pegs
Race the fate with 3 track board design
History is revived with the design inspired from the history
The product contains the best materials to support the strong board's frame
Solid wood Cribbage board by WE Games is extremely versatile in playing and learning at the same time. You are always in control of the game with the best materials speaking for the stability of your gameplay.
Design & Feel: The classic, simple and unique design is complemented with the superior quality wooden frame. The board's pegs are secured with the magnetic closure that comes inbuilt. WE games have structured the wooden board into a beautiful piano shape that looks expensive and gives a voguish vibe.
Learn while you play: This board game has a colorful history. The Cribbage board game keeps its players engaged and attentive throughout the gameplay span. You learn to get involved in brain activities with pure attention and dedication. As for your role with the deck of cards, you strive to get on the high score mark to achieve victory.
Pros
It comes with a built-in storage option for your cards and pegs
The pegs are made out of superior quality metal chrome with easy grip
Strengthen your cognitive skills
Cons
Hinges placement could be better
Our Take: Timeless design to boost your cognition with the pleasure of the Cribbage board game. Therefore, it makes up for a great option.
STURDY & TOUGH
Traditional Cribbage Board game by Mainstreet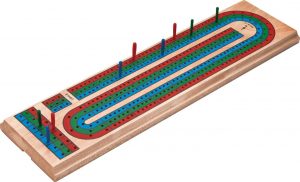 ★★★★
The dimensions of this product are 14.8 3.8 0.7 in inches
Traditional cribbage board weighs around 01 pounds
Features:
Compatible for 3 players to play together
lightweight to carry
It comes with an instruction book for cribbage rules
Easy tracking for the players
This cribbage board game comes with a handy design along with a traditional look for the players. Plus, it's easy to use and, of course, a multi-player game to enjoy with your friends and family.
Assistive design: The surface area is smoothly structured along with 03 separate tracks for 03 players to play at the same time. Plus, the game instruction guide will direct you through easy scoring holes. The track finish line structured a finish hole at the end for the winner. Besides, the bottom surface has been designed with a channel space to carry the game accessories.
Accessories: Traditional cribbage board by Mainstreet includes 9 pegs along with 3 different colors to choose from for the players. The colors comprised 3 blue pegs coupled with 3 green and 3 red pegs as well.
Pros
Compact and sleek
The level surface of the playfield
Sturdy material board
Cons
You still need to buy cards
Our Take: Are you looking to enjoy the 03 players challenging game with your friends? Then do consider this one!
ALL-IN-ONE
Cribbage Board Standard Deck Game by Regal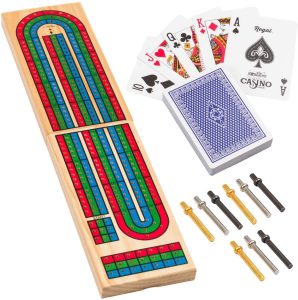 ★★★★
This cribbage board has dimensions of 7.8 ×06 × 2.32 in inches
Regal cribbage board weighs around 15.8 ounces
Features:
All accessories are included
2 to 4 players can play this challenging game
Portable design to carry along
Easy to play for the beginners
The regal cribbage board game has a unique style with a fine manufacturing structure. Besides, the sturdy board surface possesses a durable lifetime quality for you.
Unique design: This cribbage board from Regal has been designed as a foldable structure. Thus, you can easily fold it and take it anywhere to play along with your friends and family. There are 03 tracks designed on the main surface, including scoring holes for the players to remember the scorecard. Moreover, the overall design is materialized with high-quality and sturdy wood to sustain the joyful gaming experience.
Accessories: The cribbage board game package includes 9 pegs of different colors to choose from for the players. There are 03 silver and 03 charcoal along with 03 gold color variants of pegs. Besides, the package also comes with a playing card and an instruction guide for easy directions.
Pros
Metal designed pegs
Lightweight gaming board
Very affordable price
Cons
The quality of deck cards could be improved
Our Take: A sleek design with a foldable structure makes it easy to carry. Plus, all of the gaming accessories are included. Ready to play!
FAQ Regarding Best Cribbage Boards
Q. Which could be the Best Cribbage Boards?
Well, all of the mentioned cribbage board games are unique and top-rated for the customers. But these 03 board gams can be best among them:
Classic 3 Track Cribbage Board by Brybelly
Color-Coded Cribbage Board Game by Bicycle
Wood Cribbage 3 Track Board by Juegoal
Q. How many players can play these cribbage games?
These enlisted cribbage board games are structured with a 3 track design. That would be compatible for 03 players, along with scoring holes on each track for convenience. Therefore, you can enjoy these board games with your friends and family
Q. Are board games lightweight?
Of course, the manufacturers have designed the board with sturdy material but surely lightweight. Which makes them easy to carry and placeable anywhere you want. Some of these portable designs are foldable as well.
Q. Can a beginner play this board game?
Yes, the cribbage board games come with all the required accessories along with an easy instruction guide. That will assist the player in "How to play" and it will guide the player through every step.
Best Cribbage Boards | Quick Comparison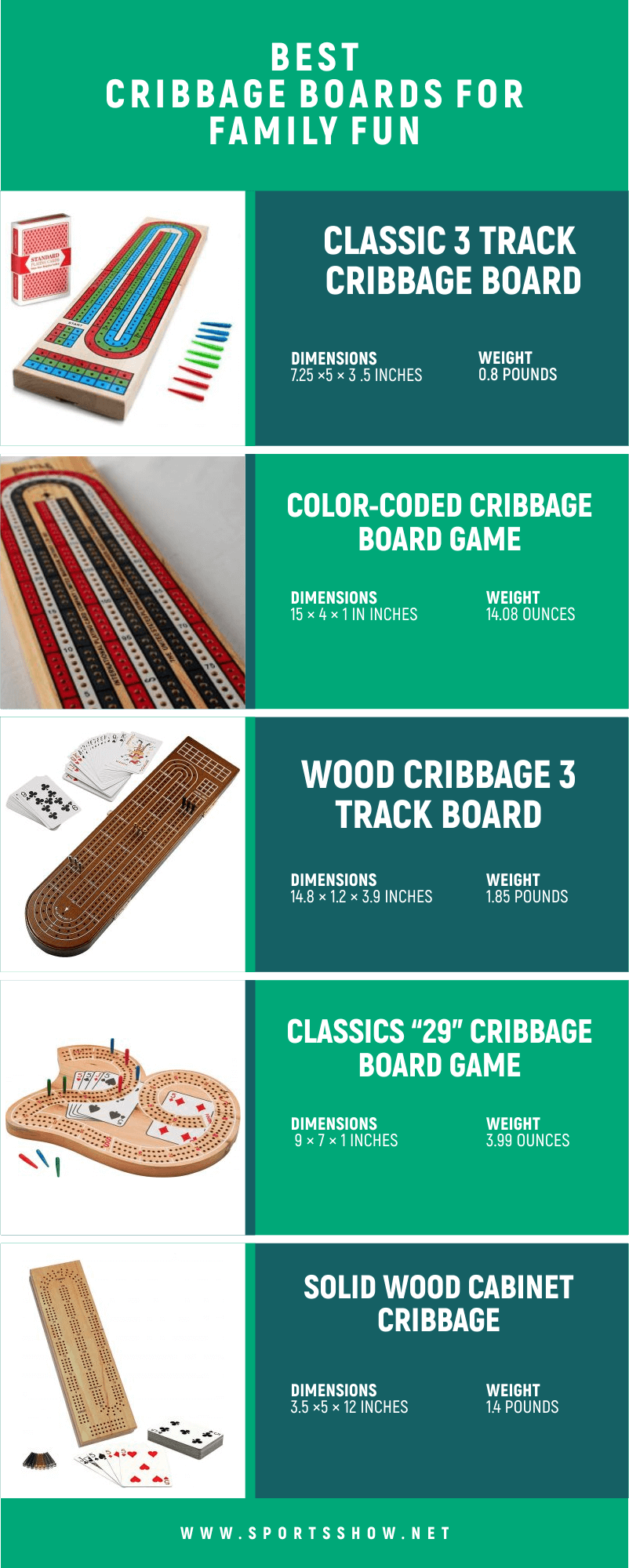 Our Recommendation:
Our 1st recommendation is the Classic 3 Track Cribbage Board by Brybelly with a traditional gaming look. Plus, it has a lightweight and sturdy surface along with storage capacity to carry the gaming equipment.  Moreover, our 2nd recommendation is the Classics "29" Cribbage Board Game by Mainstreet, having a unique "S" designed structure. It comes with unique colored pegs sets and an easy track scoring surface as well.
Conclusion
At last, here we can conclude that these are the best cribbage board amazon games even for beginners as well. These board games are designed with sturdy and smooth structure material. Besides, the surface area is sleek and lightweight, which makes these boards easy to carry for portability. Plus, you can also play these games with your friends and family as there are 03 track designs for multi-players. The separate placed tracks will help the player to remember their scorings
Moreover, these cribbage board games also include the required gaming accessories. There are compact and sturdy quality pegs along with separately unique colors as well. Withal, the instruction guide will surely assist the noobs to play from the beginning with some easy instructions to follow.