Do you like shuffleboard while your kids love table tennis? It's costly to buy both games while about the space they occupy. There are the best multi-game tables available in the market right now. These tables incorporate a bunch of classical games on a single platform.
Therefore, it provides for a range of gaming options covering many consumer's needs at the same time. The range of games on a single table saves extra bucks as well.
If you plan to buy different gaming tables at once, they will end up occupying most of your living space. But, that's no longer a problem with the versatile Gaming tables to choose from. These multi-game tables will save your space and time with timeless design and smooth operation.
And the durability is also checked with the high-quality built materials used in pure craftsmanship. Our true dedication to ensuring the customer's satisfaction will be reflected in this article.
7 Best Multi-Game Tables For Family Fun
You must have liked our list of the best table tennis conversion tops. And now, we have selected the best Multi Game tables to feed your leisure with the bright punch of classical games. So, without delaying our list, let's plunge right into the offerings.
BEST OVERALL
10-in-1 Game Table By Best Choice Product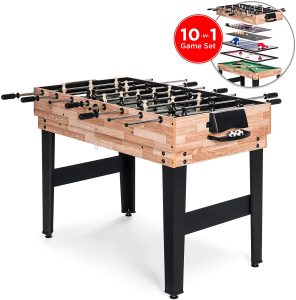 ★★★★★
The product dimensions are 48 × 24 ×5 inches
The product weighs 57 pounds
Features:
Play 10 kinds of game on a single table
Extraordinary design to steal the show
Extremely stable table foundation
Convenient to store anywhere
Great for family fun
Play without limits with these unique and best multi-Game tables by best choice product. Moreover, it's very versatile, with a variety of games stacked on the table for endless fun. This table comes with the great built quality and seamless design. It's also very easy to store thanks to the clever design and versatility of this Multi-game table.
Design & Material: The best choice products are very renowned for their high-quality standards. So, this classy table is no exception. The table is made out of fine quality wood that is hard to ignore. Moreover, the clever design statement lets this multi-games table blend into the surroundings.
Play Without The Limit: The multi-games table has an extraordinary feature that makes it outshine the rest of the options. There are 10 games stacked on a single table, from hockey, foosball, pool, shuffleboard, table tennis, chess, cards, checkers, bowling to the luxury of Backgammon. So, there are no other options to look around to find your match, but on this one.
Pros
Wide range of games on a single table for continuous fun
The product is made of high-quality standards to ensure the durability
Strong foundation legs make a stable playfield
It can fit anywhere easily
So much to offer at an affordable price tag
Cons
Table space isn't up for ping pong
Our Take: One of the best and suitable pieces of crafts now house a massive gaming foundation in a clever design. Therefore, making it a great purchase.
GREAT DESIGN
Multi Game Table Set By MD Sports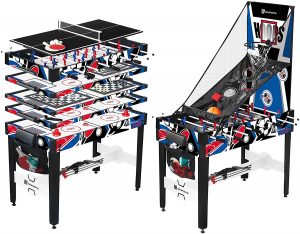 ★★★★★
The product dimensions are 48 × 22.75 × 32 inches
The product weighs 50.69 pounds
Features:
Inundated with 12 classic games
It comes with leg levelers to ensure stability on any surface
Top-notch build quality that levels durability
Top your fun with the complete set of accessories
Now you have nothing to miss with the all-new best multi-Game tables by MD sports. From a leveled foundation to the complete set of accessories required to play the games. The multi-game table is packed with all the classical games, just perfect for family fun.
Design & Material: MD sports have assembled the best of the materials in this beautiful piece of craftsmanship. Thus, the intricated design elements are now made easier with the simple switch goals to shift between games.  Therefore, it saves plenty of time and improves game speed.
Satisfy Your Gameplay: Perfect gameplay requires a smooth and complete set of accessories. That comes in light with this multi-game table. It incorporates all the elements arranged in the package required to operate 12 games. Many consumers complain about the foosball grip handling, but no more. As with this classy table, the steal rodes are clothed with fine quality rubber to ensure grip and a smooth game experience.
Pros
The durable wooden frame used in the construction
Role as many dices as you can with an extensive set of classic games
An impressive gift idea for the loved ones
Perfect refreshment with friends and families
Attractive price option
Our Take: Solid build quality that houses 12 classical games makes it a must-buy option.
BIGGER & BOLDER
Multiple Styles Combination Table Set By MD Sports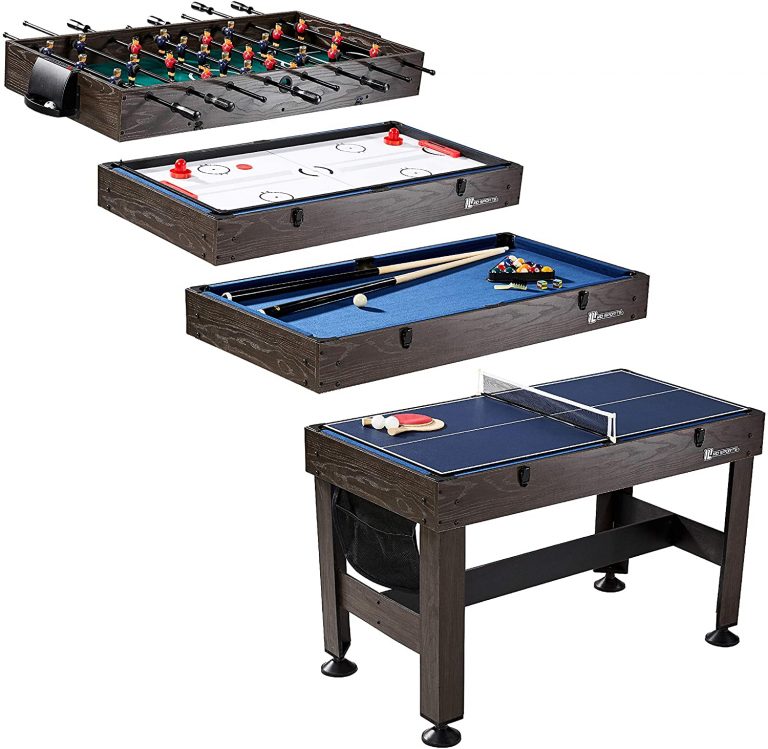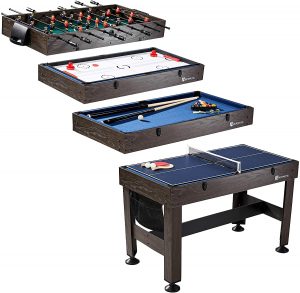 ★★★★★
The product dimensions are 54 ×35 × 24.5 inches
The product frame is made out of engineered wood
Features:
Extremely sturdy wooden construction
The table has Table tennis, Slide Hockey, pool, and Foosball game options
All game options are easily operated with interchangeable bases that slide easily
Set your match and ready to roll with all accessories included
A combination table set that is stacked with 4 classical games that promote impressive gameplay. These durable and best multi-Game tables are built with true mastery and excellence to ensure their players' best.
Luxury Is A New Art: Top your gaming experience with an extravagant design tone and innovative elements that are hard to ignore.  Each element is highly looked after with excellence and perfection.
Moreover, the inbuilt leg levelers are acute with the stability of the operations carried on the table. Thus, everything on this multi-game table seems to be perfected with precision.
Main Highlights: MD Sports does the trick by providing a luxury offering with a complete set of features. Thus, enjoy a set of 4 classic games that run on the smooth operation. Moreover, the great functionality is all bloomed with a detailed set of accessories.
Pros
The multi-game table packs all the pucks, billiard balls, and racks inside
The table's standing is all secured with the best quality material used In the construction
Games are easily assembled
Cons
May leave marks on wood when scratched
Our Take: Sturdy design and luxurious elements with the classical gaming experience make it a popular purchase.
MODERN APPEAL
The 4-in-1 Combo Game Table By IFOYO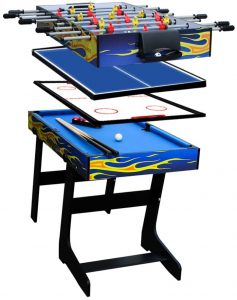 ★★★★★
The product dimensions are 47.99 ×98 × 31.97 in inches
The product weighs 26 kg
Features:
Your games are selected and assembled quickly with smooth operatives
It's easily stored anywhere with the compact design
Strong material construction keeps you hassle-free every time someone plays
Better handling experience with rubber grips
4 games on 1 table that are stacked and secured with modern design elements
The 4 in 1 Multi-Game Table by IFOYO offers limitless functionalities and style. You can immerse yourself into the pure expertise of craft with a highly durable table frame.
Design And Material: You're dealing with a unique built that is a mixture of modern and classical era inspiration. Moreover, flawless materials are condensed into an attractive-looking Multi-Game table.  Your perfect gameplay is accompanied by a strong build foundation to resist. The table surface is smoothly aligned to the curved edges that further merge into the covers that unpeel other games.
Main Highlights: This incredibly versatile table comprises a Hockey table, Soccer foosball, pool table, and ping pong all on one stage. Furtherly, the table has foldable games that peel off like layers in a super convenient manner. Also, IFOYO has installed cabinets in the construction for extra secure storage.
Pros
The game table made for all ages to enjoy
Affordable price tag
Durable finish
The product can be an amazing gift option for your loved ones
Easily operatable
It won't occupy much of your living space
Our Take: Solid built packed with great functionalities makes it a great option to consider.
TRUE COLORS
4-in-1 Multi Game Table By Best Choice Products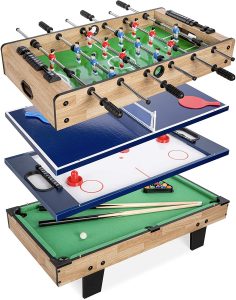 ★★★★
The product dimensions are 32 × 17 × 7.75 in inches
The product weighs around 31 pounds
Features:
Durable and compact design
Made out of sturdy materials
The product contains 4 games to enjoy
It's considerably lightweight and easily movable
It comes with all the basics in the package
Perfect kid's companions
Multi-Game table for home by best choice products is a healthy starter. It has an extremely compact and durable design for hassle-free usage.  Now your family can easily enjoy 4 classical games on a single Multi-Game table for home.
Materials And Compact Design: The product is 32 inches in dimensions which makes it super easy to move about. Despite the compact factor, the best choice products haven't costed materials here. Rather, you'll find the best quality materials as you feel the product in your hands. Its small form factor is ideal for your kids and family to play.
Other Highlights: The Multi-Game table is stuffed with countless goodies inside. The compact factor holds 4 games that are stacked up in a positioned manner. They are extremely easy to adjust and play with. Moreover, the table is a great option for the kids due to its form factor and easy operatives. This table includes Air hockey, table tennis, billiards, and foosball.
Pros
The product size is manageable
Perfect gift idea for kids
Quick and simple to assemble the games
Affordable price tag
Our Take: The compact design and sturdy built make it a wonderful family companion to consider.
ULTRA STRONG
3-in-1 Game Table By Fat Cat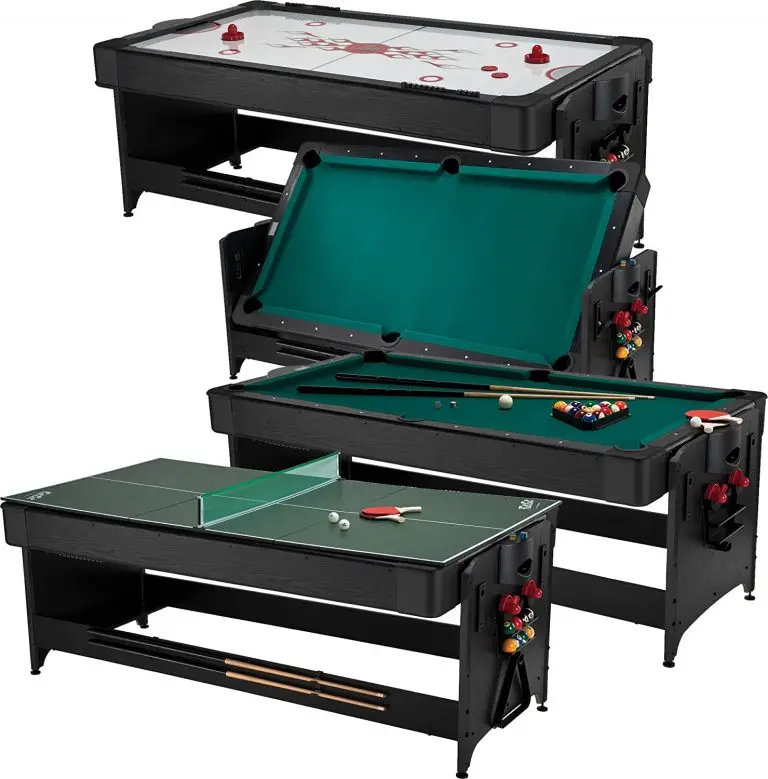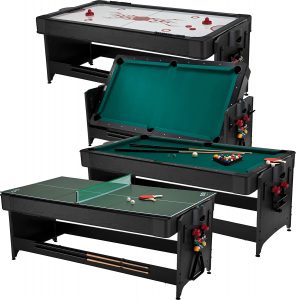 ★★★★
The dimensions of the product are 80 × 44 × 32 in inches
This gaming table weighs around 286 pounds
Features:
Finely structured rubber bumpers on the billiard table
Very Easily rotatable shape
Smooth air cushion on the hockey surface
The design is compact and easy to moveable
It comes with built-in structured storage capacities to place accessories
There's a secure game locking system
Fat cat has brought something unique to the gaming field. 3 in 1 game table will surely amaze the customers due to the flexible design structure. Besides, it's much lighter weight and compact in design to get a spot in your house. These could be the best multi-game tables for adults and teenagers as well.
Main Highlights: 3-in-1 game table by fat cat comes with a sleek design and portable shape. Mainly it includes 3 fun games to play with your friends and family. Well, you can enjoy Billiard, table tennis & hockey all in one with just a flip rotation. Moreover, the structure is designed with a GLD system for the closing of the table as a secure pattern. Alongside, the storage capacity is placed with the table to prevent any gaming mess.
Accessories: This gaming table pack luckily includes all the required gaming accessories with improved quality service. Here you'll get top treble, net, tennis ball, paddles for table tennis. Plus, the package also includes pool cues, brush, mallet, balls, pucks, and the triangle. Well, these items will fill your board for the Billiard and the hockey table as well.
Pros
Cord threaded with 16′ power
Playable for up t0 04 players
A manual system for scoring
Worthy price
Cons
Pool level can be improved
Our Take: A collaboration of 3 trendy games along with a set of all required accessories.
MULTIPURPOSE
10 Combination Game Table By Sunnydaze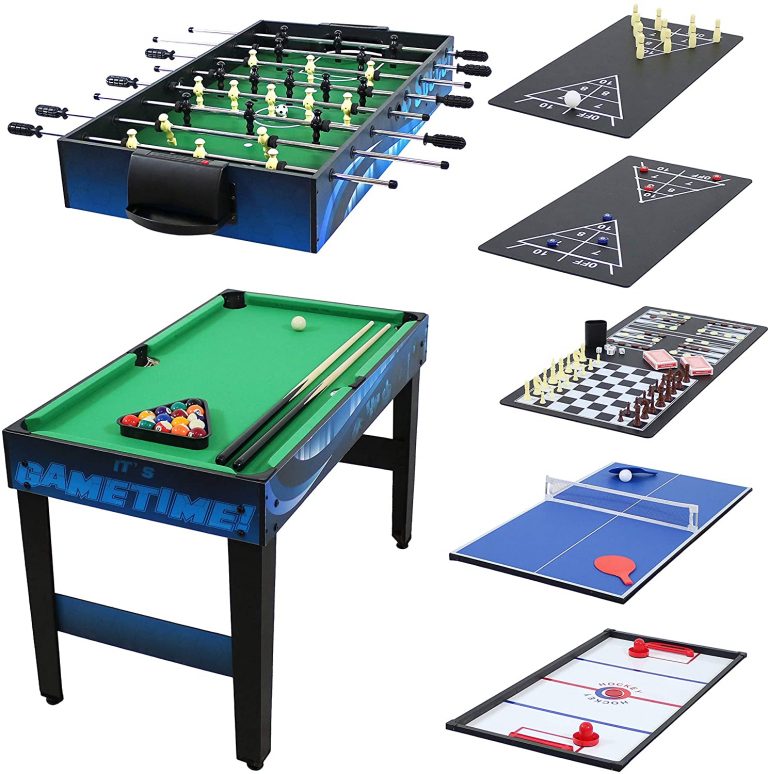 ★★★★
The dimensions of this gaming table are 40 ×5 × 27.5 in inches
Sunnydaze gaming table weighs 58.91 pounds
Features:
Chess and shuffleboard games are also added
Level structure of table feet
Classic gaming structure
It comes in stunning blue color
Very simply and handly assembling
Sunnydaze has introduced the versatile and best multi-game tables in the market. What's better than having all 10 games in one table, right? The design is appealing with a compact structure which makes it easy to shift anywhere.
Design & Material: The structure is engineered with high-tech knowledge along with a compact design overall. Plus, you can easily swap the board to get the other included games. Besides, the material follows a sleek fibreboard with medium density to maintain the table's weight and quality.
Other Highlights: Kill your boredom and have some fun time with your friends or family. Yes, here you can play 10 games with just an interchangeable functionality of the board. Moreover, the games include checkers, Backgammon, pools, chess, push hockey, foosball, cards, bowling, and shuffleboard as well. Moreover, all the accessories are added alongside.
Pros
Quick swapping to play games
Board fitting compatibility for games
Compact and durable design
A worthy price tag
Our Take: A wide range of different gamings all in one enjoys with your friends and family.
FAQ Regarding Best Multi-Game Tables
Q. Which could be the Best Multi-Game tables?
Although, the above-mentioned gaming tables are all consumers recommended and reliable. But. These two products are the best ones on the list:
10-in-1 Game table by Best choice product
Multi-Game table set by MD Sports
Q. What are the design elements of these Multi-Game tables?
Well, fortunately, the design will not disappoint you. These multi-purpose tables are crafted with expertise and perfection. Moreover, most of the design elements are inspired by the classical versions and are morphed into a fine modern structure.
Q. Are these Multi-Game tables easy to set up?
Absolutely yes, these tables have extremely easy structures that are simple to operate and play with. Even the inbuilt games are aligned simply and easily to not have to scratch your head over the initiation.
Q. Is there any age restriction to enjoy this table gaming experience?
Well, there isn't any age limitation imposed here. These gaming tables are made for everyone, and with the wide gaming pleasure, the decision is even easier.
Best Multi-Game Tables | Quick Comparison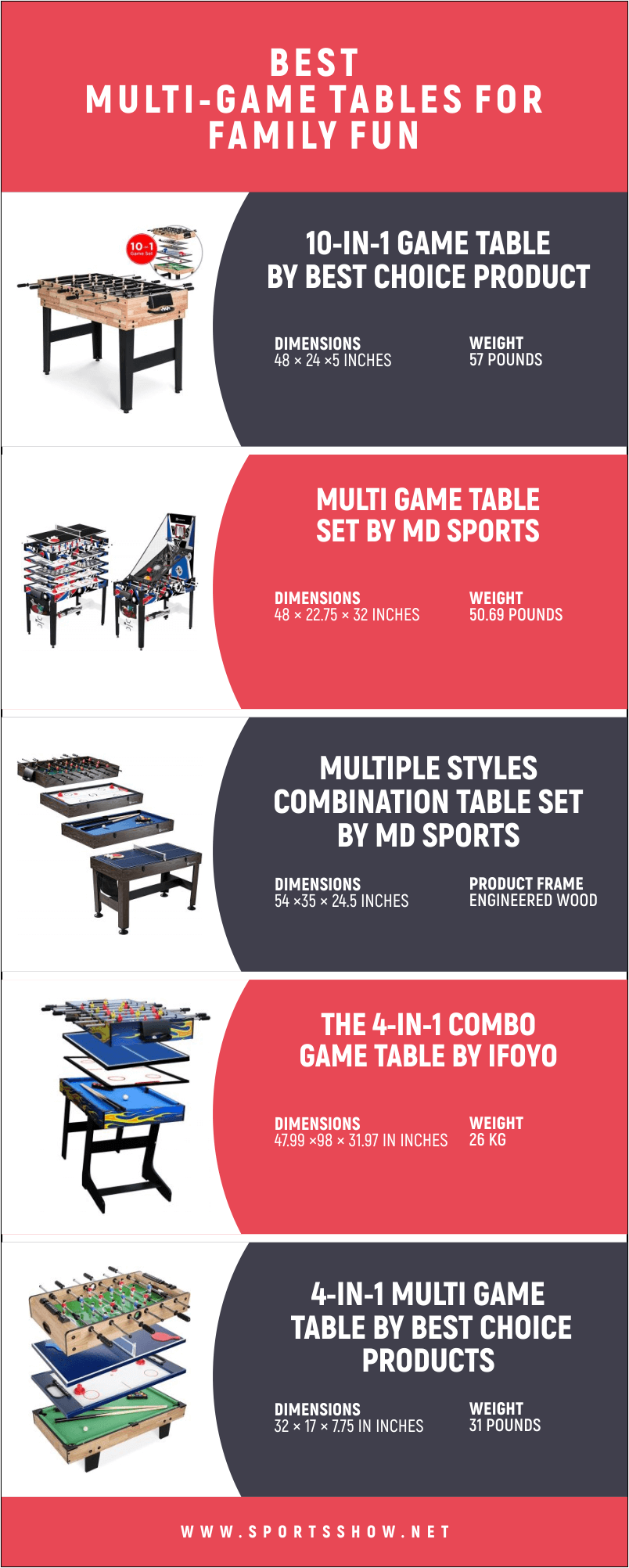 Our Recommendation:
Our 1st recommendation is the 3-in-1 game table by Fat Cat as the best multi-game table. It comes with easily rotatable flexibility to swap the 03 games. Plus, all the accessories are included.  Moreover, our 2nd recommendation is the 10-in-1 Game table by Best choice product with a wide range of gaming experience. It also includes chess and checker games among the list of 10.
Conclusion
Hence, now we can hopefully conclude that these are the best multi-game tables along with a flexible gaming facility. All of these amazing tables come with versatile compatibility of different gaming platforms. Plus, the design is sleek and easily placeable in your home. You can simply interchange and swap the table to play other included games accordingly to the given instructions. The gaming surface is also structured with level positioning to maintain a smooth experience.
Furthermore, all of these gaming tables come with the required accessories to play. Besides, additional storage capacities are designed alongside the tables for placing the accessories conveniently. So select your favorite and desired gaming table to have fun at your home with friends and family.