Do you want to buy another game table but running out of space? Well, this is not an issue anymore as we got the amazing table tennis conversion tops on our list. It's hard to manage space when you're living in an apartment. Many of you will surely have dining and even pool tables.
These conversion tops can convert any appropriate table like a dining or pool table, for example, into a table tennis game. This helps players to manage their living space while providing a full-on table-like experience to its player.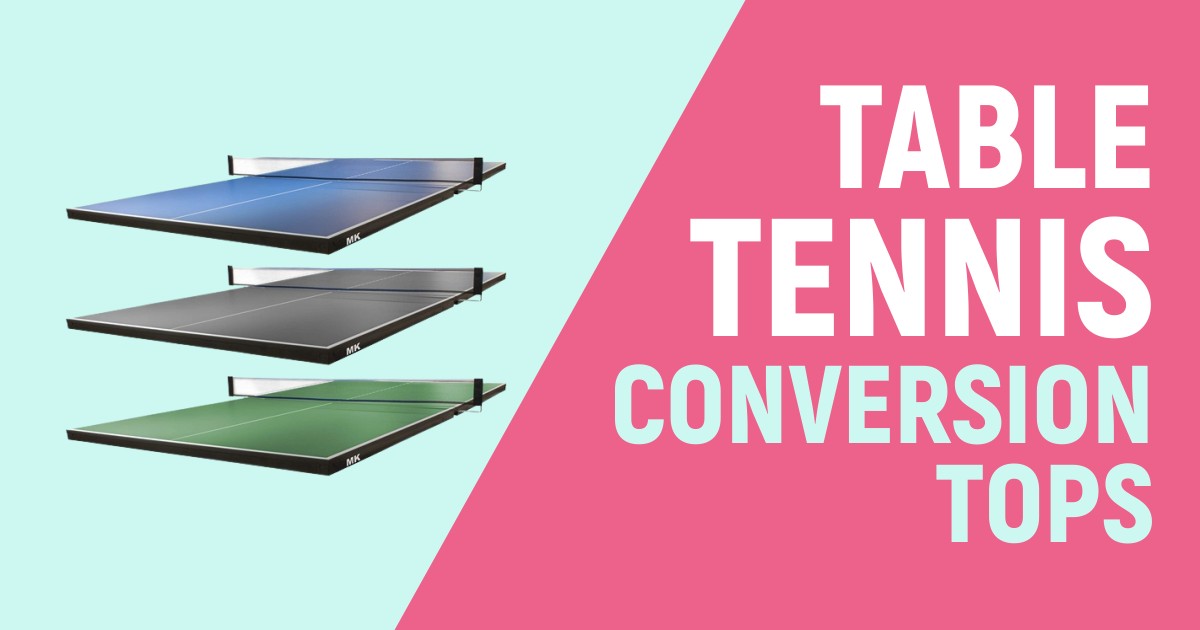 Moreover, quality does carry a difference when it comes to these conversion tops. So, materials and build quality must be considered before turning for your tennis conversion tops to purchase.
Best Table Tennis Conversion Tops | Editorial Pick
EDITOR
CHOICE
★★★★★
MD Sports Set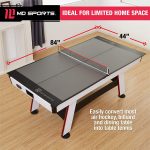 Extremely Portable
Convenient Design
Enhanced Protection
TOP
RATED
★★★★★
Joola Tetra Ping Pong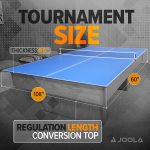 Professiona Quality
Three Hinges
Protective Pads
BEST
SELLING
★★★★★
Joola Regulation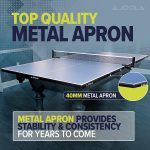 EVA Foam Padding
Tournament Grade
Quick Assembly
Table Tennis Conversion Tops | Reviews
You may have already loved our list of budget-friendly ping pong tops under $500. But yes, your ping pong experience will be truly incomplete without knowing about these great conversion tops.
BEST OVERALL
MD Sports Table Tennis Set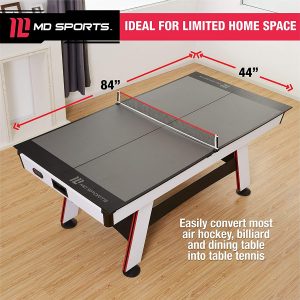 ★★★★★
Portable Top
Enhanced Protection
Features:
A convenient and portable tennis set that is easily foldable for extra space saving
It gives you the functionality to convert any table surface into a table tennis surface
Enhanced protection with foam padding on the supplied table surface for avoiding scratches
You get a setup ready to roll with an advanced hinges system that saves time
MD Sports is offering an imperial solution to save up your living space. This table tennis conversion surface converts any surface like an already existing billiard table to a table tennis table.
Improved protection and high-end materials make this one of the best table tennis conversion tops ever. Besides, you can also use it as one of the best outdoor table tennis tops.
Specification:
Dimensions: 84 x 44 x 0.35 inches
Weight: 34.82 lbs.
Available Color: Multicolor
Material: Wood & Metal
Ready To Function: Many table tennis conversions take a lot to assemble when played on surfaces. MD Sports has preinstalled an advanced hinges system that locks your table set, so it stays firm. Thus, saving all your hard work and assembling with this incredible table tennis set.
Portable And Unique: It is featuring a collapsible design which makes it easy to carry around. Moreover, It can be folded conveniently with a purposeful design. It has an easy gripping deal so, players can comfortably hold this set, enhancing mobility.
Leading Protection: MD Sports has been providing leading protection to the customers over the years. This table tennis top doesn't impact your base table surface as it comes with protective rubber padding. As a result, players won't have to worry about their base tables as this padding protects them from all types of scratches.
Space Saver: Are you struggling to save your living space? Well, the foldable function saves much of your living space conveniently.
Pros
A fit purchase for those who would like to get personalized with assembling
Advance rubber padding protects the base surface
An incredible space saver with a foldable feature
Enhanced portability
A decent tablet for the money
Cons
Fragile surface
The assembling process is difficult
Our Take: A versatile table tennis conversion top that is portable with added rubber protection giving you a decent choice.
BEST-RATED
Joola Tetra Ping Pong Table Top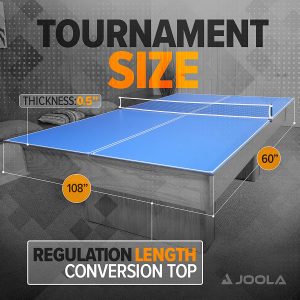 ★★★★★
Professional Tabletop
Three Hinges
Features:
Your professional tabletop has a 12 mm playing surface for incredible bouncing functionality
An advance three hinges function divided equally to the two halves of this ping pong tabletop
Embedded protective pads on the bottom for a redefined protection from scratches
Convert any appropriate surface into a game of operatable table tennis that is loved by all. It comes with a regulation size with convenient assembling that saves a lot of hustle.
This tabletop is your worthy companion to participate in game nights and even in causal matches because of its handy design.
Specifications:
Dimensions: 108 x 60 x 1 inches
Weight: 85 lbs.
Color: Blue
Material: Particle Board
Frame Material: Engineered Wood
Assembly Required: no
Playing Surface: 12 mm
The Brilliance With Bouncing: You're looking at a smooth 12 mm surface that fits on a standard pool table. As a result, the players can expect perfect bounces out of this surface. Moreover, the regulation size tabletop offers quality gameplay for holding indoor competitions.
Improved Mobility: JOOLA is providing a great deal of flexibility with this offering. The tabletop can be divided into two parts (Halves) which makes it suitable to carry. While its very lightweight form factor reduces the muscles, you put in to carry this professional tabletop.
Safety Redefined: It's a rough aspect to add a tabletop on a surface that promotes scratches and smudges. While this tabletop protects your pool tables from impacts with added protective pads.
Tailored For Perfection: JOOLA is a leading sports brand that has been sponsoring world-class tournaments for a long time. You're given a quality surface along with locking and protection features for brightening your experience. So, players can easily enjoy professional indoor games without having to worry about the quality.
Pros
A generous regulation size surface for professional matches
3 hinges system for expeditious game startup
It comes with a custom net post, so you don't have to buy another
High-quality construction for prolonged performance
Moderate price tag
Cons
Corners are prone to damage
The average color coating on the surface
Our Take: Save your time and space with this regulation-size tabletop for competitive games. Without any doubt, it can be your most confident purchase for all.
POPULAR CHOICE
Joola Regulation Table Tennis Conversion Top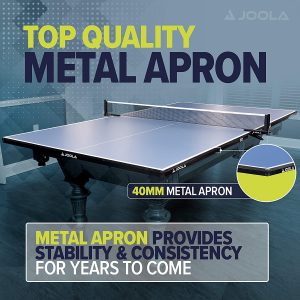 ★★★★★
Tournament Grade
Tough Steel Apron
Features:
A layer of defense against damages is achieved through Eva foam padding between table and conversion top
You're getting a tournament-grade net along with the post, which offers attach and play
Consistency gear based on tough steel apron covering the whole conversion top acting as a shield
Change your usual outdoor and indoor tables into a table tennis glory
It offers easy, and quick assembling just takes only 5 minutes
Select a surface, and your game started in minutes with this one of the best table tennis conversion tops. You won't find a better offering than this vibrant surface.
A surface that offers a unique blend of incredible playability and a balance of sophistication we all know. Just club it with some high-quality table tennis nets to get a complete experience.
Specifications:
Dimensions: L x W x H 63.78 x 57.09 x 4.33 inches
Weight: 116.6 Pounds
Available Color: Blue & Black
Frame Material: Metal
Assembly Required: Yes
No More Damage: You must be heavily concerned about the collision between your tabletop and base table. This is no longer an issue with this magical tabletop that can protect your billiard tables. This table contains an Eva padding that ensures no damage whenever this tabletop is displaced.
Tournament Grade Net: A table's net is just as important as the table itself. Here, the table provides a quality net with a post for easy connecting with the base. Thus, giving you the best in the game.
Shielding Impact: The signature steel apron makes your tabletop way more protected than the usual ones. It gives consistency to your game while giving the best bounce. Your balls won't divert now as this conversion top is made out of wood that is perfected with a metal frame.
Pros
It makes a perfect deal of table tennis on any billiard pool
The Eva apron gives a substantial balance to your conversion top
Elite-quality construction offers lasting durability
A portable conversion top with the two-halves functions
The double-coated blue color gives vibrancy to your table
Cons
Substantial weight makes it assiduous to move
Lacking two-halves protection
Our Take: Interesting conversion top that is protected by Eva apron for a balanced game that gives you a solid purchase. Further, it is easy to assemble; it takes only 5 minutes.
STURDY
EastPoint Sports Ping Pong Conversion Top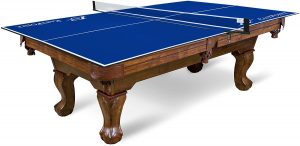 ★★★★★
No Assembly Required
Pro Storage
Features:
There's no assembly required when it comes to this blue folding table conversion top
Includes important accessories that'll help you get your game started easily
A pro storage option as it folds exceptionally with 4 pieces hinged design
Play it like a pro with this all-new ping pong conversion top from the EastPoint Sports store. Have unstoppable family fun as this conversion top is made to fit for all.
Furtherly, players can decide to play this piece of magnificence with their family and intimates for a lasting experience. Have some best spin ping pong bats on your side to have fun.
Specifications:
Dimensions: 60.98 x 32.99 x 2.68 inches
Weight: 85.53 Pounds
Color: Blue
Thickness: 12 mm or 0.47 inches
Assembly Required: No
Ready Out Of The Package: The product offers a quick setup to have limitless fun. All you have to do is to find a suitable table where you'll lay this conversion top flat with hinges. Thus, giving you a start that won't take long but promise hours of incredible entertainment.
Important Accessories: There's no frustration when it comes to this conversion top, as it includes major table components. It includes an upgraded net with the post, a tabletop with hinges fixation, and padding for extra level protection.
Store Without Hassle: Its features-filled surface makes it an easy deal to store this conversion top without hassle. It folds and thus ends up in a compact design, so it doesn't occupy much of your important space. The incredible hinges system lets you tuck it away and store it with satisfaction.
Throw An Indoor Competition: Your standard tournament size tabletop is the ultimate excuse to throw an indoor competition. Make this deal happen with your loved ones while there's no age limit when it comes to this tabletop. Either professionals or beginners can enjoy this game without limits.
Pros
A top choice for indoor competitive matches
Steel net and padding make up for a durable profile
Zero assemblings are required to start the game
It includes major accessories
Cons
The table sags from the center
Hinges can cause scratches from the sides
Our Take: Become competitive and satisfied with the safety features of this top conversion through this wonderful purchase for you. It doesn't require any assembling.
HEAVY-DUTY
Conversion Top With Net Set By Rally & Roar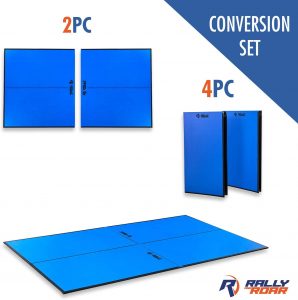 ★★★★
4-Panel Options
Pre-Assembled
Features:
It gets as compact as you get to choose from 2 to 4-panel options for this indoor table conversion top
Promising construction materials and silky smooth playfield offers an everlasting experience
It comes with pre-assembled steel hinges for no real doing
Space-saving excellence as you convert an already existing table or any appropriate equipment
Experience the pros of this incredibly user-friendly conversion top by Rally And Roar. A revolutionary folding feature is nowhere to be found but in this package.
Dig deep into the visually appealing design that is supported by high-end construction. So, your game keeps going no matter what happens!
Specifications:
Dimensions: L x W x H 62 x 45 x 4 inches
Weight: 38.1 Kilograms
Color: Blue
Frame Material: Engineered Wood
Base Material: Metal
Assembly Required: No
Gets As Compact As You Can Imagine: The Rally And Roar Store offer its players to choose from 2 to 4-panel variants. Therefore, you can choose what size or function will do you the best. Moreover, it has a solid built quality offering great entertainment lasting for long undisturbed hours.
Playfield Excellence: Providing all the ping pong enthusiasts with the engineered wood playfield and metal base materials is this conversion top. As a result of this excellence, you're getting an even playfield where your balls bounce to the fullest with diversion control.
All Assembled: Get going with your exciting match as you won't have to look for the assembling guide. Because everything comes pre-assembled, including the hinges that are made of durable steel. Just lay flat your conversion top and attach the net post, you're ready to go.
Save Some Room: Now you won't be worrying about running out of space by adding another game foundation table. As this conversion is going to work with your existing tables so, it saves important living space.
Pros
Next-level compact design
Top-notch built with added Eva padding for protection
It doesn't require assembling
Cons
Not suitable for frequent transports
The corner has few damages
Our Take: Get started quickly with this pre-assembled conversion top holding a next-level compact function that gives you a top purchase. Moreover, it has a sleek and space-saving design.
DURABLE
Butterfly Pool Table Conversion Top For Billiard Table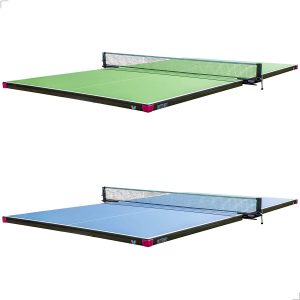 ★★★★
Camp Function
3-Year Warranty
Features:
The net set is pre-included with clamps function that works like magic on conversion top
Players just have to clip the net from both ends and start playing right away
The playfield offers a superior bounce and with added sparkling field colors
3 years of warranty is labeled for your satisfaction
Fly for the hunt of a fair game with this one of the best tennis conversion tops from Butterfly. A supreme built that is backed by safety insurance so players can be sure that they're in safe hands.
Get to choose from your favorite two colors while get started without assembling a dilemma.
Specifications:
Dimensions: 60 x 54 x 6 inches
Weight: 150 lbs.
Color: Blue & Green
Material: Wood & Metal
Assembly Required: No
Play Right Away: The conversion top comes pre-assembled from the package making it an easy deal to start. It takes a few minutes to start your next exciting match. You just have to lay down the top on the pool table while adjust and fix the net with the clamp function. You're all set to play an exciting game!
Superior Game: Your playfield is based on the most sublime materials with a 19mm top. As a result, players are getting a very substantial surface that offers perfect bounces with zero deflection.
Your Trust Is Our Assurance: Butterfly Store has taken the quality initiative and delivered it to its customers, while this conversion top is no different. You're getting a 3-year quality warranty for this ping pong table top for long trustful relations.
Colors Come To Life: Get closer to the true tone vivid color-coated tabletop that looks admirable. The compelling composition of the tabletop makes an eye treat for all. So, whether you're playing a casual game or a serious one, this conversion top will give you certain vibrancy.
Pros
It comes with two fascinating color options
Protect the base surface from damage with the foam backing
It comes with a 3 years warranty
Ready to play in minutes
Cons
Top slides as bracket and rails get in contact
Finishing quality is not aligned
Our Take: Enjoy the superior quality and warranty on this conversion top, making it a top purchase. It needs no assembling and comes in blue and green color. Further, to ensure the quality, it comes with 3 years of warranty.
SLEEK
GamePoint Tables Table Tennis Conversion Top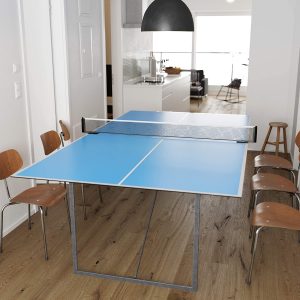 ★★★★
Foldable Design
Foam Materials
Features:
A handy foldable design that can be concise into a compact shape for placing it anywhere you want
Foam material has been structured on the back surface of the conversion top for protection
5/8 inches of thickness has been measured with standard regulation size for compatibility of adjustment
100% money-back guarantee offered by the company
GamePoint has offered the required premium experience of gaming in one product with versatile flexibility of smooth surface.
A quick and ready-to-play table tennis conversion top can be placed on the upper surface with a straight locking aspect.  It can maintain the balance of the game.
Specifications:
Dimensions: L x W x H 63 x 61 x 2 inches
Weight: 105.8 Pounds
Color: Blue
Material: Blend
Assembly Required: No
Smooth Surface: Foam manufactured surface with a swift bouncy impact will keep the ball in an aligned spectrum while playing. While the backed cushion on the conversion table will sustain the stability and keep the balance of the table as well.
Place And Play: You don't have to take any tools for setup; GamePoint will deliver you the already assembled conversion top. You just have to place the conversion top on any balanced surface, and the back foam cushioning will do the rest. The constant stability locking will be managed as well.
Quick Folding Aspect: Easily take the conversion top and fold the body structure into half shape and place it anywhere to save some space. The exterior will also resist the scratches caused while transporting the product. Plus, the half locking is secure whenever you compact the design.
Firm Coverage Of Net: The adjustable tension aspect of the net post has been featured along with a wide area of the space. That will also maintain the durability of the net structure when the ball will strike on it.
Shop With Confidence: It comes with a 100% money-back guarantee for your peace. In case if you are satisfied or don't like the conversion top you can get your 100% money back.
Pros
Appealing blue surface of the conversion top
Money-back guarantee in case of any problem
Portable design structure with quick adjustment
Cons
Wheels are not featured as mentioned in the advertisement
Our Take: A sturdy design and foldable structure with back foam cushioning support are one of the best table tennis conversion tops for you.
FAQ Regarding Best Table Tennis Conversion Tops
Q. What is a table tennis conversion top?
The table tennis conversion top consists of a regulation size that is 9 x 5 ft on the tabletop. The surface must be 12mm thick that is further split into two pieces.
Q. What can I use for a ping pong tabletop?
You can have plywood, metal, particle-board, concrete, or plastic, or even can use a fiber-glass that comes with a thickness of 12mm to 30mm. On the other hand, the perfect tabletop for ping pong is the wooden tops that come with a thickness of 25-30mm.
Q. What size is a table tennis tabletop?
The ITTF-approved tabletop dimensions for tennis are 152.5 cm in width and 274 cm in length with 76 cm in height.
Q. Are table tennis tops any good?
The best table tennis tops have 22 mm – 25 mm. But these are considered the most expensive. For amateur players, they won't be able to understand the exact difference between a 22 mm table and a 25 mm table.
Best Table Tennis Conversion Tops | Quick Comparison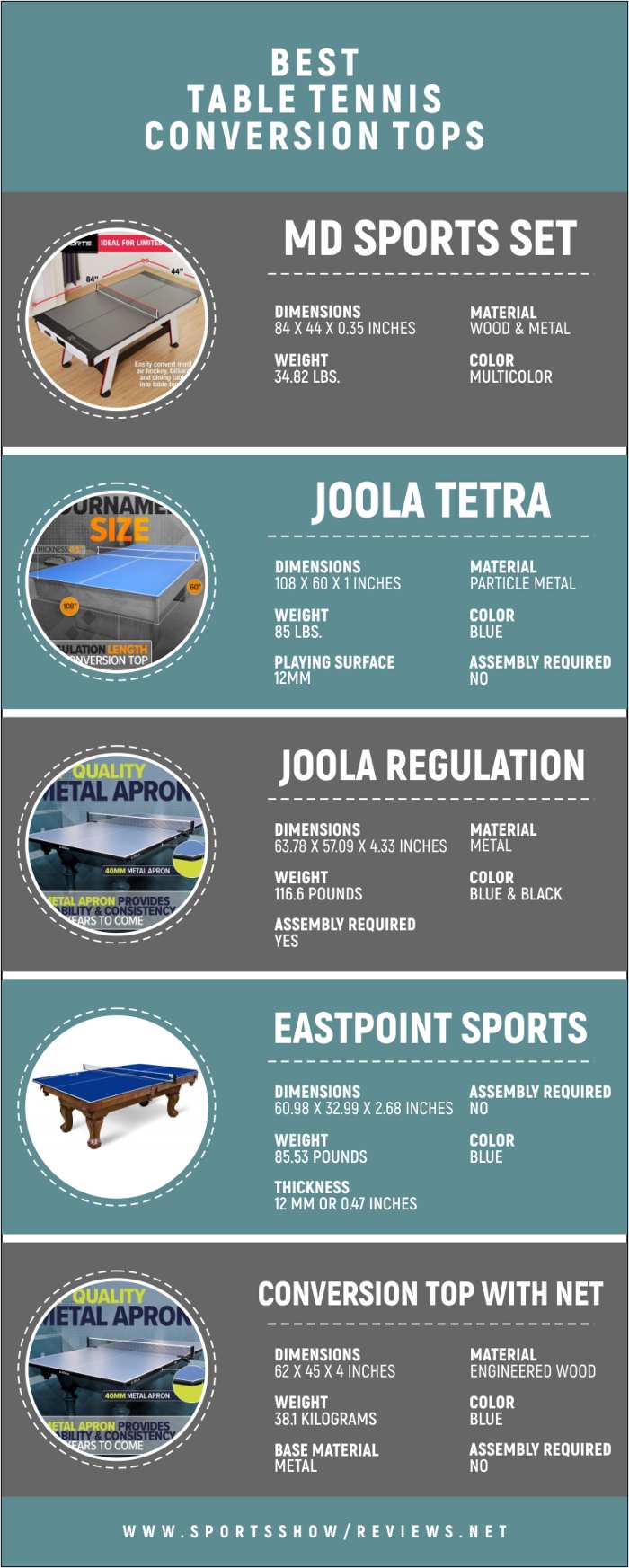 Our Recommendation:
Our 1st recommendation is the Butterfly Pool Table Conversion Top for Billiard Table as the best and durable conversion top. It comes with back protection with foam placement and is also available in 2 stunning colors.
Furthermore, our 2nd recommendation is MD Sports Table Tennis Set: Regulation Ping Pong Table with Net as the most versatile conversion top. The foldable aspect with foam padding and lightweight structure makes it easily portable.
Conclusion
Select your favorite table tennis conversion tops featuring versatile playable flexibility for you.  The surface area has been manufactured with a smooth substance that will extend the bouncy impact while playing with the ping pong balls. And the tension adjustable placed net will maintain the balancing of the game as well.
You can also adjust the height and locking system of the table whenever you place it on the top. The folding aspect will also be helpful given by some of the enlisted conversion tops.