Choosing the right pair of tennis shoes for women can be challenging. Therefore, we've brought you the best tennis shoes for women after trying it all. Though there are many distinctions in terms of design and materials, they all serve the best performance.
These shoes offer the best cushioning, indirectly pointing towards excellent comfort. Additionally, these tennis shoes are perfect for all women who are looking to start their tennis journeys. While best women's tennis shoes also serve perfectly to all the professional players.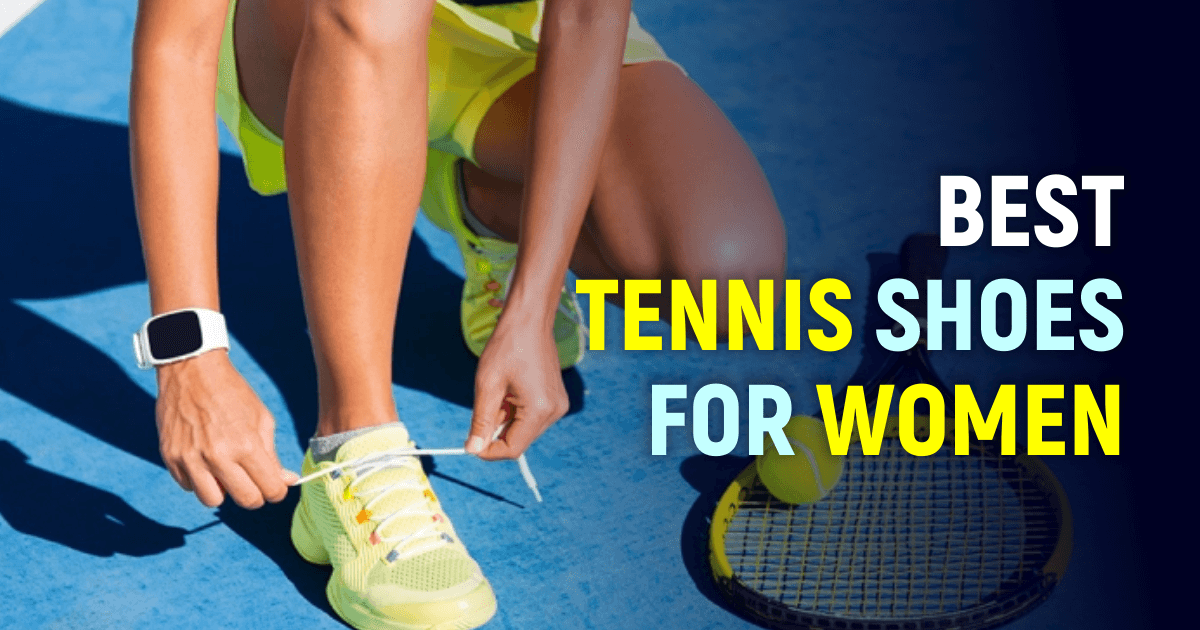 Moreover, these tennis shoes are highly reliable, offering great durable construction. Players can expect to keep these tennis shoes for a long period. Players will also get sublime breathability that exalts the performance in the tennis courts.
Lastly, players should keenly consider their exact foot size and comfort value accordingly. This will help them secure their purchase while avoiding troubles afterward.
Best Tennis Shoes For Women | Editorial Pick
EDITOR
CHOICE
★★★★★
ASICS Gel-Challenger 12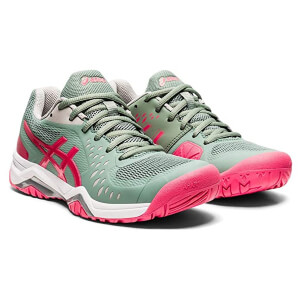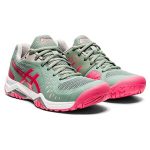 Unique Trusstic System
Ortholite sock liner
Solyte midsole
TOP
RATED
★★★★★
K-Swiss Bigshot Light 3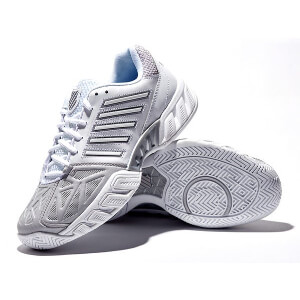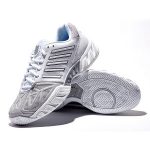 100% Leather Body
Aosta Outsole
Unique CMEVA midsole
BEST
SELLING
★★★★★
Wilson Rush Pro 3.0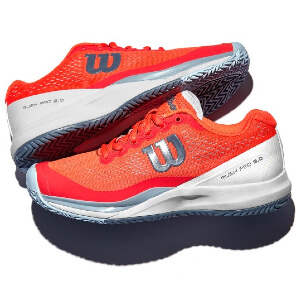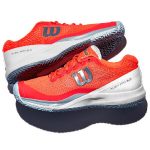 Unique 4D Chassis
Sensifeel 2.0 Tech
New Endofit cushioning
Best Tennis Shoes For Women | Detailed Reviews
We have recently reviewed the highest-quality tennis rackets and also the top-rated tennis balls. But, this game is incomplete without you having a nice pair of shoes. And if you are a woman, it's a must-have, indeed! So, here they are!
BEST OVERALL
ASICS Women's Gel-Challenger 12 Tennis Shoes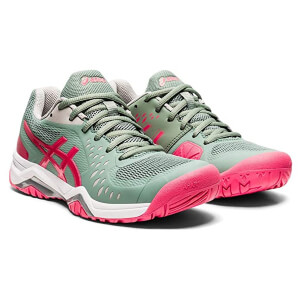 ★★★★★
Trusstic System Tech
Ortholite Sock Liner
Features:
Comes with Trusstic system technology sustaining quality over the periods
Features an Ortholite sock liner that limits the moisture in the feet upbringing performance
Incorporates a Solyte midsole offering a lighter midsole
The rearfoot and forefoot GEL technology for a smooth step transition
Now women can step up their game with this one of the best tennis shoes for women featuring a rubber sole. These tennis shoes pair brings undeniable durability and a light form factor.
It comes with a rearfoot and forefoot GEL technology cushioning system for sublime comfort. Without any doubt, it is one of the top-rated shoes for tennis professionals these days.
Specification:
Available Colors: 6 striking colors
Available Sizes: 5 to 12
Weight: 9.85 oz.
Sole Material: Solyte
Best For: All types of court
Walk And Play With Ease: These shoes come with under-laying support that assists the baseline for added comfort. It works great for both walking and playing purposes.
Solyte Midsole: Its signature Solyte midsole is super lightweight and comes with quality cushioning. This midsole is considered to be very effective because of its bounce-back effect. Therefore, it sustains stability and quality throughout its usage.
Agility: These shoes offer you a unique Under-laying GEL technology. It is present in the fore and rearfoot offering a great deal of feet balance. Also, it's excellent to make quick and literal moves. In addition, players move quickly in the tennis courts to take leads.
Sublime Experience: You'll love its Ortholite sock liner due to its moisture-sucking functionality. It limits the moisture spread resulting from harsh weather. Besides, these shoes offer a Trusstic system technology that sustains the experience for long-term usage.
Therefore, players continue their performance with no time limit because these shoes perform great even in the toughest situations.
Pros
GEL technology for a seamless experience
Solyte midsole holding lighter form-factor
It comes with moisture limitation technology
It is available in multiple colors
Cons
Not suitable for wide feet
Stiff baseline
Our Take: Uncover the best tennis game with these shoes offering solyte midsole and GEL technology. Plus, these tennis shoes are suitable for all types of courts.
BEST-RATED
K-Swiss Women's Bigshot Light 3 Tennis Shoe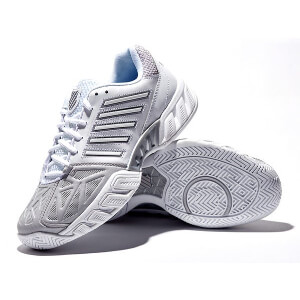 ★★★★★
100% Pure Leather
Unique CMEva Midsole
Features:
It brings 100% leather construction, achieving a high value of step comfort
Players will be able to walk swiftly with its rubber sole offering great flexibility
It comes with a lightweight CMEVA midsole along with sock liner
Enhance your feet' comfort with these best women's tennis shoes offering pure leather built. You can now walk without feeling tiredness with its incredible rubber sole offering great flexibility.
Their CMEVA midsole bring a lightweight profile for superb cushioning. This best women's shoe for tennis ensures great walking comfort for all. It will also fit perfectly inside professional-grade tennis kit bags.
Specifications:
Available Colors: 9 eye-catching colors
Available Sizes: regular 5 to 8 M UK
Weight: 8.6 to 12.6 oz.
Material: 100% leather
Midsole Material: CMEVA Midsole
Sole Material: rubber sole
Best For: clay court & hard court
Highly Durable: Experience the best endurance with this shoe's draggaurd rubber. Its outer part is supported by the Aosta rubber outsole offering great value of durability. In addition, you can expect great endurance against high impacts and scratches.
Sublime Comfort: These tennis shoes define comfort with their leather construction. It uses 100% pure leather that is easier on your feet, leaving the game's harshness behind.
Besides, the leather construction offers excellent flexibility to the feet as well. It gives extra room for the foot to move properly for great performance in courts.
Unique Midsole: Its CMEVA midsole brings a lightweight design for extra mobility. You'll have no trouble taking quick and sharp steps in the courts. This puts the opposition on the back foot so that you can expect frequent wins with this shoe pair.
Very Flexible Sole: The sole comprises rubber as the rubber has a great tendency to move when there is room too. It also adjusts to your foot size and shape so players can wear them for longer.
Pros
Highly durable with draggaurd rubber
It comes with excellent cushioning
Versatile CMEVA midsole
Highly flexible leather sole
The price is reasonable
Cons
The shoe arch is too high
Lacks room at the toe section
Our Take: This tennis shoe fills your tennis expectations with a CMEVA midsole and highly versatile leather sole.
POPULAR CHOICE
Wilson RUSH PRO 3.0 Tennis Shoes For Women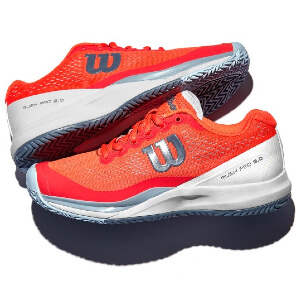 ★★★★★
4D Chassis Liner 
SensiFeel 2.0 Technology
Features:
It comes with 4D chassis limits supination and torsion assisting superior feet movement
Features Sensifeel 2.0 offering incredible breathability and comfort
Endofit feature that provides excellent cushioning and flexibility for most feet
The Wilson RUSH PRO 3.0 tennis shoes offer superior walking comfort and stability. Its 4D support chassis limits supination promotes great stability and flexible movement.
Furthermore, your feet are highly breathable with its Sensifeel 2.0. And you should also club it with the best-rated tennis rackets from Wilson this year.
Specifications:
Available Colors: 4 trendy colors
Available Sizes: 5.5 to 7
Sole Material: rubber sole
Best For: for all types of court
Best Stability: Achieve a superior level of stability with this shoe's 4D support chassis limits supination and torsion. This assists in controlling the flexible movement of the foot. So you can move your feet in almost all directions without feeling pain. Adding more, it also creates solid stability even when balancing with one leg.
Impressive Breathability: It comes with sensifeel 2.0 that incorporates an upper engineered mesh. This mesh provides a great space for the foot to release tension and impressive breathability. Therefore, you'll be able to play for longer without getting caught by foot discomfort.
Best Suited For: These shoes fit in most foot types with their endofit functionality. It brings great balance and comfort with its ergonomic fit. The inside has a decent margin for the sock concerning actual feet size. Hence, you'll have no worries about the exact fitting of your feet.
Unforgettable Experience: These shoes have an asymmetrical TPU heel counter offering sublime stability. It has clever arch support for the women offering a very suitable experience. In addition, it comes with Df2 functionality offering great comfort value to the feet.
You'll be able to perform without boundaries with its DF2 that promotes performance and stability together.
Pros
Improvements in foot breathability
DF2 for superb performance and comfort
Offers great foot movement and control
It gives you an ergonomic fit
Best running shoes as well
Our Take: Achieve top-notch feet comfort with these tennis shoes bringing incredible breathability and ergonomic fit.
SYNTHETIC
New Balance Women's 1006 V1 Tennis Shoe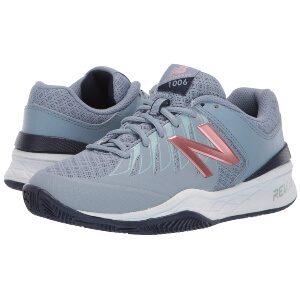 ★★★★★
REVlite Midsole Form
Non-Marked Outsole
Features:
It comes with a promising REVlite midsole forming a feathery weight value
It offers a high level of endurance with its non-marking outsole
Its rubber sole promotes sublime flexibility and ease of stepping comfort
These tennis shoes give you the best value with 100% synthetic construction offering high endurance.
Its ergonomic REVlite midsole makes it one of the best tennis shoes for women. Moreover, its non-marking outsole offers a high value of resistivity.
Specifications:
Available Colors: 4 decent colors
Available Sizes: Regular 5 to 12 wide
Material: 100% Synthetic
Sole Material: Rubber sole
Midsole: REVlite
Best For: Hard court
Promising Midsole: Your favorite tennis shoes come with the promising REVlite midsole. It supports your delightful walking/running experience with a lightweight design. Therefore, players will be able to strike with full confidence without facing trouble.
Protection: The outside of these tennis shoes supports a non-marking outsole. This protects and ensures quality sustainability throughout the usage. Additionally, players can play without fearing the weather fluctuation or even impacts.
Stepping Comfort: Many players complain about the stiffness they feel when they walk using tennis shoes. But this problem no longer needs to stay as this tennis shoe comes into light. These are the best women's tennis shoes exhibiting great comfort value.
They are great performers when it comes to important tennis matches as well. The rubber sole seems to stay up to the expectation of next-level comfort that you long for.
Better Performance: Performing well at the crucial matches holds great significance. These tennis shoes come with a long-wear drag tip that provides great room for your foot to adjust. You can then feel a massive comfort and performance lift.
Pros
It comes with a soft REVlite midsole
Foot adjustable rubber sole
Long product life with a non-marking outsole
Perfect shoes for hard court
Cons
Lacks interior cushioning
Too narrow from the toe
Our Take: Great performance dream comes true with this shoe pair packing REVlite midsole and non-marking outsole.
DURABLE
HEAD Women's Tennis Shoes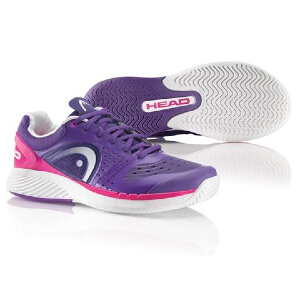 ★★★★
Tri-NRG Midsole
Lightweight Structure
Features:
Its lightweight structure brings an excellent combination of comfort and balance
The shoes come with a TRI-NRG midsole offering a great stepping transition for most foot type
PU coating protects your feet
Perform great in every tennis match with this tennis shoe pair having a lightweight design. These tennis shoes bring a great fusion of stability and flexibility alongside.
So players can play with great confidence. Lastly, its midsole brings about excellent cushioning for a superior walking experience. And you can try wearing it while playing with the top-rated Head tennis rackets to achieve optimum performance.
Specifications:
Available Colors: 6 striking colors
Available Sizes: 5.5 to 10
Sole Material: rubber sole
Best For: outdoor court
Best Design: It has a wonderful lightweight design that is easier on your feet. Additionally, this gives you a great fusion of high-level comfort and superior foot balance. Also, it helps massively when players are unable to balance, keeping them in the game.
A Quality Midsole: These tennis shoes come with the TRI-NRG midsole delivering excellent step movement. Most players complain about the uneasiness they experience while wearing tennis shoes. Further, its quality midsole TRI-NRG steps up your foot comfort so you can perform at your best level.
Highly Safe: The foot safety comes before anything, and that's what you'll get here. This tennis shoe comes protected with the PU coating. Moreover, the coating is offering sublime protection to the feet.
Comfy: Shine in every tennis match with the best possible comfort for your feet. Because your performance highly depends upon the foot's comfort. This shoe pair packs a purposeful design with flexible straps offering great feet adjustment.
Pros
Smooth step transition with TRI-NRG midsole
Protection with PU coating
It comes with the adaptable straps
Reasonable price
Cons
They are a bit heavier
Complains about its stiffness
Our Take: Explore your tennis expertise with this shoe pair offering PU coating and adaptable straps for added comfort.
ALL-SURFACE
Mizuno Women's Wave Exceed Tour 4 Tennis Shoe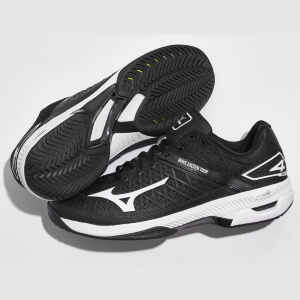 ★★★★
D-Flex Grooved Design
Lightweight Construction
Features:
The midsole possesses a D-flex groove designing style that enhances the players' movement
Light construction material with soft and smooth cushioning
High upper durability factor has been sustained here with precise measurements
These shoes have versatile traction along with a very smooth cushioning factor to notice. Moreover, the side shaft design is very adaptive to manage the movement of feet accordingly.
You'll also get the latest lightweight construction here for quick and responsive cuts.
Specifications:
Available Colors: 5 tempting colors
Available Sizes: 6 to 11
Sole Material: rubber
Best For: indoor & outdoor courts
Arch Support: Smooth and firm arch support from the low-top design surely keeps the whole body structure stable. Likewise, the shaft structure measurements evenly cover the arch throughout for balance support to promote quick angling.
Midsole Construction: The lightweight structure and materialization of the midsole have been delivered here for smooth foot placement. Plus, the lightweight construction manages the resilience property of the shoe that minimizes the possibility of getting slipped.
Flexible Designing: You'll get an easy-to-fit design for every foot with a versatile and adaptive design to maintain the sharp movements. Alongside, the responsive and flexible design lets you easily move in every direction and cover the ball stroke accordingly.
Parallel Styling Of Waves: D-flex grooving on the midsole and parallel wave design make a supportive impact on the stability aspect of the shoe. In addition, the rebounding featuring properties are also precisely measured here for a professional gaming experience.
Pros
The cushioning outsole with a 6-month warranty
Shock absorbing feature
Fast movement supportability factor
The sole has rubber materialization
Affordable price
Cons
Not much breathable design
The arch support isn't enough
Our Take: The rubber sole construction, parallel wave designing, and d-flex grooving on midsole have been given here with flexible body construction.
LIGHTWEIGHT
Babolat Women's Tennis SFX 3 All Court
★★★★
Sturdy Inner Mesh
Protects Toe Dragging
Features:
It comes with a durable inner mesh and remarkable exterior
The shoes offer great traction and resistance on almost all types of surfaces
Features an active flexion technology for a great walking experience
It brings a dynamic walking experience that is a fusion of durability and breathability
Protects against toe dragging with the safety materials near the toe and inner forefoot
Play with full authority using these best tennis shoes for women, bringing remarkable stability and breathability to feet. This shoe pair comes with a unique active flexion technology delivering a stress-free stepping experience.
Moreover, players can perform with high step transition with its double-layer mesh giving superb durability and comfort. You should try it while using some top-rated Babolat tennis rackets to get unmatched performance.
Specifications:
Available Colors: 2 tempting colors
Available Sizes: 5.5 to 11
Sole Material: rubber
Best For: All types of courts
Performance Boost: Performance excellence comes guaranteed with this tennis shoe pair. It features a very promising inner mesh along with the outer layer keeping excellent performance. This also boosts its durability status while giving maximum performance at the same time.
Furthermore, the Kompressor System reduces shocks from the movement. So players experience a lasting smooth step transition with impeccable comfort.
Active Flexion Technology: This Active Flexion technology assists the main pressure points releasing foot stress. This comes up as a very comfortable and trouble-free experience for all players combined.
Ergonomic Experience: A unique outsole with a rubber compound incorporating Michelin. This provides great comfort along with traction that works on most surfaces. Besides, these shoes provide generous inner space for the feet to move comfortably.
Impressive Experience: These shoes provide great traction and resistivity on most surface types. This gives you a phenomenal feet movement on demand. On the other hand, you're also getting a similar protection functionality.
That's because there are some protection materials installed on the near tor and inner forefoot. These materials form a great protective wall against outside impacts. As a result, it offers a great deal of protection for toe dragging at the same time.
Pros
Offers excellent durability from outer-impacts
Protection from toe dragging
Features Active Flexion technology
Excellent traction on most surfaces
Cons
Wider for most foot types
Extra materials above toe bed
Our Take: You can now experience remarkable tennis with these shoes offering protection against toe dragging and featuring surface traction.
FAQ Regarding Best Tennis Shoes For Women
Q. What are the best shoes for women's tennis?
According to our research and customers reviews, the best tennis shoes for women are ASICS Women's Gel-Challenger 12, K-Swiss Women's Bigshot Light 3, and New Balance Women's 1006 V1 Tennis Shoe.
Q. What's special about tennis shoes?
Tennis shoes usually have flat soles as well as specific shapes and outlines on them, depending on what kind of surface you usually play on. On the other hand, tennis shoes come with heavier, soft heels that minimize weight and cushioning so that the effect is lessened.
Q. What's the difference between running shoes and tennis shoes?
The tennis court requires special types of shoes for tennis. Tennis shoes emphasize lateral support and stability, whereas running shoes focus on cushioning. In addition to this, tennis shoes have less cushioning than running shoes because of this need for lateral stability.
Best Tennis Shoes For Women | Quick Comparison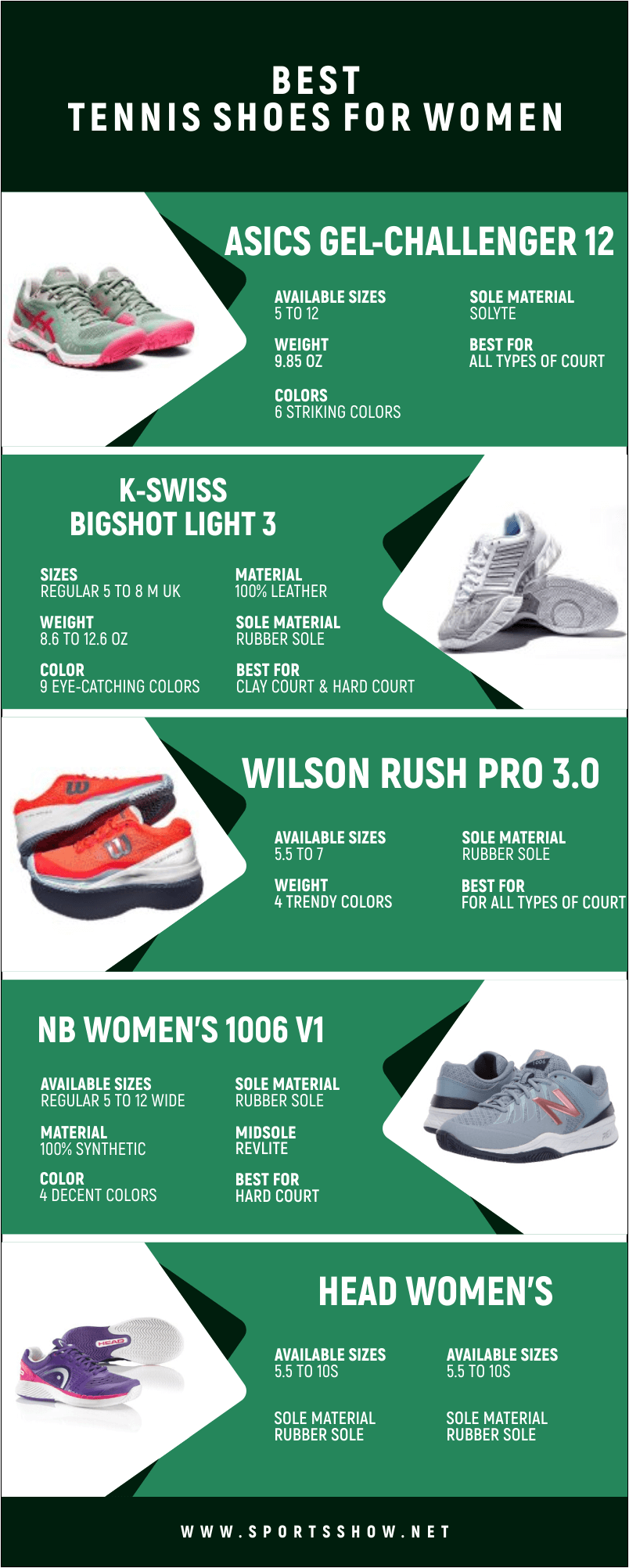 Our Recommendation:
Our 1st recommendation is Mizuno Women's Wave Exceed Tour 4 All Court Tennis Shoe as the most flexible design tennis shoes. A smooth cushioning design with a d-flex grooving structure on the midsole also possesses lightweight body construction.
Furthermore, our 2nd recommendation is New Balance Women's 1006 V1 Tennis Shoe as the most smooth structure tennis shoes. The REVlite midsole construction along with rubber materialization will surely deliver a flexible, adaptive footwear placement.
Conclusion
Here are the most advanced and the best tennis shoes for women and flexible design and cushioning structure. Moreover, the firm shaft construction will keep the shoe structure in an accurate formation. Additionally, the outsole has the adaptive styling to maintain the shoe's traction while moving in different directions.
Besides, the midsole is comparatively much smooth with proper cushioning for the supportability of the foot. Then comes the sole construction, which is mainly possessing top-quality rubber manufacturing for better performance.