Playing darts isn't just a game alone. Sometimes, it's how players present themselves while they carry darts around. Now you'll be able to steal the gazes with the best dart cases available on our list. It's always been to purchase a darts case that will provide safety and style at the same time.
The manufacturers never really paid attention to these factors which left many keen consumers disappointed. These keen customers have always fancied the best for themselves which was always hard to find amidst marketing gimmicks.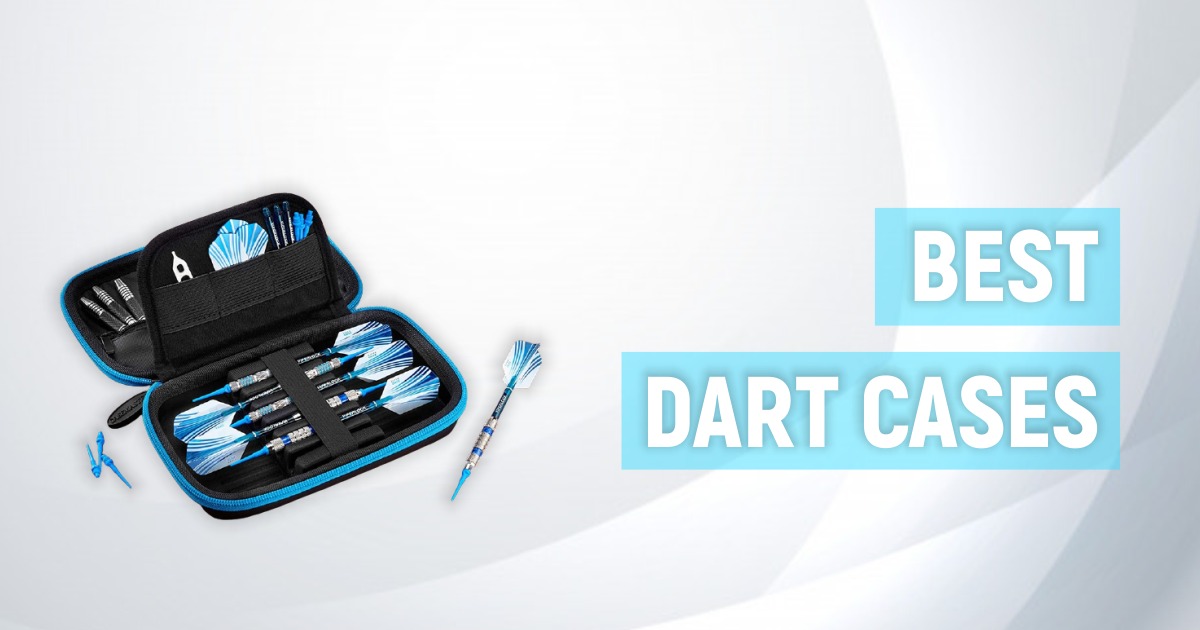 A case is a basic foundation for the darts you love the most. These cases keep them safe from unwanted scratches and dirt. Therefore, darts cases play a vital role in giving them longer life that is more important than anything else.
Moreover, your darts cases speak a lot about yourselves with the outer appearance. A good-looking and handy design is something that every darts player would fancy.
Best Dart Cases | Editorial Pick
EDITOR
CHOICE
★★★★★
Sentinel EVA Case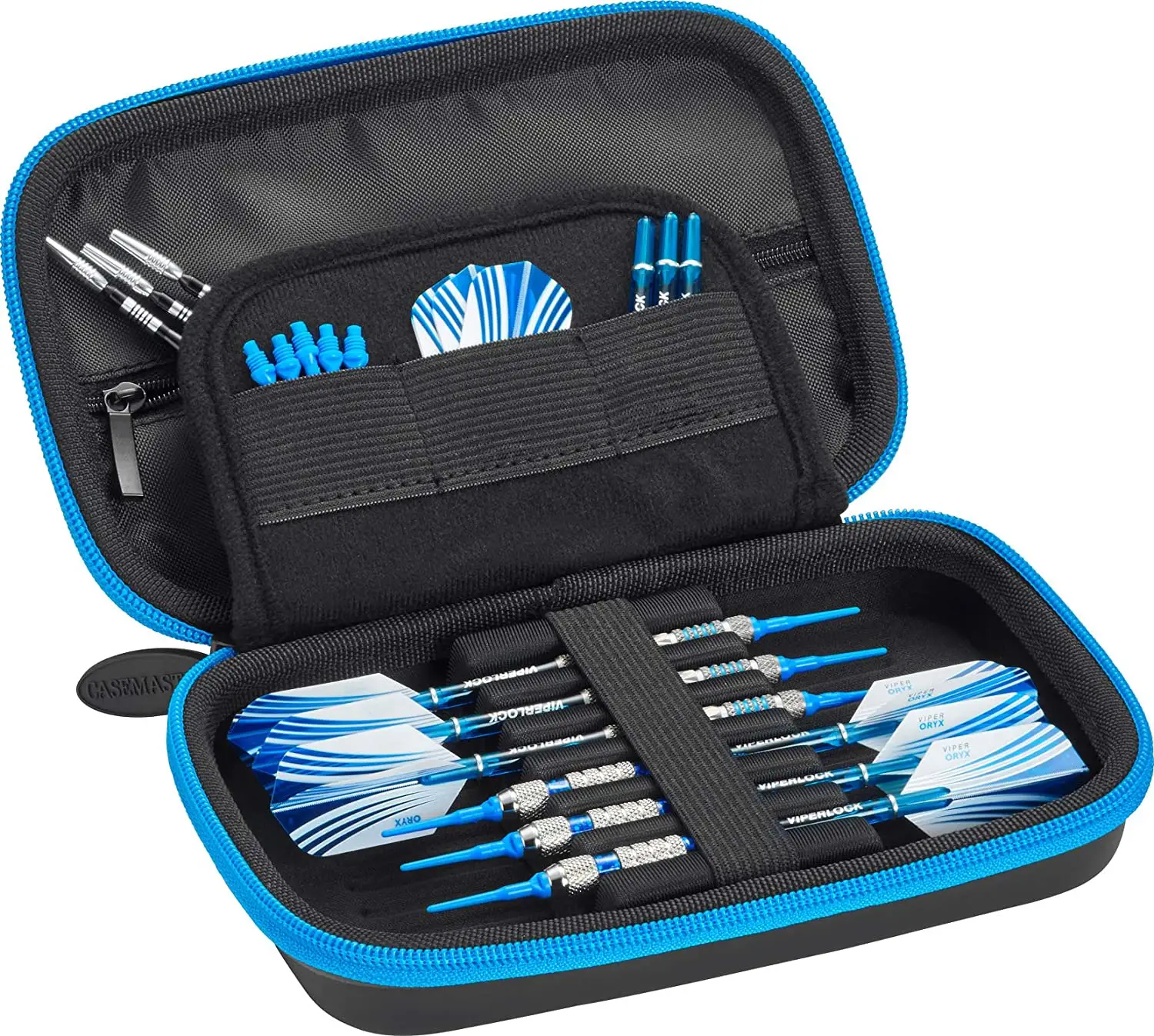 Large Compartment
Hard Outer Shell
Sophesticated Design
TOP
RATED
★★★★★
Caddy Dart Holder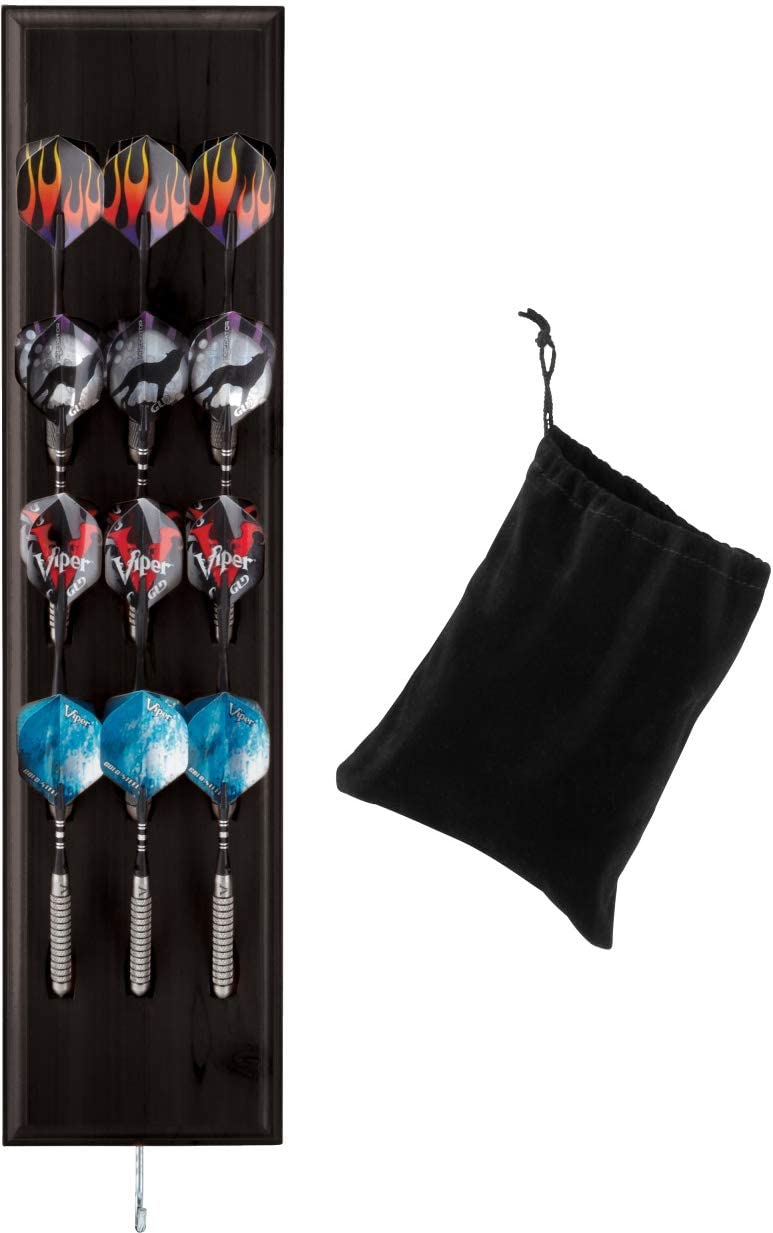 Wooden Dart Case
Premium Design
Precise Corners
TOP
SELLING
★★★★★
Casemaster Legion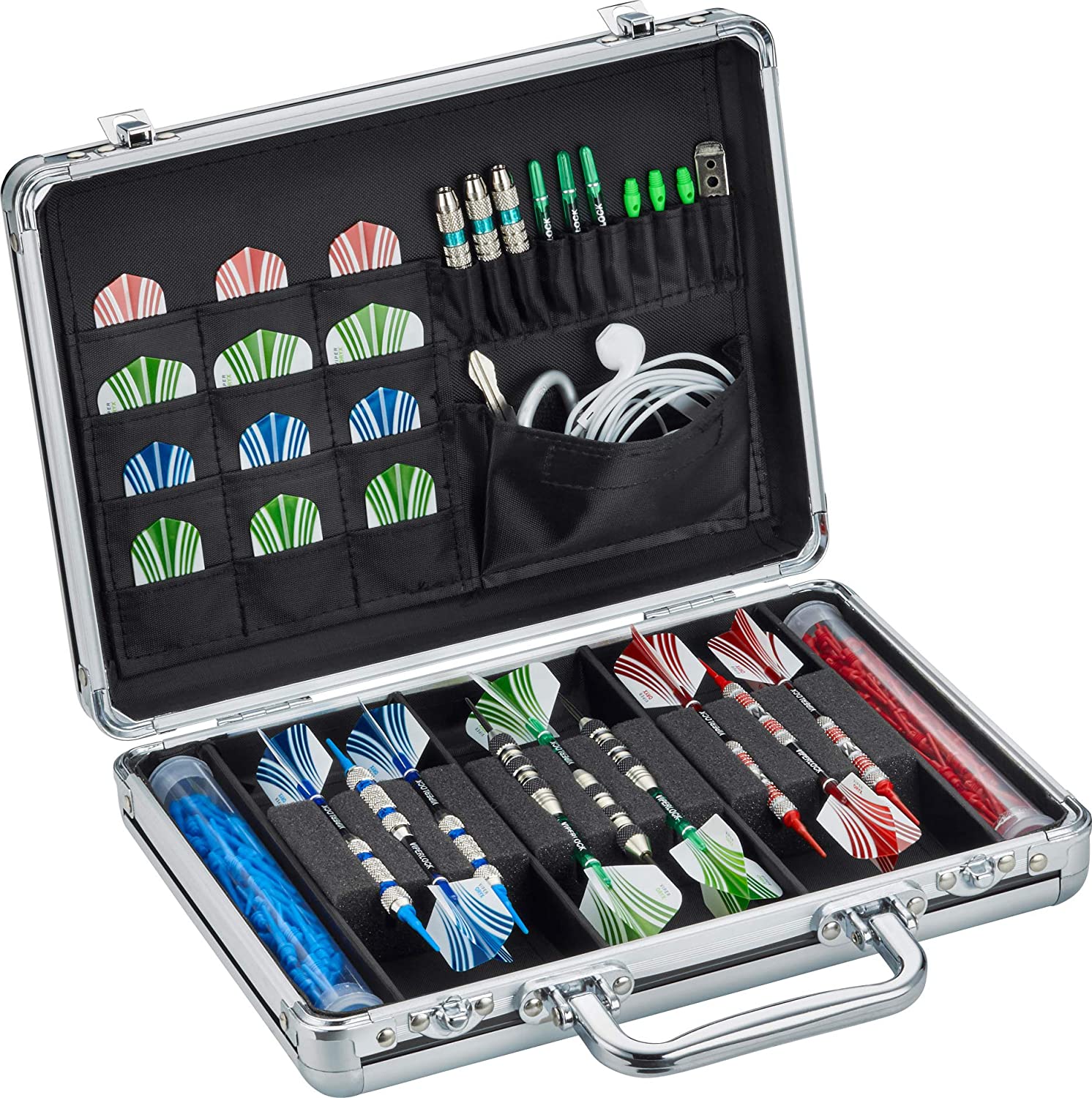 Expanded Version
Very Lightweight
Hard Alluminium
Best Dart Cases For Better Storage and Protection
Thus, these darts cases will provide the most convenient designs along with the feature you all love. So, let's not waste any further time and dive right into our list.
BEST OVERALL
Sentinel EVA Dart Case By Casemaster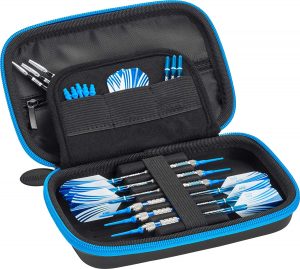 ★★★★★
Protective Outer Shell
Sophisticated Design
Features:
The case has a protective outer shell that can endure any impact or unfortunate drops
It can take all the important accessories of playing darts game
It comes with the most sophisticated design that is sleek and attractive with its impressive outer body
Space is not an issue with an ideally sized form factor that can carry your darts without damaging impact
Carry your darts with sophistication with this one of the best dart cases available in consumer's space right now. You'll love the form factor along with the most suitable design that vouches for its charm. The foam shell covering interior will also place the dart sets according to the order with proper protection.
Dimensions: 8.07 × 5.2 × 2.01 inches
Weight: 0.18 kilograms
Colors: black, blue, & red
Sleek Design: The case carries a sleek design that is a product of craftsmanship and pure art. You'll be amazed to hold this case in your hands as it has a very soft feel to it. The materials used in manufacturing are high-quality and durable. So, your effortless case is made without compromising on durability.
Furthermore, the design is extra impressive with more space to store your darts. The generous space can incorporate the darts without damaging their shafts. It is also equally suited to safely keep the darts for beginners.
Firm Grip: It's not just about the beauty that counts in the dart cases. But the firm grip that can minimalize your drops is an important aspect to consider as well. The case's texture is made in such a way that it can become acquainted with your hands. Thus, resulting in an easy carry with a sense of style that we all admire.
Pros
The case has generous slots to incorporate your darts
It comes with a sleek and lightweight design
Added outer protective layer for extra protection from drops
Easy to carry with firm grip texture
Cons
The covering has a loose grip
Delicate zip
Our Take: The most loved design has now arrived with extra-durable built which makes this case a solid purchase. Further, it is easy to store as it occupies little space.
TOP-RATED
Caddy Solid Dart Holder By Viper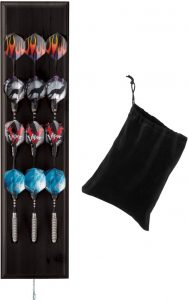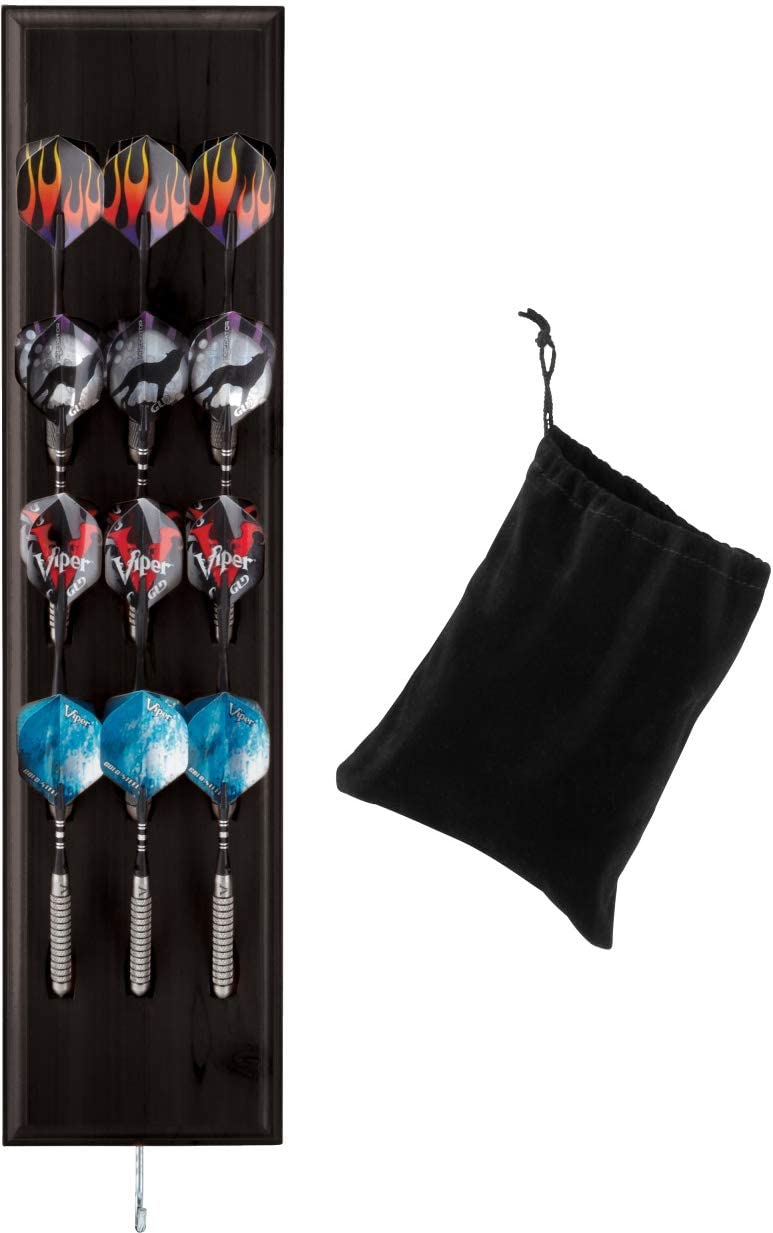 ★★★★★
Solid Wooden Case
Precisely Designed Corner
Features:
You can now ornate your darts in a solid wooden dart case with a classy design theme
Precisely designed corners that improve your shafts from bending
The case can carry up to 12 darts with either steel or soft tip
It comes with a sturdy metal hook so that you can hang it on the wall or a stand
If you're grappling to keep your darts together all the time then a Viper dart holder is here. The design is made to impress all with the most convenient space to store your darts. The case structure is precisely designed with a balanced surface to mount on the wall without any effort.
Dimensions: 17.09 × 4.37 × 1.18 inches
Weight: 0.34 kilograms
Color: black, mahogany finish, & cinnamon finish
Material: wood
Total doors: 2
Shape: rectangle
Sturdy Yet Classy Built: Your impressive case offers a classy sharp look that is hard to ignore. It feels like a piece of important possession with its solid and precise wooden construction. The case can take all your darts conveniently inside without collision. Therefore, your shafts won't bend as they won't collide, keeping them as they were.
Furtherly, the pure wooden built offers everlasting durability with a touch of elegance.
Complete The Deal With A Velvet Pouch: The package also includes a shiny velvet pouch that can incorporate your extra tips and flights separately. This helps in keeping your accessories in check with each case functioning for a particular purpose. You can also attach this elegant velvet pouch with the main case as it has a metal hook to connect easily.
Pros
The most lavish case that is made sturdy with wooden built
Your darts won't mix up with firm darts placement
It can easily tolerate tough ground drops
Velvet pouch to keep your extra accessories safe
Cons
Some customer reports mount drilling fault
Average quality
Our Take: Experience the toughness of a case in the prepossessing design made to impress the crowd, making it a stellar purchase. You can hang it on the wall to save space as it is equipped with a sturdy metal hook.
LIGHTWEIGHT
Casemaster Presents Legion Aluminum Case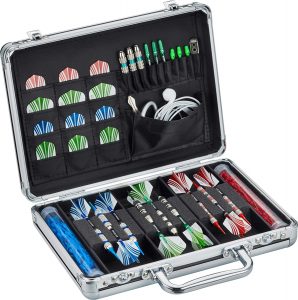 ★★★★★
Lightweight Design
Hardest Aluminium Material
Features:
This package has lightweight which is very easy to carry everywhere
You can store up to three dart sets in this expanded version
Manufactured with the hardest aluminum which is impossible to break
Now comes with extra sections for the protection of smaller components
Secure your darts in this on the best dart case made of aluminum. The interior surface is well-reserved with enough cushion to maintain the accessories in an aligned way. The aluminum construction will make sure the security coverage of everything inside the case.
Dimensions: 10.7 × 8.7 × 2.9 in inches
Weight: 1.65 pounds
Color: Dusk Black & Lustrous Silver
Buckle: dual
Tube storage: 2
More Space More Darts: Now the GLD Products offers you the finest spacious case for your darts. You can keep your darts without any worry. It includes 9 pockets for the darts. Plus, there are 12 more slots for different components, 1 comprehensive pocket, and 2 tubes of accessories. Also, it has extra space for other items of dart set to keep them safe.
Design And Quality: This case of darts has a unique and durable design. High-quality aluminum is used in the manufacturing of the casing. The interior is interlaced by the experts to make the pockets and slots more compatible. Two tons of colors are used in the painting of the box which makes it more prominent and catchier.
Pros
It is effortless to open the case with a flick because of the buckling feature
The portability feature makes you carry it everywhere without hesitancy
The firm slots and pockets prevent your dart from loosening
Cons
Dart holders are not aligned
One customer reports it doesn't close correctly
Our Take: A lightweight case with a sturdy handle along with a huge space for darts. If you want a protective and durable casing for your darts then this case is made for you.
LEATHER FINISH
The Pro Leatherette Case By Casemaster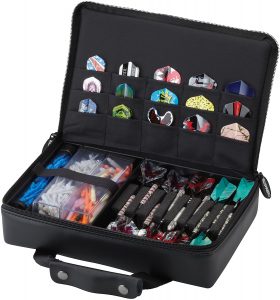 ★★★★★
Additional Plastic Casing
Leatherette Design
Features:
Now, with additional plastic casings that will protect small accessories
This case is manufactured with the most committed leatherette that lasts a long
Extra-large pockets to take whatever you want with you
The pockets of the case are designed strongly to keep your darts safe
A complete range of space covering for the accessories in the handy design of these best dart cases offered by Casemaster. Keep up to three dart sets along with additional accommodation to place the accessories as well. The leatherette structure will also manage the expansion of the surface during the carrying process.
Dimensions: 10 × 7 × 2 in inches
Weight: 0.59 kilograms
Pockets: 15
Colors: Jet Black & Cerulean
Dart storage: 12
Tube storage: 4
Solid Foam Blocks The Breakage: GLD Products has been famous for providing the most substantial products over the years. They have brought this long-lasting case featured with elite quality components that make the case stronger than ever. This case has top-quality foam that is fitted in the inner section, where you have to put your darts in. The foam help, keep your darts away from any type of cracking.
A New Locking System: This dart case has a unique and advanced protective covering, which is a dual snap rings system. The rings used in the locking system are very durable and keeps the case secure. Simply, you can flick the rings with your fingers to open the case and show off your darts collection.
Pros
The dart slots are made to perfection
You can carry this casing like a briefcase everywhere
A protective covering of case with balanced surface
Cons
The zip quality is average
Our Take: The most organized bag with a lot of space and pockets. Strong interior and durable darts case that will grab your attention.
NEW DESIGN
CyeeLife Dart Carrying Case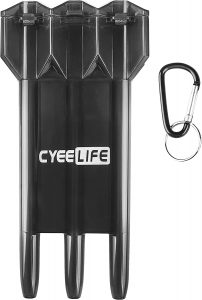 ★★★★
Protects Dart Chipping
Variety Of Colors
Features:
Almost every size of dart can fit in this case
This hard case will definitely protect your darts from chipping
It comes in a variety of colors, so choose your best color to flash
This case is made from the supreme quality plastic
A handy covering design with a unique appearance presented by CyeeLife store. Put your set of darts in the safest case and prevent them from displacing. The plastic design structure is something innovative with a transparent appearance to improve the styling.
Dimensions: 6.81 × 4.41 × 1.34 in inches
Weight: 0.06 kilograms
Colors: 10
Material: plastic
The Finest Portable Case: This dart case has a small compact shape along with various color selections to choose from. You can carry this case all over the world in your hand even in your pocket. The interior is evenly balanced with a covering structure to maintain the integrity of darts. The lid of this case is easy to open.
A Lightweight Construction: The manufacturer has designed this dart case with fine-quality plastic and components. Which is actually assembled for the buyer's facility; that's why it has lightweight so the players can carry it where ever they want it to.
Pros
Your darts can fit extremely well in this case
The plastic used in the case can endure extreme weathers
It has a pocket-friendly design
Available in multiple colors
Highly durable
Cons
The hinge is made of delicate material
Pretty small tungsten over 16 grams will not fit
Our Take: A supreme dart case with an exceptional lightweight that provides you to keep your darts safe.
FOR PRO
Classic Nylon Dart Case By Casemaster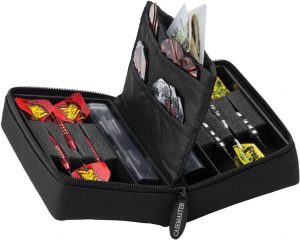 ★★★★
Solid Foam Protection
Holds Six Darts
Features:
Solid foams are fitted in the casing to prevent the breakage of darts
An extra-wide space to keep up to six dart flights
This case is made with the powerful nylon that is almost unbreakable
It gives you additional plastic tubes that help keep your darts more save
Are you struggling with keeping your darts safe? Then have a deep look at this masterpiece from GLD Products. Designed with perfection along with nylon surfaced and rigid resin interior construction to keep the shape and sensitivity of your product without any damage. Further, the pockets hold the best soft-tip darts firmly.
Dimensions: 7.25 × 4.5 × 3 in inches
Weight: 0.75 pounds
Color: jet black
Dart storage: 6
Tube storage: 4
A Long-Lasting Casing: All a dart player need is a protective and long-lasting casing for darts. This casing is made with the best-selected nylon element, which makes it a hard and unscratchable case for your darts. While the security feature of the case is done to perfection with an outer protective layer on the casing walls. Also, the zip used in this case performs heavy-duty for years.
Store Two Dart Sets And Many More: This darts casing comes with an excessive space that can store up to 6 darts in soft foams. Moreover, 6 more pockets and 2 additional tubes of accessories are fitted to save your flights and shafts.
Pros
A fit casing for all sizes of darts
The zipping function makes it easy to open your case
A flawless case to gift to your dart playing friends
An affordable price tag
Our Take: An extra-wide space dart case made with robust nylon material that provides durability. Keep your darts super safe from breaking and cracking with this prime quality case.
ADVANCED
Container For Dart By COSMO Darts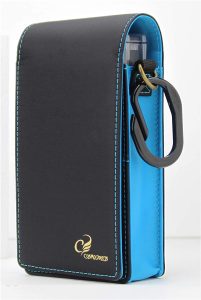 ★★★★
Quality Carabiner Clip
Money-back Guarantee
Features:
This dart storing case is manufactured with the best quality elements
Prevents from bending or molding your dart shafts and flights
It comes with a carabiner clip so that you can hang it easily on the wall
This case stores up to a set of darts and other products
The company offers a money-back guarantee
COSMO has offered the advanced shape variant of dart case holder with proper space covering flexibility to manage the accessories. All you need to do is to place the right equipment at the required spot to hold the covering over darts. Furthermore, it is considered ideal for any soft or steel-tip darts storage.
Dimensions: 7.87 × 3.94 × 2.2 in inches
Weight: 0.16 kilograms
Colors: black, blue, & fit flight print
Style: L-style
More Protection: Cosmo provides you the most protective dart storing case which will ease your problem of preserving your darts. This case prevents the shaft and flights of the drafts from any cracking and molding. So, buy this extreme protective case for sure.
Extra Storage: If you are looking for a wide and spacious case for darts then this is the best case for you. Because, this case can store up to a set of darts, 8 tips of darts, shafts, and a player identity card.
Pros
An accessible price tag for everybody
Soft covering boundaries of dart case
You can store almost all size darts
Improved in protection from the old version
Our Take: A comfortable and well-made case for your darts that has all the desired features makes it a stellar option. Furthermore, the company offers a money-back guarantee for the user's peace of mind.
FAQ Regarding Best Dart Cases
Q. What is the normal range of dart capacity to place in these cases?
Well, the capacity of these dart cases varies with their own shapes and structure as we have mentioned in the description. Most of these cases can adjust up to 2 to 3 sets of darts easily along with their accessories as well.
Q. What type of material do we get in these dart cases?
The manufacturers of these dart cases have structured the body with top-notch materials to cover the darts with proper protection. You will get a nylon interior along with aluminum construction in a few cases. And leatherette structure cases are also mentioned in the list with premium quality.
Q. Is it easy to carry these cases while going outside?
Of course, the portable shape with proper covering makes these dart cases a perfect handy selection for you. the body construction is light but the material is top-quality with entire holding grips. There are a few briefcase designs and zipper covering shapes along with buckle handling to make these cases easy to carry.
Q. Is dart cases pocket-friendly?
Most of the dart cases that we have mentioned above are budget-friendly, lightweight, and portable.
Best Dart Cases | Quick Comparison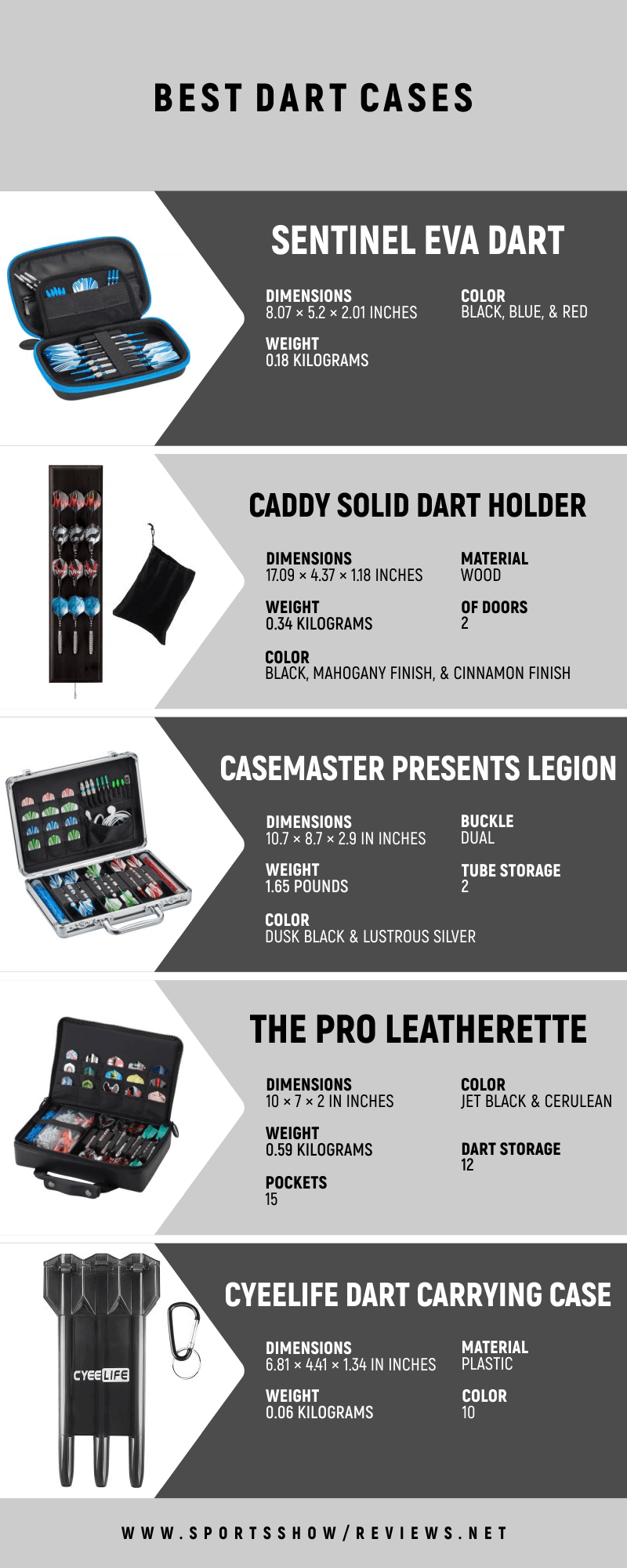 Our Recommendation:
Our 1st recommendation is The Pro Leatherette Exterior Covering Casemaster Dart Case as the best leatherette dart case. With a proper covering of space, you can easily place 3 sets of darts together with the required accessories.
Moreover, our 2nd recommendation is the Transparent Plastic Dart Case Presented by CyeeLife as the best handy dart case. A unique range of color selection is available with an appealing transparent plastic design container to hold darts.
Conclusion
At last, now we can say that these are the best dart cases with complete covering protection from the exterior. You don't have to worry about your dart collection anymore, place them right in the case along with accessories with easy assembling. Size varies with shapes, as there are few briefcase and zipper designs with different dart set capacities.
Normally, you can place 2 to 3 sets of darts along with their required accessories in the placed spacing of cases. Besides, the nylon, aluminum, and leatherette materialization will surely cover the integrity of darts inside the body. We hope our detailed review helps you in choosing the best dart case.