You are probably a beginner trying to polish your table tennis skills. This article will help you as we have brought the best table tennis training sets. Additionally, these trainer sets are the most suitable when it comes to nurturing your table tennis expertise.
All these sets are excellent for beginners. They are easy to set up and don't require complicated assembling. So, this is something of great value when we talk about newcomers. Also, you can't question the quality of these trainer sets as they are very durable.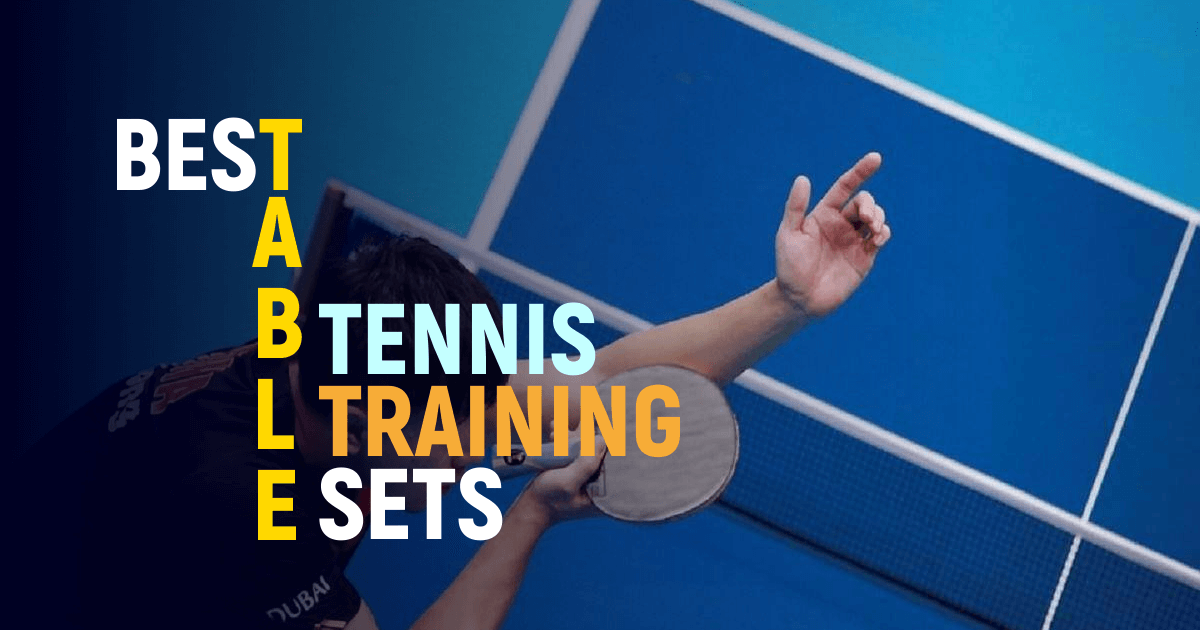 Moreover, you get total value for your money when purchasing these trainer sets. These sets include all the components of the game, so you are not required to buy them separately. Lastly, these table tennis sets let you play everywhere with great convenience.
Best Table Tennis Training Sets | Editorial Pick
EDITOR
CHOICE
★★★★★
SIRUITON Trainer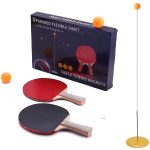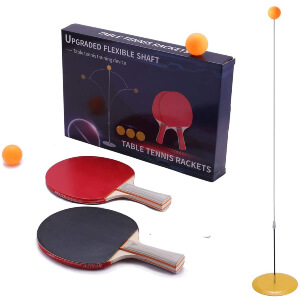 Flexible Elastic Rod
High-Quality Paddles
Lightweight Balls
TOP
RATED
★★★★★
DOBESTS Ping Pong Set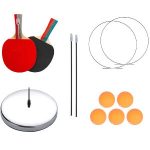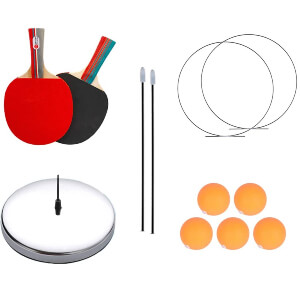 Different Color Paddles
Quality Training Balls
Protective Film
BEST
SELLING
★★★★★
Ping Pong Training Set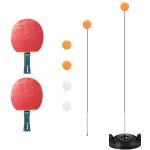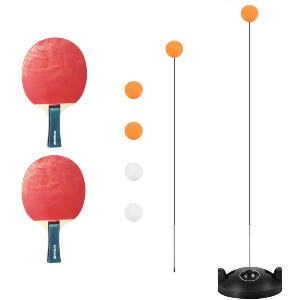 Versatile Training
Premium Fixed Base
Flexible Shaft
Best Table Tennis Training Sets | Detailed Reviews
We have recently reviewed the best table tennis paddles and high-quality table tennis balls. But yes, you definitely need a great training set to sharpen your table tennis skills. So, here they are!
BEST OVERALL
SIRUITON Table Tennis Trainer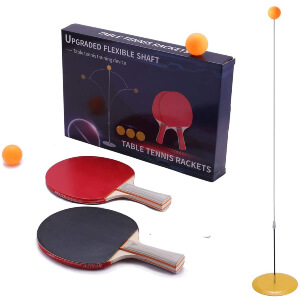 ★★★★★
Ultra-Strong Foundation
Flexible Elastic Rod
Features:
This trainer set is easy to set up with its flexible elastic rod
A perfect way to train your skills and to improve your ability
It comes with a set of high-quality paddles and 3 table tennis balls
A high-quality metal base provides a strong foundation
If you are looking to start table tennis training, this trainer shaft set is the most suitable choice. This trainer set is easy to set so that you can train yourselves with ease.
The package includes a trainer base and a flexible rod making it one of the best table tennis training sets. Just have some table tennis conversion tops in your house and start practicing.
Specification:
Package Dimension: 14.45 x 9.45 x 1.73 inches
Weight: 1.36 lbs.
Paddle Size: 25 x 15 cm / 9.84 x 5.91 inches
Ball Diameter: 4 cm / 1.57 inches
Base Size: 15 cm x 0.3 cm / 6.0.1 inches
Axle Length: flexible 60 cm / 23.62 in +90 cm / 35.43 in + 110 cm / 43.3 in
Elastic Rod Size: 90 cm – 110 cm
A Convenient Game: This table tennis game is highly convenient to set up with its reliable base. It comes with a flexible pipe that is connected with a shaft. Also, the whole connecting setup is easy, so you can start the game anywhere you want.
Flexible Yet Durable: The whole game foundation lies on its metallic base. Its high-quality metal base ensures excellent durability for everyone. Moreover, it doesn't catch scratches so that you can get a seamless feel every time. You are also getting a flexible shaft that brings more dimensions to your training.
Additionally, the package does contain a retractable table tennis net. So, players can achieve a complete table tennis experience anywhere.
How To Set Up: It is elementary to set up you are to fix the ball with the included shaft where you are to insert the pipe. Accordingly, insert this pipe into the metallic base. And, you are now all ready to train table tennis at home.
What's Included In The Package: the package contains 3 table tennis balls, 1 base, 2 paddles, 2 elastic rods. Additionally, there is a convenient storage bag along with a retractable table tennis net. Hence, these accessories complete your table tennis game.
Pros
All accessories included
Durable base
Highly flexible shaft
The perfect sport for juniors
Affordable training set
Cons
The elastic shaft has tiny needles
The product has a chemical odor
Our Take: Complete your table tennis training experience with this trainer, offering a flexible shaft and metallic base. Likewise, it contains all the accessories you need.
BEST-RATED
DOBESTS Ping Pong Balls Paddles Set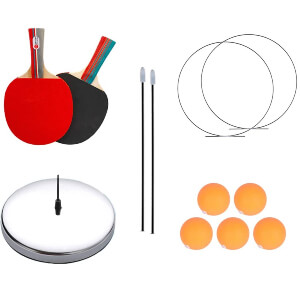 ★★★★★
Paddle & Balls Set
Protective Film
Features:
Features 2 table tennis paddles in different colors
It comes with 5 quality training balls for a complete experience
Highly protective training set with rigid stainless-steel base
The base has protective film avoiding scratches and marks
Train your way with this promising table tennis training set featuring a firm steel base. This set features 2 promising paddles in different colors for a unique experience.
In addition, players are getting 5 training balls, so they won't have to buy them separately. Needless to say, it is one of the top-rated ping pong paddle sets for beginners to try this year.
Specifications:
Package Dimension: 7 x 7 x 43.3 inches
Weight: 1.8 lbs.
Paddle Color: red & black
Ball Color: orange
Total Paddles: 2
Total Balls: 5
Axle Length: 41.3 inches
Age Range: kids
Tough Base: A sturdy base holds tremendous significance when you are considering playing table tennis games. So, you are getting a very sturdy base with this table tennis training set. The high-quality steel base ensures remarkable resilience against impacts. Therefore, you get a very promising table tennis foundation with this stainless-steel base.
More Protection: The steel base has this protective film on the outside. This protective film is present when you receive the package. It ensures that the base is protected against scratches and impacts. Hence, you no longer have to bear with unwanted scratches on the outer surface.
The Quality Components: Players are getting high-quality game components with this table tennis trainer set with 2 table tennis paddles. In brief, the paddles have excellent built quality, ensuring convenient handling for beginners. Also, these paddles come in different colors marking the best possible experience.
There are 5 quality table tennis balls in the package. These balls ensure the best training experience you'd ever imagine.
A Healthy Activity: Give your kids this simple table tennis trainer as a healthy activity. This lets them build strong eye coordination and enhances muscle movement overall.
Pros
Stainless steel base
No scratches with protective film
Includes quality paddles and balls
Cons
Instructions are written in Chinese
Assembly isn't kid-friendly
Our Take: Turn your leisure time into a healthy activity for kids with this table tennis trainer offering quality components and a steel base.
POPULAR CHOICE
Ping Pong Training Set By Table Tennis Trainer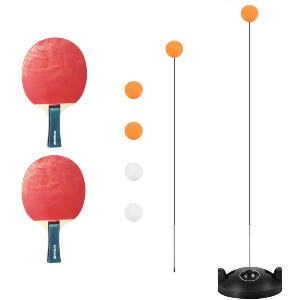 ★★★★★
Versatile Training Robot
Premium Fixed Base
Features:
A versatile training robot offering excellent stability and balance
Easy to set, making it a convenient table tennis training partner
It comes with a fixed base for a perfect table tennis training
Highly flexible shaft for continuous training sessions
Exalt your table tennis experience with this trainer set that you can set anywhere. The set is super easy to fix so that players can get started in a matter of minutes.
Moreover, this table tennis trainer set is durable, making it one of the best table tennis training sets. Just have some high-quality table tennis tops on your side and start practicing with this set.
Specifications:
Package Dimension: 17.01 x 11.73 x 2.72 inches
Weight: 2.46 lbs.
Material: Wood
Base Material: Walnut Wood
Paddle Size: 14 cm / 5.5 in x 25.5 cm / 10.4 in
Axle Length: flexible 0.5 m / 0.9 m
Base Size: 5.3 cm / 2.09 in x 14.5 cm / 5. 71 in
Elastic Rod Size: adjustable 90 – 110 cm
Age Range: for all ages
Major Highlights: There are many possibilities you can achieve with this table tennis training set. Its table tennis shaft ensures a high value of flexibility overall. Accordingly, the connecting shaft is easy to play and train with. Besides, the base of this table tennis trainer is fixed so you can play with complete stability.
Portable: You do not need a table to carry out table tennis games with this training set. This training set features a set of paddles accompanying balls. Also, there is a flexible connecting shaft with a sturdy base that remains in fixation.
Furthermore, you can carry all these accessories and set the game anywhere you like. That makes this game very portable for every player.
Promising Experience: This table tennis training set is highly durable as it's made out of sublime materials. The base can easily hold your game with its superior construction. Moreover, it remains fixed at its position, so you can play for continuous sessions without getting into trouble.
In addition, the base is made out of ABS construction with anti-sliding functionality.
Master It All: Players can conveniently master all strokes with their rebounding shaft. This helps beginners to start their table tennis journey. Moreover, this set has labeled a warranty of 30 days.
What's In The Package: You can get 2 paddles, 4 ping pong balls, 2 axles, & 1 base.
Pros
It gives a balanced experience
ABS anti-slippery base
Durable rebounding shaft
Anti-skid cushion design
A perfect training partner
Cons
Instructions aren't written in English
Our Take: Choose this best table tennis trainer offering a rebounding shaft and ABS base for a stable experience.
AFFORDABLE
LYM Ping Pong Balls Paddles Set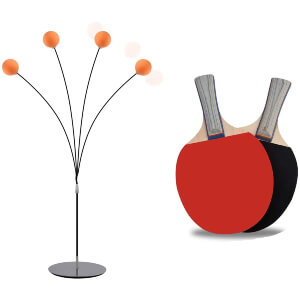 ★★★★★
Better Swinging Motion
Perfect For All Levels
Features:
Now you don't need a table to enjoy a table tennis game
The trainer is easy to set so that you can play with it anywhere
Provides a healthy brain activity for all kids/Beginners
Convenient swinging action with a quality soft shaft
Get your table tennis game started in seconds with this trainer set, offering a soft shaft and quality base. This training set is an excellent choice for the kids as it enhances brainpower.
Furthermore, this training set lets you play this phenomenal sport anywhere, anytime. If you don't have the budget to get top-rated ping pong robots, you can definitely purchase this one to start practicing.
Specifications:
Package Dimension: 11.73 x 7.8 x 2.28 inches
Weight: 1.39 lbs.
Paddle Color: red & black
Ball Color: orange & white
Total Paddles: 2
Total Balls: 3
Axle Length: adjustable
Age Range: kids
A Healthy Sport: This table tennis trainer makes up for a healthy pastime for your kids. Your kids can build agility by playing proper strokes with this trainer. As a result, this trainer lets them bring about their inner agile character for better body working.
Simplest To Assemble: You can assemble this table tennis training set in minutes. This set features a table tennis soft shaft for an easy connection to the base. After that, players can connect the shaft to the base and get their balls attached.
You Don't Need A Table Anymore: Players don't require a table to play table tennis anymore. They can practically get started anywhere they'd like to. That is why this table tennis training set gives you the freedom to play on any stable surface.  The included base offers a stable standing for your training sessions.
Better Swinging Action: Swinging is fun with its two high-quality paddles. The paddles work great when the soft shaft is put to the test. It moves to all dimensions with certain rebounding. This provides for an elite swinging action that improves your table tennis skills.
Package Contains: The package has 2 paddles, 3 table tennis balls, 1 base, and an axle.
Pros
Durable paddles
Better rebounding with soft shaft
Builds agility in your kids
Axle length is adjustable
Cons
A bit pricey as compared to other
Tricky installation
Our Take: Improve your table tennis game with this convenient trainer offering simple assembling and quality paddles.
DURABLE
CheeseandU Table Tennis Trainer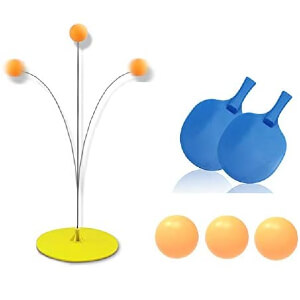 ★★★★
Ergonomic ABS Paddles
Extra Stable Base
Features:
It comes with a set of ABS paddles offering ergonomic handling
Includes 3 table tennis balls for better playability
Quality elastic shaft to train at all possible angles
Highly stable base forming a brilliant game foundation
This table tennis trainer offers a simple setup that makes the fun more accessible. The package has an unbeatable value, including an ABS paddle set with 3 quality balls.
Besides, the trainer is easy to set up with a sturdy base and connecting flexible shafts. All you need is a high-quality table tennis net and your set is complete.
Specifications:
Package Dimension: 11.18 x 7.95 x 2.13 inches
Weight: 14.2 oz.
Material: ABS & PVC
Shaft Length: 90 cm / 35.43 inches
Paddle Color: blue
Ball Color: orange
Total Paddles: 2
Total Balls: 3
Age Range: kids
Materials: Each game component is made with brilliant precision and excellence. The rackets are made out of ABS materials holding maximum endurance overall. Also, the base of this trainer features PVC construction achieving brilliant standards of durability.
Easy To Play: You do not need to be a professional when setting this table tennis trainer up. The base of the set is easily removable and thus can be placed anywhere. This makes the assembly super convenient for most beginners. Besides, you can take your game anywhere, whether indoor or outdoor.
Best For Kids: Table tennis can bring a great of intellect in the juniors. This table tennis set is easy to deal with, and kids can navigate its components with ease. It is also very healthy for the kid's eye health. The continuous sharp striking helps with the eye muscle's movement and makes them stronger.
Package Components: The package contains a base, 2 elastic shafts that are highly durable. In addition, players are getting 2 ABS paddles along with 3 quality table tennis balls. Lastly, these components complete your purchase and give all the value for your money.
Pros
Simplest assembly
Highly portable
It lets you train for more possible angles
Enhances eye's health in kids
Our Take: This table tennis set is a versatile choice for your kids as it helps with agility and enhances eye muscles.
TOP-GRADE
MOSA STORE Table Tennis Trainer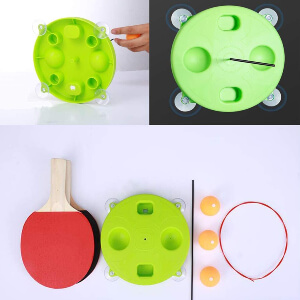 ★★★★
Easy Assembly In Minutes
Top Quality Paddles
Features:
The set doesn't take up much of your space and sets up easily
It comes with a highly flexible and durable shaft for better rebounding
Features 2 authentic paddles with ergonomic handling functionality
You can assemble and start training in minutes
Experience the best of table tennis with this one of the best table tennis training sets offering an ABS base. Its highly adjustable shaft offers the best training experience for all beginners.
Equally important, you are getting table tennis rackets with highly comfortable grips. Just have some budget-friendly table tennis tops on your side, and you are good to go!
Specifications:
Package Dimension: 9.5 x 7 x 2 inches
Weight: 1.28 oz.
Paddle Material: Wood
Base Material: ABS
Paddle Color: red & black
Ball Color: orange
Age Range: kids
An Ideal Choice For Kids: This table tennis set makes an ideal fit for most kids because of its easy controls. Kids can learn the basics of table tennis with great convenience. In addition, it keeps them off from the detrimental video games.
Freedom To Play: Players get a great value of freedom with this table tennis set. They can take this outside if they are not finding peace indoor. Therefore, this portable training set makes up for a satisfactory purchase overall.
Better Playability: You are to achieve better playability with this table tennis training set offering 2 authentic paddles. These paddles bring the best swinging functionality. On the other, you get a better handling experience due to its comfortable grips.
Furthermore, the package contains 3 ping pong balls, 1 fixed base, 1 elastic flexible shaft, and 1 pipe for flexible shaft fixing.
Easy To Assemble And Play Better: Assembly is super easy with this table tennis training set, so players can get started easily when they require it. Also, the elastic shaft with a fixed base promotes an excellent striking experience overall.
Pros
PADDLES promote ergonomic handing
Assembling in minutes
Acts as convenient storage
Moderate price
Suitable for indoor and outdoor gaming
Our Take: Treat your kids with this promising table tennis trainer offering authentic paddles and brilliant portability.
MINIMALIST
Outdoor Training Table Tennis Set with 2 Balls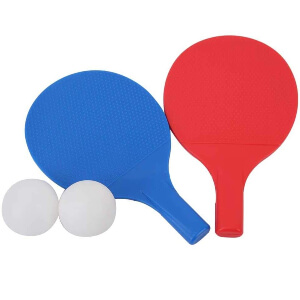 ★★★★
Premium Plastic Material
Lightweight Paddles
Features:
The paddles are made out of quality plastic forming outstanding durability
Lightweight paddles along with the comfortable handling experience
Offers convenient playability for all the kids
You can trust this table tennis training set as it features a very durable construction overall. The set will include two quality paddles along with two table tennis balls.
Therefore, players just need a table so they can start playing this demanding sport. Just club it with some top-rated outdoor table tennis tops to get an unmatched performance.
Specifications:
Dimension: 6.77 x 4.13 x 1.97 inches
Weight: 0.35 oz
Material: Plastic
Paddle Size: 17.2 x 10.2 cm / 6.8 x 4 inches
Paddle Color: blue & black
Ball Color: white
Age Range: kids
Brilliant Performance: Players can now achieve a better playing experience with these paddles. The paddles come in a lightweight design along with a convenient handling grip. Therefore, its grip helps a lot when it comes to effortless swinging functionality.
Top-Quality Experience: Experience supreme quality table tennis with this training set. The set has premium paddles set incorporating durable construction. In addition, this construction is highly resilient against all sorts of impacts, even on uncertain drops.
Suitable For Kids: Your kids will enjoy playing with this set's paddles. The paddles promote easy and convenient operations. Significantly, they are made for the kids so they can enjoy themselves to their fullest. But here one thing, these paddles aren't for the kids under 3 years of age.
Quality Functionality: There's everything right about this table tennis training set. Players can carry this training set with excellent comfort, making it highly portable. Besides, you are getting two table tennis balls to provide you all the value for your money.
Pros
Comfortable handling
Easy playability
Portable design
Lightweight set
Cons
Plastic construction
The package contains only paddles and balls
Our Take: Enjoy table tennis to its fullest with this set offering portable design and flawless playability for kids.
FAQ Regarding Best Table Tennis Training Sets
Q. How to practice table tennis at home?
Purchase some online videos for learning and videotape your game and ask the professionals about the shortcomings of the game. Further, work on different techniques such as footwork, handwork, movement, and accuracy.
Q. Why do you need a table tennis spin trainer?
Using topspin in tennis will increase the player's consistency as the net is in the center of the court. A player can also afford to make more mistakes with topspin. A player can hit a ball higher over the net with topspin since it speeds up the descent of the ball toward the ground. Lastly, the trainer removes the shortcomings and allows the players to have the perfect gaming experience.
Q. What are the benefits of buying a table tennis practice machine?
There are a lot of advantages of having a practice machine few of them are; the machine has many programmable features, it helps you in improving your weakness, it is suitable for all types of players, a table tennis practice machine is less expensive than practicing with coaches, and it allows you to drill the same shots again and again.
Q. What are the perfect table tennis training aids?
On our list, the Table Tennis Trainer, Ping Pong Ball Training set is suitable for all players. Further, if you are looking for kids, then go for the CheeseandU Table Tennis Trainer set.
Q. What are the best table tennis exercises at home?
Fast-track your training. Press-ups, sit-ups, squats, lunges, and other common conditioning exercises are great for table tennis. Additionally, these exercises help you in improving your table tennis game and keep you fit.
Best Table Tennis Training Sets | Quick Comparison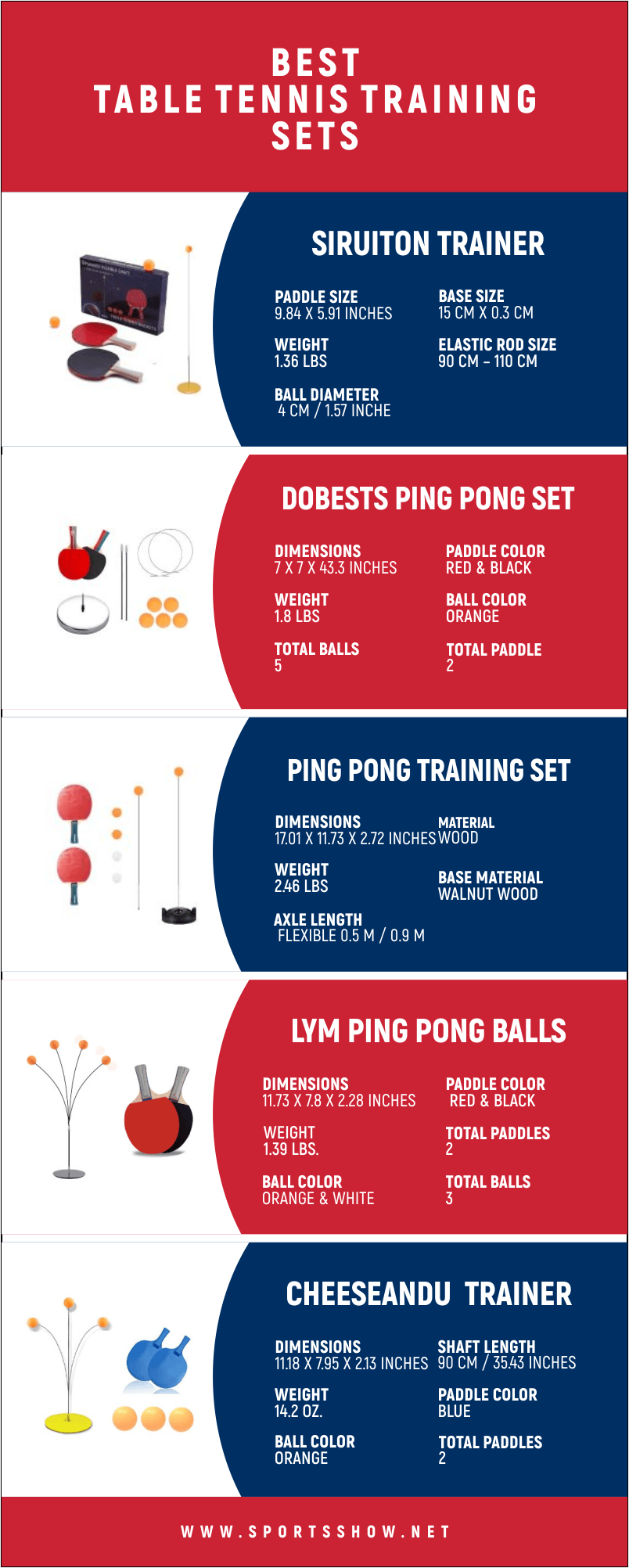 Our Recommendation
Our 1st recommendation is the ping pong ball training set by table tennis trainers with an elastic soft shaft as the most advanced offering. This table tennis training set comes with a promising ABS base offering lightweight and stable standing. Additionally, its flexible shaft improves playability overall.
On the other hand, our 2nd recommendation is DOBESTS ping pong balls paddles set as the most accessible product. It is easy to set up and provides a great playing experience for most beginners. Moreover, the set offers authentic paddles for completing your purchase.
Conclusion
So, these were the best table tennis training sets on our list. These training sets detail your table tennis game experience. Therefore, you are to consider one of these if you are looking to improve on your game. These training sets are perfect for beginners as well.
You will be able to horn your skills so you can try them in important matches. Also, these table tennis training sets are highly portable. So, you can carry these sets with ease. This lets players practice outside when they feel uneasy indoors.