If you're looking to protect your playing darts game, then the best dart mats can fit in that domain. Many dart players look for the protection of their walls while they often overlook the floors. Darts often pop out of the board and can ultimately hit the floor.
This process can result in unwanted floor damage and can also put your darts at stake. These mats can look after these unpleasant scenarios with a touch of elegance. There is always going to be a buying guide and some factors to look up while purchasing the dart mats.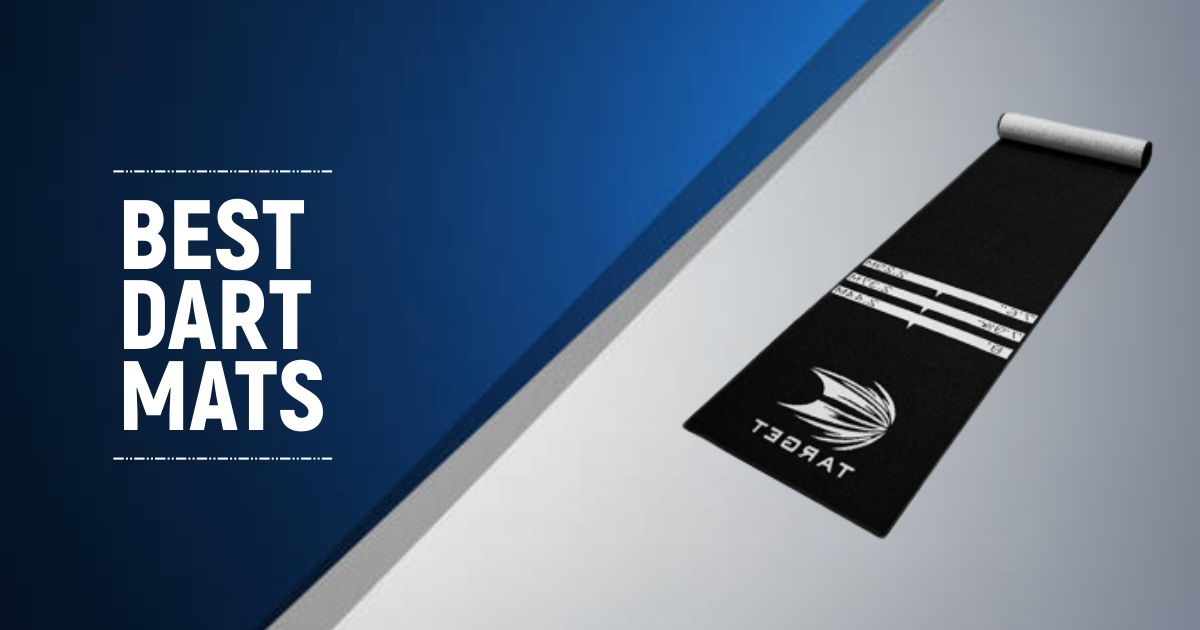 A player must understand the quality and versatility of the mats when they go for purchase. It's always important to consider the materials that are going to protect the floor and darts. Moreover, the mats must be adaptable to the area where the game is being played.
Best Dart Mats | Editorial Pick
EDITOR
CHOICE
★★★★★
Winmau Xtreme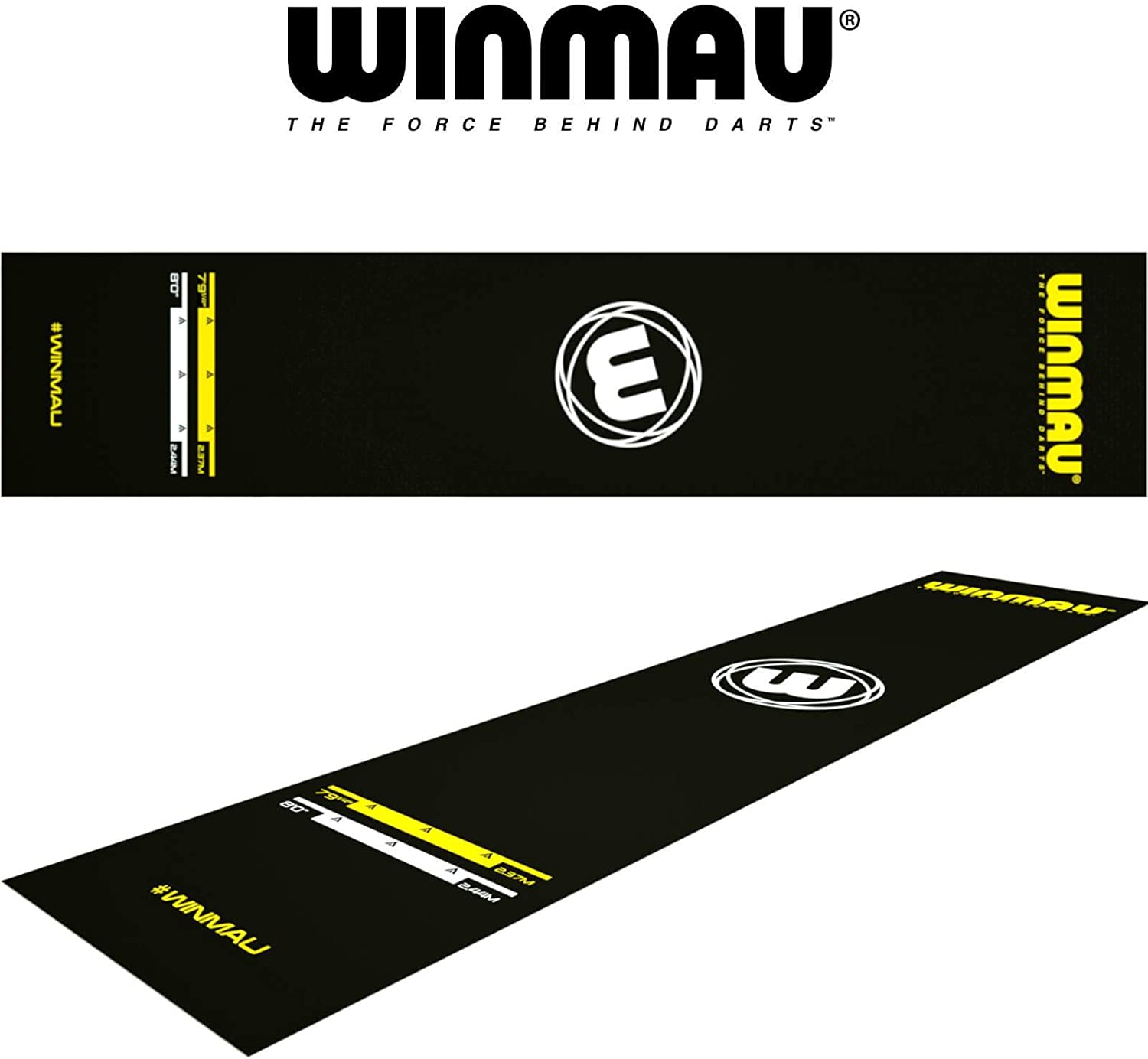 Perfect Sizing
Finest Rubber
Official Dimension
TOP
RATED
★★★★★
Shot Darts Pro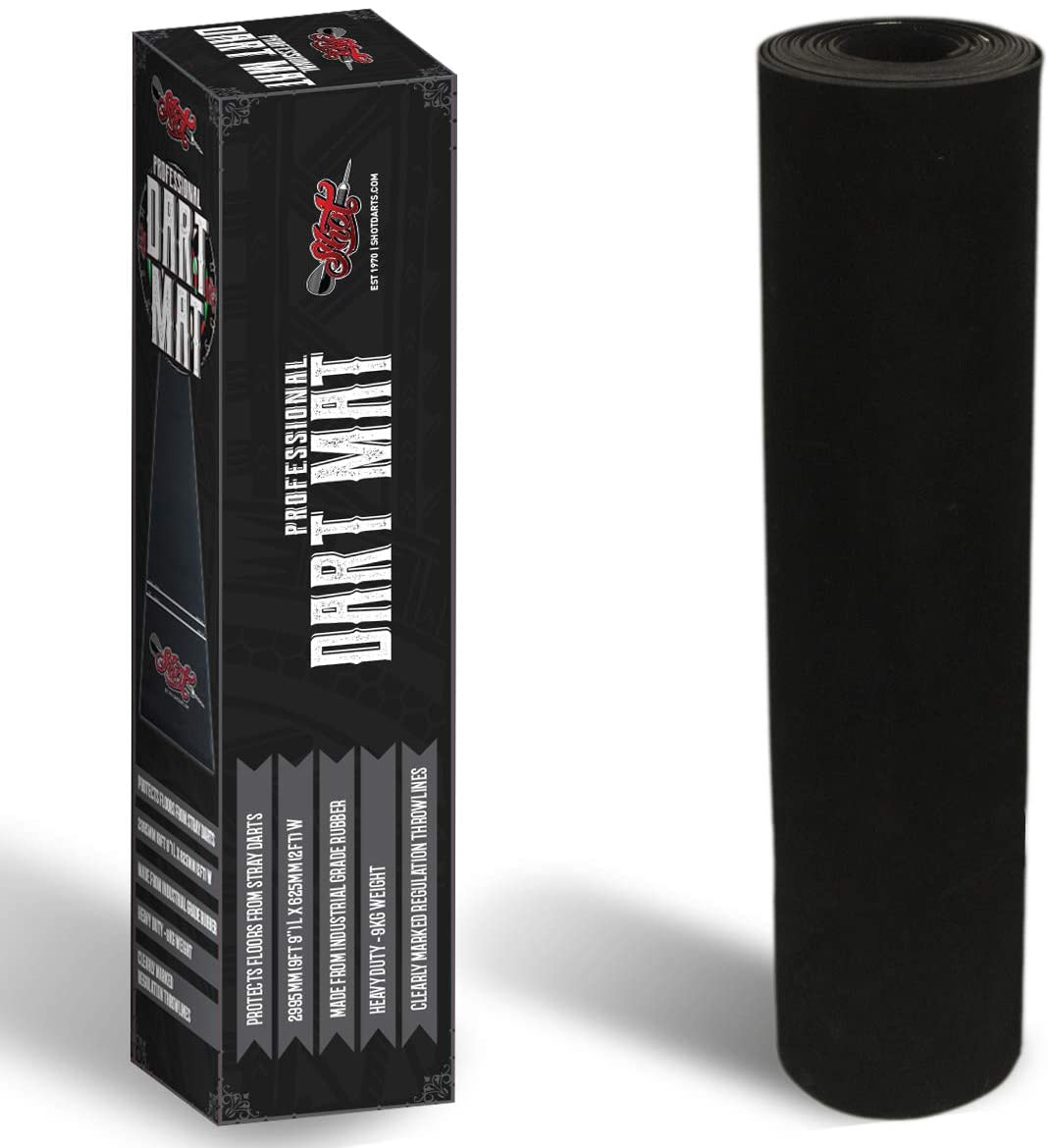 Non Curling Surface
Larger Area
Lay Completely Flat
TOP
SELLING
★★★★★
GLD Padded Mat
Prominent Tip Mark
Convenient Design
Heavy Duty Foam
Best Dart Mats For Enhanced Gameplay
The dart mats become a necessity that all concerned players understand for their game's protection. We have created a list of promising dart mats that will look after your game. So, let's not waste more time and begin with the list below.
BEST OVERALL
Winmau Xtreme Heavy Duty Dart Mat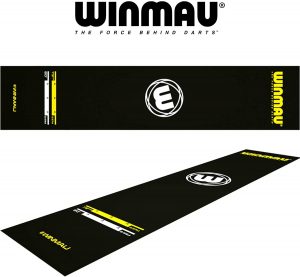 ★★★★★
Fully Protected Surface
Finest Quality Rubber
Features:
All your bounce-outs are now fully protected with this professional mat
The quality and size if fully suitable for either commercial or personal usage
It is made out of fine quality rubber that serves heavy duty
It comes with a catchy color theme that brings your game excitement to the next level
Officially recognized oche measurement that promotes a fair game
Bring your playing darts game to life with this one of the best dart mats by Winmau Store. Players can finally experience the wonders of a fair game with this dart mat. The surface quality is top-notch with extreme stability and a level surface to maintain the real-time gaming experience.
Dimensions: approx. 118.1 x 23.6 inch
Weight: 19.51 pounds
Materials used: Rubber
Colors: Black
Thickness: 0.2 inch
All For A Fair Game: Players will finally understand the great importance of having a mat in their playing darts game. The game that they love is complemented with this professionally made dart mat by Winmau Store. Winmau has been delivering the best products over the years, and this one is no exception.
You get a wonderfully crafted mat that provides extra satisfaction in terms of your floor and darts' safety.
Pros
Delivers a fair game with the certified oche measurement
Elite quality rubber that can take on heavy blows without hassle
The mat is a dual purpose with adaptive nature
Your mat can be placed anywhere with added grip
Cons
Odor of rubber
Thinner size than usual
Our Take: A pro-quality dart mat that can face heavy impacts with a touch of lively colors, making it an impactful purchase. Additionally, it is made of high-quality rubber that is durable and long-lasting.
TOP-RATED
Shot Darts Professional Dart Mat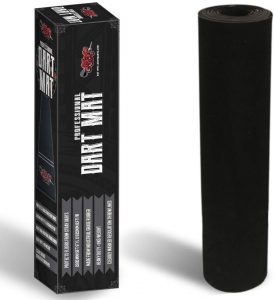 ★★★★★
Non-Curling Surface
Lay Completely Flat
Features:
The mat is made to adapt over any surface with the non-curling surface
Players can easily figure out the steel and soft tip throw area so they can throw with confidence
It is made to lay flat on game rooms and even in the workplace
The shot has been delivering excellence to your games for years of expertise
If you need extra protection for your shot darts game, then this mat is the one for you. Feel the quality and the vast functionalities of this dart mat that many professionals endorse. Alongside, the protective flooring aspect will cover the area of the ground to prevent any damages.
Dimensions: 117.91 ×61 × 0.12 inches
Weight: 10.51 pounds
Colors: Black
Materials used: Heavy-duty rubber
Length: 9 ft 8 inches
Width: 2 ft
Upgraded Design: This mat from the shot is now available in an upgraded design that takes your game safety to another level. You'll be impressed to find the premium quality rubber with a grip finish. Plus, the dart mats are indeed heavy, but it is easily movable with the best rolled up feature that comes along.
Moreover, the high-quality rubber is perfectly made to take on all the bounced-out shots. The mat can easily deal with both steal and soft tip stray darts. Thus, it results in the most resourceful experience that is hard to ignore.
Pros
Works perfectly on all surface types
It is made to welcome both steel and soft tip stray shot
Heavy-duty rubber promises lasting performance
Cons
Dart stick on the mat surface
The customer reported the material smell
Our Take: Gifted protection to your stray shots with the most durable materials, making it an excellent purchase. This mat is flat that delivers wonderful traction on the ground. Just club it with some amazing dartboards to get the best gameplay experience.
PRO-RATED
Padded Dart Mat By GLD Products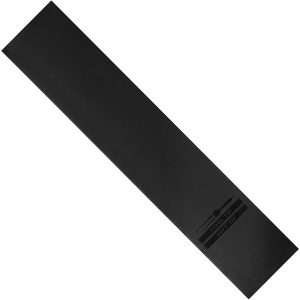 ★★★★★
Written Tip Marks
Convenient Design
Features:
Abolish confusions with the prominently written tip marks
A mat that is simple to store as it folds up with the convenient design
The mat is made out of heavy-duty foam that provides extra resistance for the bounce-outs
Your phenomenal dart mat by Viper by GLD Products store provides a fancy chart to your lost dart shots. The artwork comes into play with all the tips reading made convenient on this posh design. Well, the top-quality microfoam has been featured on the surface to maintain balance.
Dimensions: 24 × 6 × 6 inches
Weight: 7.6 pounds
Materials used: Polyshield microfoam
Colors: Black
Length: 117 inches
Width: 24 inches
Thickness: 125 mil
Ultra-Strong Protection: This dart mat is the ultimate definition of strength. Your mat will leave an everlasting impression of durability and resistivity to all those stray shots. There's nothing weak about this mat, and that's for sure.
Players can stand on this mat without the fear of getting it pressed. The strong poly shield micro-foam provides lasting durability no matter how long players stay on the mat.
Defense Against Unpredictable: You don't know when your perfect flight will bounce out on the floor. This unpredictability often results in damaging the dart while impacting the floor with scratches.
Now, this imperishable foam will take on this important responsibility with the lasting materials. So, this mat is a perfect defense against all your miss shots.
Pros
Lasting durability with poly shields, microfoam
Easy to fold and store
Soft and non-slippery surface for prolonged stands
Provides a decent value for your bucks
Cons
Mat has a thin surface
It can make dart holes
Our Take: Win the race of protection with this mat that has an affordable price tag making it all value for the money. Further, for bouncing, this mat provides you extra resistance.
BEST SELLING
Let's Play Darts By Dart World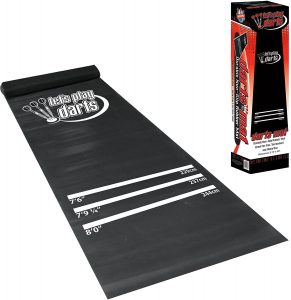 ★★★★★
Ultra-Safe Sheet
Fully-Guided Design
Features:
Acts as an ultra-safe sheet that can observe all sorts of uncertainties
A guided design that lets players understand where to throw
Players can stand tall on this mat with extra tough nature
You don't have to worry about the slipping surface as this mat has extra grip
Dart world remains one of the consumer's favorites in terms of quality and performance. Dart shots players can now rely on the protection they deserve with the ultimate safety. The design is styling with basic black and white prints on the measuring lines and fine finishing on the edges.
Dimensions: 32 × 6 × 6 inches
Weight: 19.4 pounds
Colors: Black and white for detailing
Materials used: High-end rubber
Play Without Limits: The mat is made out of the most durable quality rubber that can stand toughness. Many consumers have always been suffering from the mat molding issue by prolonged standing but no more. This mat from Dart World is the most resilient with no impacts from prolonged standing.
Moreover, the ease of configuring the throwing area with the clever reading. Players can fully rely on this mat from the floor protection that comes as a crucial point. Moreover, it can be laid at any place without hesitation of compatibility with the surface.
Pros
Convenient design for easy storage
Protect all surfaces from spots
Doesn't bend from prolonged standing
The price tag is moderate
Wide and thick
Cons
Rubber smell even after washing
Our Take: It is a promising mat that locks your surfaces and darts from impacts in a sleek presence, making it a top pick. It is considered an ultra-safe mat that prevents uncertainties.
NEW DESIGN
Target Darts World Champion Darts Mat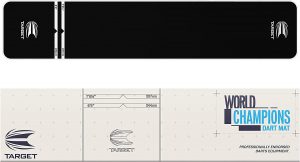 ★★★★
Toughest Fabric
Endorsed By Pro Players
Features:
A dart mat made to cover many dart-throwing formats around the world
Carved out of in odorous fabric with manageable weight to it
Target darts mat offers the best resistance against toughness
A mat that is endorsed by the professionals adding to its versatility
Expand your shot darts range with this all-new dart mat by Target Darts. Players will enjoy a super luxurious feel that comes with an ultra-durable character that enhances your overall experience. High-quality fabric will tolerate the weight shocks along with dart tips protection as well.
Dimensions: 24.53 × 6.06 × 6.02 inches
Weight: 4.63 pounds
Colors: Black
Materials used: High-quality Fabric
Expand Your Game: The dart mat offers a unique quality that others lack. You can now try out different darts throwing distance formats that vary with the world trends. It has a couple of throw lines with neat distancing covering all dart formats.
Therefore, this magical mat lets you experience the vastness of playing darts trends with a sense of uniqueness.
A Perfect Gift: You can proudly gift this mat to the shot darts fan. The mat itself is super lightweight, considering the safety it provides. It can easily protect the darts falling out of the board while locking the floor's health at the same time. You can also use this with magnetic dartboards.
Pros
The lightweight form factor helps with the carrying
It covers all the major dart formats
Tested by the professionals who ensure its worth
Our Take: The best lightweight dart mat that is made with high-quality fabric to provide durability. Experience more dart formats than ever with a lightweight and durable built makes it an impressive pick.
PROFESSIONAL
Lehom Heavy Duty Darts Mat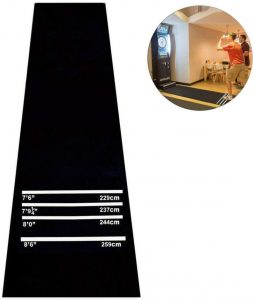 ★★★★
Soft & Non-Slippery Rubber
Durable Surface
Features:
Materialized with soft and non-slippery rubber that will maintain the balancing
Get 1/5-inch thickness and durable surface on the ground
It will reduce the maximum damage possibility of the dart after falling on the mat
Comes with dart-throwing lines in 4 feet, 7 ft 6 inches (229 cm), 7 ft ′9-1/4 inches (237 cm), 8 ft (244 cm), and 8 ft 6 inches (259 cm)
Lehom has introduced a heavy-duty dart mat surface design with multiple options to avail. This soft mat surface will be going to be your permanent selection for playing dart with easy-to-clean compatibility. And the weight absorbing aspect is a plus point together with flexibility in design as well.
Dimensions: 118 x 24 inch
Weight: 7.32 kg
Colors: Black with white prints
Materials: Rubber
Thickness: 4 mm (1/5 inch)
Four Measuring Standards: This professional dart mat has been featured with 4 measuring lines with standard distance as well. There will be 229 cm, 237 cm, 244 cm, and 259 cm as well.
Furthermore, the player can stand at the required position and throw the dart with the mentioned measuring distance. Plus, the rubber-quality mat will cover the dart shape and tips without any damages.
Pros
Will protect steel & soft tip darts on the durable surface
Soundproof material and ready to go mat
Portable and rollable design
Simply wipe the mat for cleaning
Cons
Line prints are not uniformed
Our Take: A ready-to-go mat design with an easy portability structure to protect the darts and tips without any damage. It is enough wide and thick to serve you.
MOST ADVANCED
Bull's Rubber Dart Mat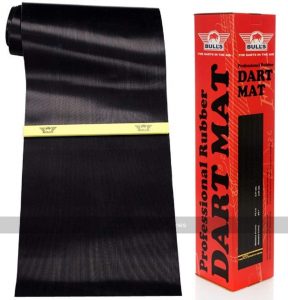 ★★★★
Premium-Quality Design
Cleaner Surface
Features:
Premium-quality design with required thickness
It can be used at your home and parties with ground supportability
Under mat protection for ground with a clean surface
Portable structure with the quick-rolling aspect
A durably constructed thick and best dart mat perfectly supportive for all types of surface. The thickness is precisely managed to support the variant of weights along with dart damage protection. The length is accurate with precise measurements of the standard line for the player.
Dimensions: approx. 118.1 x 23.6 inch
Weight: 13.12 pounds
Colors: Black with golden print
Materials used: non-slippery rubber
Thickness: 3 mm
Thick Rubber: A 3 mm thickness with a balanced surface will promise dart protection with extra covering characteristics. The upper surface is particularly structured with non-slippery material to prevent any incident.
Furthermore, the standard length with the lightweight body will make it easy to carry anywhere you want with quick assembling. Due to its compact design, you can also keep it safe inside the dartboard cabinets.
Pros
Easy to clean and protective surface
Stylish design mat with standard measuring
Raized wooden oche with non-slippery rubber material
It protects your floor
Cons
Customers reported rubber odor
Our Take: A stylish look dart mat with non-slippery rubber material and protective surface as well. It is safe to use as it provides protection to the floor along with the throw line.
AFFORDABLE
Pachi Paradice Harrows Professional Dart Mat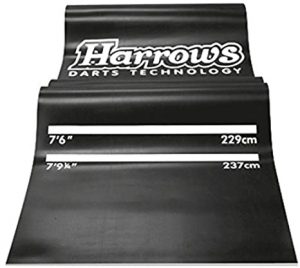 ★★★★
Professional Setup
Special Rubberized Surface
Features:
A mat that is built for the heat of competitions
It provides an extremely professional feel and configuration
The mat is a competition level dartboard meeting international match play specifications
A firm grip that is achieved with the special surface for moving purposes
It comes with a high amount of sisal and a low amount of staples
Take your dart throws to another level of perfection with this most professional dart mat. The mate has an excellent distance configuration with the most professional built that is made to last, which makes it one of the best dart mats.
Dimensions: 25.59 ×22 × 6.06 inches
Weight: 19.84 pounds
Materials used: High-quality rubber, sisal, and staples
Colors: Black
Meeting International Standards: Harrows have always shown a keen interest in attaining perfection for its players. That toil reflects in this dart mat that meets the international match-play specifications. This acknowledgment has been certified on all sorts of levels.
As a result, players get a perfect experience of throwing steel-tip darts with overall protection. The professional players demand accuracy, and that's what this mat is going to provide.
Perfection Is A New Normal: Relentless efforts in developing this mat reflect in its standards. The mat is perfected to meet the needs of higher-end matches. Thus, with the most impressive design, there aren't any compromises made to the functionality.
Pros
International standard dart mat with accurate throwing distances
It comes with an easy to manage design
Supreme quality rubber supports everlasting rigidity
You're not going to see design compromises as the design language is classy
Our Take: An accurate playing darts companion with elite construction, making it a perfect purchase. It gives you the firm grip that makes it the best mat for a dart.
FAQ Regarding Best Dart Mats
Q. Is it protective to use these dart mats at home?
Yes, the ground surface of these mats is preferably designed with cooperative material that will cover the surface as well. And it will also cover the floor area where you'll place the mat from the dart tips and any damages.
Q. What are the measuring lines placed on these dart mats?
Standard measuring lines are featured on the surface of the mates with mentioned aspects. The players will also get a few additional measuring lines on some of the enlisted dart marts on our list. In the meantime, the standard size will let you have an exact distanced dart-throwing experience.
Q. Which are the best dart mats?
Our top 3 choices are Winmau Xtreme Heavy Duty Dart Mat, Shot Darts Professional Dart Mat, and Padded Throw/Toe Line Dart Mat Viper by GLD Products.
Q. How to clean these dart mats, and are these portable?
You can simply wipe up the mats to clean any dust from the feet on the mat surface. The ground surface will also protect the under the surface beneath the mat, which can be the house floor and any pub. And of course, these are particularly materialized with high-quality and lightweight components to make them portable.
Best Dart Mats | Quick Comparison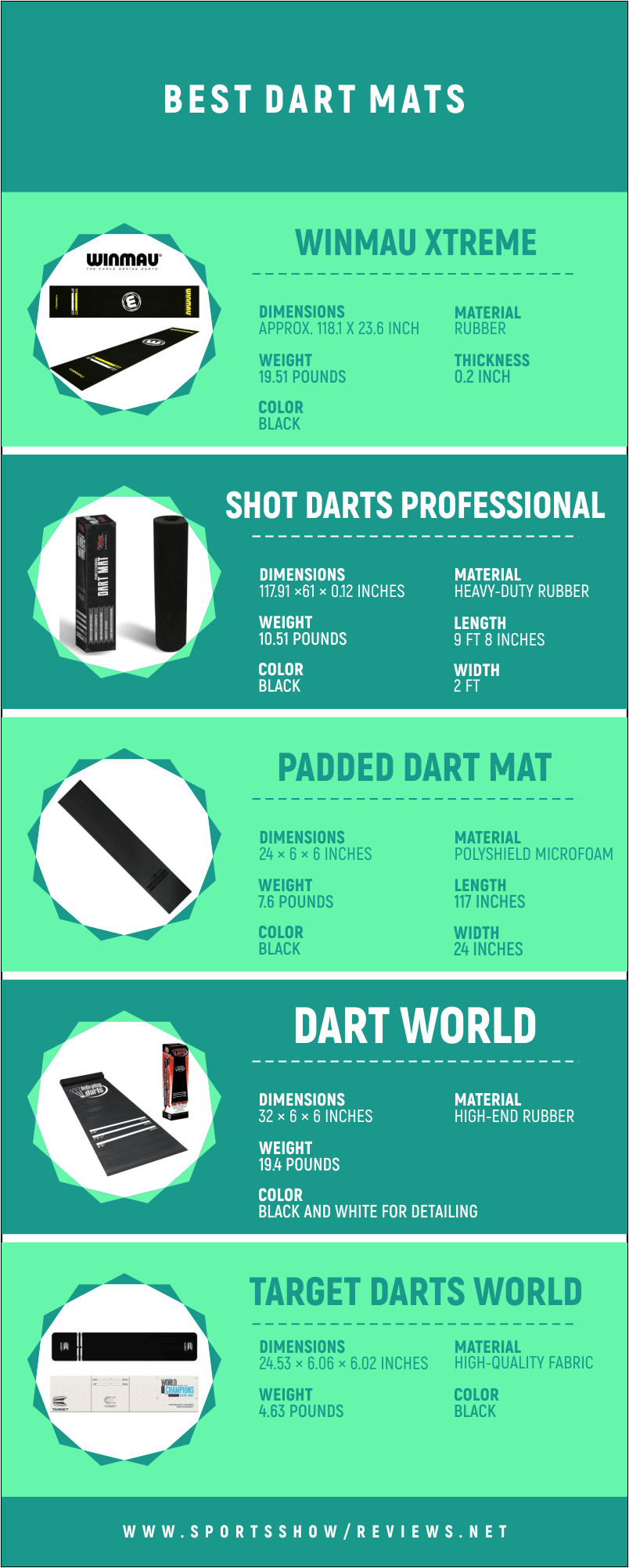 Our Recommendation:
Our 1st recommendation is Winmau Xtreme Heavy Duty Dart Mat as the best dart mat. The official measurements are placed on the mat line with standard measuring along with high-quality rubber manufacturing.
Furthermore, our 2nd recommendation is the Lehom Heavy Duty Darts Mat Professional Rubber Dart with Throw Lines as the professional rubber dart mat. The non-slippery material of the mat comes in stylish black color and standard measurements.
Conclusion
These best dart mats are top-quality manufactured with lightweight body structures. And the portability factor of these mats will let you carry them anywhere at parties and home to enjoy dart gaming. The soft and protective covering surface will also protect the dart tips from getting damaged after falling on the mats.
Furthermore, the ground surface will also stay clean and protected under the mats with a durable covering. The material is high quality comprising the rubber components with a non-slippery aspect as well.