What's the kids' compatibility with playing foosball? No biggies, we offer you a wide range of the best foosball tables for kids having a multifunctional gaming structure.
The design of tables is professionally made for all ages, preferably for beginners. Alongside, the body construction is smooth throughout the body as well.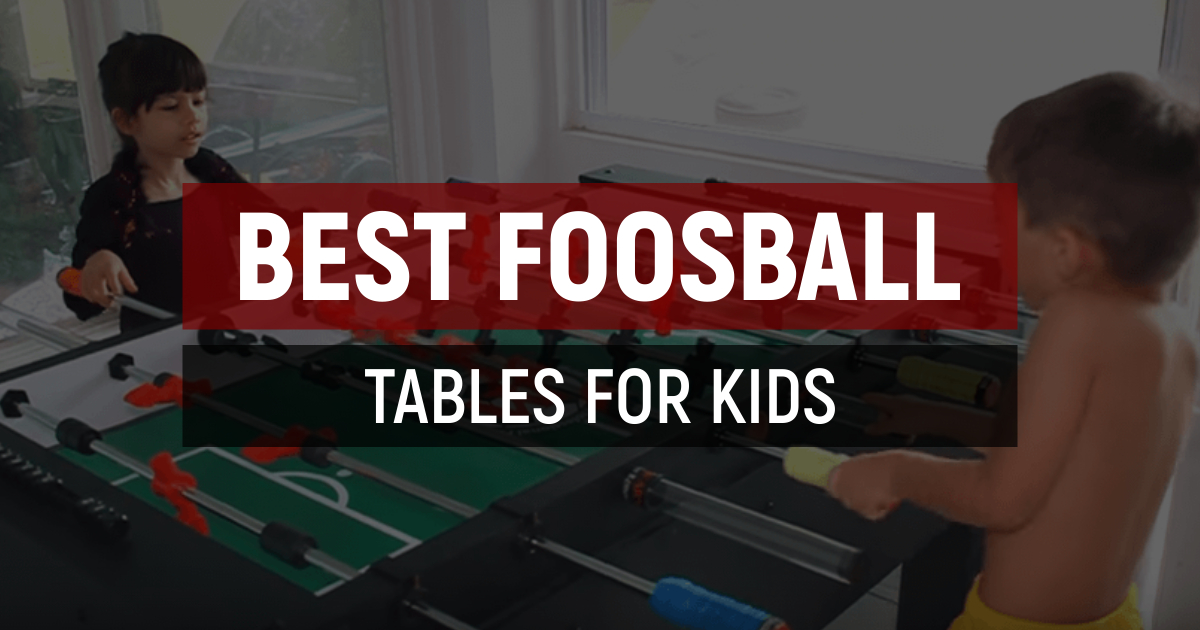 The players will also get smooth-handling grip rods on each side to experience a fun and fair gameplay scenario at best. The legs are featured as scratch protective design, and the boundaries are covering with proper grip.
Plus, scoring systems are also added to the tables with ball returning flexibilities. So, without waiting any further, let's uncover the best foosball boards for kids and toddlers.
Best Foosball Tables For Kids | Editorial Pick
EDITOR
CHOICE
★★★★★
Sport Squad FX40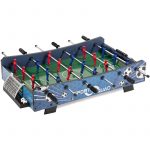 Foaming Cushion
Manual Scoring
Full Accessory
TOP
RATED
★★★★★
Hathaway Playoff 4Ft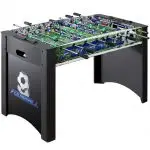 Full Size Table
Arcade Styling
Sturdy Design
BEST
SELLING
★★★★★
T&R Sports 55 Inches
Heavy-Duty Design
Inbuilt Cup Holders
Rigid Legs
Best Foosball Tables For Kids | Detailed Reviews
We have already published the best foosball sets from Rene Pierre for adults. But if you have toddlers or teens in your house, you surely need to have some best foosball tables for kids to complement their gameplay. And here they are!
BEST OVERALL
Sport Squad FX40 Foosball Table
★★★★★
Foaming Cushion
Manual Scoring
Features:
The legs of this gaming table are structured with special design foaming cushions
You'll get a manual scoring system constructed on each players side to update scoring
2 plastic foosball balls are also included on the table package having a 1.5 inches diameter
A portable gaming design along with professional construction made of high-quality equipment. The design is premium alongside the playing field, and of course, the rods make a smooth impact.
You'll also experience a commercial gaming scenario at this handy design foosball table. But yes, you do need to have some high-quality foosball balls on your side to get the real thrill.
Specification:
Dimensions: 23.2 x 35 x 3.8 inches
Weight: 15.4 lbs.
Available Colors: blue & dark blue
Materials: Wood, Plastic, Engineered Wood
Total Rows: 6
Assembly Required: yes
Steel Rods: The rods are materialized with steel construction along with chrome-plated substances on the exterior side. And the rubber grooved handles of ergonomic style are compatible with different handlings. The movement is comparatively very smooth here as well.
Fun Time Gameplay: 40 inches of gaming surface has been measured here with MDF construction and already assembled players on the field. The 3-men goalie design for both sides having red and blue players is made of sturdy plastic material.
Scoring System: Goal nets are featured on both sides of the foosball table, along with the ball returner's flexibility.  Plus, the boundaries are covering even the legs are cushioned from the ground to prevent scratches. The scoring system is manual, having sliders on both player's sides.
Pros
Compatible for 2 to 4 players gaming scenario
Ready-to-go gaming structure with smooth gameplay
Ergonomic style gripped handles with smooth interaction
Lightweight and budget-friendly
It offers an easy and simple assembling
Cons
Some screws don't match in the assembling
A customer reported handle splitting
Our Take: A collaboration of MDF constructed design having a 40 inches gaming surface and smooth rubber gripped handles is one of the best foosball tables for kids.
BEST-RATED
Hathaway Playoff 4' Foosball Table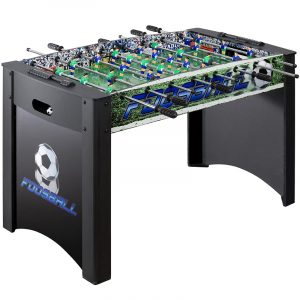 ★★★★★
Smooth Steel Rods
Wooden Playfield
Features:
The rods are made with steel providing a smooth and stable game
Now get the feel of a soccer stadium on this screen-printed wooden playfield
The handles of the rods have chrome finished corners for extra firm grip
Count your scores with more simplicity with the abacus scoring analog
A premium quality foosball table manufactured with the sturdiest engineered wood for kids. The assembly method is effortless to do in just fifteen minutes, where you just need a screw tightener to tighten the screws for setup.
Now our traveling becomes easier with this unbreakable lightweight table. Needless to say, it is one of the best foosball tables to try this year.
Specifications:
Dimensions: 49 x 28 x 11 inches
Weight: 51 lbs.
Color: black & green
Material: Wood, Alloy steel, Engineered Wood
Total Rows: 8
Assembly required: yes
Easy Separation: For relaxed and cozy outdoor traveling, the company has manufactured the frame of this table separable. If you are getting some problem with taking a full-size table, simply unscrew to take it along easily.
MDF Board: A sturdy, strong wooden layer on this table called MDF endures hard hits without cracking. These sheets are finished with smooth-rolling making it a flat and level playing surface, providing us with an international foosball table feel.
Sticky Legs: This one of the best foosball tables for kids has adherent legs that are providing a stable and tension-free game. These legs have an adhesive nature that works to stick at every type of surface to ensure you are an immovable match.
Easy Scoring System: This table comes with a very interesting abacus score counting system. A player just has to move the point upward or downward to note the changes in scores and add more visuality to the game.
Pros
All top-notch and durable playing equipment is provided with this everlasting table
The balls are made with smooth plastic, adding more speed to the shot
A three-month manufacturing guarantee, you can exchange it if it gets damaged within three months
It comes at a reasonable price
Cons
Handles are small in griping
Few damages on the surface reported by the customers
Our Take: This easy assembling foosball table is used in national kids events and tournaments for its versatility and pace creating feature. Further, it is made with sturdy material to make it long-lasting.
POPULAR CHOICE
T&R Sports 55″ Foosball Table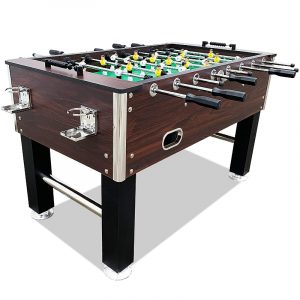 ★★★★★
Soft Plastic Material
Cup Holders
Features:
A 60 inches small-sized table compatible with all height players and best for kids
The handles of rods are made of soft plastic for easy turning and blocking of the ball
Cup holders are attached on both sides of the table so you can drink whatever you want while playing
4 players at a time can enjoy this thrilling game
This table is an outstanding combination of high-quality wood and steel, making it a long-lasting and durable table. It comes with a very simple setup and breaking methods.
The playfield of the table is made smooth, which helps to increase the pace in shots for endless crazy fun.
Specifications:
Dimensions: 55 x 30.7 x 34.6 inches
Play Area: 46 x 26.7 inches
Weight: 120 lbs.
Color: Espresso
Material: Wood, Metal, Engineered Wood
Total Rows: 8
Steel Rods: 15 mm
Stable Legs: The legs of the table have a heavyweight that made it stuck with the floor strongly. Playing hard shots doesn't affect the stability of the table. So you can play tensionless moving free gameplay and excite your thrill.
Level Surface: This foosball table has been providing extra smoothness and sliding flow to the ball. This is because of an MDF wooden sheet layered on the structure of the table. This wooden sheet has sharp finishing that makes it the smoothest of all time.
Easy Scoring: You don't need to remember your game numbers because this table offers an abacus scoring system on both rails. The working of this scoring system is very simple; you just have to slide the beads right and left to note up and down in your scores.
Guarding Rods: Handles are fitted on the steel rods that are made with soft plastic providing extra security to the players. If a player accidentally hits the viewer or the other players, this soft plastic rod won't harm.
Pros
Assemble the foosball players on the rod with a counterbalance for quick setup
The smooth woody playfield adds extra pace to the balls
It is compatible for all ages players, even for kids for its small height
Cons
Tough assembling for the beginners
The price tag is steep
Our Take: It helps accelerate your foosball gaming skills at this smooth, sturdy table, providing you with an easy and simple setup.
TRADITIONAL
GOPLUS 54″ Foosball Table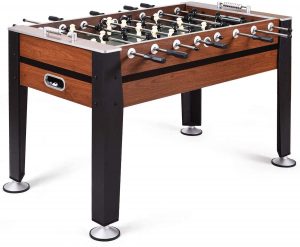 ★★★★★
Ergonomic Shape
Bead Scoring System
Features:
The grips of the rods have an ergonomic shape that helps to control the ball better
Bead style scoring system provides easy counting of the score, keeping your game on track
The legs have oversized levelers increasing the stability of the game on all surfaces
A ball returning section is created in the table, making your game faster
An ultimate combination of high-quality wood and plastic makes it a resilient foosball table for kids. A waterproof wood sheet is layered on the structure of the table to get a long-lasting duty from it.
A 44 inches long table ensures you a wide and easy play with a firm legs panel to accelerate the stability for a tension-free game.
Specifications:
Dimensions: 53.5 X 30.5 X 35 inches
Weight: 72 lbs.
Color: brown
Material: Steel, Engineered Wood
Total Rows: 8
Assembly Required: yes
Quick Assembling: This breakable and free assembling table provides you with an easy and simple setup. Just take this table out from the pack and tighten the screws to play everywhere. This piling up just takes five to ten minutes that becomes easier with a given guidebook.
Long-Lasting Structure: Enjoy the foosball for a lifetime with this most sturdy and firmly designed wooden table. You can play freehand shots and create pacy strikes, but the table's quality remains the same for years.
Ball Returner: When you hit a score, the ball comes to this area; this cabinet automatically returns the balls to the table without getting stuck and makes your game fast.
A Standard Size Table: All the requirements of a standard size international table are fulfilled in this top-notch foosball table. This table has a length of 54 inches and a height of 34 inches, making it a versatile foosball table.
Pros
Standard size table with perfect height and length
Abacus style scoring system makes your score counting straightforward
The wooden handles of the rods have an ergonomic shape for comfortable carrying
Reasonable price table
Durable construction
Cons
Screw fittings are not accurate
The ball can also get stuck in the corners
Our Take: A fully featured easy setup foosball table with an abacus rail score counting system comes at an affordable price tag.
HEAVY-DUTY
Foosball Table and Balls Set For Kids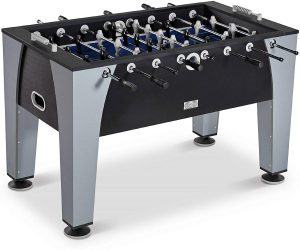 ★★★★
Reinforced Legs
Smoothest Fiberboard
Features:
The square reinforced legs design provides you with an immovable game
Made with the smoothest fibreboard surface offering a most speedy platform for the ball
The playfield ramp prevents the dead spots while playing
Legs panel is widely constructed to keep your game moving free
Enjoy all night with the foosball table that ensures quality entertainment with a touch of elegance. Smooth surface leveled from all corners depicting on the seamless playfield is holding crazy fun.
The Soccer foosball tables have built this table to an extreme level. The standard size, weight, and length make it more appealing than ordinary tables.
Specifications:
Dimensions: 54 x 30 x 34 inches
Weight: 117 lbs.
Color: grey & black
Material: Alloy Steel
Total Rows: 8
Leg Levelers: 5 inches
Assembly Required: yes
Comfortable Rod Grip: The grips of the rod are made very soft and have an ergonomic molded shape that makes you feel relaxed while handling it. Also, these grips are wet resistant that helps the player extra sturdy carrying.
Ground Friendly Legs: The manufacturers have brought to you the all-time renowned foosball table that provides you security on every step. The legs from the bottom are coated with a protective layer that keeps your floor away from scratches. Moreover, you can set this table on every type of ground, but the stability remains hundred percent.
Legs Levelers: If you feel the table is moving and your game is not going well, just tighten the legs leveler to get an extra attachment with the floor.
Abacus Scoring System: Now note down your numbers on an abacus scoring system. It is a sliding rail in which some beads are fitted, and these rails are attached on both boundaries of the table for noting every player's score. You just have to slide the bead right and left to note the increase in your score.
Pros
A PVC protective layer is coated on the surface of the table to protect it from marks and scratches
It comes with the strongest legs panel to maintain the stability
Great value for the price
Players of small height can comfortably enjoy foosball
Cons
A customer reported an assembling issue
Our Take: Buy the securest table that provides your bead with an air-resistant surface which comes with a scoring system making it more appealing. Further, it is best for kids and adults as well.
PROFESSIONAL
Full-Size Arcade Foosball Table For Children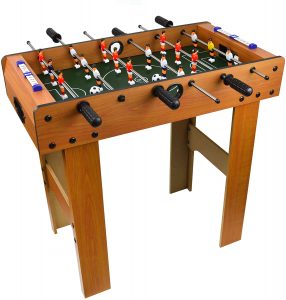 ★★★★
Toddler-Friendly
Sturdy Legs
Features:
This table 28 inches in width that is specially designed for small kids
Ground friendly legs keep your floor away from scratches and marks
It comes with a ten-minute easy assembly method where you just have to screw the nuts for a quick match
Goal boxes are sectioned on both sides of the table
Now feel the class and elegance of the foosball table with this masterpiece made by the Jimmy toy store. They are providing you with the best breakable portable set that will take your excitement and thrill to the next level.
All the rods are fitted inch-perfect with a soft handle for the comfort of the player.
Specifications:
Dimensions: 27.5 x 26 x 26 inches
Color: brown
Frame Material: wood
Total Rows: 6
Assembly Required: yes
See The Score On Both Rails: Small-sized scoring systems are attached on both sides of the table. These are bead sliding systems, also known as abacus score counting system that helps you trouble-free numbers noting.
Best For Kids: This small size table is a perfect choice for small-height players or kids. The length is 27.5 inches, the height is 26 inches, and the width is also 26 inches. It is easily approachable for small ages kids so that they can have a fun time.
Balanced Surface: This foosball table has been known for providing double smoothness and flows to the balls. This is because of the smooth wood surface that is layered on the table. When you strike the bead by the rod, it gets extra speed only because of the smooth and resilient playing surface.
Pros
The weight of the table is perfect that can carry easily
Get the complete range of playing accessories with the table for quick gameplay
This table supports up to two players at a single time
Very low price
Kids can assemble it easily
Cons
Handles are a bit slippery
Our Take: A table with wide legs panel increasing the accuracy and stability of your gameplay made with a smooth MDF wooden sheet.
COMPACT
20″ Mini Foosball Table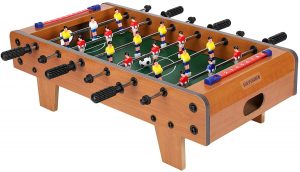 ★★★★
Waterproof Surface
Fully Portable
Features:
The legs are made with the sturdiest wood sheet and have an exceptional weight for double stability
Number scoring system helps your small kid's early math learning
The playing surface of the table is water-resistant
A very small sized table that can be placed anywhere and makes your traveling easy
A competition foosball table for indoor and outdoor gaming structured with smooth and sturdy MDF wood. It comes with a five minutes assembling method that becomes easier with the given instruction book.
The size of the table is very small, and it is made especially for kids of young ages.
Specifications:
Dimensions: 27.5 x 26 x 26
Color: brown
Frame Material: wood
Total Rows: 6
Assembly Required: yes
Leveled Surface: These best foosball tables for kids have been providing an extra smooth flowing slide to the balls because an MDF wood sheet is layered on the table's structure that is done with roller finishing.
Strong Legs Panel: The legs of the table are very adherent to the ground helps to keep your table in place. Because of their exceptional weight, they are impossible to be pulled or moved by hard hits or winds. So you can play an immovable game, adding up more accuracy to your shots.
Simple Scoring: Put an end to noting your numbers because the abacus scoring systems are fixed on both sides of the table to ease your counting problem.
Waterproof Surface: A protected PVC layer is coated on the playfield of the table, providing extra beneficial features to the buyer. If accidentally any liquid is dropped on the table, it is not a problem; just sweep it and start your paused entertainment.
Pros
Materialized with the sturdiest wood, giving heavy-duty for a lifetime
The abacus score counting systems are fixed on both rails
All gaming necessaries are with the package making it a versatile table
The price is friendly
Cons
Extremely lightweight
It takes little extra time for assembling
Our Take: Get this table that has a waterproof playing surface providing duty for years and helps to accelerate the speed in the ball.
FAQ Regarding Best Air Hockey Pucks
Q. Is foosball good for kids?
Foosball is a durable, sturdy, and functional game for kids that makes them the perfect choice for the kids to play. For kids, the perfect solution for foosball tables is the tabletop models that are convenient during the gameplay.
Q. What is the best foosball table to buy?
The best foosball tables for kids to buy for them are the T&R sports 55″ Soccer Foosball Table and the 20″ Mini Foosball Table for Kids Table that allows the kids to have seamless gameplay.
Q. Is a goalie shot in foosball 2 points?
No, a shot by the goalie is equal to a single point. During the gameplay, any player scores a goal it is equal to a single point. Furthermore, this is known to have a misconception that every goalie shot is worth two points.
Q. Can you score on yourself in foosball?
Yes, you can score on yourself during the foosball gameplay. In addition, this is the same thing as you play other sports.
Best Foosball Tables For Kids | Quick Comparison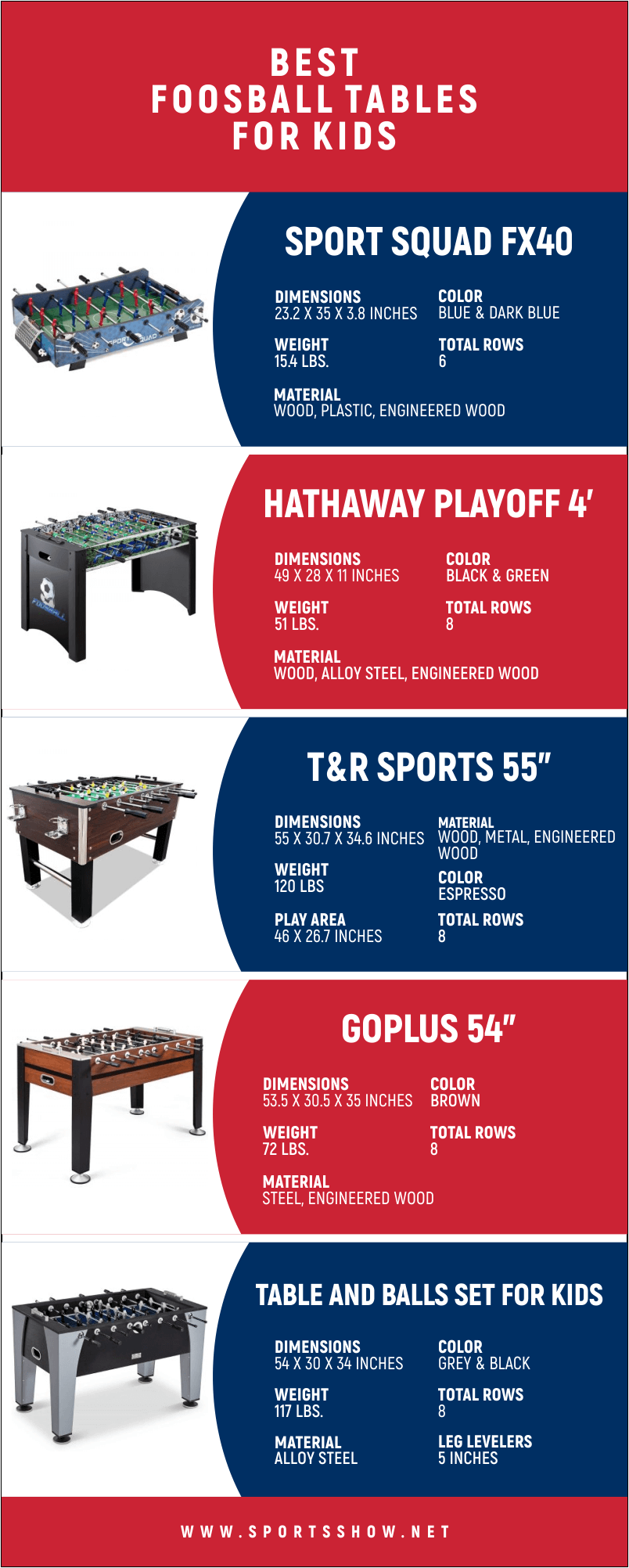 Our Recommendation:
Our 1st recommendation is the T&R sports 55″ Soccer Foosball Table as one of the best premium design gaming tables. The 55 inches gaming surface, along with engineered wood frame structure and metal construction, make it a must choice. Surely it is one of the best foosball tables for kids.
Additionally, our 2nd recommendation is the 20″ Mini Foosball Table for Kids as the best budget-friendly foosball table. A mini design structure is having stainless steel rods and smooth playing fields for players.
Conclusion
Here are the best foosball tables for kids with a versatile playing factor for all ages as well. The body construction of these tables is made of handy materialization that will minimize the scratches and damages possibility. Alongside, the rods are also professionally designed with a smooth movement factor.
The players on the gaming surface are featured with the standard placements and offer a secure moving platform.