If you're looking to enhance your ping pong game, then you've come to the right spot as we got the best ping pong paddles to level up your experience.
Striking remains the most important part of this game, and that's where these paddles come into play. If your balls don't gain the right strength needed to boost your game points.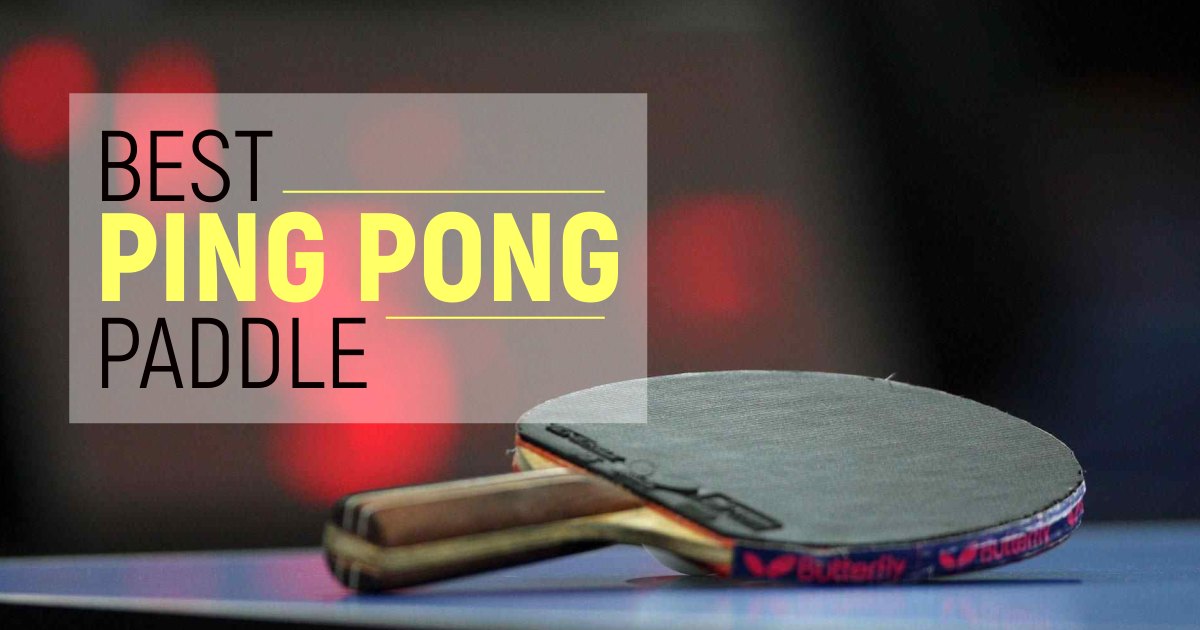 Then you need to look into the better options as they'll improve your chances of becoming a better ping pong player overall. Therefore, the grip and materials of these paddles must be considered before buying.
Best Ping Pong Paddles | Editorial Pick
EDITOR
CHOICE
★★★★★
Nibiru Sport Paddle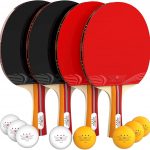 Highest Quality
Spongy Layer
Fully Sweatproof
TOP
RATED
★★★★★
Joola All-in-One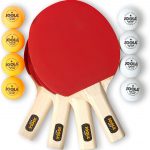 Rubber Surface
Complete Set
Better Spin
BEST
SELLING
★★★★★
Idoraz Ping Pong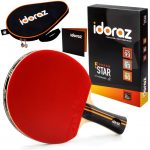 Zipper Bag
Better Smash
High Quality
Best Ping Pong Paddles | Reviews
You may have already liked our list of the best outdoor ping pong tables. But now, you don't disappoint yourself during important matches, and we have assembled a list based on research about customer's tastes and reviews.
BEST OVERALL
Nibiru Sport Ping Pong Paddle Set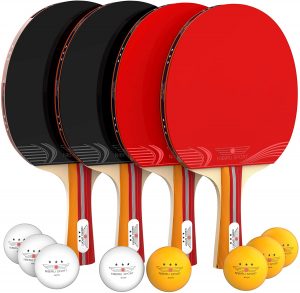 ★★★★★
Layered Structure
Sweatproof Material
Features:
The stout quality wood frame design of each paddle racket with precise measurement
Racket handles are made of sweatproof material that will not let your hands get dirty while playing
A securing bag for covering the gaming accessories has also been included in the ping pong paddles set
The racket surface has a spongy layers structure which is more responsive while striking the ball
NIBIRU sports have promised a real-time ping pong gaming experience with durable quality paddles. The collection of fine-constructed paddles tennis rackets are structured with top-quality material that will resist any irrelevant damage possibility.
And the ball sets are also included to make it a complete package for you.
Specification:
Sport Type: Table Tennis
Paddle Material: 5 layered plywood
Ball Material: Thick ABS
No. Of Players: 4
Frame Material: Wood
Dimensions: 11.1 × 10.6 × 2.6 inches
Weight: 2 pound
5-Layers Structure: You'll get 4 pieces of paddle rackets manufactured in 5 layers of plywood material along with a flexible movement feature. The exterior design will maximize the resistive aspect to prevent any cracking. And the firm grip handling structure will make sure that your hands don't crumble while playing the game.
40mm ABS Structured Balls: 8 pieces of 3 star balls have been designed with the official size guaranteed by USATT and ITTF. The soft, resilient material, along with ABS technology, got 82 speed, 85 spin, and 87 control nature for the players. Plus, the orange & white color combination of true flight balls will make an exceptional impact as well.
Indoor Or Outdoor Compatibility: The perfect ping pong paddles for indoor and outdoor play it where ever you want. It is suitable for beginners to play in the yard or house. Furthermore, the high-grade quality paddles are best for every age group.
Pros
Each structured wooden layer has been glued with a firm connection
Handle shape is flared with proper covering grip for everybody
Inverted rubber design of the racket surface with a spinning aspect
4 players compatible gaming set in affordable price tag
Cons
A customer reported tacket base breakage
The edges of the paddle are sharp when you hold it vertically
Our Take: Highly durable and strike responsive 5 layered surfaces of the paddle rackets will also give you a proper grip. It is considered one of the best ping paddles for you as it has both indoor and outdoor compatibility and perfect for any age.
BEST-RATED
Joola All-in-One Indoor Hit Paddle Set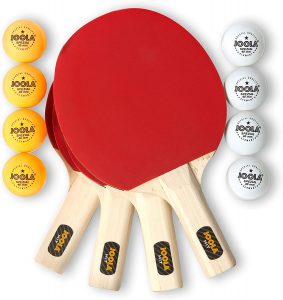 ★★★★★
Smooth Rubber Surface
Long-Lasting Balls
Features:
There is a smooth rubber surface on the paddle for maximum controlling of the ball
Now eight durable and long-lasting balls come in the package
There is a carrying case provided to keep the paddles and balls safe from dust and breakage
Paddles have a straight ergonomic surface that helps you to have an easy grip on it
The inverted surface of the paddle adds up more spin to the ball
Joola is providing is the best paddles to improve your game to the next level. Enhance your power hitting, and other ping pong skills with this top-class firmly made ping pong paddle.
No weather will affect your paddle so play indoor and outdoor without worrying.
Specifications:
Dimensions: 12.00 × 10.00 × 3.00 inches
Weight: 1 pound
Paddle Material: Wood
Ball Material: Plastic
Balls: 8
Ball Color: white & orange
IITS Authorized Size: The International table tennis federation has approved this ping pong paddle. So we can say that this paddle is providing international quality features. Let's talk about the size of this paddle; it has a unique and international stamped size that the world's top table tennis players use.
The surface size is spacious and wide, which makes you hit without worrying about any miss-hit.
Complete Equipment: Joola is providing you the best ping pong paddles set, which includes four prime quality paddles. Also, there are eight balls in two color variants. 4 orange and 4 white balls come in the package along with a carrying case.
Durable And Premium-Quality: It is designed to endure the latest competition and doubles the fun. The 8 40 mm balls provide the perfect hitting that makes the set ideal for outdoor and indoor.
Pros
The Paddle has three different layers that make it a perfect hitter
A premium rubber coated on the paddle surface increase more bounce
The handle is four inches long that makes your handling easier
Indoor and outdoor compatibility
The price tag is moderate
Cons
The handles are not very firm
Rubber quality is average
Our Take: An overall smooth rubbered surface with a protective ball controlling traction and has outdoor and indoor compatibility.
POPULAR CHOICE
Idoraz Ping Pong Paddle Professional Racket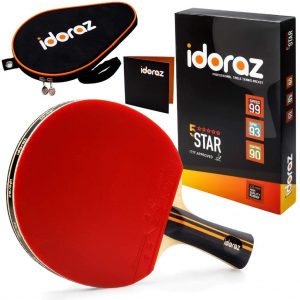 ★★★★★
Zipper Bag
One-Month Warranty
Features:
Make perfect forehand drives and smashes with this ping pong paddle
There is a zipper bag to keep your paddle which gives you an easy opening system
You can carry this bag easily and even hang it anywhere
These paddles are made for a lifetime and have a one-month guarantee
It adds more spin to the ball, which is up to 99 mph
It comes with 30 days of warranty
If you want to get rid of your old ping pong paddle because of its bad performance in the game, then buy this fully featured paddle to perform the best of all.
This ping pong paddle is made for top-ranking international players. So play with this paddle and be a champ.
Specifications:
Dimensions: 3 × 15 × 16 inches
Weight: 0.4 pounds
Paddle Material: Wood
Skill Level: Intermediate, Professional
Grip Size: 3 15/16 inches
Master Your Spin: Experience the most flexible spinning platform on the paddle surface materialized with sturdy wood construction. This paddle is made layer by layer, and carbon is fitted in it, accelerating the spin mode. So if you use this ping pong paddle, it will definitely help expert you in spinning the ball.
Portable Paddle: This ping pong paddle is known in the market for its easy portability feature. Because there is a small handgrip bag in which you can put the paddle and travel anywhere. Also, this bag keeps the paddle protected for a long time.
Fast And Perfect Control: The perfect ping pong paddles merging a speed rating of 99 make it suitable for professionals. As far as power concern, it gives amazing shots with a 2.00 mm coating of rubber, and a 90 control rating gives the players a new experience.
Pros
It has an easy griping handle that will definitely comfort your game
A perfect addle for lopping the ball to far distance from the middle of the table
It doesn't react to incoming spin
An amazingly fast pace paddle that hit the ball like a bullet
Cons
Handles got flex and have a weak grip
Ball bouncing impact is not very responsive
Our Take: Take this easy-handling hand-taking paddle bag with you all the way without any problem and play enjoy the outside game.
POWERFUL
Joola Infinity Overdrive Sets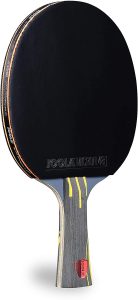 ★★★★★
With Carbon Kevlar
Large Sweet Spot
Features:
It has seven-ply layers with carbon Kevlar for supreme playability
These paddles have a large sweet spot area which helps you to hit perfect shots constantly
Carbon Kevlar has been put in the paddle to increase the speed of the hitting ball to 100 mph
The vibration has been reduced to zero, which makes your hit more accurate
Play the ping pong to the next level with this perfect-made paddle. Joola has built the quality of this paddle from the old version.
Now you can hit with more spin and more power by just hitting the spot. Make yourself a professional player with this pro-quality paddle.
Specifications:
Dimensions: 10.4 × 6.3  × 1.1 inches
Weight: 0.29 kilograms
Paddle Material: Wood
Ball Material: Plastic
Skill Level: Professional
5 Ply-Layers: This ping pong paddle has layers featured inside of it, making it prominent from the other paddles. There is a layer called Hinoki, which is put for increasing the hitting fast, and Koto for a quick counter-attack. Moreover, there are two layers of carbon Kevlar, making it a sweet spot hitter and a speed-increasing paddle.
A Layer called Ayous is used for precise shots, and two outside rubber layers forming a 5 layer complete paddle.
Top-level Professional Performance: A professional paddles for the players with a speed of 100, spin 99, and control 92. Further, the dual-layer of a carbon kevlar strengthens the wood and decreases vibrations, and helps in spinning. For the protection of edges, PVC side tape comes with the set.
What is in the Package? A uniquely designed set of ping pong paddles, Ten of 3 Star hard plastic balls, and a holder are included in the set.
Pros
A PVC side tape is folded on to protect the edges from scratches
Table Tennis rubber is coated on both side surface
High-class wood is used that is impossible to break
It has a smooth ergonomic grip which enhances your handling
Cons
The handle and surface connection is weak
Expensive price tag
Our Take: All new complete set of ping pong paddles with out-an-out accessories is an ideal and stellar choice for your competitions.
BETTER SPIN
Pro Spin Ping Pong Paddle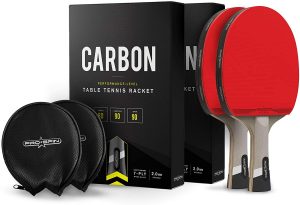 ★★★★
Advanced Carbon Fiber
Rubber Coating
Features:
There are two layers of advanced carbon fiber in the paddle to accelerate the spin sides
It has a lightweight structure that makes it easy and comfortable to use
An upgraded layer of rubber is coated on the paddle surface for extra control of the ball
A carbon tube is inserted into the handle to absorb the shocks and protect the player
Enjoy your ping pong game and add up more thrill to your game with these quality featured paddles. It is a lightweight and easy-handling pair of paddles that you can take anywhere without hassle.
Buy this set of paddle to have a comfortable and more enjoyable game with your opponent.
Specifications:
Dimensions: 23.23 × 14.61 × 3.54 inches
Weight: 0.30 kilograms
Paddle Material: Wood
Experience A Pro Paddle: All the features a professional player needs are fitted in this classical, smoothly made ping pong paddle. It has a fine classy black color rubber surface which makes it more appealing. Also, it has seven layered surfaces of wood. All these seven layers work according to their function and increase the pace, spin, and control.
A Safe Covering: This all-new top ping pong paddle definitely needs a protective covering for its best quality. So Pro Spin brought you this set of the paddle with a rubber-made zipper cover for extra protection and coverage.
Lightweight Handle: The handle is lightweight that offers a firm and comfortable grip during the play, so you can play for hours comfortably.
Warranty: The paddles got 1 year of replacement warranty and ensured 100% quality.
Pros
A premium zipper is provided to keep all accessories protected
The handle has a triple sanded premium wood that works for longtime
A lightweight paddle that makes your gameplay easy and comfortable
Cons
A customer reported missing package delivery
Our Take: Make your gameplay more featureful and exciting with these pair of paddles that are ensuring you high quality in all scenarios.
FOR PRO
Joola Blizzard & Blackout Set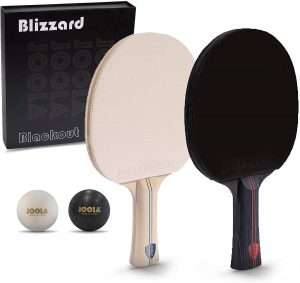 ★★★★
High-Quality Tungwood
Rubber Covering
Features:
A base wood is added for soft touching of the ball, so you don't have to use your power
Tungwood is added in the assembling for consistent and power-hitting
Made of high quality and firm wood that can endure any drop, any weather
A rubber covering is provided with the package for the paddle's security
Two prime quality balls come with the set; they give you a heavy-duty for a lifetime
Beat your opponent with this powerful and durable made for all scenario ping pong paddle. Increase your gaming skills and get to perfection.
These paddles can endure any weather circumstance, but the performance remains the same.
Specifications:
Dimensions: 14.02 × 12.76 × 2.72 inches
Weight: 3.37 pounds
Paddle Material: Wood
Ball Material: Plastic
Number of Players: 2 to 4
Enhancing Your Skills: This ping pong paddle is a hero in all aspects, having five layers of extra high-quality wood. That increases soft touching and consistent hitting of the ball with maximum speed, making your opponent puzzled.
Take this paddle on the pong table to experience a professional-quality game leading toward victory. Using this paddle, you must increase your playing and situation tackling skills.
5 Ply Real Wood: Basswood and Tung wood are used in manufacturing. This ideal combo of woods enhanced spin and control. Further, the performance rating of the paddles on a scale of 0 to 100 is Control: 90, Speed: 91, and Spin: 90.
What are the Accessories? Joola is providing you a premium quality casing in which they offer a Joola Gold medal. Furthermore, there are two paddles of different colors (white, black) and two foremost plastic-made balls.
Pros
With enhanced speed, spin, and control that makes you a top-class player
Full with professional features come with an affordable price tag
Two high-quality ping pong balls are also given, making it a complete set
Easy and soft griping that makes you feel comfortable while playing
Cons
The paddle can be snapped off from the handle
Handling grip has few damages
Our Take: If you have this paddle set, you can freely challenge your opponent and mark victory with more spin and speed. Further, it comes with 1 year of replacement warranty.
DURABLE
MAPOL 4 Star Professional Ping Pong Paddle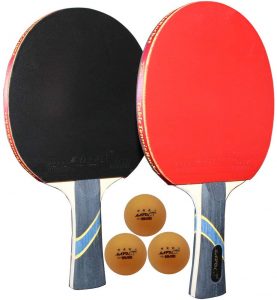 ★★★★
Better Bounce
Moneyback Guarantee
Features:
There is a portable fabric bad that keeps the paddles and ball secure
Mapol has increased the controlling power of the ball by adding more spin with the rubber
There is a two-month guarantee for this paddle set and a hundred percent money-back facility
A rubber surface add more bounce to the hit ball
A storage bag to protect the paddles and ball for best quality
100% money-back guarantee for 60 days
Invite your friends and family to the ping pong table and have a challenging and thrilling match. Quick yourself and have a professional game with these pace-hitting paddles.
Get these all-time renowned ping pong paddles with an accessible price tag and boost up your game.
Specifications:
Dimensions: 10.7 × 7.1 × 1.8 inches
Weight: 1.1 pounds
Paddle Material: Wood
Ball Material: Plastic
Skill Level: Advanced
Extra Controlling: This wide and spacious surface paddle for ping pong has upgraded the ball controlling skill. A red color thick layered rubber is coated on the wood that helps to generate a good spin control of the hit ball. And if we talk about the handle, it is soft and gentle, allowing you to build control of your game.
7-Ply Wood Blade: 7-ply wood blade with contented wide handles and 2 mm sponge a perfect choice for professionals.
A Prime Option: These best Ping Pong Paddles come with a covering, two wood-made paddles, and three long-lasting plastic balls.
Pros
The ball is made smooth and soft that gives more bounce with less power
An extra coating of protective surface that keeps the rubber safe from scratches
Storage bag makes it a portable and traveling ping pong paddle set
Low price tag
Cons
Pads can break down with few strikes
Our Take: Advance your ping pong skills and enjoy with your family and friends with this exceptional prize set of pong paddles.
FAQ Regarding Best Ping Pong Paddles
Q. Do we get a firm grip hand in these mentioned paddles racket?
All of these paddle rackets have a smooth and proper gripping handle, also with sweat resistive technology. That will also prevent the falling of the racket from your hands. And the smooth surface of the paddles will let you play swiftly.
Q. What material has been used in the body structure of these rackets?
Mostly high-quality wood has been featured in the materialization of these paddle rackets. Alongside, the frame is precisely designed with proper gripping and firm body structure as well. Plus, the plywood additional layer body will increase the responsive impact of the paddles.
Q. Ping Pong Balls are also included in the game set package?
Some of these gaming sets come with a complete range of balls and paddles sets in color variations as well. The balls are structured with rubber material and plastic in a few sets with responsive striking technology.
Q. What ping pong paddles do professionals use?
MAPOL 4 Star professional ping pong paddle advanced training table tennis racket is perfect for professionals.
Best Ping Pong Paddles | Quick Comparison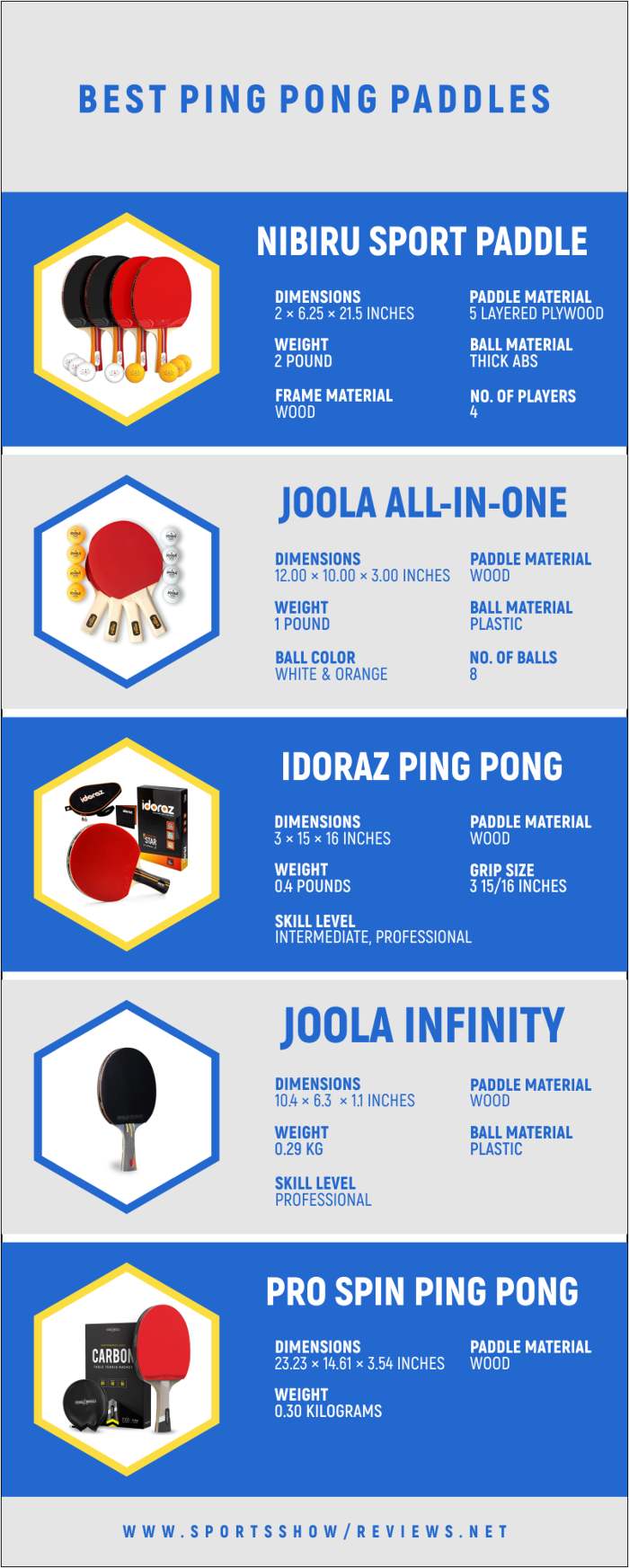 Our Recommendation:
Our 1st recommendation is the JOOLA Blizzard & Blackout – Competition Ping Pong Paddle Set as the best premium paddles racket set. There are a set of 2 paddle rackets in black and white color variants with balls as well, along with high-quality wooden construction.
Furthermore, our 2nd recommendation is MAPOL 4 Star Professional Ping Pong Paddle Advanced Training Table Tennis Racket as the best 7-ply paddle set. It comes with a money-back guarantee together with rubber performing spin flexibility of the racket.
Conclusion
These top-quality and best ping pong paddles are perfectly designed with the precision that will help you play a Swifty game. The body structure has been featured with plywood material that will make a responsive impact on the ball while striking. Plus, the firm grip handling is much more beneficial with flat covering for the players.
And, some of these gaming sets also include standard size ball sets in color variants to complete the package. Withal, the color collaboration is also appealing as compared with the normal paddle rackets with a dull appearance. So these can be the prior selection for the professionals.