If you're trying to find the best sports board games collection, then you're at the right place! Because we'll be unleashing the best genres of sports that are shaped into amazing board games. These game's themes are close to reality and are the ultimate source of great fun and joy.
The board games have found their peak fame in very recent times, and even now, they are very much there. There are some healthy upgrades over the previous game boards, which are a must-try for a board game lover.
Furtherly, there are major design upgrades, and the game components are now given correct details. These major upgrades from the manufacturers have elated the board game's lovers.
They have been provided with the experience they've been longing for. Thus, these sports board games are very close to reality and massively enjoyed with friends and family. You can even take them to places because of the portability factor.
7 Best Sports Board Games For Family Entertainment
You roll on with power cards, and thus the real strategy begins in your very room. Now let's begin our top table sports games journey with the list below.
BEST OVERALL
NFL Game Day by Fremont Die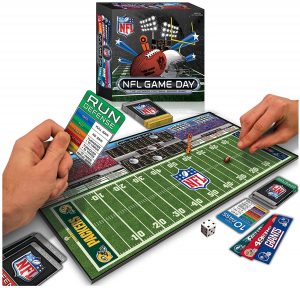 ★★★★★
The product dimensions are 10.5 ×5 × 2.75 inches
The product weighs 1 pound
Features:
The package lets you learn the football game rules
Your game comes with a Football and a field board
You have access to 140 keenly illustrated cards
All NFL teams included in the package
Your match your strategy
Are you a fan of NFL football games? You surely are! It's an ultimate NFL game day by Fremont Die with the best sports board games experience. So, are you ready to take on your counterparts with a surprising blow?
A Real Football Experience: Have you ever wondered about playing a football game within your living space? Surely not, because Fremont Die only provides this one pure experience. The game board comes loaded with a bunch of goodies, such as a diverse range of cards and many components. You'll be overjoyed by the best Football experience packed on a compact size board. Moreover, the package makes it easy to learn for beginners, too, with the preloaded rules guide.
Cards to Score: The game board has over 140 cards with bright graphics to progress through the match. You guide the football to the opponent's goal spot with the right tactics to achieve victory. Furtherly, there are 6 timeout cards and 5 clear discs to complete your match presentation.
Pros
You can get to know about the very famous football game through this fun board experience
It comes with 32 NFL team end zones
Preloaded with game guide and rules
High-quality game parts
Affordable price tag
The game board itself is made of durable materials
Our Take: An exceptionally well-managed football game in an enticing package makes up for a great choice.
FAMILY FUN
Camel Up Board Game by Eggertspiele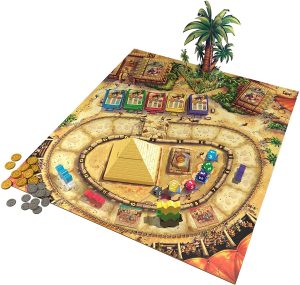 ★★★★★
The product dimensions are 11.7 × 2.6 × 11.7 inches
The product weighs 1.27 kilograms
Features:
Guide your frantic camels to the victory
The most hilarious camel race that now takes place on a lightboard
Your board is kept lively with artistic elements throughout your gameplay
Now play this sports furry with your family too
The award-winning camel-up board game is now enhanced from the best sports board games 2021 sequels. You're going to tame the crazy camels and guide them to the finish line through the elements of art.
Control The Race: The exciting gameplay begins with the frantic race that takes place on your board. You'll be going through many obstructions and tiny hurdles to slow down your pace. But you'll have to act wisely and control the reins with cleverness.
Fun-filled Ride: Camel up board game is going to be the best Camel ride you'll sense. The game is made more exciting with new participants giving your ride a perplexing start. In all the frenzy, you will have to guide your camel in the right direction to gain progress. Your control is your flair in the game, and that's something keeping you in the match. So, hold yourselves to march towards the finish line!
Pros
The board game supports up to 8 players, which widens your team reach
One of the best sports board games to play
Super lightweight with simple game operatives
This game is more stimulating than ever with more counterparts and obstacles
Cons
The top game piece could be flimsy sometimes
Our Take: Enjoy the quick camel race with your friends in this award-winning board game, which makes it a great option.
F1 THRILL
The Formula D Board Game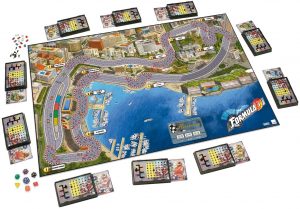 ★★★★★
The product dimensions are 11.75 × 4 ×75 inches
The product weighs 2 pounds
Features:
The best racing experience morphed into a board game form
You master your skills to get on the top position
Your game lets you customize everything for your car to win
Trick other players with the skidding hacks
Get ready to dive into the speedy world of Formula 1 in this board game by Asmodee. The package changes your normal board game into the best sports tabletop games gameplay. So, what are you waiting for?
Race The Fate: You're going to speed up your skills to challenge fate. The game lets you play with up to more than 10 players at the same time. So, who's going to win the match? You can add nitro fuel to hurry the sequence and definitely, beat the other ones.
Customize Your Cars: This racing game provides the best simulation art to the game board. So, are you enthusiastic about taking a chance? Well, don't take hurry yourself, because the game lets you customize your race with a range of options. The players are supposed to maintain their cars before they appear on the track. So, don't lose control over your car!
Pros
Formula 1 experience brought a compact game board
Simple and extensive game operations make it one of the best sports board games right now
Choose from a wide range of customizing options
Tracks are unpredictable, but your skills aren't, so the game lets you master them
It can take up to 10 players
Cons
Game pieces could be small for some
Our Take: The fascinating experience of formula 1, complemented with extensive customizations, gives good value for your money.
STRATEGY GAME
The StrongHold Presents Flamme Rouge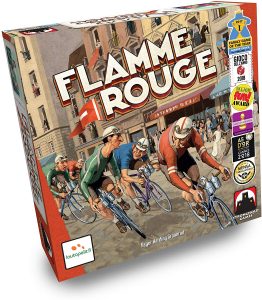 ★★★★★
The product dimensions are 11.5 ×8 × 11.5 inches
The product weighs 3 pounds
Features:
Each player controls their team; can you pull off the victory?
Teams racing against each other have one fat goal, "Victory."
Players progress through the game by playing cards
The package comes with 4 player boards
Ultra-smooth mechanics make this one of the best sports theme board game
It's time to hatch your hidden talent in the all the new Flamme Rouge board game by Stronghold.  Your tactics will determine your standing in this pacy tactical bicycle game.
You Strive To Win: Players track their teams for a perfect sprint. The game encompasses a set of tricks and rules for players to carry margin over other players. Your probability of being a winner depends on your exhaustion percentage. Avoid getting exhausted and win the match as your play your cards well.
A Great Family Fun: Your Flamme Rouge can compensate more players than ever. Now play with more than 12 players at the same time. This marks a great player's expansion and makes your gameplay more challenging than ever.
Pros
More challenging with more players
More player boards, less complexity
This board game comes with 120 energy cards and 60 exhaustion cards with an excellent illustration
Nurture your talent to perfection
Beautiful build quality that provides a good value for money
Cons
Rules could be minimized a bit
Our Take: Your tactical bicycle board game is now stuffed with more boards to compensate more players, perfect for family fun. Thus, it makes a wonderful option.
FOOTBALL FUN
The 1st and Goal Board Game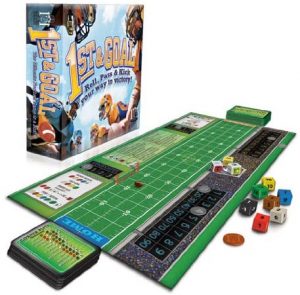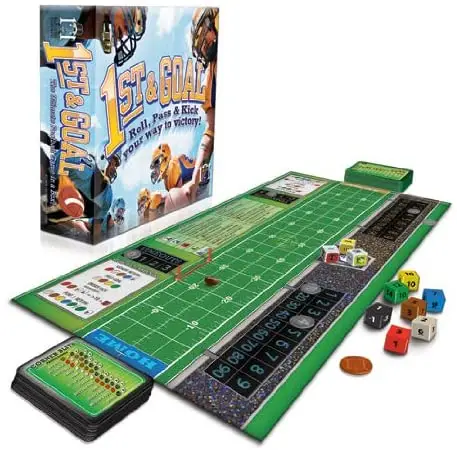 ★★★★
The product dimensions are 2.5 ×5 × 10.5 inches
The product weighs 2.16 pounds
Features:
Easy operative and catchy game board
The best gridiron board game ever
It contains 60 defensive cards along with 60 offensive ones
Will your kick result in more yardage? Let's find out in the 1st Goal board game. Due to its simple and interesting controls, this board game fits in one of the best sports trivia board games categories.
Kick And Play: Your football must cover more yardage than your opponent. That's the only way to take the lead over other players in the match. Moreover, the game board contains all the basic ingredients for perfect play. The right strategy will take you places. So, swing your cards well to get to the top.
A Great Gift: The game is easy to understand, but its wonders are hard to miss. So, why not gift it to someone special to share the delight?
Pros
The game board is extremely affordable for the functionality it provides
It helps to nurture your intellect as it's all related to strategy
Your cards determine your lead which makes it simple while more interesting
Cons
Game setup may take some time
Our Take: Lift your game and nurture your inner talent in this interesting board game, does worth your consideration.
NFL ACTION
Blood Bowl New Game Board Edition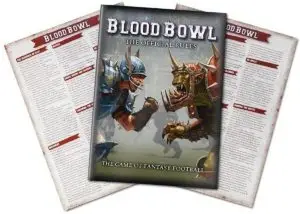 ★★★★
The product dimensions are 6.82 ×56 × 0.84 inches
The product weighs 2.2 pounds
Features:
Your classical fantasy game is inundated with savagery and strong elements
The game board offers all the related game's ingredients right in the package
Throw with courage and strike the opponent by holding possession
The game can take two players in this sports board game
Take a fantasy ride to the violent world of football in this one of the best sports board games. The game workshop has added all the substantial fantasy elements to make the experience stronger.
Face Violence and Destroy the Opponent: The blood bowl gives an impeccable blend of fantasy and football pleasure. Your classical journey begins with the cards you'll be using against your opponent to win. Moreover, the game presents the account of violence and some strong elements to keep the players engaged in the game.
Takes Courage: You'll take on your courage to survive in this classical fantasy, so what are you waiting for?
Pros
A great value for money
Top your gaming pleasure will all the accessories
It comes with a guide in case you're a beginner
Our Take: This game takes nothing but courage, and that makes it an interesting option.
FOR MOUNTAIN LOVERS
Rebel Presents K2 Board Game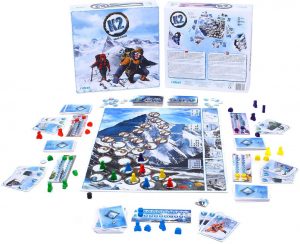 ★★★★
The product dimensions are 11.7 ×7 × 2.73 inches
The product weighs 2.48 pounds only
Features:
Help your team to climb the second-highest mountain in the world (K2)
Discover the toughest geographical conditions
Muster up your courage and beat the turmoils on your way to the top
Use your cards well to survive in the deadliest feast
Pack your bags and help your team to reach the deadliest mountain K2's top in this crazy bone-chiller. The brave and courageous genre of this board game makes it one of the best sports board games. Or you still doubt? Let's find out.
Climb Or Die: Take on the taxing journey to the skies of hurdles and difficulties. The platers will guide their teams to victory. The immense height awaits many struggles to embrace. There will be insufficient oxygen and unreliable tracks to find. Each team has two mountaineers, and each of them will strive for one goal. So, guide your team when or face the consequences.
Manage Your Difficulty level: The game board comes with a two-sided board—the one with the easier path and the other with the difficult one. So, tune yourself according to the conditions.
Pros
Toughness perfects your gameplay
Double-board offers difficulty levels and conditions
The strategy makes it a great learning experience for the gamers
Our Take: Extra tough journey to one of the deadliest mountains with strategy and valor makes it a bright option.
FAQ Regarding Best Sports Board Games
Q. Which could be the Best sports board games?
Although, the enlisted game boards are all consumers recommended and top-rated. But. These 03 products are the best ones on the list:
NFL GameDay by Fremont Die
Camel up Board Game by Eggertspiele
The Formula D Board Game 
Q. Is it worth buying these games?
Definitely, if you're looking to have a real-time sports gaming experience at your home with your friends, then these are the must-buy for you. Plus, there are lots of power skill cards included in the game package to make a sudden twist during the gaming arena.
Q. Are these games easy to play for the beginner?
Of course, these board games come with a useful instruction guide to direct the beginner player with specific rules and instructions of the game. Plus, that will also teach you some amazing sports skills during the challenging mode with friends and family
Q. How many people can play these board games?
All of these games are multi-player compatible with the flexibility to vary the numbers of the player during different challenges. Around 8 people can play these sports games and try different powers and skills to beat the opponents.
Our Recommendation:
Our 1st recommendation is the NFL Game Day by Fremont Die is considered one of the best sports board games. It has a realistic football gaming experience along with 140 gaming cards to improve your skills.  Moreover, our 2nd recommendation is the Blood Bowl new Game Board Edition full of thrill gaming experience. Besides, it comes with all the required gaming accessories and cards as well.
Conclusion
At last, we can surely conclude that these are the best sports board games with the realistic gaming experience to get from. If you're a sports lover, then these board games will take you into the virtual gaming field along with your friends. Even the storyline is amazingly categorized according to the stages to let the player enjoy every moment. Plus, multi-players can take part in the game with flexible compatibility of up to 08 players.
Furtherly, all of these enlisted games are top-rated and comes with complete gaming accessories in the given package. The board quality has also been improved with a smooth platform to experience regularity in the game.  So don't wait anymore and choose your favorite sports game to enjoy with your family or friends at home.