Over the last decade, the Premier League has become a global brand. With clubs such as Manchester United and Liverpool attracting fans around the world, the popularity levels of UK football and its players are at an all-time high. And, here are the highest-paid UK footballers right now.
The number of Fantasy Football players has exponentially increased over the last five years, whilst wagering on the Premier League has also accelerated.
Highest Paid UK Footballers – 2023 Updates
Fans also enjoy following their favorite players on a weekly basis and those who achieve cult status are paid handsomely for their endeavors. We take a look at the ten highest-paid footballers who are based in the UK.
10. Raheem Sterling – Manchester City
Raheem Sterling penned a new contract at the Etihad Stadium in 2018 and the England international currently earns £360,000-per-week.
The wide-man has been crucial to his club's success over the last couple of seasons and his pace and directness have caused the opposition ample problems. He enjoyed his most prolific season in 2019-2020 with 20 goals in 33 appearances. 
9. Mohamed Salah – Liverpool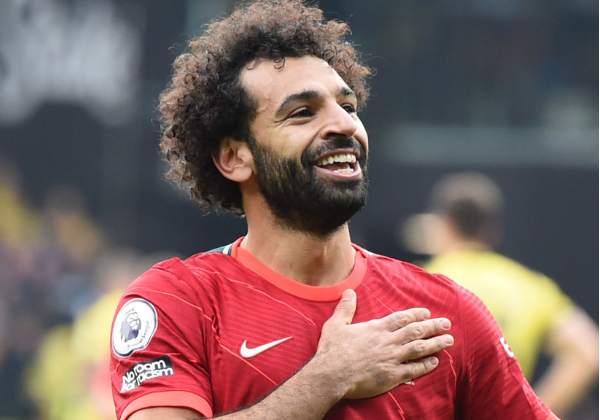 Since signing for Liverpool in 2017, Mo Salah has lit up the Premier League with his dazzling skill and eye for goal. The Egyptian star has led the Reds to both Champions League and Premier League glory and is reportedly earning around £400,000-per-week at Anfield.
He's contracted at the club until 2023 and the former PFA Player of the Year is likely to remain a fan's favorite on Merseyside for at least another couple of seasons. 
8. Sergio Aguero – Manchester City
Although he has been an infrequent starter during the 2020-21 campaign, Sergio Aguero remains one of the deadliest strikers in the top flight. He has scored more goals in the Premier League than any other foreign player and will be celebrating a decade at the Etihad Stadium in 2022. 
He initially signed a contract worth £220,000-per-week in 2014, however, he reportedly negotiated a small increase in 2016 which currently sees him earn £230,135-per-week. 
7. Kevin De Bruyne – Manchester City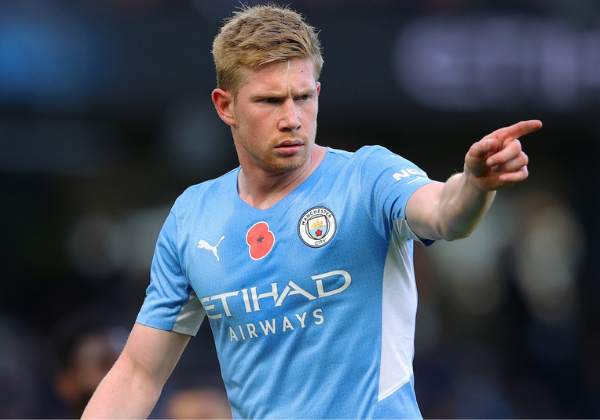 Sergio Aguero's team-mate Kevin De Bruyne is on a similar wage and the Belgian midfielder has played a key role in helping his side become a force both in the Premier League and the Champions League. Reportedly earning around  280,000 pounds per week with bonuses.
He last signed a contract in January 2018 and although it is yet to be confirmed, he is reportedly on the verge of signing a new five-year deal at the Etihad Stadium. 
6. Pierre-Emerick Aubameyang – Arsenal
Striker Pierre-Emerick Aubameyang is currently earning £415,000-per-week at the Emirates and despite enduring a stop-start campaign in North London, he remains his side's most prolific asset.
The Arsenal forward signed a three-year contract extension in 2020 and has also been named as club captain. 
5. Timo Werner – Chelsea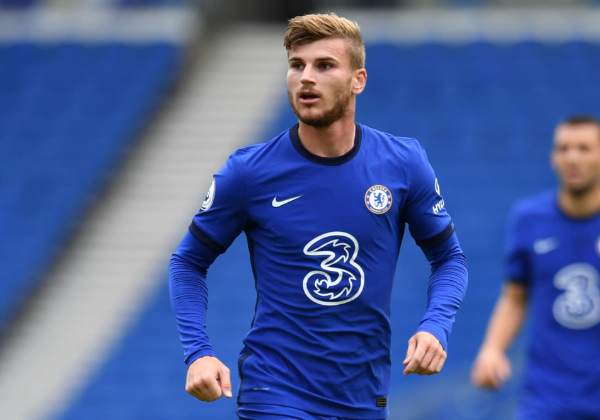 Following the relaxing of their transfer embargo, Chelsea embarked upon a summer splurge with several high-profile European stars arriving at Stamford Bridge. Timo Werner swapped southern Germany for West London and is reportedly earning around £272,000-a-week.
He has endured a disappointing start to his Premier League career. The Blues will be keen for their recent purchase to rediscover his form in 2022. 
4. Paul Pogba – Manchester United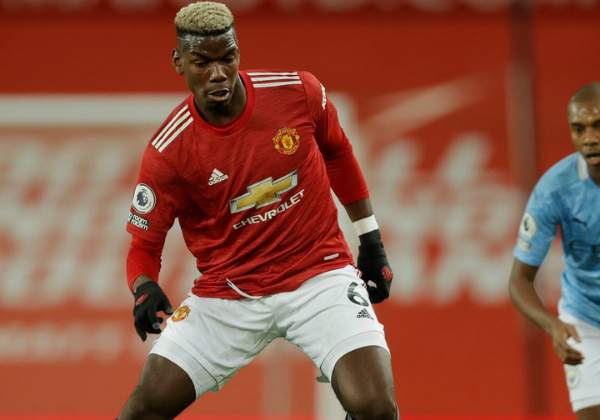 Paul Pogba's arrival at Old Trafford came with plenty of fanfare. However, the French midfielder has largely failed to live up to expectations. United was so keen to secure his services that he currently takes home £350,000-per-week and £15million-per-year.
He has been asked by the club's hierarchy to take a pay cut. However, whether he'll remain in the Premier League for the 2022-23 campaign is questionable. 
3. N'Golo Kante – Chelsea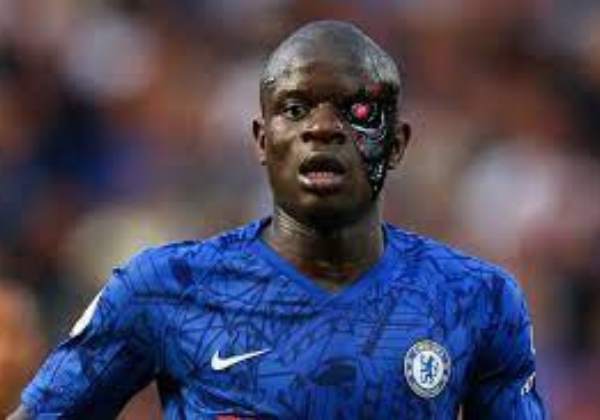 The unassuming Frenchman won back-to-back Premier League titles with both Leicester and Chelsea and is currently taking home £290,000-per-week.
The combative midfielder is a top-class performer. The Blues were so incredibly keen to retain his services that they doubled his wages back in 2018. 
2. David de Gea – Manchester United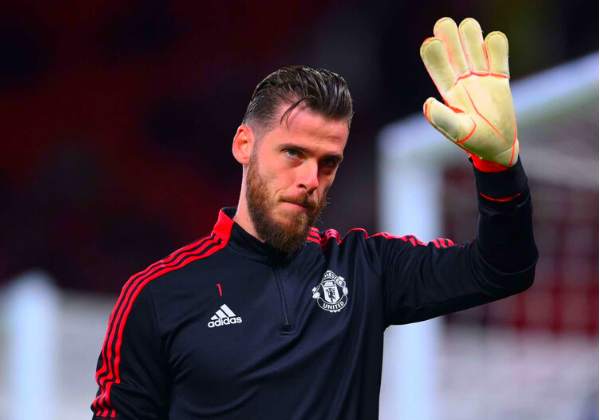 David de Gea has been a reliable servant at Old Trafford for a number of seasons. And the Spanish stopper currently earns around £375,000-per week.
His form has dipped in recent seasons! Amid speculation linking him with a move away this summer, the club has slapped a £50million price tag on him. 
1. Gareth Bale – Spurs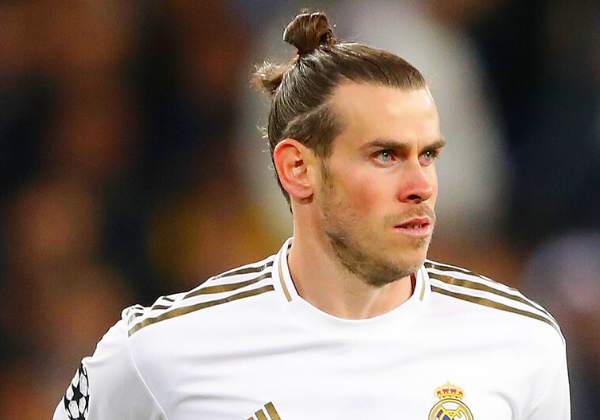 Despite being linked with a move to the Chinese Super League, Gareth Bale opted to return to North London on loan in September 2020. The Welshman is currently earning £600,000-a-week, with his parent club Real Madrid paying over half of his earnings.
Although he isn't a regular starter, he's already chipped in with a handful of goals. And he did that after temporarily swapping the Santiago Bernabeu for the Tottenham Hotspur Stadium. 
Highest Paid UK Footballers – Infographics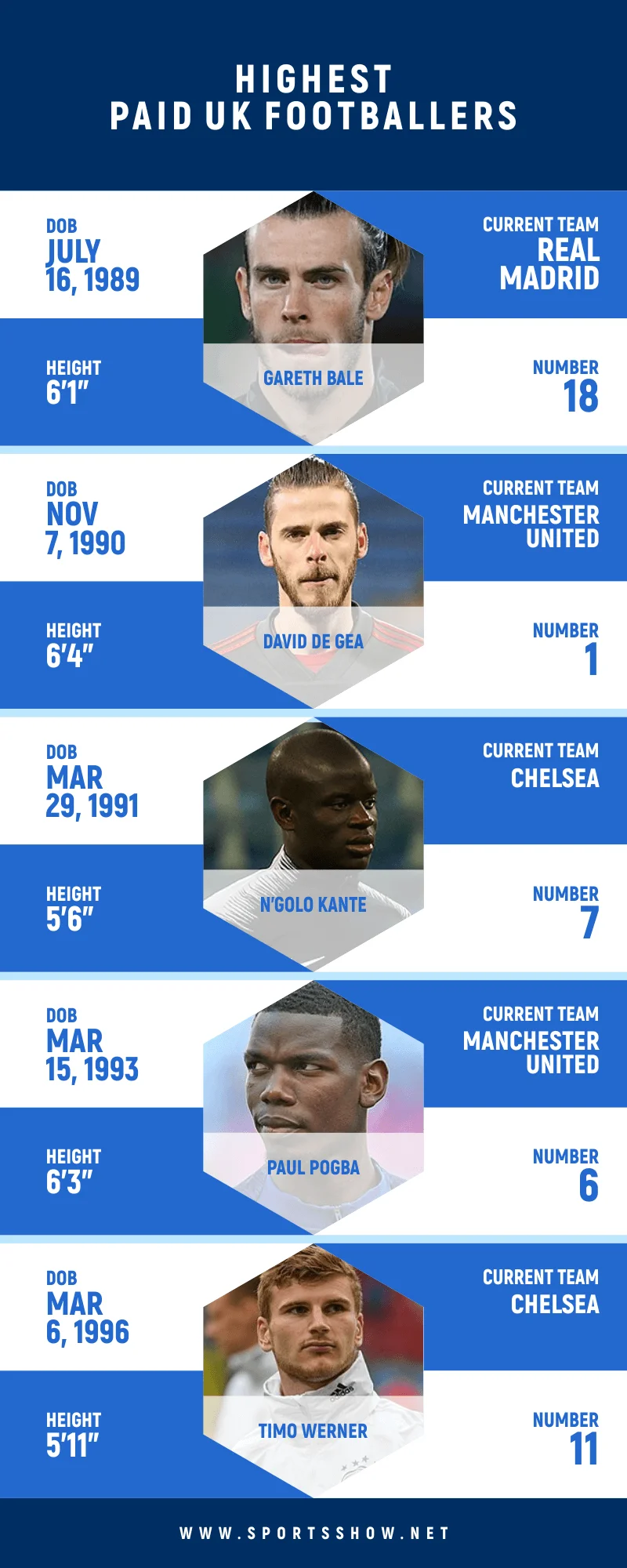 FAQs Regarding Highest-Paid UK Footballers
Q. What is the current salary of Cristiano Ronaldo?
According to recent reports, Ronaldo's salary at United will probably be closer to £385,000 per week, or approximately £20 million ($27m) a year. At Juventus, he received a salary of €30 million ($34m/£26m) a year.
Q. What is the current salary of Mohamed Salah?
Salah is also the fifth highest-paid player in football, with an average salary of £10.4 million and a bonus of £18.3 million. Supplementary earnings will amount to another £11.7 million through endorsements.
Q. Is Lionel Messi richer than Cristiano Ronaldo?
FIFA's highest earner Cristiano Ronaldo has returned to the top of the Forbes rich list after beating Lionel Messi to the top spot. Based on Forbes and Celebrity Net Worth figures, Ronaldo is the 12th richest athlete in the world as of 2022, while Lionel Messi has the highest net worth among footballers.
Q. Which footballer has made the most money?
A 15 billion Euro fortune. Son of the prince of Brunei, Jefri Bolkiah, and nephew of the Sultan, Hassanal Bolkiah, he has a fortune worth 15 billion euros. There seems to be no stopping Cristiano Ronaldo, at least in terms of winning or earning. Forbes reported that Real Madrid's Cristiano Ronaldo is now the world's highest-paid soccer star, earning about $125 million.
Last Updated On: December 2023