Are you looking for all the entertainment and lifestyle programs on OWN? Your home should have a smart TV and streaming media player to accommodate your smartphone usage. When you download the Watch OWN app on any of the devices mentioned above, you can watch all the great shows of OWN at any time, anywhere. And to activate the service follow an easy guide mentioned below on how to activate OWN TV on streaming devices.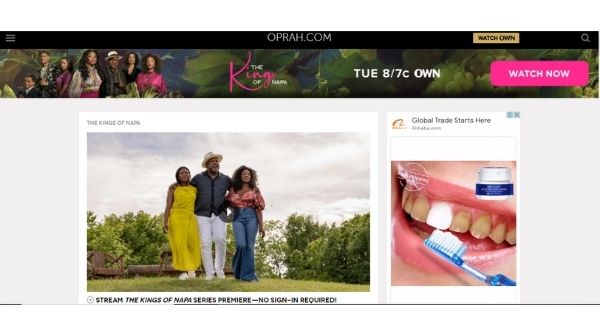 To watch content on Roku, Apple TV, Fire TV, Apple and Android devices, Chromecast, etc., visit the official activation page, which can be accessed at the start.watchown.tv/activate.
This American pay-tv channel is jointly owned by Discovery, Inc. and Harpo Studios (minority). The channel broadcasts programs primarily for African American audiences. Over 81 million households in America had access to the Oprah Winfrey Network as of 2015. In the United States, this figure represents a staggering 70% of homes with televisions.
Activation Guide For OWN TV On Roku
If you have been mesmerized by the speeches of Oprah Winfrey, you will certainly be mesmerized by her genuine talk shows. Her personality is so enduring. By enabling the Watch OWN TV channel on your Roku, you can watch all her talk shows and full episodes. Let's start with the guide;
The first and foremost step is to turn on your Roku device.
Navigate to its Channels and App.
Search for Watch OWN TV in the search bar.
Click on the "Add Channel."
Now, launch the application.
After launching the app, you will receive an activation code appearing on your Tv screen. Note down that code.
Navigate to start.watchown.tv/activate by opening a browser on your laptop or smartphone.
After that, enter the activation code, which was noted earlier.
In the end, press the "Activate" button.
To ensure that you have successfully activated the Watch OWN Tv, you will receive a "Congratulations" message on the screen. One more thing you should take care of is that, while activating OWN TV, you should have one of the cable TV providers mentioned below;
AT&T U-verse
Verizon
Direct TV
Dish Network
How To Stream OWN TV Without Having A Pay-TV Provider?
If you don't have a Pay-Tv provider and still want to stream the great Watch OWN Tv content, then we have a solution to your desire too. And to enable that, you can watch that content on the following Live TV streaming providers;
Philo: Philo is a live tv streaming provider where you can watch the great content of Watch OWN Tv without a Pay-Tv provider.
YouTube TV: YouTube Tv is also a live tv service provider, which enables you to watch all the original and mesmerizing Watch OWN TV content with a Pay-Tv.
How To Activate OWN TV On Amazon FireTV?
The steps for activation of Watch Own Tv are quite similar to that which are mentioned above for Roku devices, but for your ease and comfort, we will discuss a step-by-step guide over here; let's start;
At first, turn on your live streaming device Amazon FireTV and connect it to your home network.
Navigate to the App store by using the TV remote.
Search for Watch OWN TV in the app store.
When found, download the app and install it.
After installation, launch the application.
After that, you will receive an activation code appearing on your Tv screen. copy that code.
Open a browser on another device, like a laptop, PC, or smartphone, and visit the authorized link start.watchown.tv/activate.
Paste the copied code over here, and click on the "Activate!" button.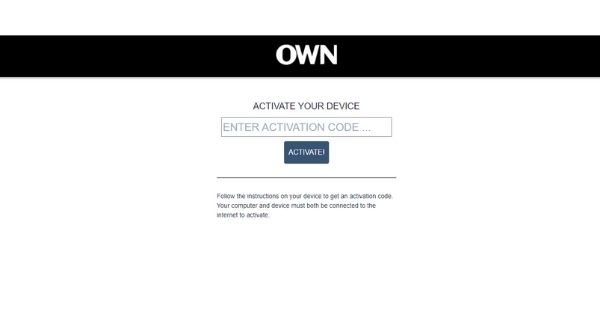 That's all when you see a "Congratulations" message on your TV screen; you are all ready to watch the Watch OWN TV content.
How To Stream/Activate OWN TV On Apple TV?
The Apple Tv is also a compatible live streaming app to enable Watch OWN TV. If you have Apple Tv at your home, you can easily enable the Watch OWN TV streaming on it. Refer to the mentioned below steps to activate Watch OWN TV on a streaming device;
First of all, turn it on and navigate to the App store.
Look for the Watch OWN Tv in the app store by typing it on the search bar.
Now, download the app and install it.
The installation process will take a few minutes; wait for it.
After the installation process, launch the application.
After launching the app, an activation code will be generated on the TV screen. Note down the code.
Browse to visit the official activation site start.watchown.tv/activate and enter the code.
Click on the activation button to successfully activate the app.
That's it; you are all done to start watching and enjoying the original talk shows and videos on the Watch OWN Tv app.
Compatible Devices For OWN TV
The followings are some of the compatible devices for the Watch OWN TV app;
Apple TV
Google Chromecast
Roku
Amazon Fire TV
Smartphones
What Are The Popular Shows That Can Be Watched On the OWN TV App?
Some of the popular TV shows that you can enjoy on the Watch OWN Tv app by activating the app on your streaming device;
Black Love
Oprah Prime
Greenleaf
Oprah's Master Class
For Peete's Sake
Party at Tiffany's
Addicted to Food
Queen Sugar
the Rosie Show
Mom's Got Game
Life with La Toya
Flex & Shanice, Houston Beauty
Married to the Army: Alaska
Finding Sarah
Police Women of Dallas
FAQs
Q. How much does it cost for Watch OWN Tv subscription?
The OWN Tv requires no subscription to download; it's free. But, to watch more episodes, you need to subscribe to a cable TV provider.
Q. How to fix the not working error while activating the code?
There could be a few reasons, look for the following solutions; First, check your internet connectivity. Second, uninstall the app and reinstall it. And thirdly, activate the code within two minutes, don't take long. Otherwise, the code will get expired.
Q. Where to watch OWN network content without a Pay-TV provider?
The OWN network content is not just available on streaming devices; rather, it's also available on live Tv services like Philo, Vidgo, fuboTV, and YouTube TV.
Q. How to subscribe to OWN Network Newsletter?
To subscribe to the OWN Network Newsletter, you need to visit the official website. At the top corner, you will find a "Subscribe to Newsletter" option. Click on that, and follow the instructions.
Last Updated On: December 2023