Live NetTV is an awesome entertainment provider application. You can watch free streaming TV channels, movies, and entertainment stuff including sports and other shows around the world. Live NetTV is an application that was developed by Pakistanis. This article will guide you on how to download live NetTV on live streaming devices.
Currently, Live NetTV is available in v4.8, and v4.9 will be released soon. Live NetTV can be used on Android devices like smartphones, tablets, and smart TVs like Firestick. Watch IPL, PSL, and all other sports content on a single TV application which is Live NetTV.
It provides you with access to 800+ channels around the globe. All the entertainment stuff including TV channels, movies, sports, and shows are free of cost on Live NetTV for you.
How To Download And Install Live NetTV on Android or Smartphones?
To download the Live NetTV app, you can click on the link Live NetTV [Official Website] – Download Live NetTV 4.8 APK Latest Version 2021. you will navigate to the home page of this official website.
You will find two downloading options, one for Android download and the other one for Amazon FireTV.
Click on the Android download button.
An APK file with Live NetTV will begin downloading to your system or phone.
Now, go to the downloads of your mobile phone, and click on the latest downloaded link.
You may need to look at it before you install Live NetTV. Please note that it is downloaded from an unknown source, which means that your phone can install apps from unknown sources. If not, you need to turn this on.
Go to the settings menu, go to security and allow permission to download from unknown sources, other than Google Play.
Thereafter, go to the download again, and click on the APK file to install the app.
A prompt message will appear; you need to allow that. An installation process will get started.
Follow the instructions appearing on the smartphone.
Once the installation process gets completed. In the end, you can enjoy using the Live NetTV app.
How To Download Live NetTV on Amazon Firestick?
There are two ways to download this app from Live NetTV. However, When you go to the official website of Live NetTV, you will find the option on the home screen. Live NetTV is for 2 devices, for "Android" and for "Amazon FireTV".
Since We have talked about how to install Live NetTV on Android. Now let's learn it on Amazon FireTV.
Step 1: Turn on your Amazon Firestick.
Step 2: Look for the "Find" button in the menu bar.
Step 3: After that, click on search.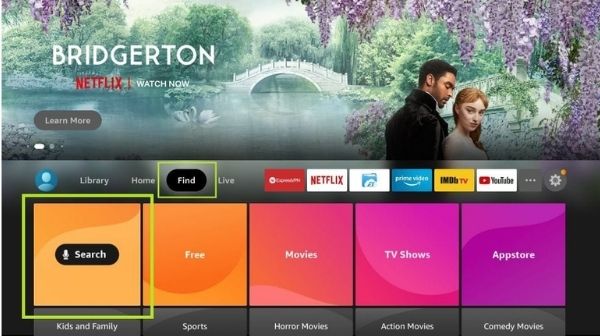 Step 4: Now search for the downloader application for your Firestick device, and install it.
Step 5: Get back to the Firestick home screen, and click on the settings icon on the top right side of the menu.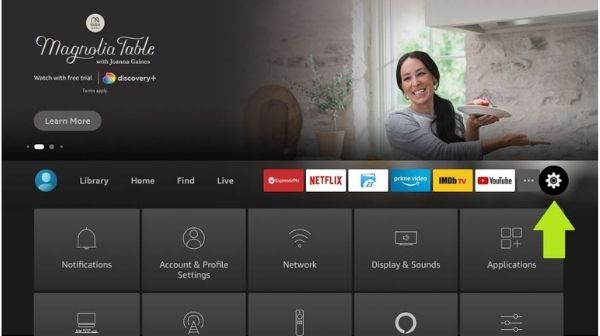 Step 6: Now click on the "My FireTV" option among other options appearing on your screen.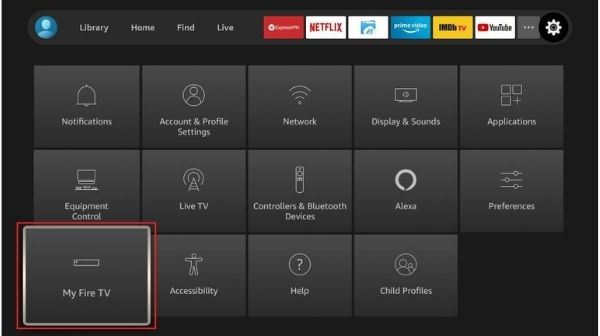 Step 7: It will show you another list of options, click on developer options.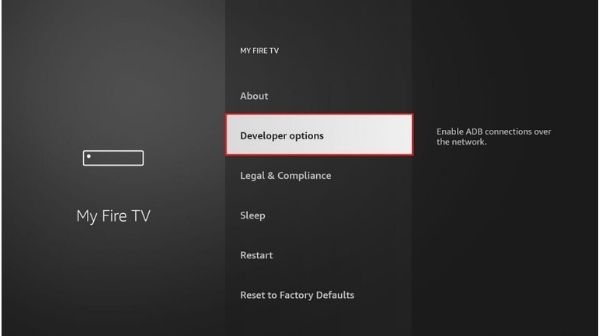 Step 8: Now proceed with the flow, and click on "install unknown apps."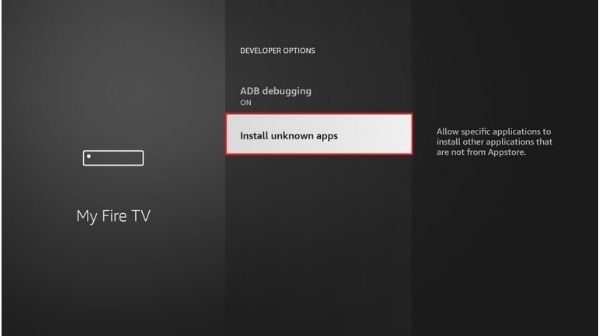 Step 9: The next window will give you options for downloader, click on the required downloader and turn this on.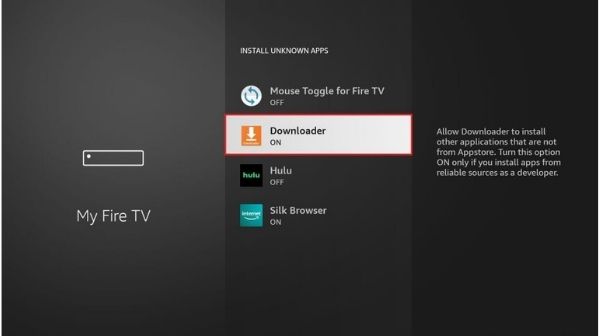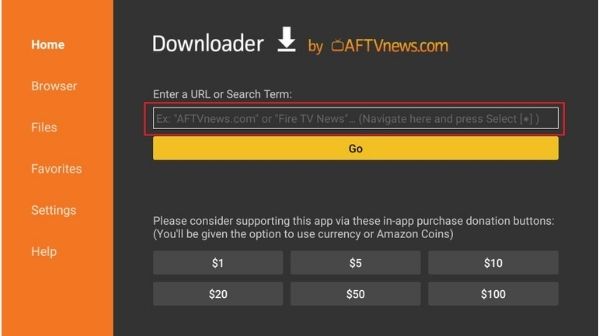 Step 13: Click on the "Go" Button.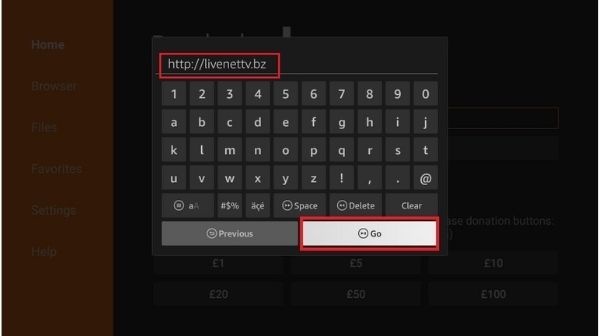 Step 14: You will be directed to the home page of the Live NetTV app, and you will find two options there. You need to click on the "Download for FireTV."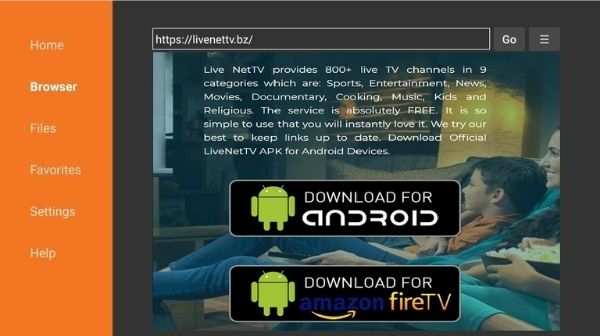 Step 15: An APK file will start to download on your TV, and after the download gets completed, it will give you the option to install it. Click on the Install button.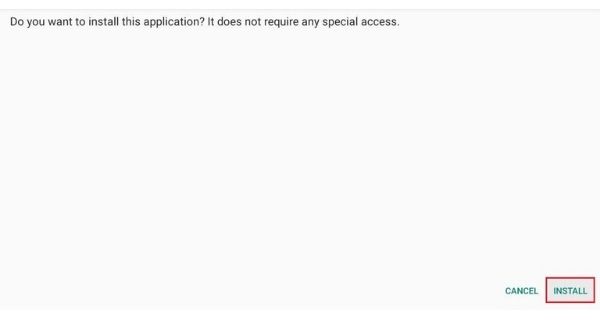 Step 16: The installation process gets started, and it will take a couple of minutes to get completed.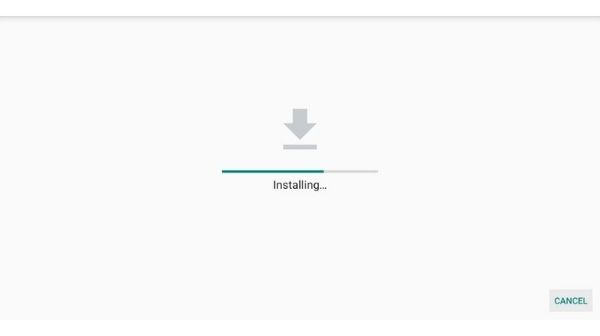 Step 17: The screen shows you "App Installed" messages and options for the "Open" and "Done" buttons. Click on the "done" button.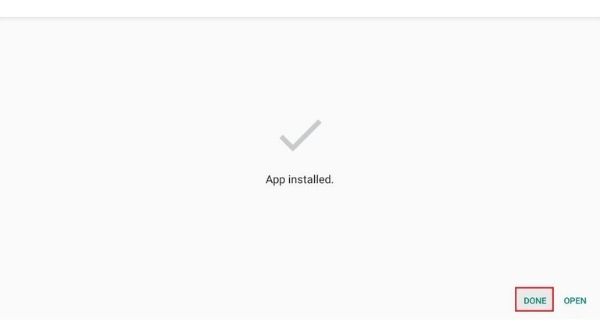 Step 18: Get back to the downloader and delete the APK file.
Step 19: Confirm the deletion process.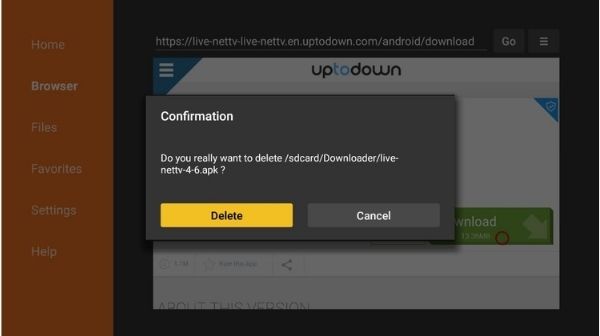 Live NetTV app is now downloaded and installed on your amazon firestick. Now sit back and enjoy watching your favorite entertainment content.
How To Access And Move The Live NetTV App On A Firestick Device?
Several users have reported difficulty accessing the Live NetTV App on the Amazon Firestick. Here is a way to find it and replace it on the home screen. Apps cannot all fit on the home screen when there are many of them. To use Live NetTV frequently you can place it on the home screen.
Step 1: Turn on your Amazon Firestick.
Step 2: Click on the "Home" button on the remote.
Step 3: A window will pop up. Click on the Apps & Channels.
Step 4: Move to the next app until you find live TV in that app. Generally, the most recent apps we download are placed at the end of the list of all apps.
Step 5: Once you find it out, now click on the menu button on the remote and select "move."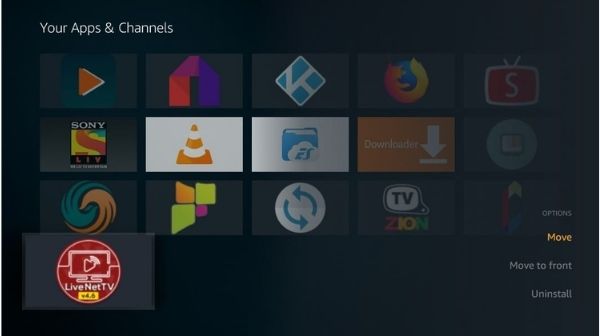 Now you have moved the Live NetTV app to the home screen. You can access it easily.
The Latest And Upcoming Versions
The latest version of Live NetTV is v4.8 and millions of users are enjoying watching live TV channels and sports stuff around the world. Developers of Live NetTV have been working on the upcoming version, v4.9, which will be available online soon.
Features of Live NetTV
Accessibility to free-of-cost entertainment stuff.
Stay updated by watching live news channels.
Access to local and international entertainment content.
Save a playlist to watch your favorite content later.
Live recordings of your loving moments are possible.
In addition to the above, it supports live streaming even on a weak internet connection.
You can watch its content using your WIFI or internet facility or any other shared internet connection.
Get to watch all the old TV drama along with the latest stuff.
Get notified of the latest sports updates and matches.
You don't have to sign up; just move with the flow.
You can watch any cricket match live online, such as IPS or PSL.
Buffer-free content using mobile data.
What's Updated About The Latest Version V4.8?
Sports Content:
The developers work every minute to keep you up-to-date about sports content. you can watch any sports channel, news, or show around the world and enjoy live sports streaming. Moreover, Live NetTV includes all types of sports and channels. Adding to that, you can watch IPL, PSL, champions trophies, and world cup matches related to any kind of sports.
Access To New Channels:
The Live NetTV app was developed so that you could access all the latest content, such as shows, movies, sports channels, and news channels to keep up to date. However, for all these contents, there are separate categories each. You can list your favorite channels and get notified of the updates on those channels.
Kid's Favorite:
NetTV is a favorite live TV option for kids and families as well. Kids love to watch cartoons and animated shows on Live NetTV. Also, Children can watch any cartoon network on this application.
Option To Request For  Desired Channel:
Live NetTV is the only application that gives you an option to request your favorite channel if that is not available in the current library. The developers will consider that and they will work on the next update.
Report Bugs:
Live NetTV gives you the freedom to report any kind of bugs or broken links that appear using the application. You can report any fault, directly to the app using the reporting option of this application.
External Players Support:
The latest version of Live NetTV v4.8 supports external players too including MX players, Android players, XMTV players, and its XYZ player.
Chromecast:
Live NetTV provides Chromecast support to its users so that its users can watch and enjoy their favorite shows or dramas on the big screen. You just don't need to stick to your mobile screens.
The Pros And Cons Of Downloading Live NetTV
There could be some benefits and consequences of suing applications. Similarly, Live NetTV also has some benefits and consequences as well. Let's have a look.
Pros:
All the versions of the Live NetTV app are archives. You can install any version of this application according to your requirements.
You can download Live NetTV using the third-party website.
Instant Downloading.
You can install and uninstall the APK file whenever you want after downloading it to your mobile phone's memory.
Cons:
Downloading from a third-party website can damage your mobile phone data because the file is not verified by Google.
Chances of personal data stealing.
No gradual or interval updates for the app.
Not verified by Google, and no access to Google Play.
Conclusion
To summarize, the Live NetTV app is a free entertainment app that you can download and install following the above instructions. Live NetTV delivers the finest quality and variety of live streaming. The app gives you access to all the content, including local and international content. You can watch all the new and old dramas, movies and shows whenever you want. Live NetTV supports all devices, including Android and smart TV like FireTV.
Live NetTV gives you the option to report any bugs or broken links. It allows you to request your favorite channel if you are unable to find your desired channel. It also supports build-in players along with external players like MX players. Live NetTV is a complete entertainment package for everyone who wants all the entertainment genres content in a single app.
FAQs
Q. How much does it cost for Live NetTV?
The Live NetTV application is a free application that provides all kinds of entertainment content to its users. Both old and brand-new.
Q. Is Live NetTV a reliable entertainment app?
Yes, Live NetTV is a very reliable entertainment provider. It features all genres such as sports, dramas, shows, movies, news cartoons, and much more.
Q. What is problematic about Live NetTV?
Live NetTV is not verified by Google and therefore, Google Play does not support it. If your app is not working on Android, you need to uninstall the app, download it, and reinstall it.
Q. Is Live NetTV a legal app?
Yes, Live NetTV is a legal app and the content is legal too unless you start watching the copy-write content on the app. That would be considered illegal.
Q. Why does Live NetTV require permission to install?
To download a file or an app from a third-party website requires permission to download it from an unknown source other than Google Play. Therefore, it required a permission access system for your device.