American sports anchor Molly Qerim Rose, famously known as just Molly Qerim, is the current host and moderator of the 'First Take' show on the ESPN network. She previously also worked for the NFL Network and hosted several shows, including NFL Fantasy Live and NFL AM. Besides, she previously hosted the weekday morning show of the NFL Network. And since then, she has witnessed huge popularity for her gorgeous look and confident attitude.
| | |
| --- | --- |
| Full Name | Molly Qerim Rose |
| Date of Birth | 31st March 1984 |
| Age | 38 years |
| Profession | sports anchor |
| Marital status | Married |
| Children | Unknown |
| Spouse | Jalen Rose |
| Height | 5′ 6" feet |
| Weight | 63 |
| Siblings | Unknown |
| Father Name | Unknown |
| Net worth | $3 million |
Molly Qerim Biography and Facts
Besides hosting the 'First Take' show, she previously hosted the 'Fantasy Football Now' for ESPN2. She then also worked for the network as their breaking news reporter. Molly won the prestigious Emmy award in the sports news category for her show for ESPN2. Besides her association with the ESPN network, she also hosted several other popular sports shows such as 'SEC Tonight', 'SEC Tailgate Show', 'Full Court Press, and 'MaxPreps Lemming Report'.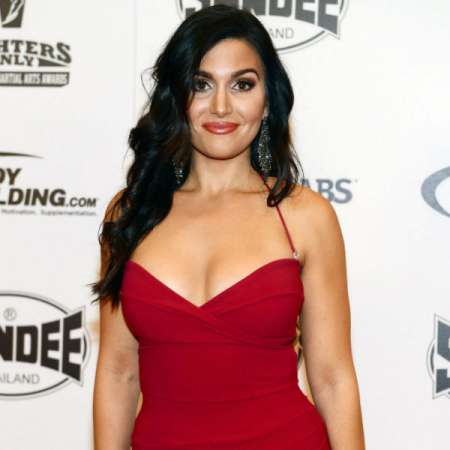 Molly Qerim Rose Career
After completing her educational journey, Molly started working as a TV presenter and anchor for the CBS Sports Network. Besides the collegiate football leagues, she also covered the US Open and the NCAA Tournament at that time. Moreover, she also covered National Signing Day. Shortly after, she started working as a studio presenter and hosted several popular shows like 'SEC Tonight', 'SEC Tailgate Show', 'Full Court Press', 'MaxPreps Lemming Report', and 'Bracket Breakdown'.
Besides football and Tennis, Molly also started to cover UFC for several networks, including ESPN, FS1, and NBCSN (Versus at that time). She then also co-hosted the annual event of, the World MMA Awards. Shortly after, she started hosting the 'College Football Live on ESPN and ESPN2 in 2008. The following year, she started working as a breaking news reporter. Moreover, she also started cohosting a show called 'Campus Connection' on ESPNU.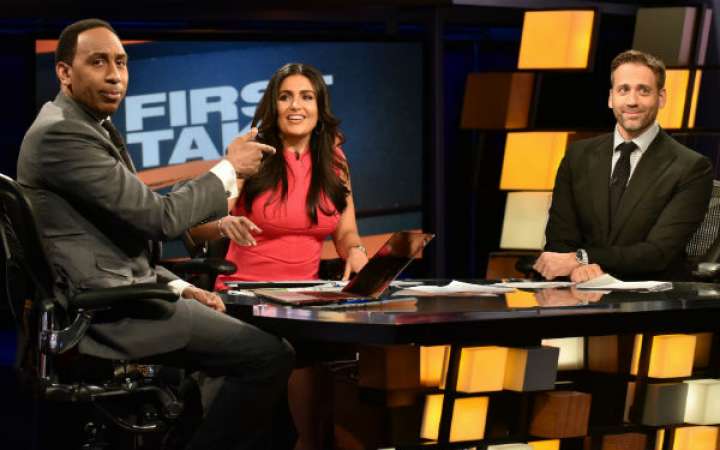 Molly Qerim Recent Career
Besides her active career as one of the best sports anchors for ESPN, Molly also started becoming a part of several digital contents since 2012. She interviewed some of the most popular athletes for ESPN Mobile and ESPN websites. She then also started to cover Super Bowls and the red carpet events. Besides, she also worked on the Heisman Trophy presentation. Shortly after, she also covered the NBA Draft and the NBA All-Star Game.
After covering the NBA, she also covered the MLB All-Star game and interviewed several great baseball players. After Cari Champion earned her promotion to the flagship show of ESPN, SportsCenter, Molly took her place in the 'First Take'. And since July 2015, she became the main host of the show. Within just three months as a host, she earned her promotion as the permanent host of the 'First Take' on 15th September 2015.
Molly Qerim Endorsements
Molly is currently managed by Creative Artists Agency. This talent management agency is based in Los Angeles in the United States. Besides hosting the shows for ESPN, she started doing ads and promotions for industry leaders such as PUMA Women, Tissot Swiss Watches, Bose, and AM GIA.
Moreover, she also appeared in ads for Elisabetta Franchi, ThatGirlThatDidYourHair Shop, MIAOU, Cipriani Restaurant, Laruicci Megawatt Jewelry, and Zen Bronze. She is the current ambassador of the Boys & Girls Club organization.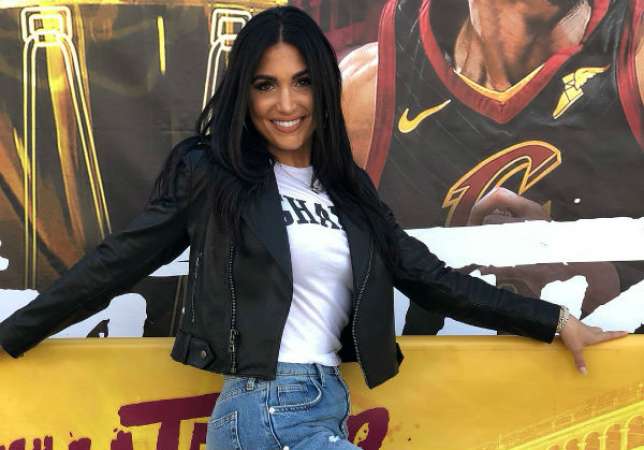 Molly Qerim Education
Molly started her educational journey at Cheshire High School. She also started playing tennis for the school team. After her schooling, she took admission at the University of Connecticut and graduated with a bachelor's degree in Communication with a minor in business administration. Following her Bachelor of Arts, she took her admission to Quinnipiac University and completed her master's degree in broadcast journalism.
Molly Qerim Family and Childhood
Molly was born in the New Haven area of Connecticut in the United States. She is half Italian and half Albanian. Although she has a mixed ethnicity of a Mediterranean descent, she now holds American Nationality. Her mother is a practicing Muslim, while her father is a Muslim. She became a sports admirer from her childhood as her father is an avid fan of Ney Work Yankees and Boston Celtics.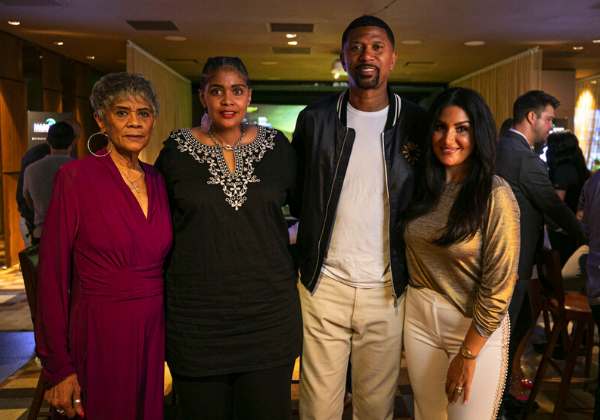 Molly Qerim Husband | Molly Qerim and Jalen Rose
After a brief relationship, Molly tied her knot with former NBA superstar and her fellow ESPN host Jalen Rose in July 2018. Following his retirement from professional basketball, Rose is currently working as a sports analyst for ESPN. Besides, she is also the co-founder of the Jalen Rose Leadership Academy. Although the couple doesn't have any kids as of 2023, Jalen has two daughters and one son from his previous affairs.
Angelica, one of Molly's very close friends, once posted a video on her Instagram handle where it has seen that Molly was getting intimate with another man. The video went viral, and her fans accused her of an extramarital relationship. Later, Angelica clarified that the video she posted was actually of a Mexican couple and has nothing to do with Molly. Jalen Rose, on the other hand, remained silent on this whole controversy.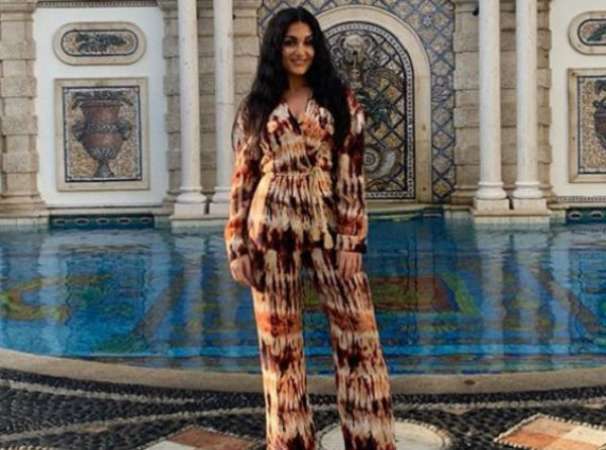 LaVar Ball Molly Qerim Feud
Former American football tight end and father of three NBA stars, LaVar Ball, came into the 'First Take' show on ESPN that Molly was hosting on 17th June 2019. Molly, who wants to move to another topic while talking, said that she wants to "switch gears" on that show. Lavar Ball then replied, "You can switch gears with me anytime," which went viral. Molly then quickly controlled the situation and asked LaVar Ball to stay focused.
Former ESPN presenter Jemele Hill praised Molly Qerim for the way she handled the situation. Later that day, a spokesperson of ESPN admitted that the comment of LaVar Ball on Molly was absolutely inappropriate and they made him aware of this thing. LaVar Ball, on the other hand, said her mind was completely "in the gutter" as his comment on Molly was misinterpreted.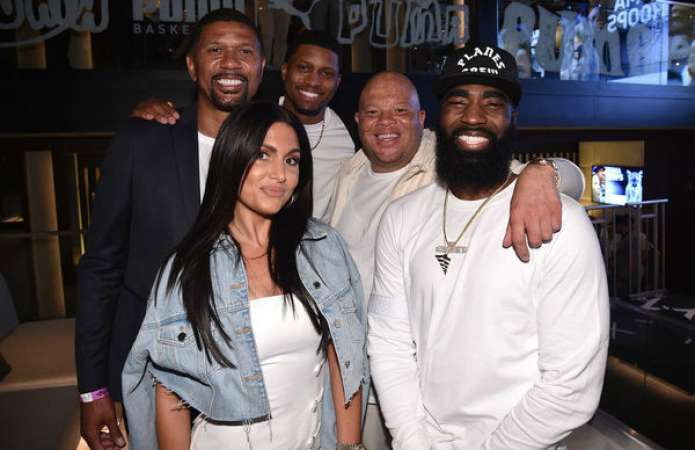 Molly Qerim Disease
Molly publicly announced in 2018 that she is suffering from severe endometriosis. It is a painful disorder where the tissues that usually grow inside the uterus, the endometrium, start to grow outside the uterus. After struggling with the disease for almost seven years, Molly started to talk about the issue in public in 2018 to help other women who are diagnosed with the same medical condition.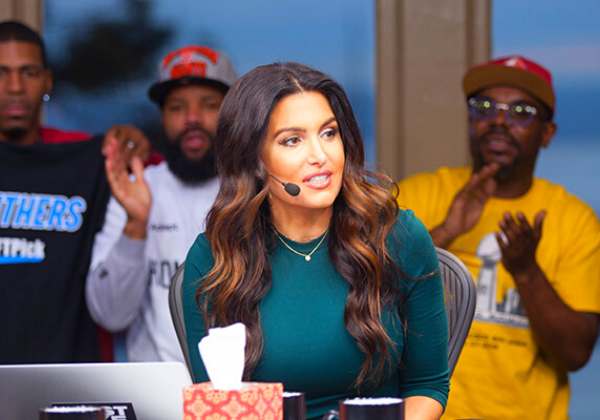 Within a few months, her condition became worst as the cyst of her uterus actually burst and released the toxins all over her internal organs. The condition quickly spread in all of her vital organs, including kidneys and lungs. Besides the medical guidance, Molly opted for acupuncture therapy to manage the pain. She once said that the therapy also helped to regulate her hormonal imbalances.
Molly Qerim Net Worth
According to the current reports of 2023, the net worth of Molly Qerim is estimated to be around $3 million. Besides, she is currently drawing around $500k salary from ESPN to host the 'First Take' show. Her husband, Rose, is also a millionaire.
Molly Qerim Stats – Infographics
FAQ regarding Molly Qerim
Q. Who is Molly Qerim?
Molly Qerim is an American sports anchor and TV presenter who now works mainly with ESPN. She previously covered several major events like NBA drafts and Super Bowls. And now, she works as the main host of the sports show called 'First Take' on ESPN.
Q. Where is Molly Qerim?
Molly Qerim now hosts the sports debate show called 'First Take' on weekdays morning on ESPN. She started co-hosting the show with Stephen A. Smith and Max Kellerman in 2015. Besides her work as a television presenter, she also endorses several brands such as Puma and Tissot.
Q. What happened to Molly Qerim?
Molly Qerim is currently hosting the weekday morning sports debate show called the 'First Take' on ESPN. She created a huge sensation with her feud with former American Football player LaVar Ball. Besides, she once also left the set after Max Kellerman passed a remark on Kobe Bryant.
Q. Who is Molly Qerim dating?
Molly started dating her colleague of ESPN, Jalen Rose, as they both worked together. Rose is a former basketball player and currently works as a sports analyst at ESPN. The couple got married in July 2018.
Q. How old is Molly Qerim?
Molly Qerim is 38 years old as of 2022. She was born on 31st March 1984 in the coastal city of Connecticut, New Haven. She married Jalen Rose in 2018 who is now 49 years old.
Q. How tall is Molly Qerim?
Molly Qerim is 5 feet 5 inches (1.68 meters) tall which is splendid for a gorgeous anchor. She has quite an athletic built as she regularly opts for work out.
Last Updated On: December 2023