American basketball star Tyler Christopher Herro, famously known as just Tyler Herro, has already proved himself as one of the brightest prospects in competitive basketball. He currently plays for the National Basketball Association franchise Miami Heat. However, he came into prominence during his career with the Kentucky Wildcats in college basketball. And since then, several media started speculating about his possible entry to NBA at a very early age.
| | |
| --- | --- |
| Full Name | Tyler Herro |
| Date of Birth | January 20, 2000 |
| Age | 22 years |
| Profession | Basketball player |
| Height | 6'5" feet |
| Weight | 63 |
| Siblings | Two |
| Father Name | Jen Herro |
| Net worth | $5 Millions |
Tyler Herro Stats and Biography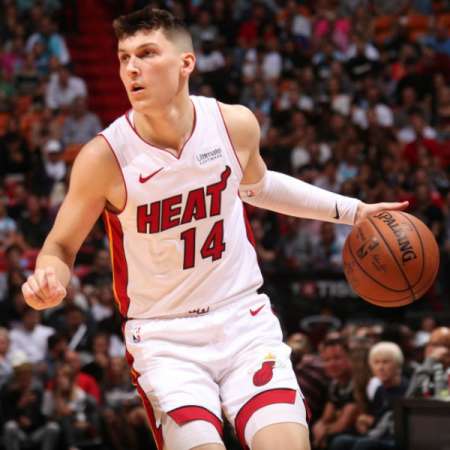 Tyler started his basketball journey while studying at Whitnall High School in Wisconsin. He became a talisman in his school team and scored more than 2k points during his high school career. Shortly after finishing his schooling, he started playing for the University of Kentucky since 2017. And in 2019, he played an unbelievable 29-point game against Arkansas. In that same year, Miami Heat picked him for their NBA squad.
Tyler Herro High School career
Tyler started playing basketball at a very early age. He became a regular member of his school team while studying in the Whitnall High School in Wisconsin. During his senior year, he had an average of 32.9 points per game including 7.4 rebounds and 3.6 assists. He also proved his worth during that time while shooting better than 50% from the floor and 43.5% from behind the triple-scoring line.
For his performance during his senior year in high school, he has achieved his place among the First Team All-State. He also scored more than 2k points in school games during his time with Whitnall. He first showed interest to opt for the University of Wisconsin in 2016. But in 2017, he showed his alignment with the Kentucky Wildcats. He then officially joined the University of Kentucky on 14th November 2017.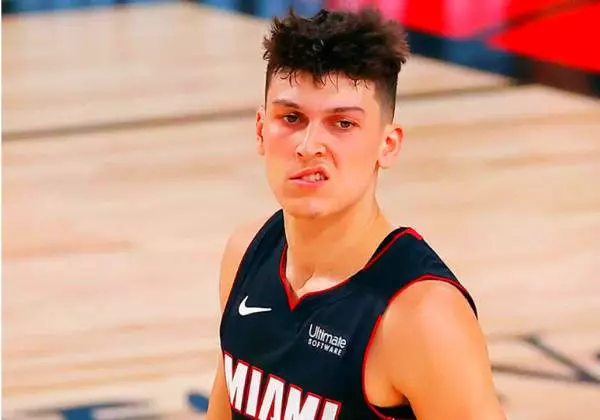 Tyler Herro college stats and Career
In his first year with the Kentucky Wildcats, he started in all of their 37 official games. He scored an average of 14 points with 4.5 rebounds and 2.5 assists during that season. Shortly after, he made a huge buzz in media after scoring 29 points in a game against Arkansas Razorbacks on 27th February 2019. Wildcats secured a comeback victory over Razorbacks that day with a 70-66 score in their favor. Besides, Tyler also scored 9 field goals and 6 free throws.
For his amazing performance that year, Basketball Times named him among the All-Freshman First Team. Moreover, the Associated Press also named him the Southeastern Conference Rookie of the Year. Despite having three years of remaining college eligibility, Tyler announced that he will opt for the 2019 NBA draft in a media conference on 12th April 2019. He soon hired an agent to run that process.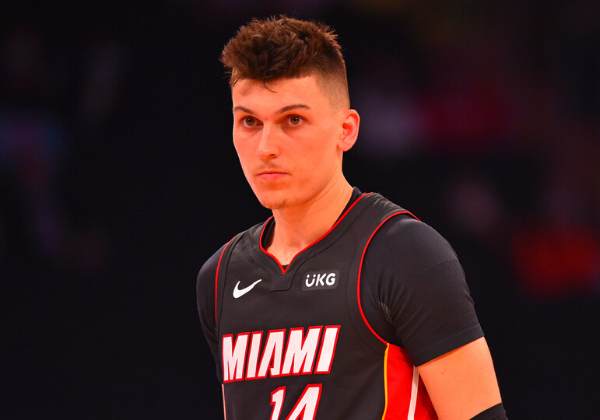 Tyler Herro NBA Career
Miami Heat picked Tyler as the first round 13th overall pick in the 2019 NBA draft on 20th June 2019. And in the 2019 NBA draft class, his fellow basketball rookies named him as the best shooter of that year. Shortly after, he signed a two-year contract with Miami Heat on 10th July 2019. He then made his NBA debut against Memphis Grizzlies on 23rd October 2019. Heat won that season opener against the Grizzlies with a 120–101 score.
In that match, Tyler scored 14 points with 8 rebounds and an assist. Besides, he also recorded 2 steals that night. Shortly after, he scored 29 points, his career-high till now, in an NBA game against Atlanta Hawks on 29th October 2019. Heat won the match against the Hawks with a 112–97 score. He then missed five weeks after suffering an ankle injury. However, he still remained as one of the brightest prospects of the Rookie of the Year award.
In the fourth game of the Eastern Conference finals on 24th September 2020, Tyler became the fourth player to score more than 30 points in a single match before even turning 21-year-old. Only Magic Johnson scored more than him at this age. His record in that game also bagged him the record of most points scored by a rookie. However, on 15th September 2020, he has earned his place in the NBA All-Rookie Second Team for the 2019-20 NBA season.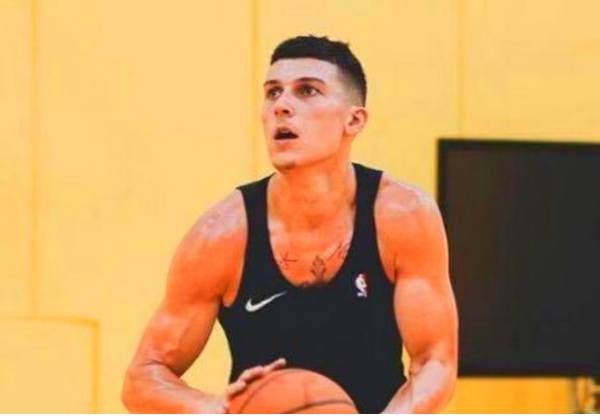 Tyler Herro Childhood and Family
Born on 20th January 2000, Tyler is the first child of his father Christopher Herro, and his mother Jennifer Herro. He grew up in the Milwaukee area of Wisconsin with his two brothers, Austin Herro and Myles Herro. During his college career, his fellow students named him 'Boy Wonder' due to his impeccable skills and unmatched shooting skills. He completed his schooling at Whitnall High School.
After finishing school, he started studying Communications at the University of Kentucky. He was very keen on fashion and photography besides his first love, basketball. He announced that he will launch his new clothing line by the end of this year. Besides, he also has his own charitable trust, The T. Herro Foundation. According to the recent rumors, he was dating a girl named Gabby Marraccini. However, the media also caught him hanging out with his current girlfriend, Katya Elise Henry.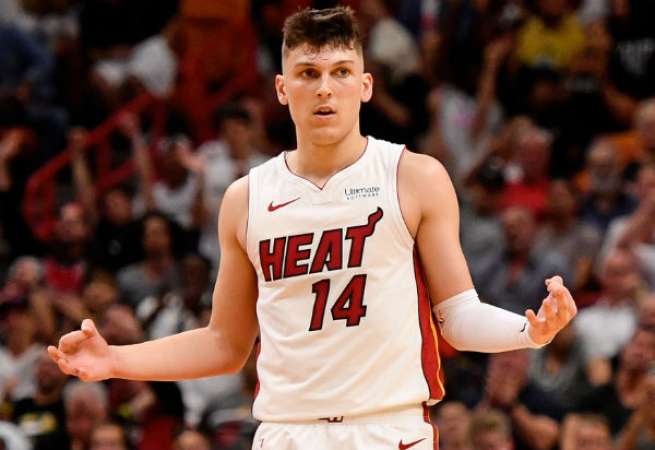 Tyler Herro Net Worth
According to the recent financial reports, the current net worth of Tyler Herro is estimated to be around $500k as of 2023. He signed a $3.6 million contract with Miami Heat in 2019. However, he had a $3.8 million option for the 2020 NBA season. Besides, Miami Heat also has a team option in 2021 and 2022 for $4 million and $5.7 million respectively. He now earns quite a good amount of yearly salary from his NBA franchise, the Miami Heat.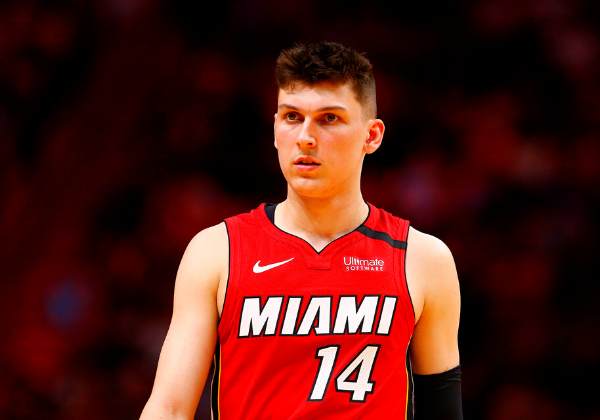 Tyler Herro Awards
Besides delivering amazing performances for his high school and college career, Tyler has several amazing accolades under his name. Some of the most notable among those are:
SEC Newcomer of the Year 2019
Jordan Brand Classic 2018
Nike Hoop Summit 2018
Tyler Herro Stats – Infographics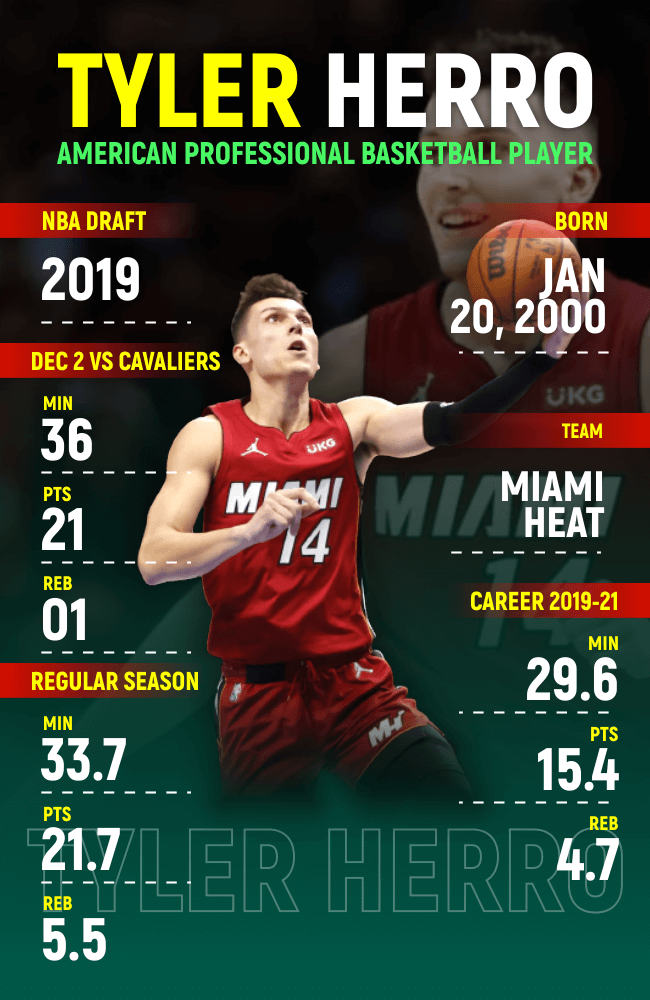 FAQs Regarding Tyler Herro
Q. Who Is Tyler Herro?
A. Tyler Herro is an American basketball player currently playing for the NBA franchise Miami Heat. He started his basketball career while playing for Whitnall High School. He then played for the University of Kentucky before appearing in the 2019 NBA Draft.
Q. Why did the crowd boo Tyler Herro?
A. Tyler Herro returned to his homeland Wisconsin to play against the native team Milwaukee Bucks in his second game of the 2019 NBA season. However, his homecoming is not as expected as it should be. And, the basketball fans of his native place booed him for playing against his native team.
Q. What happened to Tyler Herro?
A. After having a successful college career at the University of Kentucky, he joined the NBA franchise Miami Heat following the 2019 NBA draft. He started playing quite well in the league. However, he suffered an ankle injury and remained out of the basketball court for five weeks.
Q. How tall is Tyler Herro?
A. Tyler Herro is 6 feet 5 inches (1.96 meters) tall. He is always a tall basketball guy since his college days. And for that, his fellow college mates named him 'Wonder Kid'. Due to his height, he gets an advantage while playing as a shooting guard.
Last Updated On: May 2023