Most kids are stuck in video games, and that's concerns many parents for its disadvantages. Thankfully, there are air hockey tables for kids on our list that are going to be the perfect substitute. These tables offer a perfect arcade-style air hockey experience that is fun and healthy at the same time.
Meanwhile, such air hockey tables are user-friendly, which is a plus point for the kids to grasp the game. On the flip side, players must not worry about their storage capacities as these tables offer manageable sizes that fit for easy storage purposes.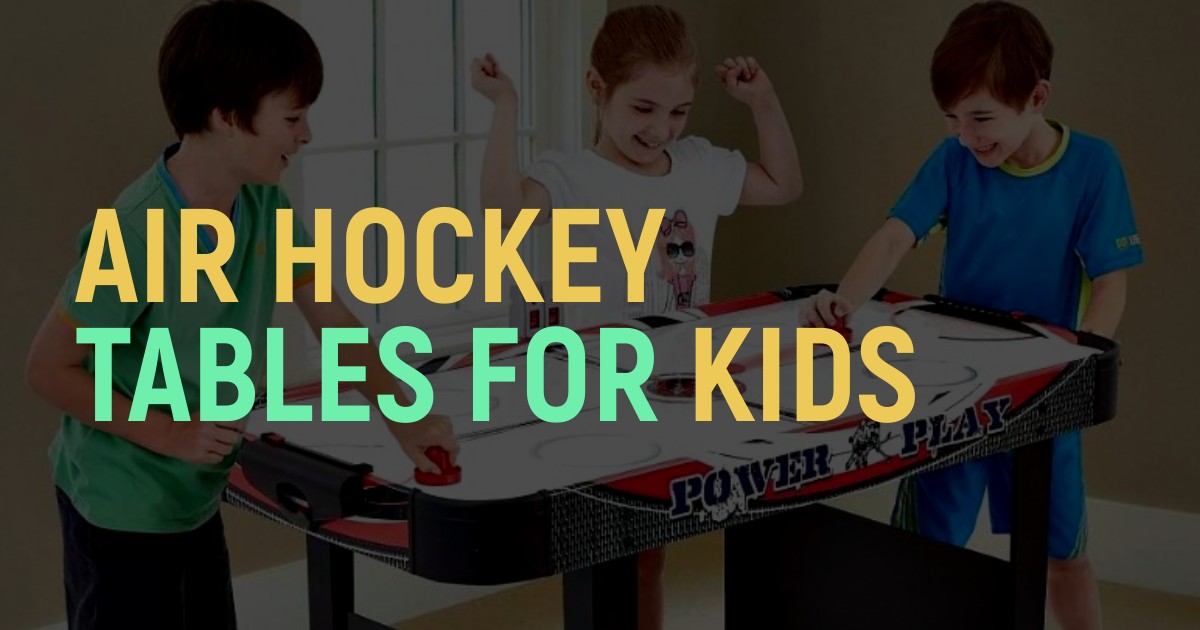 But there are some key things to remember before making a purchase. A buyer must seek the user-friendly nature of the table as well as quality assurance. Moreover, there is a range of sizes, so selecting the right one for a buyer's requirement is important.
Best Air Hockey Tables For Kids | Editorial Pick
EDITOR
CHOICE
★★★★★
Hathaway Hat Trick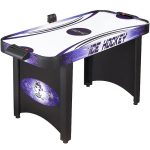 Fast-Paced
Better Gliding
UL Approved
TOP
RATED
★★★★★
Sport Squad HX40
Competitive Table
Sliding Scorer
Friction-less
BEST
SELLING
★★★★★
Mini Arcade Table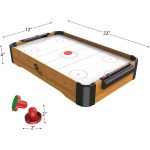 Portable Design
Air Motor
Puck Return
Best Air Hockey Tables for Kids | Full Ranking
We have already reviewed the best air hockey tables under $1000 and the best tables under $500. But yes, these reviews will be truly incomplete without exploring some of the best Air Hockey Tables for Kids and toddlers. So without further ado, let's check this out!
BEST OVERALL
Hathaway Hat Trick Air Hockey Table for Kids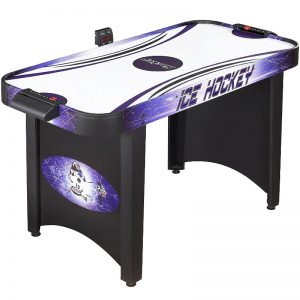 ★★★★★
110V Blower
1100 Air Holes
Features:
A fast-paced game with a 110V blower that provides smooth airflow throughout the surface
Pucks glide without trouble with the even poly-sealed surface on this air hockey table
The surface incorporates 1100 air holes that guarantee a seamless flow of the game
The table is built with sturdy engineered wood and 4 unique color graphics
UL approved, which ensures performance
This table comes with balanced pucks and strikers that flow on an even poly-sealed surface. Moreover, you're getting distinctive colors graphic print with this table to ornate your personal spaces.
Build an unbeatable fun foundation with one of the best air hockey tables for kids. But yes, you do need to use some best air hockey pucks to get the best experience with this table.
Specification:
Dimensions: 54 x 24 x 31 inches
Playing Surface: 47 inches
Weight: 37 lbs.
Color: black & white
Powered By: 110V fan
Air Holes: approx. 1100
Battery: 2 AAA batteries required
Seamless Flow Of Air: The table fits a powerful 110V fan that blows an incredible amount of air throughout the table surface. Your table surface marks over 1100 precisely drilled holes for a smooth flow of air throughout the match.
A Promising Surface: Your table's strong point is its poly-sealed surface that offers an even flow of pucks throughout the game. There are 4 color printed graphics on this table for a catchy appearance. The table is made out of strong and durable engineered wood, offering lasting performance.
Focused Game: Players will no longer miss-match updates with the table's dual scoring functionality. It has both manual and analog scoring systems that help you keep track of the score. They are fixed on both ends so both players can stay updated most impressively.
Flat Experience: Leg-levelers with this table are adaptable to all kinds of bumpy surfaces. So you can have an even game even when the surface isn't flat. Furthermore, it comes with a warranty of 90 days for the customers' satisfaction.
Pros
Includes pucks and strikers in the package
1100 holes on the surface offer substantial air influx
The 110V blower promotes even airflow throughout the surface
4 color printed graphics that attract the kids
The price tag is moderate
Cons
Working issues with the fan
It has dead spots where pucks don't move freely
Our Take: Poly-sealed surface with 1100 precisely drilled holes offers fair game, making it a stellar option. Further, it is equipped with a high-output blower that provides maximum airflow.
BEST-RATED
Sport Squad HX40 Air Hockey Table For Kids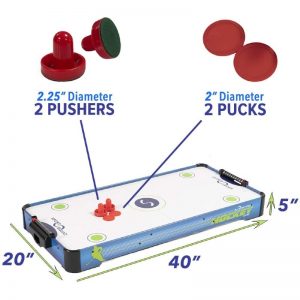 ★★★★★
Friction-less Play
Satisfaction Delivered
Features:
A competitive air hockey table for kids that includes two 2.25 inches plastic strikers and two 2 inches pucks
Stay updated in the match with 2 manual sliding scorers on both ends of the table
The strong experience is supported by AC-12V motor offering frictionless play overall
100% satisfaction guarantee offered by the company
Adapt to a realistic arcade-type game with this compact air hockey table for both kids and adults. The table itself is quick to assemble and comes with high-quality air hockey pucks and strikers.
Meanwhile, the powerful 12V electric fan offers an impressive gaming experience.
Specifications:
Weight: 10.7 lbs.
Available Colors: Sky Blue & Dark Blue
Base Material: plastic
Frame Material: Engineered Wood
Powered By: AC 12V motor
Assembly Required: yes
Get Competitive: Your competitive style air hockey table offers a purpose-built design for dual-player matches. Its lightweight form factor makes it a great deal of entertainment everywhere you go. The surface packs manual scorers on both sides so the players can stay focused and bring the game up.
Quality Air Hockey: This appealing table has all the quality components ensuring a sublime game experience for all. It comes with two 2.25 inches strikers and two 2 inches pucks made from good quality materials.
In addition, these components match up with the even surface for a top game. As a result, players will no longer experience any friction and stutter concerning the puck's glides
Powerful Motor: Get your air hockey game performance to the next level with the AC-12V motor. This electronic motor gives an impactful airflow on the surface, marking an impressive game.  An adaptor is also included in the package.
Manual Scorers: It comes with the manual scorers fixed cleverly on both player sides. The signals each goal when happens prominently. Therefore, keeping the players updated with each goal happening in the match.
Pros
Frictionless surface with AC-12V motor
It offers an easy and quick assembling
Balanced pucks and strikers included
Manual sliding scorers for goal updates
Low price
Cons
Fragile corners
Complains about floating problems with pucks
Our Take: Substantial AC-12V motor combines with the balanced pucks along with the quiet and even airflow that makes it perfect for kids. Moreover, kids can assemble it easily within 5 minutes.
POPULAR CHOICE
Mini Arcade Air Hockey Table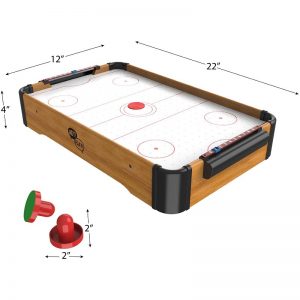 ★★★★★
Portable Design
Strong Motor
Features:
Portable design that is built to offer a great dual player arcade-style experience
The table holds 2 sliding scorekeepers on both ends to keep the players updated throughout
A strong air motor offers an even flow of air throughout the table surface
No more in-game pauses with the convenient pucks return technology on the table
Uncover an immense air hockey game right on your tabletops with this one of the best air hockey tables for kids. It's easy to keep track of the game with the sliding scorekeeper fixed on both sides.
The smooth experience is supported by the excellent air influx thanks to the air motor.
Specifications:
Dimensions: 12 x 22 x 4 inches
Hockey Paddle Diameter: 2 inches
Puck Diameter: 1. 5 inches
Weight: 5.46 lbs.
Color: wood brown
Material: wood & plastic
Portable Design: This table offers a unique blend of conventional air hockey in a portable design that is easy to carry. It has a decent 22 inches size with a manageable weight for you to carry it everywhere. This compact design table does not eat up your living space.
Pucks Return Technology: You're no longer going to look for pucks after each goal. Putting pucks back in place after every goal can take some of your time, resulting in a pause. Here, this pucks return technology appears to provide convenience and time-saving options to its player during a match.
Strong Airflow: Players can expect thrilling matches thanks to the powerful blower installed on the table.  This makes pucks slide over the smooth and even playfield without a problem.
Moreover, the table claims to end dead spots on this table surface. Thus, the manufacturer has ended a very common issue concerning every air hockey table.
Pros
Portability redefined with manageable weight and size
Strong air influx offers quality pucks glide
Pucks return feature saves in-game time
Low price
Easy to assemble
Cons
Complains about weak airflow
Average quality pucks
Our Take: A portable 22 inches table with pucks return technology offers a great air hockey experience to everyone.
MODERN
EastPoint Sports Hover Hockey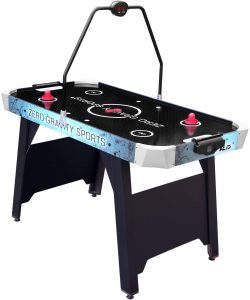 ★★★★★
40-Inch Surface
Highest Quality
Features:
40 inches playing field, this is smoothly balanced with supporting materials
A set of pushers are also included in the table package made of a top-quality substance
NHL team logos have been textured on the sides of the hockey table
It is powered by DC 12 Volts
The EastPoint has introduced a smooth gaming surface along with firm body construction. The balanced has been maintained with the aligned placement of the parts, which is also tested before use.
Moreover, the kids love the exterior design texture as well. You won't need to worry about your kids once you get it on your house.
Specifications:
Dimensions: 54 x 27 x 31.25 inches
Playfield Area: 53 x 26 inches
Weight: 39.3 lbs.
Frame Material: Engineered Wood
Powered By: DC 12V
Assembly Required: yes
Air-Powered Surface: The exterior has been well polished with a glossy impact that resists any scratches and possibilities of damages. And the air-powered hover surface that enhances the professional sliding platform as you desire. Plus, the Hi-gloss exterior is evenly layered to increase the attraction.
A Complete Gaming Set: There's a 40 inches mini size length air hockey gaming table featuring the perfect shape and color texture scheme on the body. A set of pushers having a red body surface and made of firm construction along with 2 pucks are also there in the package.
Slide Scoring: It will let the players be updated with the game's latest scenario-related each player's score system. Plus, the pucks do not get disturbed in the sliding mood; they get the position in the given direction.
Pros
Handy size and compatible to play for all ages
Plastic construction and glossy surface
A portable design structure and complete accessories
The price is friendly
Cons
Plastic construction is poor quality
Our Take: A collaboration of appealing and glossy design construction and 40 inches are playing surface, making it perfect for kids. Further, it is made with durable material.
HEAVY-DUTY
HaxTON Air Hockey Table Game Set
★★★★
ABS Technology
Enhanced Experience
Features:
It offers a commendable scoring mode for an enhanced gaming experience
This table has a machine perforating technology and wind suspension for trouble-free matches
The table's corners use ABS angle technology for improved safety and pucks protection
Expand your air hockey vision on a 40″ arcade-style table with high-end pucks and pushers. This table offers an even airflow with the advanced 12V DC motor.
Meanwhile, the improved scoring mode exalts the gaming experience to the level of perfection.
Specifications:
Size: 40 inches
Powered By: DC 12V motor
Color: black
Assembly Required: yes
Safety Feature: This 40 inches air hockey table uses ABS angle on the corners for keeping your pucks safe. This protection allows you to practice your air hockey skills without the fear of harsh corner collisions and flyouts. This makes it a great option for all the beginners like kids to practice air hockey to the fullest.
LED Scorer: Players can play on this table with peace of mind, thanks to the LED scorer. You'll find goal updates in the most prominent way because of this scorer. Moreover, the enhanced scoring mode makes its way here to improve the overall experience.
Machine Perforating Technology: This feature allows an even flow of air throughout the playfield. Players can feel the smooth flow of the pucks due to this versatile technology. While the wind suspension feature swallows friction on the playfield.
Quick Assembling: Many customers complain about the perplexing assembling of air hockey tables of this size. Further, this 40 inches air hockey table offers quick assembly for its size. So players can get started for their next match in minutes.
Pros
LED scorer offers convenient score reading
Wind suspension sucks friction on the surface
Offers fast assembling
Corners use ABS angle for puck's protection
The price is moderate
Cons
Complain about a broken fan from shipment
Our Take: ABS protection and perforated machine technology promise the best air hockey experience for everyone. Plus, it is easy to assemble for kids as well; it took only 5 minutes.
PROFESSIONAL
Electronic Air Hockey Table for Kids
★★★★
LED Scorer
Modern Design
Features:
It comes with both Manual and LED scorers for a convenient game
The table is ready to play in minutes with no intricate assembling
It offers a modern Cyclone design that looks appealing to every eye
The table is built lightweight so players can take this game anywhere without having to do much
Discover a fluent air hockey game with this electronic air hockey table by Zdgao. A powerful electronic motor powers the frictionless surface.
This table surface has all the holes drilled with keen stress towards even airflow for an unstoppable game.
Specifications:
Dimensions: 38 x 19 x 5 inches
Weight: 18 lbs.
Material: Engineered Wood
Power: DC 12V motor
Battery: 2 AAA required
Color: black and blue
No. Of players: 2 to 4
AC-12V Motor: This potent motor ensures the even air pass through the whole playfield in a gentle manner. This is specially designed to offer the best experience for the kids in this category. Meanwhile, it can be enjoyed by people of all ages thanks to this table's adaptable nature.
2 Scoring Systems: It offers manual as well as LED scorer to top the remarkable experience. Many players prefer manual while some prefer the electronic LED ones. So this table is set to target all kinds of players with the two types of scoring systems.
Trendy Design: You're getting punchy colors and a unique Cyclone design to elaborate your living space. Its design matches the playful nature of all kids in a trendy touch.
More Space For More Convenience: It includes Phone/cup/key holders on both sides with Velcro sticking on the back of the playfield. An anti-slip cushion is included on every leg for an even playfield experience. Therefore, this table gives you more space and features in a compact form factor.
Pros
Both manual and LED scoring systems included
Cyclone design offers a trendy finish
The lightweight form factor offers mobility
Moderate price tag
Cons
Sometimes the LED scoring system doesn't work
Our Take: Modern Cyclone design that attracts kids, as well as AC-12V motor with the LED and manual scoring system, offers an elite air hockey game for the kids.
COMPACT
Point Games Air Hockey Table for Kids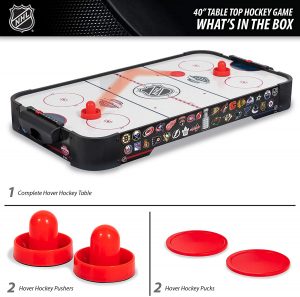 ★★★★
Flexible Leg Leveler
12V DC Motor
Features:
It comes with the flexible leg-levelers offering an even game to its players
Powerful 12V DC motor offers effortless gliding of pucks for a fair game overall
Keep track of the game pace with the promising scorekeepers on both ends
The foldable design makes it a great storage option while it comes with leg-levelers holding even game on any surface. Its perfect size helps to keep the kids active and energetic.
Entertain your kids with a foldable indoor air hockey table that is one of the best air hockey tables for kids.
Specifications:
Dimensions: 40 x 20 x 6 inches
Size: 40 inches
Color: black
Powered By: DC 12V
Material: black
Assembly Required: Yes
Foldable Function: The table offers a generous playfield area with flexible legs that are foldable. This feature makes it a convenient storage option for all. Its flat and long legs give the table a decent height. Furthermore, it allows the kids to have a fun physical activity.
Effortless Gliding: A substantial 12V DC motor ensures the exact airflow through the whole playfield area. As a result, all the pucks are going to glide effortlessly throughout the game without getting caught by friction.
Leg-Levelers: Your table's leg-levelers provide a great balance even on a tough surface. These leg-levelers tend to adjust automatically to uneven surfaces. Therefore, it provides a flat playfield even when the ground/base isn't flat.
Track Performance: There are two scorekeepers on this table facing each other on both ends. These opposite scorekeepers make a great spot for both players to have a quick glimpse of the situation. Hence, the table gives its players the best way to track their performance in the game.
Pros
Effortless gliding with the power of 12V DC motor
Tracking performance is easier with 2 facing scorekeepers
Leg-levelers for a balanced playfield
The foldable feature makes it an easy storage option
Cons
Crack corners
Few customers report scratches on the surface
Our Take: Play a smooth and even game with this table as it comes with flexible leg-levelers. Moreover, it offers easy storage with foldable function, and the 12V DC motor offers an exceptional purchase for all.
FAQ Regarding Best Air Hockey Tables for Kids
Q. What age are air hockey tables for?
5 year old and up kids can play easily.
Q. Is an air hockey table worth it?
Air hockey table is a worth-buying for any room or playing area. It can keep the kid or adults busy for hours and provide fun. Further, the air hockey table is fun for the entire family and keeps the family together for hours.
Q. Do air hockey tables need to be plugged in?
Yes, all the air hockey tables are equipped with a motor that needs electricity to run. The motor can provide maximum airflow as it has many tiny holes on the surface of the table.
Best Air Hockey Tables For Kids | Quick Comparison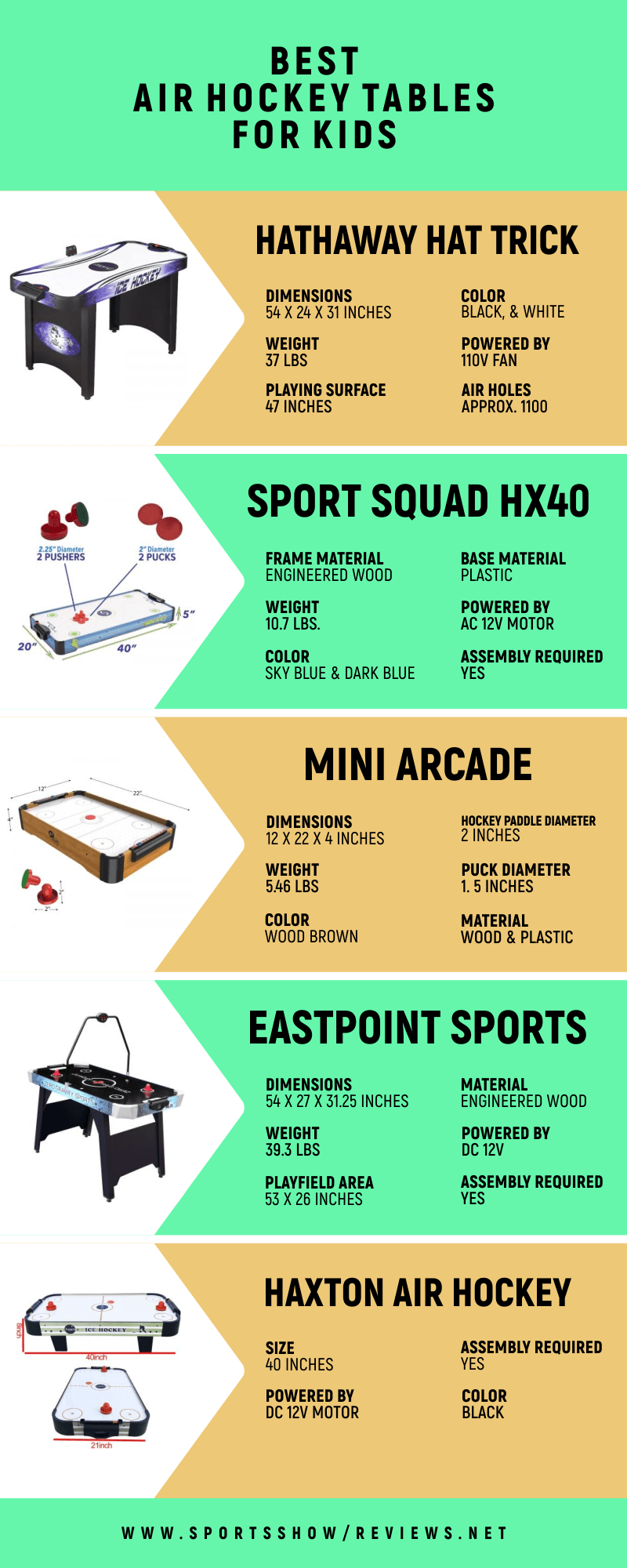 Our Recommendation:
Our 1st recommendation is the Hathaway Hat Trick 4-Ft Air Hockey Table for Kids as the most durable hockey table. The plastic base material construction, along with a level playing surface, makes it a perfect choice.
Moreover, our 2nd recommendation is Mini Arcade Air Hockey Table- A Toy for Girls and Boys by Hey! as one of the best air hockey tables. A portable design structure comes with a complete range of accessories and sturdy construction.
Conclusion
Select the best air hockey tables for kids featuring sturdy body construction along with a stable structure. The construction of the table has been done with a wooden frame in most of the products. And the ABS playing surface has enhanced the smoothness of the gaming experience as compared with the normal tables.
Moreover, the weight of the tables is evenly distributed in the whole construction, which is helpful in the balancing position. The ground surface is protective that resists the maximum possibilities of scratches and damages. And the playing theme is, of course, much intended for young kids.