Must be wondering from where you get an accessible but surely a professional hockey table? Here we have gathered the top-ranked and best air hockey tables under $500, having a sturdy body construction.
The exterior is well polished with a graphical color scheme, and the structure is balanced throughout the construction. Furthermore, the players feel a smooth impact of pucks sliding, which is managed with a strong airflow rate.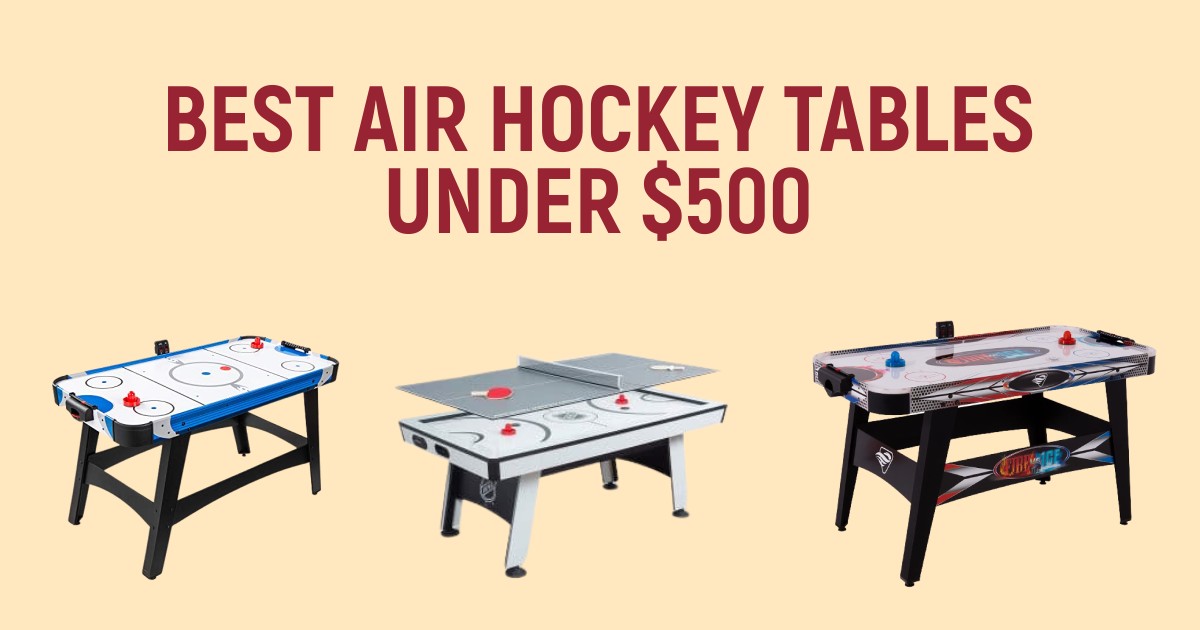 Most of the tables are electrical operators for getting the LED system. The digital scorers keep you update will the latest situations along with protective boundaries as well.
Best Air Hockey Tables Under $500 | Editorial Pick
EDITOR
CHOICE
★★★★★
Best Choice Products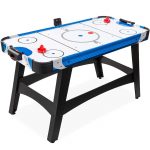 Best Scoring
PVC Layering
UL Certified
TOP
RATED
★★★★★
PUCK Calix Folding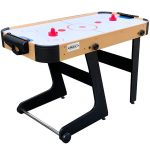 Arcade Copy
Sturdy Design
Better Air Flow
BEST
SELLING
★★★★★
PUCK Hydra Air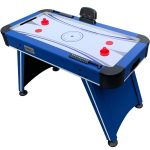 Adjustable Height
Medium Size
Full Accessories
Best Air Hockey Tables Under $500 | Full Ranking
You must have already liked our list of the best air hockey tables under $1000. But if you have budget constraints, you still have the option to have fun with your friends. So without further ado, let's check out our selection of the best air hockey tables under $500 to try this year.
BEST OVERALL
Best Choice Products Arcade Style Air Hockey Table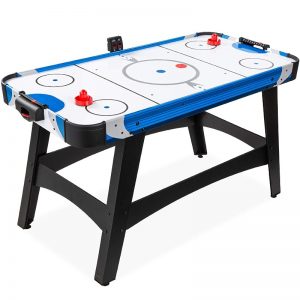 ★★★★★
Electronic Scoring
ASTM & CPSIA
Features:
It has an electronic scoring system that won't let you lose your concentration for noting scores
PVC layer is coated on the table to protect it from scratches and damages
The rails and boundaries are made heightened to save the pucks from falling
Corners are protected with safe coverings to keep the player safe from its edges
UL certified motor table to make you sure it works effectively
ASTM and CPSIA certification that ensures it is safe to use
Get this all-time renowned ultimate air hockey table with high materialization, which provides you a bunch of features like accuracy, durability, and portability at once.
Invite your intimates and family to this classical smooth surface table for thrilling gameplay. Just try it with some high-quality air hockey pucks to have complete fun.
Specification:
Dimensions: 56.5 x 27 x 31.5 inches
Puck Diameter: 2 inches
Pushers Diameter: 3 inches
Weight: 43.3 lbs.
Frame Material: Engineered Wood
Motor: 12 V
Color: black & blue
Age Recommendations: 8 years and up
Superior Frame: Enjoy your air hockey for a lifetime with this most durable and long-lasting table. The frame structure of the table is made from firm steel that is impossible to break.
You can play tough and hard shots because nothing is going to reduce the durability of this solid structure table. Furthermore, it is ASTM and CPSIA certified, which ensures it is safe to use even for kids as well.
Covering Pads: All the corners of the table are very sharps and edgy; there is some protection needed for the player. That is why the Best Choice Product store has added protective pads on every corner of the table.
Better Airflow: Play a smooth and balanced game because these tables have a motor attached to them that allows continuous airflow. Also, these motors help to keep the dust particle away from the table, maintaining the smoothness of the playfield.
Electric Scoring: You don't have to recognize your scores in mind because this table has a small score showing the screen attached to the rail. This is an electronic screen that shows the score or number of both players separately.
Pros
All the legs are attached with a joint to double the stability
The package comes with all air hockey complete accessories for a quick game
A certified motor is installed for airflow that works for years
It comes at a reasonable price
Cons
Airflow system can break after usage
The Scoring board shows irregular numbers
Our Take: A digital scoring system, along with firm body construction and UL certification, makes it one of the best air hockey tables under $500.
BEST-RATED
PUCK Calix Folding Air Hockey Table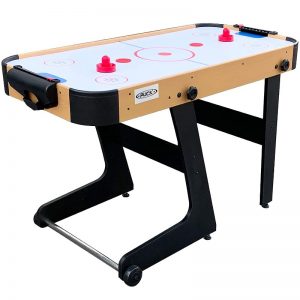 ★★★★★
Sturdy Wheels
Arcade Gaming
Features:
It has two legs with wheels to protect the ground from getting marks and scratches
A complete copy of arcade games best for arcade gaming players
All the corners of the tables are covered with caps for the security of players
The air flowing blower add more smoothness to the game, which makes your game faster
All-new special and unique structural air hockey table designed with fine wood and plastic. This table is suitable for beginners, intermediate players, and for the family.
Moreover, it is suitable for the whole family to spend leisure time. Needless to say, you can also use this as one of the best air hockey-ping pong table combos for complete family fun.
Specifications:
Dimensions: 48 x 24 x 31 inches
Weight: 19.07 kg
Color: brown
Material: wood & plastic
Airy Powered Playfield: The puck is promoting a very smooth and even playfield with an out-and-out performance. This balanced surface of the table adds more speed to your game without any compromise on accuracy.
Easily Separable: For relaxed and cozy traveling, the company has made this table easily breakable. You won't get any issue with taking your air hockey table with you. Just unscrew the nuts and take it everywhere for a strategic match with your friends.
Accessories: Don't buy any accessories from outside because this is the complete package for the air hockey game. It has two premium quality pushers, two sturdy hockey pucks, and a carrying bag. Further, the company offers an unlimited lifetime warranty for your ease.
Easy Score Counter: Now count your game scores on an abacus score counting rail. It is made with the best quality material providing you long-time duty with showing you your game numbers.
Pros
A great combination of wood and plastic that gives heavy-duty for a lifetime
All premium quality accessories are provided with the table
The abacus score counting system makes your score noting easier
Unlimited lifetime warranty on this table
Cons
The folded design is fragile
The airflow system isn't strong enough
Our Take: The most long-lasting air hockey table with a balanced and even surface offering an abacus scoring counting system to make your game easier.
POPULAR CHOICE
PUCK Hydra Air Hockey Table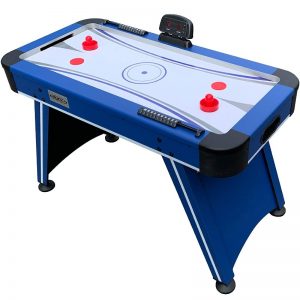 ★★★★★
Better Stability
Digital Scoring
Features:
Players of all heights can enjoy this medium-sized air hockey table
The leg panel gives more stability to the table and keep it in place
All playing necessaries come with the package making it a versatile air hockey table
This table comes with an electronic digital score counting system making your game simple
Get this strong and firm air hockey table with a smooth surface area that offers you comfortable gameplay. The Puck brad has built the quality of this table to an extreme level.
It comes with a digital score counting electronic system that is attached to the table rail making it more prominent than other ordinary tables.
Specifications:
Dimensions: 48 x 24 x 31 inches
Weight: 53.2 lbs.
Color: blue
Sturdy Wood: The tabletop of this table is made with MDF wooden board. These sheets are finished with a roller making it a smooth and level playing surface, providing the player a professional and tournament table essence.
Complete Accessory Range: Get the complete range of air hockey accessories with this all-time ranked exclusive table, including two pushers, two pucks, an air-flowing motor, and a bag for carrying it.
Sticky Legs: This one of the best air hockey tables under $500 has firm legs that are providing a stable and immovable game. These legs have to stick with the ground nature that helps to stick with the ground for extraordinary stable gameplay.
Digital Scoring: This table comes with a very prominent digital score glowing system. Whenever a player hits a point, some red color light installed on the rails glow and adds more visual substance to the gameplay.
Pros
A replica of an arcade game that provides you complete arcade essence
The tabletop has roller finishing to increase the smoothness of the puck slide
An additional protective layer has been put on the table surface for extra durability
It is equipped with a high-quality motor for even airflow
The price is affordable
Cons
The gaming surface has few holes
A customer reported broken pieces of table
Our Take: Get this air hockey table for the most stable and unbudgeable game that comes with a glowing electronic score counting system. Further, an unlimited lifetime warranty is labeled with it.
MODERN
Point Games Air Hockey Table For Kids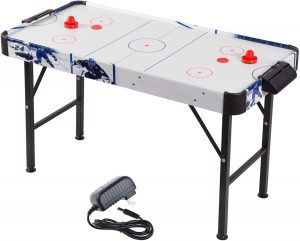 ★★★★★
Maximum Airflow
Abacus Scoring
Features:
There is a 12v DC motor fixed that controls the maximum airflow
PVC finishing is done on the table for non-stop smooth playing
This table has four large and wide moldable legs offering you portability
The abacus scoring system makes your game more comfortable
A supreme-class air hockey table for indoor and outdoor playing manufactured with the sturdiest engineered wood. It comes with a ten minutes easy setup method where you just have to screw the nuts.
Also, it has an easy-breaking method providing you a portable table that you can take everywhere without any problem.
Specifications:
Dimensions: 48 x 24 x 29 inches
Powered By: DC 12V
Color: white & black
Age Recommendations: kids & adult
Substantial Motor: A high voltage 12v DC motor is fixed under the table for a better flow of air through the table. This also helps the puck to create a smooth slide on the playfield without losing accuracy.
Corner Pads: This one of the most secure air hockey tables in the world won't make you worry about the sharp edges because the edges are guarded with soft, secure pads that keep the player protected from their sharpness.
A Complete Package: This table comes with a complete package at a low price that doubles the fun. The package contains 2 score plates, 1 table with foldable legs, 2 air hockey mallets, 2 puck goals, 2 air hockey pucks, and 1 charging cable.
Pros
Wide and foldable legs that maintain the stability of the table and provide you cozy traveling
The wood used in the manufacturing is very sturdy that can endure any weather
All playing accessories are provided with the table
The price is low
Cons
One customer report bad quality packing
Our Take: Get the securest table that provides your puck the smoothest and air-flowing surface, which comes with an easy folding method for pleasant traveling. Plus, all the accessories come with the package.
HEAVY-DUTY
ESPN 5 Ft. Air Hockey Table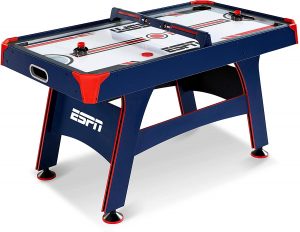 ★★★★
Electronic Scoring
UL Certified
Features:
The electronic scoring display is fixed between the table for a relaxed score, noting
It has a 120v fan motor to enhance the airflow all over the table
The legs of the table have a sticky nature that ensures you extra stability
All the rails are over heightened to keep the puck safe from falling on the ground
UL certified motor that ensures even airflow
An absolute combo of top-quality wood and plastic, making it a long-lasting, durable air hockey table. That comes with a very simple assembling method.
A five feet long table is offering you vast and extensive play that comes with a supportive legs panel for double stability.
Specifications:
Dimensions: 60 x 32 x 32 inches
Weight: 77.44 lbs.
Powered By: 120V motor
Color: blue
Leveled Surface: This air hockey table has been providing an extra smooth flowed slide to the puck. It is because a rolled wood sheet is layered on the structure of the table. Also, the airflow motor fan adds further flow to the gameplay and helps you improve your game.
Unshakable Legs: The legs of the table are very sticky to the ground that keeps your table in place. Even hard hits and heavy rains don't affect the stability of the table. So you can play an immovable game to boost up your strategies.
See Your Scoring On Screen: There is a rail with a screen fixed in between the borders of the table that offers you to see your score easily.
Authorized Size: This table is manufactured according to the standards of international tables. The size, weight, and lengths are maintained as a professional air hockey table.
Pros
Kids of early ages and players of small heights can easily play on this table because of its small size
Leg levelers are provided to reduce rough and movable play
Two pushers and two pucks come with the package to start a match
Made with sturdy material
Cons
Pricey as compared to other tables
Oversized leg levelers
Our Take: A table with a bunch of functions adding extra smoothness to the playfield and pace to the puck.  Additionally, it is UL certified motor, which means it works great and provides an even airflow.
PROFESSIONAL
Fat Cat Polar Blast Air Hockey Table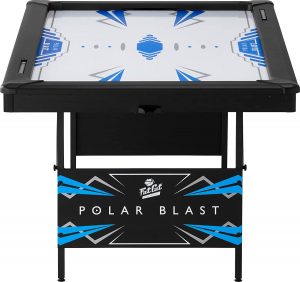 ★★★★
Easily Foldable
Scratch-Free Surface
Features:
The legs are made easily foldable for a quick breaking setup and easy traveling
A scratch-free surface is layered on the playfield to keep it away from damaging
It takes less space and can be store under the bed, table, or cabinet.
An abacus scoring system is fixed on the rails for fast recognition of scores
A perfect table for its size and quality. That offers you extra smoothness and resistance, creating a playing surface for exciting gameplay.
This resolutely designed table escalates the skills of hockey players to an optimum level. It is lightweight and easily portable that can be kept under your bed or closet easily.
Specifications:
Dimensions: 46.5 x 80 x 149 inches
Weight: 149 lbs.
Material: blend
Color: blue
Blower: 120V
Save Your Space: it is a very small size table that can be kept everywhere in the house in your house. These tables can be stored anywhere without creating any space issues; you can even store them under your table or bed. Also, these tables have folding features that provide you quick assembling method.
Moldable Legs: The plastic legs of this air hockey table have a moldable structure giving extra benefits. Furthermore, the legs are made ground friendly for your floor protection guarding it against scratches. These legs are easily foldable that offering you a fast assembly method.
A Complete Package: This one of the best air hockey tables under $500 comes with a complete variety of accessories. That includes two top hockey pucks and two long-lasting pushers. Accessories are assembled professionally and made with the finest material delivering you the heavy-duty for years.
Pros
Made with the firmest wood that gives you long time performance
The bottoms of the legs are made adhesive to play a stable game
It comes with 4 safety lock
Less heightened perfect for short height players
Folding base that makes it portable
Cons
The legs don't have enough support
Balance position is disturbed
Our Take: An easily foldable air hockey table has a smoothest playfield that becomes more featureful with the air-flowing high voltage blower fan.
COMPACT
Amazon Basics Tabletop Air Hockey Table with LED Scorer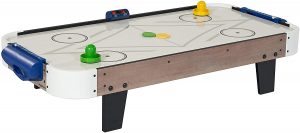 ★★★★
LED Scoring
Wooden Construction
Features:
LED scoring system featuring electronic support to update you with the latest scores
Wooden frame construction that will surely sustain the balanced position
Amazon basics offer a 40 inches length surface with delivered smoothness
An easy to assemble and advanced compact design hockey table has marked the spot with top-quality features. The length is enough for multiplayer, along with an optimized scoring system to keep you updated.
Alongside, the design is professionally crafted with even weight distribution in the whole structure.
Specifications:
Dimensions: 40 x 20 x 9 inches
Weight: 14.33 lbs.
Frame Material: Engineered Wood
Material: MDF composite wood
Color: wood
Age Recommendations: for all ages
Of players: 2
UL-Listed: This gaming table is UL-listed from all the basic standards to make it compatible with playing in all scenarios. Moreover, the body construction and the table dimensions are all tested with the verification of the authorities as well.
Balanced Surface: MDF composite materialization has taken place in the surface structure of the hockey table. Experience a well-managed and evenly balanced exterior of the table with a smooth sliding impact of pucks. The feet are featured with padded material for the prevention of scratches on the ground
Dual Scoring Technology: You can manage the manual scoring scenario and, in the meantime, get the LED scoring system in the game as you desire. The puck returner has also been added to the hockey surface, so you don't have to bother taking them.
Smooth Airflow: A 12v motor is also engineered in body construction that will enhance the airflow for the smoothness of the playing field. Besides, the design is very compact and easily portable with a quick assembling aspect.
Pros
LED and manual scoring system for updates
MDF composite gaming surface
Remarkable airflow for a smooth sliding impact
Easy to assemble hockey table structure
Very lightweight table
Cons
The pucks sliding have few issues
The LED scorer doesn't work properly
Our Take: A portable plus quick setup hockey table manufactured with MDF wooden frame structure and dual scoring system is a must selection for you. Plus, the motor of this table is UL certified, which ensures it provides even and smooth airflow.
FAQ Regarding Best Air Hockey Tables Under $500
Q. Which are the best air hockey tables under $500?
On our list, the best are Fat Cat Polar Blast 6′ Air Hockey Table and Amazon Basics Tabletop Air Hockey Table with LED Scorer. However, we have listed 7 different kinds of tables on your list.
Q. What is a good size air hockey table?
The standard size for the air hockey table is 6 feet.
Q. How do I choose an air hockey table?
Before choosing any air hockey table make sure that the table has a solid and well-made base so it will last. For an even and smooth play, make sure that the table you choose comes with leg levelers so you can enjoy the game for hours. Moreover, look at the motor of the table as well.
Best Air Hockey Tables Under $500 | Quick Comparison
Our Recommendation:
Our 1st recommendation is the Fat Cat Polar Blast 6′ Air Hockey Table as the best-selected hockey table. A foldable design materialized with blended substance and a balanced structure.
Withal, our 2nd recommendation is Amazon Basics Tabletop Air Hockey Table with LED Scorer as the most durable air hockey table. LED scoring system along with MDF playing surface feature it for a smooth gaming platform.
Conclusion
So now we can say that these are the most durable and best air hockey tables under $500 on our list. The gaming surface has been evenly crafted with a balanced position along with a sturdy exterior. That will also resist the scratches and enhance the sliding impact of the pucks during the game.
Moreover, the gaming accessories comprising pucks and pushers are there for you to have paced ground for a fun gaming scenario. Of course, the LED scoring system makes it a prime choice for the players.