Finding two popular games on a single platform is a real luxury. Air hockey and ping pong are hot trends these days. So, we have brought the air hockey ping pong table combos. These tables are going to save your living space and money at the same time.
Such versatile tables are slides-based, so players can switch between games in seconds without hassle. There are a few things to be acknowledged by the buyers before buying one of these tables. The construction and durability of a table should be considered keenly.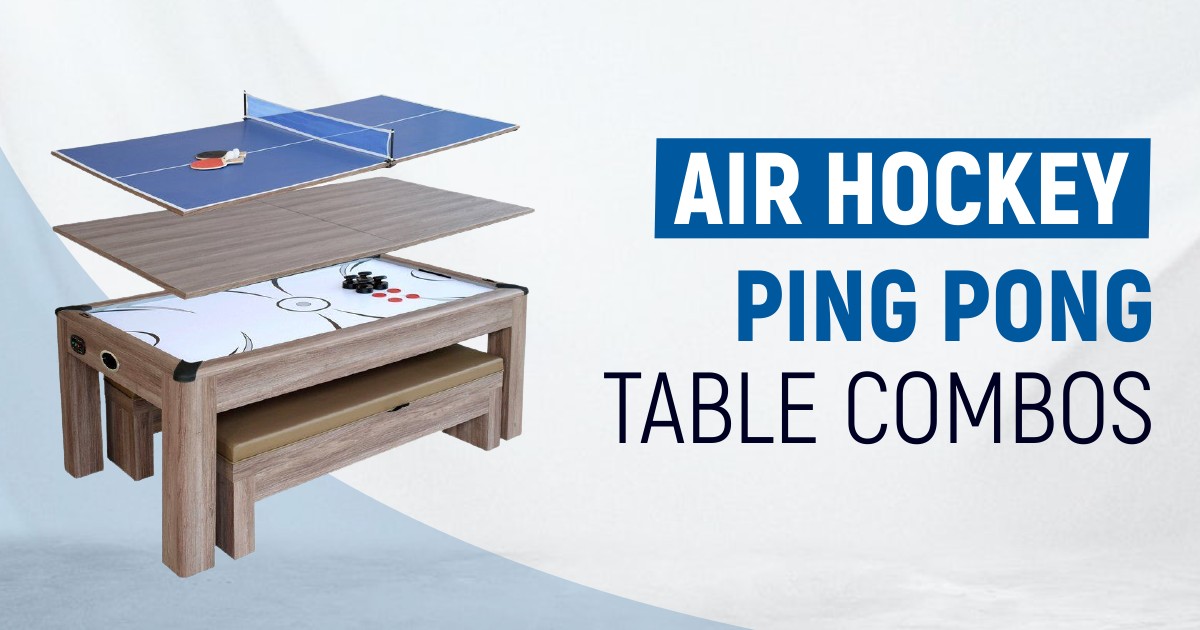 Moreover, the total dimensions must be taken into account. Therefore, the players can understand which size will fit in their living space.
Air Hockey Ping Pong Table Combos | Editorial Pick
EDITOR
CHOICE
★★★★★
Triumph Lumen-X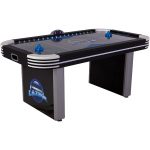 Better Illumination
MDF Surface
Continious Air
TOP
RATED
★★★★★
Fat Cat 3-in-1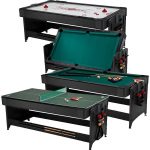 Storage Racks
GLD Latches
110v Motor
BEST
SELLING
★★★★★
ESPN Sports Table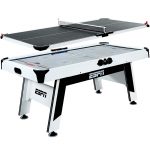 LED Scoring System
72-Inch Variant
PVC Surface
Air Hockey Ping Pong Table Combos | Full Ranking
You must have already liked our list of the best outdoor ping pong tables. And now, it's time to uncover the best air hockey ping pong table combos to try this year.
BEST OVERALL
Triumph Lumen-X Lazer Air Hockey Table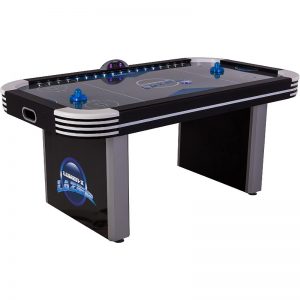 ★★★★★
Unique Illumination
MDF Surface
Features:
The table presents illuminating technology that can lighten up a dark space
Your table measures 72 inches in length and made up of an MDF play surface
Dual motor blowers offer continuous air pass that guides your pucks smoothly
It comes with an electronic scoring feature that keeps players updated about the action taking place
Add amazing lights to your exciting air hockey matches. The illuminating technology of this table can bring life to dark environments.
Furthermore, the rail of LED lights on the table will provide its players with music effects. While the durable built of this interactive air hockey table ensures lasting performance.
Specification:
Dimensions: 72 x 40 x 31 inches
Color: blue and black
Weight: 75 lbs.
Material: Engineered Wood
Surface Material: PVC
Motor: 12v
Age Range: 8 – 11 Years
Light It Up: Bring an interactive table home with an illuminating character that brings out more colors. A high-end lighting feature stays upright without a blinking problem, so you play without pauses. The Lumen-X Lazer air hockey table brings all colors of air hockey to your living space.
No More Pauses: It's the dual-motor blower technology that keeps the game happening fluently. It keeps on passing the powerful blows of air over the playfield so that game can run perfectly. While all the pucks can glide over the smooth surface without hiccups due to the powerful blowers.
Strike With Effect: Bright and catchy striker and pucks are a wonderful escape from the dull and boring pucks set. Each puck lights up when struck with a bright light embedded inside. Moreover, the strikers are inundated with bright, catchy colors to bring the most out of your game.
Keep Updated: Players can lose their score updates as they are fully involved in the game. But this innovative table comes with an electronic scoring feature that keeps ringing with score updates.
Pros
Massive fun even in dark spaces with illuminating technology
The dual-motor blowers promote stability in the game
Leg-levelers keep the playfield even and flat
Lightweight and easy to assemble
The price tag is moderate
Cons
Durability is compromised with carton's built
Complains about defective sensors
Our Take: An electronic scoring feature that keeps you informed about the action. Further, illuminating features with powerful blowers that support a stable game making it an impactful purchase.
BEST-RATED
Fat Cat Original 3-in-1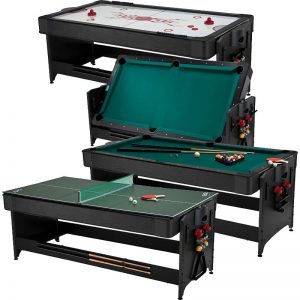 ★★★★★
Convenient Storage
Tri-Folding Design
Features:
It includes a super convenient storage rack that can take all the included accessories
The GLD latch system for supporting your game's stability
An updated tri-folding feature that further improves the game switching process
110 v powered air hockey motor with enhanced blower system
An evolution in luxury is offering 3 brilliant games in a 7 feet size for manageable storage. Add three more games in your game room with space-saving functionality.
It includes a user-friendly latch locking system for keeping an extra check on games.
Specifications:
Dimensions: 87.0 x 44.0 x 32.0 inches
Available Color: blue, burgundy, green, & tan
Weight: 286 lbs.
Material: Felt
Motor: 110v
Age Range: 8 – 10 Years
Number of Players: 2 to 4
3 Games On 1 Quality Table: You can seamlessly enjoy the billiard game, ping pong, and air hockey on this tri-folding table. These games are tossed in a clever mechanism that simplifies your assembling even further. Therefore, players can simply set the desired table on the tabletop for a swift start.
Durable Profile: Fat Cat store has delivered quality construction when it comes to this table. The technology is dealt with sturdy materials to prolong the table's life. Its top is covered with the promising felt, so its endurance is covered without a doubt.
Upright Game: An exceptional and successful latch system comes to this table. Just assemble the desired game's table and snap. This latching feature will allow locking the playfield movement resulting in smooth gameplay. Moreover, the package includes all the accessories so that you can get started right away.
Easily Assembled: Players can conveniently assemble this table with its fragments feature. It further divides into 3 tables that can be set easily for another quick game. Moreover, this makes up for a great storage option, and it can also be moved with ease. Just set a ping pong table on top of the billiard table, and you're ready to go.
Pros
Upright game with latch locking
Space-saving functionality with trifold design
Super easy assembling with three divided tables
It comes in striking colors
Cons
Overpriced
Struggles with legs balancing on uneven surfaces
Our Take: A durable and sturdy constructed table along with a GLD latch system that is promoting stability. Plus, the trifold design for easy storage is a decent purchase for all.
POPULAR CHOICE
ESPN Sports Air Hockey Game Table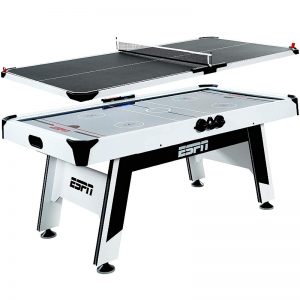 ★★★★★
LED Scoring System
PVC Surface
Features:
The air hockey portion includes an LED scoring system along with airflow throughout the playfield
A premium 72 inches air hockey and tennis table comes with 4 inches leg-levelers for redefined balance
The table is made for professionals with the surface finished with PVC along with the in-built storage capacity
Get the joy of air hockey and ping pong on a single table. You can change its functionality in seconds, this feature making it one of the best air hockey ping pong table combos.
Moreover, the incredibly smooth surface supporting potent fans and a handheld hockey set that excels every time. Needless to say, it is also one of the best budget tables to buy under $500.
Specifications:
Dimensions: 72 x 37 x 32 inches
Available Color: black, white, & grey
Weight: 115.7 lbs.
Frame Material: Engineered Wood
Surface Material: PVC
Motor: 110v
Age Range: 9 to 11 years
Best Performing Table: The air hockey table is supported by potent fans that make sure everything works smoothly. Moreover, the gliding pucks won't stop and stick on the surface with the airflow provided by the fans. On the flip side, the PVC finished ping pong playfield offers quality bounce and targeted shots.
Remarkable Air Hockey: Players will get to see a smooth flow of puck gliding on the surface thanks to powerful blowers. This provides air circulation through the whole playfield area for unstoppable gameplay. Furtherly, the entire setup is exalted through the next-level electronic scorer that keeps players updated with the color glow.
Professional Ping Pong: Its PVC surface offers an even and flat playfield with substantial bouncing capacity. The 2 in 1 table is even loved by the professionals who recommend its quality playing credibility over the rest. Meanwhile, players can store their accessories in the built-in storage capacity of the table.
What You'll Get? You'll get 2 pushers, 3 pucks, 2 table tennis balls, 2 posts, 1 net post, and 2 table tennis paddles. So, players won't have to buy these components separately.
Pros
Both games accessories included
Airflow promotes seamless air hockey game
LED scoring keeps the players updated
Durable construction
The price tag is reasonable
Cons
Table borders are prone to damage
Complains about peeling and scratches
Our Take: A standard 72 inches table with PVC flat surface and all the accessories included for a complete purchase for all.
UNIQUE
Triumph 4-in-1 Rotating Swivel Multigame Table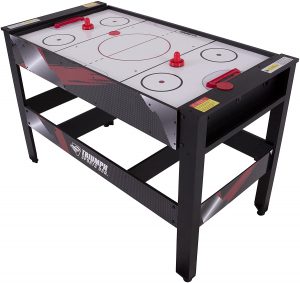 ★★★★★
Quick Change Feature
Air Distribution
Features:
Enjoy air hockey, ping pong, billiard game, and launch football on this unique table
48 inches length of this table makes up for an ideal size that doesn't occupy much of the living space
Players can switch through the game in seconds
Air distribution feature for a smooth air hockey gameplay throughout
Seek the four impressive games on this multi-game table by Triumph Sports. Players can conveniently switch between games and start playing in a matter of seconds.
It comes ready to play along with all the essential accessories required to play included 4 games.
Specifications:
Dimensions: 48 x 23.75 x 32 inches
Color: black and white
Weight: 69 lbs.
Material: metal and plastic
Age Range: 8+
4 In 1 Table: Players can now enjoy air hockey, billiard games, ping pong, and launch football on one promising table. The table offers a unique swiveling feature that makes switching between games convenient and straightforward.  So, players can now cherish their favorite games on a convenient table.
Perfect Size: Many massive tables can block your substantial living space ending you up in frustration. But this table has 48 inches in length and compiles 4 games. So that you won't be buying them separately, overall, it's easy on your budget and space that comes in handy.
Switch In Seconds: It's simple and fast to switch between your included 4 games on this magical table. The table incorporates a swivel-like system that smoothly switches between the playfields without hassle. Therefore, giving you a table that doesn't take much of your time as you play.
Better Air Hockey: A patented airflow system is added to the air hockey playfield area for fair gameplay. This further enhances your air hockey skills like no other.
Pros
Cleverly incorporates 4 games that save space
Switching between games is faster with a swivel system
It comes at an affordable price tag
Very lightweight and stable
Cons
Design isn't much appealing
Air hockey motor is underpowered
Complains about durability
Our Take: Play a smooth game as it is equipped with an air distribution feature. Further, it is a 4 in 1 table with a swivel function, and a very low price gives you a viable option.
FLIP STYLE
Fat Cat Original 3-in-1 Flip Game Table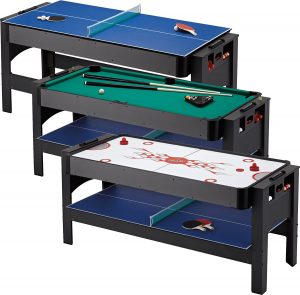 ★★★★
Multi-Game Surface
Convenient Storage
Features:
Featuring air hockey, ping pong, and billiard games with resilient construction
It comes with a trifold table functionality that makes it easy to jump between games
A 6 ft size table that is convenient to store packs all the accessories need to get started quickly
A premium quality 3 in 1 table that features air hockey, ping pong, and billiard games. Its clever flip design and upright construction make it one of the most commendable air hockey ping pong table combos.
A 6ft size gets to fit very easily in a game room or any other dedicated room without worries.
Specifications:
Dimensions: 72 x 32 x 32 inches
Color: black
Weight: 141 lbs.
Material: wood
Motor: 110v
Quality Fun: The even playing surface is made durable to endure the game hiccups. This magical table includes air hockey, ping pong, and billiard games. The surrounding real rubber bumpers support the incredible ping pong game for an accurate bounce.
The billiard playing area is an air-powering hockey table. Lastly, the ping pong table is getting the support of a 110 volt electric motor for smooth operations.
Trifold Tabletop Feature: You can easily switch between games with just a snap. The table has a latch system that holds the table firm (lock) for a stable experience. Thus, the folding feature is supported by this latch system that further simplifies the operatives.
Moreover, the whole frame is complemented with storage created to store your accessories without worrying.
All The Accessories: It includes 4 pushers along with pucks, a resin triangle, a set of 1.5 inches billiard balls, 2 57 inches cue sticks. And two pieces of chalk, a billiard brush, two ping pong paddles with balls, and a net post. So, these high-quality components come pre-included, so you won't have to buy them separately.
Pros
The Tri-folding feature makes game switching just a snap
Latch system keeps table stable
6 ft. size makes up for an easy storage
Get started right away with all accessories included
Cons
Underpowered motor supporting air hockey playfield
Pool balls shape like marbles
Our Take: Trifold table with latching system for stabilizing 3 brilliant games on a sturdy table that is a confident purchase for all.
PROFESSIONAL
NHL Power Play Table with Table Tennis Top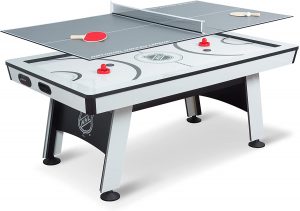 ★★★★
Faster Reaction
LED Rail Lights
Features:
The Scoring system of the game table is automatic, along with LED rail lighting on the sides
Leg levelers are structured in the body construction of the air hockey table for surface balancing
Table tennis conversion table has also been included in the package for dual gaming action
Versatile and multi-purpose gaming platform introduced by NHL, experience professional air hockey game or convert it into table tennis.
The longer surface area has a smooth interaction of color collaboration along with covering boundaries. Plus, the structure is evenly balanced throughout the exterior.
Specifications:
Dimensions: 80 x 43 x 32 inches
Color: white and black
Weight: 157 lbs.
Material: GlazeTek Compound Coating
Smooth Playfield Surface: The playing surface has been designed with a balanced and GlazeTek compound structure comprising a vibrant visual. You'll feel a sharp, shiny playfield of the air-powered hockey table featuring a fast-moving pucks compatibility. Alongside, the sides are protected with supportive coverage when the pucks hit the wall.
Convert Into Table Tennis: A quick setup table tennis top is there whenever you want to change the gaming scenario. The player will just have to take and attach the tabletop on the air hockey table with a ready-to-go placement system. And the post-net is already installed on the conversion top for a fun experience.
Firm Construction With Automatic Scoring: You'll get a scratch-resistant body structure even on the top side, along with compound coated boundaries as well. Moreover, the In-Rail scoring feature will update the pucks' hitting score and goals with LED lights. And you'll get notified with a sound system as well.
A Whole Range Of Games: NHL has included an airpower hockey table of 80 inches playing surface along with a set of pucks and pushers to play. Alongside, there's a tennis tabletop for the quick conversion having an installed post-net on the surface. 2 ping pong balls and tennis paddles are also included.
Pros
Cabinet coated boundaries of the hockey table
Smooth playing area with a longer surface ground
Leg levelers to maintain the balance structure
Complete range of table tennis and air hockey accessories
Cons
The alignment of the ping pong table is not evenly arranged
Few cracks are reported on the playing surface
Our Take: A GlazeTek surface-coated structure having leg levelers for a balanced platform and table tennis conversion can be the best air hockey ping pong table combos.
MULTIFUNCTIONAL
Multi-Function 4 in 1 Combo Game Table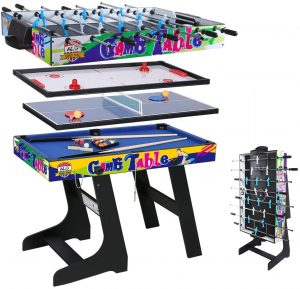 ★★★★
Evenly Balanced
Quick Conversion
Features:
The table legs are evenly balanced with a supportive weight design to resist any damages
Foosball and pool conversion tops with quick placement on the table for playing
All of the gaming accessories regarding their field are included in the package, so you don't have to buy them separately
What's more to get when you have a range of gaming platforms in just one set with flexibility of multiplayer scenario. Besides Air hockey and ping pong table tennis, here you're going to enjoy 2 additional gaming platforms.
The body construction is highly portable with ready-to-go playability. So, it can deliver an unmatched performance as one of the best table tennis conversion tops, too.
Specifications:
Dimensions: 48 x 24 x 32 inches
Color: yellow
Material: Solid MDF
Age Range: all
Foldable Design: The portability factor of this multi-functional combo gaming table has been made easier due to the folding aspect. You can save much of the space in the room or anywhere after folding the table and making it compact as compared with the original sizing.
Stable Body Structure: 48 inches of balanced table length surface has been managed here with sturdy material construction. The legs are evenly balanced with proper space given for each conversion top to place on the top of the table
Wooden Construction: All of the conversion tops are ready-to-go with aligned boundaries made of wood material. Plus, the gaming surface is coated with MDF layered structure that will provide a smooth and durable experience while playing air hockey. And the table tennis equipment is included in the package.
Pros
4 gaming conversion tops with quick placement setup
Set of paddles and balls are also included in the package
Foldable body structure and quick gaming setup
Sturdy playing surface with balanced design
Extremely low price
Cons
The gaming table has few cracks on the sides
Air hockey surface doesn't have goals
Our Take: Versatile combos of games having balanced body structure and the MDF playing surface is one of the best selections for you. Further, it is suitable for all ages.
FAQ Regarding Best Air Hockey Ping Pong Table Combos
Q. Can you play ping pong on an air hockey table?
Yes, you can play ping pong on an air hockey table as the mechanism for switching from air hockey to ping pong. All you need is to simply clip them to the table tennis top, then add a net, and here you go.
Q. What is the best multi-game table?
The best multi-game tables are NHL Power Play Air Powered Hockey Table with Table Tennis Top.
Q. What is the best air hockey table to buy?
Fat Cat Original 3-in-1 Game Table is the best air hockey table when it comes to buying for your personal use.
Air Hockey Ping Pong Table Combos | Quick Comparison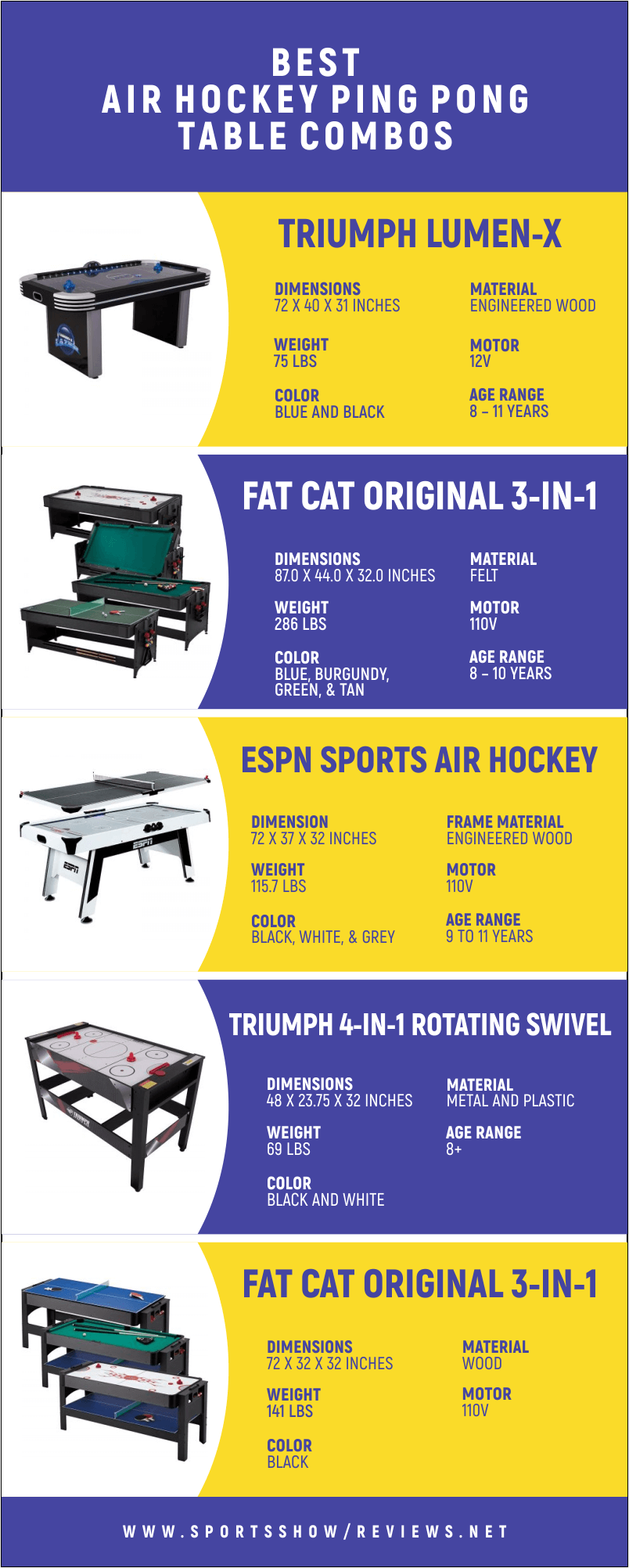 Our Recommendation:
Our 1st recommendation is the Fat Cat Original 3-in-1 Pocket Game Table as the best multiplayer gaming table. The adjustable levelers of the legs will maintain the balance of the table structure, having air hockey, table tennis, and pool games.
Moreover, our 2nd recommendation is Triumph 4-in-1 Rotating Swivel Multigame Table as the best multi-functional gaming table. It has a rotating swivel system for changing the top gaming surface according to your desire.
Conclusion
These are the top-ranked and most durable air hockey ping pong table combos featuring a vast range of playable flexibilities. You'll get easy-to-place conversion tops that required no additional tools for the setup. The body manufacturing has been done with sturdy wooden material and a smooth surface.
Furthermore, required accessories, including pucks, pushers, paddles, and ping pong balls, are also included in the package. So you don't have to buy them separately. Even some of our enlisted products have 2 to 3 additional gaming platforms to enjoy the sports theme with your friends.