Board games are a treat to share with your loved ones. So, if you're looking for the best 6-Player board games, then you've come to the right place. Board games have always been in the limelight in the gaming industry.
You got so many functions in a single game board. Furthermore, you're going to stop playing those unexciting video games after you've tried one of these game boards.
With game boards, players can share their gaming journey with their best friends for a cooperative experience. Moreover, they provide players with the benefits of physical recreation, which takes an edge over the games played over the display.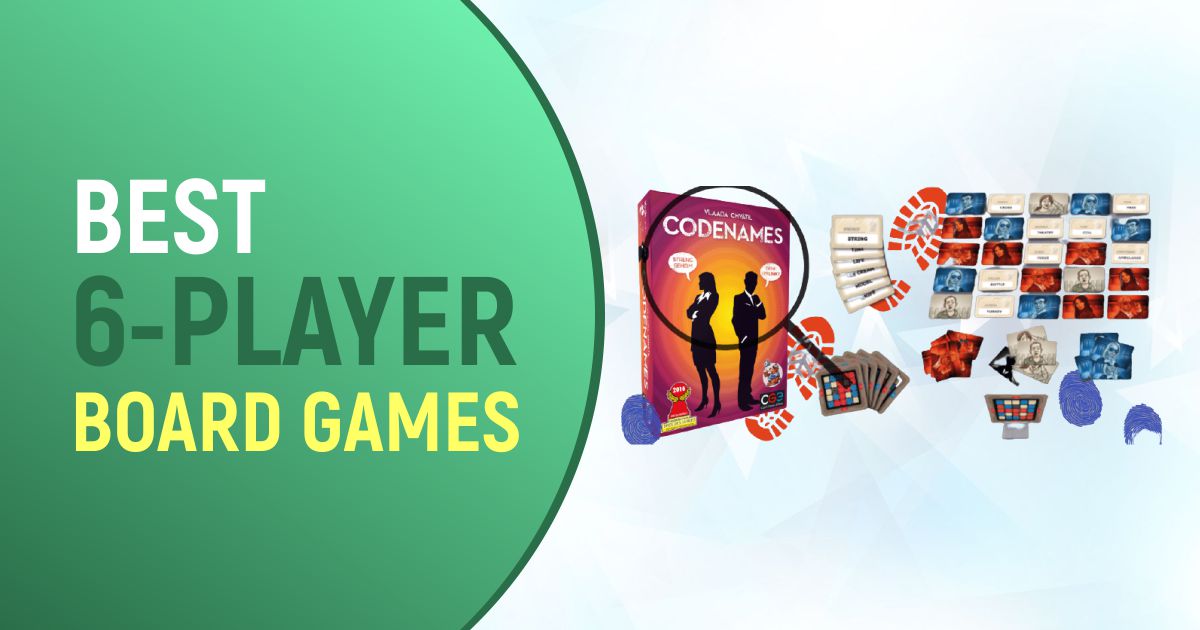 Boardgame manufacturers have started to develop their offerings in the best possible way to keep up with the competition. Players will not be going to get disappointed with added complete accessories to brighten the joy.
Best 6-Player Board Games | Editorial Pick
EDITOR
CHOICE
★★★★★
Mysterium Multi-Standard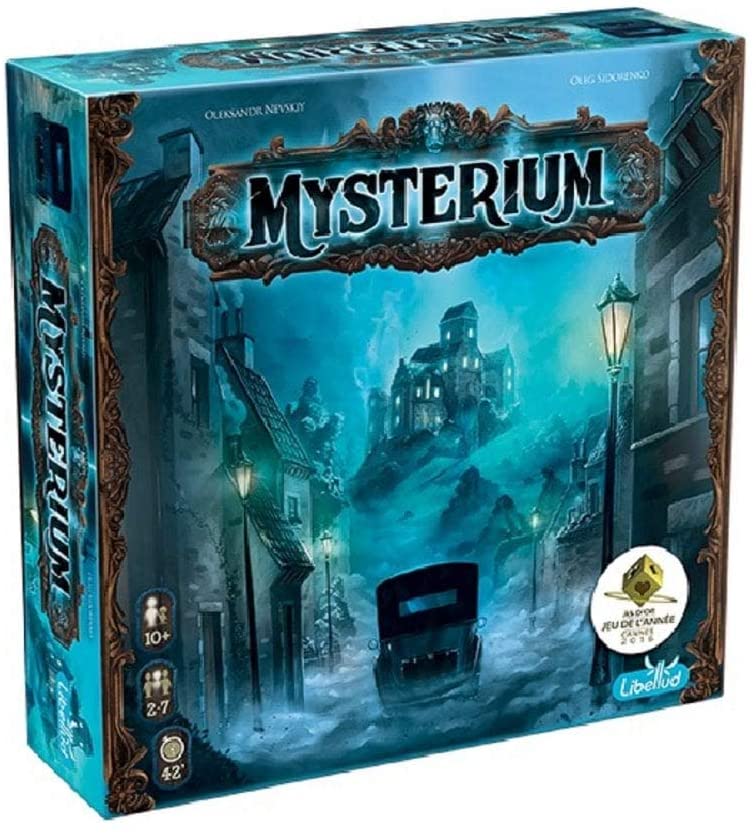 Spine-Chilling Mystery
Clue To Progress
Interesting Storyline
TOP
RATED
★★★★★
Betrayal At House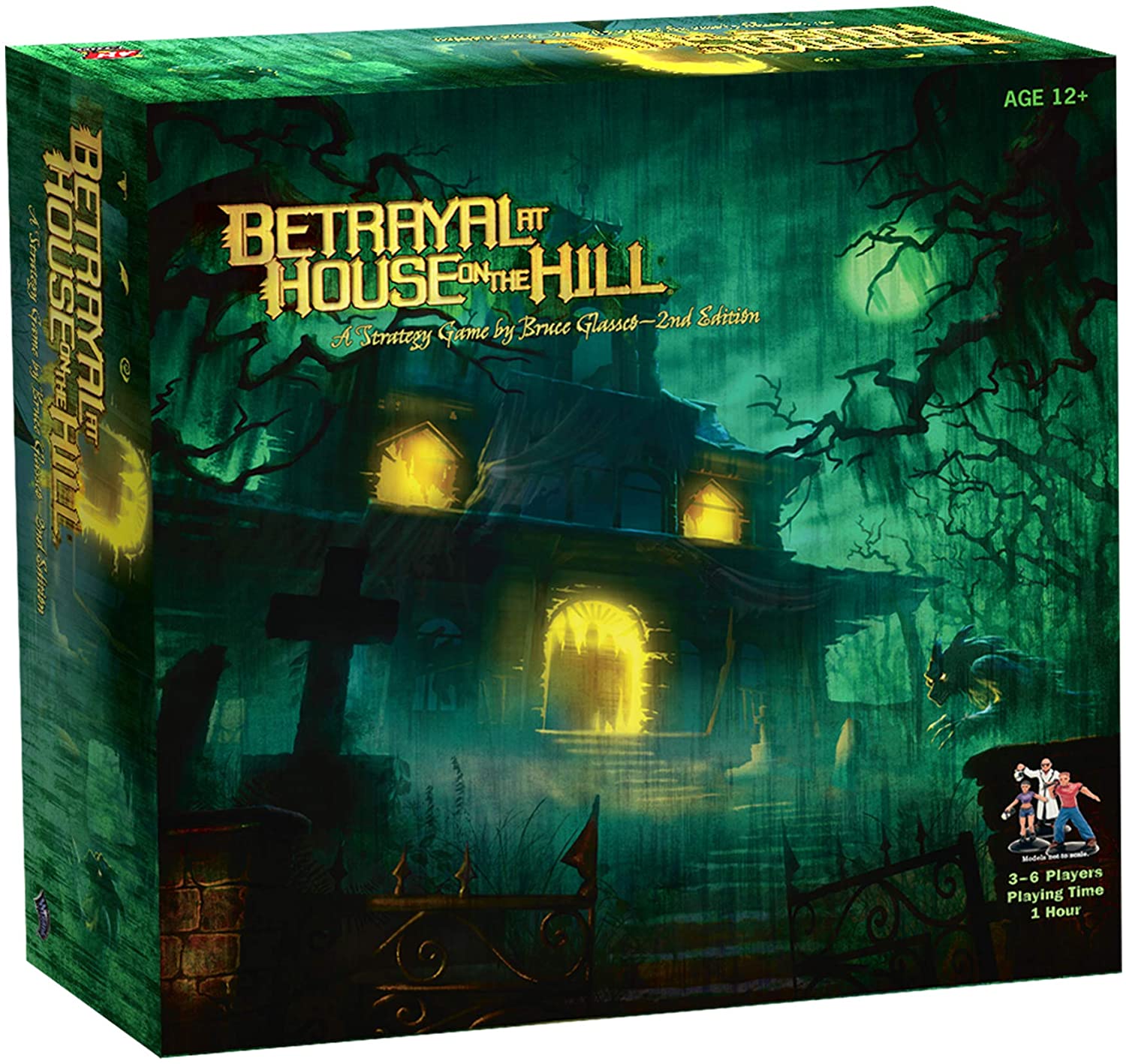 Changing Scenario
Scariest House
Supernatural Element
BEST
SELLING
★★★★★
The Codenames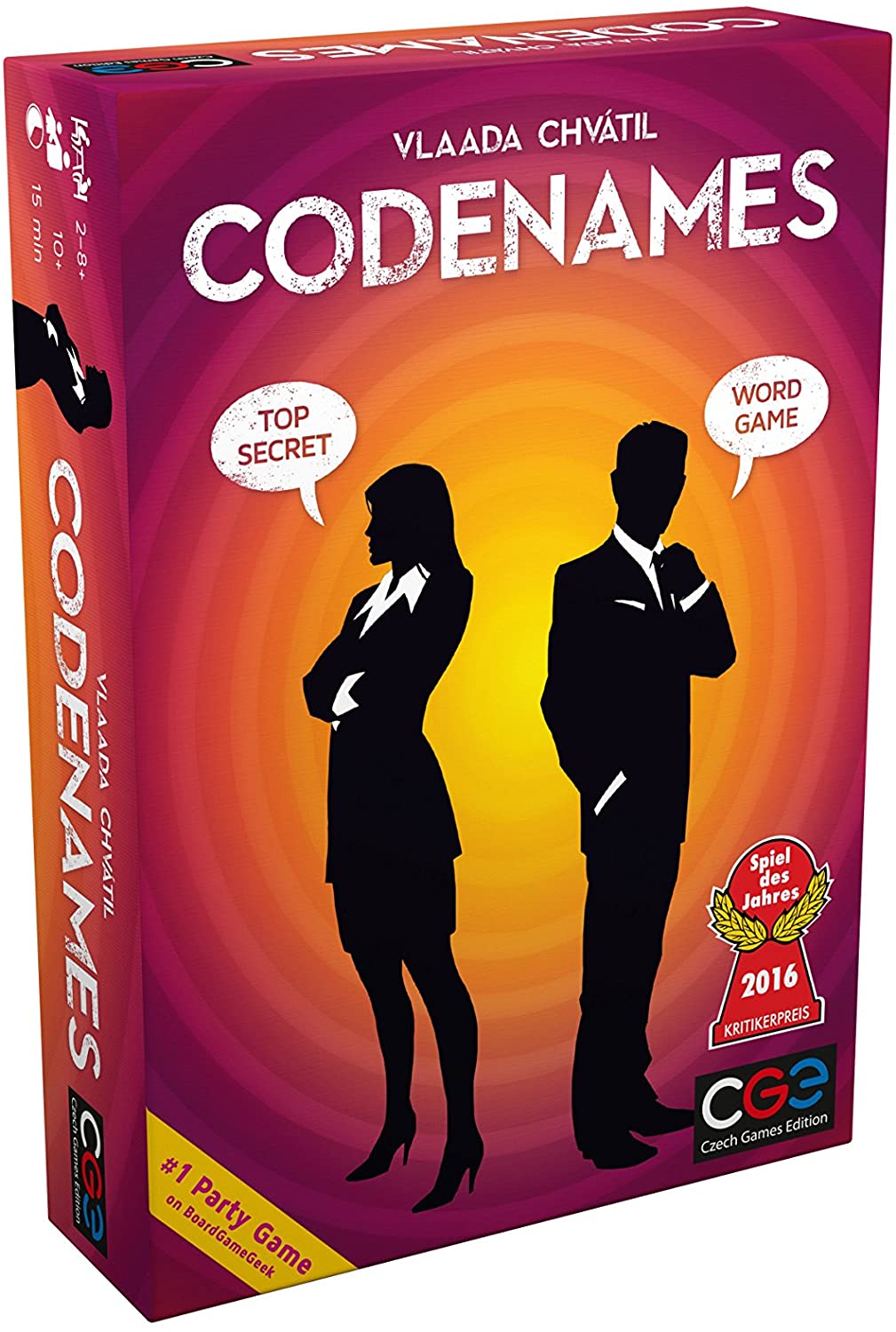 Fun & Silliness
Explore Right Rules
Brain-Testing Game
Best 6-Player Board Games For Multiplayer Action
You must have already liked our review of the best cooperative board games. Beginners can enjoy these exceptional board games, too, as they have a set of rules and guides right in the package. Therefore, you now have every reason to get your hands on board games. So, get ready to experience the best portable tabletop gaming experience with the board games list given below.
BEST OVERALL
Mysterium Multi-Standard Game Board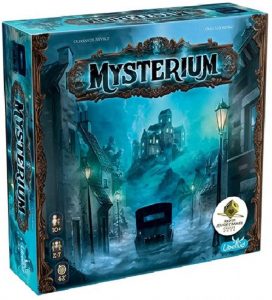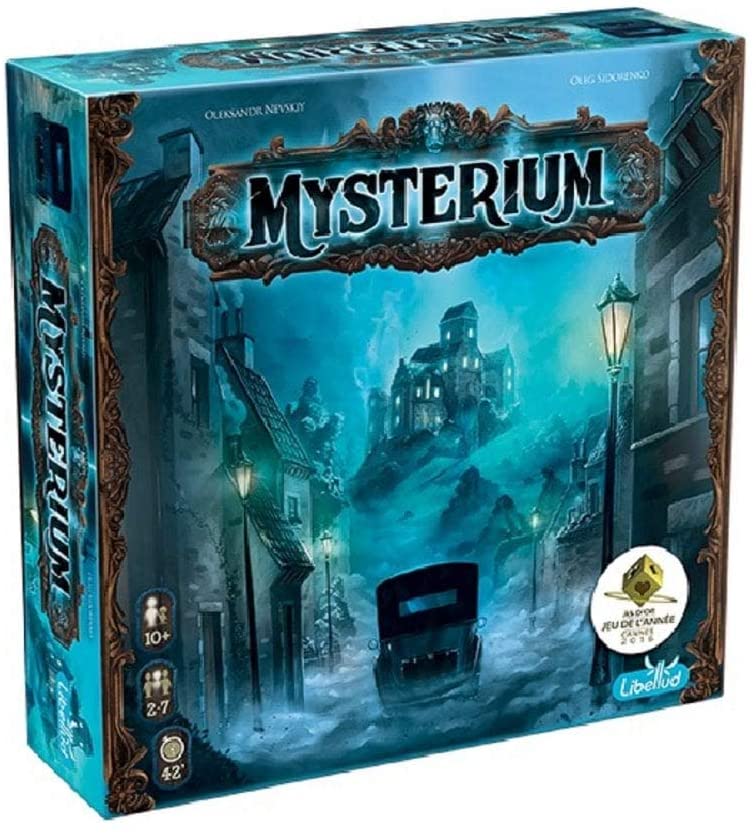 ★★★★★
Spine-Chilling Storyline
Right Clues To Progress
Features:
A Spine-chilling cooperative mystery to solve
The game stands on a murder mystery to be resolved
Get the right clues to progress in the game
Share the goal with your friends to add more fun
A horror yet intensely suspenseful board game to try
Investigate the mystery of a heinous crime that took place in the Warwick manor along with your friends. It's way too fun to solve that horrifying mystery in this one of the top-ranked 6-player board games.
Dimensions: 3 ×25 × 11.25 inches
Weight: 2.2. pounds
A Mystery That Needs To Be Resolved: This game story stands tall on a complicating crime case that taken place in the Warwick Manor. You and your friends have taken up this case, and you all are going to decipher this crime case mystery. There are different ways to get to the root of this case. Furthermore, this game offers to brainstorm for solving the task.
Frightening Objects To Be Seen: There are many horrific elements in this game to go through. You and your friends will have to face ghost entities to fathom the game basis. The ghost wanders in the manor and has forgotten how he was killed. Therefore, you're going to compile the hints to help the ghost to recall his murder. Can you all find out?
Pros
The best game board to enjoy a cooperative gameplay
Your game has an interesting storyline to follow
One of the most ranked and consumers trusted board game
Perfect for enjoying with your friend's group
It gives all the value for your bucks
Our Take: You can now take on the very engrossing storyline with all your friends in this game, taking a clear edge.
HIGHEST RATED
Betrayal At House On The Hill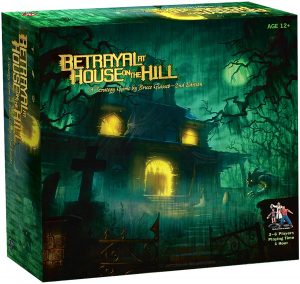 ★★★★★
Sinister Changing Scenario
Scariest House Themes
Features:
Get ready to face the sinister changing scenarios filled with horror
The game is about the scariest house theme up on the hill
You are going to discover this isolated house with your friends
A cooperative board game that offers never-ending challenges
Players can experience supernatural elements
Get ready to join the blood-curdling circumstances you'll face in this one of the top-rated 6-player board games. The house is isolated and drenched with a petrifying existence. So, are you ready?
Dimensions: 10.5 ×2 × 10.5 inches
Weight: 2.86 pounds
An Evil Awaits: You, along with other players, are going to explore this deadliest of all houses situated on the hilltop. The Avalon Hill Store has provided the most realistic experience of this dreadful place inundated with many evil entities. Every step you take becomes history on this exploration of terror. Moreover, the house is filled with endless entrances, rooms, and evil staircases to steal your comfort.
I Breath As You Breath: This game was given the cooperative experience due to the severity of happenings taking place in the house of terror. You really can't move about this unholy place with the company of your friends. Therefore, the game becomes interesting and more enjoyable when experienced with other participants.
Pros
One of the most horrifying experiences laid on a board game
Sharing the thrill, suspense, and terrifying experience with your friends
Award-winning game operatives
You get the most replayability with this game board
It comes with excellent accessories
Our Take: Experience the award-winning horror simulation in an affordable offering, making it a stellar purchase.
DETECTIVE GAME
The Codenames By Czech Games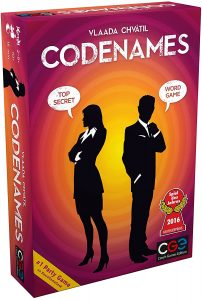 ★★★★★
Interesting But Silly
Follow Right Rules
Features:
This game is an interesting mix of fun and silliness
You get all the rules right in the package to understand
It's a brain-teasing game that focuses on the player's intellect
The game comes with all the accessories complementing your experience
Decode the hints in this compelling card game by Czech Games. You're guiding your teams to take up the lead in this of the most scintillating 6-player board games online.
Dimensions: 2.8 ×3 × 9 inches
Weight: 15.7 ounces
Steal The Chances: When you play this card game, your mind impetuously remains in the game's domain. There are two teams with two leaders acting as spymasters. There are 25 agents about which these spymasters know about. Thus, these Spymasters will provide their teams with the hints to decipher. Whichever team guesses first will nail the victory.
Things To Avoid: This game is an excellent battle of intelligence between two rivalries. Still, there are a few things to remember; players will have to choose the cards from their team color, avoiding the other ones. Lastly, don't ever choose the assassin because that will earn you nothing.
Pros
The game is super fun and can be played with 8 players
It makes a great competitive experience overall
You can play whenever you want to with super-easy portability
This consumer's choice game is super easy on the pocket as well
Our Take: Lightweight form factor and crazy team fun with brain exercise in this excellent game, worth for your dollars.
MULTICOLOR GAME
The Camel Up Multi-Color Board Game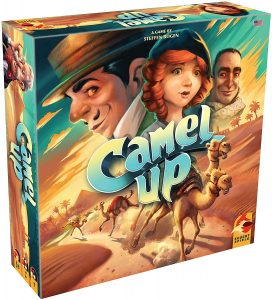 ★★★★★
Updated Graphical Board
Extra Challenging Game
Features:
You're dealing with an updated graphical board with lots of elements
The game is about a camel's race frenzy
This challenging game got extra challenging with more contestants
Your game board is made out of fine quality paper along with other components
It's one of the best 6-player tabletop games ever
A fun board game that is played and enjoyed by almost every consumer. So, tame your camels and raise your gaming standards with this one of the best 6-player board games, big.
Dimensions: 11.7 ×6 × 11.7
Weight: 1.27 kilograms
Show Your Mastry In Race: The manufacturer has given great value to even the nitty-gritty of this board game. There are many pleasant changes made to satisfy the gamers now. You'll have more contestants to further strengthen your challenge rope. Also, you now have more artistic elements added to the game board to promote fascinating gameplay.
A Great Gift: Who doesn't enjoy the crazy fun camel race game? It's going to be a great choice for your loved ones. It has all the offerings of a great board game with the never-ending joy of race simulation.
Pros
The game fun remains perennial
You can now race with more contestants than ever
Now the game has more pleasant graphical visuals
It's lightweight and can be easily carried anywhere
Your great race simulation can also be a wonderful present
Our Take: Experience the race of strategy and luck in a great price tag, making it a solid purchase.
HIGHEST SELLING
Libellud Presents Dixit Board Game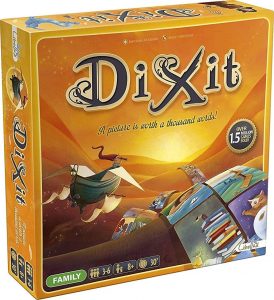 ★★★★
Inspiring Storyline
Beautifully Illustrated
Features:
This game board is about sharing and creating imaginations
Your game cards are also inspired by the storytelling and creativity
Players can share their art and learn from the other players
The game takes you to the world of a vast creation
Beautifully illustrated cards with required game components
Flag your creativity in this excellent board game by Libellud. The game is inspired by fantasy and storytelling in a team, making it one of the best 6-player board games. So, are you creative enough to stack up against the competition?
Dimensions: 11 × 11 ×25 inches
Weight: 3.52 ounces
Unleash Your Creativity: With the Dixit board game, your creativity has no limits but wings. All the game components are fully inspired by the artistic side of nature and the world of fantasy. Players behold their cards and create an imaginary line or anything in that domain. All the players just go and guess randomly, adding to each other creativity.
Excellent For Growing Kids And Everyone Else: Have you ever thought about learning with recreation for your kids? Now, you can imagine this excellent and crafty option for your growing kids. Your kids can now express their creative side with others that helps them to grow together. Lastly, there is no age preference when it comes to this game, as learning never stops.
Pros
Great learning opportunity for kids
Tranquil illustrations making it perfect for everyone
You can gift this package without a second thought
Carry it everywhere
Cons
Some adults may not prefer this one
Our Take: Get this one of the most valuable games for your kids in pursuit of their learning, making it above everything.
EXCITING STORY
IELLO Store Presents King Of Tokyo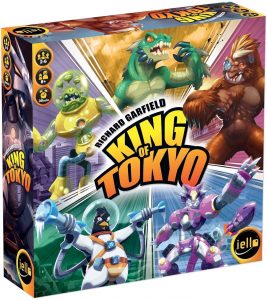 ★★★★
Powerful Monsters
Collect Energy Cubes
Features:
Select from 4 powerful monsters to start the game
The game can take up to 30 minutes to win the stages
Collect energy cubes to acquire maximum skills and power
Space penguin character is also added in the gameplay
This board game has compatibility for 2 to 6 players
King of Tokyo is something fun in the multiplayer gaming scenario. How about being a powerful monster or alien in the game and try some new strategies to win the stages.
Dimensions: 10 ×75 × 10 in inches
Weight: 2 pounds
Collect Skills And Conquer The Way: The player will have to choose among 4 monsters, including the space penguin, raw robot, abominable aliens as well. Collect the skills and power cards from the ways of stages to improve your character's strategy.
Gaming Accessories: The kind of Tokyo board game comes with interesting gaming equipment along with a guidebook. The package comprised power cards in 66 variants, 28 chips, monster tables of 6 types, 6 cardboard figures, 2 green & 6 black dices. Moreover, there's a Tokyo board and a ruler book for directions.
Pros
Upgraded features of Régis Torres
Sharp direction game scenario
Skillful and powerful strategies to improve
A worthy price tag
Our Take: Collect the maximum power cards to improve your monster character to get the maximum victory points.
TRULY ENGAGING
Cave Farmers By Mayfair Games
★★★★
Build Your Own Board
Excellent Gameplay
Features:
The players get to build their home boards
It's giving a pure pasture and agricultural simulation
Your gameplay offers excellent replayability value
Players are competing in a race to build the most successful home boards
It also offers a great strategy value with pleasant graphics
If you admire farming games, then you will surely love this one.  The Cave Farmers offers a beautiful pasture illustration making it one of the best farming 6-player board games on Reddit available.
Dimensions: 12 × 6 × 9 inches
Weight: 4 pounds
Build Your Way: You lead the plot! Your small-knit family lives in a cave situated in the deep mountains. You have pasture ahead of you so, and it's your choice how you'd develop it. Your success can only be met by a worthy agriculture base. So, organize your area and look after your herds.
Loaded With Customizations: The gameplay with supported with extensive customizations and changes you can make to lift up your farming setup. Accordingly, you can organize your farming and keep your animals within fences. The more you build, the more chances for you to acquire victory. Thus, build your space efficiently and roll your goods out with a strategy.
Pros
Building in competition makes it super challenging
The package provides a fantastic illustration
Easy to understand with a game guide
It comes with every game component in high quality
Cons
Hardcore gamers may not prefer this one
Our Take: Reveal your creativity with this excellent farming simulation board game, making it a decent purchase.
FAQ Regarding Best 6-Player Board Games
Q. Which could be the Best 2021 selection from the 6-player board games collection?
The enlisted games are all top-rated and trending with the flexibility of multiplayer compatibility. However, these are the best 02 shortlisted games on the list are Multi-Standard Game Board: "Mysterium" and Award Winner Betrayal at House on the Hill.
Q. What type of experience will we get from these board games?
These multiplayer games will provide a real-time strategy gaming experience to enhance your mindset and skills. The players will have to make their own decisions and act accordingly to the situation to beat the opponent.
Q. Can a beginner play these board games?
Of course, these multiplayer board games come along with complete guidelines and ruling books to provide the instructions. Even teenagers can play these games with their families with the advance and basic mode levels of the game.
Best 6-Player Board Games | Quick Comparison
Our Recommendation:
Our 1st recommendation is Cave Farmers by Mayfair Games as the Best 6-Player Board Games on the list. This pasture and agriculture gaming simulation comes with a complete ruling guide and will provide a real-time multiplayer competition. Moreover, our 2nd recommendation is The Codenames by Czech Games as the best spymaster gaming scenario. This game has compatibility to play along with 8 players with spy agent cards and accessories.
Conclusion
At last, we can conclude that these are the best 6-player board games steam with the advanced strategical platform. The game story of these variants will provide a flexible scenario; even 10+ kids can play them. Plus, different types of themes are added in these games to improve your decision-making power according to the situations of stages. Collect the victory points by gaining the power and skill cards. You can play together with your friends and family to have a healthy mindset competition.
Choose your favorite 6 player board game and have fun with your friends!