Is your childhood gaming nostalgia haunting you day and night? Well, the best arcade machines on our list are the best possible solution. In today's pay life, it's hard to hear about such offerings as today's generation is fully involved in trendy video gaming.
So, many game manufacturers started making some of the best arcade-based machines for all old arcade admirers in this regard.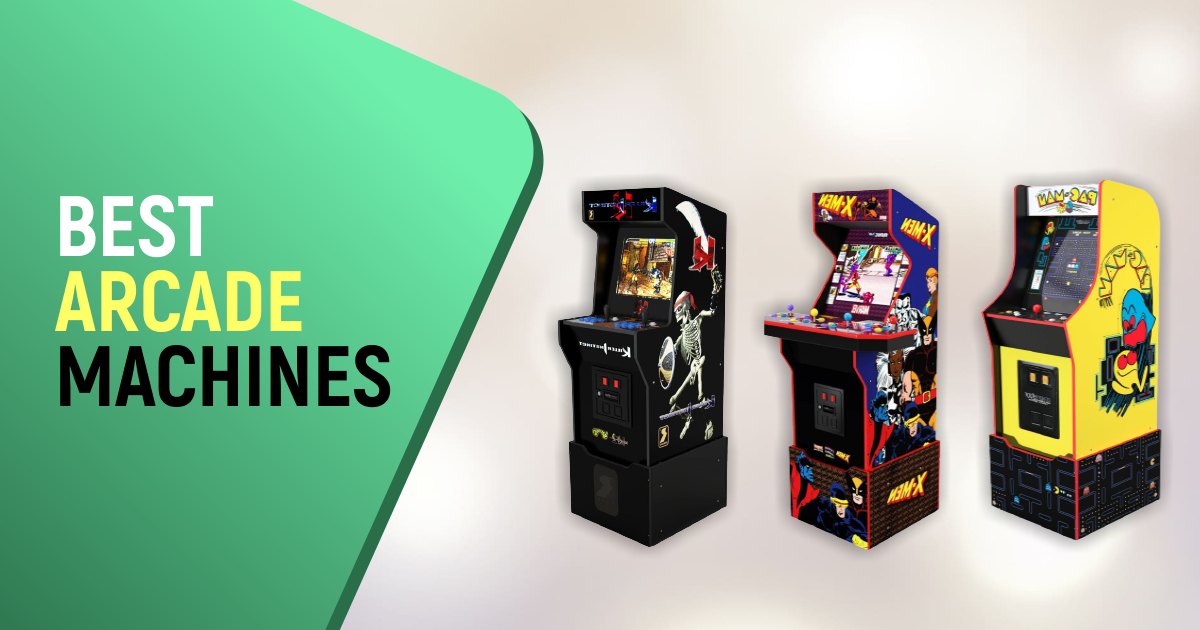 So, it gave all those longing players a wonderful opportunity to get their hands on one of these machines. These machines pack incredible entertainment.
Best Arcade Machines | Editorial Pick
EDITOR
CHOICE
★★★★★
Tiny Arcade Miniature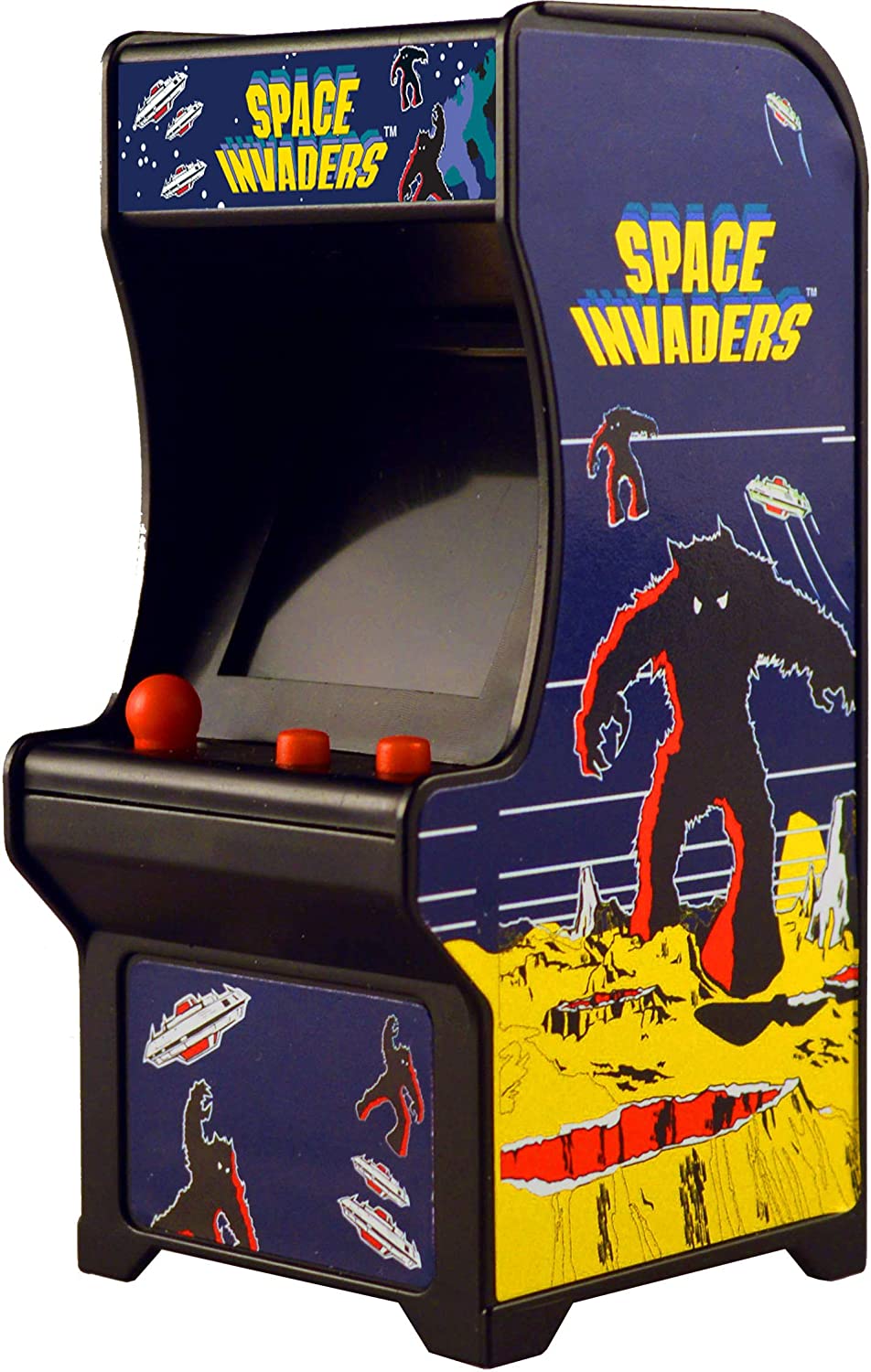 Color Rich Display
Classic Games
HD Speakers
TOP
RATED
★★★★★
My Arcade Micro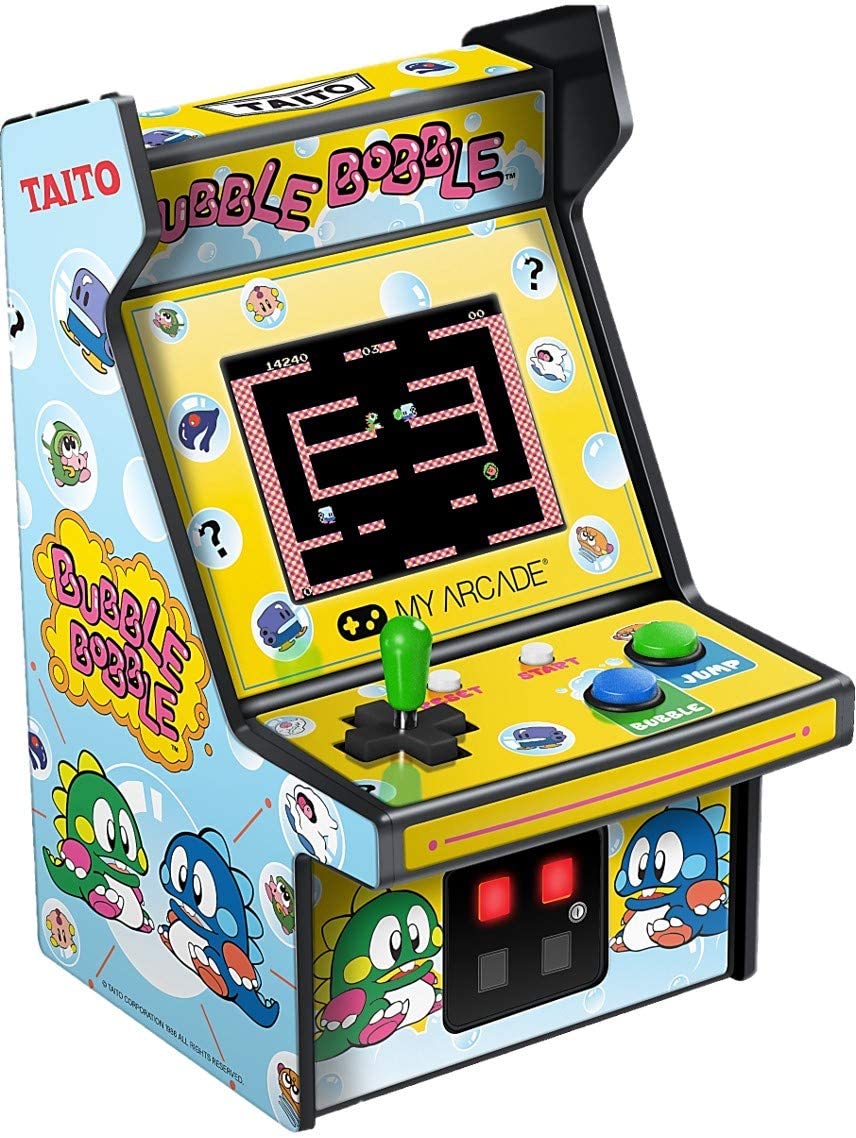 Authentic Gaming
Compact Design
External Speaker
BEST
SELLING
★★★★★
Arcade 1Up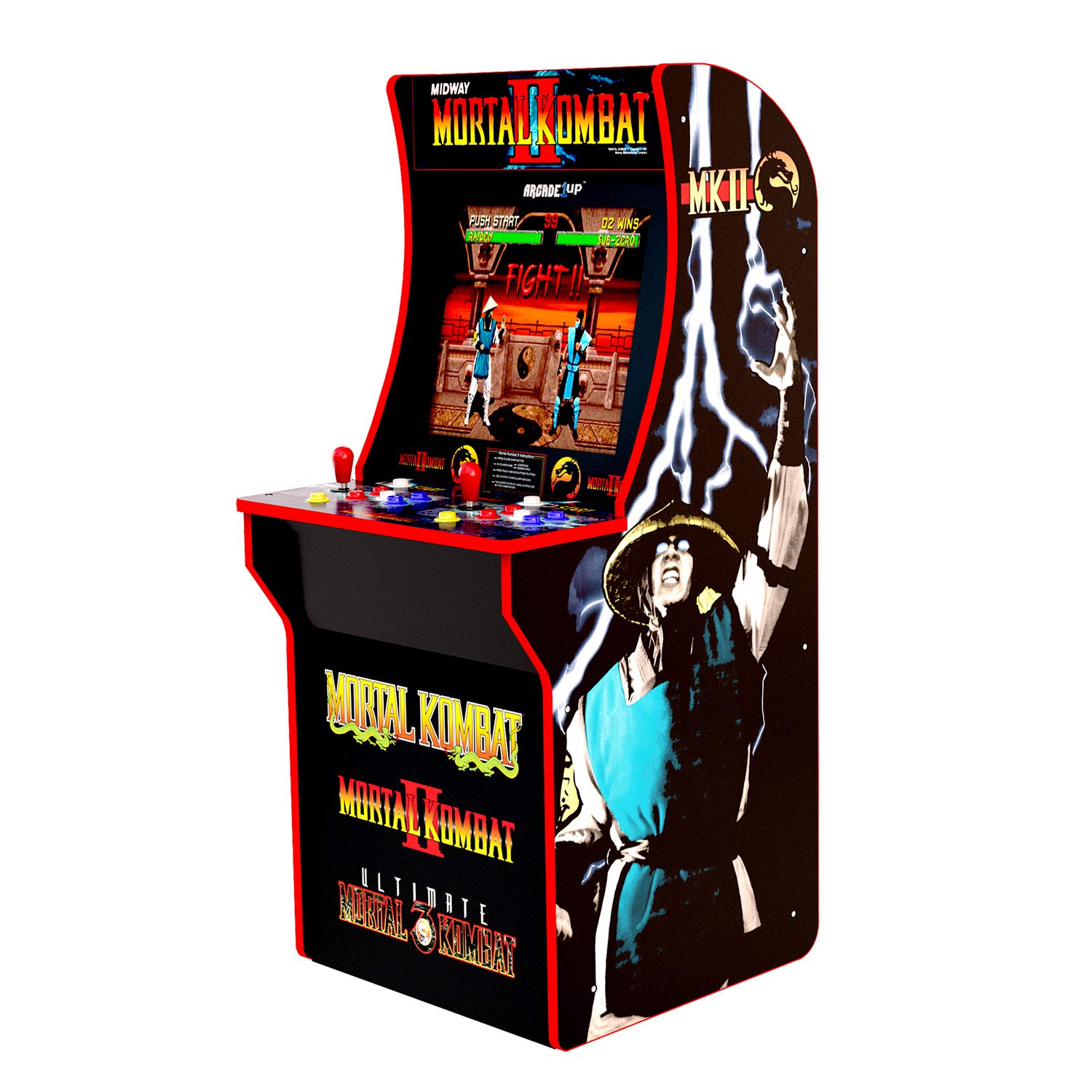 Mortal Kombat Theme
17″ Display
Great Joystick
Best Arcade Machines | Reviews
Players can easily comprehend the game rules and start playing right away. Details given to the design and quality of artwork done on these machines are unbeatable. So, these classics are morphed into an amazing modern form factor that justifies today's gaming standards.
Besides, you may have already loved our selection of the best basketball arcade games. And now, here goes our latest reviews of the arcade machines.
BEST OVERALL
Tiny Arcade Space Invaders Miniature Arcade Game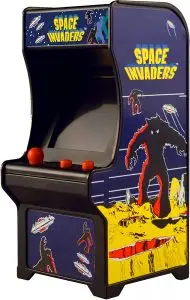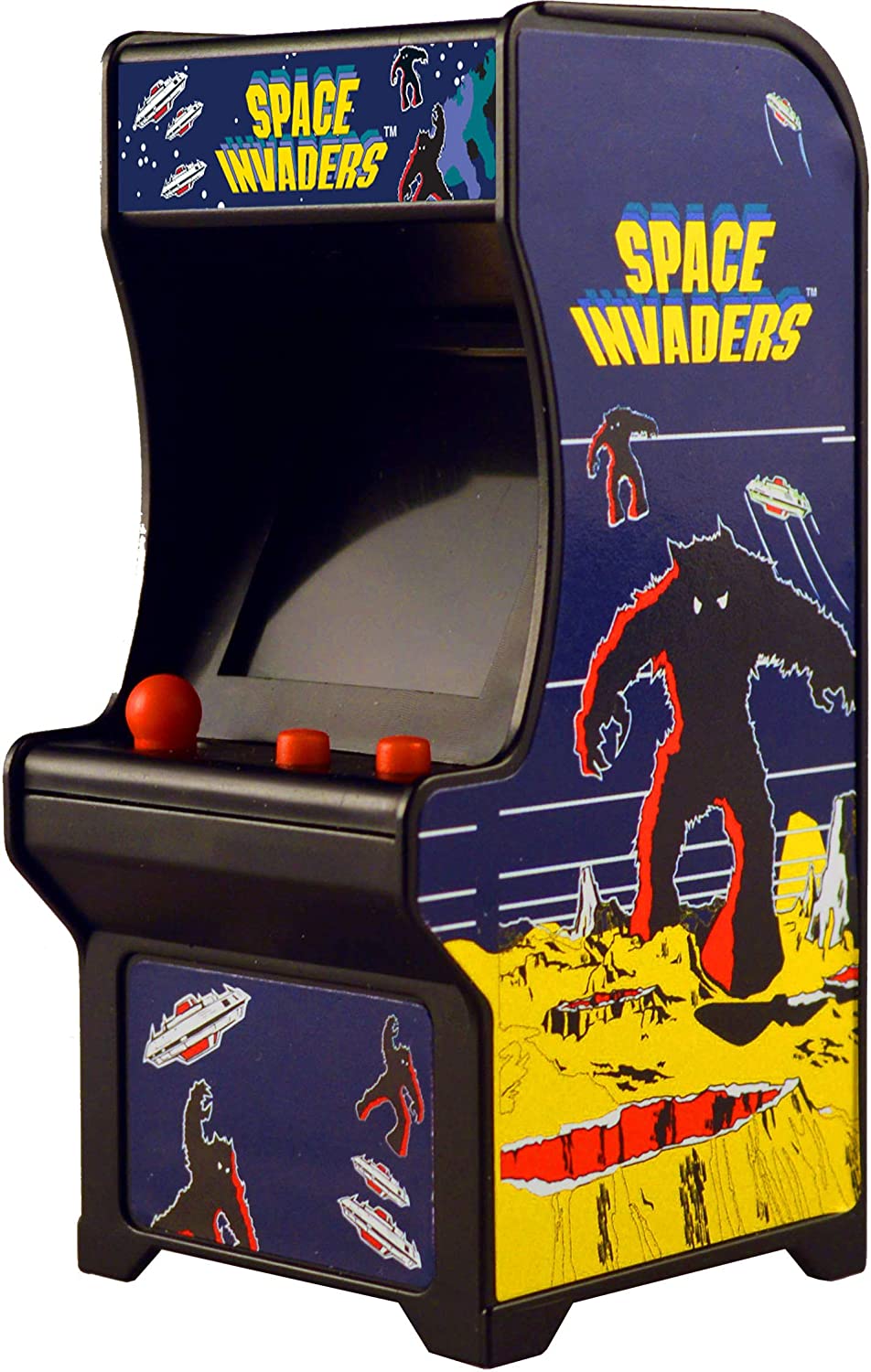 ★★★★★
Vivid HD Display
Color Rich Surface
Features:
Get big on games with the most color riches high-resolution screen
This arcade machine holds the most popular classics that are made compatible, so your games go smooth
The handy yet substantial form factor makes it a pocket-friendly design
High-quality speakers added to this machine to lighten up your gaming experience
Keen stress to the details like header lights up as you fire your first game
Revive your nostalgia with one of the best arcade machines available in the market. The functionality is hard to beat with the most intelligent design made to fit even in a pocket.
Thus, making your fun time more accessible and convenient with the purpose-built design. So, don't forget to have one of these best tabletop arcade games.
Specification:
Dimensions: 2 × 1.5 × 3.5 inches
Weight: 2.24 ounces
Screen Type: LCD
Game Type: Arcade
Recommended Age: 8 years and up
Screen Size: 1 ½ × 1 inch
All-Time Favorite Video Arcade Games: Enjoy all your favorite arcade titles in this tiny machine that gets big on entertainment. This machine includes very famous arcade games like Hello kitty pack man and burger Maps. So, making it the most versatile machine that can fit in your pocket.
So, hit your pockets and strike first with your all-time favorite games in this machine.
Small Yet Impactful Screen:  The colorful and high-definition screen on this machine gives wings to your enjoyment. All games run smoothly on this display screen. And with the ability to put it in the pocket, your enjoyment time isn't limited anymore.
Pros
The machine can slide in your pocket so it can be carried anywhere
Contains your favorite classics
Easy to get started with simple game operations
It comes at an affordable price
Available in different styles
Cons
Sometimes screen gives pauses during the game course
Our Take: Enjoying your favorite arcade games was never easier with this pocket-friendly design, making it a wonderful option. Plus, the high-resolution screen doubles the fun.
BEST-RATED
My Arcade Micro Player Mini Arcade Machine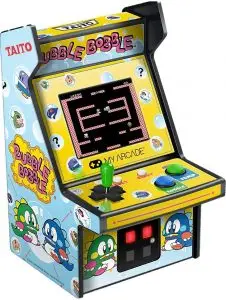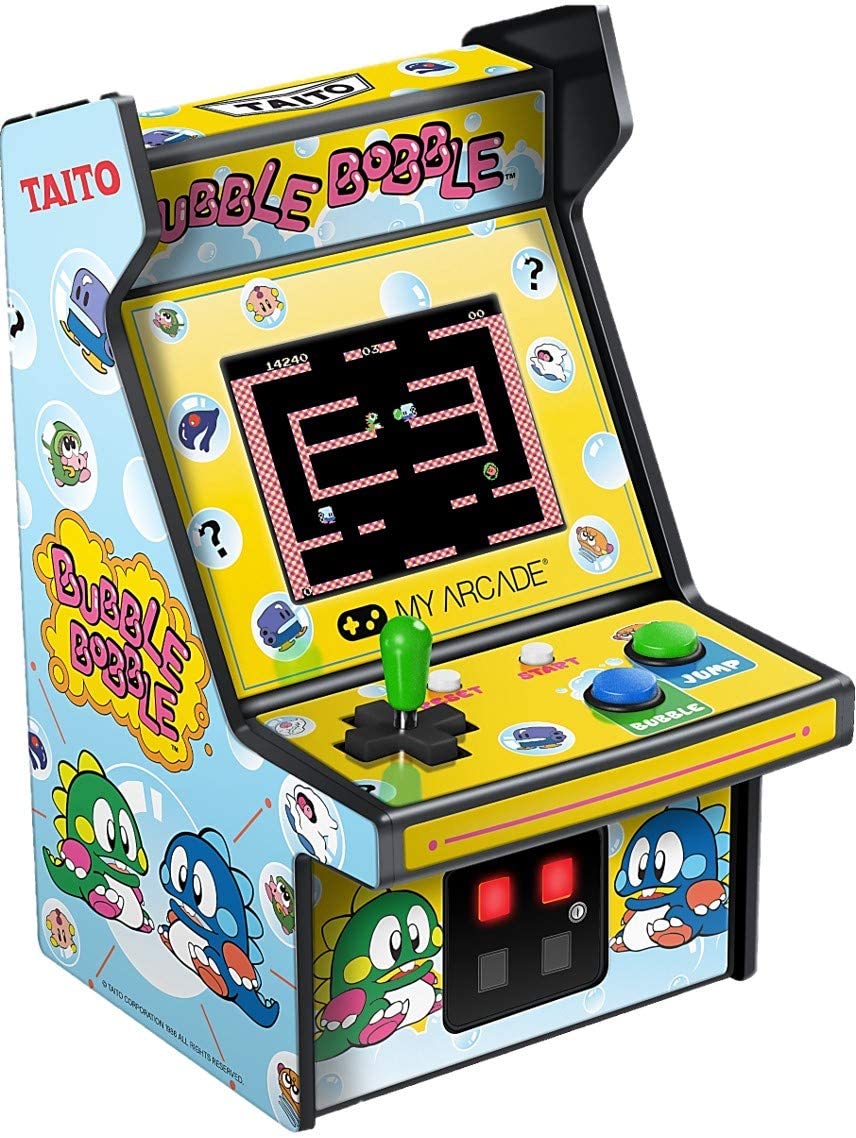 ★★★★★
Authentic Arcade Feel
Convenient Design
Features:
Authentic arcade gaming with the most suitable display bringing new colors to life
Unbeatable artwork finish on the machine for giving an amazing retro vibe that we all admire
The most convenient design made to fit easily in the palm of your hands so you can play with comfort
Loud and clear external speakers for providing an immersive show of entertainment
Now you can enjoy the arcade games ruling over many player's hearts. It comes with the most demanding display that is made to brighten your classical gaming memories.
Your machine is a piece of excellent artwork that is inspired by many famous arcade video games.
Specifications:
Dimensions: 8.6 × 5.7 × 5.1 inches
Weight: 15.2 ounces
Screen Size: 2.75 inches
Display Type: Color display
Machine Size: 6.75 inches
Battery Required: 4 AA
Retro Fun For All: Overflowing joys can be spotted on the faces of all those arcade fans as they hear about this machine. This machine is perfecting what already was a gem of entertaining experiences. Your gaming machine comes with a beautiful 2.75 inches high-quality display for endless fun.
Colorful Display: It got 2.75 inches full colorful display that doubles the fun and offers a genuine arcade experience. Plus, it is equipped with a 3.5 mm headphone jack, and the external volume provides the best and precise volume. Further, you can control the volume as well and adjust according to your need.
Your Nostalgia Gets Premium: Get premium with this amazing quality arcade machine that packs a punch of features. Proving its versatility, the machine provides a firing external audio system for enhanced gaming. Your machine's artwork is another medium of perfection with a retro feel beating your nostalgia.
Players can also remove the joystick so that they can play with the d-pad as they see fit.
Pros
Portable design makes it easy to carry
High-end audio throw
Removable joystick so that you can also play with the d-pad
Enjoy the original Pac-Man game on a color display
The price tag is friendly
Cons
The display is too small to handle the game
Tough joystick handling
Our Take: Prime Pac-Man experience packed in color-riches display with amazing artwork machine, making it a sublime option. It comes with a full-color display and has an external speaker that makes it the perfect arcade machine.
POPULAR CHOICE
Arcade 1Up Mortal Kombat Arcade System
★★★★★
Mortal Kombat Theme
Vivid Display
Features:
Players can select game modes and operations with the convenient onscreen menu
Inbuilt high-quality joysticks ensuring buttery smooth gameplay for all
Give your games a wide perspective with a generous 17 inches display
Bring the most out of your fun time with this one of the best arcade machines. It is actually an arcade gaming machine that has the brightest and high-resolution display.
It takes about minutes to get your first game started, so you can enjoy hours of fun.
Specifications:
Dimensions: 22.75 × 19 × 45.8 inches
Weight: 57.3 pounds
Display Size: 17 inches LCD
Number Of Games: 3
Player's Support: 1 to 2 players
Display Type: True tone LCD type
An Immersive Take On Your Games: This classic-style machine offers an immersion that many gamers still fancy. So, materialize your thoughts with this machine targeting matchless experience. As a result, your inbuilt games gain a sparkle when you look into the screen.
Players are looking at a large 17 inches panel where the 3-signature in-built mortal Kombat games look stunning.
Action-Packed Games: It offers dual-player challenging gameplay with added 3 action originals. So, get yourselves in the action field and prove your skills with the most easily assembled gaming machine. Moreover, the machine has excellent quality speakers that offer an experience that you can't imagine missing out on.
Pros
Phenomenal display where your games gain unique sparkle
Players can operate without coins so that they can play without limits
Adjustable volume and game controls so you remain on top of everything
Simple to get started and play for hours
High quality built ensuring durable performance
Cons
Tall players struggle with small machine height
Cracking noises from the cabinet while operating games
The price tag is high
Our Take: Take on the best action-filled titles on a vivid display incorporating all controls, making it a worthy option. Further, it is easy to operate and offers the players the option to select the mode and have friendly onscreen buttons.
CLASSIC FEEL
Arcade1UP Classic Cabinet Home Arcade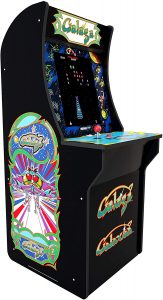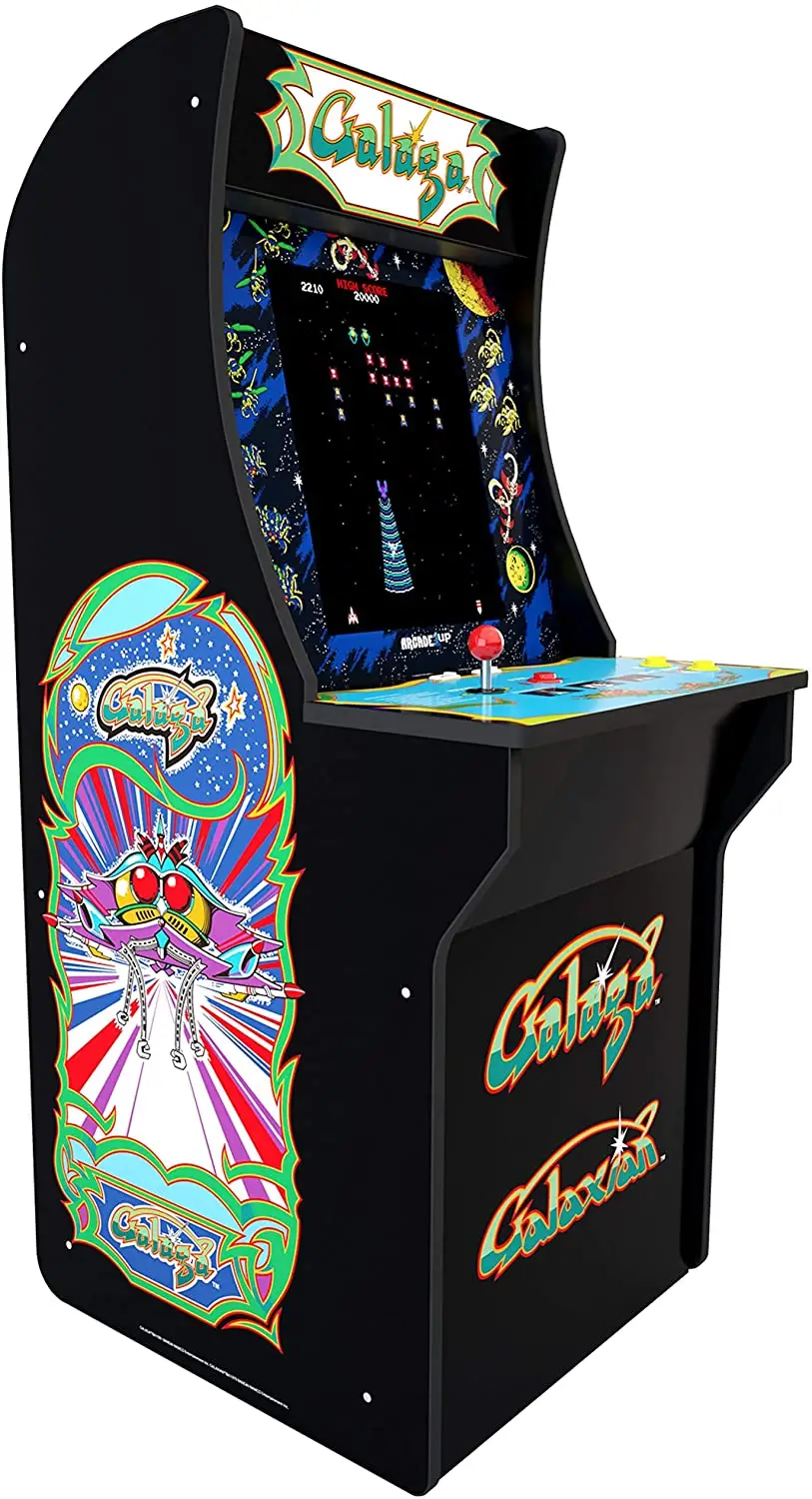 ★★★★★
2-In-1 Gaming Machine
Adjustable Controls
Features:
Aliens are attacking the galaxy where you'll confront them, making more strikes
A cabinet style arcade machine that blends into your home's furniture
2 in 1 gaming machine, so you get a unique experience every time
Coinless operations with adjustable controls make your experience live
Easy to plug in with no real assiduous efforts required to set up the game
If you're a fan of shooting galaxy games, then this is surely your deal to look at. You're dealing with a rich-colored display that has all the catchy colors to satisfy your gaming thirst.
Comes with inspiring artwork on this machine, making it a deal of pleasing aesthetic cabinet.
Specifications:
Dimensions: 18.9 × 23.62 × 47.64 inches
Weight: 54.5 pounds
Screen Type: Color LCD
Screen Size: 17 inches
Recommended Age: 14 years and up
Terrific Arcade Experience: This cabinet-style gaming machine takes your enjoyment to the next level. Players can easily set up the game without worrying about complicating assembling. Just plug in and play your way with interacting controls and sublime display, marking the best experience.
It's carved out of the finest materials for prolonging its life. Making sure that your gaming machine stays as it should. Furthermore, the cabinet includes 2 phenomenal games that are drenched in action and smashing strategy.
Pros
Terrific quality volume with adjustable options
Cabinet design blends into your living space
Made out of durable materials ensuring lasting performance
Bright LCD panel gives its players a dynamic experience
Reasonable price tag
Our Take: Start your gaming quest with this exceptional arcade machine with a cabinet design, which makes it a compelling purchase. It is 2 in 1 gaming machine Galga and Galaxian that makes it ideal and doubles the fun.
FULL SIZE
Creative Arcades Cocktail Arcade Machine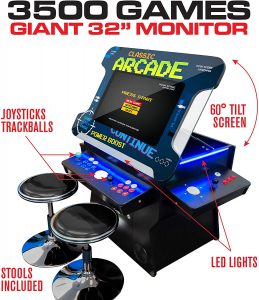 ★★★★
32-Inch LCD Display
Full-Size Module
Features:
A multi-purpose gaming machine for home, bar, and even for office enjoyment
Intense games selection with over 3500 exciting games to choose from
No real setup is required when you start your game for the first time
It comes with a 32 inches tilted high-resolution LCD monitor for the most engrossing experience
Can you imagine revising your nostalgia with the most futuristic gaming machine? You heard it right, as you're going to feel the shocks of modern technology with this incredible commercial-grade machine.
It comes with limitless games, so you get a new feel every time.
Specifications:
Dimensions: 39 × 22.5 × 29 inches
Weight: 140 pounds
Game Category: Arcade
Display Size: 32 inches
Light's Type: LED lights
Recommended Age: 13 or up
Game Genre: Classics
Expect The Best: Unimaginable and realistic screens are now in everyone's access. A 32 inches high-resolution LCD with tilted functionality makes it a thing from the future. Moreover, the high-quality buttons, trackball, and joysticks, further shine your gameplay. Thus, making it an everlasting way of enjoyment.
Endless Games To Choose From: This futuristic device holds over 3500 incredible classics from manifold genres. While games on such an immense display look amazing and with added speakers, the experience is unforgettable. Moreover, you're getting stools so that you can conveniently share your challenge with loved ones.
It contained 80's and 90's games that make you feel like a kid and make you nostalgic.
Easy To Operate: It offers easy and simple control; you just have to plug in it and play the game, no setup required. It offers you to choose the game from the list and enjoy your game. Further, it is equipped with a commercial-grade custom volume control module along with the bass that doubles the fun.
Pros
An endless game collection, so players get a unique experience every time
Most modish and luxurious 32″ display that has a tilted function embedded
It comes with 2 super comfy stools for a relaxing gaming experience
Your arcade machine is a definition of true craftsmanship
Convenient and straightforward to set up with no complicating assembling required
Holds a 3 years warranty
Cons
Heavy to move around
Expensive price tag
Our Take: Get ready to see the future of classic gaming in a modern design, and a lavish display makes it a worthy deal. It has pre-installed 3500 games and contains classic 80's and 90's games that make it unique.
NOSTALGIA
Doc And Pies Arcade Factory Classic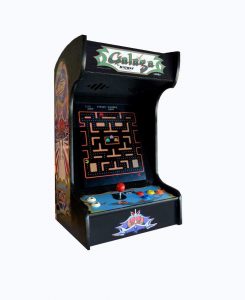 ★★★★
Truly Portable
Full-Size LCD
Features:
Portable gaming machine which can be placed on a tabletop and at your home as well
Select your favorite game from the given list to enjoy the desired gaming vibe
A full-size LCD screen with high-definition graphical visuals to experience with friends
Firm construction of the arcade machine with the stable quality material structure
Get back to the '80s and feel the classical gaming experience at your home or anywhere you want. The exterior construction has been designed with precision and stability that will fit anywhere you want.
Plus, the kids love retro gaming platforms with joystick featuring on the board side.
Specifications:
Dimensions: 33 × 21.3 × 21.2 inches
Weight: 50 pounds
Screen Size: 19 inches
Display Type: LCD screen
Machine Color: Black
60 Collection Of Games: Always favorite gaming collaboration of 60 variants will take all the attention of kids and adults as well. Plus, the arcade featuring the storyline got the same vibes but a much better visual experience on the LCD. Well, the sound quality is stunning with evenly distributed in the surrounding.
19-Inch Display With Warranty: The screen is rightly fitted with the machine front that will manage the front angle and gives the best visual results. Moreover, the company offers a secure 7 years warranty of this gaming package, so have fun without worries. The buttons are also full-sized with aligned placement.
Pros
421 retro gaming collection with a selection
Action gaming platform with HD sound system
Compatible for tabletop design and easy assembling as well
Joystick supportive with fixed buttons
Cons
Game selection problem in the list menu
A customer reported a sound system problem
Our Take: A classical gaming set with a list of collections and a high-definition sound system to enjoy at your home, as one of the best arcade machines for you as it got 7 years of warranty.
SLIM DESIGN
Creative Arcades Slim Arcade Machine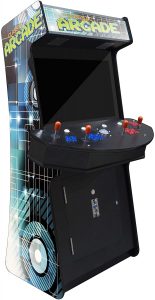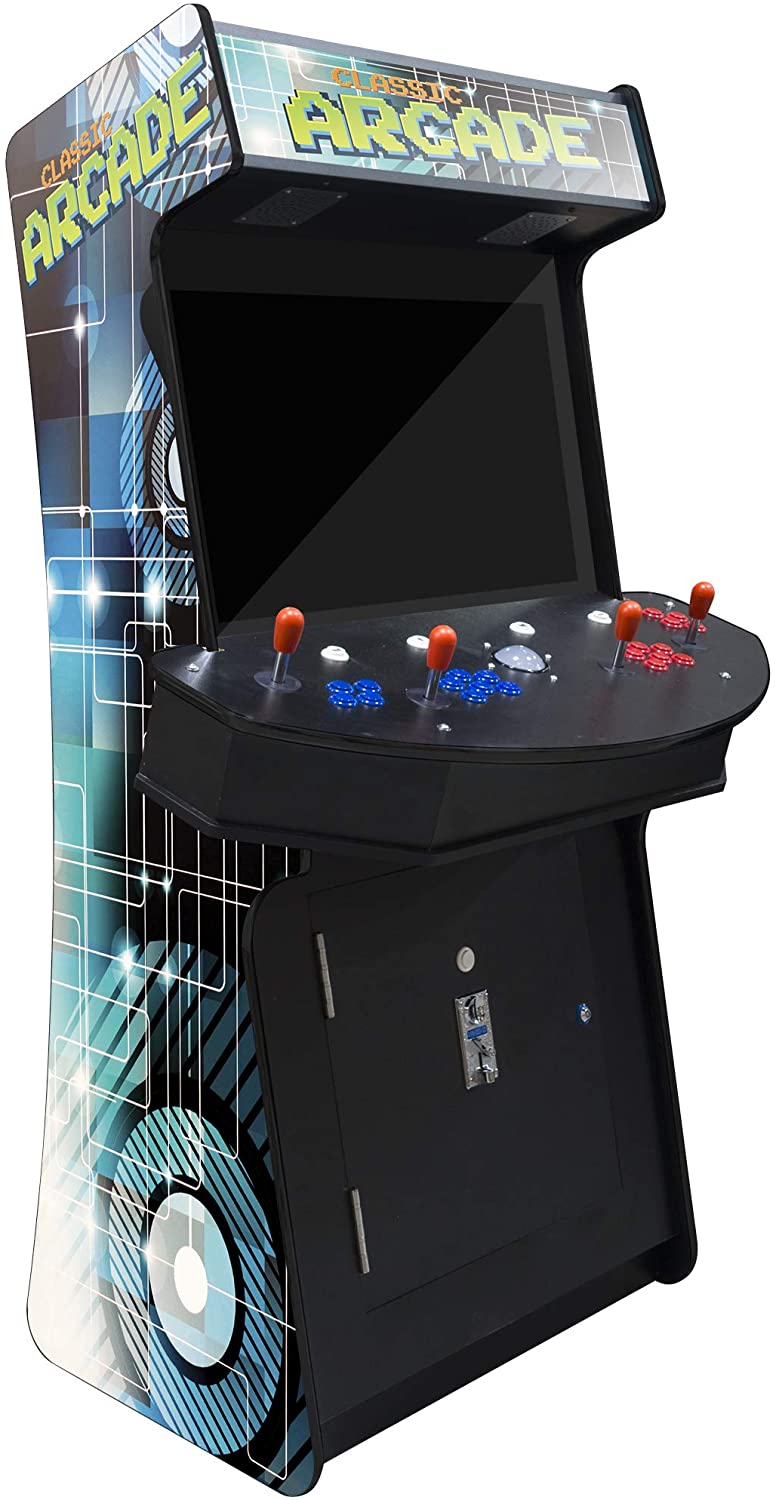 ★★★★
Plug And Play System
3-Year Warranty
Features:
Plug and play system with no tools required for assembling; just start the setup and join the gaming
LCD monitor display with wide-angle screening to present the complete details of the game
A 3-year warranty has been featured on this top-quality arcade gaming machine with a secure playing scenario
The body is constructed according to the normal height range of the players with aligned joystick board placement
You don't have to go outside or any gaming station to get the classical joystick gaming experience. A complete range of games, including the historical favorite selection, has been included in the arcade machine.
You can play solo and compete with your friends in the challenging modes.
Specifications:
Dimensions: 68.75 × 31.5 × 39.5 inches
Weight: 200 pounds
Screen Size: 32 inches
Display Type: LCD
Games Included: 3500 classical collection
Warranty: 3 years
Stools: 2
Gaming Board With Buttons: The SANWA joystick has a firm and smooth game handling to play with all the required buttons placed on the board. And the design has been crafted in a detailed structure so you won't miss any move while having the action game time. The gaming setup is ready-to-going also has the paid session as well.
Arcade Collection With Boosting Sound: Surprisingly 3500 collections of classical era game zone will amaze the lovers of the arcade. And the sound stabilizer, along with the bass & treble system, can be managed on the large 32-inch display.
Commercial Grade Arcade Machine: It is the best commercial-grade arcade machine as it is equipped with good quality SANWA Joysticks. The 32 inches LCD monitor, dense and solid glass makes it perfect for commercial purposes.
Pros
The screen has been tempered with thick glass quality
A 3 years warranty has been featured on this gaming machine
Sound and gaming control system for players
Trackball and stools have also been added
Cons
The screen doesn't show all gaming list
The price tag is too high
Our Take: Plug and play gaming machine with a wide range of collections to choose from, and a sound equalizer system will boost up your environment. Moreover, it is suitable for commercial usage as it has solid construction and comes with 3 years of warranty.
FAQ Regarding Best Arcade Machines
Q. What is the display quality of these gaming machines?
The manufacturers have already featured the best quality display on the front side, comprising the LCD screening. Variation in size has been enlisted in the given products so you can choose according to your desire.
Q. How many players can join in arcade gaming on these systems?
Well, in general, these gaming machines are mostly solo and 2-players compatible only if there are more joysticks featured there. Buttons and tracker balls are also placed on some of the enlisted products with flexible playability for the users.
Q. Do we also get a warranty on these arcade gaming machines?
Of course, these gaming products come with a secure warranty plan along with complete assembling. All of these games are ready to play without any mechanical tool setup. And the gaming list will be given in the menu section of the screen.
Q. What is the best arcade machine to buy?
Tiny Arcade Space Invaders Miniature Arcade Game for home. It has a compact design that makes it portable and easily fits in the pocket. If you are looking for commercial usage, then go for Creative Arcades Slim Full Size Stand-Up Commercial Grade Arcade Machine.
Best Arcade Machines | Quick Comparison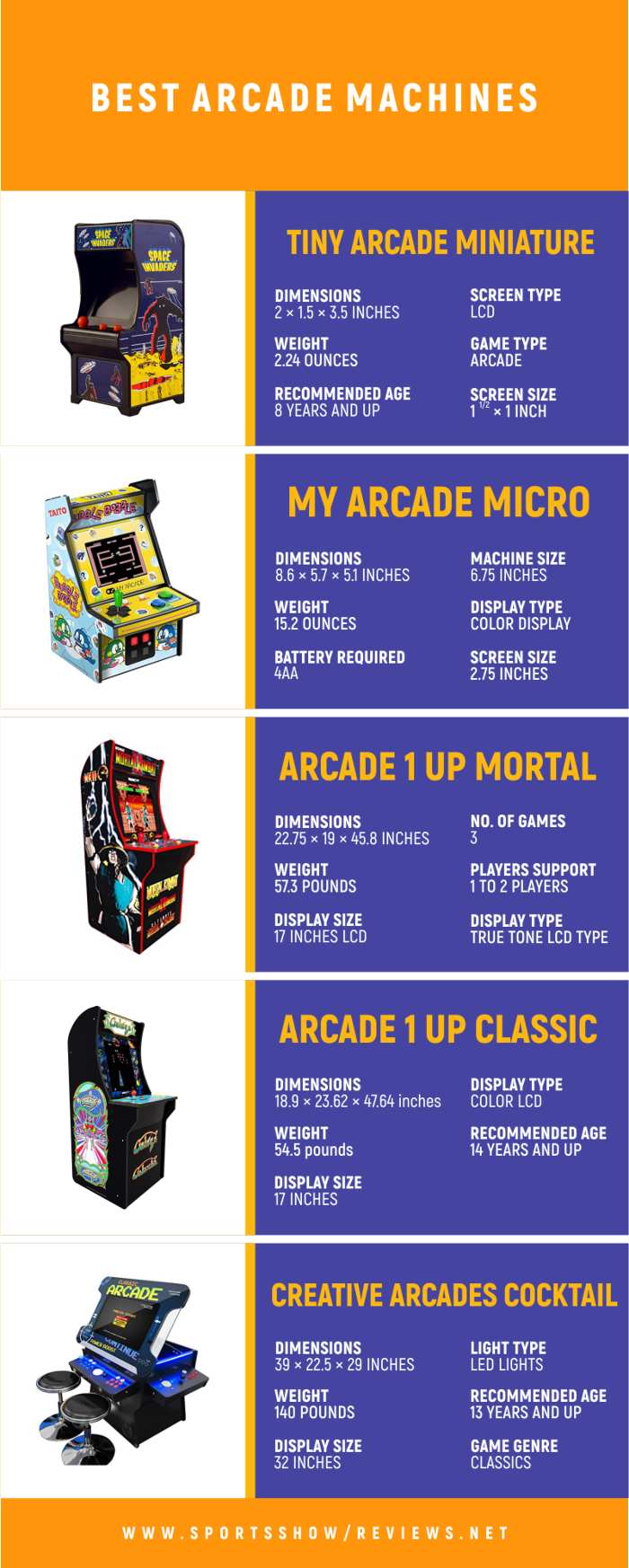 Our Recommendation:
Our 1st recommendation is Creative Arcades Full-Size Cocktail Arcade Machine as the best multiplayer arcade machine. The 32 inches display has been featured with top-quality glass and a collection of classical gaming experiences. It is best for commercial purposes.
And, our 2nd recommendation is the Tiny Arcade Space Invaders Miniature Arcade Game as the best pocket-sized arcade game. Plus, the gaming machine also features a high-quality sound system with a bundle of gaming ranges for you.
Conclusion
These are the best arcade machines with a complete collection of classical gaming variants featured in the list. The wide range of display screens will also present the complete visual screening of the gaming details. Alongside, the board surface has been manufactured with firm and sturdy material that will prevent maximum damage impact.
Moreover, the warranty factor on each gaming machine makes an additional and beneficial impact as it is secure to use. Plus, you also don't have to assemble the game as these are plug-and-play setups with quick proceeding. Select your favorite one and get the classical gaming vibes.