Playing arcades games are everyone's favorite. And we all know basketball arcade is one of the most popular among others. But it is not an easy task to find the best basketball arcade games.
Because there are so many in the market and most people have no idea which is best for them. It is undoubtedly a game of fun and entertainment, and everyone loves to play arcade basketball.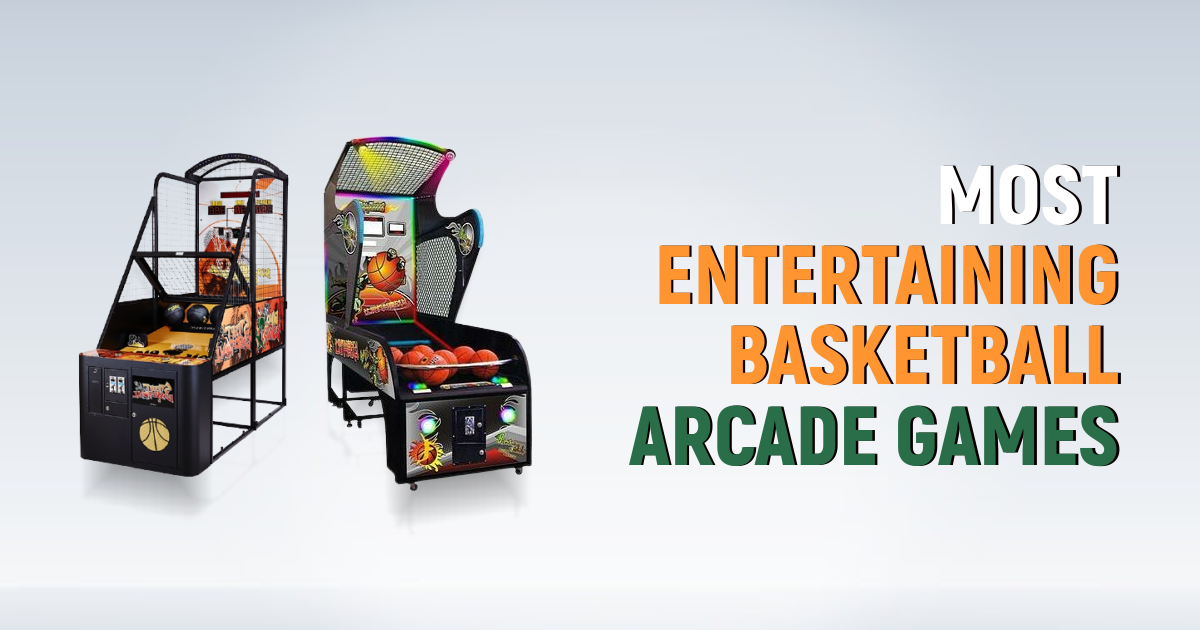 We recommend you look at some constituents before buying the indoor basketball arcade game so that you can find what suits you.
Best Basketball Arcade Games | Editorial Pick
EDITOR
CHOICE
★★★★★
Pop-A-Shot Home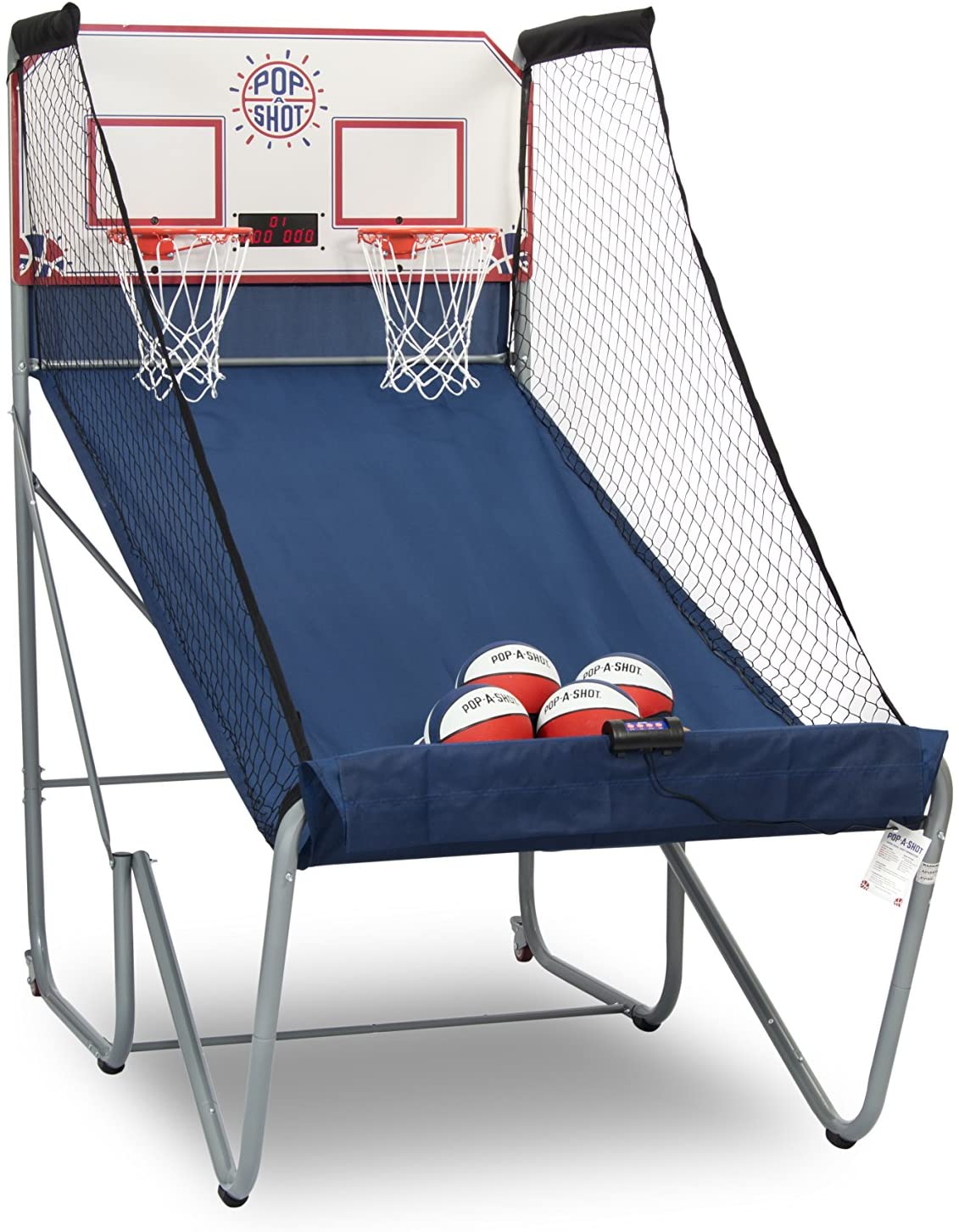 Powder Coated
Adjustable Height
16 Skill Tests
TOP
RATED
★★★★★
ESPN EZ Fold Indoor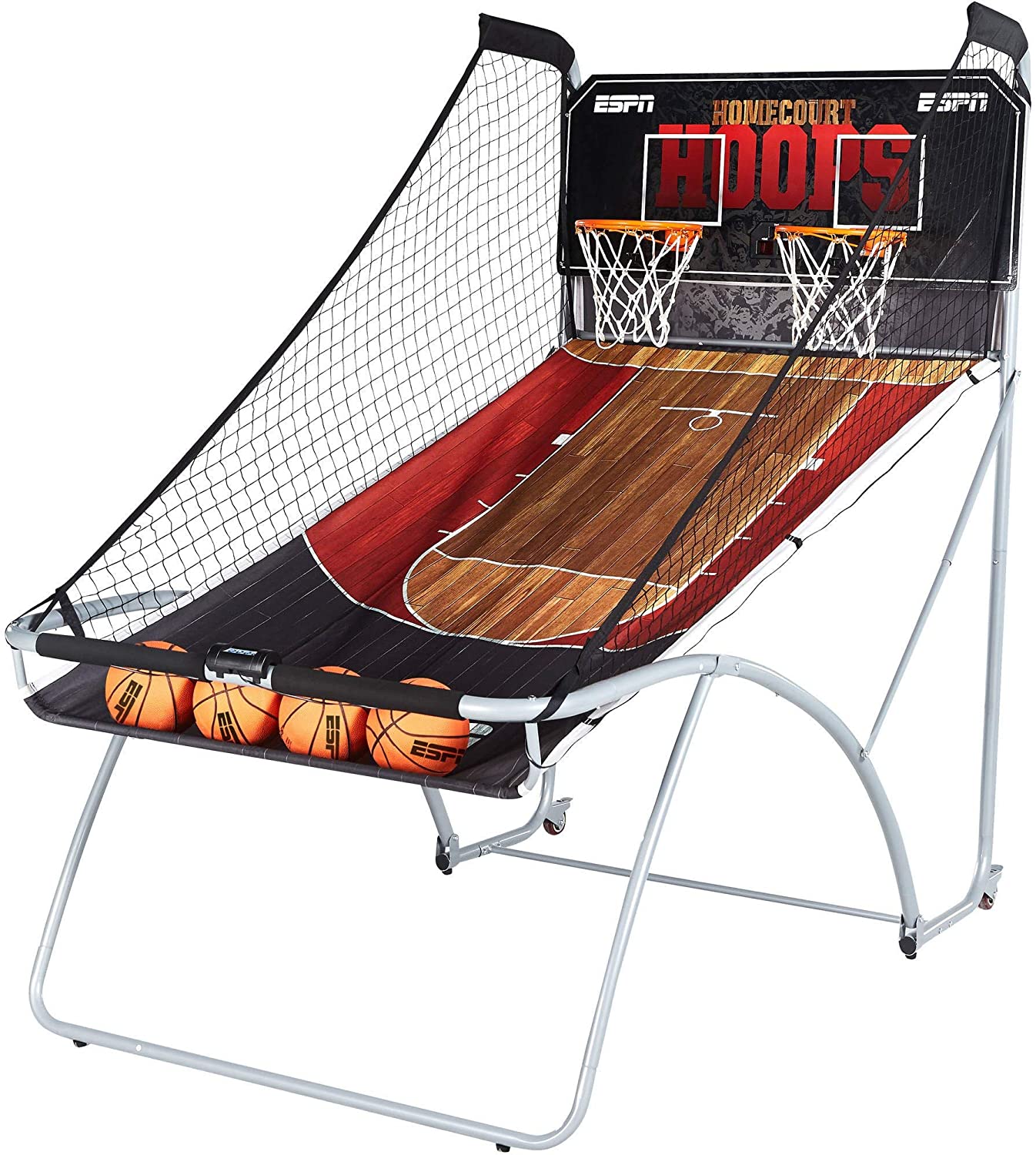 Thick And Sturdy
Two-Hoops Design
Moneyback Guarantee
TOP
SELLING
★★★★★
Lifetime 90056 Arcade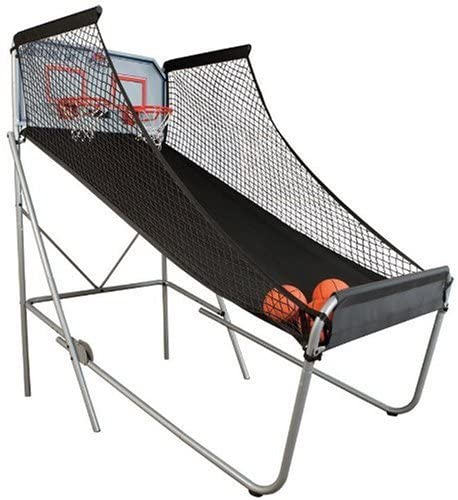 Infrared Sensor
Air-Pump System
Heavy-Duty Nylon
Best Basketball Arcade Games To Try In 2021
There are different varieties for everybody, whether you are looking for something to plan an exciting basketball competition at parties and gatherings. Perhaps something casual for a single-player experience. Or you may prefer a dual basketball arcade game for a breathtaking 2-player match. Besides, you can also try some best multi-game tables to get the same excitement.
In other words, we have listed below the best basketball arcade games for 2021 with detailed reviews and buying guide to choose what's best for you.
BEST OVERALL
Pop-A-Shot Home Dual Shot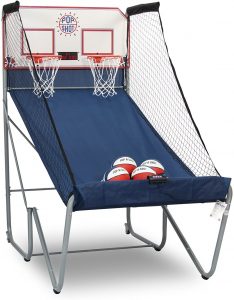 ★★★★★
Powder-Coated Steel Tube
Dual Power Supply Option
Features:
Powder-coated steel tubes
Height adjustable for adults and kids, and ceiling height
AC adapter included
Includes seven balls & an air pump
A choice of two power supplies
Multi-player games with dual baskets
Six excellent sound effects options
Sixteen skill tests and competitive game modes
For quick gameplay, seven basketballs are provided
It can be folded away when not in use for space-saving
The official home dual shot basketball arcade game by the brand Pop-A-Shot is most reliable and recommended for basketball lovers. Without any doubt, Pop-A-Shot is a pioneer from the start because providing premium quality construction, features, and durability.
The high-end LED scoreboard with an almost 100% accurate scoring system, infrared sensors, sixteen game instructions, and durable construction makes it a lifetime investment. Even though it's a little more expensive than the other brands, it will also last for a long time.
Dimensions: 45″ W x 88″ L x 82/88/94″ H
Weight: 58 pounds
Item model number: New Home Dual
Brand: Pop-A-Shot
Color: Blue and black
Material: The premium constructed quality is worth every extra penny that you spend. Strong "1½" thick and sturdy steel tubes, a powder-coated finish preventing rust, and a thick nylon ramp make it durable.
The 88-inch arcade can fold up to 37 inches deep. Moreover, the premium quality of the balls and the nylon ramp makes the gameplay smooth and exciting. Additionally, the well-designed and constructed nets make the game enjoyable by preventing the balls from being thrown away from the ramp.
Pros
Premium construction quality
Infrared optical sensor scoring system
An extra audio jack to plug in external speakers
Tools and instructions are provided to assemble
High-end Large LED scoreboard
Fold-down for easy storage
Our Take: Overall, this basketball arcade is highly recommended among all the best basketball arcade games that we listed. A backboard with adjustable height is a nice feature, so you can personalize it for your room, whether you have low or high ceilings.
If you have a good budget and want to invest for a long time, then this premium-constructed game is best for you.
TOP-RATED
ESPN EZ Fold Indoor For Two Players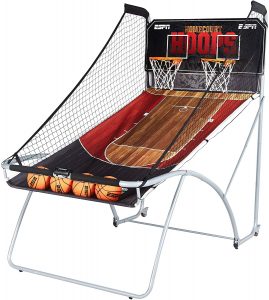 ★★★★★
Thick And Sturdy Frame
30-Days Moneyback Guarantee
Features:
Thick and sturdy steel frame powder-coated
30-day money-back guarantee
Two Hoops for multiple players
Four basketballs with an air pump for smooth gameplay
8 Different game modes
90-day limited warranty
LED-based scoring system and game clock
The real arcade sounds with a timer
ESPN EZ comes with an impressive basketball arcade to shine your game room. This game is designed for people of all ages. Every family member will walk by it and find it too good to pass up, so much better than always being on the phone.
Furthermore, the premium construction, Easy storage with foldable design, LED scoreboard, and multiple game options make it a quality product at a reasonable price. It comes with easy-to-follow instructions and the perfect setup for young children and adults. Additionally, easy access to replacement parts when needed and a toll-free troubleshooting team in the USA. You can get help whenever you need it.
Dimensions: 81″ Lx48″ Wx80.5″ H
Weight: 45 pounds
Brand name: ESPN
Warranty: 90-day limited warranty
Material: The high-quality construction at a reasonable price makes this basketball arcade game the best value budget product with many features. The 1.5″ thick powder-coated steel frame supports the rig nicely. Besides that, three lockable wheels make transportation easy.
Also, the backboard is built with an MDF base with two steel hoops rims for durability and realistic gameplay. Moreover, heavy-duty nylon nets and a premium quality ramp make it more reliable from the list of best basketball arcade games. The LED electronic scoring system and rubber-made basketballs keep your gameplay smooth and enjoyable.
Pros
Foldable up to 20″ x 48″ x 80.5″ for easy storage and moving
LED scoring system
Eight different game modes
3D assembly instructions
Sturdy material used
Three lockable wheels
Cons
Installation takes time
Some buyers complain about the durability of the sound system
Our Take: Overall, it is an excellent buy for a mid-ranged budget. It includes everything that you need for the gameplay. Installation takes some time, but 3D instructions make it easier.
It is highly recommended for anyone with a reasonable budget because the sturdy construction and outstanding features make it a perfect choice for your game room.
DURABLE
Lifetime 90056 Double Shot Arcade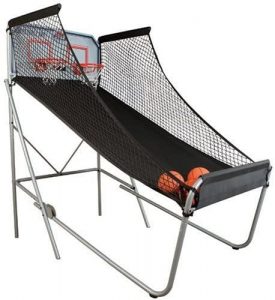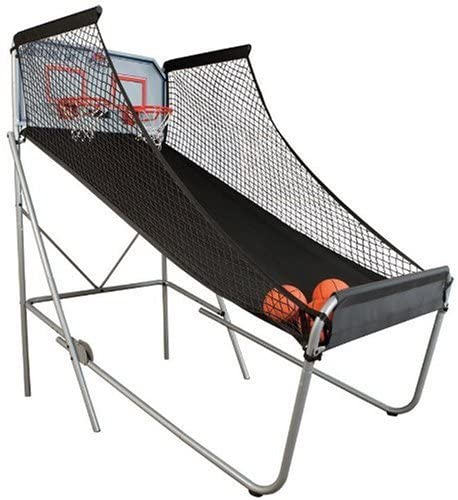 ★★★★★
Adjustable Height Options
Unique Foldable Design
Features:
Adjustable height options make it a good choice for both kids and adults
Infrared scoring sensors with electronic buzzers and sound effects create a natural gameplay environment
Foldable design for easy storage and moving
Seven rubber basketballs with an air pump
Steel tubing framing makes it durable
Heavy-duty nylon canvas ramp with adjustable strap
This is the best premium basketball heavy-duty arcade you could buy with a high budget. Lifetime is a well-known brand in the industry. They managed to keep a good name in the market by providing high-quality. Also, the company claimed to provide sturdy, durable, and high-end products, and without any doubt, they succeed in it.
Even though Lifetime basketball arcade is more expensive than the other brands, every extra penny that you spend will worth it because of quality. Twelve different game modes, three different types of voice feedback, premium-quality construction, the nylon ramp, foldable for easy storage, adjustable height options for both kids and adults make it a perfect choice.
Dimensions: 89 by 51, 90 inches.
Folded Dimensions: 89 by 51 by 42 inches
Brand: Lifetime
Weight: 85 pounds
Material: The 18 gauge powder-coated steel thick steel used in frames and rims prevent it from the crack, chip, or peel and makes it rust-resistance. Additionally, the heavy-duty nylon ramp and fiberboard backboard make the gameplay smooth and enjoyable.
No parts are flimsy or cheap-looking. In fact, they provide a premium look to shine in your game room. Besides that, the high-quality rubber balls make the gameplay more realistic. The optical scoring system with fantastic sound effects makes every shoot enjoyable.
Pros
The headboard is height adjustable
A digital countdown stats board with volume control
Seven balls for smooth and continuous gameplay
Foldable for space-saving
Electronic buzzers
Infra-red scoring sensors
Cons
Expensive than other brands
It requires a decent ceiling height for adults to enjoy the game
Our Take: To conclude, this is the best premium heavy-duty arcade game for kids and adults to experience. The tubing and backboard, and rims are sturdy to experience realistic gameplay. This comes with seven balls, making a big difference with two people playing at once.
Easy to fold up and saves a lot of space. Some buyers complain about scoring sensors' accuracy: overall, a premium experience for everyone who wants to enjoy the head-to-head competition of best basketball arcade games with their loved ones.
POPULAR CHOICE
Nova Microdermabrasion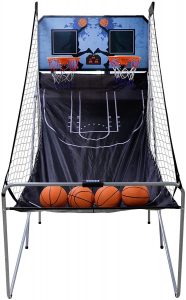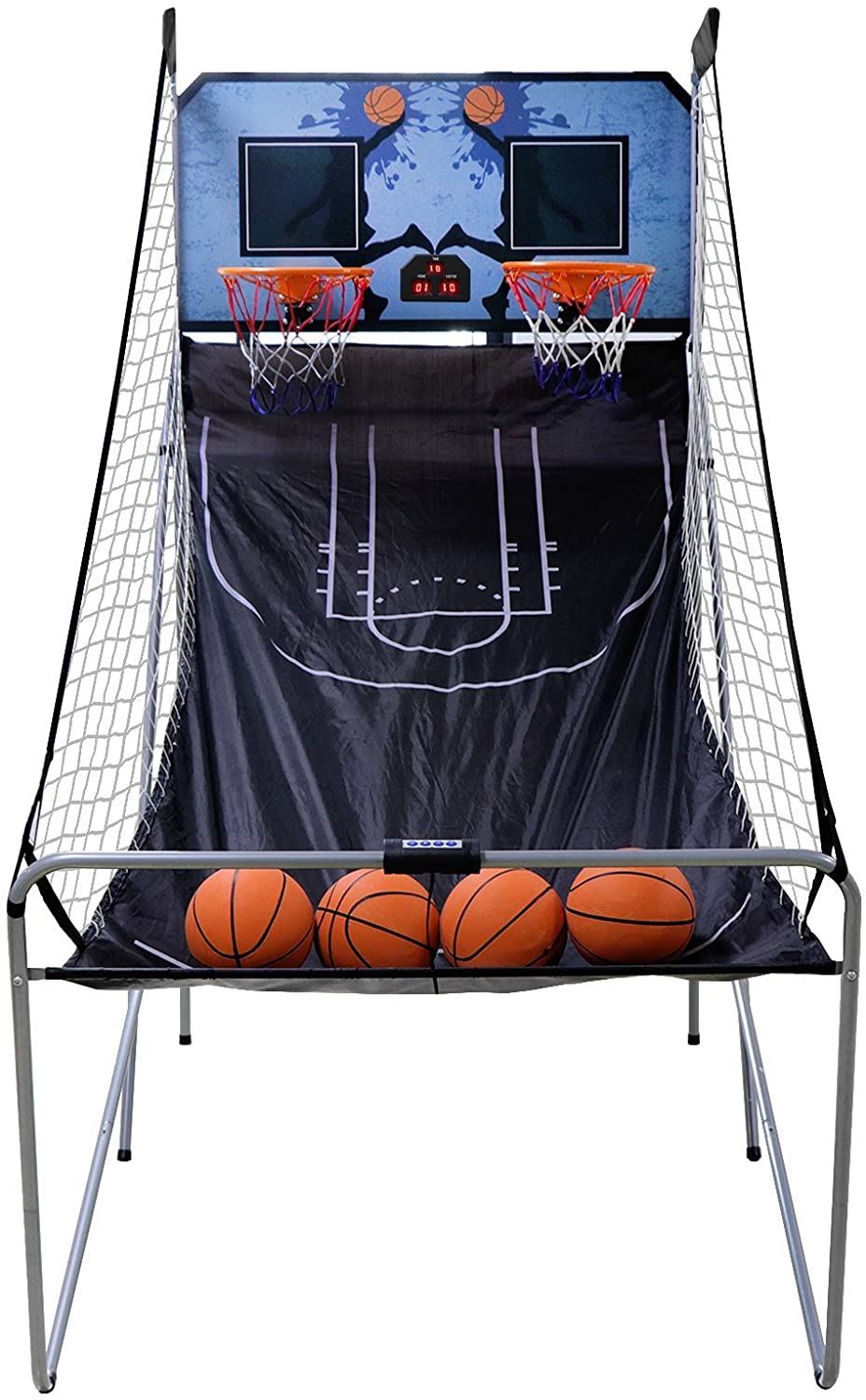 ★★★★★
Quick Connect Frames
Powder Coated Steel Tubes
Features:
Quick Connect frames are easier to assemble
Several pipes are already assembled
A powder coating protects steel tubes from rust and chipping
Eight different options
Foldable design for easy storage
Stable during gameplay
Frame locking system for better stability
Electronic scoreboard system with a buzzer
This is our fourth pick from the list of most awesome basket arcade games. It is manufactured by Nova. There is no doubt the brand successfully maintained good quality with a low budget.
Although it can be folded up, it's still kinds of big. Regardless, the functions and the excellent quality construction make it suitable for daily use, parties, and get-together for a head-to-head competition.
Height: Top To Bottom: 80″
Backboard Size: 42″L X 20.47″W X 0.35″H
Basketball Diameter: 7.08″
Dimensions: 45 x 24 x 4 inches
Weight: 37 Pounds
Material: The well-constructed design makes it durable and stable. Durable 0.86″ steel tubes offer protection from rust by being powder coated. Moreover, with steel braces that support the 12″ steel rims, they can withstand quick play action.
Further, the backboard is made from a 3/8″ thick MDF, which adds extra stability and durability. Also, the high-quality nets and ramp maintained the smooth gameplay.
Pros
An electronic scoring system and buzzer
Eight different game options
Space-saving foldable design
LED displayed scoring system
Frame locking
Reasonable price
Four rubber basketballs with an air pump
Cons
Some users find it hard to understand instructions
Our Take: Likewise, a lighter-duty construction game that you get at a low price, but it works great. The fold-up action is perfect for easy storage, digital components work fantastic, and the rubber basketballs are good too.
We cannot call it super sturdy, but without any doubt, it is super functional. That's why it is on our top list of best basketball arcade games.
PORTABLE
Giantex Foldable Basketball Arcade Game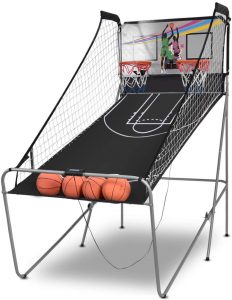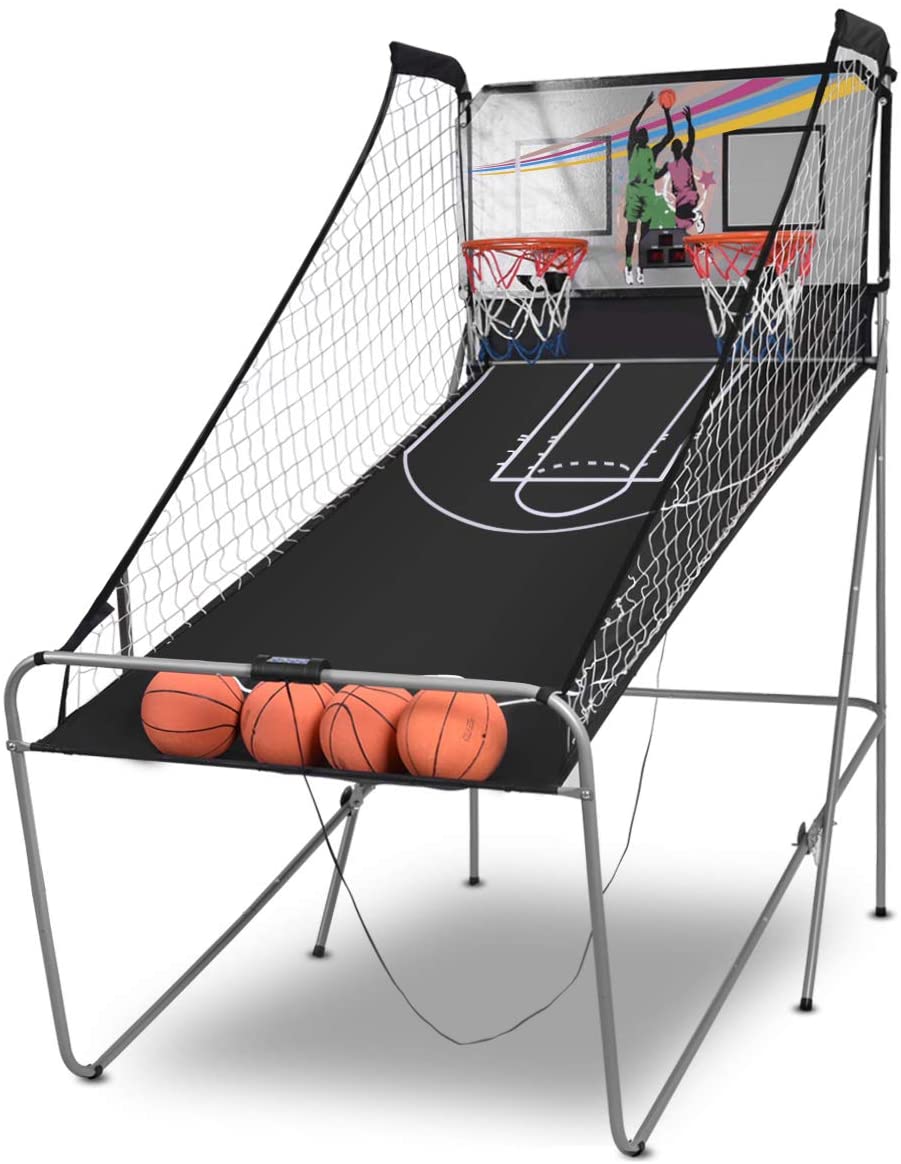 ★★★★
High-Quality MDF Board
Dual Scoring Sensors
Features:
High-quality MDF backboard for smooth gameplay
Powder-coated iron frames and rims for durability
It fits almost any room since the frame is height and length adjustable
Dual scoring sensors give you almost accurate scores
Multiple buttons on the front frame bar of the electronic controller
Before we discuss the product, let us talk about the brand. The brand Giantex is famous for its quality products at a reasonable price. And we can say that this time too, the Giantex came with an affordable quality product to make your time enjoyable with lots of fun at home.
The eight different game options, digital scoring with arcade sounds, easily foldable design, and well-constructed quality make this product a good choice at a reasonable price compared to other best basketball arcade games.
Dimensions: 39.37 x 39.37 x 19.69 inches
Folding Dimension: 43.5″ × 37″× 81″
Brand: Giantex
Weight: 34 lbs.
Material: Similarly, the product is constructed with high-quality material at an affordable price. It comes with good quality MDF backboard with blocking nets and rubber basketballs to make your gameplay enjoyable and smooth.
Furthermore, the powder-coated iron frame and rims for durability, Digital scoring system with arcade sounds are provided for genuine gameplay.
Pros
Accurate LED scoring
Powder-coated iron tube for durability
Controller at front for accessible settings
High-quality MDF backboard
Arcade sound effects
Foldable design for easy storage
Four rubber basketballs with an air pump
Cons
Slightly tricky to assemble
Too loud game sound
Sensors are not infrared like advertised
Our Take: At last, a good product for a reasonable price. You can have a wonderful time with your company during gameplay. Also, it is suitable for all ages.
The product's construction quality and features are well-enough at this price. It is highly recommended to those who are for something good with a tight budget.
HIGHEST SELLING
Triumph PlayMaker Basketball Arcade Game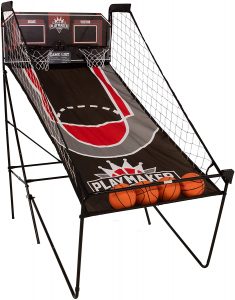 ★★★★
Quick-Connect Frames
LED Scoring System
Features:
Quick Connect frame construction
Dual hoops
Budget-friendly
Easy to assemble
Eight different game modes
Assemble it without tools
LED scoring system with a timer clock
This amazing budget-friendly basketball arcade game by Triumph is the perfect solution for the issue of small space. The game is not that much sturdier as we compared it to the other best arcade games. The price makes it perfect for you if you are not a daily shooter and prefer decent gameplay for fun and relaxation or looking for something for kids.
Furthermore, it is effortless to assemble. Eight different game options, Convenient controls, an LED electronic scoring system, and good quality construction with easy storage make it a good choice for your game room.
Dimensions: "81" x "43" x "81" inches
Weight: 35 Pounds
Brand: Triumph
Folding Dimensions: 37.5″ L x 43″ W x 81″ H
Material: It comes with two durable metal rims and powder-coated metal frames. The plastic backboard and the nylon ramp with blocking nets are not that reliable but still a smooth gameplay experience.
The LED scoring system and a timer clock, and four rubber balls are good enough to experience the game having fun. It's still enjoyable for kids without spending extra money.
Pros
Suitable for family fun
Easy to assemble
Quick Connect frame
Pre-assembled pipes
Lightweight
Easy controls
Cons
Not that much sturdier
Not suitable for rough play
Our Take: To sum up, it is an excellent budget-friendly product if you need something for no daily use. Or you are looking for the best games for 10-year-olds. It is not that much sturdier or heavy-duty, but it is a good product that requires less space.
If you are looking for something suitable among the best basketball arcade games with a meager budget, you can go with a Triumph basketball arcade.
PROFESSIONAL
Hathaway Sure Shot Dual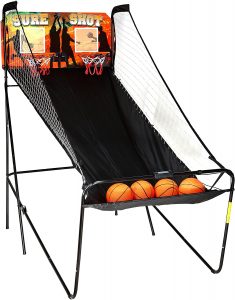 ★★★★
Built-In Sound Design
Rugged Steel Tubes
Features:
Built-in sound system with multiple effects
Eight different game options for an enjoyable time
Rugged steel tube frames for stability and durability
Foldable when not in use for space-saving
180 days limited warranty
Comes with four basketballs with a pump and needle
The mechanism quite works well to keep score
Another Mid-ranged product for kids. This dual-shot basketball arcade by Hathaway could be another perfect option for you if you need something for kids.
The brand tried to maintain the quality with lots of features at a very reasonable price. Moreover, a thick CARB-certified MDF backboard, a rip-stop polyester ramp with blocking nets, LED electronic scoring with eight different game options makes this product considerable for people with a low budget.
Dimensions: "81" x "43" x "40.5" inches
Weight: 30 Pounds
Brand: Hathaway
Material: The brand maintained good quality construction at a reasonable price. Powder-coated steel tubing frame and rims, 9 mm thick CARB certified MDF backboard, and the ramp is built with polyester with high-quality blocking nets.
With the LED scoring system with sounds, timer, easy controls, and four rubber basketballs, the gameplay becomes more enjoyable. It will be a fun activity for the whole family to get entertained.
Pros
LED electronic scorer
Budget-friendly
Foldable for easy storage
Inflation pump and needle
Four basketballs
Optical sensors
Cons
Not a sturdy product
Sensors are not good enough
Our Take: Overall, it's a nice second budget-friendly product for kids on our list of the best basketball arcade games in 2021. If you are looking for something to keep your kids away from devices and get excellent family entertainment with a sporty atmosphere, you should go for this without any doubt.
FAQ Regarding Best Basketball Arcade Games
Q. Is it bad to use an indoor basketball outside?
Yes, because the indoor basketball arcade is specially designed for indoor gameplay. Due to weather conditions, it is not good to play or place the basketball arcade outside; otherwise, the product's durability will be compromised.
Q. Is basketball an indoor game?
Basketball is a game of fun and entertainment with improving physical skills. It can be played anywhere. But there are some factors to consider, like the space for the game. If you have a vast area for the game, you can play outside. Or you can go with the basketball arcade machine to enjoy your time at home.
Q. How do basketball arcade games work?
It is designed for just shooting the balls in the hoop to make points. Besides that, the arcade machines have different game modes to make the gameplay more excited. It can be played by single or multiple players depending upon your basketball arcade.
Best Basketball Arcade Games Buying Guide
There are a few things to consider before buying the best basketball arcade games because the buyer should know these points before purchasing what we mentioned below, to get the best product according to their need.
Height and Space: These two central points are the most important factors to look into before buying. You must know the height and space consumption of the product to easily measure where you will place the product. Or the product is correct or not according to your required space and height.
Construction Material: The construction material of the basketball arcades is not the same. We recommend you go with the powder-coated steel material if you have a high budget for the product's durability and stability. Also, the other things' construction quality is also essential, like a ramp, nets, backboard, and basketballs for better gameplay.
Scoring System: For a better and more realistic basketball arcade atmosphere, you need the best basketball arcade scoring system, an LED scoreboard with arcade sounds to get you fantastic and enjoyable gameplay.
The number of basketballs: The quality and many basketballs are necessary. Especially for multiple players, because smooth gameplay requires many basketballs.
Budget: In the end, the most important is your budget for buying the best basketball arcade games. The more you have money to spend, the more premium quality you will experience. You should go with a high-budget premium product for the best gaming experience with durability for a long time investment.
Best Basketball Arcade Games | Quick Comparison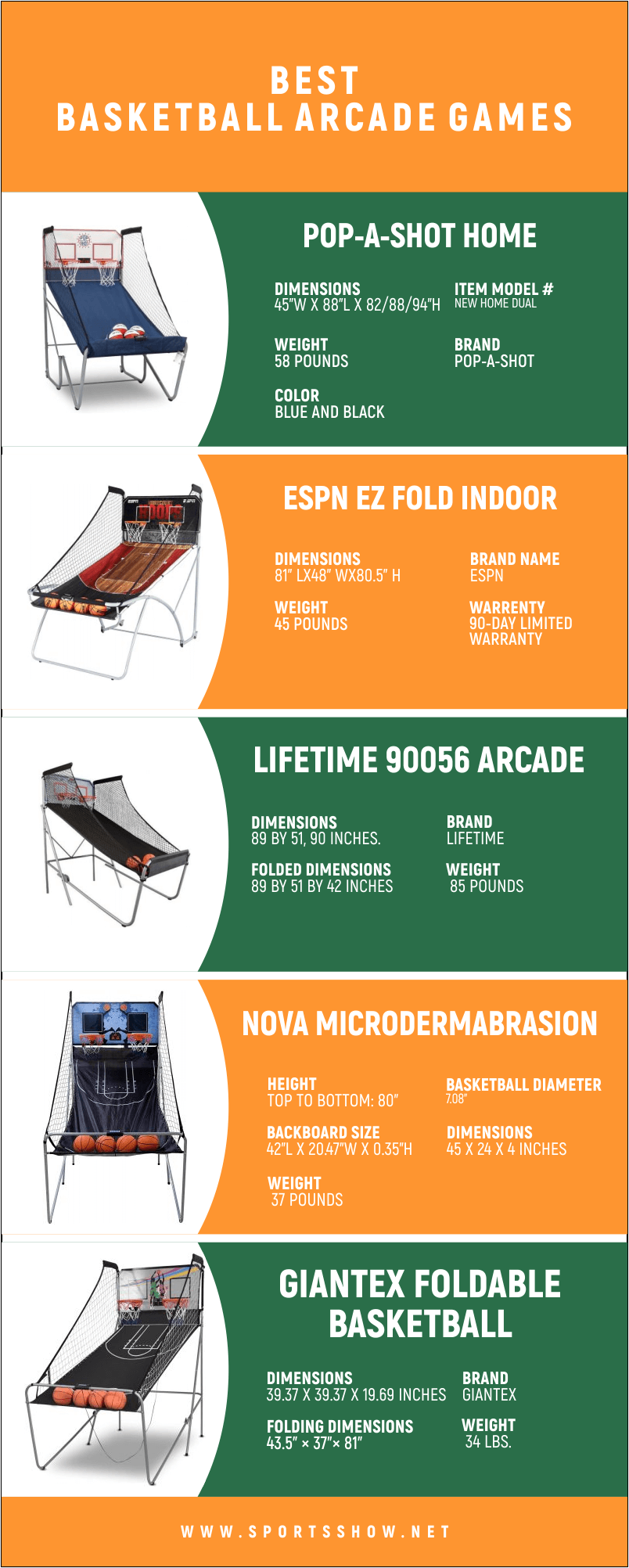 Conclusion
To conclude, we have made things much easier for you with our final recommendation according to your budget from our list of the best basketball arcade games. If you are looking for something high-end quality for a long time by spending some extra money, Pop-A-Shot is a perfect choice for you.
Or if you need something in a mid-ranged budget with outstanding quality, then ESPN EZ Fold indoor basketball game. Otherwise, you can go with Giantex Foldable Basketball Arcade Game if you have a low budget.