It's hard to ignore Onix when you're looking to choose the best pickleball paddles. We've brought some of the best Onix pickleball paddles to fuel your game. Their pickleball paddles are loved and admired by all pickleball lovers out there.  They deliver what we all want in a perfect paddle.
But there are several points to remember to proceed with your perfect purchase at the Onix store. Firstly, all paddles are divided in terms of functioning based on the ranks of players. So, it's important to determine the player's level of expertise before heading for the purchase.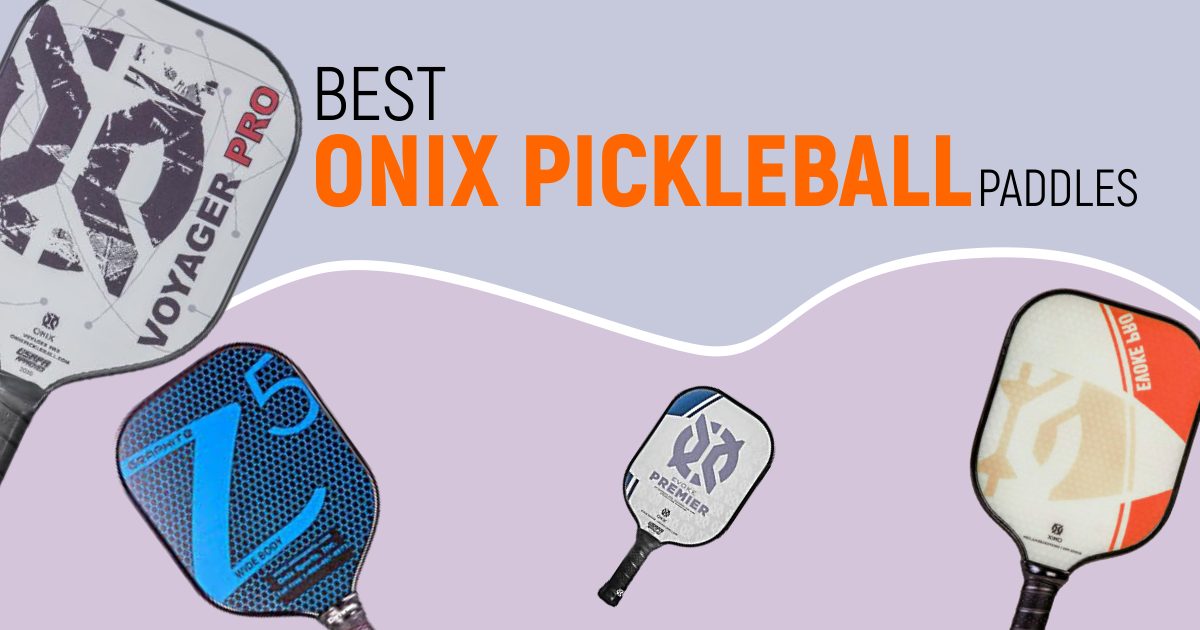 Onix paddles provide the most responsive strikes with the game control quality that leaves the rest behind.
Best Onix Pickleball Paddles | Editorial Pick
EDITOR
CHOICE
★★★★★
ONIX Graphite Z5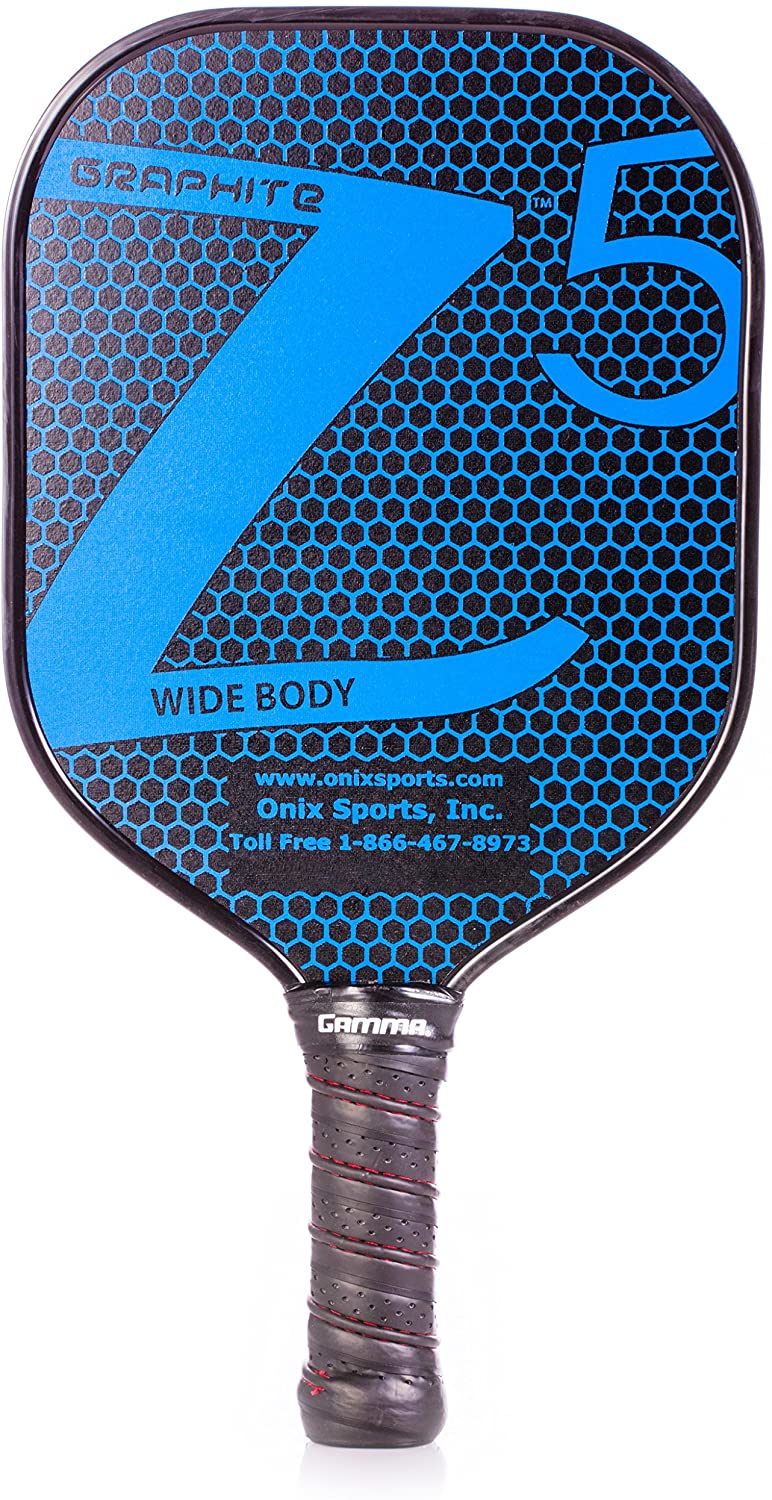 Firm Grip
Honeycomb Core
Perfect Balance
TOP
RATED
★★★★★
Onix Evoke Premier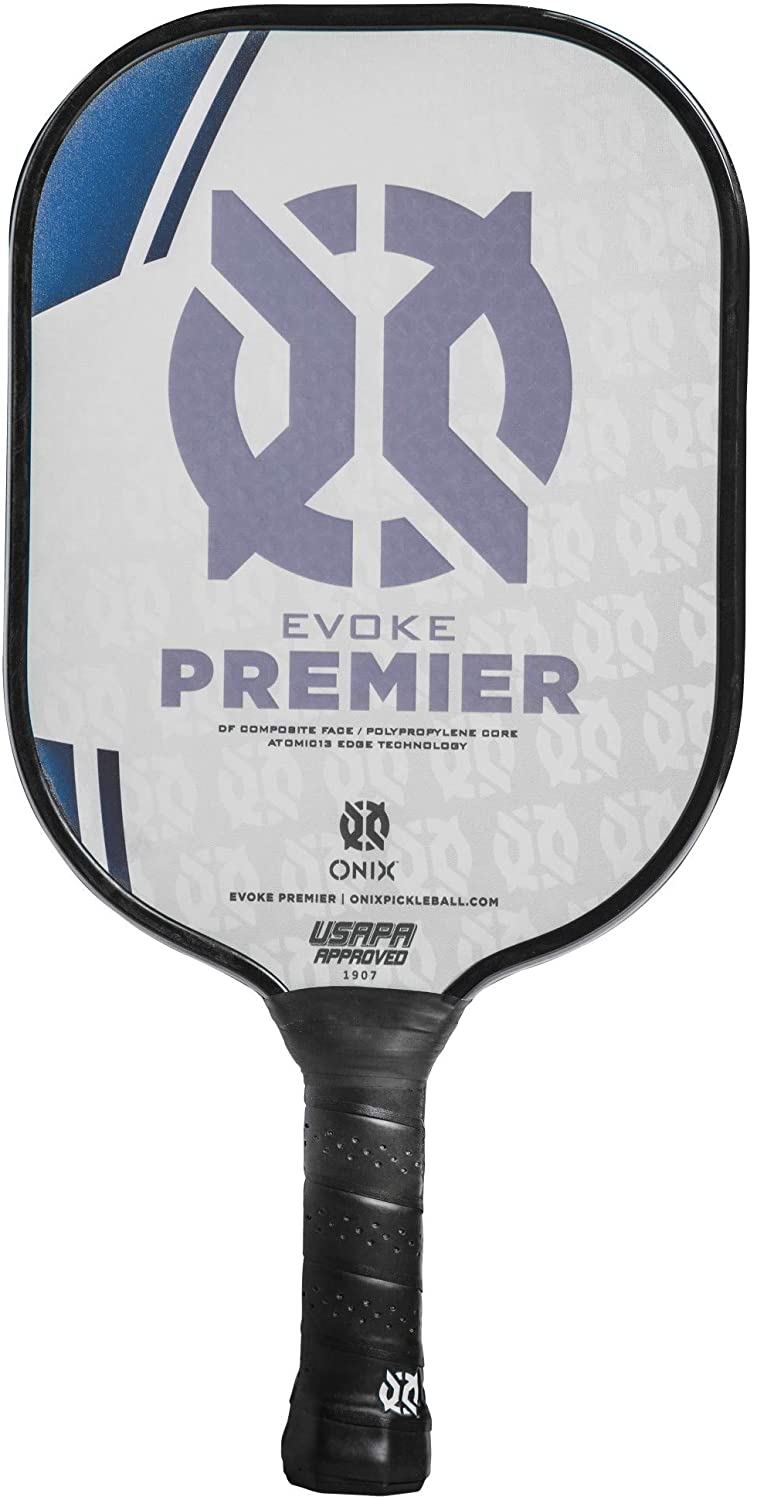 Responsive Touch
Better Precision
Minimal Shock
BEST
SELLING
★★★★★
Onix Graphite Evoke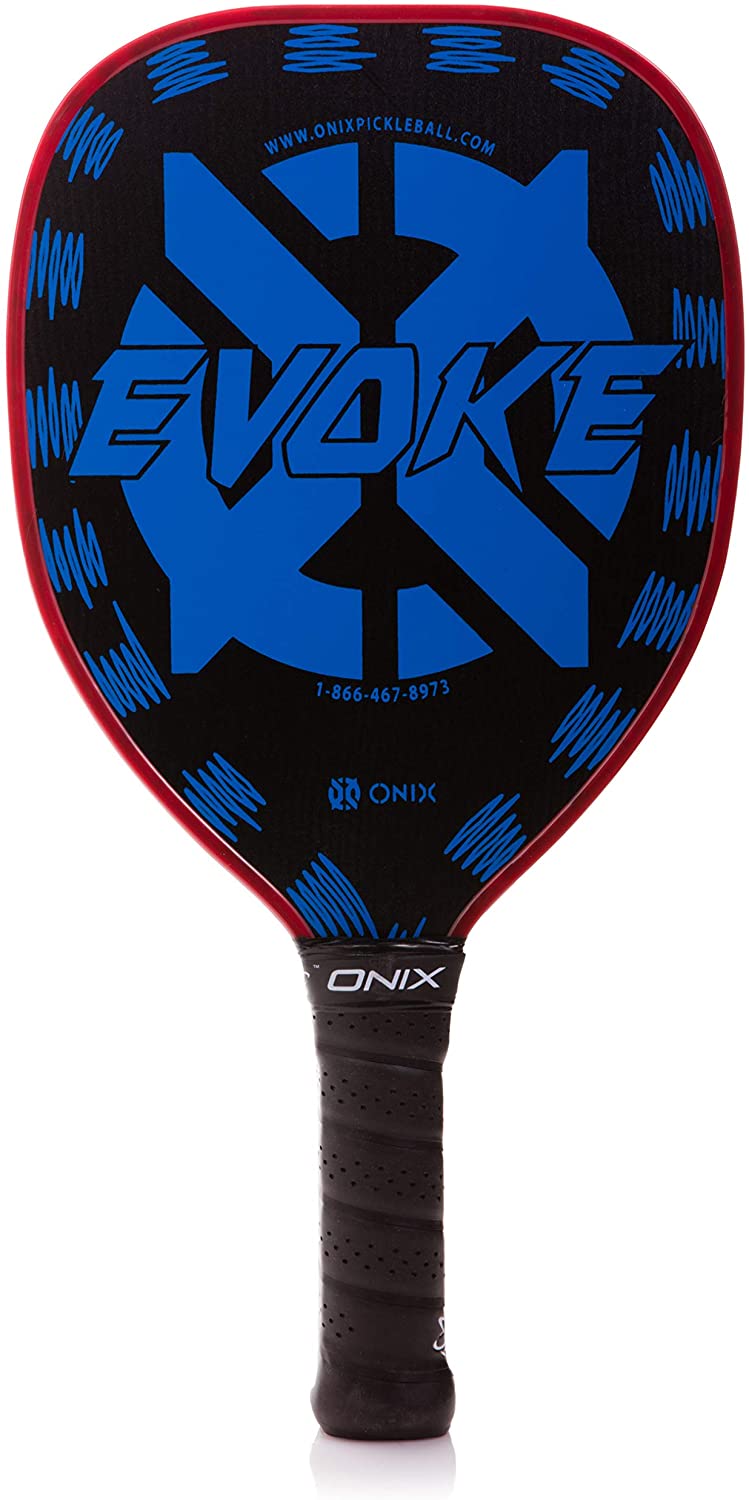 Teardrop Shape
Premium Grip
Graphite Face
Onix Pickleball Paddles | Rankings
You have already liked our in-depth reviews of the best pickleball sets and best pickleball paddles for beginners. But yes, this series will be incomplete without mentioning the best paddles from the house of Onix.
BEST OVERALL
ONIX Graphite Z5 Pickleball Paddle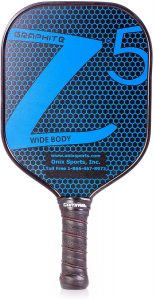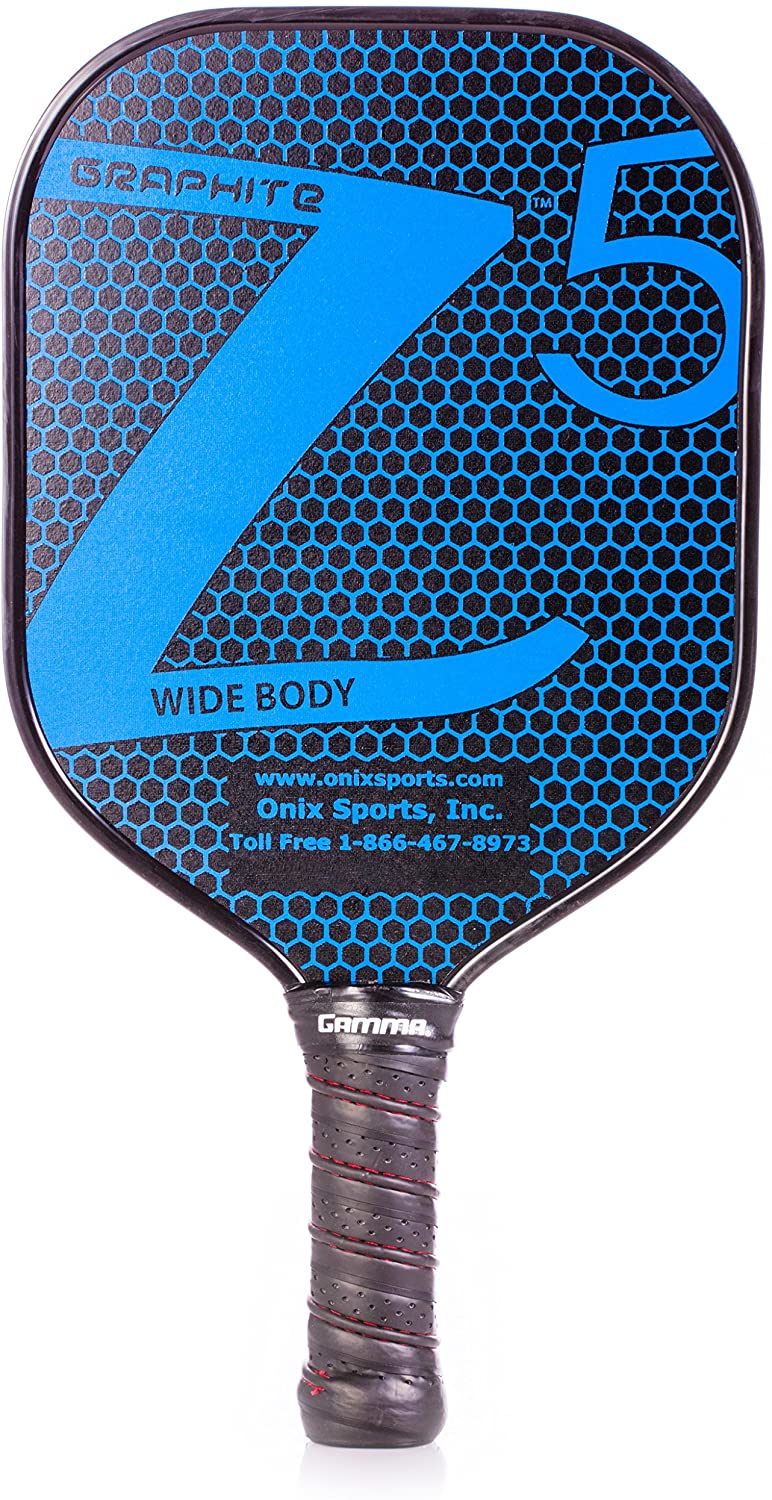 ★★★★★
Convenient Grip
Nomex Honeycomb Core
Features:
Grip firmly with the most convenient grip cushioning for a comfortable game
It comes with Nomex honeycomb core technology for enhanced speed and balance
Incorporating a wide industry-leading graphite face for continuous responsive strikes
Maintaining balance is made easy with this mid-size paddle
Maintain the game control with one of the best Onix pickleball paddles available currently. You're getting a superior built with an added firm grip and wide graphite face for sublime shots.
Now, your matches will gain a new value with this Z5 graphite carbon fiber pickleball paddle.
Specification:
Dimensions: 15.5 x 8.3 x 1.5 inches
Weight: 7.5 to 8.2 oz.
Grip Size: Standard 4 ¼ inches
Material: Graphite
Core: Nomex Honeycomb
Edge Guard: Yes
Paddle Shape: Wide Body
Attribute: Control Paddle
Perfect Weight: This paddle weighs from 7.5 to 8.2 oz, making it the perfect size as a paddle in a pickleball game. A defined weight to a paddle helps players to apply the exact pressure to every shot they decide. Moreover, this process improves the balance and the game control overall.
Soft Grip: Onix has provided a reliable grip that players can trust for their matches. Many sports suppliers misdirect the customers with gimmicks. As a result, customers lose interest in purchases after finding shortcomings in the paddles, just like harsh grips.
Larger Sweet Spot: Your impressively wide graphite is facing works together with Nomex honeycomb technology for a larger sweet spot. Thus, giving you more power and control with every strike. It can reduce the vibrations resulting in a very smooth game experience.
All-New Nomex Honeycomb Core: If you're looking to boost your pickleball game performance, then this is the paddle to trust. A brand-new core technology gives you an incredible speed performance along with the game control. Thus, players can now strike with confidence as Nomex honeycomb core always backs them.
Pros
Advance griping materials offer a firm hold
The modern core technology for extra paddle performance
Larger sweet spots give you more game hold and smooth experience overall
Moderate price tag
It comes in a variety of colors
Cons
Average ball spin
Grip gets slippery with hand's sweating
Our Take: A wide-body paddle along with the edge guard and your important matches demand this paddle. Further, it has a larger sweet spot, reduced vibrations, and dominating core technology, making it an attractive paddle.
BEST-RATED
Onix Evoke Premier Pickleball Paddle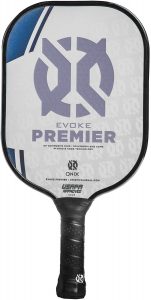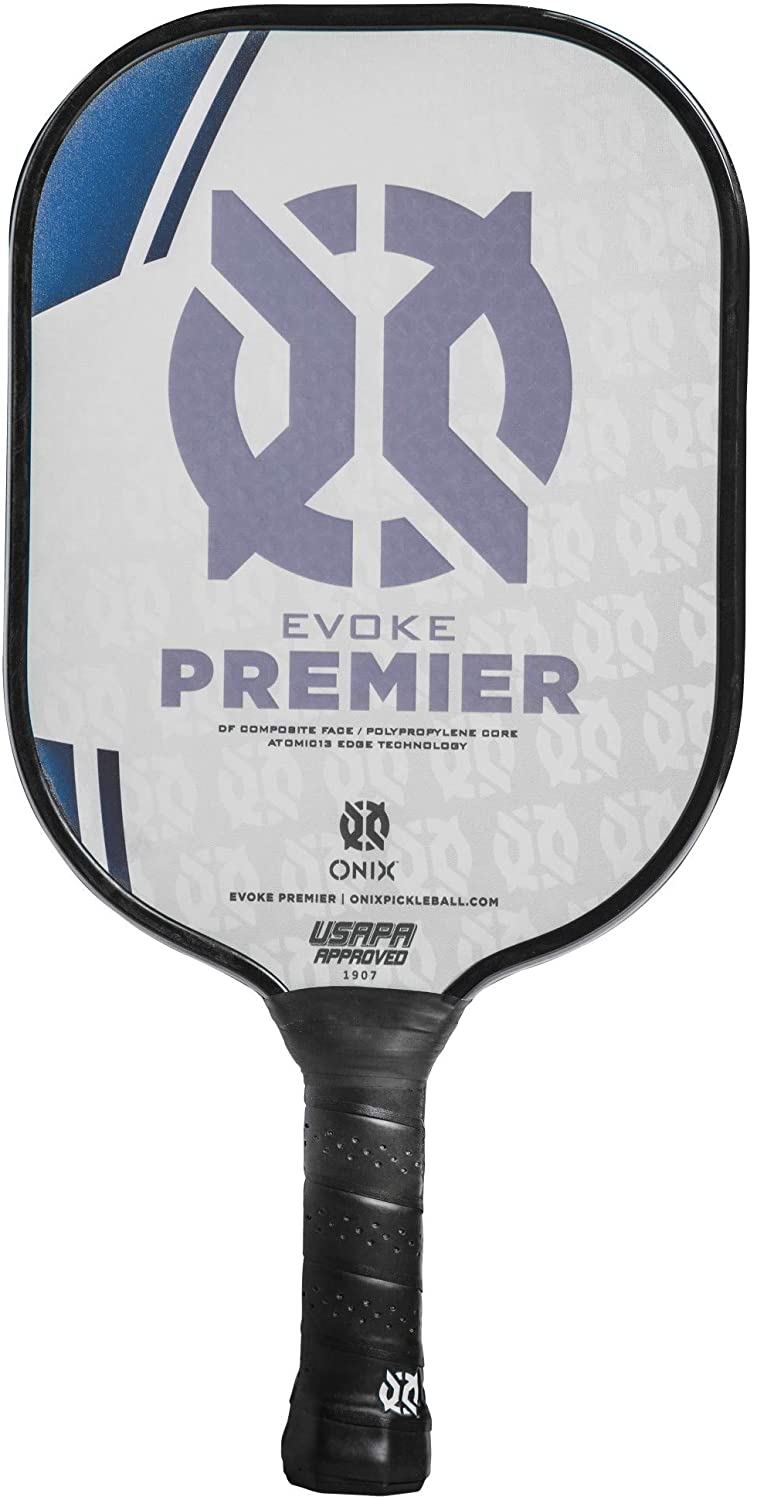 ★★★★★
Polypropylene Core
Shock Absorption
Features:
Experience the most responsive touch with the precise polypropylene core embedded in the paddle
The professional paddle is designed by the professionals, Matt Wright and Lucy Kovalova, with next-level precision
A paddle shape that offers a quality control with an ever-lasting impact on the opposition
Proudly offers an Atomic 13 edge technology for minimalizing shocks and turbulence in the game
Take your pickleball game to the next level with one of the best Onix pickleball paddles out there. It is perfectly designed face is ready to take as many strikes as possible with powerful torque suppression technology.
So, players can enjoy this exciting game with no hassle. And surely, you won't face any drop in performance while using it.
Specifications:
Dimensions: 17.17 x 8.15 x 1.26 inches
Weight: 8.2 to 8.5 oz.
Grip Size: 4 1/8 inches
Available Colors: Blue & Red
Material: DF composite face
Core: Polypropylene Core
Edge Guard: Yes
Technology: Atomic13 Edge Technology
No More Shocks: Most paddles give a bump impression when they come in contact with the ball. This is not going to be a problem with this Evoke Premier Pickleball paddle as it presents a unique atomic13 edge technology for plummeting vibrational impacts on shots.
A Professional Inspiration: This paddle is designed by the most professional players like Matt's wright and Lucy Kovalova and giving you what professionals choose for them. It is built to offer incredible precision and bumpy game that we all look up to.
Control The Opposition: The paddle is built with a stand-out technology which makes it different from the rest. It gives a maximum baseline power with more pronounced strikes to dominate the opposition.
DF Composite Face: Get professional with this paddle using a DF composite face. A smooth coating on the surface gives balanced strikes without giving up on the spin. Furthermore, the coating on the face doesn't cost the design that looks like a thing from the future. Moreover, it is given a wonderful weight so that you can play with full leverage.
Pros
Built by the pro players
The composite face offers more spin with potent-shots
Atomic 13 edge technology suppresses vibrations
Ideal for soft game and power
Durable and long-lasting paddle
Cons
Drop shots cause dead spots
Fragile to unwanted drops
Our Take: Get more professional with this premium evolution of paddle with vibration suppression, and more spin makes a remarkable purchase for you. In addition, it is made with a premium quality material that provides durability.
POPULAR CHOICE
Onix Graphite Evoke Tear Drop Pickleball Paddle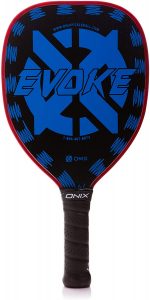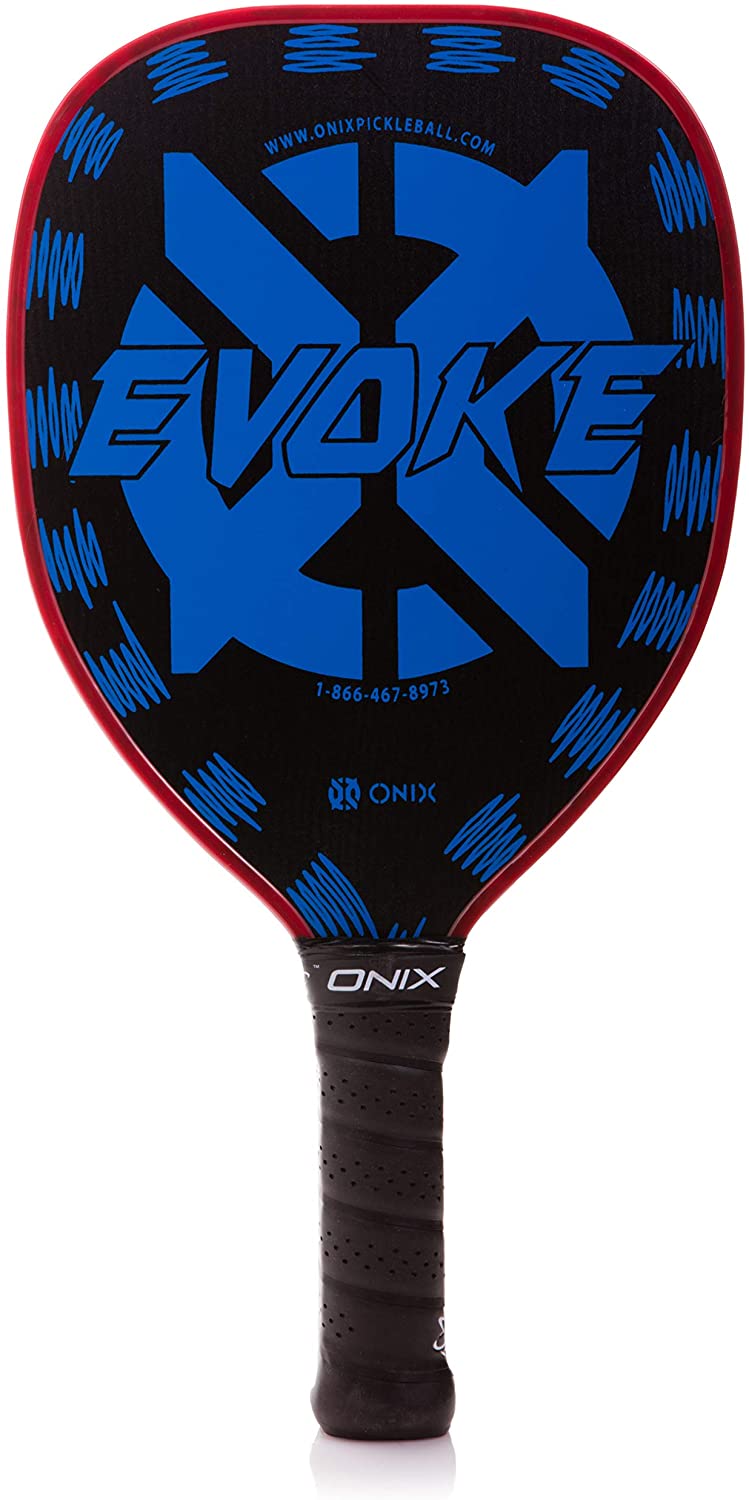 ★★★★★
Unique Shape
Graphite Face
Features:
Featuring next-level teardrop shape, which promotes focused shots with added precision
Feel an entirely new premium grip made out of the most trusted griping materials
The paddle comes with a graphite face and enhanced polypropylene core technology
Be an all-around champion with this incredibly versatile pickleball paddle from the Onix store. Your shots will be well directed and focus, thanks to the upgraded core technology infused in this paddle.
Moreover, the players can reach the maximum value of assurance with its durable profile.
Specifications:
Dimensions: 15.7 x 8.3 x 1.5 inches
Weight: 6.9 – 7.3 oz.
Grip Size: 4 1/2 inches
Face: Composite
Core: Polypropylene
Paddle Shape: Tear Drop
Attribute: Control Paddle
Upgrade Your Game: It's crucial to stay focused on the shots, and sometimes it's not that simple to continue that. Fortunately, this thing is no longer a problem as this paddle incorporates a teardrop shape which gives focused strikes. This ultimately improves the game experience according to any player standing in the playfield.
Trusted Grip: A grip is the most crucial part of the pickleball paddle as the player's performance stands on that. Therefore, Onix has developed an advanced paddle with a sweat-resistant grip. So, players can carry on with their matches without pauses.
Super Lightweight: Your super-lightweight pickleball paddle has a teardrop shape that fits in your matches like a champ. Furthermore, it's easy to take control of your game with easy paddle mobility and handling.
Accurate Strikes: Enhanced polypropylene core technology guides all your shots to the larger sweet spot domain. As a result, all the vibrations of the strikes are reduced with added torque suppression. Thus, it provides more accurate shots with a minimum to do.
Pros
Redefined in-hand feel with soft grip
Extremely sturdy with enhanced graphite construction
Shots are well focused with teardrop shape
Super lightweight offers easy carry
Cons
Lacking durability in long-term usage
The facing is too light
Our Take: An amazing pickleball paddle offers focused shots and a larger sweet spot, making it a considerable purchase for all. It is very lightweight so you can carry it easily with you.
PRO-PLAYERS
ONIX Outbreak Pickleball Paddle
★★★★★
TeXtreme Technology
Large Sweet Spot
Features:
Presenting an all-new graphite facing which is supported by TeXtreme technology for enhanced performance
It weighs perfect in hands for maximum control and dominance over the counterparts
Wider face shape to incorporate one of the largest sweet spots on a paddle available currently
Comes with all improved polypropylene core with more thickness for better control
Seek the most incredible pickleball experience with this Outbreak pickleball paddle by Onix store. Almost all the aspects of a normal paddle are improved and perfected so you can get a perfect game.
Moreover, the quality remains elite with durable construction and modern techniques.
Specifications:
Dimensions: 15 1/2 x 8 1/8 x 1 3/8 inches
Weight: 7.8 – 8.2 oz.
Grip Size: Standard 4 3/8 inches
Available Colors: Black, Blue, & Red
Facing Material: Graphite
Core: Polypropylene
Paddle Shape: Wide Body
Powered by TeXtreme Technology: TeXtreme Technology powers this paddle's main face for better functionality. You can expect more stiffness out of your graphite face, offering players better control. The whole empowerment gives your paddle a strong definition of pinpoint control and accuracy on top of all.
Weight To Perfection: It's necessary to keep a paddle that weighs perfectly according to your hands. And that is where this paddle is going to make a big difference. You're getting a universal weighted paddle that is neither too heavy nor too lightweight— making it compatible with every player's hand.
More Room For Shots: A wider shape paddle makes it easy to strengthen the size of a sweet spot. Thus, giving more width so that the ball can bounce right into the sweet spot for demanded accuracy. This paddle includes the largest sweet spot available in a pickleball paddle. It provides more responsive and balanced strikes.
Improved Polypropylene Core: Your enhanced core features an incredible function to strike with more consistency. It adds thickness to your surface for unlimited redefined strikes.
Pros
Wide face promotes larger sweet spot
Polypropylene adds thickness to the surface
Improved functionality with TeXtreme technology
It can improve the ball control
Cons
The square grip isn't the most comfortable
Edges are sharp
Our Take: If high-end performance and top-notch durability are your prime priority, then this paddle is the one to choose.
HEAVY-DUTY
ONIX Voyager Pro Pickleball Paddle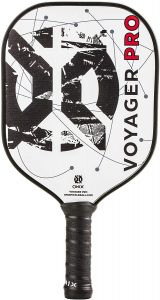 ★★★★
Thick Paddle Core
Wider Front Face
Features:
Acquire top accuracy with polypropylene core thick precision cuts on the surface
Balanced game with graphite surface construction with soft-touch
Better ball to surface connection with wider shape face for the more prominent sweet spot
Go all premiums with this one of the best Onix pickleball paddles available in the market. You'll get a phenomenal soft touch coupled with amazing precision for a great competitive match.
Moreover, players can trust this paddle for all their crucial tournament matches for the top precision it delivers.
Specifications:
Dimensions: 15 1/2 x 8.3 x 1.5 inches
Weight: 7.8 – 8.2 oz.
Colors: White
Material: Graphite
Core: Polypropylene Honeycomb Core
Paddle Shape: Wide Body
The Most Incredible Touch: A ball-to-face connection describes a whole pickleball story. This paddle has a graphite finish surface with gives more responsive strikes. Moreover, the precision cut by the polypropylene core is supporting the most incredible touch for a sublime game experience.
A Wide Take On The Game: What's more important than finding the perfect strikes in pickleball? Well, the answer lies in the paddle itself. The larger the paddle face, the larger the sweet spot size that maximizes the chances to hit a perfect shot.  So, this paddle comes with a clever wide design supporting a large sweet spot for more depth and response in your strikes.
Unstoppable Striking With Comfortable Grip: It's the most comfortable feeling when you hold this elite-quality pickleball paddle as it's made out of the most promising materials for a soft and firm hold on hands for unstoppable striking.
Onix With Quality Excellence: Onix store has been a trusted consumer space for some time now. They design unique products with the assurance of quality and versatility. Moreover, they use environmentally friendly materials in the construction of their products. So, you can confidently decide between leading pickleball paddles from the Onix store.
Pros
Soft-touch with a precision cut on facing
Polypropylene core offers a thicker surface
Perfect for professional matches
Responsive strikes with the larger sweet spot
The reasonable price attached with this paddle
Cons
Glossy graphite offers dull spin
The sweet spot is not enough
Our Take: Enjoy the wonders of a perfect game with this soft-touch graphite paddle, giving you a confident purchase. Premium-coated graphite face offers the perfect shots while playing and doubles the fun.
VERSATILE
Onix Stryker 4 Pickleball Paddle
★★★★
Supportive Core
Best Striking Power
Features:
42 pounds of paddle weight which is easy to handle and swift in sharp cuts for lengthy shots
A supportive core surface that will maintain the striking power of the paddle with extended force
The larger area of the paddle ground with a balanced design overall for tournament level as well
Ideal paddle for newbies and advanced players
A versatile design pickleball paddle and compatible with various standards of game levels. It has a wide surface area with extended boundaries covering the whole frame for a firm construction.
The exterior is very smooth with a durable gripping for hand adjustment compatibility.
Specifications:
Dimensions: 15 1/2 x 7.8 x 1.5 inches
Weight: 6.9 – 7.4 Oz
Grip Size: Standard 4 1/4 inches
Colors: Purple
Material: Graphite
Core: Polypropylene Core
Paddle Shape: Oversized
Graphite Facing: The exterior paddle surface has been manufactured with a graphite body structure featuring the most durable platform. It will accelerate the striking effect along with extra pace for the spin shots. Plus, the surface is much smoother as compared with the wooden-made paddles.
Perfection In The Sweet Spot: You'll notice an extended surface of the sweet spot designed on the paddle ground, which is a plus point for the players. And that will help you cover the lengthy cuts while moving in different directions for placing an aligned strike. The balanced frame will also keep the shot in the given direction.
Core Design: The propylene materialization at the core surface will let you hit the ball with less effort and extra strike. Comparatively, you had to produce self-force with the usual paddles, but here you can produce an optimizing strike with no further movement.
Area Of The Paddle: 7.8 inches of paddle width along with proper gripped handle, and 15.5 inches of length will surely adjust in every situation. Plus, the thickness is enough for tough shots.
Pros
Unique collaboration of color texture surface
Cushioned handling surface with the proper length
Extended sweet spot area for proper ball striking
The price tag is friendly
Perfect for beginners and pro players
Cons
The surface has few starches
A customer reported a mark on the paddle boundary
Our Take: A lightweight body construction with graphite material and a wide sweet spot structure can be your first choice. Further, it is an ideal choice for beginners and expert players.
VIBRANT
Onix React Pickleball Paddle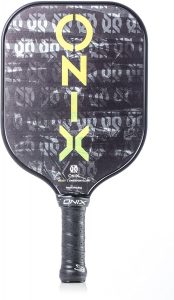 ★★★★
Nomex Technology
More Striking Power
Features:
Nomex insertion base technology has been structured on the core surface for supportive impact
The facing exterior is materialized with graphite substance that will produce power in striking
A larger area of the sweet spot with a balanced surface and covering frame design as well
The wide-angle range of the paddle surface has been enhanced with supportive core technology. Onix has offered the special series variant featuring the smooth grip handle and stable shot placement.
Besides, the weight distribution system of the paddle is evenly managed from top to bottom.
Specifications:
Dimensions: 15 1/2 x 8.3 x 1.5 inches
Weight: 7.9 – 8.3 oz.
Technology: Fusion Core – Polypropylene with Nomex Insert
Grip Size: Standard 4 1/4 inches
Handle Length: 5 inches
Base Material: Polypropylene
Core: Polypropylene Core
Paddle Shape: Wide body
The Fusion Core: The upper surface is made of a propylene core structure, having an optimized skin for proper striking. Plus, the collaboration of the insertion will make it perfect for slow and tough shots at the same time.
Large Sweet Spot: You'll get a large-sized sweet spot area enhanced with the core construction. There are 2 bases of the core that are evenly placed on the marked location. It will also interlock the boundaries with a firm grip system to keep the paddle's aligned shape while moving in sharp cuts.
Even Weight Structure: The facing surface has a wider ground, and the whole frame weighs around 8.3 to 8.7 oz. which is quite remarkable for tournament-level games. You can smash the ball with less body effort and more paddle performance with extra spin coupled with a controlling aspect.
Handling Grip: A tennis-shaped design has been manufactured on the grip area with a wide covering surface for you. A 4 1/4 inches angle size of the grip will easily let you adjust the handle for length shots and tough movements.
Pros
Graphite facing structure along with core surface
Large sweet spot and handling grip
Nomex insertion technology in the core design
Moderate price
Cons
Nomex insertion can break
Slightly heavier from the normal paddles
Our Take: A graphite-facing body structure along with Nomex insertion and the propylene core design is a must selection for you.
FAQ Regarding Best Onix Pickleball Paddles
Q. What is the best Onix pickleball paddle?
The best Onix Pickleball is Onix revoke premier pickleball paddle for playing. This pickleball paddle comes with an elongated body that is a much-adored feature among tennis players.
Q. Which pickleball paddle has the largest sweet spot?
The Largest Sweet Spot that comes with these paddles is the Onix Stryker 4 pickleball paddle along with Onix graphite Z. these two pickleball paddles have got some of the largest sweet spots on them.
Q. What is the price range for these best Onix pickleball paddles?
These Onix pickleball paddles fall under the range of $15 to $150.
Best Onix Pickleball Paddles | Quick Comparison
Our Recommendation:
Our 1st recommendation is the Onix Evoke Premier Pickleball Paddle as the best and advanced-level paddle. Atomic13 edge is featuring a grip surface along with a polypropylene core design with a smooth, bouncy impact.
Moreover, our 2nd recommendation is Onix Stryker 4 Pickleball Paddle as the best paddle. Get an extended sweet spot and graphite body construction for a tournament-level gaming experience.
Conclusion
Of course, these are the top-quality and best Onix pickleball paddles with a remarkable body structure. That is compatible with all types of gaming platforms, including the tournament level scenario as well. Experience a smooth and bouncy surface of the paddles for hard and soft shot adjustability at the same time.
Plus, the gripped handle will let you adjust the paddle according to your desire. And it will also minimize the shocking impact together with an extended sweet spot for you. The Onix's are famous because of their premium quality which you're going to enjoy now!