Whether you're looking to get started with pickleball or you're just thinking, our best pickleball sets will aid you perfectly. Pickleball sets often include paddles, balls, nets, and carrying cases for mobility.
The pickleball sets are often graded based on the player's category, which defines their functions betters. So, it's important to understand the types of sets you're looking to buy.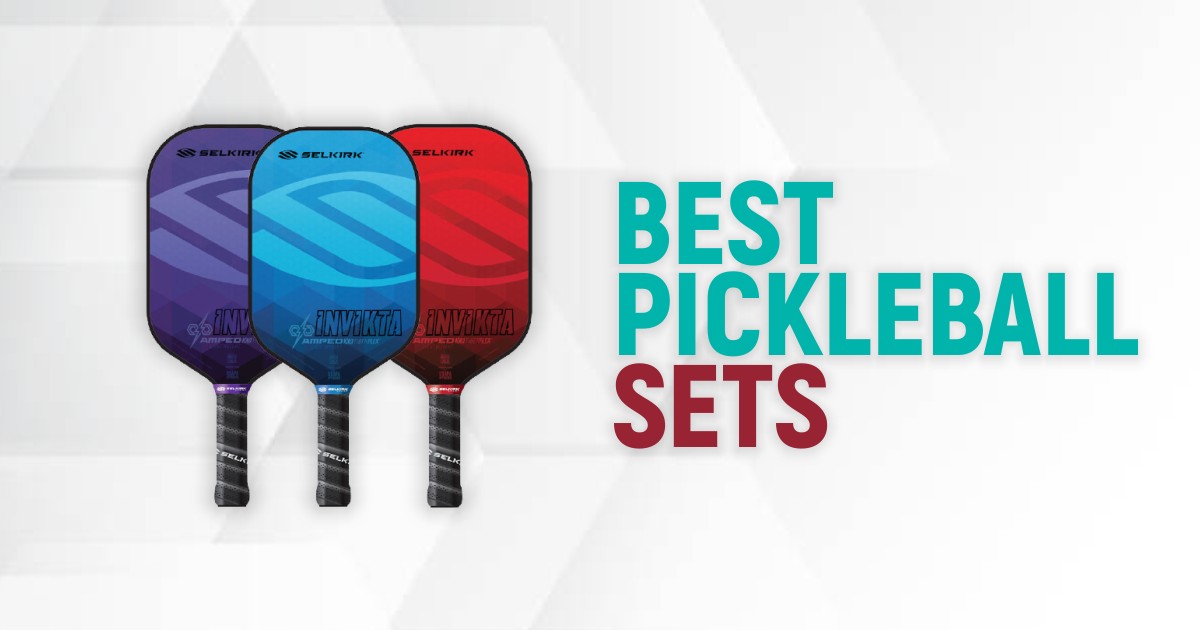 There are many factors like the shot's precision, durability, response rate, and spinning shots. All of the features determine your standing in the game and, thus, are given to all sets but distinctively.
Best Pickleball Sets | Editorial Pick
EDITOR
CHOICE
★★★★★
Niupipo Pickleball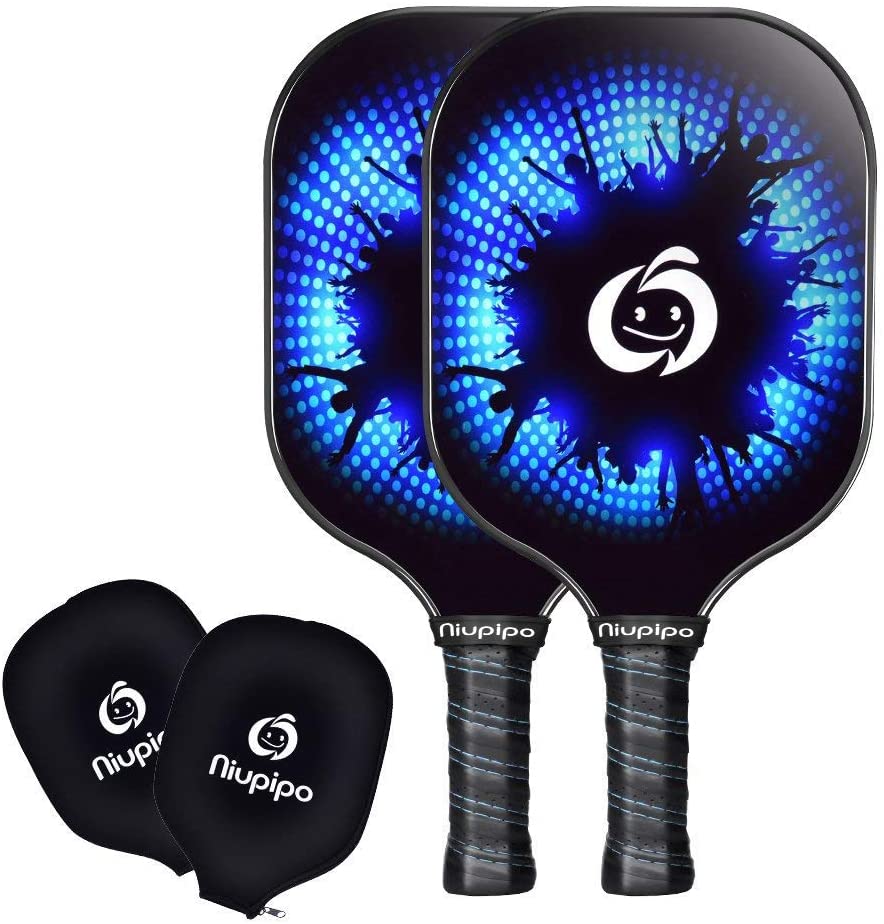 Perforated Handle
Honeycomb Core
USAPA Approved
TOP
RATED
★★★★★
JP WinLook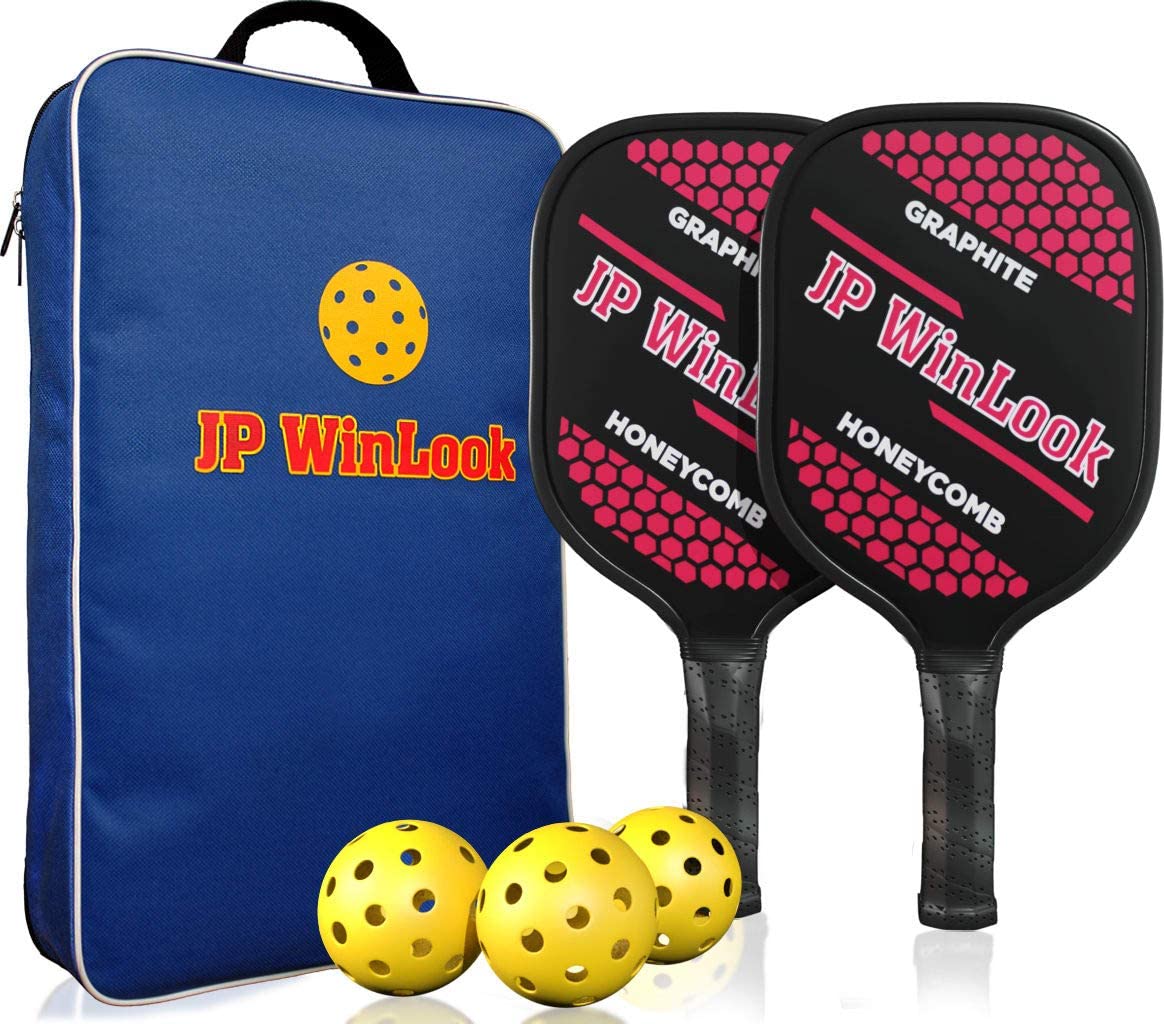 Honeycomb Structure
Feather Weight
Carrying Bag
BEST
SELLING
★★★★★
Amazin' Aces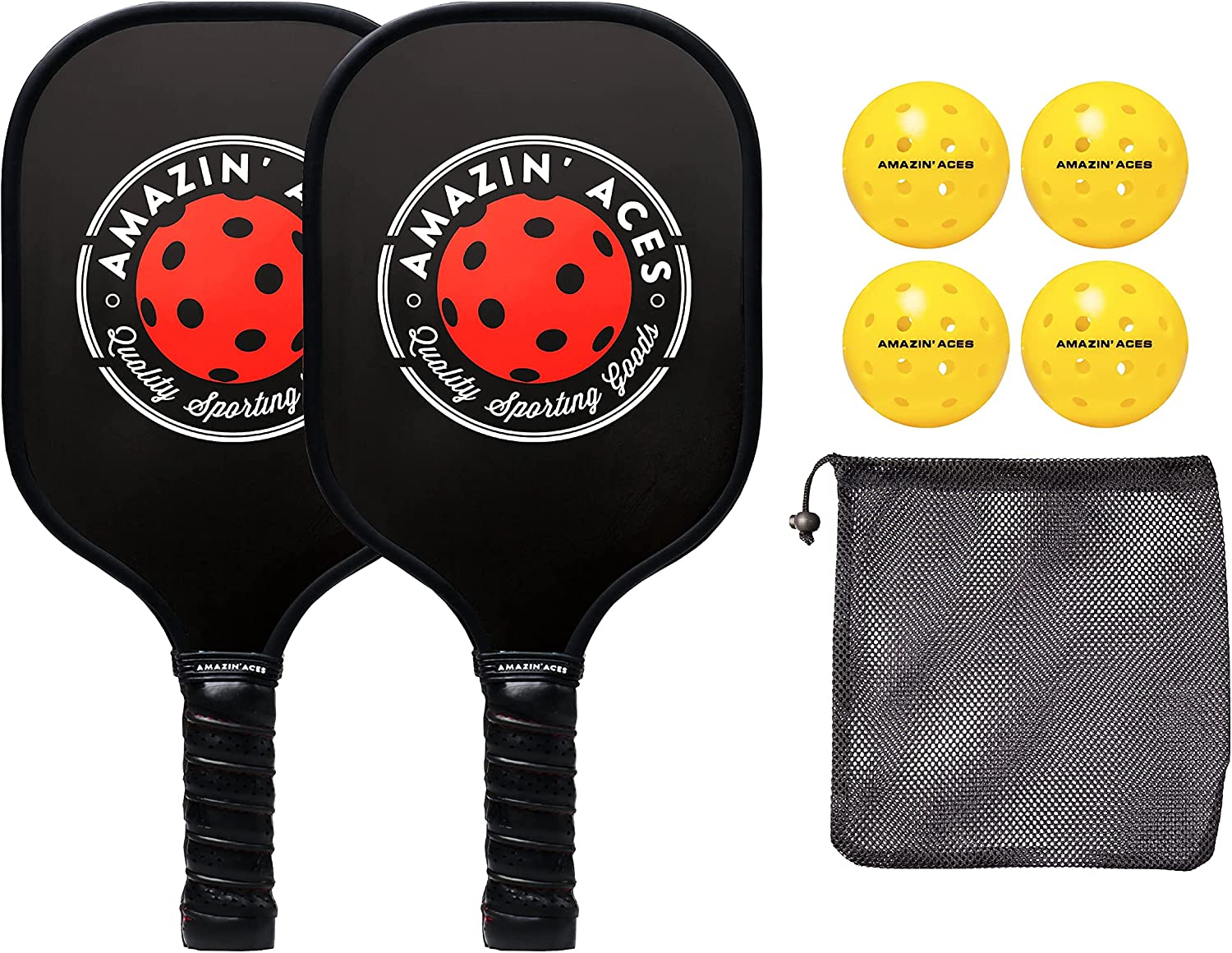 Travel-Friendly
Mesh Bag
Sweat-Resistant Grip
Best Pickleball Sets | In-Depth Review
You may have already checked our in-depth reviews of the best Paddletek pickleball paddles and the best Selkirk pickleball paddles. But now, check out our collection of the best pickleball sets altogether.
BEST OVERALL
Niupipo Pickleball Paddles With Carbon Fiber Face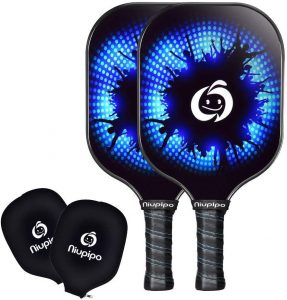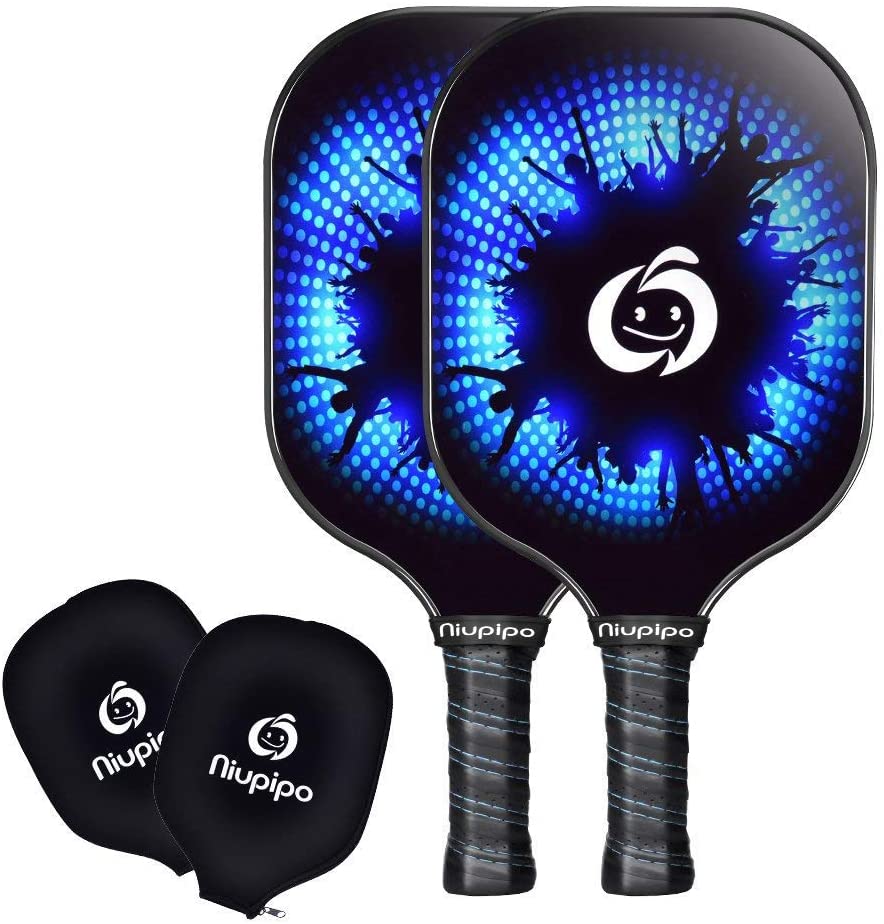 ★★★★★
Perforated Handle
USAPA Approved
Features:
A perforated strong gripped the handle with 4.25 inches circumference to maintain the adjustability
Honeycomb core design structure on the paddle surface that will accelerate the power impact
Secure covers for both paddles are also included in the gaming package with protective cushioning
USAPA approved pro-style paddle surface
It has a wide-angle surface with a large sweet spot designed by the Niupip. These paddle sets are manufactured with top-quality carbon substance in a layered format to ensure firm striking on the ball.
You'll love the laminated prints in a unique color tone featuring smooth boundary edges as well.
Specification:
Dimensions: 10.63 x 7.87 x 0.59 inches
Weight: 8 Oz
Material: Graphite Carbon Fiber Face
Core Material: Polymer Honeycomb Core
Size: Medium
Grip Length: 4 1/2 inches
Carbon Fiber Layers: The core construction has been pressed with two outer layers of carbon fiber format that will precisely press the frame. And it will also produce a special bouncy aspect on the surface while hitting the ball. Moreover, ensuring the paddle flexibility during sudden movements is a plus point.
Stitched Design Strong Grip: Uniquely crafted handle grip with a wide-angle perforated surface that will observe the maximum shock impact. And the stitched wrap covering will reduce the body sweat while playing to cancel the slipping possibilities. And, of course, the cushioning has been much improved for a smooth pickup.
Protective Edge Guards: The boundaries are evenly framed with equal weight arrangements for a swift ball-striking feature. The visual design is ergonomic with smooth edges that will cover the lengthy cuts without any damages. Stress rating will also be minimized with enough control handling ratio.
Honeycomb Core Support: USAPA approved pro-style paddle surface with propylene honeycomb core including carbon layers as well. Furthermore, the fiberglass surface will perfectly complete the advanced gaming paddle set for tournament-level gaming, which makes it one of the best pickleball sets.
Pros
Edge guards are precisely placed with even weight distribution
Thick paddle surface with carbon layering
Most handy and firm gripping handle
Reasonable price tag
Cons
The handle sizing is not suitable for adults
Some texture is required on the surface to manage the smoothness
Our Take: A wide-angle handling grip with honeycomb composite core material layered with carbon fiber surface is recommended for advanced gaming.
BEST-RATED
JP WinLook Pickleball Paddles Set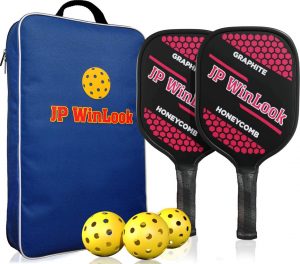 ★★★★★
Featherweight Paddles
Extra Spin
Features:
An all-ages playing game because of the feathery weight paddles
The paddles have a comfortable and cozy grip that offers you accuracy in your shots
Now get a protecting bag to secure your pickleball set from damage
The honeycomb core used in the making off paddle adds extra spin to the ball
Approved by USAPA
JP winlook has brought to you this best pickleball set to excite your thrill to the next level. Invite one of your best mates to share the joy of this pickleball game.
You can take this set everywhere outside. Challenge your buddies to add up more thrills to your game.
Specifications:
Dimensions: 18 x 11.1 x 3.4 inches
Weight: 7.8 Oz
Grip Circumference: 4 ¼ inches
Handle Length: 5.27 inches
Skill Level: beginner to pro
Master Paddle: This feature full pickleball paddle has a ply of graphite that creates agility in the ball. It helps to bend the hit ball where ever you want to. Also, increase speed, pace, and control to an extreme level by creating power in the ball.
A Secure Casing: Don't worry about the security of your pickleball set because the company has brought the most secure and safe covering bag. It is made of top-class material, having a safe zipping system that provides extra security facilities— a wide and spacious bag to keep all accessories without any issue.
Pace Creator Paddle: A smooth surface paddle for pickleball increases the speed of the ball to the next level. The upper surface has high-class honeycomb core finishing, which offers you to hit perfect speedy shots. Moreover, the sweet spot is enlarged to add extra spin to your hit for an exciting play.
Pros
The pickleball can be used both as indoor and outdoor gaming
Use these paddles to make balanced and control hits
The paddles have a non-slippery grip that adds super stability to your hand
Approved paddles for beginners and advanced
3 balls are included
Cons
The equipment has a musty smell
Paddle edges are weak
Our Take: A complete set for having a thrilling pickleball match with a lightweight bag making transportation easy. Furthermore, it is approved by USAPA and offers a comfortable grip that doubles the fun.
POPULAR CHOICE
Amazin' Aces Graphite Pickleball Set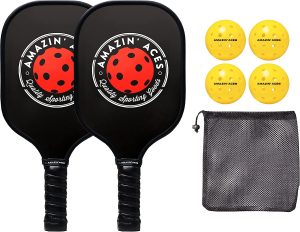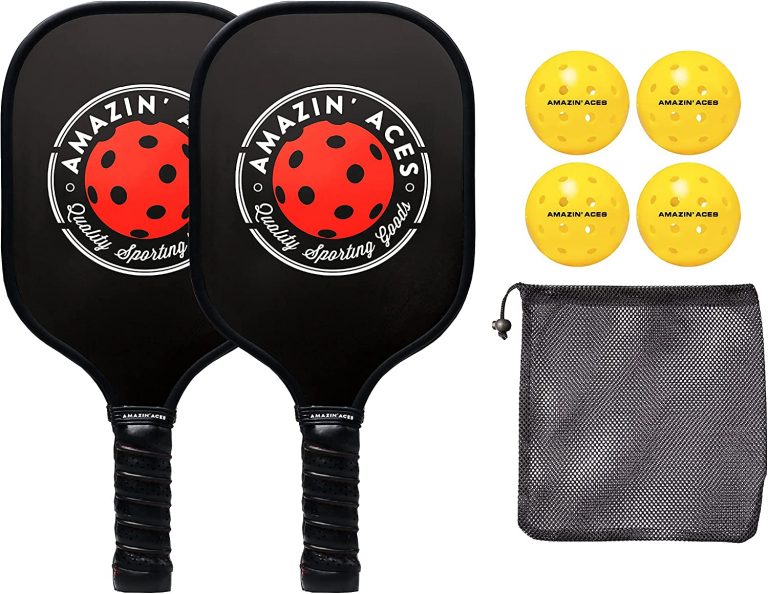 ★★★★★
Best Storage Bag
Powerful Shot
Features:
A convenient pickleball set for traveling comes with a mesh storage bag
Paddles come along with a hand-stitched comfortable sweat-resistant grip
Now make power and speedy shots with these graphite surface paddles
The balls are made of supreme quality plastic that can endure tough shots
Swing the entertainment and fun with this unique set of pickleball games. This is one of the best outdoor games to flick the boredom. This set has very lightweight.
You can even put it in your bag and take in your hand and play it anywhere on the land.
Specifications:
Weight: 1.85 lbs.
Material: Graphite
Core: Polymer Honeycomb Core
Grip Size: 4 3/8 inches
Skill Level: Beginner
Color: Black
A Sweat Absorbing Grip: Getting a sweat on your hand while playing may disturb your shots and reduce accuracy. A sweat-resistant special tape is folded on the handle of the paddle, which keeps your hand safe from getting wet. So, you can hold the paddle easily without losing your stability.
A Net Bag: You can store your pickleball set in a net-made easy-holding strap bag. A spacious bag that offers not only your pickleball set storage even many more things can be placed.
All High-Class Accessories: This super-quality pickleball set includes 2 paddles, 4 long-lasting balls, and a net storage bag. All these components are assembled by professionals giving a lifetime promising performance.
1-Year Guarantee: The company is providing you more and more facilities for your ease. That is why the Amazin aces store has brought this set with a year guarantee of quality. If you got any problem, they would solve it.
Pros
High-performance pickleball paddle that top-ranked professional players use
You can exchange if something happens with your set with a one-year guarantee
Balls come with the paddle
Affordable price tag
Cons
The handle connection can snap off
Ball quality is not the same as mentioned
Our Take: Make your pickleball game more exciting with these pace-making paddles coming with balls and a storage bag. A sweat-resistant special tape is folded on the handle of the paddle that makes it unique and offers a reliable grip.
EYE-CATCHING
XS XSPAK Pickleball Paddles Set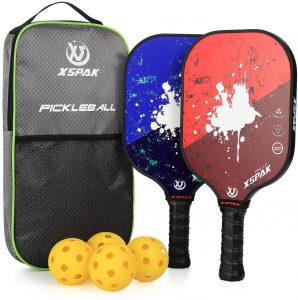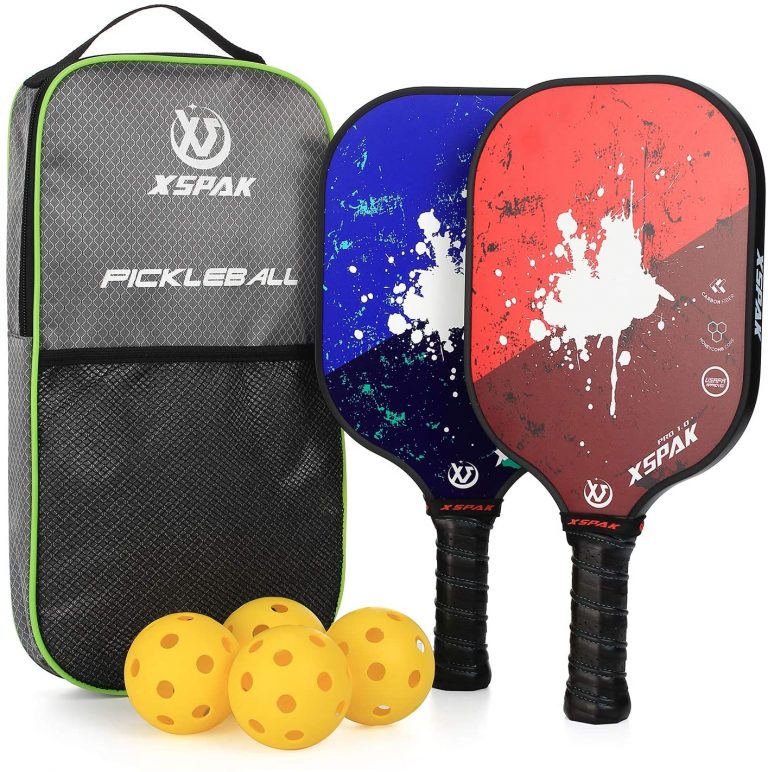 ★★★★★
Extra Protection
Lightweight Case
Features:
The paddles have an extra super protective guard on their edges for more security
Get a lightweight shoulder carrying case for easy traveling
These professionally made paddles have a graphite front surface for précised ball hit
The sweet area of the paddle is larger for less chance of defective shots
USAPA approved that confirms the performance and quality
A heavy-duty pickleball set is brought to you by the XS XSPAk store. This set is specially designed with prime quality material to play in all scenarios.
Now you don't have to worry about traveling and carrying this set because it is a lightweight and easy handling bag pickleball set.
Specifications:
Dimensions: 15.6 x 8 inches
Weight: 8 Oz.
Skill Level: Intermerdiate
Material: Carbon Fiber
Core: Polymer Honeycomb Core
Grip Length: 4.9 inches
Grip Size: 4 1/4 inches
Overlapping Edge Guard: 1/5 inches
Color: Blue & Red
Carbon Layered Paddle: The pickleball paddles included in the set are finished with carbon from the front. This carbon adds many exciting features to your play. So, playing with this carbon-made pickleball paddle will enhance the pace, speed, and spin of the hit ball with more precision.
A Portable Bag: Now keeping your pickleball set is no more a problem with this super sturdy covering bag. This is made of the best quality net, helping you store your pickleball set for their security and quality maintenance. Furthermore, you can hold this bag with your hand, shoulders and even hang it on hooks.
Get Healthy Exercise: Playing the pickleball game warms your blood and makes circulation better. So, add up an opponent to play a healthy and challenging, exciting game.
Ideal For All Ages: The lightweight paddles in the set are making this game compatible with all ages. Kids of young ages can carry the paddle and swing it without using force.
Pros
The net bag protects all equipment from dirt and damage
Paddles come with an extra protective coating on the surface to protect from scratches
Accelerate your pace, spin, and accuracy with these paddles
The price tag is friendly
Cons
The center has a soft wiggly spot
Handle length is short
Our Take: This all-time renowned pickleball set having unique design paddles that increase your gaming ability is a stellar option. It is approved by the USAPA so you can purchase confidently.
HEAVY-DUTY
Uteeqe Graphite Pickleball Paddle Set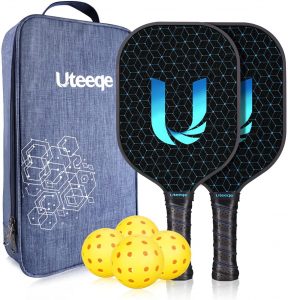 ★★★★
Large Sweet Spot
Counter Grip
Features:
The paddles have a larger sweet spot surface for the best control and speed shots
Small age kids can handle those lightweight and well-balanced paddles
Paddles have a counter grip that creates power in your shot and absorbs the sweat
It comes with a zipper storage bag that takes up seconds to open
Buy this one of the best pickleball sets made of high-quality material. Now allow small ages children to enhance their basic realistic gaming skills.
Also, play with your friends to boost up the surrounding for endless pleasure.
Specifications:
Dimensions: 16.65 x 8.78 x 3.11 inches
Weight: 7.8 Oz
Material: Graphite
Core: Polymer Honeycomb Core
Size: Medium
Skill Level: Beginner
Unique Paddles: It has a unique and appealing design that is structured with prime quality graphite, polymer honeycomb core, and fiberglass. All needs of a player are completely filled in this classical smooth surface pickleball paddle. All material works perfectly according to their quality, making it a unique paddle.
A Carrying Bag: Take your pickleball set with you while traveling because the Uteeqe is providing you the safest covering bag for your pickleball set with portability. This bag has straps on the top that can be carried with your hand simply, or you can even hang it.
Easy Handling Paddle: The paddles are made lightweight for the facility of the player featured with a comfortable handgrip. This handgrip is cushioned with foam for comfy handling.
Produce Extra Spin: This fully-featured paddle has a special ball spinning quality. There is a thick coating of graphite on the surface of the paddle that provides the ball an extra spin.
Pros
The bag is made spacious to keep other things like keys, mobile, etc.
Made with highly durable material that lasts a long
The paddle grip is cushioned with soft material for easy handling
Cons
The joint of handle grip is flimsy, having breakage possibility
Too lightweight
Our Take: Buy a complete pickleball set with thick coating graphite construction that provides a lifetime service making your gameplay entertaining. A perfect set for a gift.
DURABLE
Urtboo Pickleball Paddle Rackets Set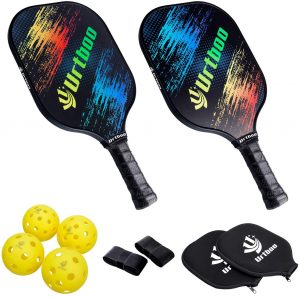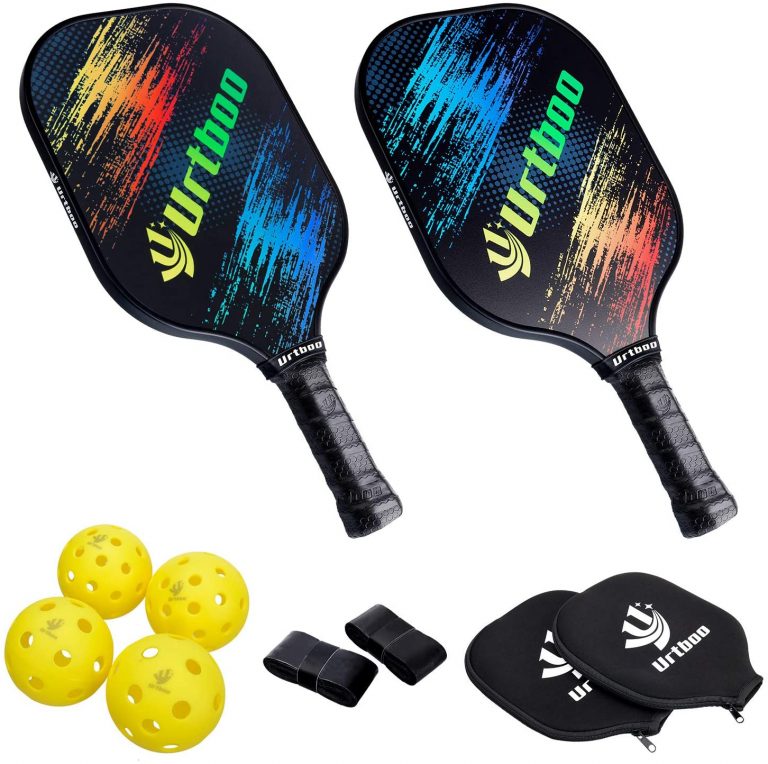 ★★★★
Added Security
Honeycomb Face
Features:
Get a tight zip covering for the paddle to protect them from breaking
Paddles come with an edge guard for extra security
Honeycomb front face creates extra pace in the shot
Paddles have a high-quality grip for players comfort and shot reliability
The Urtboo brings the best pickleball sets made for all ages. This set is made of premium class material that performs heavy-duty for a lifetime.
And if you are worried about the carrying issue so don't worry because this set is portable which is effortless to carry.
Specifications:
Dimensions: 15.7 × 8.26 inches
Weight: 8 Oz
Material: Graphite
Skill Level: Advanced beginner and all adults unisex
A Champion Grip: The grip used in the handle of the pickleball paddle performs best for all aspects. It has a perforating ability that keeps the sweat and water away from your hand and absorbs it. Also, the ripple design proposes your hand-stable handling for exciting and accurate shots.
Supreme Quality Paddle: The pickleball paddle given in the set has layers of feathers inside of it making it prominent and appealing. There are different plies in which honeycomb core, carbon, fiber, and graphite are on the top. Moreover, the sweet spot is larger now for pace, accuracy, and spin shots.
Durable Balls: Get the bounciest, wind-friendly, and durable three balls with the pickleball set.
Guards On The Edges: Don't worry about the safety of your pickleball paddles because it is no more problem with the protective guards they have. Those guards are made very solid and fitted on all edges of the paddle adding an extension to the security.
Pros
Lightweight set that provides you ease in carrying
Now get the sweat-absorbing belts for a pleasant game
It is easy for kids to play with these lightweight paddles
Moderate price
Cons
Balls are only for indoor playing
Writs strap shortcoming
Our Take: Escalate your pickleball gaming strategies with this all-new carbon and graphite frame design set is an excellent option for you.
PROFESSIONAL
Pickle-Ball Inc. Pickleball Diller Tournament Net Set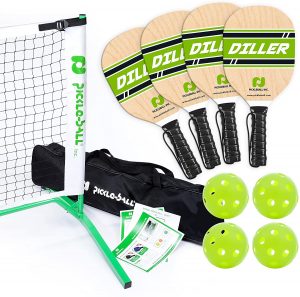 ★★★★
Foldable Design
Foam Materials
Features:
You will also get a sturdy net with the pickleball set, completing you're playing necessaries
The supporting legs of the net are very firm that can endure windy weather without falling
It comes with an instruction guidebook to create simplicity in your gameplay
A portable pickleball set that you can all the way easily effortlessly
Now you don't have to worry about finding complete accessories for the pickleball game. Because Pickle-ball has brought this set with a complete range of all necessary accessories.
Those are made of firm class material, making them a long-lasting pickleball set.
Specifications:
Dimensions: 15 1/2 × 7 inches
Weight: 9.0 to 10.6 ounces
Material: Metal
Grip Size: 5 ½ inches
Boost Your Gaming Skills: A detailed pickleball paddle made for all scenarios of gaming assembled with premium quality components. The smooth and leveled graphite surface of these paddles offers you to hit with zero power, maintaining accuracy. Playing with this paddle helps you to upgrade your pickleball skills, making you a professional player.
A Firm Net: There is a plus point in buying this pickleball set that you get a net making your set complete. The net has a tension string in the frame offering your ball easy rolls.
Moreover, the legs are made of metal, having a sweet weight that can be used in windy weather. The Metal is rust free that no water can affect its quality which provides a longtime service.
An Out-And-Out Set: The company is facilitating you with a complete package of pickleball which has four paddles, 4 plastic-made balls. In addition, there is a net, a carrying casing, and a guidebook.
Pros
Made with premium quality components that give your lifetime performance
Net has tension straps for easy rolling of the ball
There is a carrying bag with a handling strap for easy hold
Durable and long-lasting set
Cons
The net design is a little wobbly
Maybe expensive for few
Our Take: Get a complete range of portable pickleball sets having exciting features at an accessible price tag. Further, it is perfect for families to enjoy their time during holidays and vacations.
FAQ Regarding Best Pickleball Sets
Q. What is the best pickleball set?
Here are the two best pickleball sets that we have reviewed and analyzed for you are Pickle-Ball, Inc. Pickleball Diller Tournament Net Set and Amazin' Aces Graphite Pickleball Set.
Q. Who makes the best pickleball paddles?
There is a huge number of companies that are currently manufacturing these best pickleball paddles for their consumers. We have managed to bring you the top 4 on the list. And those are Niupipo Pickleball Paddles, Carbon Fiber Face, JP WinLook Pickleball Paddles Set, Pickle-Ball, Inc. Pickleball Diller Tournament Net Set, and Amazin' Aces Graphite Pickleball Set.
Q. What is the best pickleball set for beginners?
Here are the top 5 best pickleball sets for beginners; Urtboo Pickleball Paddle Rackets Set, Niupipo Pickleball Paddles, Carbon Fiber Face, JP WinLook Pickleball Paddles Set, Pickle-Ball, Inc. Pickleball Diller Tournament Net Set, and Amazin' Aces Graphite Pickleball Set.
Q. Which is better, graphite or composite pickleball paddle?
Composite paddles are known to be medium-range paddles when it comes to the price tag; on the other hand, they are available in various sizes and weights. Furthermore, Graphite paddles are known to be among the most expensive paddles. Further, they are yet powerful and light. All you need is to check and feel which paddles suit your feet and help you out during the game.
Best Pickleball Sets | Quick Comparison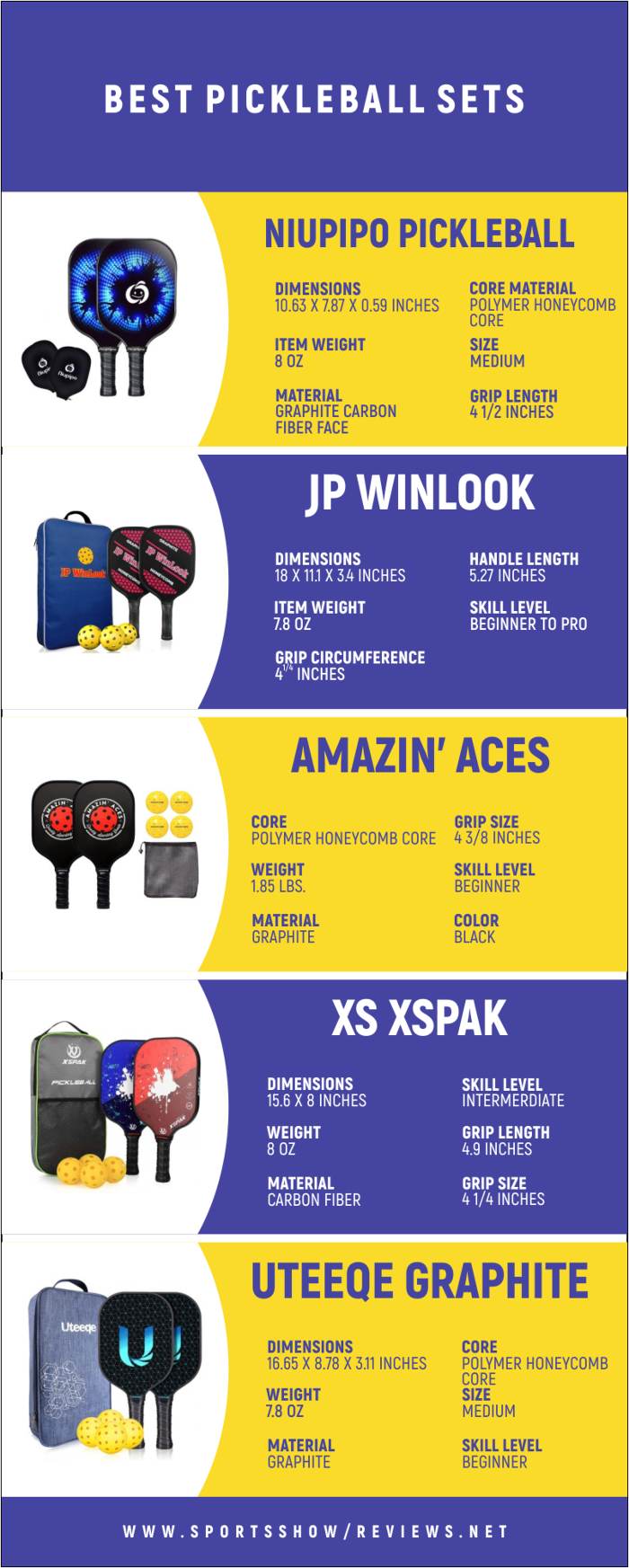 Our Recommendation:
Our 1st recommendation is the Pickle-Ball, Inc. Pickleball Diller Tournament Net Set as a complete and durable gaming set. 4 paddles along with balls and covers are including plus the paddles are designed with metal frame construction.
Plus, our 2nd recommendation is Amazin' Aces Graphite Pickleball Set as the best paddle set. The graphite facing surface of the versatile gaming surfaces is together with balls and covers as well.
Conclusion
Buy the best pickleball sets having a complete range of gaming equipment for advanced gaming. The paddles are precisely framed with fiberglass, carbon, and graphite material to ensure flexible shots. Alongside, the smooth edges are precisely designed with boundary guards to protect the paddle joints.
Furthermore, the balls are of standard sizes featuring flexible compatibility for indoor and outdoor gaming. All of the pickleball sets also include paddle covers for securing the surface from any damages.