If you're a pickleball fan and looking for the best paddles to accompany your game. Then you've come to the right place. There are Selkirk pickleball paddles on our list for the most incredible experience for your next pickleball match. Selkirk paddles are endorsed by professional players.
These paddles differ in price and features they provide to the players. So, players must seek the right details to choose the right pickleball paddle for themselves. These paddles do have options for beginners to professional players. Thus, the features differ from the player's level of expertise.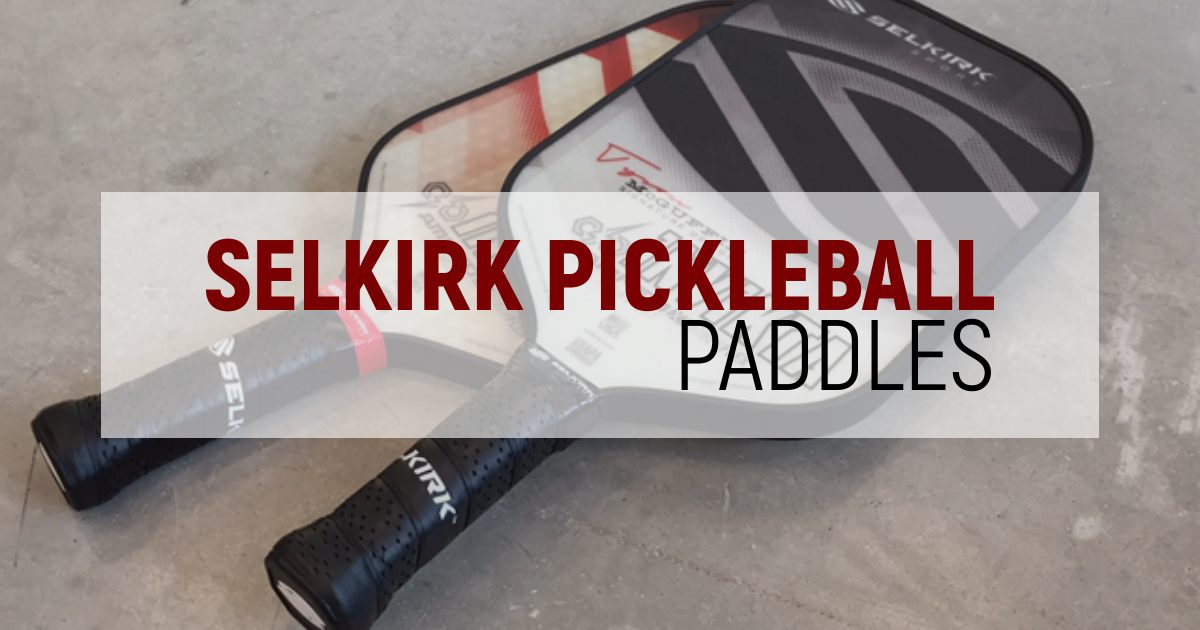 Lastly, players must demonstrate the materials and stiffness of these paddles according to their game's toughness level. And wait; don't forget to check out our in-depth review of the best pickleball paddles from paddletek to compare the best ones.
Best Selkirk Pickleball Paddles | Editorial Pick
EDITOR
CHOICE
★★★★★
Selkirk Amped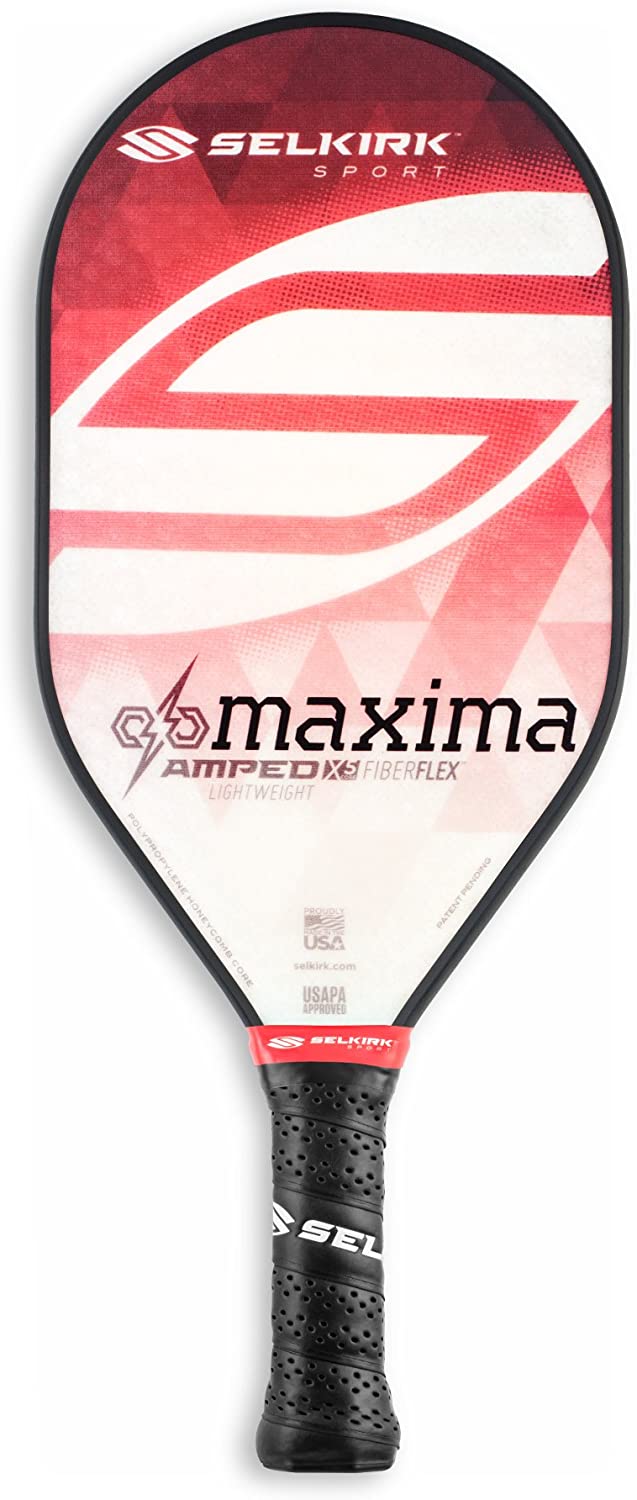 Fibergass Face
Thickest Core
Better Torque
TOP
RATED
★★★★★
Selkirk Prime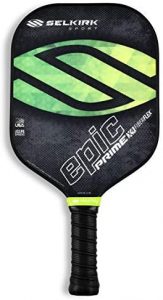 Epic Performance
Better Spin
Better Sweet Spot
BEST
SELLING
★★★★★
Selkirk SLK Neo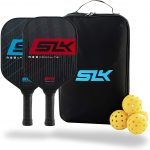 Better Comfort
USAPA Approved
Honeycomb Core
Selkirk Pickleball Paddles | Reviews
We may have already liked our review of the best tennis racquets and the best table tennis bats to try this year. And now, check out our tried and tested review of these high-quality Selkirk pickleball paddles.
BEST OVERALL
Selkirk Amped Pickleball Paddle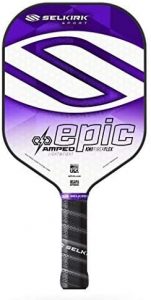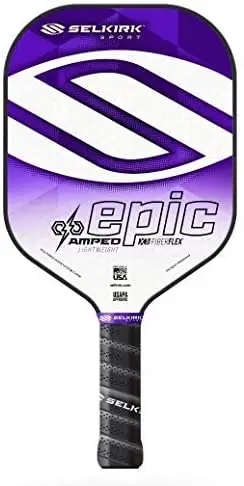 ★★★★★
Fiberglass Face
Thickest Core
Features:
The paddle is a fancy infusion of fiberglass face with the thick polypropylene honeycomb breakthrough technology
Your amped pickleball paddle is made to offer shots strength and control in the match
5x thick core offers amplification while a large sweet spot for power and leverage over every shot
Next-level torque suppression technology provides accuracy for the paddle while giving stability
Suppress the opposition in your pickleball matches with one of the most amazing Selkirk pickleball paddles on our list. Now, this paddle can generate an unbeatable ball spin with added control.
So, players can trust this pickleball paddle for all professional matches. It is made in the USA.
Specification:
Dimensions: 17.56 x 8 x 3.23 inches
Weight: 1 lb.
Available Color: Amethyst Purple, Cammy Macgregor, Sapphire Blue, Selkirk Red, Tyson McGuffin
Material: PU Material
Fuel Your Game: This fiberglass pickleball paddle offers a thick polypropylene X5 core providing impeccable ball cushioning. Moreover, it comes with a sleek and elegant fiberglass surface that offers incredible ball spinning functionality. It is enough for disturbing your opponent's spin at the same time.
Thrash The Opposition: If you're hunting for the speed in your pickleball matches, then the 5x thick core is the way to go. It offers a big size sweet spot that undermines the effect of shots from the opposition. Furtherly, it gives your shots an amazing speed for next-level leverage.
Suppression Of Torque: Torque suppression is directly proportional to more accurate shots. This technology offers a balanced game even in unwanted weather fluctuations.
All-Around Performer: Versatile fiberglass up front with a large sweet spot offers great control in the game. Moreover, while undermining your counterparts' spin shots, the balance shots put you in a leading state. On the other hand, the polypropylene X5 core reduces the extra vibrations. Thus, resulting in a fair game.
Pros
Lessen the disturbing vibrations for a smooth game
Unparalleled spin generation through the fiberglass surface
Increases stability with torque suppression
Elegant and lightweight for its functionality
A wonderful gift for the pickleball lovers
Cons
Fiberglass promotes dull shots
Our Take: Treat your counterpart with this dominant paddle with elegant fiberglass and torque suppression, giving you a good value for money. Further, it is very lightweight.
BEST-RATED
Selkirk Prime Pickleball Paddle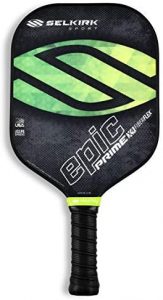 ★★★★★
Fiber Flex Technology
Polymer Core
Features:
Epic performance in every match with fiber flex technology along accompanying X4 core
Nicely weighted paddle featuring a satisfying sweet spot for added extra responsive functioning
Add thunder to your game performance with a polypropylene polymer core
Selkirk prime is your worthy companion for the pro matches. The proven fiber flex face technology made its way again into this premium pickleball paddle.
Selkirk uses cutting-edge technology to enhance the functioning of its offerings, just like this prime pickleball paddle. Further, it is designed in the USA.
Specifications:
Dimensions: 17.76 x 8.54 x 2.09 inches
Weight: 0.26 kg
Available Color: Fields of Green, Ocean Blue, Red Sky, & Twilight Purple
Performance Amplifier: It offers a thick polypropylene core that is an assurance for your game amplification— taking on tough shots and giving you the potential to fight back. Meanwhile, the wonderful cushioning technology brings down your opponent's spin while giving you the lead.
Breakthrough In Design: Handcrafted with love in the USA offering neatly designed features for sublime performance. The promising fiber flex face feature with X4 core gives prime control and balance in the match. Moreover, the compelling appearance of this paddle is hard to ignore.
Trusted By Professionals: Selkirk is a trusted sports brand recommended by many professional players. Professionals like Enrique Ruiz, Tyson McGuffin, and Joanne Russel have been using Selkirk supplies for their important games.
Control The Match: Magnificent honeycomb core deals with deflections while responding to the opponent's shots fairly. It also gives a sublime control, minimalizing vibration for a trouble-free game. Suppression of torque promotes longer resonance despite the game's turbulence.
So, this pickleball paddle promotes the most dominant game. And with a durable finish that offers brilliant quality performance.
Pros
Cushioning technology for reducing opponent's shot impact
Honeycomb core deals with deflections
The enlarged sweet spot for better shots
Affordable price tag
Trusted and recommended by professionals
Cons
Undersized handle
Depressing off-center hits
Our Take: These USA-made paddles are deflecting less and strike more with this fiber flex X4 core carrying paddle in a premium finish and offering you a solid purchase.
POPULAR CHOICE
SLK Neo By Selkirk Pickleball Paddle Set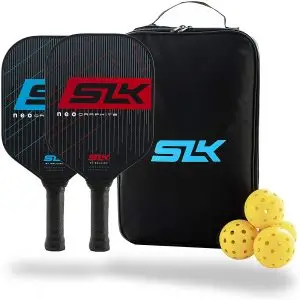 ★★★★★
Better Circumference
USAPA Approved
Features:
This paddle grip is 4.25 inches in circumference and 5.25 inches in length, with added ultra-comfort grip materials
It's USAPA approved for international pickleball tournament level matches
A paddle crafted with precision weighing just 7.5 ounces offering balanced and smooth handling
Featuring exclusive honeycomb core for relentless speed and light feel
A continuous performance with one of the best Selkirk pickleball paddles available for you. They are built with excellence to provide all professional players with the best-weighted paddle for their pickleball matches.
This USA- designed paddle is refined over recent ones with redefined design and performance.
Specifications:
Dimensions: 16 x 2.3 x 7.8 inches
Weight: 1.1 pounds
Available Color: red, blue, & other
Material: Ultra-Comfort Grip material
Phenomenal Grip: Exceptional soft cushion grip for you to hold as long as the match runs. The grip has a 4.25 inches circumference and a length of 5.25 inches, giving it an impressive volume to be held perfectly in your fist. So, the wonderful grip exalts your game dominance to the level of perfection.
Certified For Big Matches: USAPA has endorsed this pickleball paddle's versatility. Therefore, providing the players with a ticket to take this elite-quality paddle to the international level tournament matches.
All Secured: Now you won't have to buy a paddle's case separately as Selkirk is providing one already. The premium package gives you a signature paddle carrying case that protects your paddles from unwanted scratches. Moreover, players also get 4 quality balls so that the match never stops.
Smoothness And Precision: Your paddles are driving exceptional honeycomb core technology, which absorbs roughness resulting in a smooth flow of your shots. Furthermore, the graphite face has been certified to elevate your shot's performance no matter how hard things. A large sweet spot gives your shots a continuous speed and precision that you all need.
Pros
Enhanced sweet spot size for more accuracy
Redefined grip comfort
Certified paddles to ensure it is best
Low price tag
It comes protected with a paddle carrying case and 4 quality balls
Our Take: Count your top shots with this phenomenal graphite face paddle with a soft grip and protective case. It is a handicraft in the USA and delivering you the best experience, and you can get it at a low price.
PROFESSIONAL
Selkirk Sport SLK Latitude Pickleball Paddle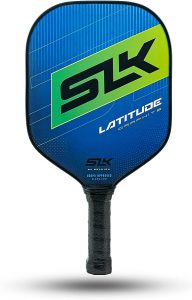 ★★★★★
Better Paddle Case
Super Lightweight
Features:
It comes with a paddle case along with 4 balls so that you can get started in seconds
Reliable shots with G4 graphite face making a polymer rev-core
Build control and balance with super lightweight form factor managed with timeless design
Build your game control with this all-new latitude pickleball for maximum game leverage. Its extremely lightweight and soft gripping function makes this one of the best most recommended paddles.
Handcrafted excellence is done with high-end materials for maximum durability.
Specifications:
Dimensions: 16 x 8 x 1 inches
Weight: 6.9 ounces
Available Color: Latitude Lakeside Lime & Latitude Raspberry Orange
Material: Ultra-Comfort Grip material
Promising The Best: Selkirk has provided its concerned players with this beautifully handcrafted paddle for a balanced and sublime game and perfected it from every angle and corner by keeping it low profile and durable at the same time. It comes with an edge guarding feature that can endure all sorts of impacts with ease.
Prime Strikes: This pickleball paddle has a G4 graphite face where strikes gain a new value. And combined with polymer rev-core, players can strike consistently without getting disappointed. Thus, living up to the mark of excellence in the match when you have Selkirk Sport SLK Latitude pickleball paddle.
Featherweight And Durable: Weighing at about 6.9 OZ, this featherweight pickleball paddle is allowing the players to charge quickly in the playfield. This weight allows any player to quickly gain control in the match and with added durable edge protection. The paddle can effortlessly endure drops and impacts.
Hold Well: Your latitude pickleball paddle is an inspiration for an ideal paddle flourishing in every match. Therefore, you're getting a smooth and soft gripping material on this paddle so you can hold it to your maximum comfort. Thus, resulting in the best game control for all.
Pros
Handcrafted with details to the smallest of features
Ultra-cushion grip for flawless handling
The extremely lightweight design gives you leading control
G4 graphite face offers topspin shots
Best low price Selkirk pickleball paddle
Cons
Short sized grip having difficult handling
Our Take: Strike effortlessly with a G4 graphite face and lightweight design for all the leverage is a quality purchase. It is incredibly light in weight, and the ultra-comfort grip material gives the new experience and doubles the fun.
G5 GRAPHITE
SLK Atlas Pickleball Paddle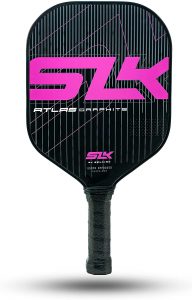 ★★★★
Ultra Flexible
Polymer Rev Core
Features:
Ultra-flexible with a generous G5 graphite face that offers enhanced experience for all beginners and intermediate players
Polymer rev-core coupled with a wide sweet spot for guaranteed consistent shots
The incredibly compelling outer appearance blends with inner excellence for prolonged life
Gripping is made easier with ultra-soft grip materials to stay on top of your game
Maximum performance with this updated pickleball paddle for your all-important matches. A reliable and unstoppable match with the redefined sweet spot.
The sweet spot size has been enlarged with the added ability to absorb all the harsh hits for a constant experience.
Specifications:
Dimensions: 17.05 x 12.64 x 1.81 inches
Weight: 7.5 Oz
Available Color: Atlas Purple & Atlas Blue
Material: Ultra-Comfort Grip
Play In Style: It is perfectly balanced between small and medium-sized paddles for improved functioning in the match. Moreover, this purely detailed paddle has all the signature colors to brighten your match. A sophisticatedly designed paddle with smooth corners blending in durable materials makes up for stylish functionality overall.
Brilliance For All: Carrying its flexible nature and incorporating a G5 graphite face gives you many reasons to buy this paddle. It is considered to be a very compelling choice for the players just starting or the intermediate ones. While you can always trust this paddle for professional matches as well.
Lasting Reliability: Made with the finest materials, this paddle is a blend of art and durability that lasts. Its graphite facing offers wonderful durability while tough shots are taking tolls on the opponents.
Trusted In-Hand Feel: Its grip combines 4.25 inches grip circumference along with 5.25 inches long with the most comfortable materials for your hands. It's resilient to the hands sweating, so your game carries no matter what. So, players can trust their paddle's handling for a confident match.
Furthermore, it is USAPA approved, which ensures you it is perfect for pro matches.
Pros
USAPA approved for pro matches
G5 graphite facing gives a lasting durability
Premium soft gripping materials for improved handling
Cons
Nonstick paint job
Guard around paddle is fragile itself
Our Take: Redefine your game with this phenomenal paddle approved for big matches giving you an elite option. It is very lightweight as well as durable.
HYBRID
Selkirk Vanguard Hybrid Pickleball Paddle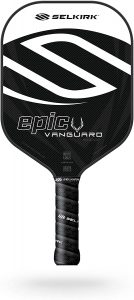 ★★★★
Premium Geo Grip
Honeycomb Tech
Features:
Premium and modish geo grip gives you an incredibly smooth grip with enhanced traction
Thick honeycomb technology kills vibration and promotes magical speed
It offers a breathtaking squadron face for observing shocks and long resonance
These paddles are made from high-quality materials with more comfort and stabilizations. These paddles are approved by ITTF and USATT for their professional design and quality.
Playing with these paddles will make you a champion of pickleball.
Specifications:
Dimensions: 17.6 x 13.15 x 1.89 inches
Weight: 0.31 Kilograms
Available Color: Black Frost & Crimson Black
Take Your Game To Another Level: Players can now trust this pickleball paddle for the next level of performance. It incorporates a Quad Carbon face, which is made to offer an extra-large sweet spot. Moreover, it has carbon fiber technology on both ends for adding more stiffness in all dimensions. Thus, your shots will gain more speed and consistency required to win the match.
Keep Steady: Your Vanguard pickleball paddle comes with X5 honeycomb technology with a thicker poly core for relentless speed. The paddle's Quad Carbon face works together to swallow the shocks and vibrations from every hit for a steady take on shots. Moreover, the soft feel combined with a larger sweet spot transfers more energy to every shot you play.
Premium Grip And Large Sweet Spot: Redefined Vanguard grip is made to deliver the best under all circumstances. The geo grip gives a sublime comfort with improved traction overall. Hence, providing players with the most amazing quality grip gives them the leverage they desire.
The most resolute shots are achieved with handcrafted magnificence. Also, the low-profile design amalgamates into a catchy appearance to deliver large sweet spots for more potent strikes.
Pros
Quad Carbon face offers a large sweet spot and prolonged resonance duration
Polypropylene honeycomb technique for potent strikes
Paddle's facing absorbs shocks and vibrations
Incredibly soft grip materials for convenient handling
Our Take: Go premium with this all-around performer for professional matches, a choice for pro-players.
USAPA APPROVED
Selkirk Amped USAPA Variant Pickleball Paddle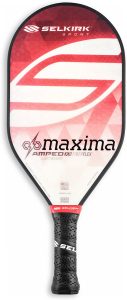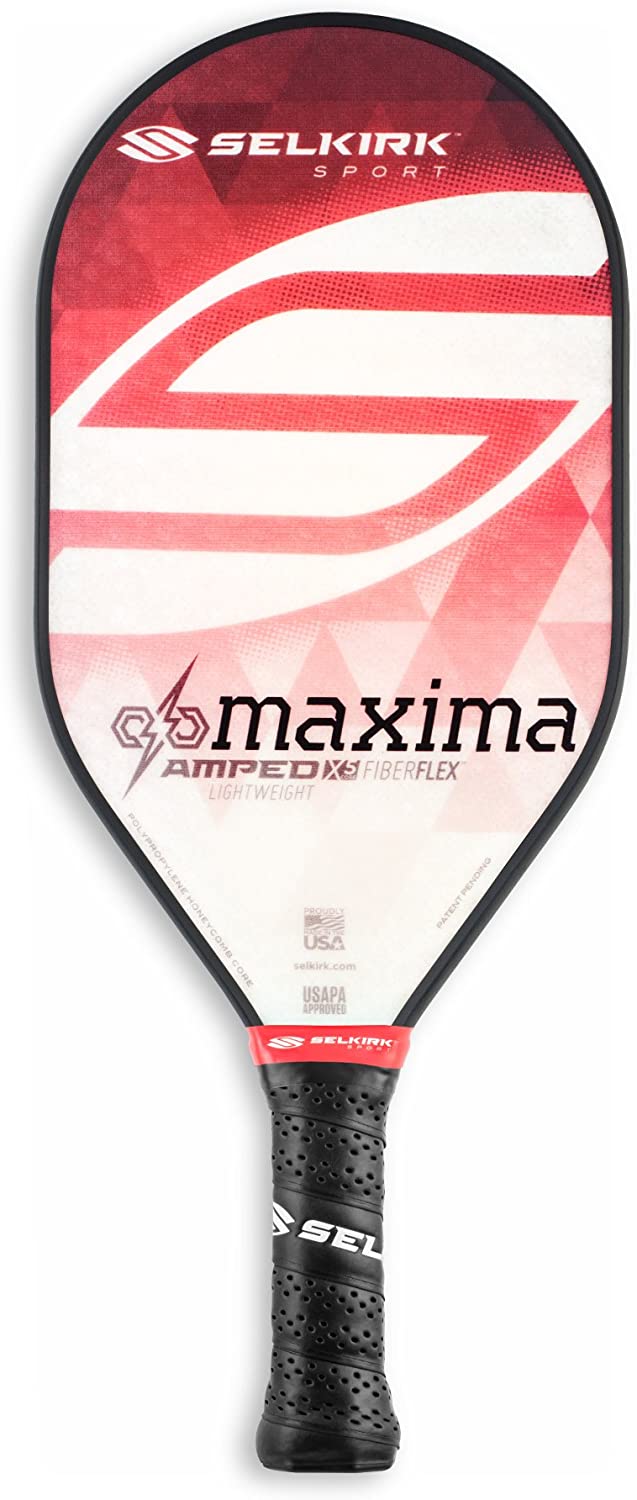 ★★★★
Polymer Core
Edge Sentry Protection
Features:
Polymer design core with proper striking force and bouncy impact for you while managing the cut shots
The boundaries are secure with rubbed Edge Sentry protection to maintain the cuts
Lightweight body construction for quick and fast handling of the paddle at any angle you want
The griping impact is very smooth, with complete coverage protection
Selkirk has offered the most advanced technology-based vibration-absorbing gripped pattern pickleball paddle. Plus, the smooth power-generated surface will enhance the striking scenario without any extra force.
And the fiberglass facing is something innovative here with an additional sweet spot for you.
Specifications:
Dimensions: 17.01 x 7.64 x 2.09 inches
Available Color: Ruby Red
Handle Length: 5.25 inches
Sweet Spot Index: 7.5
Lightweight Range: 7.2 oz. – 7.6 oz.
Midweight Range: 7.8 oz. – 8.2 oz.
Sweet Spot Surface: The Amped technology of this paddle by Selkirk has made sure the sweet spot area with more responsive flexibility for every player. Plus, the central area has been evenly distributed with a midweight design with a more powerful impact for tough and hardball shots.
Core Design With X5 Polymer: The polypropylene materialization with the X5 structure has added an advanced stability feature on the paddle surface. And the vibration dampening impact will make you feel comfortable along with your elbow movement during the wide cuts.
Moreover, the surface is thicker due to the polymer structure for better shot handling.
Stable Striking: Your paddle will not twist the surface or break the direction anymore while hitting the edgy shots because the amped craftsmanship has already added the additional controlling impact with a thicker grip and proper gripping. The torque management will be sustained with no extra effort.
Cushioned Grip: 4.25 inches circumference of the cushioned grip will let you play in an aligned direction and stable positioning. The wobbling impact has been minimized, and the surface is firmly connected with the paddle frame to maintain the strikes evenly.
Pros
Fiberglass facing with ruby red color
Unidirectional striking experience with proper grip
USAPA guaranteed and evenly lightweight constructed
Cons
Available in one color only
Paints get off
Our Take: A smooth grip with X5 polymer construction and fiberglass facing surface is one of the most durable design paddles for you. Plus, it is lightweight and offers the perfect shots for pro matches.
FAQ Regarding Best Selkirk Pickleball Paddles
Q. Is Selkirk a good pickleball paddle?
Whether a beginner or a professional pickleball player, Selkirk has got some of the best-featured balls for your perfect paddle games. There are two major types with which Selkirk offers its paddle pickleball for the masses. These balls are commonly known as AMPED and PRIME.
Q. What is the new Selkirk paddle?
The latest Selkirk paddle balls that are being launched recently are AMPED. This paddle line comes with the state of the art technology advancements. The material being used in the updated core comprises the patent features of the X5 polypropylene core. The face of the ball consists of the FiberFlex Fiberglass that makes up these fabulous-looking and playing balls.
Q. How thick is a Selkirk paddle?
The overall thickness for these Selkirk paddle balls comes to 0.5 inches in thickness. On the other hand, Selkirk installed the thickness of its lately launched AMPED line with an overall thickness of 0.625 inches.
Best Selkirk Pickleball Paddles | Quick Comparison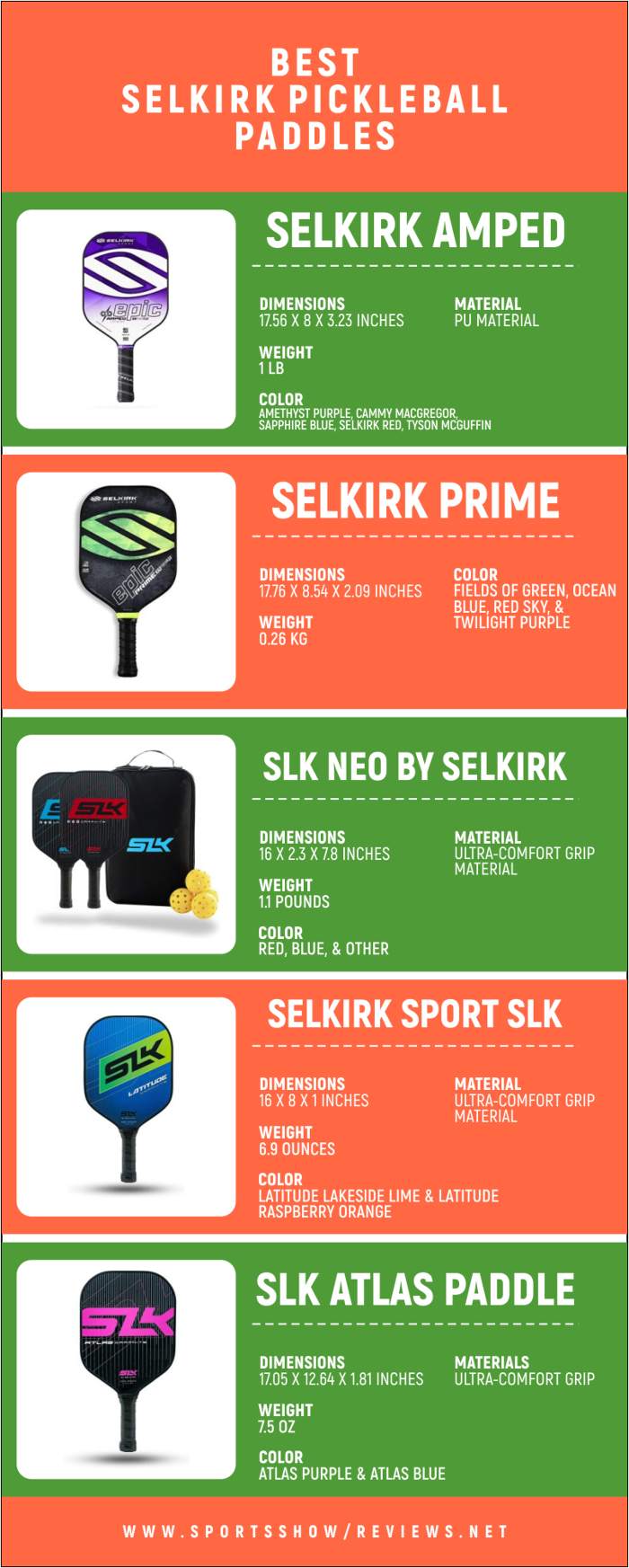 Our Recommendation:
Our 1st recommendation is the Selkirk Vanguard Hybrid Pickleball Paddle as the best midweight and durable paddle. The X5 construction has been structured here with a polypropylene design for smooth and proper gripped handling.
Furthermore, our 2nd recommendation is Selkirk Sport SLK Latitude Pickleball Paddle as one of the best stable paddles. The G5 graphite facing will make sure the bouncing impact on the back with extra force.
Conclusion
Choose your favorite design Selkirk pickleball paddles from these best and top-rated design structures. The grips have been tested with proper coverage and shock absorbing technology as well. Plus, the exterior surface has a smooth and aligned placement of midweight featuring the best striking shots.
And the wide sweet spot has been much wider in these paddles as compared with the usual ones with durable core impact. Plus, some of these have fiberglass facing with an extra bouncy effect that will accelerate the hit ball.