If you're having a tough time protecting your favorite ping pong table accessories, then we got a solution for you. The ping pong paddle cases can protect and secure your most crucial paddles with a touch of elegance and convenience. They are easy to operate and carry around.
There are also some cases providing for balls incorporation along with paddles but not every case does that. So, you must know what you're seeking before proceeding with the purchase. Moreover, you're going to find different shapes and materials depending upon the price.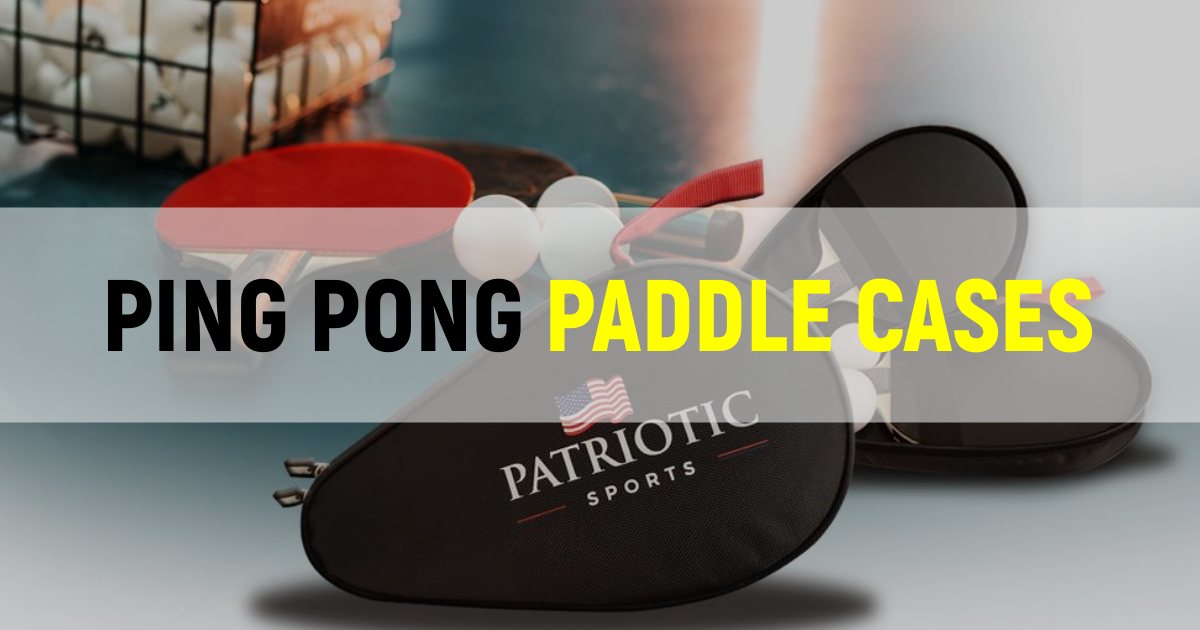 So, head for the exact case that is both durable and convenient for your accessories like paddles and balls. Lastly, if you're outdoorsy, then you might consider purchasing the case with weatherproof certification.
Best Ping Pong Paddle Cases | Editorial Pick
EDITOR
CHOICE
★★★★★
Joola Tour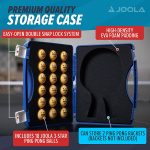 ITTF Approved
Foam Padding
Balls Storage
TOP
RATED
★★★★★
SelfTek Waterproof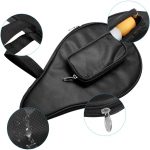 Protective Casing
High-Quality Nylon
Steel Zipper
BEST
SELLING
★★★★★
Killerspin Hard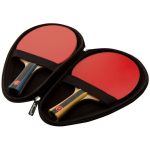 Semi-Rigid Polyester
Large Pockets
Complete Set
Best Ping Pong Paddle Cases | Reviews
You may have already liked our list of the best ping pong paddles. But to properly maintain those, you do need to have these great cases. So, without wasting any time, let's start the countdown.
BEST OVERALL
Joola Tour Carrying Case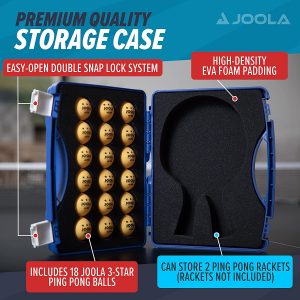 ★★★★★
Balls Included
Foam Material
Features:
3 star ping pong balls are also included in the game package when you purchase the casing
Foam material has been featured on the casing surface to protect the stored equipment
Portable design structure with lightweight construction for better handling
You can be stored up to 18 balls
A versatile usable ping pong paddle casing with secure manufacturing from the exterior. JOOLA has designed the body of casing with a handy material to make it easily placable wherever you want.
Plus, the outer surface is much smoother, and it will cover any type of scratches as well. So, you can easily club it with some high-quality spin-friendly ping pong paddles.
Specification:
Dimensions: L x W x H 12 x 8 x 4 inches
Weight: 1lb only
Color: Blue
Sport Type: Tennis
Age Range: Kids
Double Paddles Storage: The wide area of the casing will let you keep up to 2 ping pong paddles comprising the standard sizing to adjust accordingly. Moreover, the frame surface of each paddle will be lying on each other, and the handles will be opposing while placed in the case.
18 Pieces Of Balls: 40+ mm standard size with an extended surface area is placed in the package comprising 18 ball pieces. The thickness is 0.86 mm, which is much smoother as compared with the normal ball ranges. Plus, the balls are also ITTF approved for tournament playability.
EVA Foam Exterior: The inner body structure is materialized with a high-density EVA foam substance as a padding surface of the casing. And the outer casing is waterproof, featuring a solid space to resist any damages.
Secure Locking: A proper gripped handling of the casing has been designed on the top of the casing for carrying. Alongside, double snap-lock clips will let you quickly open and close the case anywhere you want, which makes it one of the best ping pong paddle cases.
Pros
Waterproof casing for protecting the accessories
ITTF approved sizing of the ping pong balls with a smooth surface
Lightweight handling case for portability
A covering interior surface of the casing
The price tag is friendly
Cons
The placing size is a bit compact
The rubber on the exterior is not firmly attached
Our Take: A double storage placement of paddles with ITTF approved balls, and EVA foam surface can be the best ping pong paddles cases for you. It offers you to store up to 18 balls safely.
BEST-RATED
SelfTek Waterproof Ping Pong Paddle Case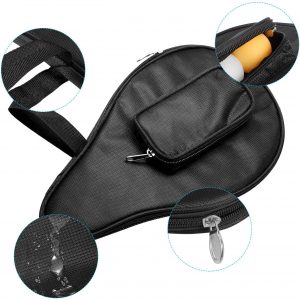 ★★★★★
Extra Protection
High-Quality Nyon
Features:
This extra protective casing is padded with soft material for more security of ping pong set
An extra section for the balls is made outside in a pocket shape for balls safety
The nylon used in the making is waterproof, and no weather affects its quality
Store 3 table tennis balls along with 1 racket
A stainless steel zipper is fixed in the zipper that remains smooth for a lifetime
An easy-handling portable casing for your paddle and other equipment. With a very spacious and wide casing, you can keep more than a set of ping pong. Just club it with some high-quality table tennis paddles to get the best performance.
A long-lasting and durable casing made with supreme quality material featured water resistance to keep your ping pong set safe.
Specifications:
Dimensions: Approx. 29.5 x 19.5 x 5.5 cm
Weight: 3.21 ounces
Color: black
Sport Type: Table Tennis
Material: Polyester Oxford Fabric 600D
The Best Convenient Cover: This cover for ping pong paddle is specially designed for easy traveling and outside playing. There is a wrist strap sewed close to the zipper for simple handling. Also, there is a pocket made to put balls, making it a versatile and convenient covering for a ping pong set.
Water-Resistant: You don't have to worry now if any water and liquid drops on your cover. Because this ping pongs paddle covering is made waterproof. Moreover, the material is can also endure every weather and dirt.
Wide Space: This cover offers you to store 1 table tennis racket and 3 balls. Furthermore, you can store one of your favorite ping pong paddles, three balls, and also other accessories like mobile, keys, etc.
Smooth Zipper: It is now effortless to open your classical black covering with just your fingers because this covering has a smooth and well-ordered zipping function that is made stainless with high-quality steel.
Pros
Resilient to all-weather swings with weatherproof certification
Standard size makes it easy to hold
Fabric material offers unbeatable durability under all circumstances
Low price tag
Cons
Few customers report it has a resin-like smell
Zipper gets stuck while closing
Our Take: Keep your ping pong paddles and other equipment such as keys and mobile in a safe and sturdy casing that has waterproof flexibility as the best choice for you.
POPULAR CHOICE
Killerspin Hard Table Tennis Paddle Bag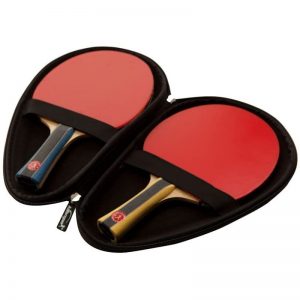 ★★★★★
Semi-Rigid Polyester
Large Pockets
Features:
It is constructed with semi-rigid polyester for a better safety
There are two large pockets for paddles with elastic straps to keep the paddles in their place
Now holds up to a complete set of paddles with balls
A red-colored handling strap is made of durable material for a sturdy grip
Protect your ping pong set from scratches and damages with this one of the best ping pong paddle cases. Traveling is easier, along with a portable casing that can keep up a complete set of ping pong paddles games.
And additionally, you can adjust more than one paddle, which is a plus paddle. All you need is some best outdoor table tennis tops to start your game.
Specifications:
Dimensions: 11 x 7 x 2 inches
Weight: 0.35 Pounds
Color: Black
Sport Type: Table tennis
Material: semi-rigid polyester
Elastic Straps: Now your paddles remain in their shape and don't get damaged. Because The Killerspin has added straps of elastic inside the casing, which is used to stabilize your paddles in their place, the elastic used in the strap is very flexible and can also perform for big-sized paddles.
Big Space: Paddles of all sizes can fit in this ping pong paddle case without any problem. The plus point is you can store two paddles in this casing easily; those remain stable with elastic fasteners.
Super Protector: All the material used in the manufacturing of this case is top-notch. Firstly, the fabric used is premium and filled with soft material providing the case a soft and gentle feel. Semi-rigid polyester and a stainless steel zip provide you a firm and safe platform for your ping pong set.
Portable Design: A casing shaped like a school bag that is very lightweight and small, making it a fine traveling partner.
Pros
It easily supports all sizes of paddles
Gripping material provides comfortable handling
Elite quality material prolongs casing life
Cons
The zipper is fragile, with breakage possibilities
A bit pricy
Our Take: An easy holding case for your ping pong paddle with wide space and extra protecting construction. It is designed with semi-rigid polyester that provides additional durability.
NEW DESIGN
CM Table Tennis Racket Case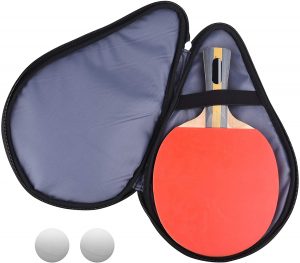 ★★★★★
Large Mesh Pocket
Elastic Strap
Features:
There is a mesh pocket at the front side of the casing that keeps five ping pong balls easily
It has a schooling bag size that is effortless to carry with or hand or hang on the shoulder
There is an elastic strap to keep your paddle stable and in shape
A water-resistant casing to secure your favorite set of paddles safe and secure
If you are having a problem with the old casing quality, then The CM brought you a smooth cushioning interior. You can completely secure your bat after smashing some premium quality ping pong balls.
In the meantime, get a handy grip along with versatility in the placement to adjust different types of gaming ping pong paddles.
Specifications:
Dimensions: L x W x H 10.79 x 9.09 x 2.13 inches
Weight: 0.15 kg
Color: Black
Sport Type: Table Tennis
Extra Pocket: It is not a problem where to store your balls with the ping pong paddles because The CM store is offering a covering with an extra spacious pocket for the balls. Now take five of the quality balls with you in the pocket and play an entertaining game.
Easy Carrying: Take this portable ping pong paddle case all the way easily. This has a feathery weight with firm handling making your outdoor traveling easy and comfortable.
Waterproof Layer: Don't worry because no water is going to damage your paddle. A waterproof layer is padded in the fabric-made casing for ping pong. That protects from all types of liquids.
Quality Zip: Now you don't have to worry about your paddles and balls' safety because the cover will not open unless you open it. The zips used in both sections are made with the best rust-resistant stainless steel.
Pros
A flexible and molded zipping system for a smooth open up
Padded with soft material for great security of your paddle set
A hooking strap to hang it on screws, walls, doors, etc.
Low price tag
Cons
A customer reported strap failure
Sticking problem of the zipper
Our Take: A wide and spacious simple carry for your paddle and balls is the best option for you. It is a durable casing that can hold 1 table tennis racket and 5 balls.
HEAVY-DUTY
Idoraz Ping Pong Paddle Case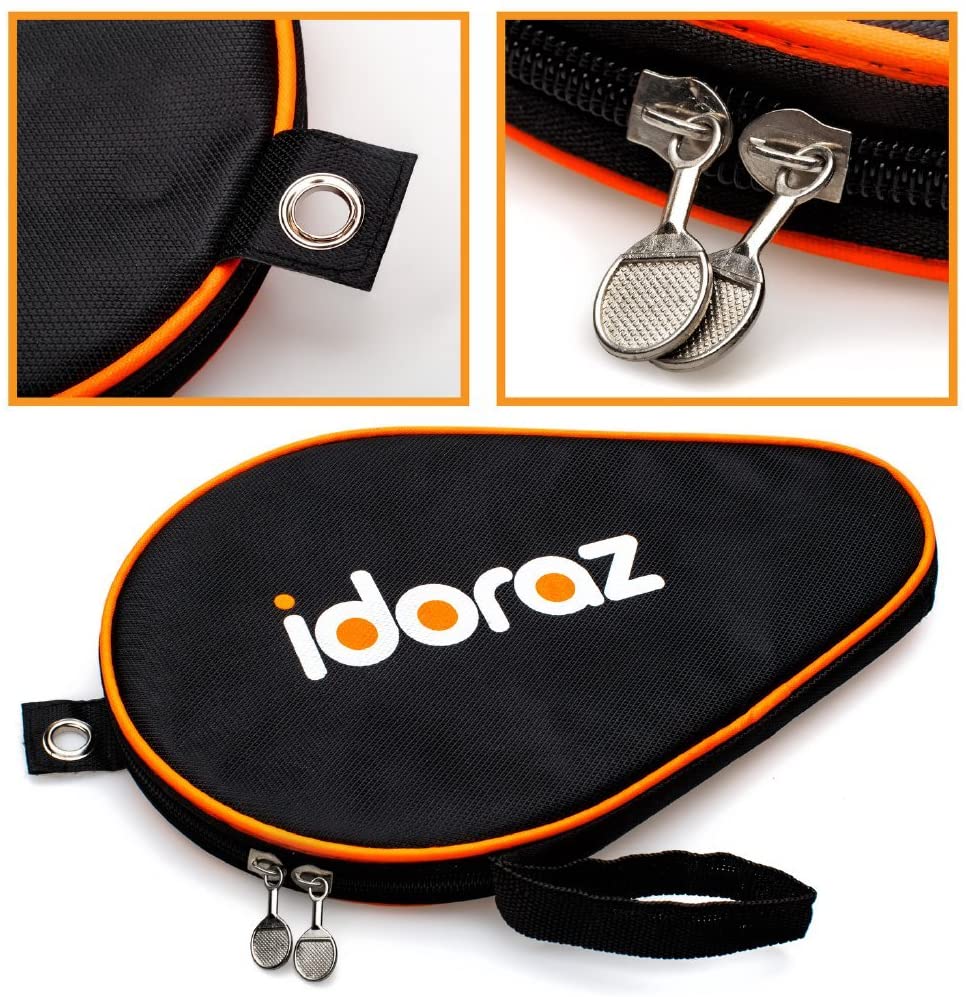 ★★★★
Foam-Filed Cushion
Three-Month Warranty
Features:
The cushion is filled with foam that provides you paddle set a safe storing platform
It has a hook hole on the top of it so you can hang it anywhere
Idoraz is giving a three months guarantee for this casing, and also you can refund it within three month
The plastic sippers are made of prime quality resin, making the casing extra strong, durable, and flexible
This case holds 90 days of warranty to ensures the quality
Buy this all-new ping pong paddle casing made from premium quality material that performs heavy-duty in all scenarios. This sturdy casing will help you to keep your paddles safe.
It now comes with a wide space that can store more than a couple of paddles easily.
Specifications:
Dimensions: L x W x H 11.5 x 6.7 x 0.6 inches
Weight: 0.09 kg
Color: Black
Sport Type: Table Tennis
180 Degrees Opening Cover: Now unzip your classical ping pong set cover to 180 degrees for an easy putting of accessories. You don't need to touch the rubber; just open it completely. Moreover, it has a storage capacity of one ping pong paddle.
Guaranteed Covering: Idoraz is a name of quality taking care of your paddle to the extreme with this covering. These ping pong paddle cases come with a three months guarantee ensuring you a lifetime performance.
Cushions Of Foams: The cushions of this uniquely designed case for paddle are filled with foam. These filled foam cushions help to keep your paddle more safe and away from damage.
Pros
The case opens up all around, so you don't have to touch the rubbers to put the paddles
Different size paddles can fit in this large and big structured ping pong casing
Fasten straps on the sections to keep the paddles and ball away from dirt
Best budget-friendly case
Cons
Shorter handle's length
One customer reports the glue smell is lingering
Our Take: A complete opening foam padded and the most secure coverage for your paddles as a stellar choice. It can open at 180 degrees that makes it unique.
DURABLE
Clinch Star Ping Pong Paddle Case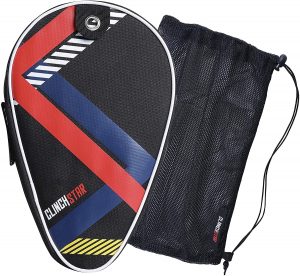 ★★★★
Mesh Pockets
Better Balls Storage
Features:
There are two net mesh pockets inside the casing to secure your paddles and balls
Easily hang your ping pong paddle casing with two specified hooks
Strings are attached inside the casing to fasten the paddles
Also, get a mesh bag that has surprising storage of fifty ping pong balls
Are you going outside for a ping pong game and don't have a spacious wide structured casing for your paddle set?
Then, buy this top-notch roomy paddle that can endure for a lifetime. Also, get a durable carrying cover for ping pong other components.
Specifications:
Case Dimensions: 11 X 6 ¾ X 1 ½ inches
Net Dimensions: 13 ½ X 10 inches
Weight: 0.31 pounds
Color: Black
Sport Type: Table Tennis
Extra Bag For Balls: There is a net made extra baggage for keeping the balls. Now take a bunch of balls with you having this bag because you can store up to fifty ping pong balls for safety. It has a bag toggle strap on it for a quick opening and closing.
A Spacious Cover: This covering for ping pong paddle is specially made spacious for your ease. So you don't have to find here and there for a cover; just look at this masterpiece from The Clinch. You can load two of your top-quality paddles with some balls in the covering.
Hang It Anywhere: Hang where ever you want to because there is a carrying strap attached to the cover. It has a multi-function of carrying in hand or hangs with the hook. Get this great portable bag and enjoy the outside game.
Pros
Made of high-quality fabric that can endure tough drops and keeping your paddles safe
The mesh net bag has a bag toggle strap for a facile carrying
It comes with a smooth elastic zip function
Moderate price
Cons
The covering surface is thin
Our Take: The spacy and durable bag of all time, it is offering a lifetime performance at an accessible price. It comes with an additional net bag that allows you to store up to 50 balls.
PREMIUM
Joola Vision Double Padded Ping Pong Case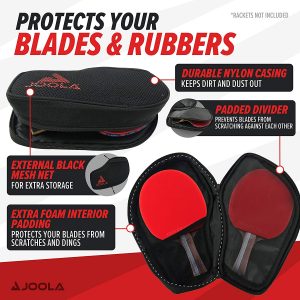 ★★★★
Extra Foam Interior
Rugged Polyester
Features:
There is an extra foam interior padding to protect the paddle from dings and damage
Made with rugged polyester and padded with nylon for extra reliability
A mesh section on the front of the casing for extra storage of equipment
There is a padded divider inside the casing to prevent the paddles from scratching each other
Now traveling with your ping pong paddle set is not a problem because the Joola is bringing you this best casing, which offers you extensive space for your paddle set and protects it from damage and scratches.
Get this fully featured paddle casing for an affordable price. But yes, you do need to have some best table tennis nets too, if you want to have an unmatched experience.
Specifications:
Dimensions: 12.4 inches x 8.1 inches x 2.4 inches
Weight: 0.18 Kilograms
Color: Black
Sport Type: Table Tennis
Protective Surface: A cover made of nylon protects the paddle from dirt and dust, adding up an extra foam interior. The cushion is padded with soft foam, and the zip is molded for flexibility in opening and closing. All these features make this a complete and safest bag for a ping pong set.
It Makes Your Travel Easy: No more issues with traveling because The Joola is bringing this easy carrying bag style cover. There is a big strap that can fit in all hands, making your traveling effortless and cozy.
Commodious Casing: It can hold 2 paddles and four ping pong balls easily without their interaction because an elastic strap is fitted inside, which protects the paddles from the interaction.
Durability: This casing is a name of durability and class it provides. It is manufactured with world-class fabric, nylon, and steel, performing heavy duty in all scenarios and climates.
Pros
Elastic red handling strap for easy gripping
A great choice for long traveling and easy outside playing
There is a big sized zipper for a simple opening
Affordable price
Cons
The casing area is a bit tight
Our Take: Get a protective covering for your set of ping pong with durability for a long-lasting duration making it a versatile choice. Further, it is approved by ITTF and is suitable for both kids and adults.
FAQ Regarding Best Ping Pong Paddle Cases
Q. Why are ping pong paddles so expensive?
Ping pong paddles are expensive when compared with others is due to the fact that these brands are among the most famous brands currently prevailing in the market. Further, the companies are in a constant go for upgrading the technologies used in the manufacturing of these ping pong paddles that reflect on the price tag with which they come.
Q. What is the difference between the red and black sides of a ping pong paddle?
The main difference between the red and black sides of these ping pong paddles is as follows. Red sides are considered to generate the speed of the ping pong during the play. On the other hand, the black side is considered best when generating the spin on the ball while you are playing.
Q. Can you throw your paddle in ping pong?
No, according to the laws of the game, this is completely illegal to throw your paddle while playing the game.
Q. How do I make my ping pong paddle sticky?
For getting the desired stickiness, all you need is to apply the sunflower oil to the rubber of your ping pong paddle. After applying the oil, wait for the oil to dry out and then repeat the same process again and again until you achieve the desired results.
Q. What is the best ping pong paddle?
The best ping pong paddle, according to our analysis and reviews, is Killerspin Hard Table Tennis Paddle Bag and Idoraz Ping Pong Paddle Case.
Best Ping Pong Paddle Cases | Quick Comparison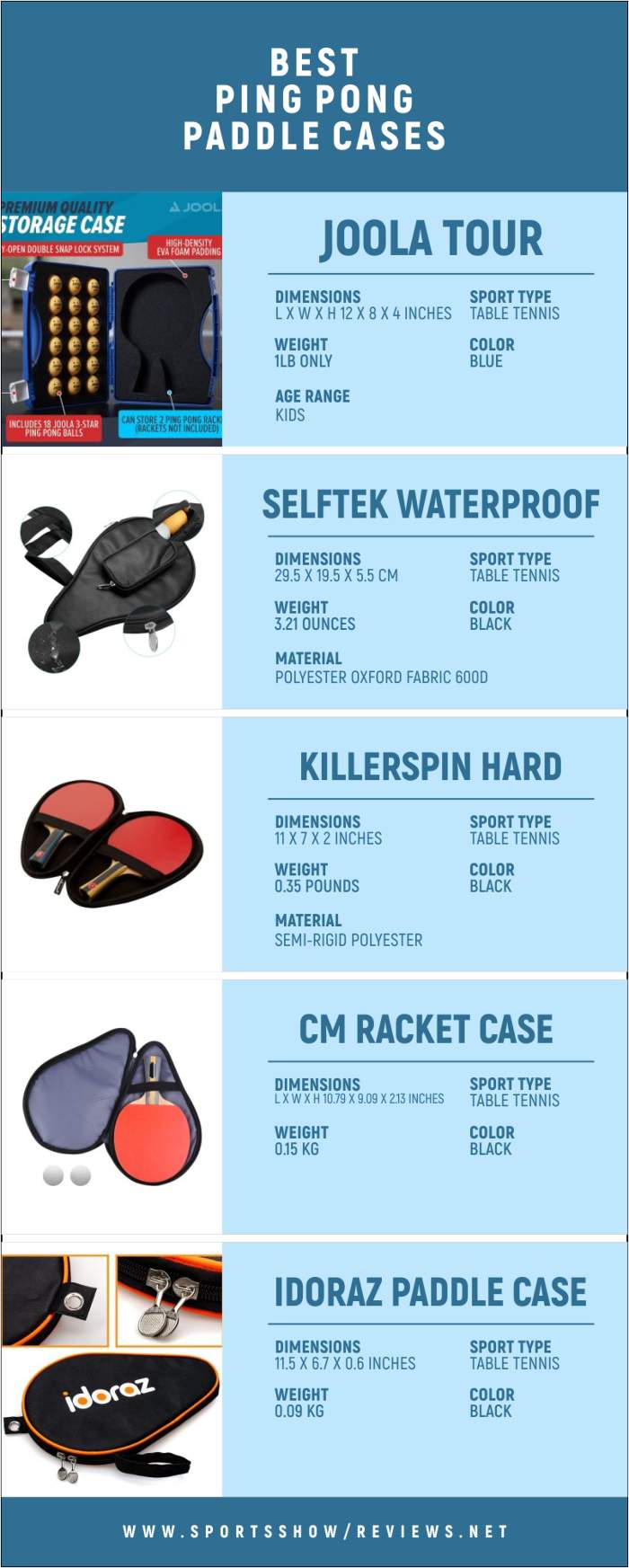 Our Recommendation:
Our 1st recommendation is the Killerspin Hard Table Tennis Paddle Bag as the most stylish paddle casing. The polyester body structure with cushioning exterior and smooth zipper will be your prime selection.
Furthermore, our 2nd recommendation is Idoraz Ping Pong Paddle Case as the best-designed paddle casing. It is perfect for a standard-size ping pong paddle and quick opening/closing aspect with an accelerated zipper. Further, it is labeled a low price tag.
Conclusion
All of the ping pong paddle cases are manufactured with top-notch durability and covering. The exterior will provide a proper and supportive area for protection to maintain the integrity of the stored equipment. Alongside, the wide range of space will let you place a set of paddles easily will proper cushioning.
Furthermore, the zipper straps are smooth to open and close at the same time with fast movement. All of the casings are portable and easy to carry anywhere you go to take them along with yourself.