Do you want to play with the best-performing tennis rackets? Then the best Prince tennis rackets on our list will put a definite end to your chase. These rackets will change the way you think about tennis game by improving your overall game.
Likewise, these tennis rackets have a feature-rich design and sublime performance. Moreover, these rackets come with a range of different features based on different technologies and materials. That being said, you're also getting sublime durability with each pair.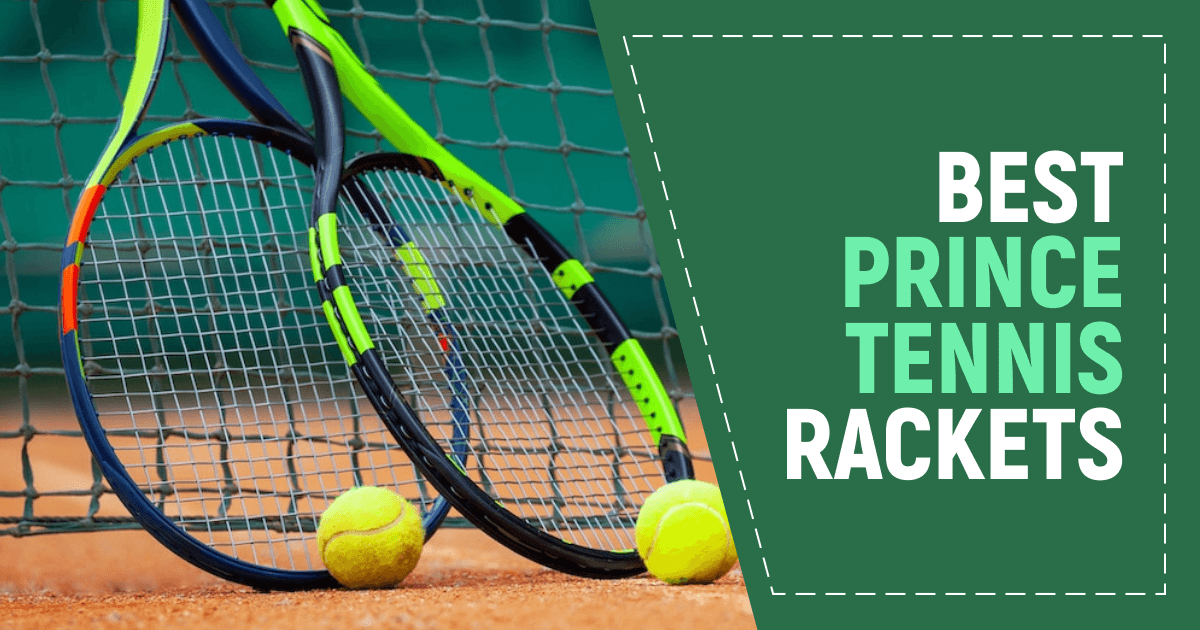 Also, the larger head on these rackets gives you better striking functionality. Additionally, these features differ with each model you'll find on our list. Therefore, players must demonstrate their requirements and buy an ideal pair that fulfills their criteria. Lastly, the size and the durability standards of these rackets are very concerning to every pair, so you must select carefully.
Best Prince Tennis Rackets | Editorial Pick
EDITOR
CHOICE
★★★★★
EXO3 Hornet 100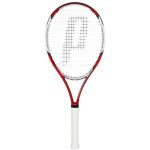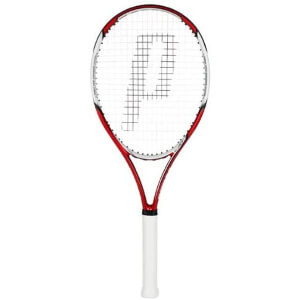 Exo3 Technology
DuraPro Grip
Open String Pattern
TOP
RATED
★★★★★
TeXtreme X Beast 100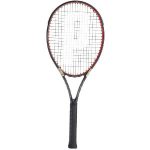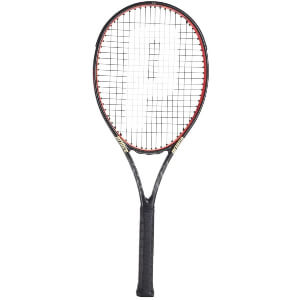 Maximum Control
Excellent Speed
Vibrant Color
BEST
SELLING
★★★★★
TeXtreme Premier 105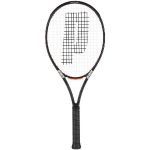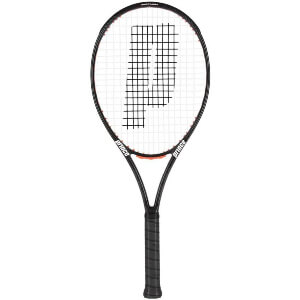 TeXtreme Performance
Unique Body
Extended Length
Best Prince Tennis Rackets | Detailed Reviews
We have recently reviewed the top-rated Yonex rackets and the highest-selling Babolats rackets as well. But, this saga will remain incomplete without reviewing the best rackets from the house of Prince. So, here they are!
BEST OVERALL
Prince EXO3 Hornet 100 Unstrung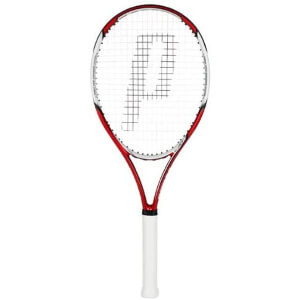 ★★★★★
EXO3 Technology
Excellent DuraPro Grip
Features:
Come with a super lightweight and yet durable design for improving your game performance
Equipping EXO3 technology for a larger sweet spot offering the best power striking capability
Offers open string pattern for reliable spinning functionality
This racket has a DuraPro grip
Experience an exciting fusion of power and reliability in this one of the best prince tennis rackets. This racket is set to perform in all types of tennis courts.
Further, it is lightweight, offering great holding pleasure along with its high standards of durability. Needless to say, it is surely among the best professional tennis rackets to try this year.
Specification:
Head Size: 100 sq. inches
Grip Size: 4 ¼ inches
Weight Unstrung: 275 g
Length: 27 inches
Material: Graphite
Beam Width: 23 / 25 / 23 mm
Stringing Pattern: 16 x 19
Stringing Tension Range: 53 to 63 lbs.
Balance Point: 325
Incredible Craft: This tennis racket delivers brilliant performance under all tough circumstances. It's a powerful blend of performance and authenticity for most professional players. Accordingly, this racket is lightweight while offering a durable frame for stellar toughness.
Larger Sweet Spot: You'll find EXO3 technology inside this promising tennis racket at 12 o'clock position. As a result, you'll get enhanced, and a definite larger sweet spot gives you better-striking capability. In addition, it promises better power and quality control throughout your crucial tennis matches.
Promising Grip: It features a DuraPro grip offering an ergonomic grip so you can hold for longer. In addition, this grip offers a very polite gripping texture with sweat-resistant capability. Therefore, players will no longer need to worry about sweating issues while playing consistently.
A Better Version Of A Tennis Racket: Players are getting a striking open string pattern offering commendable spin for better mobility overall. In addition, it incorporates graphite composite construction holding sublime value of durability and resilience.
Pros
Sweet spot expansion system for an enhanced striking experience
Sublime handling with the DuraPro grip
Durable graphite construction
Offers great mobility with the clever design
A perfect option for most tennis players
Cons
It doesn't generate enough power from the baseline
Our Take: This racket brings sweet spot expansion along with the DuraPro grip for exciting tennis matches. Further, it is perfect for any type of tennis player.
BEST-RATED
Prince TeXtreme X Beast 100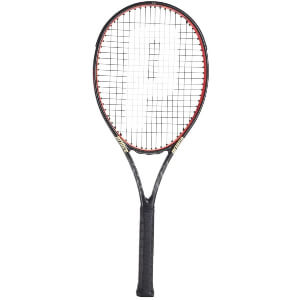 ★★★★★
Unique String Pattern
Premium Graphite Material
Features:
This tennis racket features an all-new string pattern giving you maximum control and strength
It features Twaron offering a great in-hand feel and better striking functionality
Incorporates spread tow construction mixing with graphite offering a tough structure
This racket brings an updated design featuring improvements in the head size and overall structure body. It comes with an incredible tow construction offering high strength and durability on offer.
In addition, the Twaron makes its appearance for a better in-hand feel. Just try it with some high-quality tennis strings to get the best performance with this racket.
Specifications:
Head Size: 100 sq. in / 645 sq. cm
Available Grip Sizes: 4 ¼, 4 3/8 inches
Weight: 454 g
Unstrung Weight: 10.6 oz. / 300 g
Strung Weight: 11.1 oz. / 315 g
Length: 27 inches
Material: Graphite
Stringing Pattern: 16 Mains x 19 Crosses
Tough Built: TeXtreme X Beast 100 comes with a spread tow construction with graphite composite. This promising fusion gives this racket a sublime product life for long-term usage.
Additionally, it is fully resistant against all sorts of damage impacts and harsh striking. Therefore, this racket makes up for a tough body that performs longer than most tennis rackets.
Improved In-Hand Feel: Its structural elements submit great handling experience to most tennis players. This racket features graphite composite that manifests straight fibers giving undeniable strength and stability. Moreover, it also has Twaron offering an excellent in-hand feel along with impressive striking sound.
Blend Of Power: Your favorite tennis racket comes with a unique string pattern offering incredible control in the game. This racket performs consistently without making power/strength compromises.
Additionally, it offers an incredible mix of racquet flex with improvements in the head size as well. Therefore, this racket delivers excellent power with each shot that will put your opposition on the back foot.
Excellent Grip: The racket features a unique gripping texture offering an innovative holding experience under tough conditions. As a result, you'll be able to hold a firm grip on the controller while playing the most important matches with confidence.
Pros
Twaron offers incredible in-hand feel and sound
Unique string pattern gives a certain power and control
Spread tow construction with graphite construction for solid durability
Feathery weight design
Cons
A bit different from the picture
Not for beginner
Our Take: This racket offers you a blend of power and control with straight fibers and Twaron. In addition, it is fit for intermediate to advanced players.
POPULAR CHOICE
Prince TeXtreme Premier 105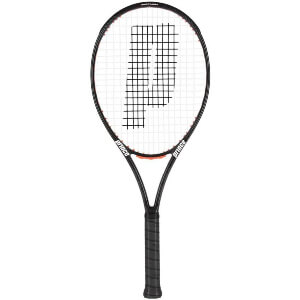 ★★★★★
TExtreme Technology
Improved Stiffness
Features:
Comes with a unique body frame along with the Textreme technology
Textreme materials improve and enhance the racket stiffness offering great responsive hits
Prince power level 1300 string pattern promotes premium striking capability on most tennis courts
The length has been extended, offering improved stability and mobility
The Prince Textreme Premier 105 offers you a fantastic tennis experience with its versatile frame. In addition, its signature Textreme materials provide extraordinary stiffness making it one of the best Prince tennis rackets.
Besides, you'll find a dedicated string pattern for consistent shots during every game's cycle. And just keep it safe in a high-quality tennis kit bag to increase its overall durability in long run.
Specifications:
Head Size: 677 sq. cm / 105 sq. inches
Grip Size: 4 1/8 inches
Weight Unstrung: 9.9 oz. / 280 g
Length: 69.22 cm / 27.25 inches
Beam: 23 mm / 25.5 mm / 23 mm
Tension Range: 53 to 63 lbs. / 24 to 29 kg
Stringing Pattern: 16 x 19
Swing Weight: 322 strung
Balance: 13.45in / 34.16cm / 1 pt. HL
Textreme Technology: The Textreme technology materials are present on the shaft area of this tennis racket. These materials supply stiffness and extra strength to the structure of the racket so you can strike with more response.
Likewise, this capability also increases the central hitting probability for an authentic tennis game.
Power And Control Together: Attain excellent leverage over your tennis matches with this quality tennis racket offering a special string pattern. Moreover, it comes with a power level of 1300 string pattern that ensures consistent power and reliable forgiveness to its players.
Extra Stable: A stable striking racket is very crucial in tennis matches; therefore, this racket delivers precisely that. In addition, the racket has more length of about 27.25 inches, offering a great handling experience for most players. The extended length makes up for a stable and unique ball-striking machine that we all love.
A Brilliant Option For All: TeXtreme Premier racket is a perfect choice for both intermediate and professional level players. This is because this tennis racket has it all, starting from solid design and stable striking functionality.
Pros
Power level 1300 string pattern for consistent striking
Extended length for excellent handling and control
Textreme technology ensures unbelievable stiffness for responsive shots
Cons
The bumper guard is made of weak plastic
The price is a bit high
Our Take: Now you can demand extra stiffness and precision from every shot with this incredible tennis racket for most tennis players.
TOUGH
Prince Textreme Tour 100P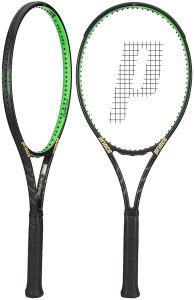 ★★★★★
Supports Best Spin
Responsive Stiffness
Features:
Its frame offers superb spin and sublime directional control for a stellar tennis experience
Combines Textreme and Twaron offering great responsive experience under all circumstances
Offers applaudable head balance supporting consisting racket swinging functionality for promising matches
You can expect a stellar performance from this tennis racket featuring promising spin functionality. Its stiff frame makes every shot super responsive and harsh on your counterparts.
 Furthermore, the tight string construction exalts your tennis game. Just club it with some best-rated tennis balls during your practice session to get an unmatched performance.
Specifications:
Head Size: 100 sq. in / 645 sq. cm
Grip Size: 4 1/8 inches
Unstrung Weight: 10.8 oz. / 305 g
Strung Weight: 11.5 oz. / 326 g
Length: 27 inches
Swing Weight: 290
Composition: Graphite, TeXtreme, & Twaron
Stringing Pattern: 18 x 20
Stringing Advice: 45 – 55 lbs.
Beam Width: 22 mm / 23 mm / 20 mm
Sublime Frame: This tennis racket comes with a depth frame offering incredible spin enough to stress your opposition. Its stable frame also provides directional control on demand. Therefore, you can easily take the lead over your counterpart with its efficient striking.
Professional Experience: You'll find a powerful fusion of Textreme and Twaron for adding more response and power to your shots. Due to this, the racket can also absorb minor or major impacts keeping your experience super stable and efficient. So players can now play professionally by overpowering the opposition.
Mighty Striker: It is super powerful when it comes to striking in your most important tennis matches. This racket has a tight string structure that makes it stiff to feel and hard on each delivery. That's why you can easily corner the other player with your stronger striking functionality through this racket.
Quality Control: Players will receive a great quality with this efficient performer from Prince. Its spinning feature holds the most significant because it helps you deceive the opposition in a fancy role. At last, the racket has an easy to swing functionality because of its headlight balance.
Pros
Comes with a superb blend of Textreme and Twaron
The light head design offers easy swinging functionality
Depth in frame promotes superb spinning
Offers mighty power strikes with its promising and stiff structure
Cons
Lower-powered, not a good option for a player who seeks high power
Our Take: Embrace the best tennis experience with this racket's light head design and incredible spinning functionality.
PROFESSIONAL
Prince EXO3 Warrior Team Unstrung

★★★★
Exo3 Technology
X-Cross String Pattern
Features:
Comes with an EXO3 technology expanding its hitting area for fewer miss-outs
This promising racket features a mid-beam along with headlight balance providing excellent stability
Incorporates graphite construction completing durable profile
Promising string pattern mains X crosses with powerful frame technology
Dominate your opposition with this one of the best Prince tennis rackets offering EXO3 technology on top of everything. It offers a very bold response to every strike with its unique string in action.
Also, its lightweight design makes it a perfect racket to handle, even for a beginner.
Specifications:
Head Size: 100 sq. inches
Grip Size: 4 1/8, 4 ½ inches
Grip: ResiPro
Unstrung Weight: 280 g / 9.9 oz.
Swing Weight: 290 g
Length: 27 inches
Material: Graphite
Stringing Pattern: 16 x 19
Cross Section: 24, 26, 22 mm
Power level: 1000
Stability: This tennis racket comes with an excellent mid-beam with added headlight balance promoting superb balance. Its headlight balance helps you carry out a free flow of arm movement. As a result, players can play freely with superb stability that excels.
Consistent Strikes: It features an EXO3 technology offering a sublime string pattern for extra-responsive shots. Each strike gives you pleasure and control that carries throughout your tennis matches. Players can put their opposition on the back foot by playing all across the tennis court.
Graphite Construction: You're getting a graphit construction on this tennis racket fulfilling most durability standards. It is super resilient against impacts, so you can play with full confidence. Additionally, this racket can even endure minor drops, so you're on a safe spot even when there's a drop accident.
Unique Grip: Many players complain about the slipping troubles of their tennis rackets during matches but no more. ResiPro grip on this racket gives you maximum holding pleasure. In addition, this unique grip is known to have endurance against sweating and slipping, so you can play without boundaries.
Pros
It gives consistent shots due to EXO3 technology
Solid construction courtesy of graphite construction
Comes with a headlight balance for added stability of shots
The price is low
Cons
The string construction isn't durable
Our Take: Experience sublime tennis matches courtesy of this racket's EXO3 technology and headlight balance for stable strikes.
ALL-BLACK
Prince Phantom 107G

★★★★
Incredible Power Delivery
Graphite Composite
Features:
Promises incredible power with a fantastic frame that is compatible with most modern baseliners
It offers a great blend of speed and stability without sacrificing quality
Graphite composite promises sublime durability for most players
Prince Phantom 107G introduces an iconic design that offers extraordinary speed and balanced shots.
Furthermore, it ensures excellent resistance and endurance in building quality, forming a shield through graphite OS having a crossbar design. Therefore, you'll achieve the best tennis match experience overall.
Specifications:
Head Size: 107 sq. in / 690 sq. cm
Grip Size: 4 3/8 inches
Unstrung Weight: 10.8 oz. / 305 g
Strung Weight: 11.4 oz / 323 g
Length: 27 inches
Material: Graphite & TeXtreme X
Swingweight: 319.
Stringing Pattern: 16 Mains x 19 Crosses
Enhanced Power: This tennis racket delivers maximum power through its purposeful frame. The head has a very stiff feel, and every strike becomes a firing shot back to your opponent. Therefore, players can strike with full control and speed to take the lead in their most crucial matches.
High-Standards Of Durability: You'll achieve excellent durability standards with this tennis racket. Most rackets have a fragile frame, and they often break with minor drops.
Now, this complaint is no longer present with this excellent tennis racket featuring graphite composite construction. In addition, this frame is there to stay for long-term usage without facing quality declines.
Responsive Feel: Each shot gives off a very special feel to its players. A shot feel is something that shouldn't be absent on any professional tennis racket. Fortunately, this racket's frame is compatible with most modern baseliners offering commendable strength and feel.
Moreover, its construction offers a very responsive functionality when striking back to the opponents. Thus, players can now strike with full pleasure due to sublime features. It offers responsive behavior and strength at the same time.
Oversize Design: You're lucky to find this racket in oversize design, offering greater maneuverability and control. Therefore, you can have excellent quality control without putting performance on the back foot.
Pros
Offers exceptional striking speed
High standards of durability for long-term usage
Provides responsive feel
Enhances frame for better performance
Cons
A customer reported a heavy handling grip
Our Take: Start multiplying your leads with this tennis racket offering responsive strikes and incredible maneuverability.
LIGHTWEIGHT
Prince TeXtreme Beast 104 Pink 260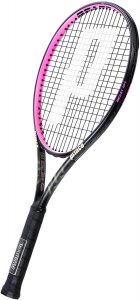 ★★★★
TeXtreme Aramid Fiber
Enhanced Comfort
Features:
TeXtreme spread tow having aramid fiber construction to absorb the vibration factor
The comfort level has been enhanced here
The string pattern is 16 x 19 that provides stable shots
A 23, 25, 22 mm size beamwidth with accurate measurements
Get yourself a combo of power and control at the same time with the advanced structure TeXtreme Beast series.
It is perfectly compatible for young players and beginners with the improved durability factor and enhanced placements. Alongside, the shooting aspect got more power than ever for thunder shots.
Specifications:
Head Size: 104.01 sq. in / 671 sq. cm
Grip Size: 0: 4 Inches
Unstrung Weight: 9.2 oz. / 260 g
Weight: 0.26 kg
Length: 27.01 in / 68.6 cm
Material: Graphite
Beam Width: 23, 25, 22 mm
Stringing Pattern: 16 x 19
Balance Unstrung: 13.39 in / 34 cm
Body Construction: A unique design with graphite composition will give you a much improved controlling attribute to cover the tough shots. In addition, the players will get ample room for the shots along with a quick response of the head joints given by the manufacturers.
Supportive Head Size: This racket has a 671 square cm size head structure which enhances the tolerance level of the overall racket construction. As a result, you can get center-level shots on the racket without getting the foot disturbed.
Power And Spin Factors: Senior players can also experience a powerful impact on the shots in this racket with the premium level head size and tolerant design. The ReSIPRO grip style, also with an optimized spin factor, will let you have proper control over the game.
Pros
All type of players can get this versatile playable tennis racket
Improved spinning structure with a firm grip
Vibration absorbing technology with a stable design
Cons
High price
Not designed for kids
Our Take: A highly modified tolerant design with TeXtreme spread tow structure comes with improved comfort and power characteristics.
FAQ Regarding Best Prince Tennis Rackets
Q. What are the best Prince tennis rackets?
Prince tennis rackets give a new and improved experience to the players. Their best rackets are EXO3 Hornet 100 Unstrung Tennis Racquet, TeXtreme X Beast 100 Tennis Racquet, and TeXtreme Premier 105 Tennis Racquet.
Q. Are Prince tennis rackets good?
Those difficult circumstances daunted Prince from competing effectively. Nevertheless, Prince still makes excellent racquets, and Prince's tennis racquets are considered the best in the world. Prince Racquets are recommended and used by tennis pros like Lucas Pouille and John Isner.
Q. What pro tennis players use Prince racquets?
Prince TeXtreme X Beast 100 Tennis Racquet is suitable for pro players.
Best Prince Tennis Rackets – Quick Comparison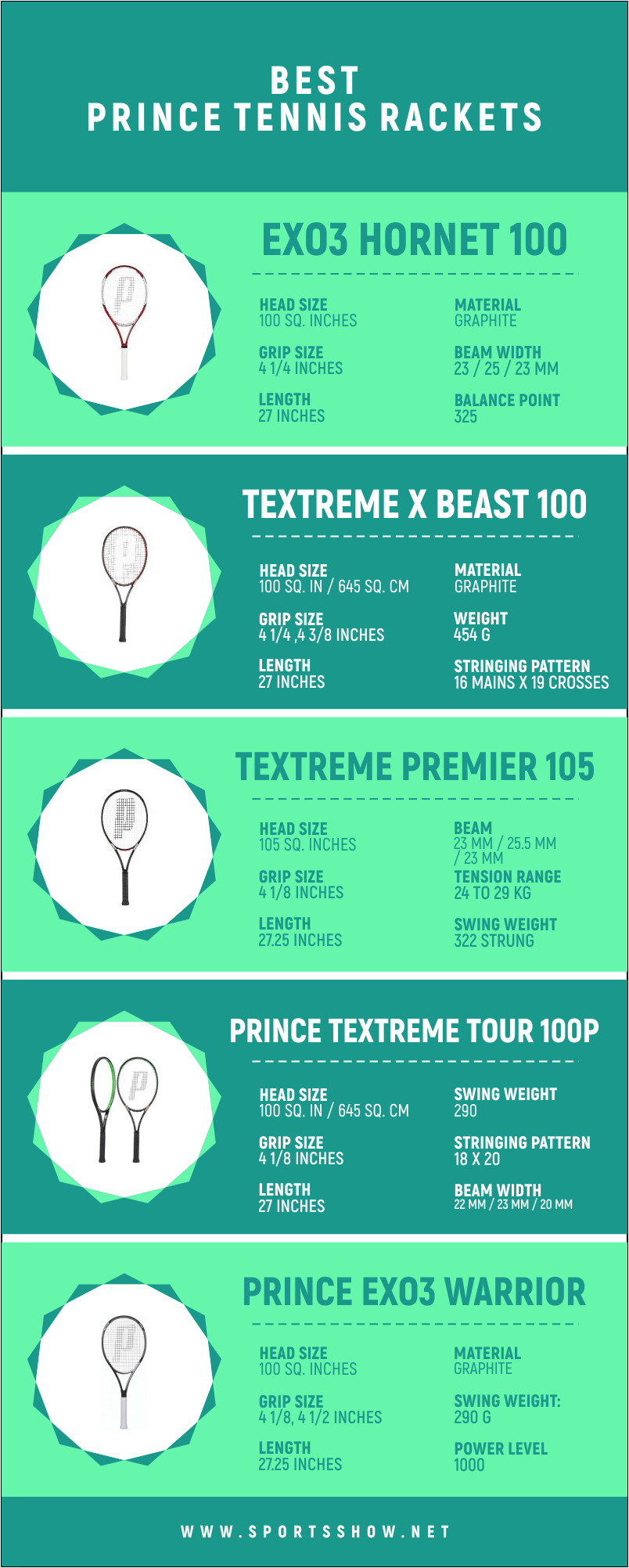 Our Recommendation:
Our 1st recommendation is the Prince TeXtreme Beast 104 Pink 260 Adult Tennis Racket as the premium design tennis racket. Powerful shot compatibility with enhanced tolerant design also comes with a vibration-absorbing factor.
After that, our 2nd recommendation is the Prince TeXtreme X Beast 100 Tennis Racquet as the best structure tennis racket. Having graphite body construction and stable levels of spin & controlling aspects for the players.
Conclusion
So, now we can surely conclude that these are the best prince tennis rackets having professional playing structure and firm construction. Alongside, the head size formation of each racket comes with improved comfort and tolerance factor even the power impact is enhanced here.
Moreover, these rackets' handling grip and string pattern will maintain an enhanced stability level for the senior players. Young and beginners can also get rackets with compatible spin and controlling levels for them.