American high-school basketball star LeBron Raymone James Jr., famously known as just Bronny James, currently plays for the Sierra Canyon School in Los Angeles. He is the son of legendary basketball star LeBron James. Following his family legacy, Bronny started to show his interest in basketball from a very early age. He started practicing under the guidance of LeBron James and started to shine in his early school days.
| | |
| --- | --- |
| Full Name | Bronny James |
| Date of Birth | October 6, 2004 |
| Age | 17 years |
| Profession | Basketball player |
| Height | 5'2" feet |
| Weight | 180 lbs |
| Siblings | Three |
| Father Name | LeBron James |
| Net worth | $10 million |
Bronny James 2023 Biography, Net Worth, and Many More
Since his early school days, he started to show his sign to be a good basketball player. Several NBA scouts of the best basketball teams have already started to consider him as a future prospect. Besides, the American sports media also consider him the true heir of his father and one of the greatest basketball players of all time, LeBron James.
Bronny showed immense dedication and love for basketball during his time with Sierra Canyon School. And with days, he is expected to improve much further.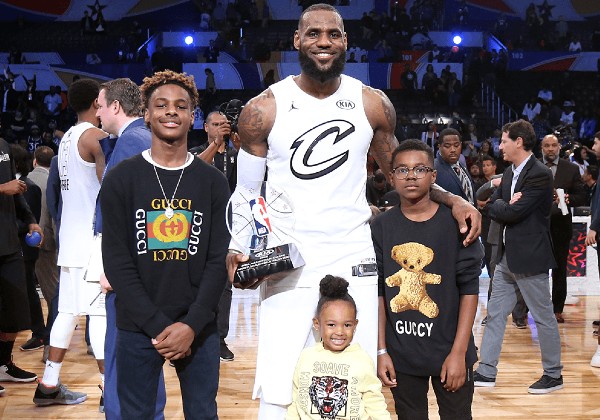 Bronny James Early Career
He started growing an interest in both soccer and basketball during his early childhood days. His father, LeBron, restricted him from playing American football or ice hockey for safety concerns.
He achieved his first media attention after starring in the basketball highlight reels in 2014. Bronny then led his middle school team, Old Trail School in Ohio, to win the Independent School League tournament in February 2018.
Following his success with Old Trail, he received an invitation to play for several teams. And he spent with several teams before joining the high school. He participated in the Amateur Athletic Union at that time.
Bronny started playing for the Miami City Ballers when he was just nine years old. During that time, he caught the attention of John Calipari, the head coach of Kentucky Wildcats. He also led the Gulf Coast Blue Chips AAU team to win the Hype Sports Summer Jam in 2015.
Bronny James Amateur League Career
He led the North Coast Blue Chips team to win the John Lucas All-Star Weekend title in March 2018. Shortly after, he led the team to win the NY2LA Swish 'N Dish tournament on 2nd April 2018.
He also led the team to finish undefeated during that season. Bronny represented the Blue Chips in the Midwest Championships of the Junior National Basketball Association in June that year. He also successfully led the team to the quarterfinals during that stint.
Bronny joined the AAU team Strive for Greatness in April 2019 and started participating in the U-16 Nike Elite Youth Basketball League. During that time, he attracted praise from several scouts.
He joined the Crossroads School in California on 6th August 2018. Immediately after joining, he scored 27 points for his team in his very first match against Culver City Middle School on 3rd December 2018.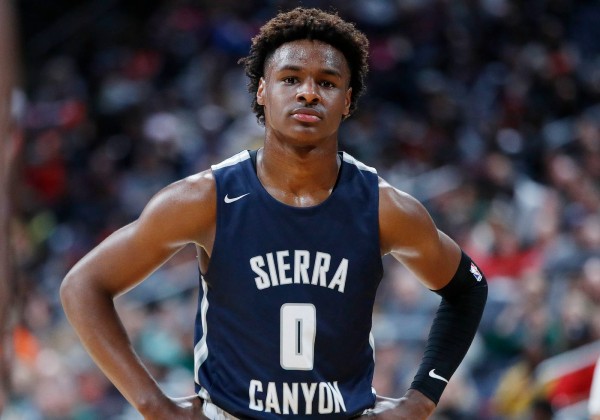 Bronny James High School Career
He took his transfer to the Sierra Canyon School in Los Angeles on 29th May 2019. And in his freshman year, he joined with Zaire Wade, the son of one of the leading point scorers in the NBA, Dwyane Wade.
Other five-star recruits such as BJ Boston, Ziaire Williams, and Bronny's own brother Bryce also joined the Sierra Canyon, making him one of the strongest basketball teams in high school basketball competitions.
The buzz became so huge that ESPN aired 15 of their games on national television. Bronny made his debut for the Sierra Canyon in a match against Montgomery High School on 21st November 2019.
He then earned his first high school MVP award in a match against St. Vincent-St. Mary High School on 14th December 2019. During his freshman year, he started in all 34 games of the season and averaged 4.1 points per game.
Bronny James Recruitments
Thad Matta, the head coach of Ohio State Buckeyes, jokingly once said that he wished to recruit Bronny when he was just nine years old. And by the start of the 2015 basketball season, several colleges from around the country offered him basketball scholarships.
However, his father restricted him from any recruit as Bronny continued his regular middle-school program. He currently has scholarship offers from Kentucky and Duke University.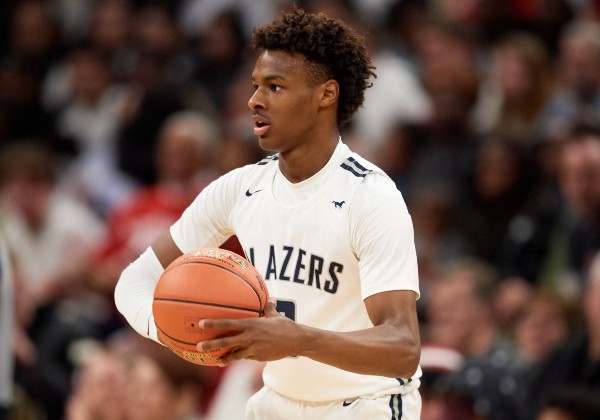 Bronny James Childhood
Born on 6th October 2004, Bronny is the first child of LeBron James and his long-time girlfriend Savannah Brinson. He grew up under the supervision of both of his parents.
He spent his time in Ohio along with his younger brother Bryce James and his younger sister Zhuri James. Bryce was born in 2007 and is three years younger than him, while Zhuri was born in 2014.
Bronny James Personal Life
Chris Paul, the legendary basketball player, and ten-time NBA All-Star, is the godfather of Bronny. He previously wore a "Number 0" jersey as a tribute to his favorite basketball player, Russell Westbrook.
However, he started wearing "Number 23" in his eighth grade to honor his father's original jersey number. He currently plays as either the point guard or shooting guard position for his high-school team.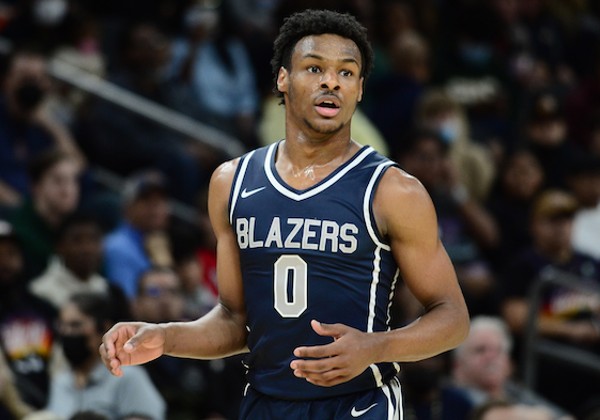 Bronny James' Net Worth
According to the current financial reports for 2021, the net worth of Bronny James is estimated to be around $10 million as of the ongoing basketball season.
Although he doesn't earn his high school participation, he inherited some of his father's property. It is just a fragment of the unbelievable net worth of LeBron James.
FAQs Regarding Bronny James
Q. When can Bronny James be drafted?
James won't be able to participate in the NBA Draft until 2024. The current Los Angeles Lakers forward stated that he would love to play with Bronny last year.
Q. Is LeBron James going to play with his son Bronny?
During an interview with Jason Lloyd of The Athletic, James revealed he would like to play his last season with his son Bronny. "Wherever Bronny is at, that's where I'll be. I would do whatever it took to play with my son for one year. It's not about the money at that point."
Q. Will Bronny James make it to the NBA?
As Bronny James will turn 19 early in 2023, he is eligible to enter the NBA Draft once he is a year removed from graduation.  Meanwhile, LeBron will turn 39 in 2023-24.
Q. What is the real name of Bronny James?
"Bronny" James (Bronny Raymone James Jr.; born October 6, 2004) is an American high school basketball player who is a student at Sierra Canyon School in Los Angeles. LeBron James' eldest child. 
Q. What is the wingspan of Bronny James?
On 10 of 16 shooting, he scored 23 points, had six rebounds, and showed his range in the paint. USC's product has drawn comparisons to Anthony Davis because of his 7'4" wingspan and defensive presence.
Last Updated On: December 2023