Grand Prix motor racing has its roots in organized automobile racing that began in France as far back as 1894. And here are the top 10 Grand Prix motorcycle racers.
Grand Prix Motorcycle Racers
It quickly evolved from a simple road race from one town to the next to endurance tests for cars and drivers. Innovation and the drive of competition soon saw speeds exceeding 100 miles per hour (160 km/h).
10. Colin Edwards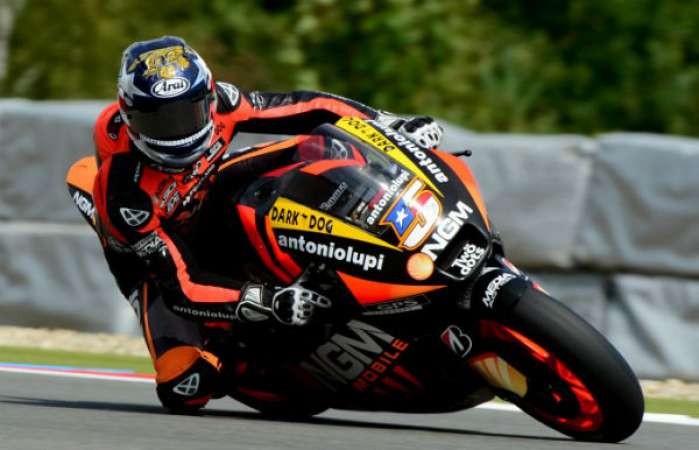 Edwards is a 39-year-old American professional motorcycle racer. He is a two-time World Superbike champion and a record holder for the most points in a single season, with 552 in the championship.
Besides, 'Texas Tornado' Edwards finished 14th in the 2013 MotoGP World Championship standings with 41 points. He has a yearly salary of $950,000.
Grand Prix motorcycles are purpose-built racing machines. Those are neither available for purchase by the general public nor able to be ridden legally on public roads.
This contrasts with the various production-based categories of racing, such as the Superbike World Championship and the Isle of Man TT Races that feature modified versions of road-going motorcycles available to the public.
9. Andrea Dovizioso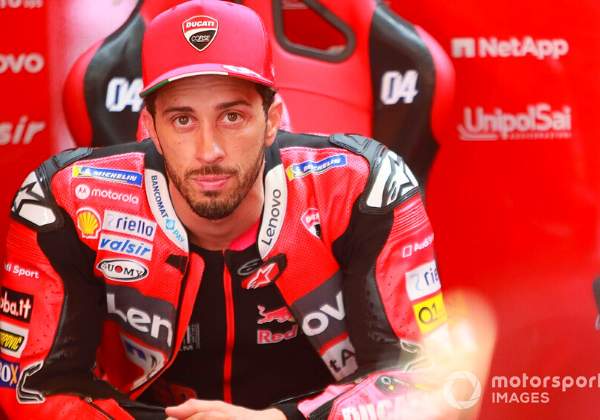 Dovizioso won the 125cc World Championship in 2004. He moved up to the MotoGP class in September 2007. He then achieved a highly creditable fourth-place finish in his premier class debut.
Dovizioso becomes one of Honda's most consistent riders throughout that season, finishing fourth and fifth several times. He also achieved the 3rd place podium finish at the Malaysian MotoGP at Sepang.
8. Cal Crutchlow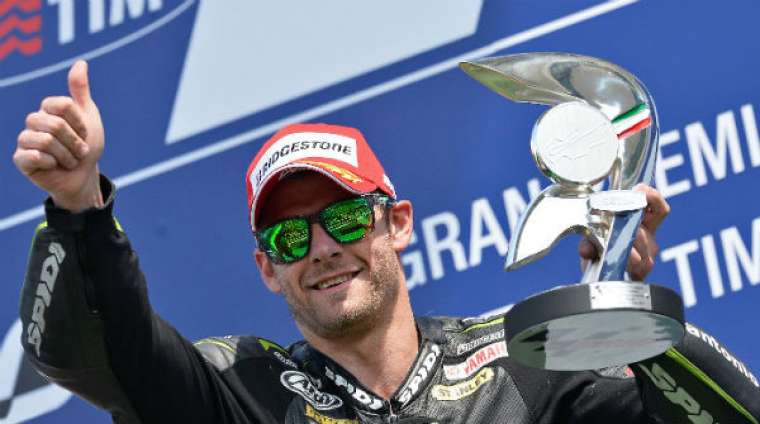 Crutchlow is an English Grand Prix motorcycle racer. This former British Supersport Champion is a British Superbike race winner and the 2009 Supersport World Champion.
He began competing in the MotoGP class in 2011, joining Tech 3 for the 2013 MotoGP Championship. The 28-year-old finished the season in 12th position and was named the "Rookie of the Year."
7. Alvaro Bautista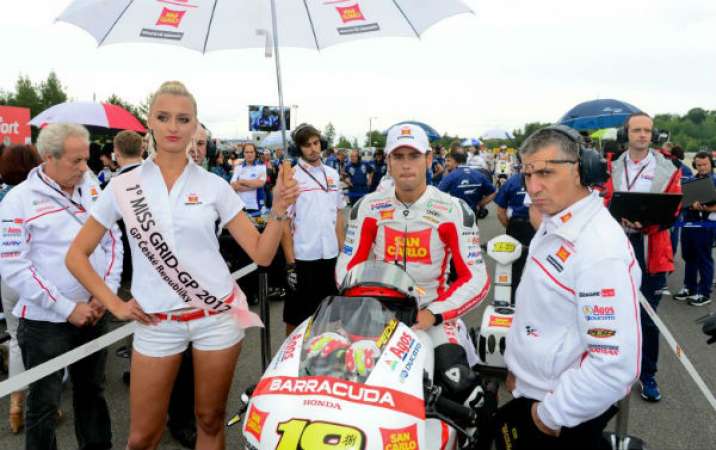 Bautista made his way into MotoGP in the 2010 season, after signing with team Suzuki. He currently drives for the Honda-equipped Gresini Racing team with bike number 19.
Bautista made his international debut in the 2002 Grand Prix motorcycle racing season.
6. Stefan Bradl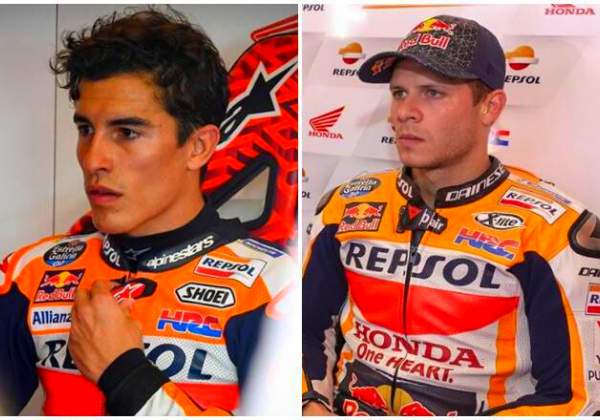 Bradl is a German Grand Prix motorcycle racer currently riding bike number 6 for the LCR Honda team in the MotoGP class. He moved up to the Moto2 class of Grand Prix racing in 2010.
The 2011 season was his most celebrated time at that level. In 2011, Bradl spectacularly won the World Championship.
5. Nicky Hayden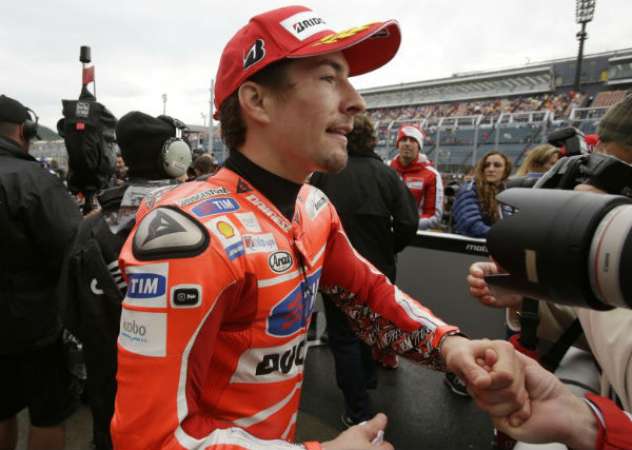 Nicky Hayden won the MotoGP World Championship in 2006 riding for Honda. His 10-year relationship with Honda, which lasted from 2003 to 2008, ended in September 2008, after it was announced that he would be joining the Ducati Marlboro Team for the 2009 MotoGP season.
Hayden has 3 MotoGP wins and 28 MotoGP podiums under his belt. He finished 9th in the 2013 Championship with 126 points.
4. Marc Marquez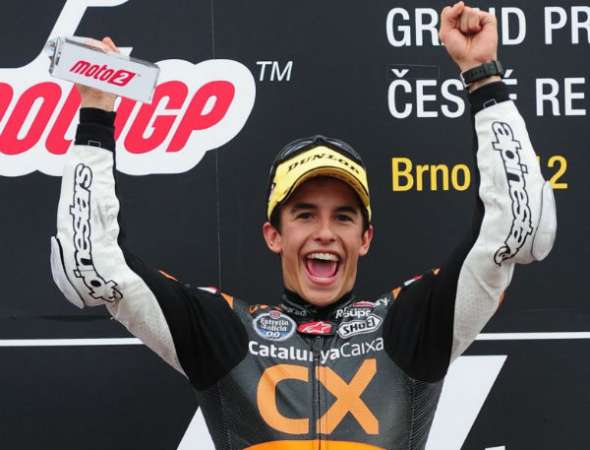 At the 4th position of Top 10 Grand Prix Motorcycle Racers, Marc Marquez won the 2013 MotoGP World Championship, becoming the youngest world champion in the class at the age of 20. Marquez is one of the four riders to win at least one 125 ccs, Moto 2, and MotoGP World Championship.
The 28-year-old Spaniard drives bike number 93 for the Repsol Honda Team. He has a yearly salary of $4 million and holds his place among the highest-paid athletes.
3. Dani Pedrosa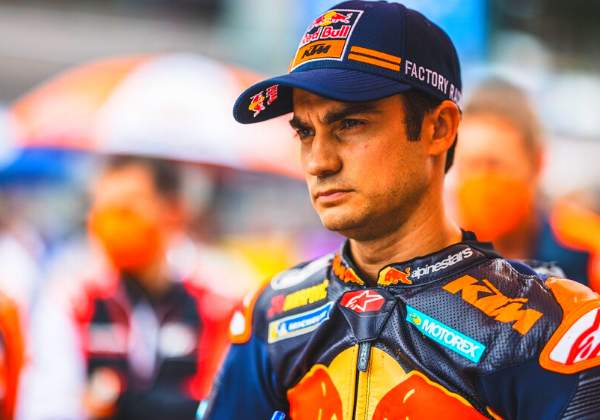 At the 3rd position of Top 10 Grand Prix Motorcycle Racers, Dani Pedrosa is a Spanish Grand Prix motorcycle racer who has been riding for the Repsol Honda team in the MotoGP class since 2006.
He won the 125cc World Championship in 2003 and the 250cc World Championship in 2004 and 2005, becoming the youngest world champion in the 250cc class. Pedro is also the second-youngest winner in the Premier Class after winning the Chinese Grand Prix race in May 2006.
2. Jorge Lorenzo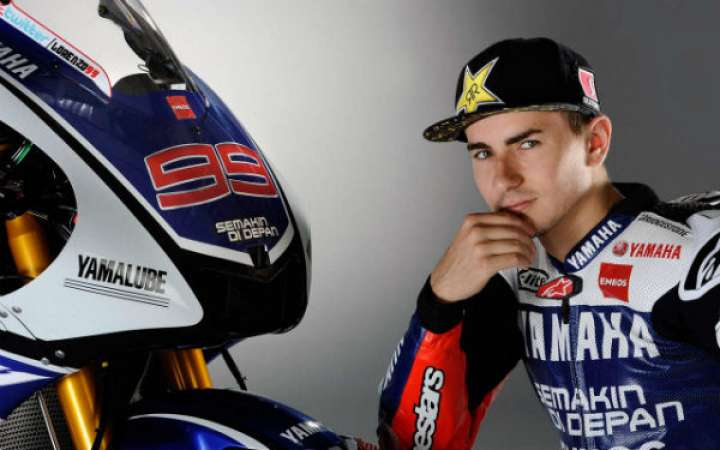 At the 2nd position of Top 10 Grand Prix Motorcycle Racers, Jorge Lorenzo Guerrero is a professional Spanish Grand Prix motorcycle road racer. He is the 2006 and 2007 250cc World Champion and 2010, 2012, and 2015 MotoGP World Champion.
Lorenzo currently competes in the MotoGP class, riding for the Yamaha team. He is signed up to race for Ducati from 2017. Apart from his three titles in the premier class, Lorenzo has also finished as runner-up on three occasions.
1. Valentino Rossi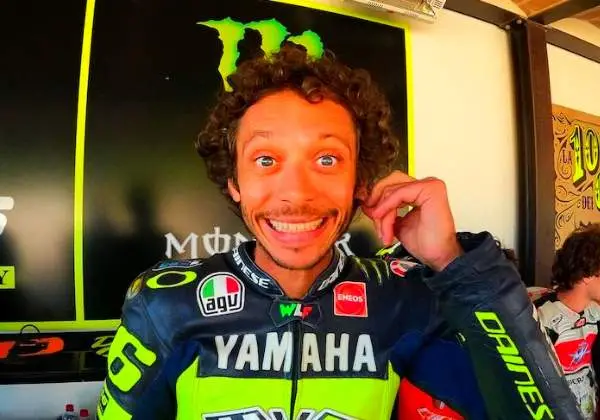 At the number 1 spot of Top 10 Grand Prix Motorcycle Racers, Valentino Rossi is an Italian professional motorcycle racer and multiple MotoGP World Champions.
He is one of the most successful motorcycle racers of all time, with nine Grand Prix World Championships to his name – seven of which are in the premier class.
Conclusion
So, these were the top 10 Grand Prix motorcycle racers. Feel free to share your thoughts in the comments down below.
Grand Prix Motorcycle Racers – Infographics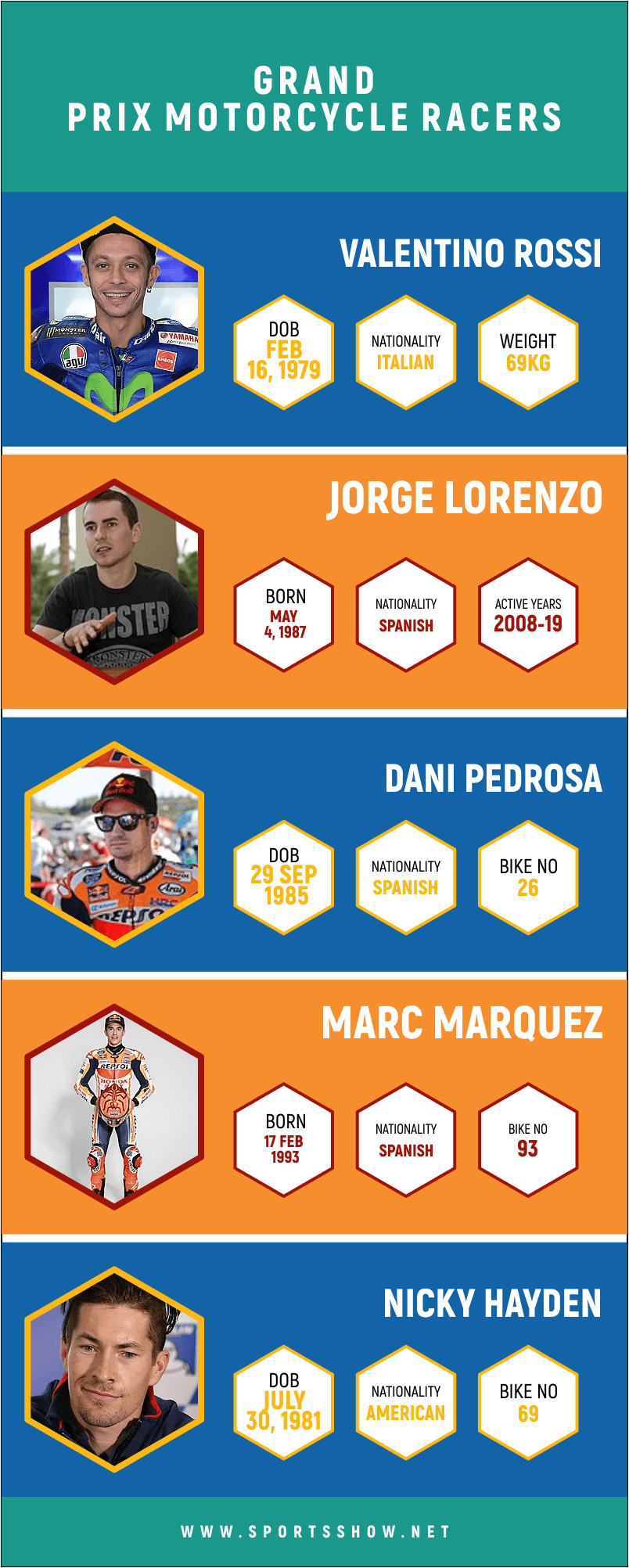 FAQs Regarding Grand Prix Motorcycle Racers
Q. Who is the greatest MotoGP rider ever?
Valentino Rossi is regarded as the greatest MotoGP racer of all time, having won seven world championships, having finished on the podium in 199 races, and having competed in over 400 races. 
Q. Which rider is the fastest in the world?
In a world record, Denise Mueller-Korenek clocked a speed of 183.932 miles per hour, setting a new cycling record. In a specially fitted dragster driven by Shea Holbrook, she set the time on Utah's Bonneville Salt Flats.
Q. How many races has Rossi won so far?
It is no small feat to race longer than many of his competitors have been alive – and he had nothing else to prove. With 414 races across all classes, Rossi won nine World Championships, 115 victories, and 235 podiums during his legendary career. 
Q. Does motorcycle racing cost a lot?
It can be prohibitive to become a part of this enthralling experience. Motocross racing can cost anywhere between $2,000 and $20,000+. Dirt bike purchases, accessories, gear, maintenance, engine rebuilding, and race fees make up most of the cost.
Last Updated On: January 2022