Former NFL star and American football coach Kliff Timothy Kingsbury, famously known as just Kliff Kingsbury, currently works as the head coach of the National Football League franchise Arizona Cardinals. After his long sting with Texas Tech, he joined the Cardinals as the replacement of Steve Wilks in January 2019. He started coaching his alma mater, Texas Tech University, in 2013 and continued the job till 2018.
| | |
| --- | --- |
| Full Name |  Kliff Kingsbury |
| Date of Birth | August 9, 1979 |
| Age | 43 years old |
| Profession | Football coach |
| Marital status | Relationship |
| Children | N/A |
| Spouse | N/A |
| Height | 5'3" feet |
| Weight | 220 lbs |
| Siblings | one |
| Father Name | Tim Kingsbury |
| Net worth | $14 million |
Kliff Kingsbury Biography and Stats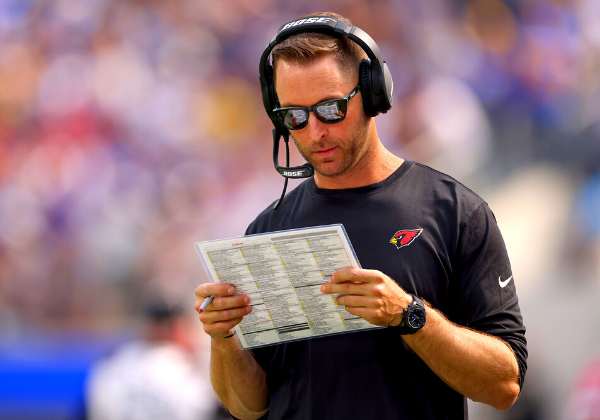 Kingsbury has several passing records in the NCAA Division I during his playing career. Besides, he also became a part of the NFL franchise New England Patriots. He achieved the Super Bowl XXXVIII as a part of the Patriots in 2003. After ending his career as a professional footballer, he started working as an assistant coach at the University of Houston in 2008. After three seasons, he joined Texas A&M University as an offensive coordinator in 2012.
Kliff Kingsbury High School Career
Kingsbury started his American football journey while playing for the New Braunfels High School in Texas. He started practicing under his father, Tim, who was also the coach of his high school at that time. Besides American football, he also started playing basketball and baseball during that time. He represented the track team of his school besides being a part of the football, baseball, and basketball teams.
He led his high school team to the semifinals of the Class 5A Division II. And during that time, he had 3,009 throwing yards along with 34 touchdowns under his name. He took part in the Texas High School Coaches All-Star Game and became the MVP. And for his sports and academic excellence, he achieved his place in the Academic All-State. Texas High School Football recently inducted him into their Hall of Fame in May 2018.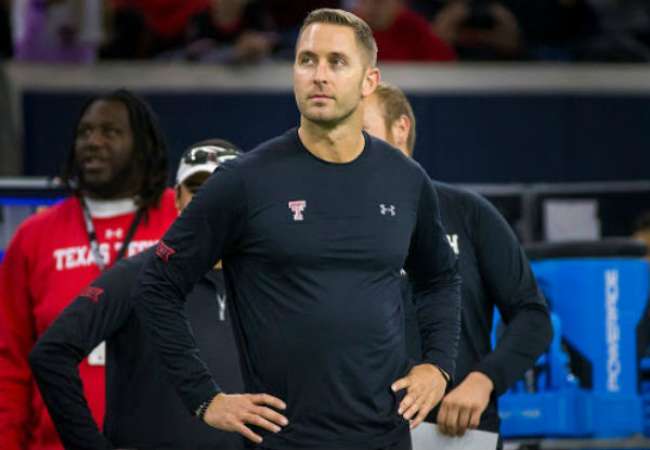 Kliff Kingsbury College Career
He started playing for the Red Raiders team of Texas Tech University in 1998. First, he played under head coach Spike Dykes in the 1998-99 college football season. And then he played under coach Mike Leach between 2000 and 2002. During her college career, he completed 12,423 yards and 95 touchdowns in total in 43 games for the Red Raiders. He became a part of both the All-District first-team and All-Big 12 Conference second-team as a junior in 2001.
He completed 3,502 yards with 25 touchdowns in his junior year in 2001. Besides, he also played extremely well in the 2002 college football season. And for that, he achieved the Sammy Baugh Trophy as the best college passer of the 2002 season. He became both the Verizon Academic All-American and Player of the Year and Associated Press Offensive Player of the Year in 2002. Moreover, he also achieved his place in the All-Big 12 Conference first-team.
Kingsbury became the only second player besides Graham Harrell to defeat both the Texas Longhorns and Oklahoma Sooners as a quarterback in their college career. He also became the third player ever to achieve 10,000 throwing yards along with 1,000 passes in his college football career. Besides, he achieved his place among the only four players to throw more than 3,000 yards per season for three consecutive college years.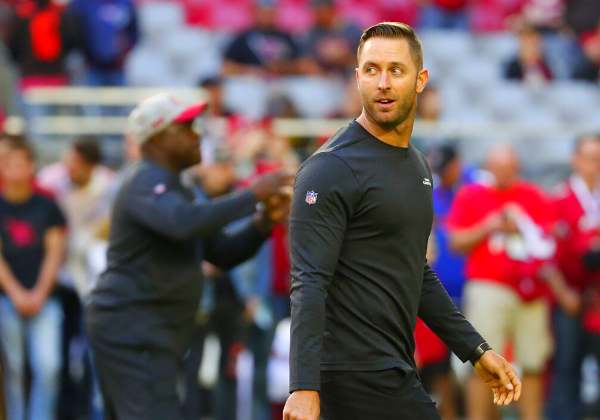 Kliff Kingsbury NFL Career
New England Patriots selected Kingsbury as the 6th round 201st overall pick during the 2003 NFL Draft. However, he suffered a tragic injury in his arm that year and failed to play any game in his rookie year for the Patriots in 2003. The team then released him on 6th September 2004. Following his departure, he signed a new contract with one of the best NFL teams, the New Orleans Saints, in 2004. However, he failed to make an appearance in regular-season games.
Kingsbury then took his transfer to Denver Broncos on 6th September 2005. After spending just 15 days with the practice squad, the team released him on 21st September 2005. Shortly after, he signed a new contract with the New York Jets on 28th September 2005. He then finally made his NFL debut against Denver Broncos on 20th November 2005. He then opted for his transfer to Buffalo Bills in 2006 but failed to make it to any regular-season games.
Kliff Kingsbury CFL Career
Following his NFL career, he signed a new contract with the NFL Europe franchise Cologne Centurions in 2006. That team played just three seasons in NFL Europe before retiring in 2007. During his time with Centurions, Kingsbury completed 58 out of 102 passes with 633 passing yards. Besides, he also has a 56.9 completion percentage for that team. Moreover, he has 73.7 ratings, the highest among quarterbacks, during that time.
He then took his transfer to Canadian Football League and signed a new contract with the CFL franchise Montréal Alouettes on 30th March 2007. Shortly after, the Alouettes traded him to fellow CFL franchise Winnipeg Blue Bombers on 20th June 2007 as an exchange for Brad Banks. He played as a third-string quarterback for the Blue Bombers during the 2007 CFL season, only behind Kevin Glenn and Ryan Dinwiddie.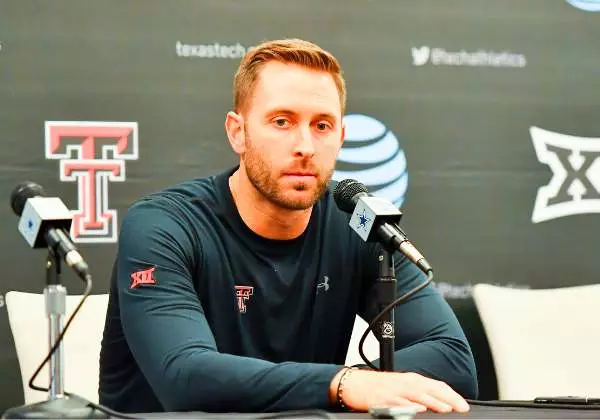 Kliff Kingsbury Coaching Career
Kingsbury first joined the University of Houston as a quality control staff in August 2008. He worked towards the advancement of the Houston offense and received recognition in 2009. Kingbury then earned his promotion as the quarterbacks' coach and co-offensive coordinator following the departure of Holgorsen to Oklahoma State University. He then gained the trust of then-coach Kevin Sumlin and became the Offensive Coordinator in 2011.
Under his guidance, Houston led all the offensive categories, including yards and points, in NCAA in the 2011 season. Shortly after, he took his transferred to Texas A&M and became the offensive coordinator in the 2012 season. Under his guidance, the Aggies achieved their ranks among the top 15 of the NCAA statistics in all the rushing, passing, total, and scoring offenses. They also led the Southeastern Conference with Kingsbury achieving the Offensive Coordinator of the Year award.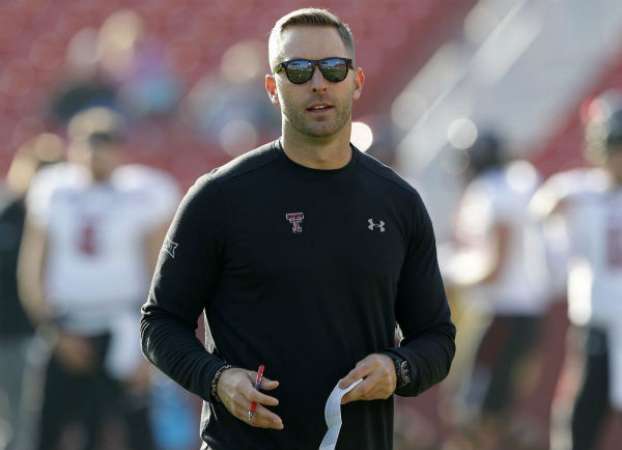 Kliff Kingsbury Texas Tech Career
Following the departure of then-coach Tommy Tuberville to Cincinnati, Kingsbury took charge of his alma mater, Texas Tech, as their full-time head coach on 12th December 2012. And with that transfer, he became the second-youngest head coach in the AQ conference. Moreover, he also became the third-youngest coach ever in college football. He signed a 5-year contract with Texas worth $10.5 million.
Since signing that contract, he has had complete creative control over the uniform of the Texas team. He made his coaching debut against SMU Mustangs on 30th August 2013. Texas won that match with a 41–23 score. Shortly after, the Red Raiders defeated TCU on 12th September 2013. That glorious win achieved them a place among the Top 25 debut by the Associated Press. Kingsbury then signed a new contract extension with a $3.5 million yearly salary on 29th August 2014.
That new contract guaranteed Kingsbury a $200k raise per year with a maximum of $5.5 million in salaries in 2020. Since 2015, the Raiders lost three consecutive seasons till 2018, which finally sealed the departure of Kingsbury. Kirby Hocutt officially announced on 25th November 2018 that the team would not retain Kingsbury for the upcoming season. He finally left the club with a 35–40 overall record and a 19–35 'Big 12' play record.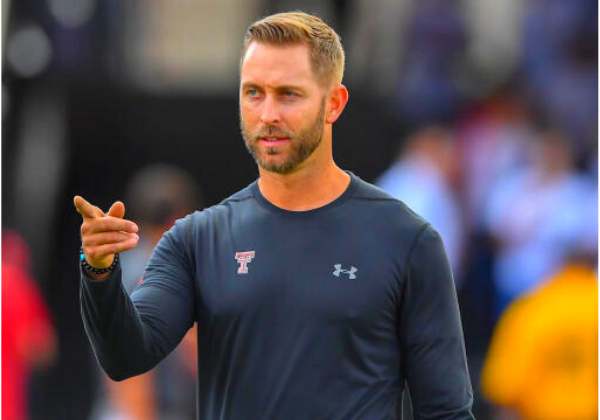 Kliff Kingsbury Cardinals Career
USC hired Kingsbury as their new offensive coordinator following his departure from Texas Tech in December 2018. However, clashes started to happen with the club as USC athletic director Lynn Swann blocked all the ways for NFL teams to interview Kliff. He became extremely disappointed with the team due to that and put down his papers that same month. Since that time, reports started to emerge about his possible move to an NFL team.
Several media houses started to report that Kingsbury was on talking terms with both New York Jets and Arizona Cardinals in January 2019. He then appeared for an interview round with New York Jets in New York, followed by his interview with the Cardinals in Arizona. He finally joined the NFL franchise Arizona Cardinals as their head coach on 8th January 2019. Shortly after, he recorded his first NFL victory as a coach against Cincinnati Bengals on 6th October 2019.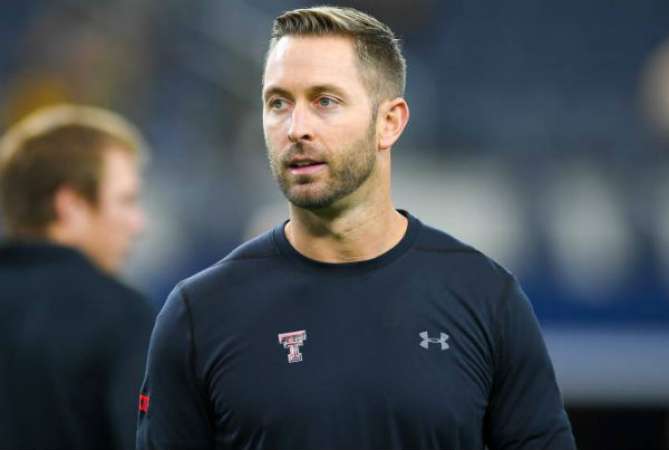 Kliff Kingsbury Girlfriend and Family
Born on 9th August 1979, Kliff is the only child of his father, Tim Kingsbury, and his mother Sally Kingsbury. His father is a Vietnam War veteran and the recipient of a Purple Heart. He grew up in the San Antonio area of Texas, United States. His mother, Sally, died due to soft tissue sarcoma when he was playing in the NFL in 2005. Kliff completed his schooling at the New Braunfels High School in Texas.
He then completed his bachelor's in Business Administration from Texas Tech University in 2001. Shortly after, he completed his management degree from the Rawls College of Business. In January 2019, he started dating FOX Sports host Holly Sonders. However, the relationship didn't last long, and they broke up by the end of 2019. And in January 2020, he started dating Instagram model Renee Estella.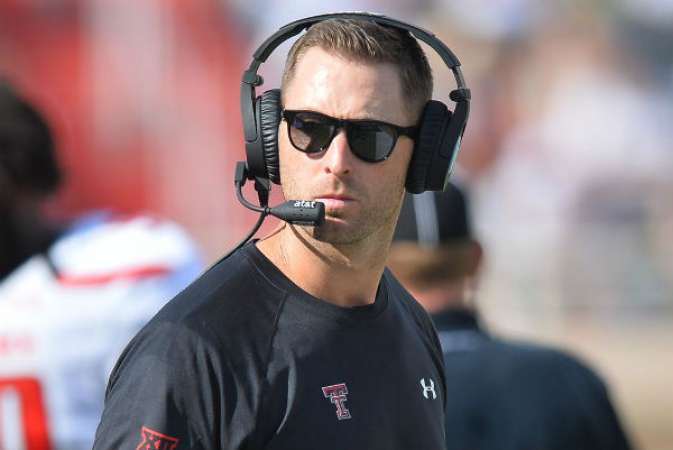 Kliff Kingsbury Net Worth
According to the recent financial reports, the net worth of Kliff Kingsbury is estimated to be around $15 million as of 2023. He is currently on a 5-year contract with the NFL franchise Arizona Cardinals. The total worth of his current contract is $10.5 million. He currently withdraws $2.1 million annual average salaries from the Cardinals. Kingsbury recently bought a $4.45 million mansion in 2020.
Kliff Kingsbury Stats – Infographics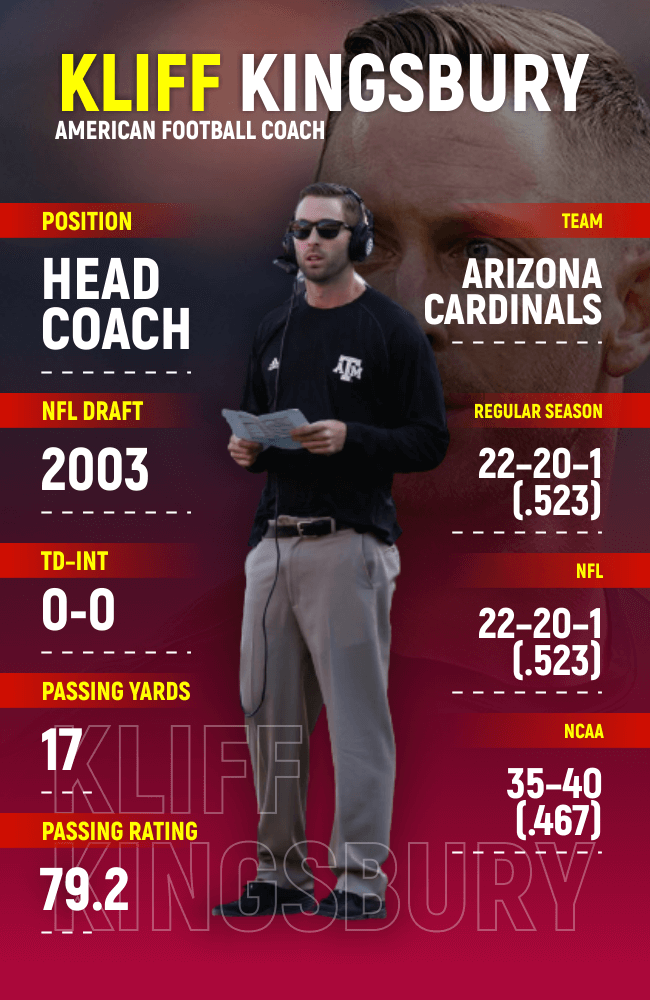 FAQ Regarding Kliff Kingsbury
Q. Who is Kliff Kingsbury?
A. Kliff Kingsbury is the current head coach of the NFL franchise Arizona Cardinals since 2019. Before moving to NFL, he previously coached the Texas Tech team in college football. Besides coaching, he also previously played in several NFL teams, including New York Jets and Denver Broncos.
Q. Where does Kliff Kingsbury live?
A. Kliff Kingsbury currently lives in Arizona for his coaching duty with the NFL franchise Arizona Cardinals. However, he is actually from the San Antonio area of Texas. He stayed in several places throughout his career due to his association with several NFL sides as a player.
Q. How old is Kliff Kingsbury?
A. Kliff Kingsbury is 42 years old as of 2022. Born on 9th August 1979, he grew up in the San Antonio area of Texas, United States. He started his coaching career at the age of just 33 and became the third-youngest coach ever in college football.
Q. How tall is Kliff Kingsbury?
A. Kliff Kingsbury is 6 feet 3 inches (1.91 meters) tall. For his tall stature, he had an added advantage over his opponent during his playing career. He still has numerous NCAA Division I records under his name.
Last Updated On: December 2023