The divas in this list are confident, amazing, and powerful. Instagram is a social platform in which they can share their backstage stories, training stories, videos, and time-to-time update of their lives. If you are not following them yet, you need to do that right now. Here are the top 10 most followed female athletes on Instagram in 2022.
Most Followed Female Athletes on Instagram – 2022 Ranking
The following handles have been given for your comfort and ease. Go check out these sexy athletes on Instagram right now. And to know more about them, read on.
10. Natalya Neidhart [@natbynature]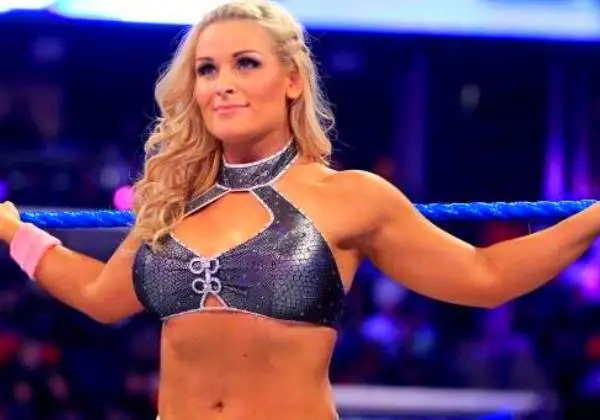 At number 10 in this list of top 10 most followed female athletes on Instagram, we have Natalya Neidhart. Natalya, though, is the first third-generation female wrestler around the world and has been competing popularly for over a decade.
And, she's still going insanely strong with a lively year in the ring. And simultaneously, winning matches and, funnily enough, getting her front teeth knocked out.
9. Sania Mirza [@mirzasaniar]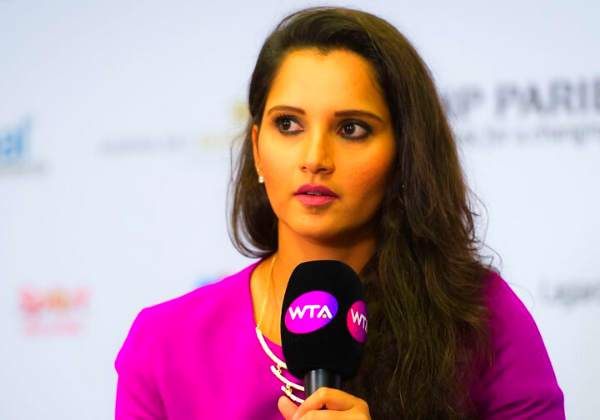 Perhaps the most remarkable Indian tennis player and one of the absolutely biggest athletes in India, Mirza previously celebrated 80 consecutive weeks with the title of No. 1 women's doubles player in the world under her belt. She also achieved her place as an amazing force in the movement.
Sania fought hard for Indian women's rights and criticized government policies on domestic violence and sexual abuse. She also spoke out on the unbalanced pay scale in her sport.
8. Simone Biles [@simonebiles]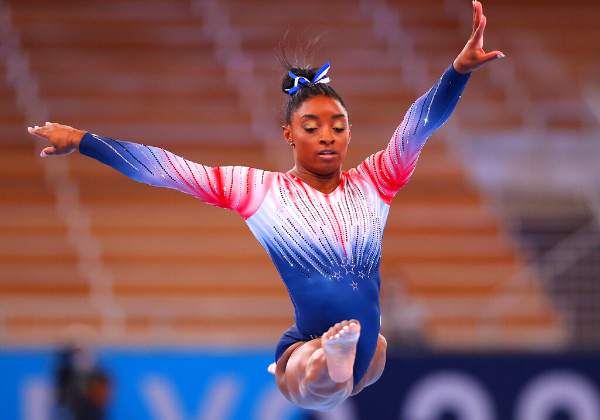 Biles maybe eighth on the list, but she holds first place on tremendously successful athletes of the year. The 24-year-old set an American record for most gold medals in a single Games occasion. And with that, she became the most decorated female U.S. gymnast ever.
She has also earned her nomination for a 2019 ESPY award for Best Female Athlete. That's not all she was shortlisted for TIME's 2019 Person of the Year award—and she even published a book, 'Courage to Soar.'
7. Natalie Eva Marie [@natalieevamarie]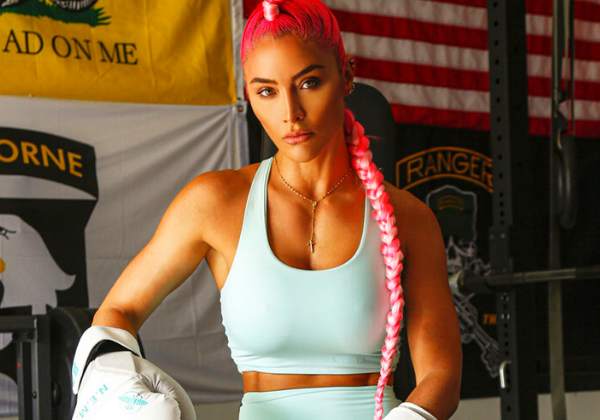 At number 7 in this list of top 10 most followed female athletes on Instagram, we have Natalie Eva Marie. The pro wrestler had won some great matches last year. But, her biggest news outside the ring happened to be(other than dying her iconic red hair dark last summer): The Total Divas star launched her own fashion line, and the nonprofit foundation, the first of which donates part of its substantial proceeds to the latter.
"My goal with this brand is to inspire and empower women to love themselves and build each other up. I'm gonna combine this with a nonprofit organization and give back to the women who need a little push in the right direction," she says.
6. Paige [@realpaigewwe]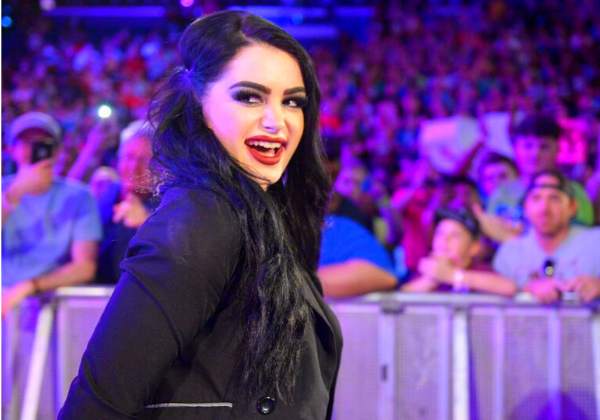 At number 6 in this list of top 10 most followed female athletes on Instagram, we have  Paige (Saraya-Jade Bevis). The 'Total Divas' star has really a lot to brag about, holding the longest reign as the WWE's NXT Women's Champion.
But the British wrestler has recently had a rough year, requiring neck surgery and, unfortunately, failing drug tests with her employer (questionable for the prescriptions from her surgery). She has also been filling her feed with the general goofiness that makes Total Divas fans adore her.
5. Alex Morgan [@alexmorgan13]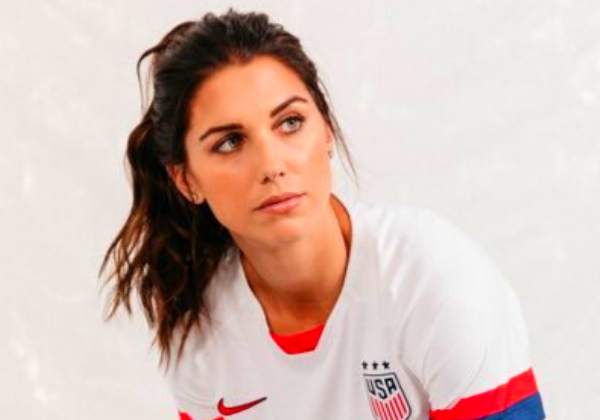 At number 5 in this list of top 10 most followed female athletes on Instagram 2022, we have Alex Morgan. In a New Year's day post, Morgan said last year was going to be about pushing to the limits and making progress—that was indeed a tall order coming off winning the World Cup with the U.S. Women's Team last year.
In addition to leading America in the Rio Olympics and finishing the season as a suitable nominee for the 2019 Female Soccer Player of the year, Morgan joined her teammates last year to file an action with the Equal Employment Opportunity Commission. She has been accusing the U.S. Soccer Federation of wage discrimination on behalf of the whole U.S. Women's National Team.
4. Brie Bella [@thebriebella]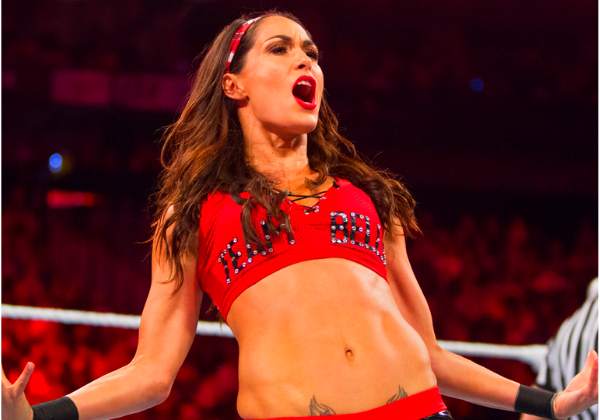 At number 4 in this list of top 10 most followed female athletes on Instagram, we have Brie Bella. The pro wrestling bombshell has made a massive amount of announcements last year: First, in April, that she was semi-retiring from the ring. Later in October, she and her hubby were expecting a baby girl.
So while her feed isn't as heavy on the mind-boggling abs or mid-wrestle moments as it once used to be, Bella uses her 'gram to promote philanthropic causes vital to her, particularly environmental and animal cruelty issues as well.
3. Nikki Bella [@thenikkibella]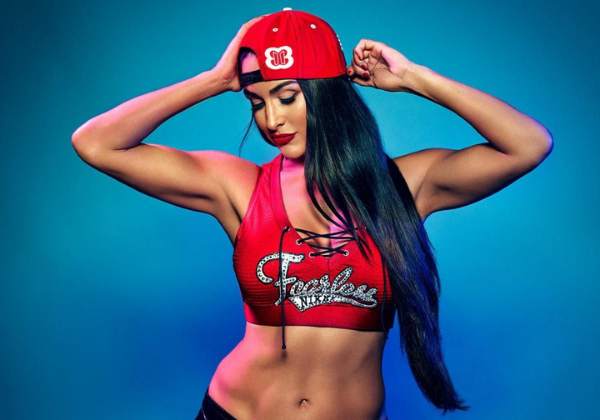 The top-followed pro wrestler Nikki Bella was sidelined quite a while for the first half of the year after having extensive surgery for a neck injury in January 2016. But after ten months of being completely out of the ring, the Total Divas star made a rather surprising appearance fighting at WWE's SummerSlam.
On Instagram, she said of the moment, "7 months ago when I had surgery, I hoped for that day to come but was told it wouldn't. The @wwe universe keeps me alive. You give me energy that no one else can give me. You make me want to be better."
2. Serena Williams [@serenawilliams]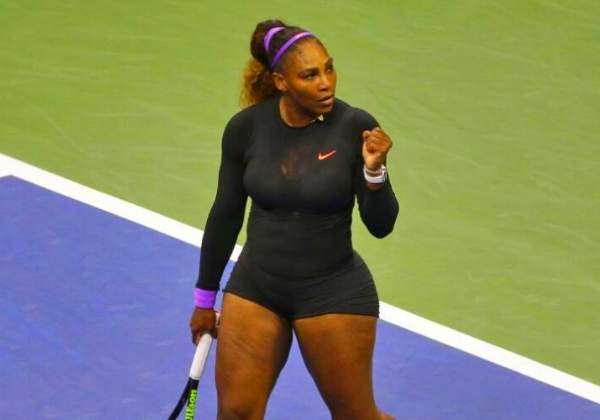 At number 2 in this list of top 10 most followed female athletes on Instagram in 2022, we have female tennis legend, Serena Williams. Way back in 2016, Williams won Wimbledon— finally matching Steffi Graf's record-tying 22 Grand Slam titles—set a record of spending 186 weeks ranked at No. 1.
And shortly after, she crossed that with her 23rd Grand Slam. And while her athletic dominance is a constant on its own, one of our favorite moments of her indeed the open letter she penned in Porter Magazine's Incredible Women of 2016 issue to "all incredible women who strive for excellence."
She sent one of the best messages women everywhere should hear loud and clear: "We should never let this go unchallenged. We should always be judged by our achievements, not our gender."
1. Ronda Rousey [@rondarousey]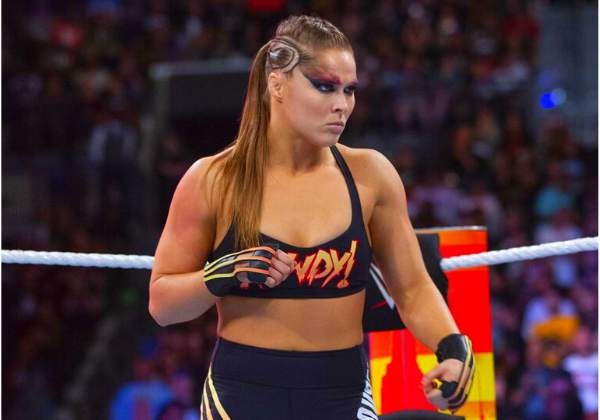 When Rousey graced the cover of the Sports Illustrated Swimsuit issue with her stunning physique, she proved once and for all that being strong and powerful is damn sexy—one of the most empowering highlights from her 2016, in our opinion.
Rousey took all of 2016 off from fighting after losing her title at the end of that year. But, she came back stronger and delivered a steady performance till 2022. She deserves her place in the top 10 most followed female athletes on Instagram in 2022.
Conclusion
Have something more to add up to the list of the top 10 most followed female athletes on Instagram? If yes, then let us know in the comments below.
Most Followed Female Athletes On Instagram – 2022 Infographics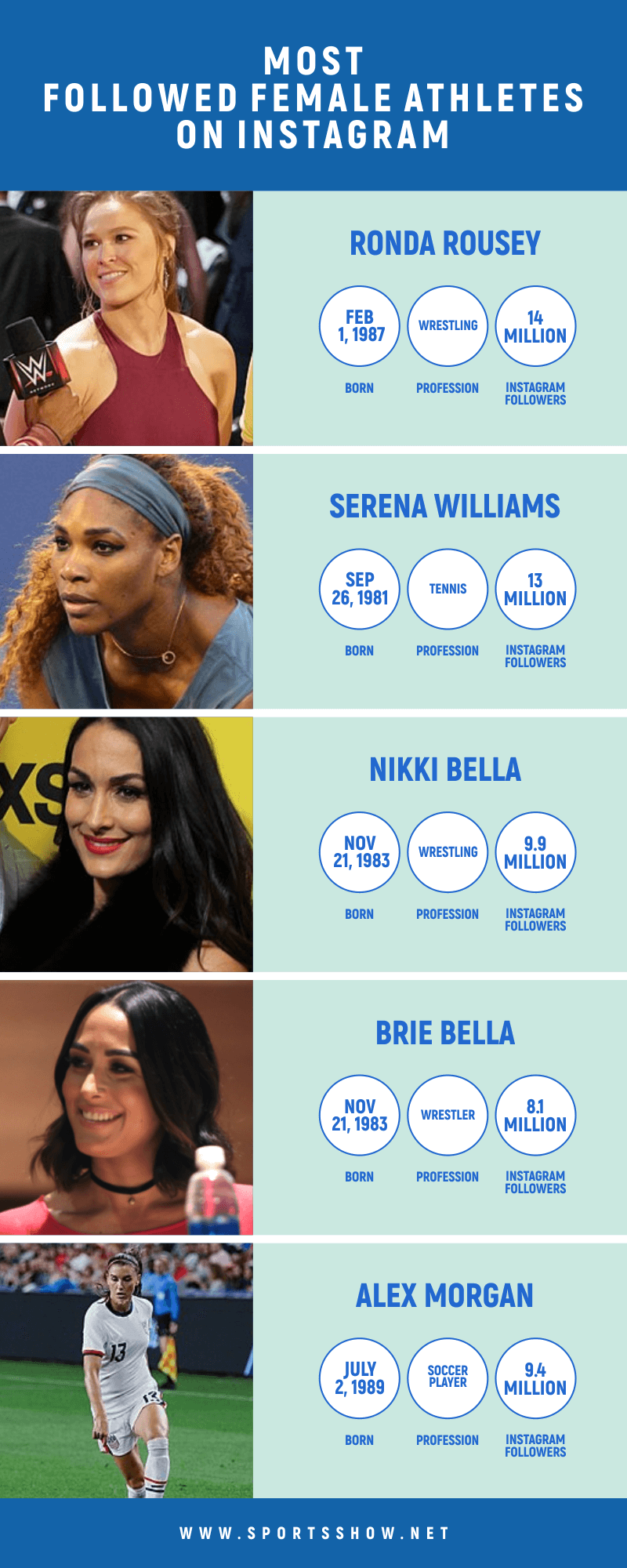 FAQs Regarding Most Popular Female Athletes On Instagram
Q. Who is the most followed Instagram user in 2022?
The most popular Instagram accounts as of 2022 include footballer Cristiano Ronaldo. He has nearly 315.81 million followers on the photo-sharing app platform. With about 406.44 million followers, Instagram's own account was ranked first.
Q. Who is the top Instagram influencer?
The most popular Instagram account is that of Cristiano Ronaldo. Among the most-followed users of the photo-sharing app, he has 315.81 million followers. However, CR7 is the top Instagram influencer to date.
Q. Is there an Instagram model with the most followers?
Instagram model Kendall Jenner has the most followers. At the age of 14, she began modeling in the fashion industry. Till now she has gained huge popularity across the globe and she is widely known as the richest young girl.
Q. Which kid is the most popular on Instagram?
The answer is Princess Tiffah. Tiffah Dangote, Diamond Platnumz and Zari Hassan's daughter, has 2.3 Million followers on Instagram. She is pretty and got huge recognition worldwide. Nevertheless, Princess Tiffah is the most popular kid on Instagram.
Last Updated On: January 2022