Are you tired of playing with the traditional foosball tables? Here is the ultimate solution to your problem. We bring you the LED Foosball tables that will surely add color and spice up your life with excitement and fun. Foosball tables have now become part and parcel of every household nowadays.
But when it comes to the traditional designs and features, they are getting a bit rusty now. Moreover, for this, we bring these LED foosball tables that come with elegant and attractive lightings that stir new inspirations and colors to your game.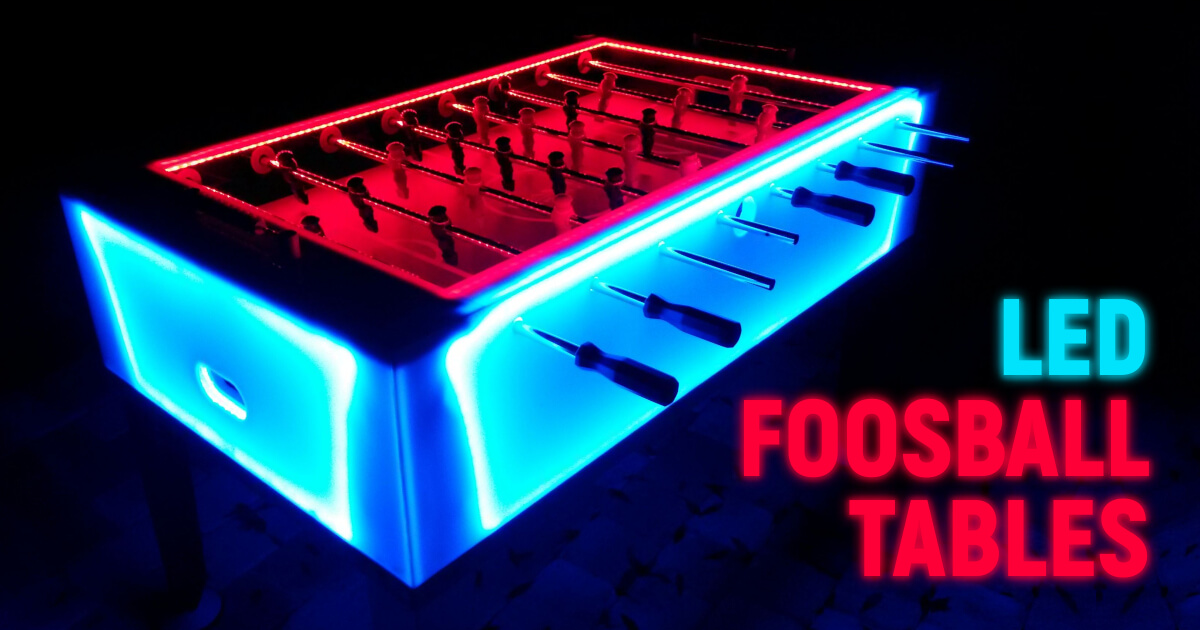 These high-quality foosball tables, which come with LED lighting and a built-in audio feature and illuminating balls, allow the players to play the game with greater interests and enthusiasm.
Most Amazing LED Foosball Tables | Editorial Pick
EDITOR
CHOICE
★★★★★
Atomic Azure LED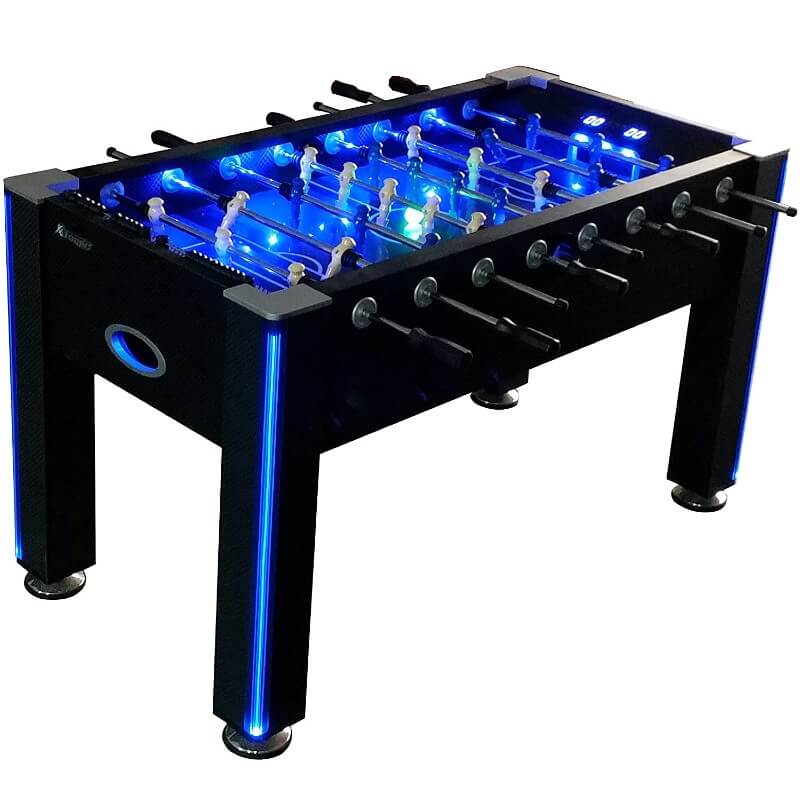 In-Built Charger
Arcade Gaming
Sound Effect
TOP
RATED
★★★★★
Warrior Professional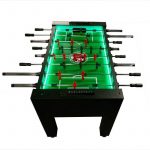 Controlled LED
Rod Guard System
Sturdy Construction
BEST
SELLING
★★★★★
EastPoint Sports Official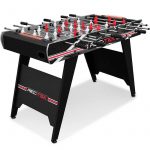 Steele Rods
Ergonomic Design
Enhanced Leveler
Most Amazing LED Foosball Tables | Detailed Reviews
We have already reviewed the best folding foosball tables as well as the best professional foosball tables to try this year. But to add some more color, here are our detailed reviews of the high-quality LED foosball tables.
BEST OVERALL
Atomic Azure LED Light Up Foosball Table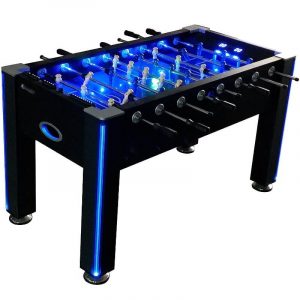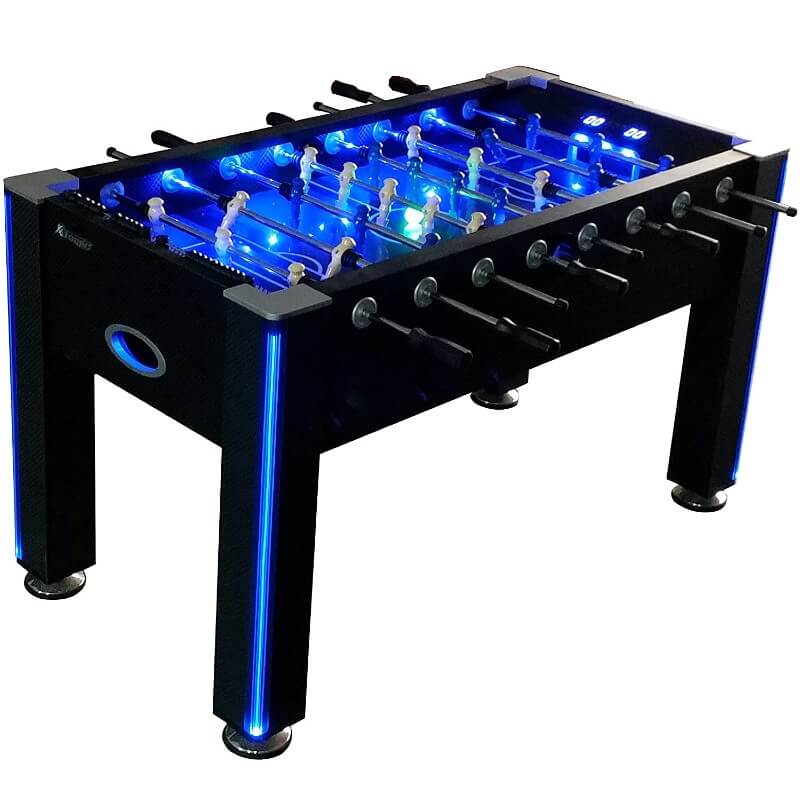 ★★★★★
Built-In Charger
Arcade Gaming
Features:
It comes with a built-in charger
This table offers a magical foosball gaming experience
These tables are arcade level gaming tables for your homes
The sound effects of these tables bring in the fun element during the gameplay
This first table from Atomic Azure is a LED light foosball table that comes with interactive to in-rail lighting. Without any doubt, it is among the highest-rated foosball tables to try right now.
Further, this table offers features of cascading effects that are paired with the music and sound, allowing the players to have the best possible gaming experience overall.
Specification:
Dimensions: 58.25 x 30.75 x 34.38 inches
Weight: 116.71 lbs.
Color: black,
Material: MDF, Alloy Steel
Total Rods: 8
Steel Player Rods: 15.8 mm
Assembly Required: Yes
Lightening The Game: These Atomic Azure foosball tables will light up the gaming experience with illuminating technology. This technology allows the players to have the perfect gaming experience even in the low light rooms.
Perfectly Good Looking: The construction and design of these foosball tables make them perfectly good looking tables for playing at home. Further, you can now conveniently place them anywhere in the house, and they will light the corner of the house for you.
Glowing Features: The glowing features of these tables are enhanced, and they can light everything in a darker room, making it possible for the players to enjoy playing the game with these LED foosball tables. Furthermore, these tables are equipped with illuminating blue legs.
Durable Construction: This arcade-grade foosball table has a durable construction that perfectly combines beauty, attractiveness and durability. In addition, there is a built-in automatic electronic scoring system that allows the players to get rid of the manually calculating of scores on each end.
Pros
It comes with leg levelers, which make your game consistent
Suitable foosball table for kids
It is easy to assemble
The price is moderate
MDF and alloy steel construction give durability to the table
Cons
The scoring sensor is not durable
Blue players are challenging to see in the night time
Our Take: These foosball tables are the most renowned tables from Atomic Azure. The features of these tables make them the perfect LED foosball tables for your home as you can place them anywhere, and they improve the aura of the room significantly.
BEST-RATED
Warrior Professional Foosball Table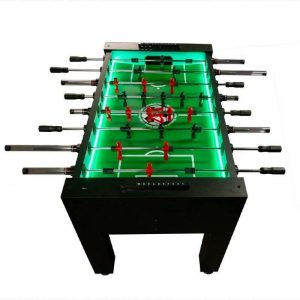 ★★★★★
Fully-Controlled LED
Sturdy Construction
Features:
You can now control the LED lighting of your foosball table
These tables offer a perfect rod guard system
The LED lighting comes in Multi-color
It has a sturdy construction for materials
These are incredible foosball tables from the warrior. These tables boast all-around options and features when it comes to fun and excellent gameplay with friends and family members.
Furthermore, these tables are well-built that can comfortably withstand the rigors of the game during the gameplay. Just club it with some high-quality foosball balls to get the most out of this table.
Specifications:
Dimensions: 56 x 32 x 36 inches
Weight: 190 lbs.
Color: black
Total Rods: 8
Leg Levelers: 5 inches
Assembly Required: Yes
Quality: The construction quality of these foosball tables is professional-grade. In addition, the balanced men of your foosball bring in smooth and faster gameplay. Further, the control of these tables makes them the perfect choice.
Design: The design features of these tables have classical touches. There are 11 players and a goalkeeper that is a standard for every foosball table. Furthermore, the lighting feature of foosball tables has remote control operations allowing the players to take complete control of their tables.
Construction: The construction features of these foosball tables offer durable and sturdy construction as it comes with a professionally improved and installed ball return system. Furthermore, the foot levelers come with swivel features that make up the perfect leveling of these tables on any surface.
Pros
Suitable foosball table for tournaments
The reasonable price tag is attached
LED lights make this table pro and double the fun
Well-constructed and durable
5 inches leg levelers make it a stable table
Cons
The kit is not included with the package
Our Take: These warrior foosball tables offer some of the best quality construction features along with that the leveler features and ball returning feature of these tables makes them a perfect choice for you.
POPULAR CHOICE
EastPoint Sports Official 48″ Inch Foosball Table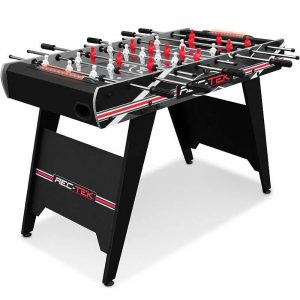 ★★★★★
Erogonomic Design
Better Stability
Features:
These tables come with steel rods that offer ergonomic handles
It has stable leg levelers
With two foosballs, it is a complete non-stop action
There is a three-person goalie configuration
This is the single most beautifully made foosball table from Eastpoint sports is a small size table. The construction and design features of these tables are truly amazing.
Furthermore, the lighting system of these tables lightens the entire playing field making everything visible and attractive for players. Add an added layer of protection with high-quality foosball table covers to increase its durability.
Specifications:
Dimensions: 48 x 24 x 32 inches
Weight: 35 lbs.
Color: black
Material: Alloy Steel
Number Of Rods: 8
Assembly Required: Yes
Size: This is a small-sized foosball table as it comes with the dimensions of 48 inches, which makes it a slightly smaller foosball table when compared with the 56 or 58 inches table.
Lighting: These tables come with the perfect lighting capabilities that enhance the attraction of these tables as well as allow the players to concentrate on their game fully. Furthermore, the scorer of these tables is also equipped with LED lights. Moreover, these LED lights lighten up as the players make goals on their opponents.
Comfort: These tables are equipped with some of the best features when it comes to comfort. The steel rods that hold the players come with comfortable grips that enable the players to play their games with agility.
Pros
Adjustable leg levelers for the users' ease
Balls come with the package
Steel rods with ergonomic handles
It offers an easy and quick assembling
Lightweight and budget-friendly foosball table
Cons
It requires 3 AAA battery that not comes with a table
Our Take: These foosball tables come with spectacular lighting of the playing field that creates attraction fun for players. In addition, the construction and durability of these tables are second to none.
TRADITIONAL
Warrior Table Soccer 8-Man Foosball Table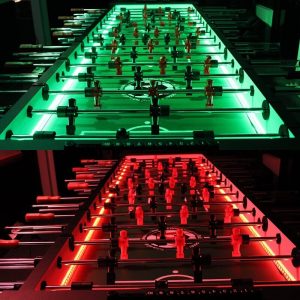 ★★★★★
Tournament Standard
Enhanced Lighting
Features:
These tables are tournament certified tables for gameplay
Enhanced LED lighting makes them more adorable
There is a perfect rod guard system that comes with these tables
The leg levelers are integrated, allowing the table to offer perfect stability
These warrior tables are player-friendly that comes with the perfect safety features along with the LED lighting. It is also among the best foosball tables under $500 to try this year.
Furthermore, the remote-controlled lights allow the players to adjust them accordingly, which enhance the fun of gameplay and let the players have a perfect game in the dark.
Specifications:
Dimensions: 102 X 30 x 36 inches
Color: black
Number Of Rods: 8
Leg Levelers: 5 inches
Assembly Required: Yes
Construction: The construction features of these foosball tables come with professional-level split bearings that enhance the safety features of these tables. In addition, the foosball men are made with some of the best construction materials, making them professional-grade man for playing the game.
Furthermore, there is a tournament ball that is the trademark for the warrior. And in the end, the solid steel rods on which these foosball men are attached are made to allow the players to show agility and expertise in gameplay.
LED Lightings: The LED lights of these tables come with variable options. Now you can conveniently adjust them according to the requirements as they are remote-controlled, so there is no need for manually doing anything.
Furthermore, the lighting works seamlessly to light the playing field so that the players never miss a glimpse of the game.
Easy Transportation: The transportation features of these foosball tables allow the players to split these tables into two equal half. This feature makes the transportation of these tables relatively easy and convenient.
Pros
Perfect foosball table for the tournament as it is certified
Easily split into 2 portions which make it portable
Suitable for kids and adults
Solid steel rods with ergonomic handles
Oversized leg levelers
Our Take: These Warrior Table Soccer 8 Man Foosball Tables come with the perfect lighting features along with the convenience of transporting these tables from one place to another. Furthermore, the durability and sturdiness of these tables are also worth mentioning.
FAQ Regarding LED Foosball Tables
Q. What are the most common sizes for these foosball tables?
There are three common sizes when it comes to these foosball tables. These sizes are 48 inches, 55 inches, and 56 inches.
Q. How many types of foosball tables are currently available in the market?
Foosball table can be divided into two major categories. These are European-styled and American styled foosball tables.
Q. Who are LED tables intended for?
These foosball tables intend to generate players' interest and take the gaming experience of these players to the next level.
Q. Do these LED foosball tables require special maintenance?
No, there is no need to perform some special maintenance on these LED tables of yours. All you need is to avoid spilling liquids and properly lubricate the rods for a smooth operation of your foosball tables.
Amazing LED Foosball Tables | Quick Comparison
Our Recommendation:
Are you still confused or looking forward to our recommendations? We would like to recommend Warrior Table Soccer 8-Man Foosball Table for being the best in the business. But on the other hand, the price tag that is attached to these tables is a bit higher.
Additionally, the second LED foosball table that we are going to recommend is EastPoint Sports Official 48 inch Foosball Table for Multiplayer Indoor Play for being the second-best foosball table on the list due to its durability, lighting features, and ergonomic design for handling.
Conclusion
Selecting your LED foosball tables might be a tricky question for some. As far are skills for playing these games are concerned, they need no special honing. All you need to have is the basic knowledge of the game, and the rest is history. For professional players and beginners, purchasing these tables can prove to be a headache.
But not anymore; we are here with some of the best options for players so that they don't need to wander for having the best possible opportunity for themselves. Furthermore, these foosball tables come with lights and built-in audio options that provide some of the best visual and sound effects while scoring against your opponents.