Looking for a top-quality gaming table at special prices? No worries, we brought you the best selection of foosball tables under $500, having the sturdiest construction. Therefore the exterior body of these tables comprises firm connections throughout the whole surface.
In the meantime, the balance position will manage by the supportive leg design given with the apron extension. Even you'll get adjustable leg levelers to maintain the even surface of the playing field. The boundaries are covered with a protective layer to bind the frame structure in the most durable format.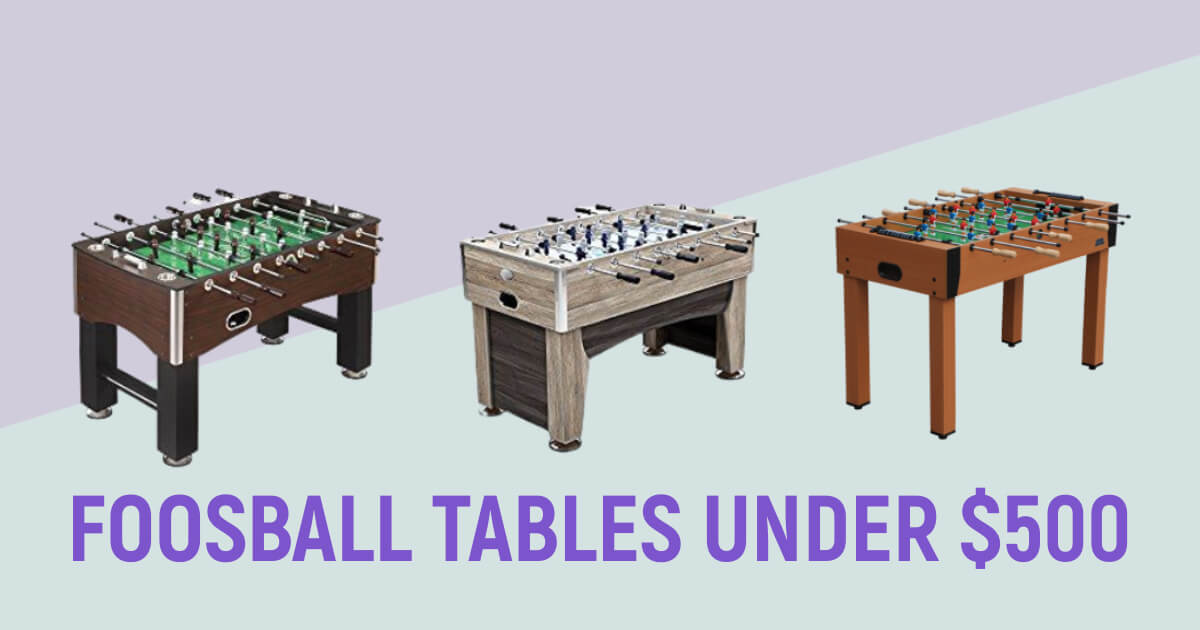 Also, the players featured on the gaming surface are composed of smooth-moving components, mainly managed by the swifty connection of rods. The soccer balls are there for you already included in the package with a unique bouncy impact.
Best Foosball Tables Under $500 | Editorial Pick
EDITOR
CHOICE
★★★★★
ESPN Arcade Foosball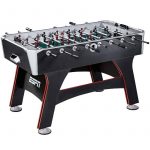 Cross Bracket
56-Inch Surface
Bead Scoring
TOP
RATED
★★★★★
Rally and Roar Table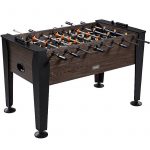 56-Inch Surface
Ramped Edges
Solid Wood
BEST
SELLING
★★★★★
Triumph Sports Tables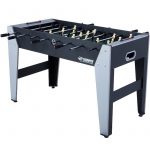 Moded Players
Chrome Plating
Ergonomic Handles
Best Foosball Tables Under $500 | Detailed Reviews
You must have already liked our recent reviews of the best Rene Pierre Foosball Tables and the best Tornado foosball tables to try this year. But if you have a tight budget, here are the best Foosball tables under $500 this year.
BEST OVERALL
ESPN Arcade Foosball Table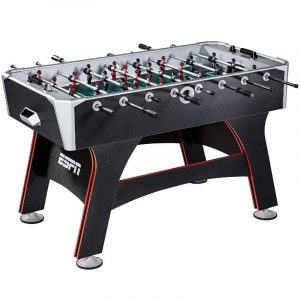 ★★★★★
Cross-Bracket Design
56-Inch Surface
Features:
Lateral cross bracket design with the additional support of the ground surface on the table
The table possesses 56 inches of gaming length with a smooth exterior design as well
Leg levelers have been featured on each leg side to maintain the stability of the table body
Bead style scoring is structured on the playing field with the appealing collaboration of color scheme
A prime design construction along with versatile playability has been introduced here by ESPN. The all-time favorite beading score system will let you experience a fun multiplayer gaming scenario.
Plus, the extended playing length with smooth player movement makes this table one of the best foosball tables under $500. Needless to say, it is surely among the most amazing foosball tables you could buy this year.
Specification:
Dimensions: 56 x 28.75 x 34.5 inches
Weight: 92 lbs.
Color: black, blue, & red
Material: Composite & Plastic, Metal, Engineered Wood
Rod Diameter: 5/8 inches
Leg Leveler: 5 inches
Assembly Required: no
Remarkable Construction: The frame structure is designed with premium wood along with a metal base structure as well. Alongside, the sturdiness of the boundaries connection will keep the whole body structure in a balanced format. The apron will also support the upper surface section with proper alignments.
Smooth Moving Rods: The player-handling rods come with chrome platted structure for a swifty movement scenario. Plus, the 5/8 inches rod diameter will also get adjusted in different types of hands accordingly.
Leveled Legs: 5 inches of extended leg levelers will keep the whole body structure in even formation. Plus, the table apron support will also provide an additional stability aspect regarding the position placement of the gaming table.
Players On The Game: 26 hand-painted men have on the surface field of the table along with balanced placements. The 2-color team will let you have a multiplayer game. Further, it doesn't require any assembling and offers a quick installation process.
Pros
Balanced playing field with supportive leg levelers
PVC lamination surface to make the table long-lasting
Metal base construction will keep the gaming structure in an even format
The leg levelers are adjustable
Cons
The surface of the table can get uneven after usage
Ball holding goals are of poor quality
Our Take: This ESPN Arcade Foosball Table has chrome-plated rods with a sturdy playing field and leveled leg structure also possesses PVC laminated finishing on the exterior layer.
BEST-RATED
Rally and Roar Foosball Table Game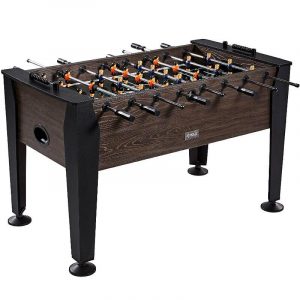 ★★★★★
Ramped Edges
Solid Wooden Bead
Features:
56 inches professional size table made with top-notch material
Ramped edges of the playfield increase the motion of the ball
2/3 inches chrome-plated rods with wood handgrips fix in the table that works for years
Solid wood bead scoring function keeps your game on track
Reinforced apron surface adds more intense to the gameplay
The premium combination of wood and steel provides extra stability with the smoothest playing surface. Play on unbalanced surfaces because this table has legs with strong levelers to keep your game move free and on track.
Play with the most comfortable gripped player rods to boost up your shots. If you have toddlers in your house, you can surely buy this as it is one of the best foosball tables for kids to try this year.
Specifications:
Dimensions: 56.8 x 32 x 7 inches
Weight: 74.8 lbs.
Color: brown & black
Material: wood & metal
Rod Thickness: 5/8 inches
Leg Leveler: 5 inches
Assembly Required: yes
Bead Scoring: Now note down your numbers on a bead scoring system made with the top quality wood giving a lifetime guarantee. It is a sliding rail in which some beads are fitted, where you just have to move the beads left or right for easy number counting. These bead scoring systems fix on both sides of the table for both players.
Oak Lamination: This is a wooden made lamination layered over the playfield making it more resilient. This layer protects the table from getting scratches and any kinds of marks in intense play.
Best Player Rods: Rods have chrome-plated manufacturing to give the heavy-duty even getting hard hits. Further, it offers a firm and sturdy grip while playing.
Apron Surface: 1-inch thick surface added to the structure of the table, making it sturdier. This apron surface supports the table against damage and provides you the smoothest platform.
Pros
The table comes with the accessories that you need
Oakwood lamination makes it more durable
5 inches legs leveler offers a balanced match
The price is moderate
Lightweight table
Cons
The metal bar holder is loose
Screw anchors can get ripped out on pressure
Our Take: This table comprises a high-quality material and is suitable for professionals. Additionally, it can accelerate your gaming skills at this smooth Oakwood laminated and apron surface support design constructed table.
POPULAR CHOICE
Triumph Sports Foosball Tables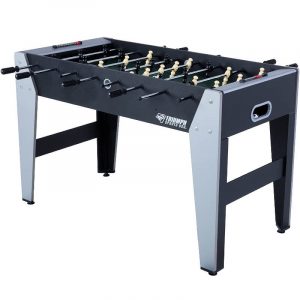 ★★★★★
Chrome-Plated Rods
Ergonomic Design
Features:
26 individual moded foosball players come in the package
Chrome-plated hollow steel rods with 15.8 mm diameter add more visuality and intense
Handles have ergonomically shaped grips for comfortable handling
A regular tournament sized playfield making it appealing than ordinary foosball tables
All-new special and unique structural designed foosball table constructed with premium alloy steel. It is a regular size tournament table with all perfect dimensions. The less weight of the table provides you effortless handling without creating any issue of space.
Moreover, get this table and have all the playing accessories. Just club it with some high-quality foosball balls to have fun with your friends.
Specifications:
Dimensions: 47.7 x 26.2 x 4.9 inches
Weight: 47.3 lbs.
Color: grey & black
Material: Alloy Steel
Total Rods: 8
Assembly Required: yes
Strong Construction: The base and frame material of this table is an alloy steel that is impossible to break. This table has the sturdiest manufacturing ever. You can use this table for a long time playing with a free hand without worrying about its quality.
A Regular Length: It got all the rules and regulations for a tournament-sized table which makes it perfect. A 47 inches playfield of the table comprises top-class material performing for years.
The Comfortable Grip On Rods: These rods are made chrome plated with hollow steel featuring ergonomically shaped grips. These grips give the player cozy and relaxing handling and keep the opponent or viewer safe if it accidentally collapses.
Abacus Scoring System: Now note down your scores right on the table without wasting your time with this abacus scoring system. It is a rail with some beads fitted on both boundaries of the table for each player. You just have to slide the number rail up and down to note the increase and decrease in your score.
Pros
Unbreakable alloy steel base
Includes for regular size 36 mm balls
Best budget-friendly foosball table
Abacus scoring system makes your score count simple
The table is very lightweight
Cons
The assembling is tough for beginners
The sides of the table are not even
Our Take: Alloy steel-structured table that is well-made. Additionally, it offers you to play the most stable shot with chrome-plated rods with this professional-sized gaming length surface.
TRADITIONAL
Barrington Collection Foosball Table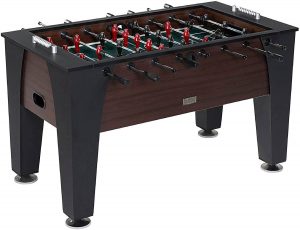 ★★★★★
Traditional Scoring
Arcade Feeling
Features:
Traditional bead score counting system gives an old foosball gaming essence
Players of foosball are designed as a robot, giving your game an arcade feel and making it more eye-catching
Solid steel rods with firm hand grips providing you a better carrying
Slick finished surface for nonstop fast gameplay
An ultimate combo of steel and wood provides you extra durability with the smoothest playing surface. A 58 inches wide surface table is providing you spacious and relaxed gameplay.
Additionally, the legs are made very firm giving the best stability on every surface level even if it is unbalanced. But yes; to protect it from wear and tear, you should use high-quality foosball table covers for increased longevity.
Specifications:
Dimensions: 58 x 30 x 34 inches
Weight: 100.32 lbs.
Color: dark brown
Material: wood
Base Material: Alloy Steel
Assembly Required: yes
Legs Leveler: Legs levelers are adjustable up to five inches to improvise the stability and accuracy of your gameplay. Even play on an unstable and steep surface with just adjusting leg levelers according to the condition. These leg levelers won't embarrass you and give the most satisfying play you have ever had.
High-Class Frame: Get the joy of foosball for a lifetime with this most durable and long-lasting table. It has a playfield made of the reinforced apron, doubling the durability. Moreover, play however you like without worrying about the table because its quality remains the same for years.
Speed Creating Playfield: The smoothness of the playfield offers you to make pacy and speedy strikes all over the table. Moreover, balls included in the package are all made smooth to add extra enhanced pace to the shots.
90 Days Warranty: Play on the most reliable and quality table of all time coming to you with a three-month warranty. If something has happened with the table, you can exchange it within this time.
Pros
Wide legs with leveler maintain the stability of the table
Bead style scoring makes your scoring count fast and easy
This table comes with a warranty of 3 months for better customer service
It takes little time for assembling
Cons
Not proper spacing within the men
You have to tighten the screw every time before playing
Our Take: Enhance your foosball skills at this smooth and speed-making ever-lasting foosball table that also comes with leg levelers flexibility.
HEAVY-DUTY
Soccer Foosball Table and Balls Set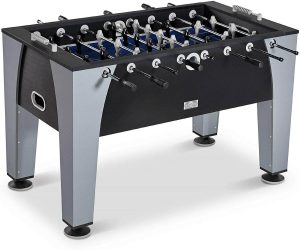 ★★★★
54-Inch Surface
Reinforced Legs
Features:
54 inches spacious playfield offers you a wide gameplay
Square reinforce legs panel for moving free and stable match
Playfield ramp prevents the dead spot for the ball while playing
High-density fiberboard playing surface made to create speed shots
A supreme-class foosball table manufactured with the sturdiest alloy steel. It has a smooth and leveled playing field proffering extra quality features.
It has a very light and feathery weight providing the buyer comfortable carrying while traveling, making it a versatile and complete foosball table.
Specifications:
Dimensions: 54 x 30 x 34 inches
Weight: 117 lbs.
Color: black
Material: Alloy Steel
Leg Leveler: 5 inches
Assembly Required: yes
Leveled Sliding Surface: This foosball table is famous for providing double smoothness and flow to the balls. This is because of the smooth surface that is layered on the structure of the table. When you strike the ball with the rod, it provides extra speed only because of the smooth and resilient playing surface.
Long-Lasting Structure: Pay the foosball for a lifetime with this most durable, strongly materialized table of all time. You can play with a free hand and make tough shots because nothing is going to damage this resistant foosball table. Additionally, the reinforced legs panel adds bunch of features including, stability, accuracy, and all again durability.
Lightweight: Make your traveling and outside going relaxing with this lightweight, easy carrying best foosball table. With an exceptional weight of 117 pounds, this table is easily handled without any hassle.
Playfield Ramp: This playfield ramp is a white lamination on the boundaries of the table to accelerate the game. It helps not to get your game out of track and extra movement to the ball.
Pros
Complete gaming accessories come with the table
Traditional bead scorer fitted on both sides
The price is reasonable
Legs leveler helps to improve the stability of your game
Suitable for outdoor gaming
Our Take: Get this smooth surface foosball table that provides extra speed to the ball for sliding, including a complete accessory and assembly range.
PROFESSIONAL
T&R Sports 55″ Soccer Foosball Table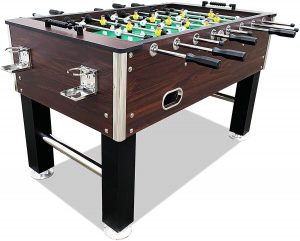 ★★★★
High-Density MDF
Chrome-Plated Rods
Features:
You are getting a 55 inches large surface of the table for playing soccer
The soccer table contains strong metal hardware along with a high-density MDF
It comes with chrome-plated steel rods and plastic handles for a cozy grip
46 inches of the playfield for a wide playing experience
T&R sports tables come with a bunch of improved features for soccer lovers. The manufacturer has extended the length of this table so you can have a spacious gaming experience along with a quick assembling aspect.
Even the handle grips are enhanced here with proper covering.
Specifications:
Dimensions: 55 x 30.7 x 34.6 inches
Playfield: 46 x 26.7 inches
Weight: 55 kg
Color: Espresso
Material: Wood & composite
Assembly Required: yes
Easy Assembling: The assembling doesn't require any skills or any gadgets, and only you have to adjust the legs with the frame of the table. Plus, the screw and anchor fitting isn't any problem here with ready-to-go men placements on the playing field.
Material: The base of the material is made up of metal, while the frame of the material is engineered with a sturdy wood substance. Alongside, the space is wide, with even weight distribution throughout the body of the table.
Durable Handles: The table has chrome-plated solid steel player rods along with handles made of plastic. Additionally, these handles can be easily turned and allow you to kick and turn the ball with no hassle.
Raised Corners: Corners of the table are designed in such a way that the soccer balls won't be collapsed outside. In addition to this, the boundaries also provide a proper grip from the sides to manage the protection. The soccer balls will remain inside your foosball table so you can play your game uninterrupted.
Pros
A luxury and modern design of foosball table
You can adjust the height of the table
It contains 2 pairs of drink holders on each side of the table
One-man goalie table design with quick assembling
Cons
Few customers report the assembling process is tricky
Flaws in design
Our Take: T&R sports contain a 55 inches large gaming surface with high-quality metal hardware and high-density MDF. Further, the play area is 46 inches that double your fun.
COMPACT
KICK Vanquish 55″ Foosball Table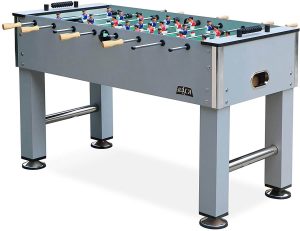 ★★★★
Protective Surface
Smoothest Handling
Features:
The body of the table comprises stainless steel with a protective surface
Your table comes with an ideal length of 55 inches length, 26 inches width, and a perfect height of 34 inches
Five inches leg leveler to enhance the stability of the table on all types of surfaces
The package contains 8 sturdy rods for smooth handling
2 official kick and soccer foosballs are provided in the package
It has a large smooth playing surface with enhanced accuracy and doubled stability. It comes with lightweight body construction, and a ready-to-play aspect makes it a premium choice with enhanced exterior design as well.
Moreover, the players are also placed with covering position and striking impact.
Specifications:
Dimensions: 55 X 26 X 34 inches
Weight: 84 lbs.
Color: silver
Material: Stainless steel
Leg Leveler: 5 inches
Assembly Required: yes
Material Used: The collaboration of alloy steel construction comes with advanced craftsmanship together with a level playing surface. In addition, this aspect will also keep the surface from the possibility of corrosion and scratches.
Sturdy Levelers: Leg levelers of 5 inches provided with the foosball table keep your table's surface horizontal. Moreover, the sliding issues are resolved here with a supportive body structure on the ground format.
Wooden Handles: 8 durable handles coming with the KICK foosball tables have a strong and easy grip. Each side comprised 4 handles possessing a proper grip and enhanced moving feature on the gaming surface.
Chrome-Plated Rods: KICK foosball tables contain 8 long-lasting ½ inches semi-solid rods; the rods given in this package are stainless steel and chromium-plated also.
Effortless Assembling: KICK foosball tables do not require any special tools to assemble. It is easy to assemble, and the instruction manual comes with the package for your ease.
Pros
Sturdy and gripped handles for each player
Leg levelers are structured with a balanced format
Handles are wooden made and non-slippery
The price is moderate
Lightweight table
Cons
Rods are too small in diameter and unstable also
Complains about the poor length of handles
Our Take: KICK vanquishes foosball tables are the best stainless steel table with well-built leg levelers having stainless steel chrome plated rods.
FAQ Regarding Foosball Tables Under $500
Q. Which are the best foosball tables under $500?
There are many tables are available in the market for under $500, but we suggest T&R sports 55″ Soccer Foosball Table and the Triumph Sports foosball tables to try in 2021.
Q. What is the best outdoor foosball table for under $500?
On our list, a Soccer foosball table and balls set is best for an outdoor gaming table.
Q. What size should a foosball table be?
Usually, the standard table is considered which has 5 feet in length. A regulation-sized table dimension is 54-56 x 29-30 x 34-36 inches.
Best Foosball Tables Under $500 | Quick Comparison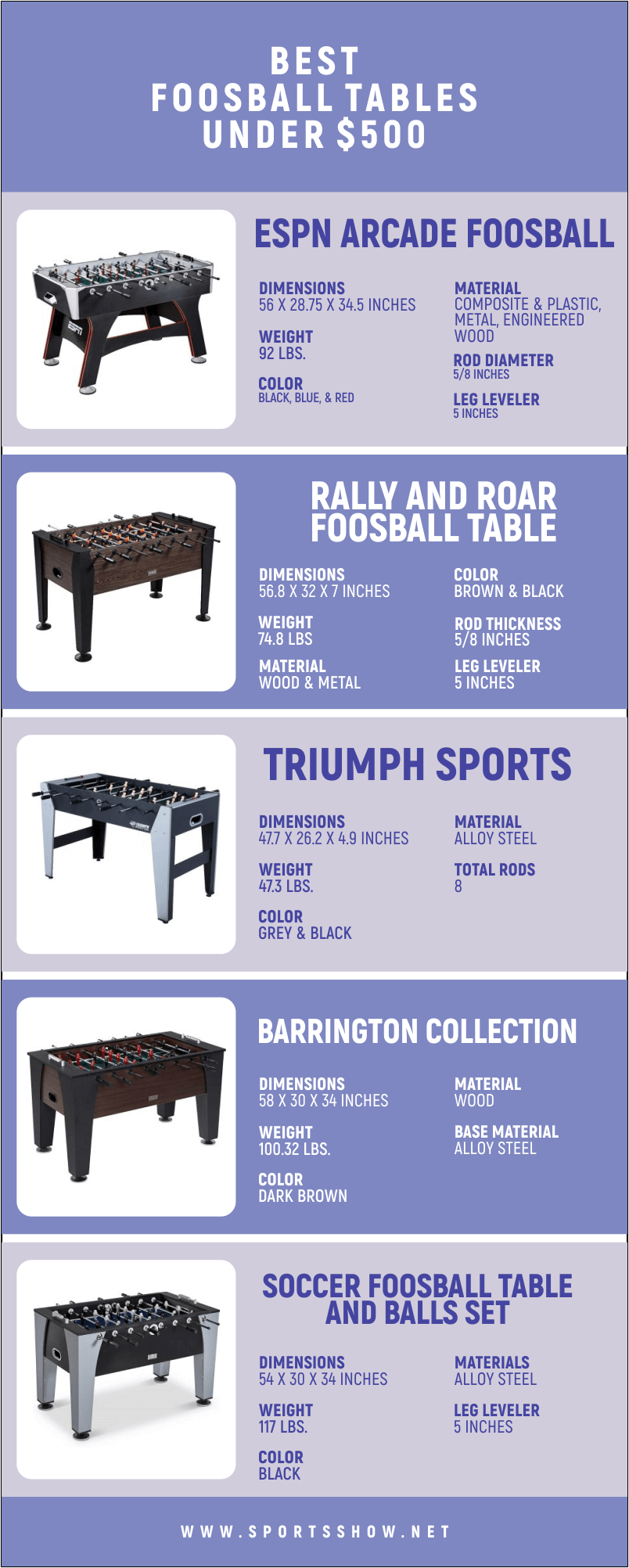 Our Recommendation:
Our 1st recommendation is the T&R sports 55″ Soccer Foosball Table as the best-constructed foosball table. 60-inches of gaming surface along with MDF surface and metal base structures make it an excellent selection for you.
Withal, our 2nd recommendation is the Triumph Sports Foosball Tables as the most budget-friendly foosball table. Gripped handles with ergonomic style and alloy steel body construction also comprise a flat playing surface.
Conclusion
Now we can say that here are the best and most fine constructed foosball tables under $500 on the market. The quality of the material is remarkable here, with a variety of balancing features to notice. Plus, the men of the playing field are also constructed with proper sharpening to control the ball strikes.
Most importantly, the leg levelers are also there for sustaining the even placement of the ground surface. Plus, the boundaries with proper bound will take the whole format of table construction to make it durable even on irregular surfaces.