Are you looking for compact or space-saving folding foosball tables? We are going to decipher some of the best folding foosball tables for you on our list of the article. These tables are made to provide excellent storage options.
These features are best suited for those people who are concerned about space-saving, compact design due to the requirements in their apartments. Furthermore, these tables maintain the same foosball experience despite their compact/folding design.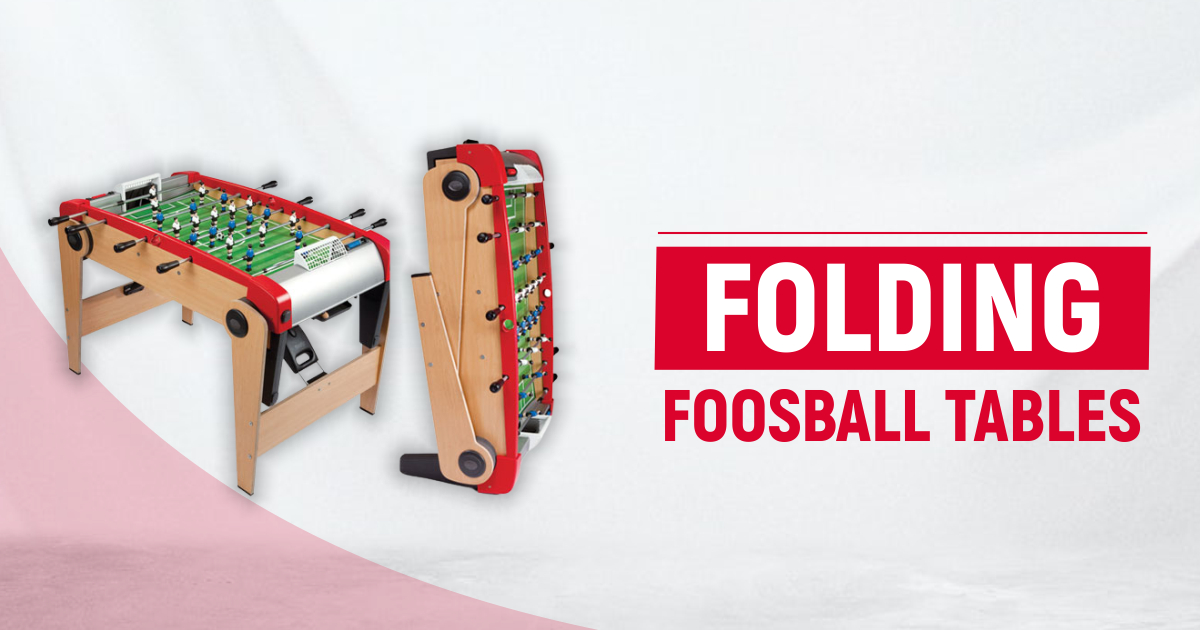 You won't see a difference in the quality of the play, but there is a point to ponder. The tables' prices vary, so buyers have to understand and choose the best table fulfilling their requirements.
Best Folding Foosball Tables | Editorial Pick
EDITOR
CHOICE
★★★★★
KICK Majesty 55″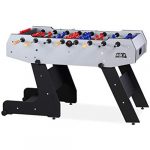 Signature Players
Leg Levelers
Wooden Handles
TOP
RATED
★★★★★
Garlando Open Air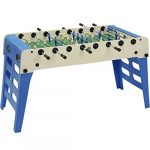 Weather Resistant
Ball Returning
Rustproof Steel
BEST
SELLING
★★★★★
Hathaway Gladiator 48″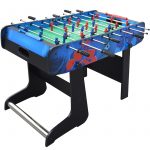 Better Storage
Better Balance
180-Day Warranty
Best Folding Foosball Tables | Detailed Reviews
We have already reviewed some of the best Rene Pierre foosball tables. But, they are a bit costly. So, if you are looking for a budget-friendly folding foosball table, here they are.
BEST OVERALL
KICK Majesty 55″ Folding Foosball Table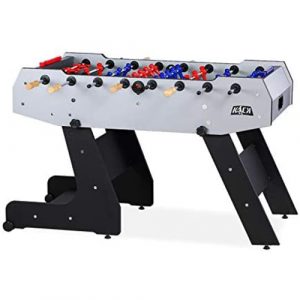 ★★★★★
5-Inch Leg Leveler
Space Saving
Features:
Features 13 blue and 13 red counterbalanced men along with the signature 26 uniformed men
It comes with 5 inches leg levelers, including rubber to protect the base surface
Offer either 1 Goalie or 3 Goalie construction with the foldable space-saving functionality
It has 8 Comfortable wooden handles with premium chrome-plated rods
This foosball table offers the most enjoyable experience with the generous 55 inches size that can be folded. It has a ½ inch premium playfield with incredible quality control, making it one of the top-rated folding foosball tables.
Players can find cleverly placed slide scoring on both sides for easy access. If you have a good budget, it is surely one of the best foosball tables for kids to try this year.
Specification:
Dimensions: 55 X 30 X 36 inches
Weight: 119 lbs.
Available Colors: brown, grey, & jet black
Material: Wood & Stainless steel
Total Rows: 8
Leg Levelers Size: 5 inches
Unforgotten Experience: Your favorite foosball table packs your favorite multi-colored men ready to fetch the ball! It includes 13 blue and 13 red counterbalanced men. Moreover, you're also getting a set of signature 26 uniformed men for an action-packed game that's hard to stop.
Package Includes: 2 Kick premier & 2 Soccer foosball for quality game
Protect And Level The Surface: Players are often hesitant to move their game tables because of the uncertainty of a surface. But this is no longer going to be an issue with this table consisting of quality 5 inches leg levelers that can adjust to all surfaces. You're also getting rubber padding with the leg levelers for base protection.
Comfortable Handling: Get a complete hold of your game with its ergonomic handles made out of wood. Therefore, these handles increase your match dominance with a touch of comfort.
Updates In The Game: Two scoring slides are mounted on each side of the playfield. Placement of these scoring systems on both players' ends makes a natural position for players to have a quick glimpse of the score. Thus, these sliding scorers keep players updated about the match status.
Pros
Ramp kit is included in the package
Stern grip with the comfy wooden handles
5 inches leg levelers to ensure even playfield
It comes with a lifetime warranty
Cons
High price as compared to other tables
Rods are semi-solid
Our Take: Feed your boredom with this foldable table having multi-colored counterbalanced men as well as unformed men for a complete foosball game. Further, the rods are non-slippery that offer a comfortable and firm grip.
BEST-RATED
Garlando Open Air Weatherproof Foosball Table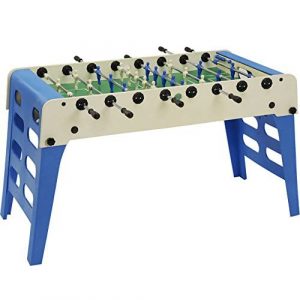 ★★★★★
Weather Resistant
Ball Return Tech
Features:
The table can be taken outside with its weather-resistant coated construction
It comes with the ball return technology for rapid action in-between the match times
Improve the game speed with the anti-rust steel roller bearings installed on this promising table
Your Garlando foldable foosball table sets high standards of durability with its unique plastic and fiberglass built. Its foldable and compact design offers easy storage functionality.
Players can confidently take this table outside with its weather-resistant materials, which makes it one of the top-ranked folding foosball tables.
Specifications:
Dimensions: 60 x 40 x 18 inches
Weight: 180 lbs.
Color: white & blue
Material: plastic
Total Rows: 8
Outdoor Treat: This table's unique weather-resistant coating gives you the freedom to take this table for outdoor fun. Moreover, the playing field is made of impressive plastic laminate to survive the outdoor weather. Therefore, this table is suitable for outdoor activities whenever you get bored by continuously playing indoors.
Enhanced Sturdiness: Your versatile foosball table is made to deliver lifetime quality promise to its players. The table is made from a unique blend of plastic materials and fiberglass for extra strength. As a result, this table easily confronts the slight and harsh impacts made during matches.
Best Foldable Table: Players can easily turn this foosball machine into the simplest storage option. Also, you can tuck its legs and take it anywhere with ease. Its compact form factor gives you space freedom, especially in small apartments.
More Speed In The Game: You can achieve better spin action with the anti-rust steel roller bearings on this foosball table. These bearing won't rust even after long-term usage and still provide the same speed. Therefore, these bearings increase the scoring capacity of the players.
Ball Return Technology: It saves time after each goal when the balls are displaced. So this feature helps you save some time, so you play without delays.
Pros
Can endure outside weather trolls
Simplest and convenient foldable feature
Roller bearings offer maximum speed
No more delays with the ball return feature
Our Take: Weather-resistant coating and the reinforced plastic and fiberglass are built to give a reliable purchase overall. Further, this table is perfect for all ages.
POPULAR CHOICE
Hathaway Gladiator 48″ Folding Foosball Table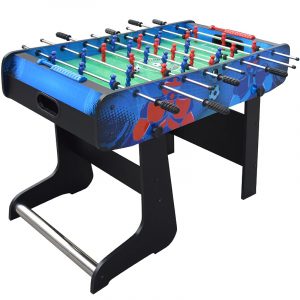 ★★★★★
Convenient Storage
Ergonomic Handle
Features:
Compact 48 inches table that comes with the folding design offering convenient storage
Includes incredible spin bearings and ergonomic handles for a fluent foosball experience
The table offers a realistic soccer-field design with a fast coated surface, offering a trouble-free experience
The company offered a warranty of 180 days to ensures the quality and performance
Gladiator 48 inches is built to offer quality in a foldable space-saving design that is loved by all. Its dazzling robot graphics make it a great fit for beginners who are just looking to start a foosball game.
The table includes high-quality spin bearings for the smooth flow of the game. Needless to say, it is surely among the best foosball tables to buy this year.
Specifications:
Dimensions: 48 x 23.75 x 32.25 inches
Folded Dimensions: 23.75 x 18 x 61.5 inches
Weight: 54 lbs.
Color: blue & black
Total Rows: 8
Space-Saving Functionality: This decently sized 48 inches table is easy to snap for a quick storage option that is easy to manage. Its incredible folding feature makes it an easy option for most people preferring space-saving games.
A Better Start For Kids: Everyone can easily notice the table's appearance that is inspired by the robot with punchy contrast. These dazzling graphics and compact size make a great fit for most kids.
Fluent Foosball: Stick to the game with its impressive spin bearings offering the best action you can get on a foosball table. Furthermore, its comfortable handles and commendable steel rods work together to provide a silky smooth game overall.
Impressive Soccer Field Design: Hathaway Store has produced a glossy and smooth playfield with a realistic soccer playfield simulation. Players love each and everything about this playfield, where balls roll seamlessly for nonstop action.
Automatic Ball Return: Save yourselves from the in-between game pauses thanks to the automatic ball return technology.
Pros
An easy storage option with the convenient folding
Ergonomic handles for perfect game control
Perfect choice for kids as it has a bright color
The price tag is friendly
Glossy surface for smooth action
Cons
Average quality table
This table doesn't have leg levelers
Our Take: A 48 inches compact foosball table with dazzling graphics and a glossy playfield is a bright choice for the kids.
TRADITIONAL
Sunnydaze Folding Foosball Table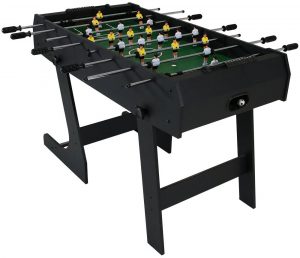 ★★★★★
PVC Laminated MDF
Convenient Storage
Features:
This promising table is made out of highly durable 15 mm PVC laminated MDF for a lasting experience
48 inches table is easily folded for a super convenient storage functionality
Ergonomic handling with comfortable handles and sturdy steel rods
The package includes everything to get started right away
Start massive family fun with this folding 48 inches foosball table that is made from PVC laminated MDF. The table offers top-quality metal rods and 2 manual score counters, making it one of the best folding foosball tables.
Players can get started quickly with this table, including everything to start the game right away. Just club it with some high-quality foosball balls to get the real fun.
Specifications:
Dimensions: 48 x 24 x 32 inches
Folded Dimensions: 63 x 24 x 20 inches
Weight: 48 lbs.
Color: black
Material: PVC laminated MDF
Total Rows: 8
Elite Playing Field: Its beautifully managed playfield is the first thing when you look at this premium foosball table. The whole field is painted with high-quality green color and white markings for the goals. You can easily hunt for goals and more challenges with its plastic men ready for action.
All The Accessories: Fulfill your experience with the set of complete accessories you're getting with this table. They include 2 plastic manual scorers and 2 footballs while everything comes ready to assemble and play.
Easy Transport: Everyone loves this table's easy folding and mobility feature. You'll just have to lift the legs and tuck them under the foosball table, and that's the storage snap. Furthermore, this folding design makes it easy to carry to different places.
Lasting Table: You can trust this table's durability and lasting strength thanks to its 15mm PVC laminated MDF construction. These materials make sure that your table fights against all harsh impacts of time and place.
Pros
Long-term quality assurance due to PVC laminated MDF built
Easy mobility and storage with its tuck and fold feature
It comes with all the accessories to get started in minutes
The price is low
1 year of warranty is attached with the table
Cons
Lacking assembling instructions
Loosely placed handles
Our Take: Premium green playing field with the highly durable PVC laminated MDF built to make it a promising purchase.
HEAVY-DUTY
WIN.MAX Preassembled Folding Foosball Table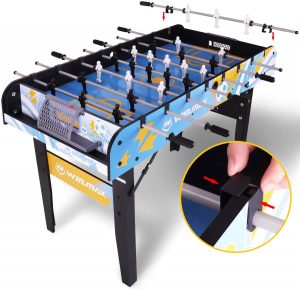 ★★★★
Durable MDF Board
Foldable Legs
Features:
The playfield consists of punchy colors, and it is made from the durable MDF along with odorless PVC
Includes fancy foosball men having the monochrome appearance and clear line for adding extra elegance
47 inches table includes foldable legs that provide great storage in homes and offices
Take a vibrant foosball start with this table, incorporating a lively playfield made from odorless PVC. This table comes preassembled with light hollow rods and deep grooves to ensure a quality grip.
Its foldable triangular structure gives another definition of durability for long-term usage.
Specifications:
Dimensions: 47.64 x 24.02 x 31.89 inches
Weight: 44.85 lbs.
Color: blue
Material: Plastic, Engineered Wood
Total Rows: 8
Ready To Play: This incredible table comes preassembled, so players will no longer need to waste their time on tough assembling. You'll just have to unfold the table's legs and set the rods in place. And you're all set to play a fantastic game that many people around the world love.
A Fresh Start: Your playfield is contrasting with the touch of a catchy and fresh color scheme. Moreover, this freshness is exalted with immense durability through the use of High-end MDF and odorless PVC. So you can trust the pace of the balls coming on its highly glossy surface for maximum action.
Go Sturdy: The scintillating triangular structure of this table gives a balanced and ideal playing area for its players. The preassembled screws and the genius use of brackets make this table even more durable than you can imagine.
Handle To Perfection: Players love the light hollow iron rods installed on this table. They have deeper grooves that keep the rough handling in check. Moreover, they promote an excellent anti-slip feature that comes in handy when your hands sweat.
Pros
Fresh experience with punchy color contrast on the playfield
Elegant foosball men with the monochrome appearance
It offers an easy and quick assembling
No slipping with the deep grooves on the handles
Best budget-friendly table
Cons
The screws of the legs keep coming out
Average quality table
Our Take: The balanced triangular structure with the elegant foosball men and bright playfield offers a wonderful foosball experience.
PROFESSIONAL
FITPHER 4ft Foldable Foosball Table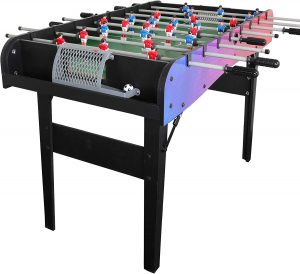 ★★★★
Responsive Surface
Chrome-Plated Rods
Features:
Enjoy playing the popular foosball game on its responsive surface made from promising MDF
The convenient score counter keeps players updated about the ever-changing score count
Durability is checked with the durable round corners and chrome-plated steel rods
It takes 1 minute to assemble this foldable foosball table
Have hours of fun playing foosball with this table's durable ABS molded players. You'll never lose control over the game with the good anti-slip handles and chrome-plated steel rods.
The versatile score counter keeps players updated about the match updates.
Specifications:
Dimensions: 121 x 61 x 79 cm
Playing Area: 106 x 58 cm
Weight: 33 lbs.
Color: multi
Material: Metal, Engineered Wood & MDF
Total Rows: 8
Complete The Experience: This table takes your playing field experience to the next level of perfection with the high-quality MDF built. On the other hand, you're getting ABS molded players that promote an excellent level of durability.
Moreover, these players boast a signature soccer feel, so your game comes to life. Moreover, players get 2 bonus balls in the package to complete the purchase.
Promising Features: You're getting high-quality chrome-plated steel rods complemented with the end caps. Meanwhile, take the game in your hands with the purposeful handles on this table.
These anti-slip handles target the best holding state of a hand for complete control over the game. The table also includes a painted metal goal net for a pronounced soccer simulation on a foosball table.
Reinforced Safety: Each side of this foosball table is protected with smooth and durable round corners. Moreover, the stable feet of this table are built with the best materials promoting a strong foundation. So players can play without boundaries with this ultra-durable table.
Pros
Stay updated with the score counter
Smooth round corners offer protection against all impacts
2 bonus balls are included in the offer
Cons
Plastic pieces come apart during the play
Our Take: Reinforced durability and a pronounced soccer simulation on this table give you a considerable purchase.
COMPACT
FITPHER Save Space Fancy Foldable Table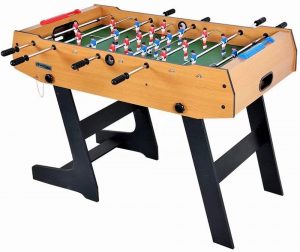 ★★★★
Smoothest Surface
ABS Construction
Features:
The playing field has a 3 mm MDF gaming surface featuring a smooth impact along with an apron side
You'll get 8 pieces of rods 4 for each player having a smooth grip handling
ABS constructed handmade players are featured on the playing field with a striking structure
Of course, an advanced design placement has been introduced here with the foldable aspect that makes it portable as well.
The scoring system is featured here with a supportive leg design that can be folded according to your desire.
Specifications:
Dimensions: 48 x 24 x 32 inches
Play Area: 105 X 58.6 cm
Color: brown & black
Frame Material: Engineered Wood
Total Rows: 8
Quick Assembling: The assembling doesn't require any mechanism or tough tools, simply screw the legs with the playing fields. And the table is ready to play with a foldable leg design whenever you are not playing. The playing surface is wide and made of MDF materialization.
Sturdy Playing Field: 48-inches of length has been measured here with a 3mm MDF surface layer for a smooth outcome. Plus, the bottom apron, which is of 12mm MDF design, makes a supportive impact on the body construction of the table.
Smooth Gripping Rods: 12.7 mm hollow rods are materialized with an iron substance that provides a smooth moving angle on both sides of the players. 8 rods are featuring 4 on both sides with a proper gripping impact on the handling place.
Supportive Legs: The legs can be easily connected with screws for quick assembling with 15 mm MDF materialization. The shape has been designed in L structure, and the exterior is laminated with PVC color along with a foldable aspect as well.
Pros
2 foosball balls are also included in the table package
Smooth gripping handles with proper movement
ABS constructed players on the playing field
Our Take: A 48 inches playing field along with a 3 mm MDF layer surface and iron-made rods make it the best choice foosball table with a foldable impact.
FAQ Regarding Best Folding Foosball Tables
Q. What is the best foosball table for the money?
The best foosball table for the money, according to our reviews and research, are KICK Majesty 55″ Folding Foosball Table and Hathaway Gladiator 48″ Folding Foosball Table.
Q. Is spinning in foosball cheating?
The rules for playing foosball game are there is no spinning of these balls during the gameplay. This rule is the most basic and fundamental rule that is applied to playing the game.
Q. Are foosball tables worth it?
Yes, foosball tables will bring a perfect time when it comes to playing with your friends and family. Furthermore, you can even play these games with your co-workers and at the office so that you might relax during the hectic routine of the day.
Q. Are Sportcraft foosball tables good?
Foosball tables being manufactured by Sport craft are not up to the standards for playing. These tables are a good choice for playing foosball games at home with your whole family. Furthermore, the price tag that is attached to these tables varies according to the features of the tables with which they come.
Best Folding Foosball Tables | Quick Comparison
Our Recommendation:
Our 1st recommendation is the Hathaway Gladiator 48″ Folding Foosball Table as the best design gaming table. A 48 inches playing surface and E-Z-bearing solid steel rod structure make it a perfect choice.
In addition, our 2nd recommendation is the KICK Majesty 55″ Folding Foosball Table as one of the best and premium foosball tables. It has a smooth playing field along with stainless steel and chrome-plated rods together with a 1 or 3 goalie player design.
Conclusion
Hence, now we can prove that these are the best folding foosball tables along with versatile and advanced construction. The legs of tables are specially designed with foldable aspects in most designs and quick assembling. Plus, the gaming surface is much smoother with player placements on standards.
Furthermore, the rods are featuring a much more convenient handling scenario that is compatible with all players. The players will also get foosball balls in the given table package with a build-in scoring system as well.