Australia has achieved many successes in cricket's history with some best Australian ODI batsmen when it comes to the ODI format. These Australian players have done a tremendous job with their exceptional capabilities and remarkable career. Let's check who are still considered the bests in cricket.
Legendary former Aussie captain Rickey Ponting is the greatest Australian ODI batsman of all time. During his career, he scored 13,704 runs in 375 ODI matches. Legendary coach Greg Chappel and former batsman Dean Jones also deserve their places on this list.
Australia's cricket team is one of the best cricket teams of all time in all cricket formats, with its remarkable achievements in cricket history. No doubt, the team produces many talented players who played a huge role in the popularity of cricket in Australia.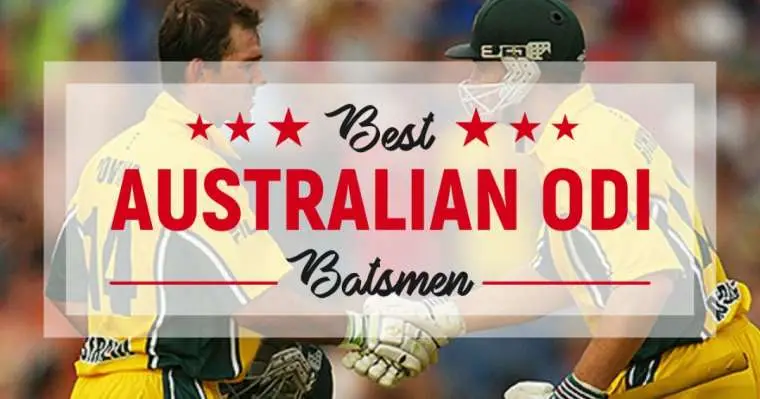 Best Australian ODI Batsmen | All-Time Ranking
You may have already liked our exclusive ranking of the most-tattooed cricketers of all time. And now, we have come up with this unique list of the best ODI stars Australia has ever produced.
10. David Warner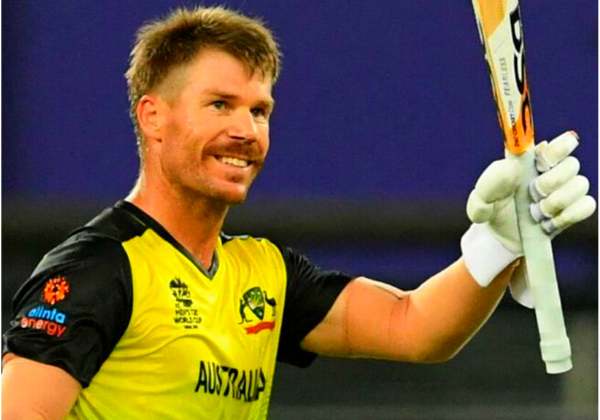 With 19 remarkable centuries in ODI, David Andrew Warner, known as David Warner, is an international player who plays as a left-handed batsman for Australia.
Warner is the first Australian batsman to score 7 one-day international centuries in a single calendar year. Warner's great ODI performances played a huge role in many wins for his team.
Although David has been a part of many controversies in his career because of his aggressive attitude, his opponents have to face many times on-ground and off-ground.
However, for 6,007 runs in 141 ODI matches, he is still considered among the very bests. Moreover, he still remains in the heart of cricket fans as one of the best left-handed batsmen in the world.
You May Like: How To Play A Pull Shot In Cricket? (Tips + Techniques)
9. Matthew Hayden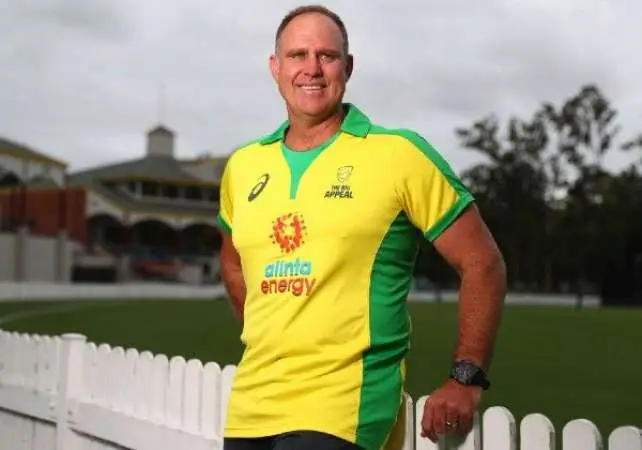 Matthew Lawrence Hayden, known as Matthew Hayden, is a former cricketer from Australia. In his career, Hayden played in 161 One Day Internationals for Australia with 10 centuries as an opening batsman and made his ODI debut against England in 1993.
He achieved his best ODI score of 181 against New Zealand in 2007. Hayden is also regarded as one of the best openers in cricket history, with 6,133 runs in his ODI career.
His side won the ICC Cricket World Cup in 2003 and 2007. He scored 987 runs at 51.94 in World Cup games in 2003.
Being a top scorer, Hayden smashed 659 runs at an average of 73.22 and a strike rate of over 100 during the 2007 Cricket World Cup, scoring over 3 centuries during the tournament.
8. Andrew Symonds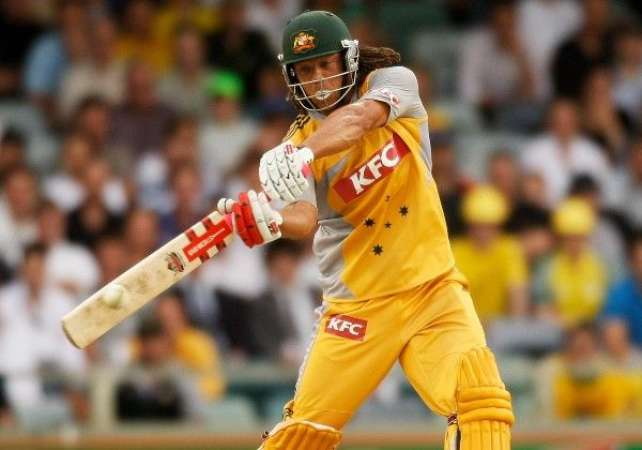 The former Australian international cricketer Andrew Symonds, born 9 June 1975, played in all three game formats as a batting-all-rounder.
Symonds constantly challenged the opponents with his aggressive game style throughout his career. Symonds got his career's best score of 156 in 2005 against New Zealand.
He scored a total of 5,088 runs in 198 ODI matches. Besides his throughout amazing career, he was named an all-rounder in Australia's "greatest ever ODI team."
Some people consider him one of the most overrated cricketers because of his unethical behavior in his career. But yes, several of his fans still consider him one of the best hard-hitters in cricket.
7. Michael Bevan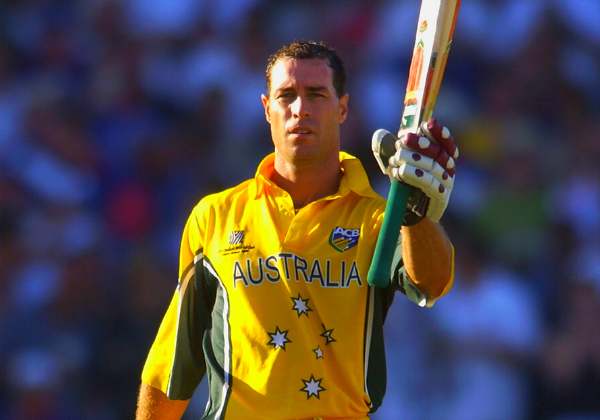 Michael Gwyl Bevan, known as Michael Bevan, is a former international cricketer. He batted for most of his ODI career on a higher average than in Test cricket, making him one of the most respected Australian batsmen in the 50-over format.
During his career for Australia, Bevan participated in 232 One Day International games (ODIs) and scored an astounding 6,912 runs.
He was a member of the winning team in the ICC Cricket World Cup in 1999 and 2003. Bevan was named as a batsman in Australia's "greatest ever ODI team." He also achieved six centuries in his ODI career, with the best score of 108.
As a whole, his career was notable because Bevan always put his team before his personal interests.
6. Michael Hussey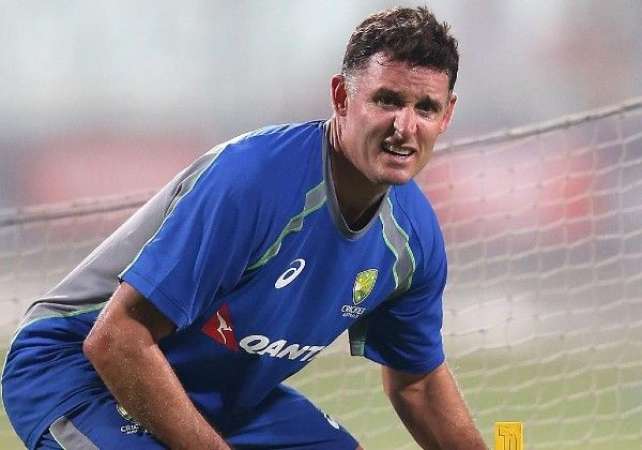 Michael Edward Killeen Hussey, known as Michael Hussey, is a former international cricketer from Australia who started his international career at a late age.
He represented the Australian cricket team in 185 ODI matches and scored an amazing 5,442 runs. Hussey also has a prolific career in First-Class cricket, with 22,783 runs in total.
Hussey had an outstanding international career, being the world's top-ranked ODI batsman in 2006 and one of the best Australian ODI batsmen of all time because of his exceptional achievements.
After retirement from cricket, Hussey, known as Mr. Cricket, started coaching roles, took up commentary, and acted as an expert for various broadcasters. With his best score of 109 against the West Indies, Hussey scored 3 centuries in his ODI career.
Improvement Guide: How To Bowl Faster In Cricket? (+Bowling Tips In 2023)
5. Mark Waugh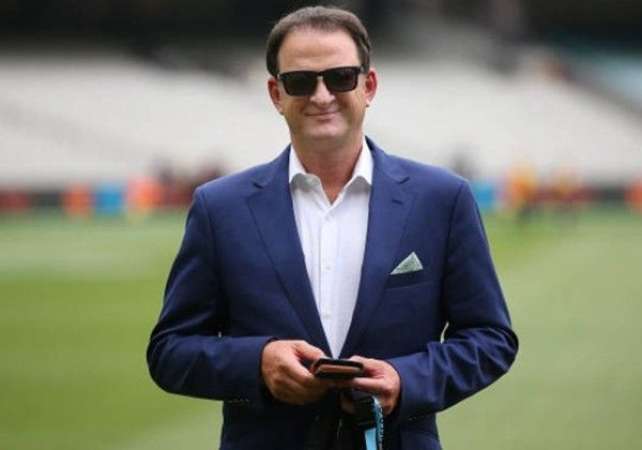 Mark Edward Waugh, known as Mark Waugh, is a former cricketer who represented Australia in cricket sport from 1988 to 2002 in ODI.
Besides his exceptional career in test cricket, Waugh is also a well-known star player for his ODI achievements. He became the first cricketer in history to score 3 centuries at the 1996 ICC Cricket World Cup.
Waugh scored 18 remarkable centuries in ODI, with the highest score of 173 against West Indies in 2001. And talking about his ODI career, he scored 8,500 runs in 244 ODI matches.
With 104 runs in a game against New Zealand at the Adelaide Oval, Waugh helped Australia chase a target, and he achieved Australia's highest total of 320 runs in the series.
4. Adam Gilchrist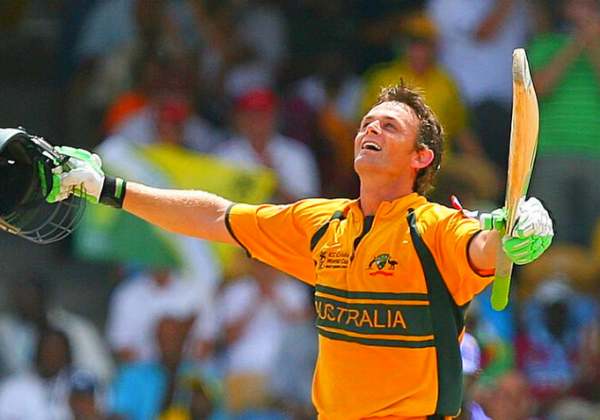 The former captain of Australia's national cricket team Adam, Craig Gilchrist, also known as Adam Gilchrist, is known as the best in both formats, ODI and Test matches.
Besides, he is still considered one of the greatest wicketkeepers the cricket world has ever seen. Gilchrist is considered one of the best Australian ODI batsmen who have done a tremendous job in their career with an overall impressive performance.
Including the best score of 172 in 2004 against Zimbabwe, he scored 16 centuries in his entire career. Gilly scored a total of 9,619 runs in 287 ODI matches.
Gilchrist won Australia's One-day International Player of the Year two times in 2003 and 2004. He was also bestowed with the Wisden Cricketers of the Year honor, ranking among the top five players in 2002.
3. Dean Jones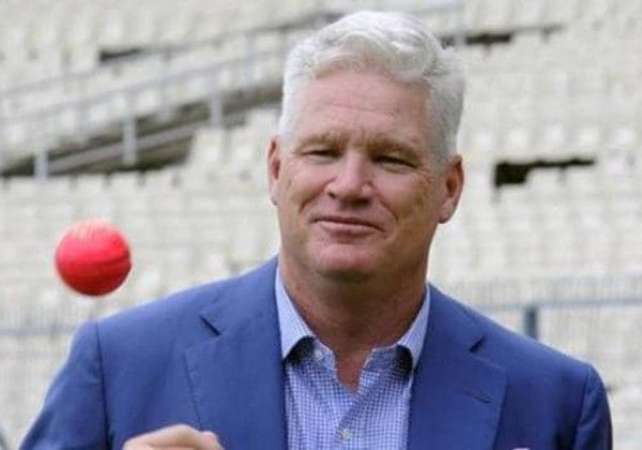 Dean Mervyn Jones, known as Dean Jones, was a former player from Australia who was known for his excellent ODI and test career.
The ICC Player Rankings retrospectively indicate that Jones was one of the best ODI batsmen during the late 1980s and early 1990s.
He scores 6,068 runs in 164 ODI matches, including 7 outstanding centuries with the best of 145. Jones was well-known for his outstanding performances throughout his career. In 1998, Jones decided to retire from cricket.
Later he was involved in cricket as a coach and commentator. For two years, Islamabad United won the Pakistan Super League under the leadership of Jones in 2016 and 2018.
2. Greg Chappell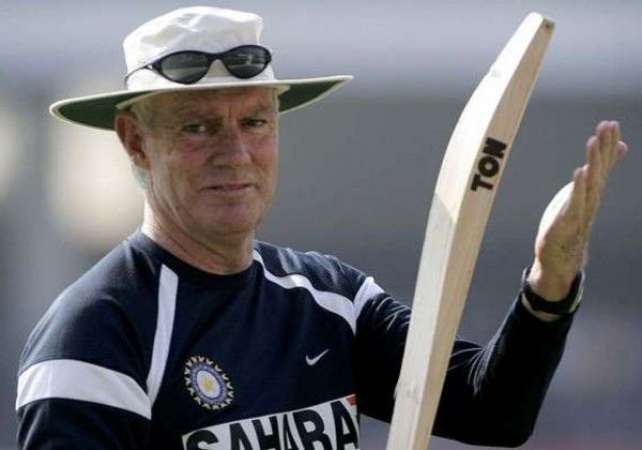 Gregory Stephen Chappell, known as Gregory Chappell, is a legendary former cricketer from Australia who achieved milestones in both tests and ODIs.
He is known for his tremendous job as a test and ODI batsman. Besides, he is one of the best Australian ODI batsmen who proved themselves called to be a legend of cricket.
Chappell scored 2,331 runs in just 74 ODI matches, including 3 excellent centuries with the best score of 138. During his heydays, he achieved an ODI batting average of 40.18.
After his retirement from international cricket, Chappell remains involved in cricket as a coach and Australian Cricket board member.
Batting Tips: How To Play The Cover Drive In Cricket? Perfect Techniques (Explained!)
1. Ricky Ponting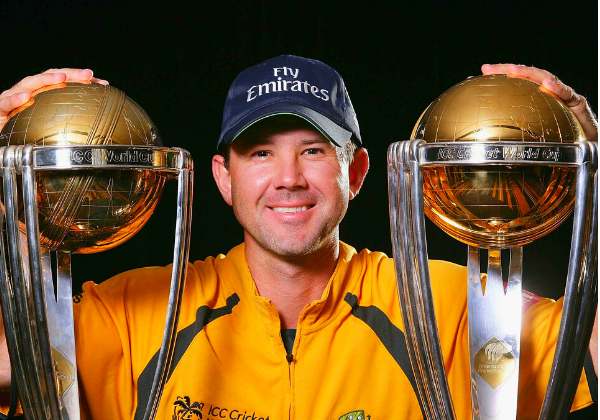 Ricky Thomas Ponting, known as Ricky Ponting, has cemented his place as one of the greatest players in both test and ODI formats.
Ponting's remarkable career makes him one of the most successful cricket captains in cricket history, with 220 victories in 324 matches.
The legendary player won three world cups as a captain. Besides his success as a batsman in both formats, Ponting has also earned praise as one of the best fielders in cricket history.
His 13,704 runs in 375 ODIs, including 30 thrilling and game-winning centuries with the best score of 164, makes Ponting the best Australian ODI batsman of all time.
Final Words
We hope you like the list of our best Australian ODI batsmen of all time. We would appreciate having your precious feedback in the comment box.
Best Australian ODI Batsmen – Infographics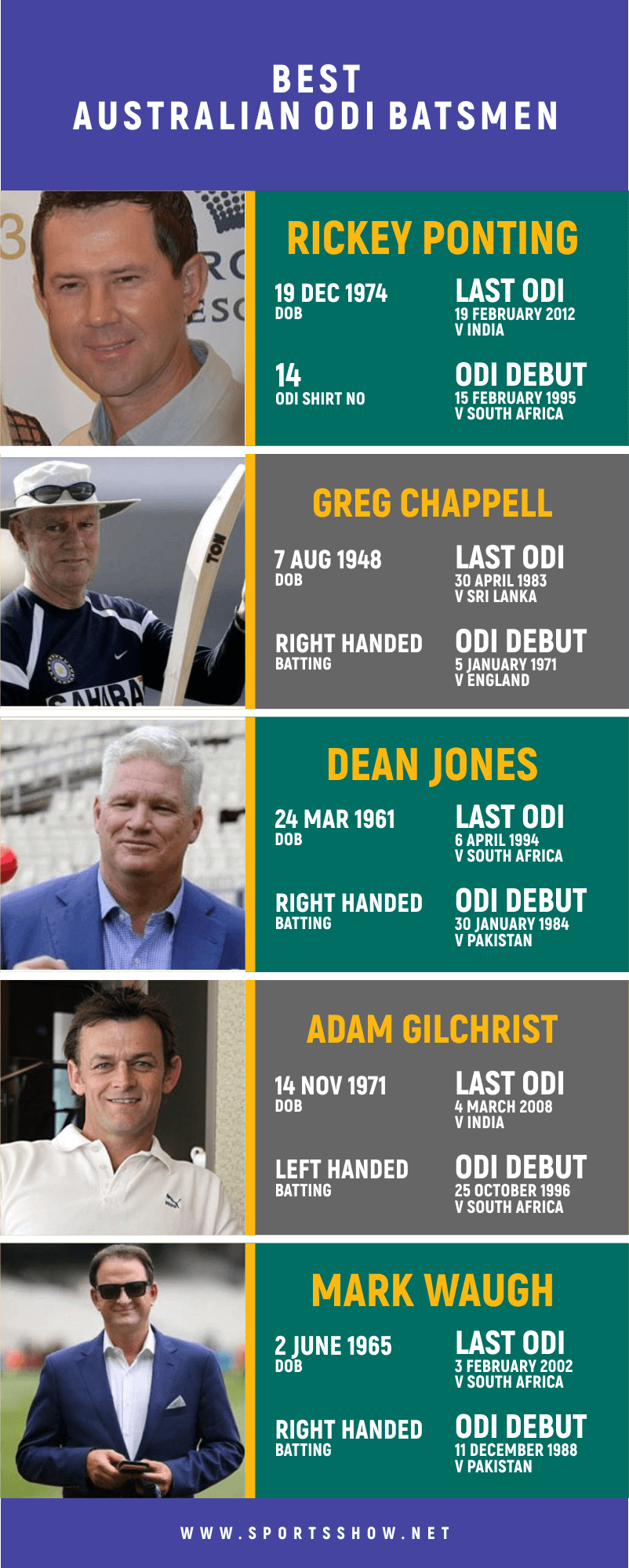 Our Popular Post: Is Big Bash bigger Than IPL? Detailed Comparison & Stats In 2023
FAQs
Q. Who is the No one batsman in Australia?
The ICC Test rankings for batsmen are updated daily, with Virat Kohli moving up to the No. 4 spot and Steve Smith reclaiming the top spot for the first time since the Boxing Day Tests of last year. According to Wikipedia and Forbs, Steve Smith is the No one batsman in Australia.
Q. Who is No 1 Test batsman?
In the latest ICC Test rankings, Rohit Sharma is ranked highest among Indian batsmen. He is one of the best players in the world. According to the ICC Men's Test Player Rankings, England captain Joe Root is ranked top among batsmen.
Q. Who scored the fastest 200 in ODI?
Christopher Gayle scored the fastest 200 in an ODI. He was widely known as the best cricketer in the world. Gayle's knock of 215 off 147 balls contained ten fours and a record 16 sixes, which he shares with Rohit Sharma.
Q. Which team scored the most 400 in ODI?
South Africa had scored more than 400+ runs in ODIs than any other nation. There have been two times in the ODI format when a team has scored 400+ runs. The first occurred between Australia and South Africa in 2006, while the second occurred between India and Sri Lanka in 2009.
Last Updated On: December 2023