Are you trying to get over your boredom and still failing? The best bubble hockey tables on our list are going to be the ultimate solution to this problem. They are going to provide an excellent tabletop experience right in the comfort of your rooms. So you're no longer obligated to enjoy this game outside.
These tables vary in functions and safety features that come in handy during the game. Your rod hockey games offer the most incredible hockey game simulation to brighten your overall experience. But there are key points to remember before purchasing.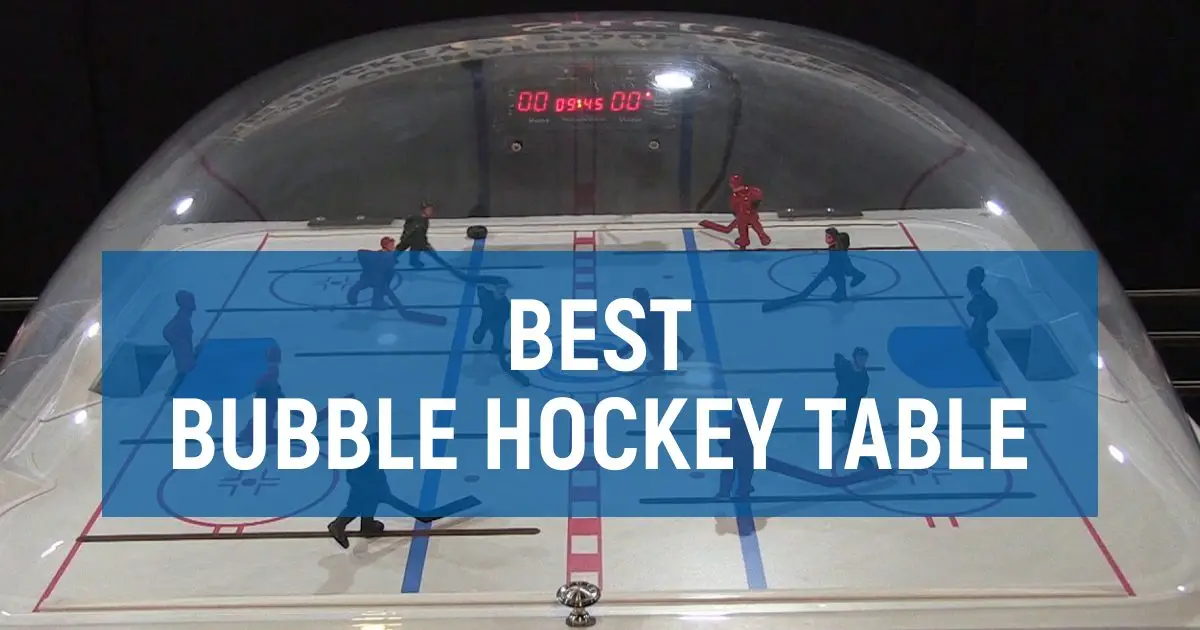 Players must make sure about the durable profile of these tables by determining the construction materials. While the sizes of these hockey tables vary so, you must consider the one that fits your need. Lastly, the assembling should be simple and quick for you to get started quickly.
Best Bubble Hockey Tables | Editorial Pick
EDITOR
CHOICE
★★★★★
NHL Stanley Cup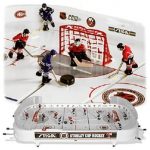 3D Players
Pixel Shield
Maple Base
TOP
RATED
★★★★★
Franklin Sports Rod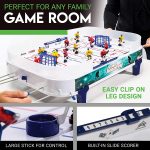 20-Inch Table
12 Players
Seamless Action
BEST
SELLING
★★★★★
Peter Forsberg Edition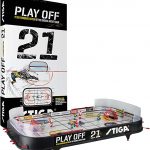 Detailed 3D Stars
Quality Pucks
Thicker Sheet
Best Bubble Hockey Tables | Full Ranking
You must have already liked our in-depth review of the amazing air hockey tables for under $1000. Besides, we have also reviewed the ping pong air hockey combo tables to try this year. And now, it's time for some high-quality and best bubble hockey tables.
BEST OVERALL
NHL Stanley Cup Hockey Table Game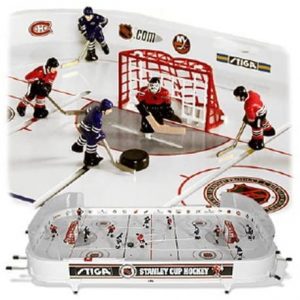 ★★★★★
Realistic 3D Players
Puck Ejector
Features:
Includes three-dimensional players of two specific teams with added extra strength
The players are wearing the uniform of Toronto maple leaves and Detroit red wings
It comes with puck ejectors, Plexi-shield protectors along with the goal counters
Players can notice the Maple wood base lifted from the table surface thanks to 1.65 inches legs
Get the best tabletop hockey experience with 3D-crafted players ready to goal. Dominate the game with easy control rods in the game mechanics.
Brilliant plexi shields and puck ejectors are making it one of the best bubble hockey tables.
Specification:
Dimensions: 37 x 19.75 x 3 inches
Weight: 3.3 kg
Base Material: Maple Wood
Color: white
Age Recommendations: 12 years and up
Unique Craft: A top-quality hockey game that is using aluminum rods for the game's functioning. It has a seamless design with the Maple wood base giving ultimate protection overall.
It's easy to figure out the game operations with the puck ejectors in every goal. In addition, the whole experience is pronounced by the incredible 1.65 inches legs placed up the table.
Game Operations: This tabletop game comes with the puck ejectors associated with each goal. The goalies move from the side dimensions. Further, there is a goal counter where the score is displayed for added convenience.
Protection: There are Plexi-shield protectors offering protection from the harsh slaps that go out of the surface, so that makes it a great combination of quality and protection for all sorts of games.
Signature Players: All the players standing on the field are built to perfection and offer a 3D glimpse to the players. Stiga has this game's players wearing the uniform from the Toronto Leafs and Detroit red wings and making this a treat for all these team's fans out there.
Pros
Plexi-shield protectors save fly out pucks
Maple wood base for increased durability
Best for all Toronto maple leaves and Detroit wings fans
No assembling required
Cons
Fragile legs
The price tag is high
Our Take: Three-dimensional players exalt the overall feel of the game with added shield protection. Moreover, the maple wood base makes it a durable hockey table as well as it is a decent option to consider.
BEST-RATED
Franklin Sports Rod Hockey Game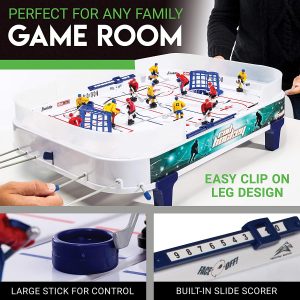 ★★★★★
20-Inch Table
Action Packed
Features:
A manageable 20 inches hockey table comes with the 12 action-packed players
The game has a Plexiglass enclosure and a convenient scoring menu
It comes updated with re-engineered gearing functionality for a seamless action
Control the fun with the engaging 12 hockey players through in-built rodes— a 20 inches form factor offering the traditional hockey game in the comfort of your living space.
Moreover, the re-engineered gearing mechanism makes sure that the game runs smoothly throughout.
Specifications:
Dimensions: 22 x 15 x 6 inches
Weight: 3 lbs.
Color: white
Age Recommendations: 6 years and up
A Fun Ride: This game has been considered one of the best indoor games because of its great simulation and strategy. You're getting all highly crafted 12 players that make the game even more joyful. It has a compact size 20″ surface size, making it a great storage option as well.
Re-Engineered Gearing: Players can now seek a very smooth experience thanks to this re-engineered gearing. This enhanced gearing system takes the lead over the rest in terms of its swift progress.
Amazing Simulation: An impressive plexiglass enclosure gives a sublime feel that is close to the actual hockey game. All this fun is accessed through the improved rods in the game. Players can freely explore their game's strong points by using these hockey rods.
The Authentic Hockey Action: All the game components are highly detailed, with the main focus on their functionalities. The in-game players run smoothly, and the substantial hockey sticks vouch for complete game control. So, these qualities making it an authentic hockey experience for all the exciting players.
Pros
Easy storage with this 20 inches table
Trouble-free game with the re-engineered gearing
Lightweight design makes it easy to carry
Easy to understand and quick to setup
Low price
Cons
Average durability
Damaged shipment complains
Our Take: A handy 20 inches hockey table that comes with 12 action-packed players, as well as re-engineered gearing and authentic hockey action, make it a viable option. And one more thing; don't forget to try some of the best Franklin pickleball paddles if you are a fan of the game.
POPULAR CHOICE
Peter Forsberg Edition
★★★★★
HD Characters
Thicker Ice Sheet
Features:
The highly detailed 3D players on this tabletop hockey game can be replaced
Your game works with the pushing and pulling of rodes to control the pucks in the game
It comes with ice sheet goals, legs, score counters, end glass, and fine quality pucks
A smooth experience combined with the 25% thicker ice sheet
No more flying out pucks with the high-quality end-glass on one of these best bubble hockey tables. Players can now experience classical-style hockey on a tabletop convenience.
Everyone is looking to snatch the pucks back on a smooth ice sheet that gets thicker than ever.
Specifications:
Dimensions: 40 x 21 x 18 inches
Weight: 3.6 kg
Material: plastic
Frame Material: glass
Color: white
Age Recommendations: 7 years and up
Flexible Game: Players are no longer stuck to the pre-installed game components on their games. This rod hockey game's components are replaceable so players can get more personal with their choices. Furthermore, the in-field players can also be replaced with your favorite team miniatures.
Thick Ice Sheet: The game surface fits a 25% thicker ice sheet for an unstoppable flow of pucks. Therefore, players can expect even glide of their strikes throughout the game.
While the game controls are conventional rods that are easy to operate. You can spin, push, and pull these rods to get hands-on the puck for a sure lead over the opposition.
Steal The Puck: All players work in coordination to retrieve the puck for the further flow of action. Every team starts their action from the back of the opposite team's net and progresses further. Players get access to almost all the pockets to hunt the puck in the game.
 End Glass For Safety: Everything is covered with the end glass from both ends. Thus, your misguided strikes shouldn't be a worry anymore.
Pros
The incredible flow of the game with a thicker ice sheet
End glass from both ends protect misguided slaps
Each game component can be removed and replaced
It took only 5 minutes for assembling
Cons
Complains about the scratched surface from the box
High price
Our Take: Thicker and better ice sheet surface with end glass protection make this an excellent deal for all. Further, you can now experience classical-style hockey at a tabletop convenience whick makes it unique.
TRADITIONAL
Carrom Super Stick Hockey Table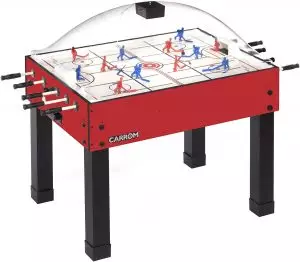 ★★★★★
Resilient Cabinet
Scoring Units
Features:
The resilient cabinet is made from wear-resistant Melamine for redefined durability
Uniquely crafted players with energetic scoring units celebrating each goal
It comes with the precision injected molded gear for no troubles in the game
Enjoy the traditional rods hockey game your way with a bunch of design options. The highly resistant Melamine makes for a strong cabinet-style game base.
Carrom has a range of flexible hockey table options. So players can go with the best one fulfilling their requirements.
Specifications:
Dimensions: 58 x 33.75 x 47 inches
Weight: 138 lbs.
Material: Solid Color Plastic
Color: red & black
Assembly Required: yes
Battery: 4 AA batteries required
Built To Last: Many customers worry about the durability standards of the bubble hockey tables, but no more. Because, this table's main cabinet is made from the incredible Melamine that offers the best endurance.
Melamine is thermal infused and wear-resistant, which means your cabinet can face all the toughness without a single doubt. Further, it is made in the USA.
Celebrate Every Goal: This table has an energetic scoring feature that makes it different from the rest of the offerings. The lively scoring unit announces each goal whenever it happens with a keen announcement. Thus, it giving you a real game experience right from a table.
Various Shapes: Players are getting a bunch of style options with this particular table. You can get it in pedestal shape as well as with leg-levelers with some color choices as well. So, Carrom has fully nailed this table's style possibilities without a doubt.
Precision Injected Molded Gear: This feature makes sure that everything on the table's surface is properly functional. The flexibility of this gear has enabled a great flow of game throughout. So, the precision injected molded gear helps with the proper running of this signature rod hockey game table.
Pros
Sturdy cabinet with Melamine durability
Smooth operations with the molded gear
It comes in different colors and style options
Prominent scoring unit for the track of goals
The price tag is reasonable
Cons
Heavy as compared to others
Should be a switch for sound control
Our Take: Precision-injected molded gear and durable Melamine in cabinet construction which makes it a long-lasting table. Further, this USA-made table comes with a solid and shatter-resistant plastic dome that provides additional protection.
HEAVY-DUTY
Mancave Elite Rod Hockey Table Game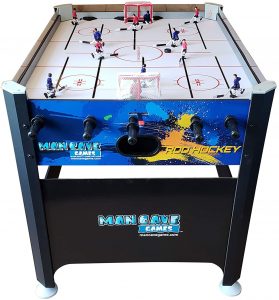 ★★★★
12 ABS Players
Lightweight Table
Features:
It comes with 12 ABS players with 19 mm rods and POM gears
This unit is made lightweight to help players with mobility
Detailed players included that are controlled through the responsive rods
Assembling made easy with the Philip screwdriver in the package
Expand your rod hockey vision with this 45 inches elite rod hockey table game for everyone. The game itself is easy to assemble so that you can get started in minutes.
While the huge ice surface offers a smooth experience with added leg levelers to keep even on any surface.
Specifications:
Dimensions: 52 x 32 x 36 inches
Weight: 45 lbs.
Frame Material: plastic
Color: blue
Assembly Required: yes
Age Recommendations: for all ages
Largest Ice Surface: This bubble hockey table features a huge ice surface area best for an intuitive hockey game. Tune your hockey experience on this large and responsive surface. The 45 inches surface makes every game close to the real hockey match.
Easy Assembling And Carry: Your ManCave table is lightweight for its huge-sized surface. It can be dragged or carried to any corner of your home without worrying about getting this thing hurt because it is made durable with sublime quality construction overall.
Assembling this piece of craft is easier than ever, thanks to the Philip screwdriver in the package. Just follow the instructions one by one and get this table ready for exciting matches.
Polish Your Skills: Tune your hockey game in the middle of innovation. This table has a live score system and safely used rods for keeping the game tight. All the real hockey rules apply in this game. Thus, allowing the players to learn more about this exciting sport closely.
Pros
It comes with ABS players
Lightweight design makes carrying easier than ever
Assembling is simple with the added Philip screwdriver
The price tag is friendly
Cons
Rods could be more sturdy
Complains about defective goalie sensors
Our Take: ABS players on a huge 45 inches ice sheet give you all the value for your money. It is suitable for all ages and fun for all family.
PROFESSIONAL
MD Sports Rod Hockey Table Game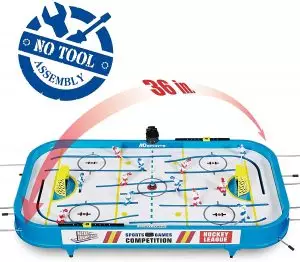 ★★★★
Easy Assembly
Rigid Frame
Features:
The assembling of the hockey table game doesn't require any setup and tools
A striking impact featuring goalies have been placed in each player on the surface
Frame construction has been done with sturdy plastic material
No electricity and no battery is required to play
A multiplayer gaming scenario is featuring solid-body construction along with a portable design. Plus, the smooth playing field also enhances the sliding impact of the pucks during the player's strikes.
The users will get a covering grip on the rods, which is compatible with all angle movements.
Specifications:
Dimensions: 35 x 4.63 x 19 inches
Weight: 7.93 lbs.
Base Material: Metal
Frame Material: Plastic
Color: blue
Assembly Required: no
Manual Playing System: The playing theme of this hockey table doesn't require any electricity supply or battery operating units. Enjoy the manual playability in the multiplayer scenario having a lightweight and quick setup to proceed.
Collaboration Of Firm Structure: Metal and plywood have been added to the exterior body structure of the hockey table that resists scratches. The MDF surface for the players is evenly managed with the balanced ground for a smooth impact. Plus, the boundaries are water-resistant with no damages to consider.
Details Of The Game: 5 players in each team have been placed in the 360 degrees angle settings to flick with the rod as you desire. Plus, each of the players has given a goalie constructed with striking impact to hit the puck with properly generated smoothness.
Pros
A puck launcher has been designed in the hockey table
Tool-free assembling and quick gaming setup
MDF playing surface with a plastic frame structure
Midsize length with a proper width managed
The price is low
Cons
The plastic structure is flimsy
Few legs have movement issues
Our Take: A portable design structure is having an MDF playing surface and firm plastic frame design, and it doesn't require any assembling.
DURABLE
Hathaway Breakaway Dome Hockey Table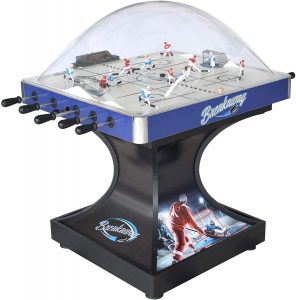 ★★★★
Sturdy Top Dome
LED Scoring
Features:
The top dome is made of polycarbonate materialization that will resist the shatter possibilities
LED scoring system that will update each player with the latest goal numbers
Rods are textured with chrome-plated substance for smooth movement during the gameplay
High-gloss finishing as well as poly-sealed and a scratch-resistance playing surface that provide durability
A top dome coverage on the hockey table possesses a unique exterior design along with a smooth playing surface. The length is wide, comprising firmly connected players structured for multiplayer gameplay.
Plus, the handles are designed with an advanced gripping aspect, so you experience a smooth scenario.
Specifications:
Dimensions: 41 x 52 x 36 inches
Weight: 145 lbs.
Frame Material: Engineered Wood
Color: blue
Assembly Required: yes
Smooth Playing Field: The surface has sturdy and smooth-paced for a hassle-free hockey experience. Well, the poly-sealed construction has been taken place here, which is finished with a high-gloss impact on the exterior. The pucks will not stop at any point making a professional gaming environment.
Players Figure Structure: Standard numbers of hockey players for each team have been featured on the playing surface of the gaming table. The body construction is made of ABS material and is firmly connected with the rodes. The exterior of the figures is hand-painted, gives a shiny look.
Gripped Handles: The E-Z grip handles are much easier to handle as compared with the usual style. And the chrome-plated rods will maintain the balance of the figure while moving on the playing field. In the meantime, the nylon bushing provides a sturdy impact with a Swifty rod playing experience.
Guaranteed Electronic System: The LED scoring system is featured with electronic engineering placed that will update you with the latest score. Moreover, the manufacturers offer 3 months of warranty on this air hockey gaming table.
Pros
Swift moving ABS constructed gaming figures
LED scoring system along with high paced playfield
E-Z grip handles along with chrome-plated rods
Sturdy and non-slippery feet
Cons
Tricky to assemble
The gears don't mesh well, as mentioned
Overpriced
Our Take: A polycarbonated top dome construction along with a poly-sealed gaming surface having E-Z grip handles as a must-choice gaming table for you.
FAQ Regarding Best Bubble Hockey Tables
Q. What is the best bubble hockey table?
As of 2023, the best bubble hockey tables are Hathaway Breakaway Dome Hockey Table and Franklin Sports Rod Hockey – Family Table Top Game.
Q. Who makes bubble hockey?
Innovative Concepts in Entertainment, Inc. makes bubble hockey. The acronym for it is ICE began manufacturing the game CHEXX bubble hockey in the year 1982. Since then it has quickly become one of the top-earning games for bars and arcade games.
Q. What is Bubble Hockey?
This bubble hockey is a game that falls under the genre of arcade games. In addition, the latest version of the game is commonly famous as dome hockey or bubble hockey. Furthermore, there is a large plastic dome that covers the overall playing surface of this arcade game so that it may prevent the puck from becoming stolen or being lost during or after the game.
Best Bubble Hockey Tables | Quick Comparison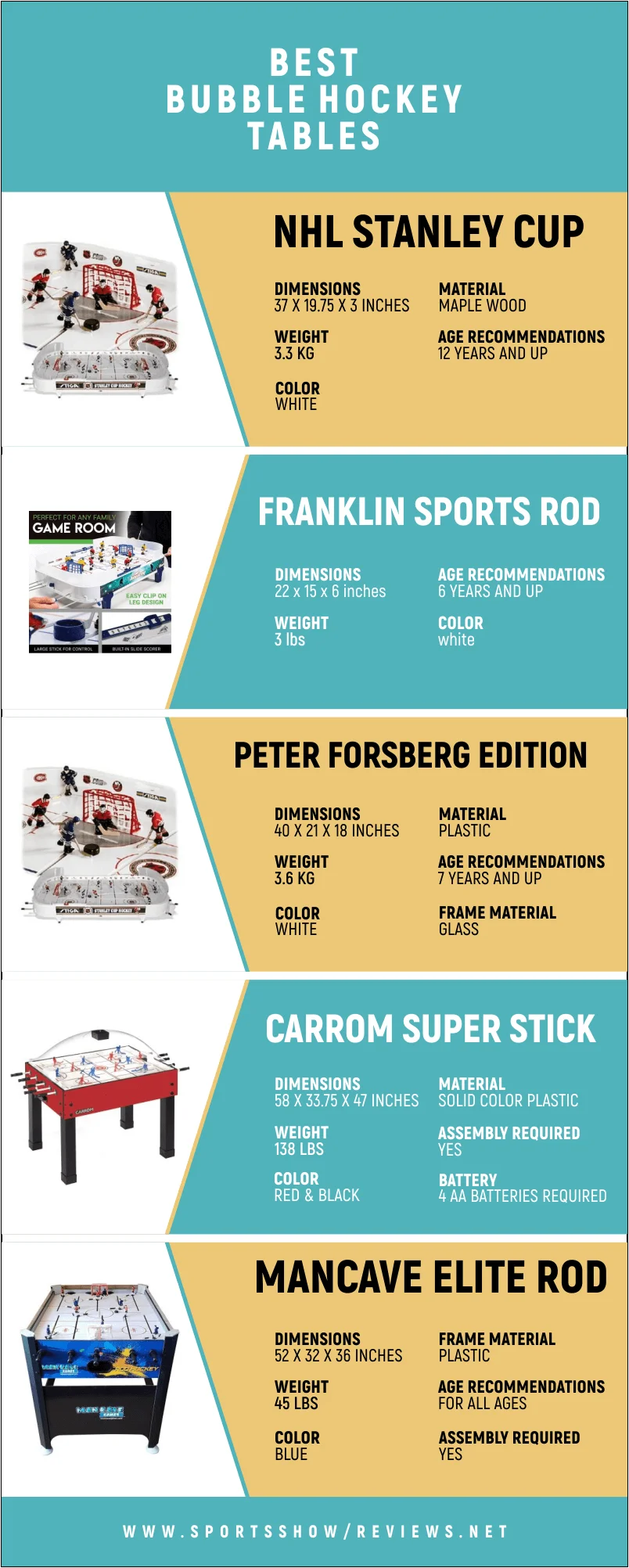 Our Recommendation:
Our 1st recommendation is the Hathaway Breakaway Dome Hockey Table as one of the most durable bubbles hockey tables. The poly-sealed gaming surface, along with ABS-constructed player figures and E-Z gripping handle, makes it a perfect choice for you.
Plus, our 2nd recommendation is Franklin Sports Rod Hockey – Family Table Top Game as the best budget-friendly gaming table. The Plexiglass materialization on the playing surface improves the smoothness, plus the authentic handle grips are remarkable.
Conclusion
The best bubble hockey tables have come in the list of top 7 ranked products featuring a sturdy body construction. The handling rodes are perfectly designed for all types of players to provide an additional smoothness with exterior plating. Alongside, the playing field has been enhanced with advanced placements.
The figures on the surface are designed with firm material that will slide on the ground with the delivered force. And some of the tables are top dome structured to protect and resist the damages to the maximum level.