Have you ever thought about getting locked in a room? Or about the best escape room board games that could materialize your set of thoughts? This idea has always been in our minds whenever we're drained or exhausted.
It's been a while since this interesting idea started becoming a popular trend. Many abodes were put into the test for this sake by adding complex elements for the escape.
Whenever you hear about the term "Escape Room," you will start pondering about the mystery hidden behind the escape. And it's not always easy to find such practical spots to enjoy this stellar game idea.  But now, you can enjoy this phenomenal game theme within the comfort of your rooms.
We have already listed some of the best trivia board games. And now, its time for some best escape room board games. These intelligent board games let you escape the room by solving intricate puzzles. Your ideas will determine your fate through the puzzles.
7 Best Escape Room Board Games In 2021
The puzzle ideas are inspired by different surroundings, such as a dark-themed abandoned house to a prison. So, get through the hurdles and help yourself escape the situations with your intellect.  
So, without wasting any time, let's go through the board games list we have careful selected just for you.
BEST OVERALL
3 Thrilling Escape Rooms Game by Spin Master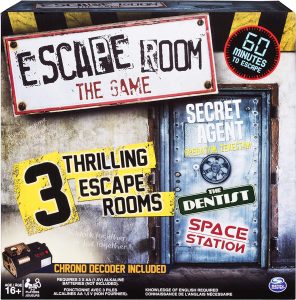 ★★★★★
The product dimensions are 4.53 ×43 × 10.43 inches
The product weighs 1.79 pounds
Features:
You're battling with the time In this intense board game puzzle
The product offers 3 engaging room themes
The difficulty of your game depends upon the room you select to select
The complex scenario created to test your brain skills
The exciting design comes with detailed components
Escape room fun under the ticking clock in one of these best escape room board games for the family by Spin Master. You are in charge of your brain to solve the puzzles in different room themes. So, be resilient because time is on the loose.
Feel the Thrill: Can you find the keys to escape from the room? You make your way through the difficulties created in the room you're locked into. This intense board game is filled with bone-chilling feelings to escape the room on time. Because otherwise you're failed.
The clock is Ticking: You're utterly engaged throughout your gameplay span. You have to complete the puzzle and unlock the room in the given 60 minutes. This will sharpen your wits and will help you perform even in intense scenarios as well.
Complement your Game: Spin Master has revived this exciting concept of the thrilling puzzle in a durable and detailed package. The exciting game is just perfect for family fun. So, aren't you excited to solve this puzzle with your loved ones?
Pros
You fight with 3 different puzzles
See if you're stronger than the time as the game runs with the time limit
Perfect for family fun in the comfort of your living space
Great value for your money
Detailed build quality
Our Take: If puzzle solving is your true fantasy in a promising package, then this one is for you.
FAMILY FUN
Stargazer's Manor Room Escape Game by ThinkFun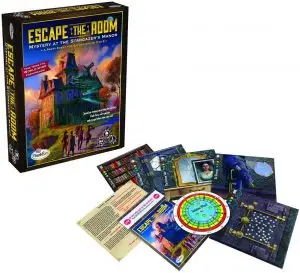 ★★★★★
The product dimensions are 7.88 ×00 × 10.25 inches
The product weighs 1 pound
Features:
Exciting sealed envelops and scene cards to progress through the puzzle
The famous story of an Astronomer in his manor kept alive through this puzzle
The product relates to your brain and logic
Great learning experience through puzzle-solving fun
Reveal the hidden mystery from 1869 in this board game by ThinkFun. Its distinctive game elements and exciting puzzle make it one of the best escape room board games available. Find the clues and unleash the grand secrets.
History Awaits: It all starts in 1869 when a great mystery instigates in a town where a well-respected astronomer was found missing in his manor after the death of his wife. Thus, you're to investigate the puzzle morphed into an attractive game board.
You Find What You Seek: The room escape is all about finding clues to uncover hidden objects. Thus, it's all related to your brain, how you will demonstrate the scenario and get through the obstacles. Moreover, the game board is stuffed with minor objects that may slow down your progress. So, get the clues and progress through the shady puzzle to escape the day.
Pros
The historical puzzle is filled with fun elements
Tame your brain with the intellect you acquire as you seek
Superior build quality and detailed game components complement your gameplay
The puzzle is super lightweight and can be carried anywhere
A great value for money
Cons
It can be more challenging than usual
Our Take: Perrenial history combines with an exciting puzzle package makes it a great option.
EDITOR'S CHOICE
Room Escape by Mattel Games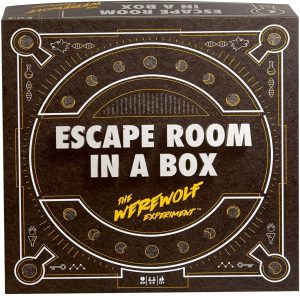 ★★★★★
The product dimensions are 3.00 ×87 × 10.5 inches
The product weighs 1.38 pounds
Features:
The game is based on cooperative goal as everyone's goal is the same
You're supposed to seek the keys on time as you just have 60 minutes to do so
Your game package includes 19 puzzles along with 3 locks
An interesting story plot to keep you steady in the puzzle
It contains all the related accessories
You and your friends are challenged to crack the deal In the room escape by Mattel Games. The game is all about teamwork to ensure you uncover the puzzles in time to avoid failure.
Escape to win: The game is all about the amazing storyline. A scientist is going to turn you and your friends into werewolves if you don't escape the room on time. You'll be given a complete situation where you and your friends will have to escape before time, or you fail. Thus, the game is a prime upgrade over the other best escape room board games in 2021.
Other features: The intense puzzle game comes with support too. You can now connect with Amazon Alexa to further improve your gameplay and don't cost you anything. Moreover, the board game is just an excellent fit for a group of friends as it supports 2-8 players at the same time.
Pros
Increases your cognition as you strive to solve the complex puzzle
Best for a group of friends as it can take up to 8 players
It comes with Amazon Alexa support
Extremely well-built board and accessories
Cons
It can be time-consuming for some consumers
Our Take: The wonders of a puzzle packed with a strong storyline, making it a great purchase option.
MOST DURABLE
Exotic Adventures to Unlock! By Space Cowboys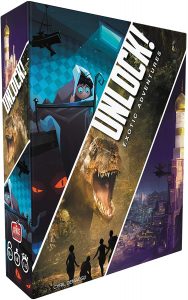 ★★★★★
The product dimensions are 10.7 ×4 × 2.5 inches
The product weighs 1.61 pounds
Features:
Fairly easy to grasp the basic ingredients of this board game
You get a range of adventure options based on the level of toughness you choose for yourself
Players must act quickly and precisely in under to get through the puzzles
Embark on your puzzle fantasy with the best escape room board game by Space Cowboys. The puzzle is super simple to understand, with a range of difficulty levels to choose from. The game takes on the role you prefer to choose.
Level of Toughness you seek: Players are given flexibility on the type of puzzle they will choose. The puzzles are quite simple and straightforward to understand, even for the less-experienced gamers. Furtherly, your qualities will be tested on your way to escape in this fun-filled board game. Lastly, each adventure delineates a certain level of difficulty, so choose well.
Easy to understand: This board game is made fairly easy to operate, which makes it a fine family companion. There is no specific age limit that applies to start the puzzle. Also, if you're still hesitant to understand, take a quick look at the special tutorial to get going.
Pros
Easily playable for everyone
You're free to choose a difficulty level based on the adventure you choose
It helps strengthen your brain by solving the puzzle
Our Take: Easy-to-understand puzzles and the pleasure of board game adventure are a great fit for everyone. 
FAMILY FUN
The Game Exit in Sunken Treasure by Thames & Kosmos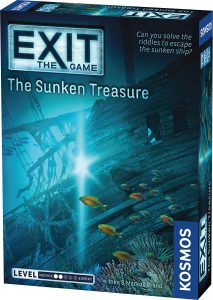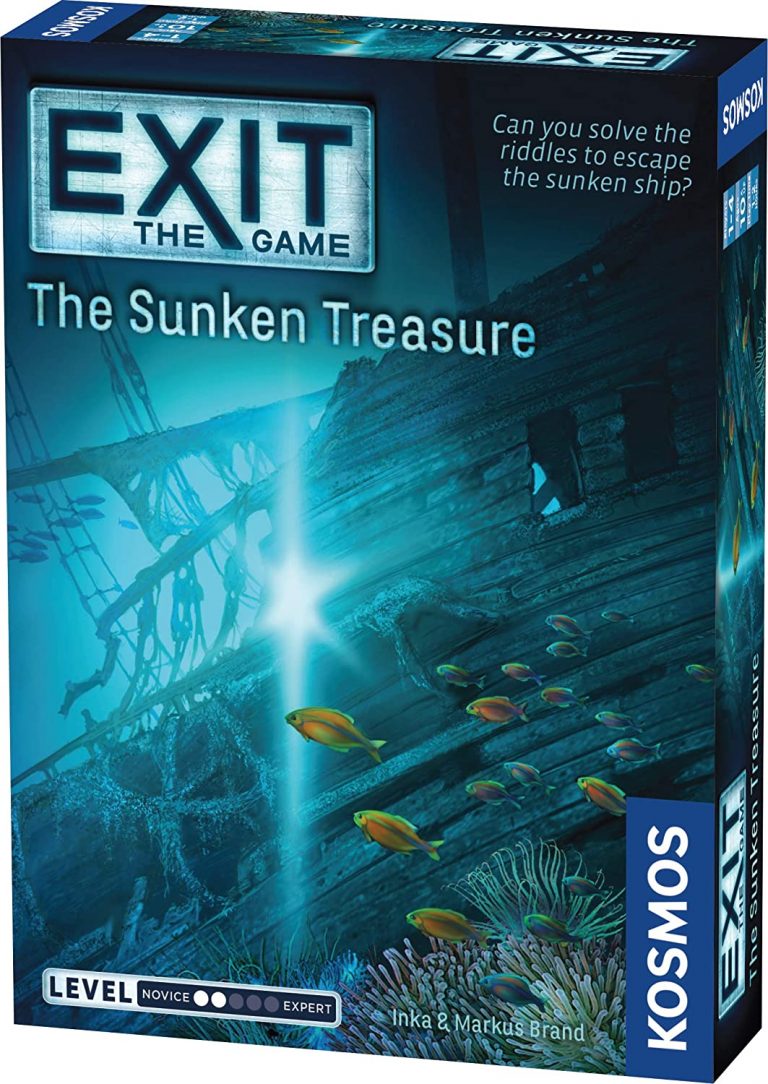 ★★★★
The product dimensions are 5.1 ×7 × 7.1 inches
The product weighs 8.8 ounces
Features:
The puzzle support comes right from the package, so you don't need an app support
You'll try and escape by uncovering the clues you find along with your friends
Your best escape room board game Uk has an exciting range of room themes
Solve the puzzle but just for once as you have to tear up the material to escape the plot
The smart puzzle fun with added support right from the package is what you're getting from the Sunken Treasure. You're in a fantasy space with your companions tiring to escape, can you?
Exciting Themes to Beat: You're forced to be locked in a dark room from where you're going to escape. Can you find the hidden elements? You better need to as with the diverse range of themes added in your puzzles to tease your brain.
A convenient experience: You're dealing with a puzzle that is really practical and exciting, all from the comfort of your rooms.
Pros
Family-friendly puzzles with players support up to 4
Compelling game themes to ensure its liveliness
Affordable price tag
Everything is available in the package to support your game
Cons
Game figures could be printed larger
Our Take: An adventure riched family puzzle that comes with the affordable price option makes a smart deal to steal. 
HIGHLY ENGAGING
The Game Exit in Secret Lab By Thames & Kosmos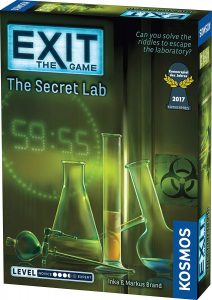 ★★★★
The product dimensions are 5.1 × 1.7 × 7.1 inches
The product weighs 7 Ounces
Features:
It takes you an exciting ride among the best puzzle themes to try
The game can be played once as you will have to crack the game materials to find the code
Solve the puzzle in a combined effort with 4 players
The exit game in the secret lab is one of the best escape room board games for adults. You'll be tested based on your intellect and patience while, can you escape on time?
Try for once but never-ending Fun: This escape room board game by Thames & Kosmos can only be played once and all because you will tear the hidden tools that you will find to solve the puzzle to escape. Therefore, it's a one-time puzzle, but the thrill is everlasting.
Play with more dimensions: The puzzle won't let your enthusiasm down as it offers different exciting themes. Thus, the player feels more accomplished when he has gone through different levels of difficulties.
Pros
Stellar puzzle with different ambiances
Play from the comfort of your home
The puzzle makes an amazing gift option
Our Take: Great escape room mystery solved with intellect is a good reason to buy this one.
AFFORDABLE CHOICE
House of Danger by Z-Man Games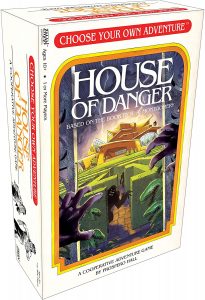 ★★★★
The product dimensions are 8.5 ×5 × 2.5 inches
The product weighs 0.028 Ounces
Features:
Solve the puzzle and become a dexter
The mansion is filled with obstacles and ghastly subjects
A narrative adventure makes the puzzle super interesting
Investigate criminal activities and become a detective
You're about to undertake an adventure in a minacious mansion from House of Danger. You will unleash the biggest mystery of this house on your way to escape the fear.
Major Highlights & Features: You can't trespass without courage and guts. The mansion's mystery is narrated with pictorial elements in the puzzle to make it more vivid to its players. Players will take on a combined investigation to carry to unleash the mansions' secrets. Furthermore, the puzzle is a great brain teaser and helps polish your decision-making capabilities. So, choose your path precisely and escape through the scary ride of toils.
Pros
Manifold twists and turns in the story
Your whole family can enjoy the puzzle
Explore, detect, find, and decide, all in one classic board puzzle
Great worth for the price tag
Our Take: A classical narrative story adventure boxed in a worthy board puzzle looks like a fair deal.
FAQ Regarding Best Escape Room Board Games
Q. Which could be the Best escape room board game?
As we mentioned, all of our selected products are top-rated and trending. Besides, these could be the 03 top-notched escape room board games:
3 Thrilling Escape Rooms Game by Spin Master
Stargazer's Manor Room Escape Game by ThinkFun
Room Escape by Mattel Games
Q. How many people can play these escape room board games?
Well, most of these games have flexible compatibility to start a joint venture of a thriller along with 05 players. Even some of these escape room board games can also be played by 07-08 players.
Q. Can a beginner play these thrill puzzle games?
These puzzle games are a bit tough for the noob, but these game packages come with a complete instruction guide. On the other hand, you can also prefer the Exotic Adventures to Unlock! By Space Cowboys game if you are looking for some easy puzzles.
Q. Is there any age restriction for people to play these games?
Well, normally, kids from 8+ years can enjoy playing these suspense and thrill games. Some of these games have a big storyline thrill along with difficult puzzles if you're looking for some challenges.
Our Recommendation:
Our 1st recommendation is Room Escape by Mattel Games, along with 19 challenging puzzles to solve. Plus, it comes with all the required accessories, and 08 people can play this game together as a thrilling suspense story. Moreover, our 2nd recommendation is The Game Exit in Sunken Treasure by Thames & Kosmos with 04 players gaming platform. Here you have to solve the mysteries to find the clues to win the game.
Conclusion
In the end, we can conclude that these are the best escape room board game, along with some thrilling adventures. Because now you don't have to go anywhere, the player can simply set up a portable board and enjoy with friends. All of the gaming equipment is given with the board package along with an instruction guide. These wisdom puzzle games are going to enhance your brain skills with some challenging stages.
Even your power of decision-making will be improved when you face some knowledgeable phases to win the game. Plus, these games have flexible compatibility; around 5-8 players can enjoy a challenging game mode together. So try your skills and beat your friends to be a winner!